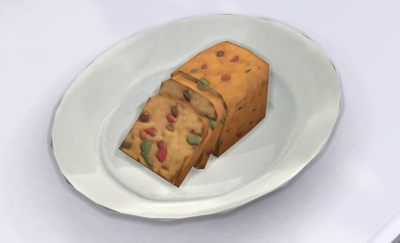 If your sim likes Fruitcake, it is actually pretty useful. Fruitcake on the first bite gives a Happy+2 moodlet that lasts 4 hours. It only takes sims 4 bites to complete the serving making it a pretty fast meal to eat and fills around 3/4 of the Hunger bar.
The most useful feature of Fruitcake is that it never spoils and so is one of the easiest and best foods to have in a sims inventory. Perfect for eating away from the home lot. Top up your sims Hunger bar with a few harvestables and your sim will be full and Happy.
To get your sim to like Fruitcake, without cheating, is easy but can take some patience. Simply get your sims Homestyle Cooking Skill to Level 5 then the ability to cook a Gourmet meal unlocks. Fruitcake is a Level 1 recipe. With the use of the Homey Lot Trait this is easily and quickly done in your sims first day in a new save. Of course, if you save your Welcome Wagon Fruitcake then having to cook your own can wait.
Save your game before your sim takes a slice. If your sim likes Fruitcake, there's nothing more to do so save your game to lock in the Hidden Trait of liking Fruitcake and continue playing.
If your sim does not like Fruitcake on the first taste quite without saving. Delete the localthumbcache.package file from your TheSims4 folder and hop back into your game. Repeat this until your sim receives the positive moodlet indicating that they now like Fruitcake.
If you want to use cheats to make your sim like Fruitcake. Enable 'testingcheats on' then type: 'traits.equip_trait trait_hidden_likes_fruitcake' and press enter.