The Sims 4 Tiny Living Stuff
Tiny Home Perks and Murphy Beds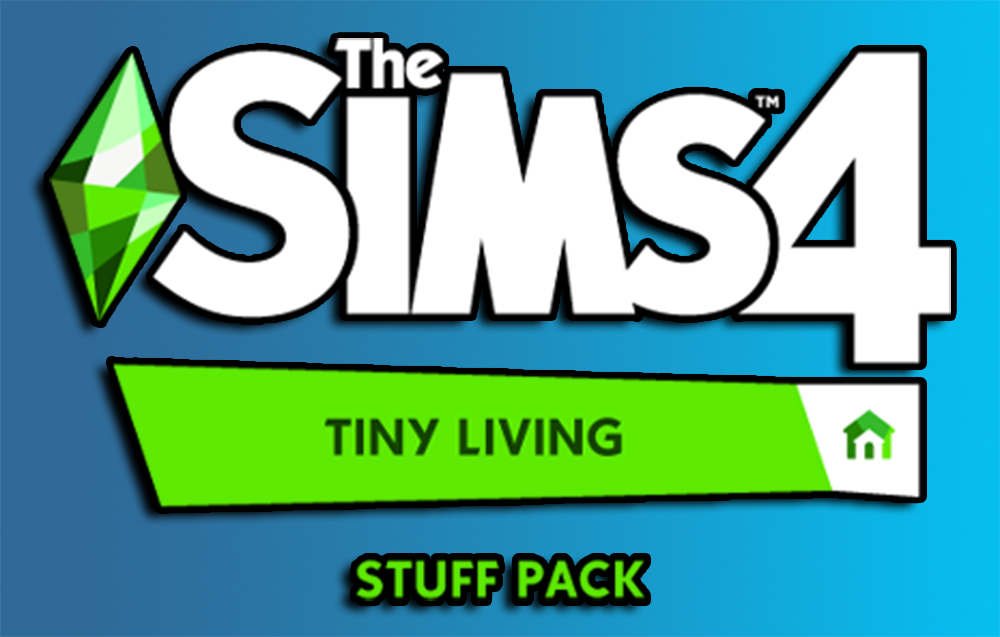 The Sims 4 Tiny Living Stuff Logo. It releases August 13, 2019 for PC/Mac and September 3 for Xbox/PS4.
The Sims 4 Tiny Living Stuff becomes available January 21 for PC/Mac and February 4 for Xbox and Playstation 4 Consoles. This new stuff pack features objects and systems that will not only help but also encourage living in tiny homes. They encourage it in a big way. If you live in a little house, you can get double skill gains on that entire lot and if you can crunch it down to the minimum size, will also get increased relationship gains and plant growth. Let's go over the main gameplay additions of this pack, then go over the build/buy that it offers.
An overview of the changes in The Sims 4 Tiny Living Stuff and what you can expect from its big rewards for building a little house.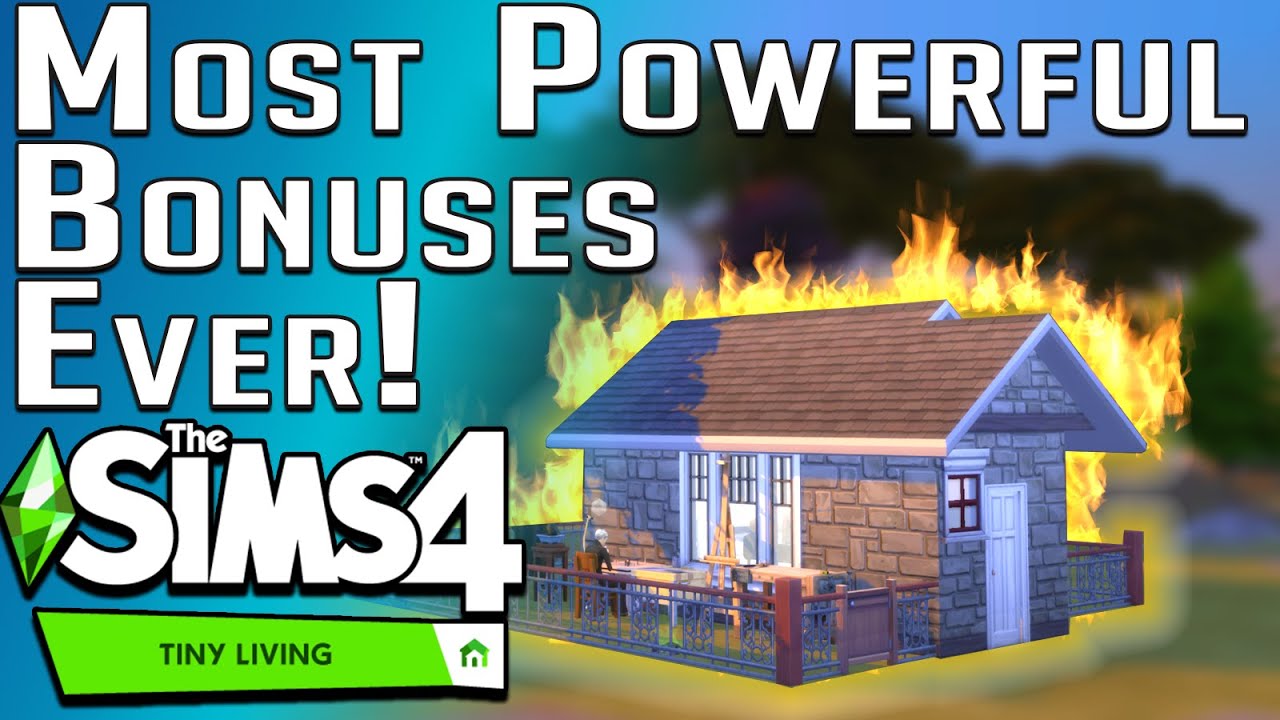 Tiny Home Lot Benefits

There are three theirs of Tiny Home. Judge based on the bonuses you want combined with the living space you're willing to give to your Sim. Objects outside don't count, bear in mind... but Seasons players should beware of lightning.
The core draw of this pack is the system it adds that tracks the size of your lot and whether it qualifies as "Tiny" or not. There are, in fact, 3 size classes for homes. Small, Tiny, and Micro. Each of these has its own benefits. The game only counts floor that requires a foundation to be part of its calculations. Extra levels up top and basements do count, but pools and outdoor decorative patterns/objects do not. We're mostly calculating the square footage of a Sim's home in 1x1 "large" build mode squares (the same size as most chairs and sinks). Here are the three size classes, their requirements and the perks you receive for each.
| | | |
| --- | --- | --- |
| Small | 100 | Feeling Fine, Lighten the Load |
| Tiny | 64 | Feeling Fine, Lighten the Load, Cozy Comforts, You Got The Touch |
| Micro | 32 | Feeling Fine, Lighten the Load, Cozy Comforts, You Got The Touch, Let's All Get Along, Let it Grow |
Bonus Traits for Tiny Homes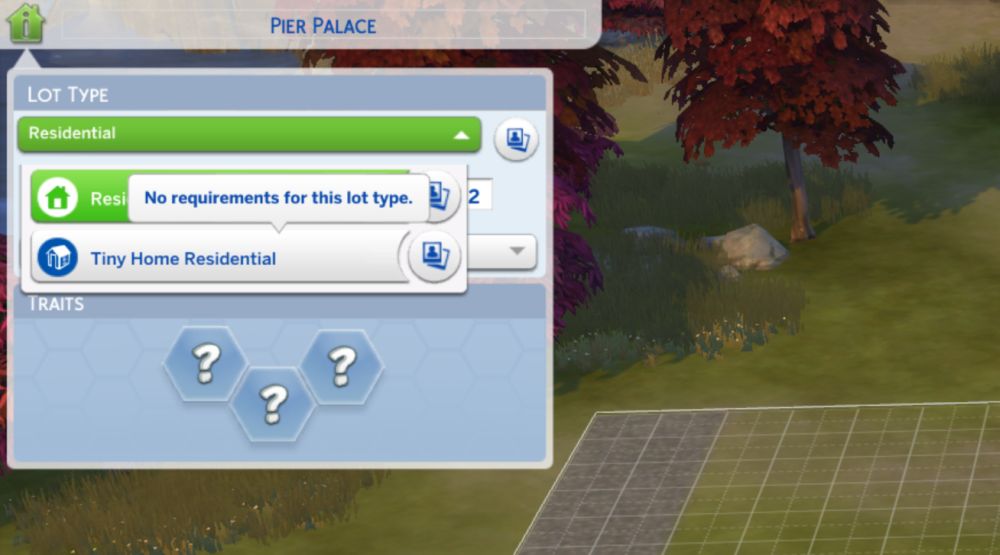 You can view the bonuses you'll get for using the Tiny Home Lot Type by using the small button by lot info in the top left.
As I said above, you will get bonuses based on the class of your (Small/Tiny/Micro) home. Small gets the least, Tiny gets a couple more, and Micro homes get all of the bonuses listed below:
| | | | |
| --- | --- | --- | --- |
| | Lighten The Load | Small, Tiny, Micro | Lowers bills - I looked this up in game code and it seems to cut bills to half their expected value. |
| | Feelin' Fine All The Time | Small, Tiny, Micro | Happy, Inspired, and Focused Buffs last twice as long. |
| | Cozy Comforts | Tiny, Micro | Doubles comfort values of all items on the lot. |
| | You Got The Touch | Tiny, Micro | Doubles Skill gains on this lot. You read that correctly. |
| | Let's All Get Along | Micro Only | Doubles Relationship gains from being in close quarters. Of course, it also doubles the losses when things go badly. |
| | Let It Grow | Micro Only | Doubles plant growth speeds on this lot. |
Special Objects - Murphy Beds and Combos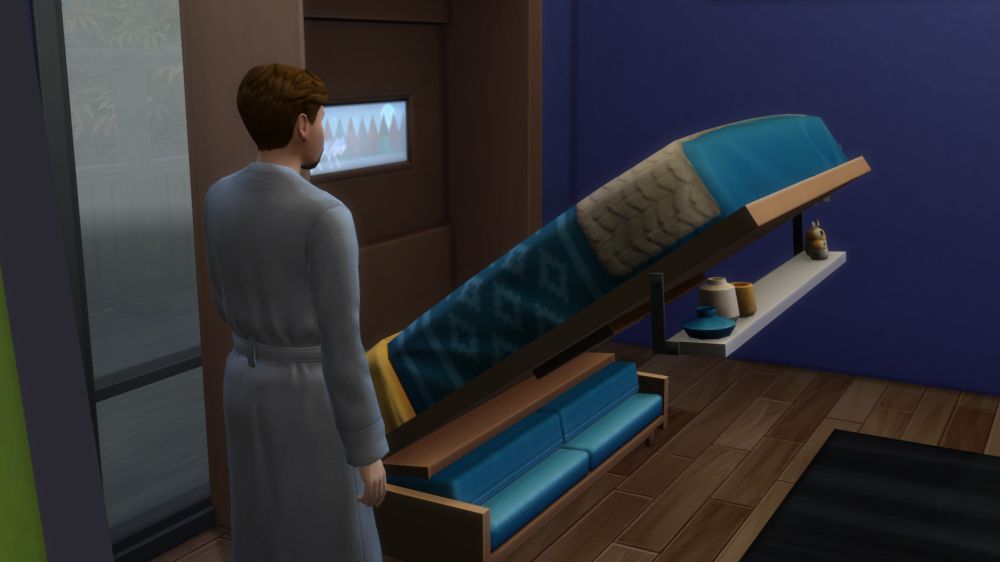 A Murphy Bed in The Sims 4 Tiny Living
While there aren't many gameplay objects I would typically cover, it's worth noting that Tiny Living comes with a tv/bookshelf/radio combo that may be of use to living in a tiny home while still having access to entertainment. You can see these objects beneath the bit on Murphy Beds below, along with the majority of the build/buy items you will find in the Stuff Pack. They also have Murphy Beds. For those not in the know, a Murphy Bed is a type of bed that is stored in a wall and can be changed from day to night mode. You can store the bed up in the wall, and when up there can be a seat or something useful there while at night the seat is collapsed and the bed comes out. For players new to the Sims, this type of bed has a history of killing many thousands of Sims.
Murphy beds come in multiple flavors in this pack. You can choose to have one either with or without the loveseat. If you like, the pack also comes with Murphies that have either one or two bookshelves attached. You can, of course, attach your own - they're a special type that can snap neatly to the sides of a Murphy bed.
Murphy Bed Dangers - Warning (Death)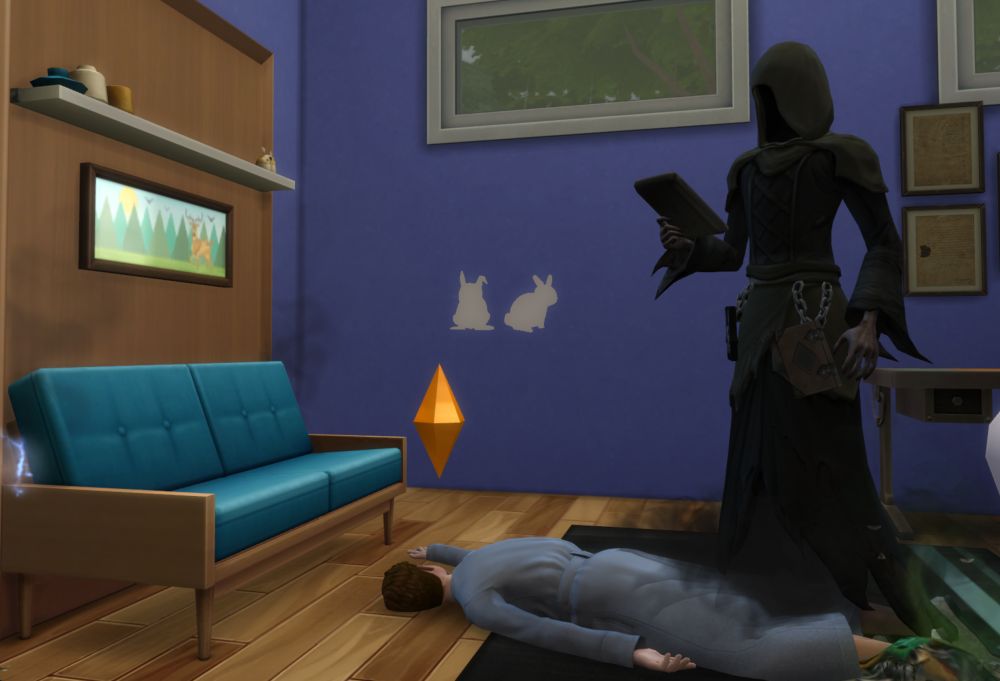 Owning a Murphy Bed in Tiny Living without the Handiness skill is begging a visit from the reaper. Unless you leave it down, but then what's the point?
When a Murphy Bed is broken down, Sims are extremely likely to face death due to an accidental mangling by the Murphy Bed. It is key that you know the Murphy Bed only causes death when it's in the upright position. So a broken down bed is generally safe to sleep in, just don't put it up. It can occasionally swallow Sims but this isn't the thing that causes death, just bumps to the head.
View the Murphy Bed Death & Ghost Abilities
There's a new death in the pack, which you can see below by clicking the image. Deaths caused by the Murphy Bed result in a ghost who is an energy vampire. They can possess Sims, sapping them of energy to fill their own. Once the leeching is done, the ghost will have the target's energy while the target Sim faceplants the ground for a nice rest.
My Personal Opinion of Murphy Beds
Murphy Beds are energy 1, and only give you a seat. Sure, they're cool, but unless a Sim has level 8 Handiness, the risk of death repeatedly coming up is in general not worth it. I feel these beds are tuned to break down far too frequently. While "in use" they'll gradually lose "health" points and eventually break down. The problem is, the developers chose "sleeping on it" as in use. Personally I feel they should drain in chunks when going from up and down as I'm not taxing the motor to sleep on it, am I? If you disagree, realize that a Murphy that isn't upgraded is going to break down 1x per full fill of the Sim's energy meter. In fact, if it could, it'd break down twice as it only takes a few hours of "use". Now, when upgraded to break down less they'd only do this about once every 3-4 nights of full sleep. But for households without Handiness, this is asking for it. Only Handy Sims should own Murphy beds. They are in general safe for kids to use, as they will not kill children as far as I can tell.

10 Million Views! My YouTube channel has grown a lot the last 6 months. I now have over 125 videos on Youtube and am nearing 100k subscribers. I'd like to invite people to check out my content and, if you like what I'm doing, subscribe!
Other Build/Buy
As I had stated, there are several build buy items of interest here. First, note that bookends were changed in a recent patch to provide full bookshelf functionality. This means the bookend that comes with this pack does have some use, as does the combo stereo/tv/bookshelf wall hang item you can use as well as the larger model. Both of these are pictured below. The rug, tables, even lights are from Tiny Living so there isn't anything in these pictures you will not get if you buy the pack.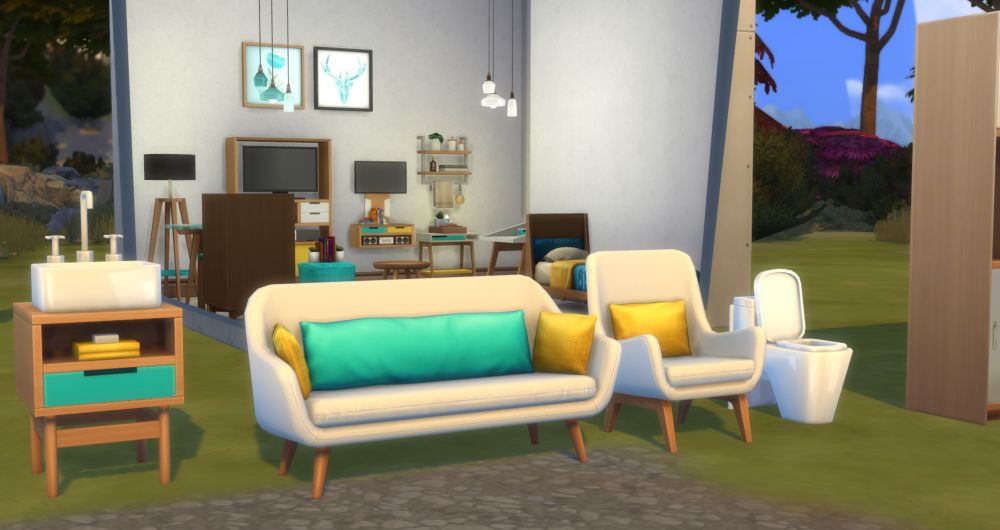 New seating that comes with the Tiny Living Stuff Pack. Yes, even the toilet.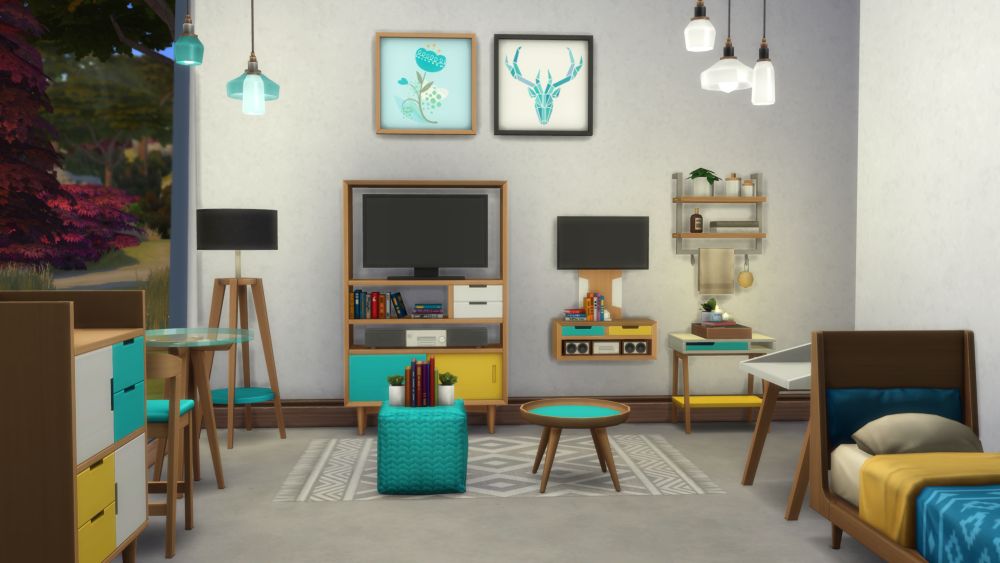 The TV/Stereo/Bookshelf combo items I mentioned above. This helps save a ton of space but they're rated at Fun: 2 which is a bummer.
How You Can Support The Site and Channel

If you like my sites and
Youtube Channel
, consider supporting me on
Patreon
to help me to continue. If you'd like to support my guides in another way you can use our
Amazon link
for your next purchase (if in the US). We also offer a
paypal donate link
so you can contribute directly.
Back to The Top
Check Out My Youtube Channel!
We now have a Youtube Channel with over 50 guides in video format to go along with the huge site I've already created. Check it out and consider subscribing if you like my style.
Comments (12)
Topic:
http://carls-sims-4-guide.com/stuffpacks/tinyliving/
New
DEZ
Super Scandinavian! Looks like the IKEA STOCKHOLM line- which is a little higher end than many of it's other items that are made of dryer lint and spit. Although from the sounds of the Murphy bed, that might be from the store's regular LINT line!
New
Nel Jansson
Hi! I`m a 59 years old woman in Sweden who has played sims for as long at it´s been on the market. I love it and I LOVE you´re
site and you`re youtube chanel. Keep up the good work . Lots of love and gratitude. Nel Jansson
Admin
Playalot
Well, it breaks down during use so probably woohoo counts as use. There's a bug report here you can add a Me To
Senior
Brian Z
"Extra levels up top and basements do count, but pools and outdoor decorative patterns/objects do not." So with an extra floor, you're doubling the square footage, and also wasting space with a staircase.
Senior
Brian Z
Hmm... a 4x8 house that consists of just a nice bathroom, with a ludicrously extended roof sheltering what amounts to a nice house with no walls...
New
Junan
If your tiny home has a pet cat or dog, know that the programmatic food feeder (that blue/red automatic food dispenser) can fit underneath the wall tv combo. Handy for those who want a pet.
Senior
Brian Z
A little trick I just found: Place an empty room in your back yard, and put a roof on it. Get the roof the way you want it, then demolish the walls and floor. You now have a levitating roof, and it doesn't count towards your total number of squares! You can have a stereo out there, plants with Sheltered status, whatever you need a pavilion for. Some columns will help make it not look silly, and you can apply flooring to the ground.
Senior
Brian Z
I know I saw the part about being able to upgrade beds, but for some reason it didn't stick. And then my sim got focused, and started upgrading her bed on her own. After that, I had her upgrade some other things, and with the ludicrous skill boost from a micro tiny house, she was level 8 in no time and did the second upgrade to her bed. Normal single bed, I'm fond of my sims and don't want them to die in a Murphy bed. Well, between the upgrades and the lot bonus, she can now get a full night's sleep in 4 hours!
These bed upgrades are long overdue. Finally, you can buy the bed you want, and not have to put a pretty princess bed in your rustic cabin!
Admin
Playalot
Agree, finally I can use the bed that suits my build and just upgrade it. I've hated that princess bed for over 5 years now! lol
New
chloe b
Is there any new life aspirations, skills or game achievements linked to this pack ?
Admin
Playalot
Sounds like you have CC and/or mods that need updating. This pack broke a few mods.
Admin
Playalot
The option is still there but in a drop down menu now.
New
Wilson Auman
After intensive playtesting,, a sim with the dance machine trait can Disco nap on the unupgraded murphy bed many times, over 8 times before the murphy bed breaks down (it depends on how long the disco nap is. Sim can safely disco nap on the sofa part of the bed with no problems. I found the safest way is to lower the bed and keep it lowered until you get around to upgrading it. Remember the bed only causes death when malfunctioning when it is lowered. Also if you get the gnome lot trait the bed will be fixed overnight without any problems. So there are many ways around the murphy bed deaths. You can and should save first before lowering a murphy bed before it is upgraded is wise.
Admin
Playalot
Yep, Dance machine for the win, all my sims have this trait, makes energy gain so much easier to manage, 2 Disco Naps and their done. Yes also to murphy beds, if left down they are not an issue, but they have been retuned by the devs and don't break as often no anyway
Are you sure you want to report it?
Share a link to this comment
Star Wars in Sims 4

We now have a page on The Sims 4 Journey to Batuu.
It's not what I would have hoped for in a Star Wars Game Pack so far.
Secrets and Other New Stuff
Sims 4 Packs & DLC
Support Us

Readers who use adblock or those who'd like to thank me for my efforts can now pledge $1/$5 monthly via Patreon. This helps a lot with server costs and provides some stability for my business.
Super Sim Checklist + Other News
Let's Play Playlist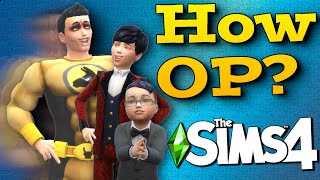 New I now have a guide to Making Super Sims in The Sims 4. Look for a text version within the next 72h. It won't have THAT much more info but it will help out as a checklist.
This was inspired by a series, "Let's Play a Super Sim" in which I start at toddler and gradually take on the major bonuses. Here's a link to each part for people who are interested. You can also see the Let's Play as a Playlist on Youtube.
Discover University Expansion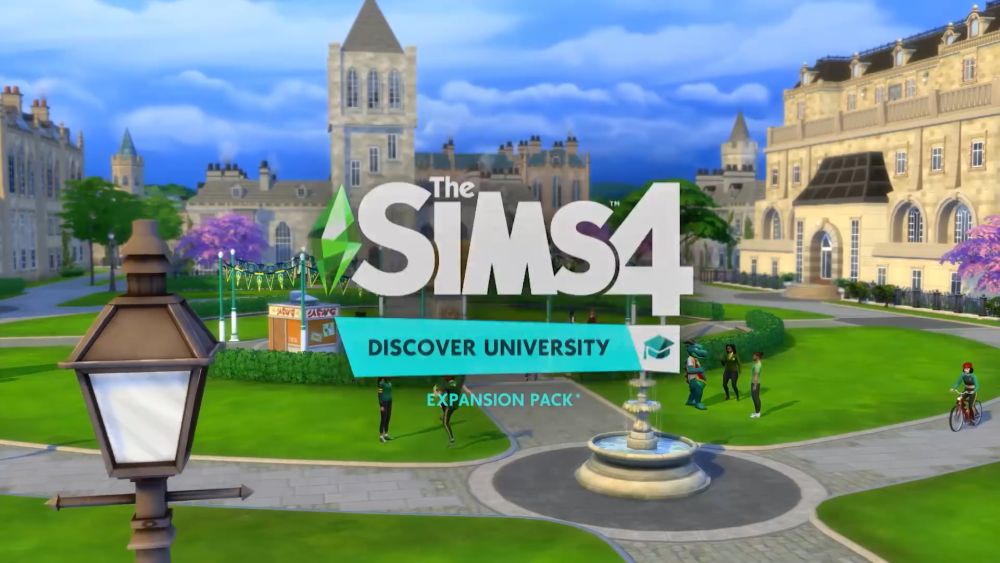 The Sims 4 Discover University has been announced for November 15 for PC/Mac and December 17 for Xbox and Playstation 4 consoles. Click to learn more about the pack, see my summary of the livestream or read our FAQs below.
Other Guides to Discover University:
New Lot Traits: Study Spot and University Student Hang Out
New: Discover University FAQ: Gameplay Features
New Video The Sims 4 Discover University Gameplay Tips Video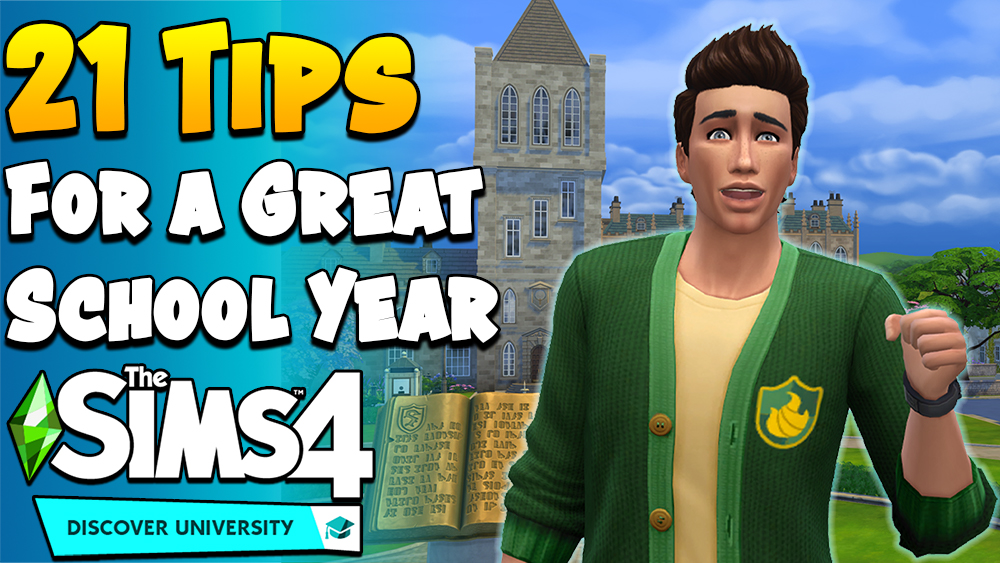 More videos coming soon!
Realm of Magic