The Sims 4 Eco Lifestyle
New Traits and Aspirations for Your Sims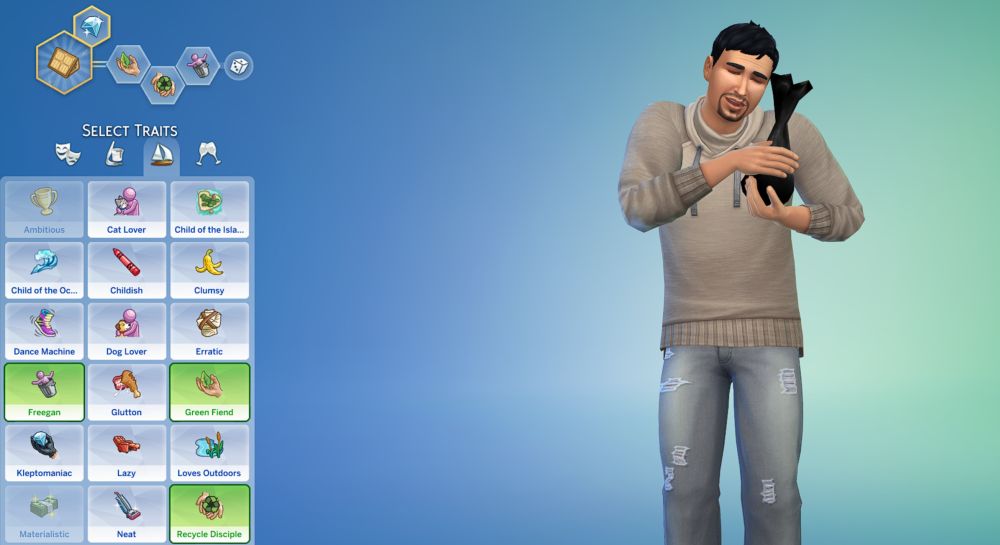 There are four new traits accessible in Create-a-Sim, along with two aspirations.
For once in our lives, and Expansion for The Sims 4 has launched with not zero, not one, but rather four new traits! It also has two Aspirations. Eco Lifestyle knocks it out of the park in this area, even if these turn out to be simplistic. Why? More traits makes you think. More traits that are not utterly useless like Goofball and Confident. Those that reward activities or have a unique depth, like Freegan, are totally wanted and help players get more enjoyment out of the game. Traits are necessary to make Sims feel unique.
Eco Lifestyle Guides
Four New Traits in Eco Lifestyle
Note that you can cheat your Sim's traits for Eco Lifestyle. Just go here to my Eco Living Cheats page to get these traits along with a few reward traits not accessible in CAS.
Freegan

Game Description: These Sims reject consumerism and prefer to reduce wasteful spending by any means. They enjoy finding re-used or thrown away goods and foods. In fact, they have the best luck at finding the highest-quality treasures in Dumpsters! They may become tense or uncomfortable if they spend too much time earning or spending Simoleons

Trait Mechanics: Freegans get the ability to check the freshness of food, which may make the food edible despite being past its timer. They get upset if they spend more than 800 Simoleons with a bad deal moodlet that has +1 stressed but only lasts an hour and a half. That is not all, however. They may get buffs from lucky finds in the dumpster, like eating cheap meals, saving money, rummaging, and getting an NPC to lower their price via bartering. If every trait were like this, we'd be a happier community.
Green Fiend

Game Description: These Sims are happiest when living on a green street and will continuously work towards making their environment more eco-friendly.

Trait Mechanics: Gets a 4 hour inspired buff when doing green activities.
Maker

Game Description: These Sims become happy when making things. They become sad when it's been too long since completing a project on a Fabricator, Candlemaking Station, Juice Fizzer, or Woodworking Table. They do not receive negative effects from crafting or repair failures.

Trait Mechanics: One of those timer traits, which tracks how long it's been since your Sim crafted something. If you go too long, they may get a 2 hour +1 sad moodlet, a laughably bad punishment that will only mildly inconvenience you. T hey seem quite OK getting over this not making stuff thing huh. They get a +1 focused moodlet for 60 minutes when they see a high quality crafted object. Finally, there's also a 4 hour +1 happy buff when they make something. This trait is not well thought out and not deep.
Recycle Disciple

Game Description: These Sims are rabid recyclers that benefit from recycling and rummaging for bits and pieces, but should they go too long without indulging in their hobby...

Trait Mechanics: This trait has a lot going on - they enjoy salvaging and rummaging for parts. They get stressed when they don't do so. After a time, they will go mad and get more stressed about the lack of stuff to recycle, and many end up recycling something without permission. There are multiple timers invovled in both re-purposing (fabrication) and salvage (using recycling machine) and finally, doing things in dumpsters like scavenging for parts.
New Aspirations in Eco Lifestyle
The pack also features 2 new Aspirations, both of which are kind of a tutorial to using new features, rewarding baby steps but nothing too difficult. By the time you get Master maker, you are not likely to need its reward. Eco Innovator's reward may be a bit more interesting.
Master Maker Aspiration

Total Satisfaction Gained: 4,650

Reward Trait: Master Maker Master makers have learned all the tricks necessary to fabricate items at a reduced cost.

Objectives

Milestone I: Jerry Rigger


Reach Level 3 Fabrication Skill (50)
Recycle Items 5 Times (50)

Milestone II: The Better Builder


Reach Skill Level 5 in Fabrication (250)
Fabricate a total 5 items (250)
Have a total 5 Dyes (250)

Milestone III: Competent Crafter


Achieve Level 7 in Fabrication (450)
Collect Insects from an insect farm 3 times (450)
Craft 5 Candles (500)

Milestone IV: Master Maker


Achieve level 10 in Fabrication Skill (800)
Make 20 Candles (600)
Complete a total 5 Gigs as a Freelance Crafter (1000)
Eco Innovator Aspiration

Total Satisfaction Gained: 2,100

Reward Trait: Influential Individual When Influential Individuals speak, everyone listens. They can get the community to cheer on a local hero, or cancel them on a whim.

Objectives

Milestone I: Eco-Economist


Own 1 Solar Panel or Wind Turbine (100)
Sell Power or Water on a Utility Bill (100)

Milestone II: Clean City Civilian


Have 5 Community Influence Points (200)
Vote on 1 Neighborhood Action Plan (200)
Become a Civil Designer (250)

Milestone III: Civil Citizen


Attempt to Convince a Sim to Vote on a Neighborhood Action Plan (350)
Vote on Neighborhood Action Plans two separate times (500)
Reach level 10 of the Civil Designer Career (1000)
Eco Lifestyle Guides

10 Million Views! My YouTube channel has grown a lot the last 6 months. I now have over 125 videos on Youtube and am nearing 100k subscribers. I'd like to invite people to check out my content and, if you like what I'm doing, subscribe!
How You Can Support The Site and Channel

If you like my sites and
Youtube Channel
, consider supporting me on
Patreon
to help me to continue. If you'd like to support my guides in another way you can use our
Amazon link
for your next purchase (if in the US). We also offer a
paypal donate link
so you can contribute directly.
Back to The Top
Check Out My Youtube Channel!
We now have a Youtube Channel with over 50 guides in video format to go along with the huge site I've already created. Check it out and consider subscribing if you like my style.
Comments (1)
Topic:
http://carls-sims-4-guide.com/expansionpacks/ecolifestyle/traits-aspirations.php
New
Jake
I already commented about Green Fiend (which is useless, redundant and vaguely worded) on your other post, but I had some questions about traits in this pack:
* Does Freegan/Recycle Disciple conflict with Neat, Squeamish or Snob?
* Does Maker conflict with Lazy?
* What do Snobs/Materialistic Sims think of Maker products?
Admin
Playalot
No idea, feel free to experiment in-game and post back
Are you sure you want to report it?
Share a link to this comment
Star Wars in Sims 4

We now have a page on The Sims 4 Journey to Batuu.
It's not what I would have hoped for in a Star Wars Game Pack so far.
Secrets and Other New Stuff
Sims 4 Packs & DLC
Support Us

Readers who use adblock or those who'd like to thank me for my efforts can now pledge $1/$5 monthly via Patreon. This helps a lot with server costs and provides some stability for my business.
Super Sim Checklist + Other News
Let's Play Playlist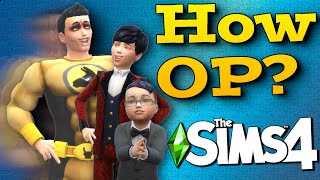 New I now have a guide to Making Super Sims in The Sims 4. Look for a text version within the next 72h. It won't have THAT much more info but it will help out as a checklist.
This was inspired by a series, "Let's Play a Super Sim" in which I start at toddler and gradually take on the major bonuses. Here's a link to each part for people who are interested. You can also see the Let's Play as a Playlist on Youtube.
Discover University Expansion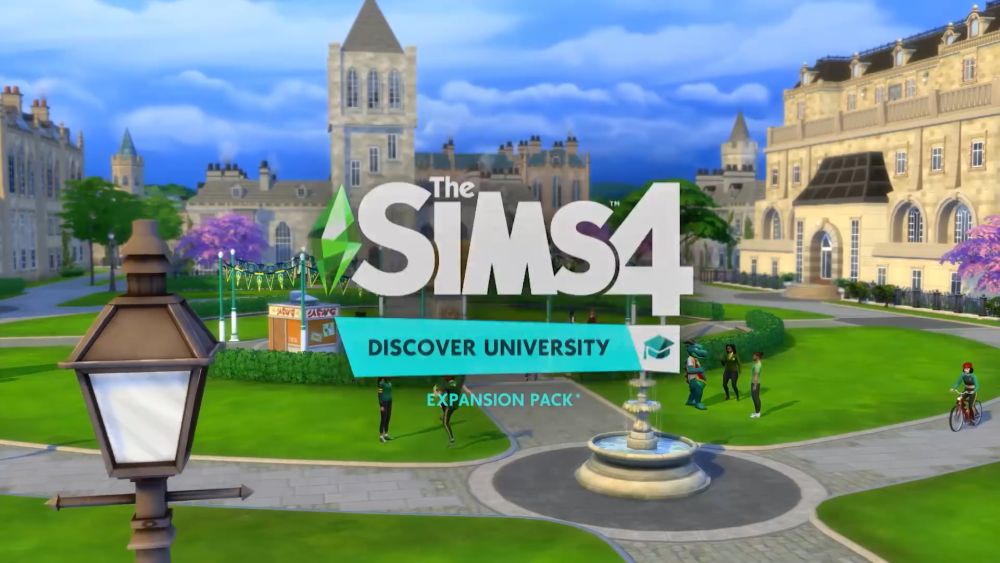 The Sims 4 Discover University has been announced for November 15 for PC/Mac and December 17 for Xbox and Playstation 4 consoles. Click to learn more about the pack, see my summary of the livestream or read our FAQs below.
Other Guides to Discover University:
New Lot Traits: Study Spot and University Student Hang Out
New: Discover University FAQ: Gameplay Features
New Video The Sims 4 Discover University Gameplay Tips Video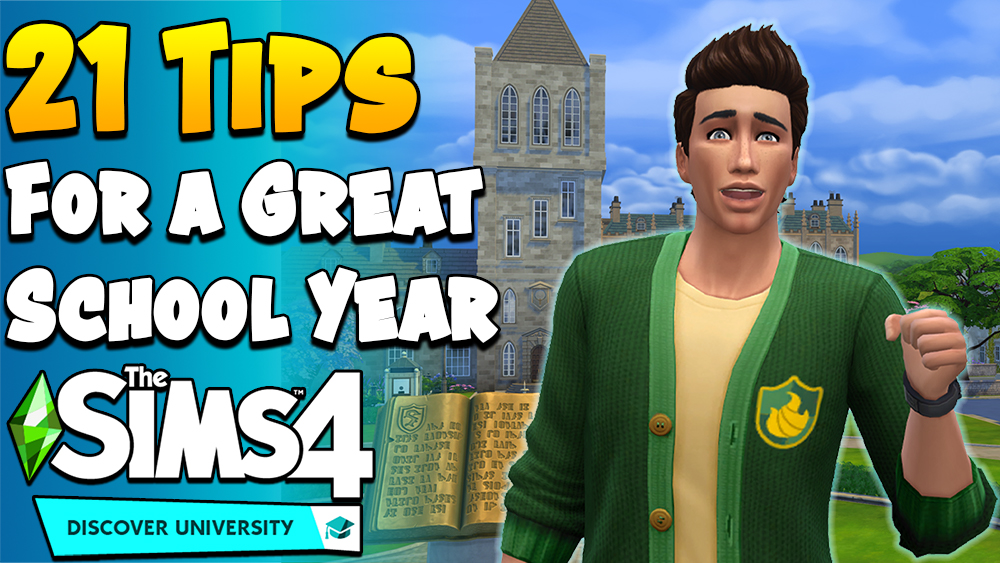 More videos coming soon!
Realm of Magic