The Sims 4 Terrain Modification
Building with the New Terrain Tools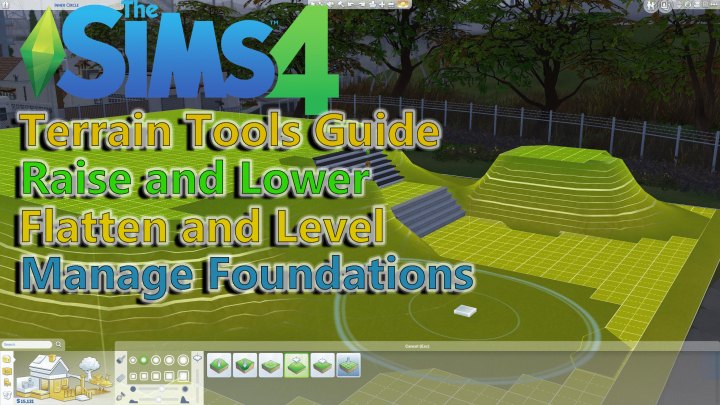 The latest Sims 4 patch brought free terrain tools in an update that also includes first person mode and a new stylist career.
The Sims 4 team just delivered a patch that allows players to modify the terrain on lots. Along with this came an important improvement: you are now able to give structures different foundation heights and modify the heights of individual blocks on the fly. The terrain tools add an extra dimension to building, allowing for creative but functional designs. Let's look at how some of the system works, so you can get to work planning your dream home.
How to Change Terrain Height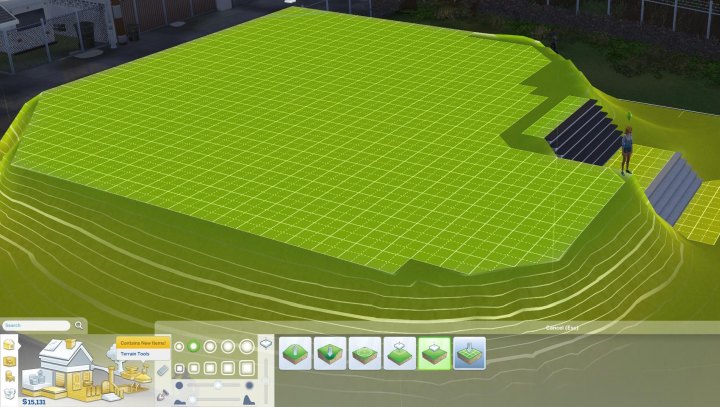 Head to build mode and use this button, then 'Terrain Manipulation' to get started using the new patch's terrain tools.
Press F3 to go to build mode. You'll find terrain tools on the far right side, near the tree. From here the interface changes, showing you three options - paint, eraser, and terrain manipulation. When you select terrain manipulation, the entire land area highlights with a yellow green that shows where Sims are able to build.
Raise and Lower Terrain
Terrain can be raised and lowered in small or large areas, with the shape of circle or square. Holding shift while scrolling your mouse wheel will change the size of the area, though you can also use the sliders in the interface or press [ left and ] right bracket to cycle through the sizes and shapes.
The pacing at which all terrain tools work is modifiable via the adjust speed slider. If you want to make small changes, I suggest you move it far to the left as the tools do not mess around when it comes to making massive hills. Control + Z to undo will be used frequently while you get used to things. If you need to fine tune, tap the mouse button to gradually make changes until you're satisfied.
Buildable Area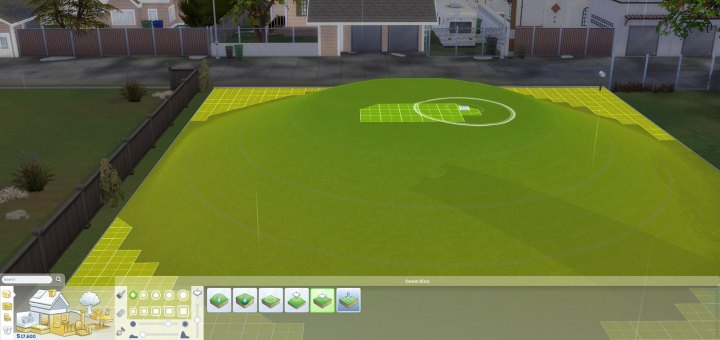 The green blocks represent buildable area. Any objects must fit with room for a Sim to use them. Foundations can automatically rise to fit, or will cut into surrounding hills, so don't worry about perfection here.
There are a few things the terrain tool mode shows you that are all important. First, the squares denote where you're able to build. If you make a hill, you will not be able to place any larger objects on the slope, though decorative objects may be placed so long as they are not on an extremely steep grade.
Height Markers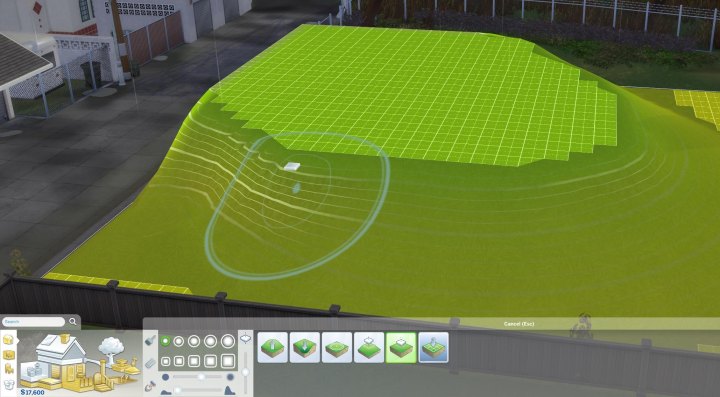 This is an example of a slope that is too steep for Sims to climb. If you can see the height markers clearly, it's too steep. Make the slope much more gentle or use stairs for Sims to walk up or down this terrain.
On the sides of hills, there are height markers. When these are present, Sims are unable to walk up the slope. They can take a decent grade with no problem, but the lines must be extremely faint or non-present. Smoothing things out to where your Sims are able to walk upward is not necessary unless you wish to avoid stairs, as stairs will make most hills traversable.
These height markers came into play with the next tools we'll cover. Using them as a guide, you can select to have the tools automatically bring the land to a set height or smooth around that height.
Smooth Terrain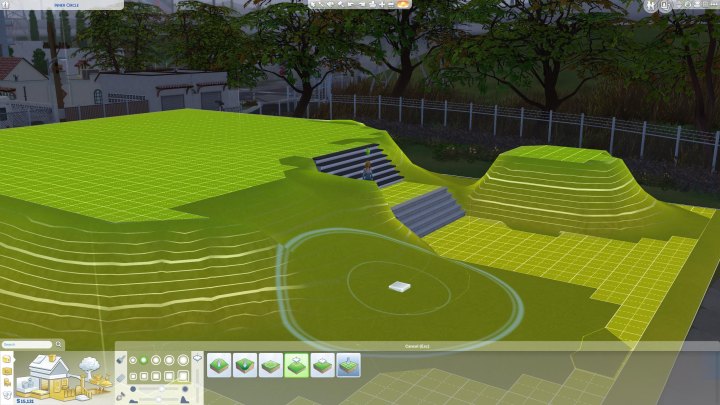 Smoothing terrain can be helpful to ensure a gentle slope, so long as you do it gradually and paint the area to smooth with your mouse. Tap gently for subtle changes, hold for bigger changes and remember the speed and area of modification are adjustable with the slider.
Terrain smoothing looks at the brush size you've selected and smooths based on the average height of the areas inside the brush. This will help you to fix any little dips and, when used slowly, can help to smooth a large area and make it walkable without stairs. If you slowly smooth from the top to the bottom of a hill while paying careful attention to the height markers on the hill and how they react, you can get a feel and 'paint' a grade that a Sim is able to walk.
Flatten Terrain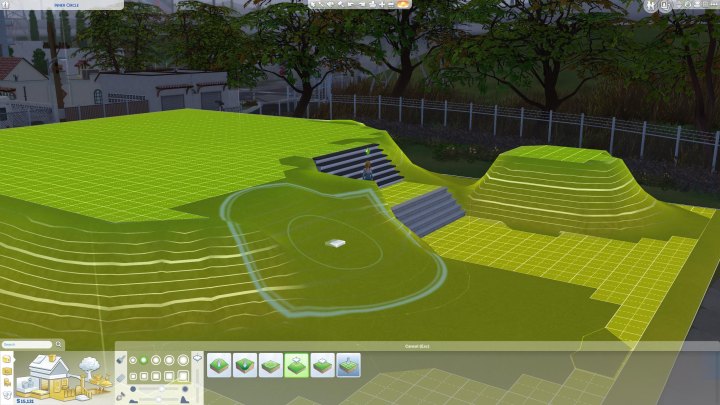 When using flatten terrain, the area at the center of the brush is the elevation that will be used. Move the mouse to different areas and watch the square's location on the slope lines to get a feel for how high you'll flatten.
Flatten Terrain will bring the surrounding area to that of the
first clicked area
. You can see the height you'll get by looking at the square icon that appears to show you heights. This cannot be adjusted unlike the next tool, but you do have direct control based on where you place your mouse. If you want something more specific, use
Flatten to Height
.
Flatten to Height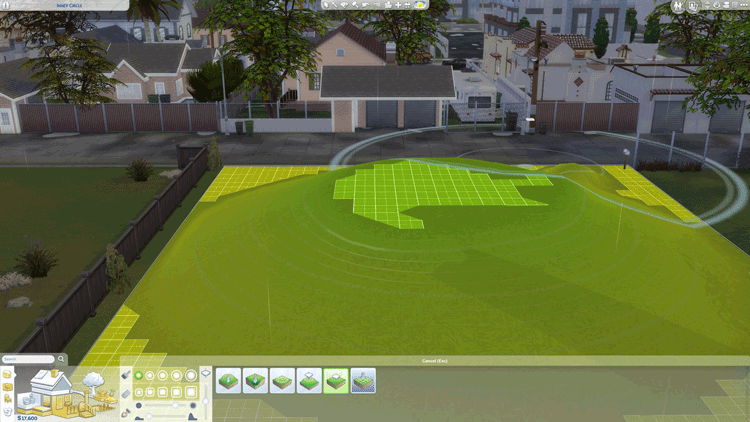 The flatten to height tool is incredibly useful - this will help you to ensure building area or connect to separate hills and ensure they are on the same level.
This tool is extremely important if you want to connect two hills and make the land level. Using Control + [ and ] will allow you to fine tune the height. If it is solid colored, it's above ground or level with the ground. If it goes dim, it's below ground. It will then raise and lower terrain based on the speed and size settings, bringing all terrain level. If you want a more gentle slope, build with a larger circle or square brush as to meet certain heights it may need to make hills extremely steep.
Flatten Lot
Aside from undo, you may also flatten the entire lot back to its default state if things are unsalvageable. If you do this on accident, you can, of course undo that as well and get your messed up hills back. Learning to use these tools may take some trial and error but they're not difficult at all, it's just going to take a bit of creativity to make something nice using these new powers. Good luck, and if you're interested we have other building guides (found in the navigation panel top right on desktop, below on mobile) which can help you to make your houses better.
Terrain Tools & Different Foundation Heights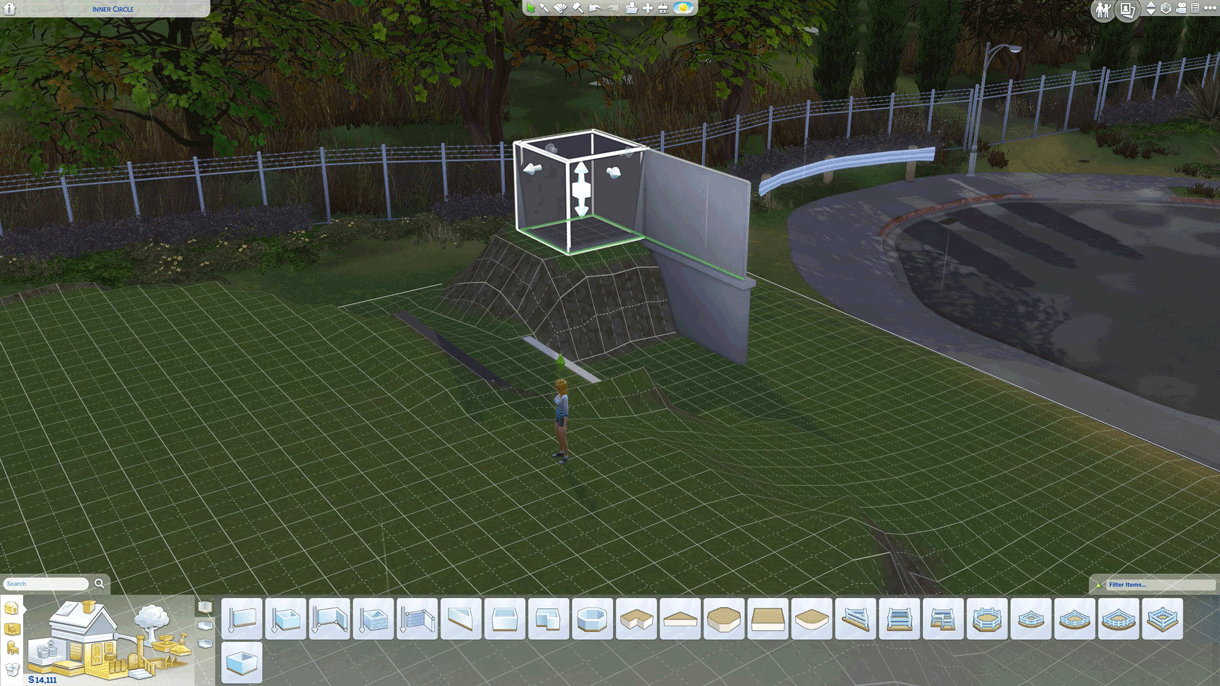 Click to Enlarge. Foundation height can be adjusted via the slider that appear when you click on a block.
Different sections of a building would be known as blocks. As noted in the intro, these new tools mean that builders will be able to have varied foundation heights. When you click a block, you're able to drag a slider up and down to determine the height of the foundation. See the gif above to understand what I mean.
Foundations and Terrain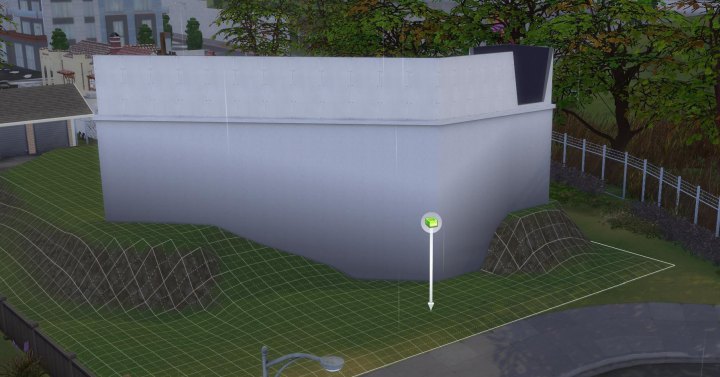 Walls will cut through hills, depending on where you start the wall, and automatically gain a foundation that will support them.
As you can see in the following image, walls will cut straight through terrain to accommodate what you want to build. You don't have to worry about perfection when it comes to your hills.
Connecting Blocks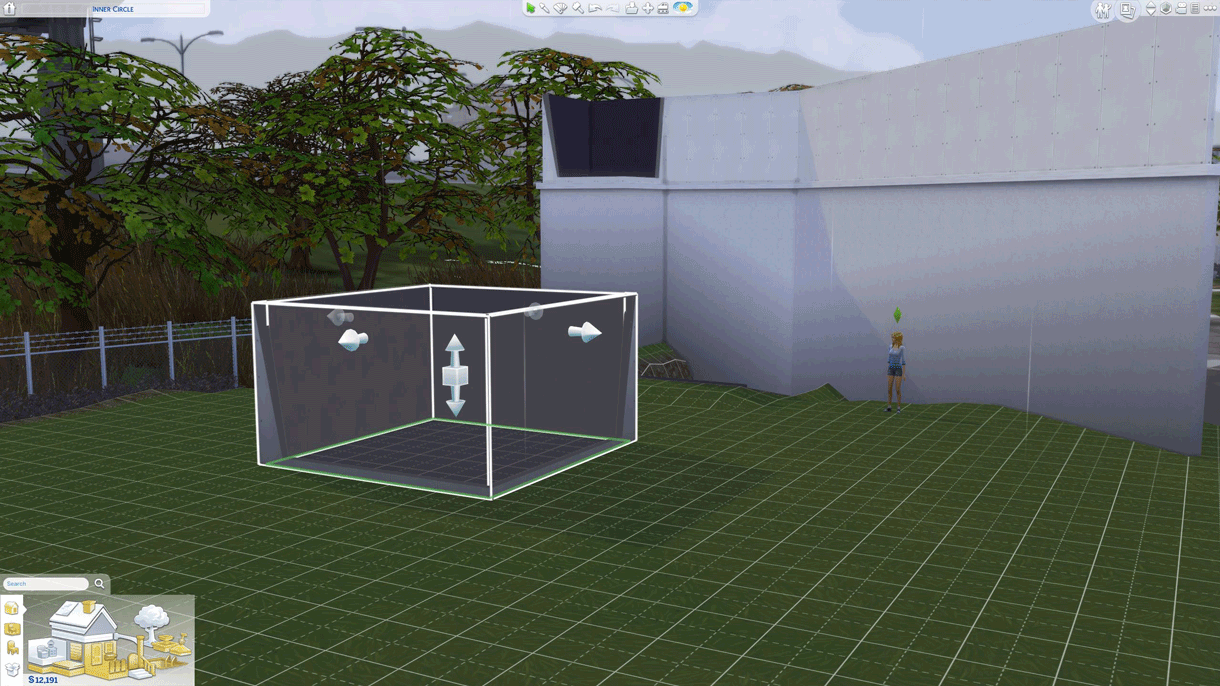 Click to Enlarge. Blocks will glow when they are on the same height level.
In order to connect two blocks, they must be on the same plane. This can be determined by the glow that appears on the other block when you've adjusted the height. In fact, all blocks of the same height will glow in this way to tell you that the elevation is correct.
Other Building Guides
Sims 4 House Building
Building Cheats
Counters and Islands
Decorating Inside Homes
Decorating Outside/Landscaping
Island Living (Stilt Foundation, Glass Floors)
Roofs
Split Levels and Lofts
Stairs and Basements
Terrain Tools

How You Can Support The Site and Channel

If you like my sites and
Youtube Channel
, consider supporting me on
Patreon
to help me to continue. If you'd like to support my guides in another way you can use our
Amazon link
for your next purchase (if in the US). We also offer a
paypal donate link
so you can contribute directly.
Back to The Top
Check Out My Youtube Channel!
We now have a Youtube Channel with over 50 guides in video format to go along with the huge site I've already created. Check it out and consider subscribing if you like my style.
Comments (3)
Topic:
http://carls-sims-4-guide.com/tutorials/building/terrain-tools.php
Senior
Playalot
Great guide! Such a great feature to finally have

New
EustaceCS
One more small yet important detail, about roofs.
An option to remove floor from topmost level isn't available by double-click any longer.
'Hammer' tool will do this job.
Will be handy for houses with glass roofs.
New
James
Hi I have a house boat that is sick and I can not move it dose anyone known a fix for this
Are you sure you want to report it?
Share a link to this comment
Nifty Knitting & Eco Lifestyle Guides
The Sims 4 Build Tutorials
Support Us

Readers who use adblock or those who'd like to thank me for my efforts can now pledge $1/$5 monthly via Patreon. This helps a lot with server costs and provides some stability for my business.
Super Sim Checklist + Other News
Let's Play Playlist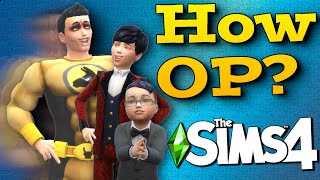 New I now have a guide to Making Super Sims in The Sims 4. Look for a text version within the next 72h. It won't have THAT much more info but it will help out as a checklist.
This was inspired by a series, "Let's Play a Super Sim" in which I start at toddler and gradually take on the major bonuses. Here's a link to each part for people who are interested. You can also see the Let's Play as a Playlist on Youtube.
Discover University Expansion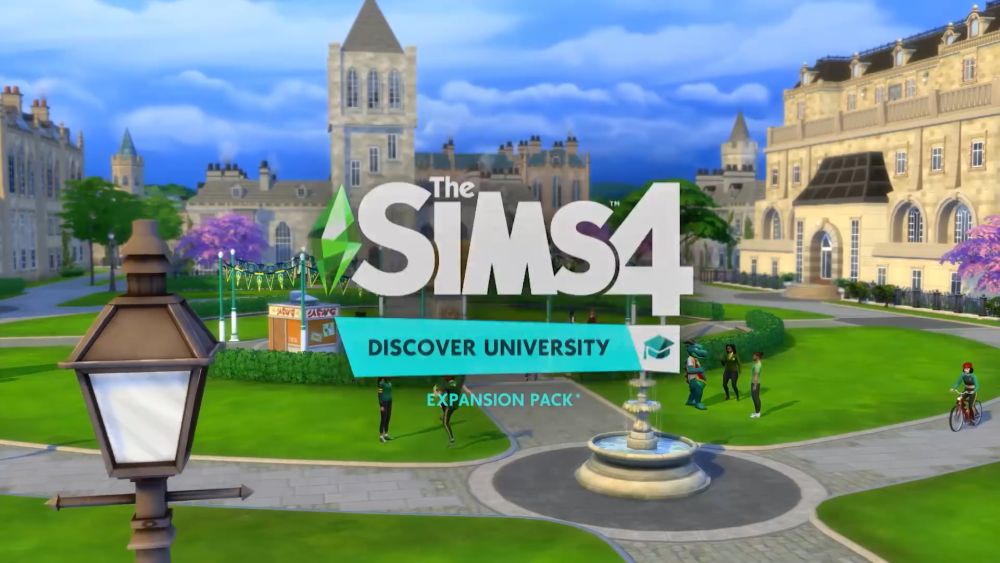 The Sims 4 Discover University has been announced for November 15 for PC/Mac and December 17 for Xbox and Playstation 4 consoles. Click to learn more about the pack, see my summary of the livestream or read our FAQs below.
Other Guides to Discover University:
New Lot Traits: Study Spot and University Student Hang Out
New: Discover University FAQ: Gameplay Features
New Video The Sims 4 Discover University Gameplay Tips Video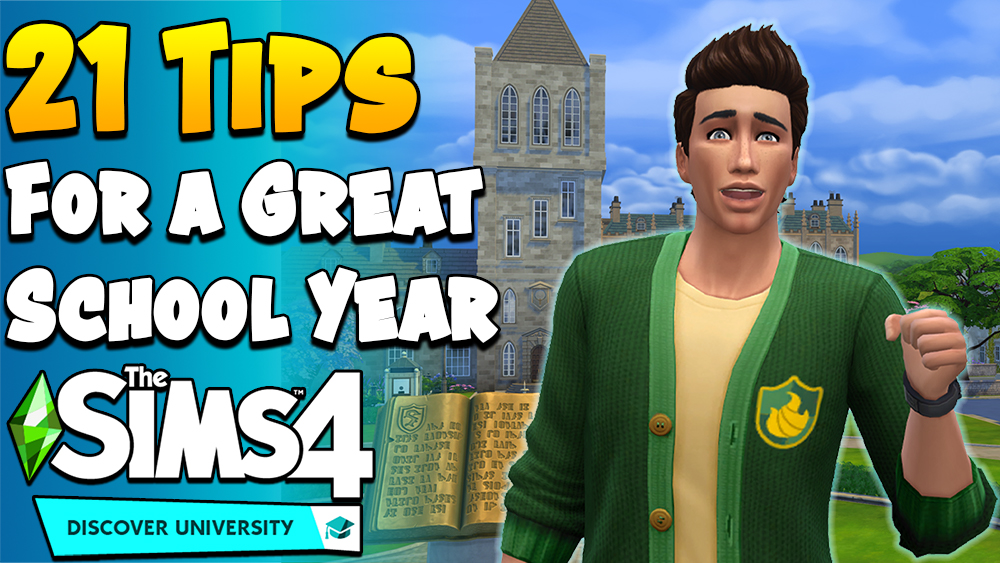 More videos coming soon!
Realm of Magic