The Sims 4 Get Famous: Celestial Crown
Effects of Crystals and Fame Quirk Removal with the Crown Object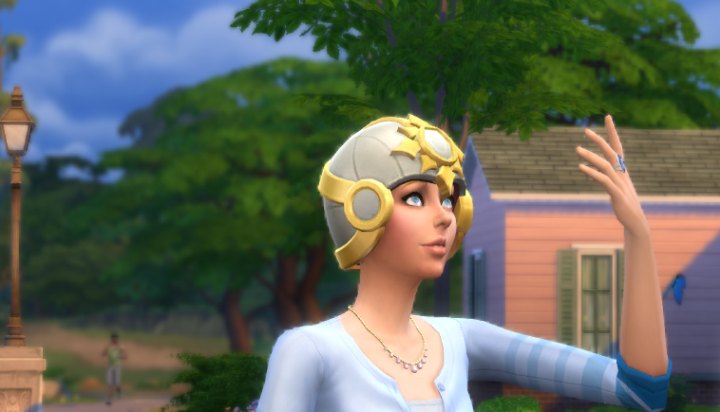 Mounting a Crystal into the Celestial Crystal Crown in The Sims 4 Get Famous DLC.
An odd object included in The Sims 4 Get Famous Expanion Pack is the Celestial Crystal Crown. Its uses are many, for it takes the power of Collectible Crystals and amplifies them, producing magical effects. Crystals are found on the ground in the world's many neighborhoods and reliably at the end of Jungle Temples. You can also purchase common and uncommon crystals on the computer. Thanks to forum user mousef for helping us get around to playing with this object sooner.
How to Get the Crown in Buy Mode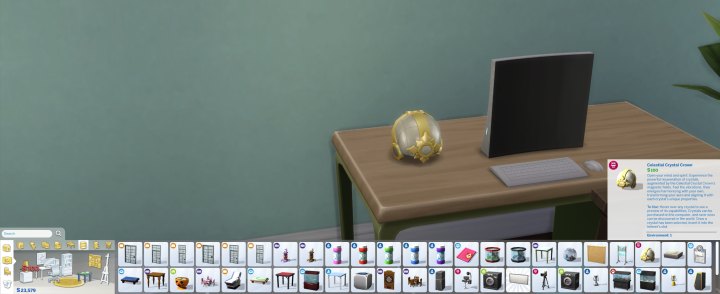 Buy the Celestial Crown for $100. You'll need Crystals to take advantage of it. Otherwise, it's just a way to get Embarrassed. Personally, I would wear it everywhere.
The Celestial Crystal Crown is found in Objects by Room > Study > Indoor Activities for only $100. The price is low but you must factor in the use of crystals, which are not infinite unless you're buying the commons and uncommons.
A guide to the Get Famous Expansion's Celestial Crystal Crown, which can be used to Remove Quirks or boost Fame gains..
How to Use It

Our Latest: Let's Play a Beach Bum New CAS Story Mode and New Build Cheats Guide New New Patch: Cas Story Mode, New Cheat for Build Objects, and Rebranding New The Sims 3's Skill Challenges Added Tons of Depth News: New CAS Mode Coming One of the Rarest Abilities: Snaggle Fluster Fishing Guide Updated Fishing Update Guide (Video) Island Living Review (Video) Island Living Gameplay Review Mermaids Island Living Cheats Features to Know About in The Sims 4 Island Living Features in Island Living (Video Format) Conservationist Guide Cleaning up Sulani Patch Notes: June 2019 (New Features)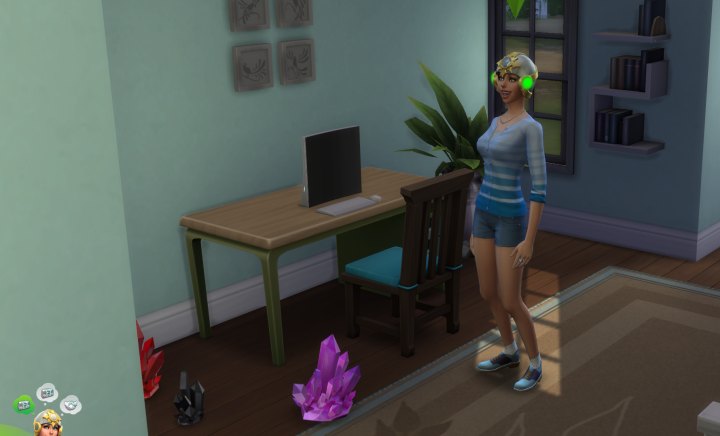 The crystal crown is fairly easy to use, but the effects of crystals are highly varied.
Click crystals in your Sim's inventory with the helmet either on or in their inventory, and you can select 'Mount crystal'. Wear the helmet by clicking it and selecting the appropriate command. Selecting your Sim, you can get a menu for the crystal or click it in the inventory to remove the helmet or remove a crystal.
When a crystal is socketed, the effects are immediate. Your Sim will get a boost to career or skill gains, or else their needs will be raised to max so long as the crystal lasts. Crystals tend to last about 4 hours total but it's clearly a powerful item.
Drawbacks: There is a caveat, however, in that your Sim will get a +1 Embarrassed moodlet for 4 hours upon wearing the helmet, "fashion faux pas". Not too bad if they're happy already ,but enough to ruin their performance if they are not. The Shameless reward for 2,000 Satisfaction will allow you to use the helmet without getting Embarrassed.
Crown Indicator Light
Mousing over Crystals in your Sim's inventory, you can see the current power level. They go high, medium, and low. When you are wearing the helmet, it also displays the same information via the lights on the side: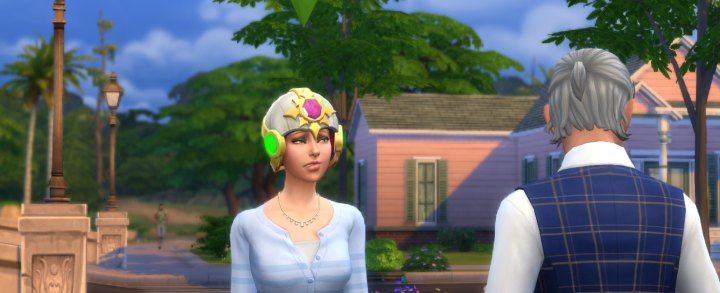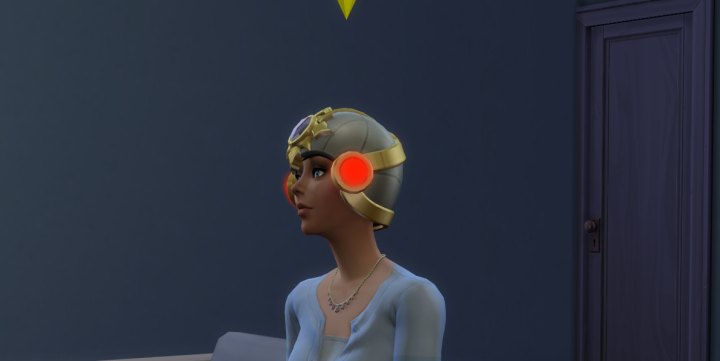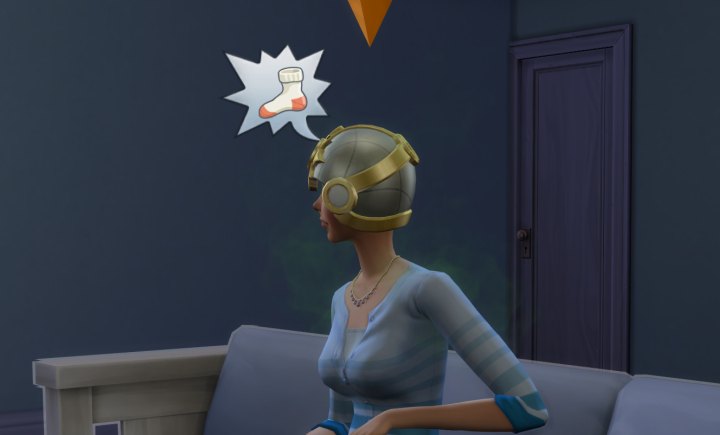 Crystal at high, medium, low, and broken state. When a crystal breaks, it will take a chunk out of one of your Sim's motives (bladder, hygiene, etc.)
Removing Quirks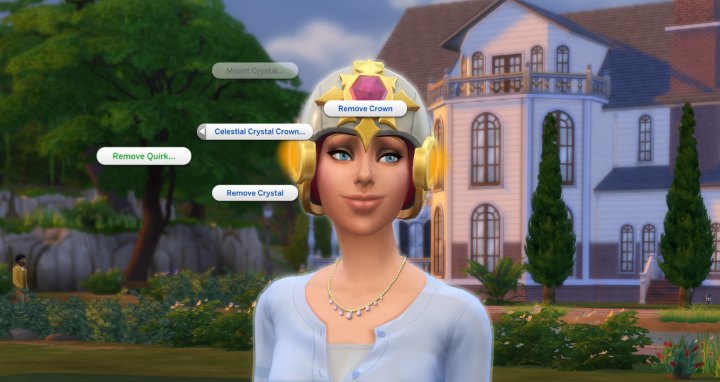 When you have a rare crystal socketed and your Celebrity has a Quirk, you can use the crystal crown to remove it. This will sacrifice the rare crystal but the quirk slot will go back to blank. You'll get another quirk soon enough, but maybe one that doesn't bother you so much.
Crystal Effects
Note that when motives fill, they are simply set at 100. When the effect is removed, they'll go back part way to where they were before you used the filling effect. Use these effects to extend your Sim's active time and deal with needs later. Great for a quick performance if your needs are low and you're in a rush.
| | | | |
| --- | --- | --- | --- |
| | Alabaster | Common | Removes Tension |
| | Citrine | Common | Removes Boredom |
| | Emerald | Common | Removes Embarrassment |
| | Orange Topaz | Common | Removes Sadness |
| | Peach | Common | Fills a Sim's Bladder, Thirst (Vampire), or Water (PlantSims) |
| | Quartz | Common | Removes Uncomfortable Moodlets |
| | Rose | Common | Removes Anger |
| | Ruby | Common | Fills the Hygiene Need |
| | Sapphire | Common | Fills the Social Need |
| | Turquoise | Common | Removes Uncomfortable Moodlets |
| | Crandestine | Common | Get to Work. Fills all needs except Energy and Boosts Painting/Writing/Creativity gains. The skill gains are +50%! |
| | Nitelite | Common | Get to Work. Fills all needs except Energy. Give a Sim the Night Owl Trait (temporarily boosting skill gains during night time) |
| | Amazonite | Uncommon | Jungle Adventure. Boosts Archaeology for adults and mental skill gains for children. (+20% skill gains for duration) |
| | Amethyst | Uncommon | Fills the Hunger need. Boosts Logic for adults and Mental skill gains for Children. (+20% skill gains) |
| | Diamond | Uncommon | Fills the social need and boosts Fame gains by a whopping 50%! Put this on before completing a movie or other time consuming task, and remove it immediately afterward to preserve the crystal's energy |
| | Fire Opal | Uncommon | Fills the Hygiene need and makes Friendly socials always successful. |
| | Hematite | Uncommon | Fills the fun need and boosts Career performance by DOUBLE ( but usually breaks during the shift). |
| | Shinolite | Uncommon | Fills Bladder need (or Thirst/Water). Doubles the chance of finding other Crystals. |
| | Simanite | Uncommon | Fills the social need and makes other Sims like you more. |
| | Alexandrite | Rare | Fills the hunger need and gives a temporary Mystical Sense trait (boosting treasure yield from chests) |
| | Jet | Rare | Fills all needs except Energy - also boosts Satisfaction gains from Whims by triple. Awesome. |
| | Jonquilyst | Rare | Fills all needs except Energy. Also boosts Charisma skill gains for Adults and Social for Children by 50%. |
| | Plumbite | Rare | Fills all needs except Energy. Also boosts Athletic skill gains (motor for Children) by 50%. |
| | Rainborz | Rare | Fills all needs except Energy and periodically makes nearby Sims happy. |
Latest Get Famous Guides
New - Celestial Crystal Crown Effects and Quirk Removal
New - Fame Quirks
New - Media Production
Fame Perks Guide
Becoming a Star: The Celebrity Fame System Explained
Actor Career in Get Famous
Acting Skill in Get Famous
Get Famous Cheats

How You Can Support The Site and Channel

If you like my sites and
Youtube Channel
, consider supporting me on
Patreon
to help me to continue. If you'd like to support my guides in another way you can use our
Amazon link
for your next purchase (if in the US). We also offer a
paypal donate link
so you can contribute directly.
Back to The Top
Quick Links
Check Out My Youtube Channel!
We now have a Youtube Channel with over 50 guides in video format to go along with the huge site I've already created. Check it out and consider subscribing if you like my style.
Share Tips and FAQs
(5)
Our Sims 4 Community is the place to go for faster answers to questions and discussions about the game. Use the form below to share your own experiences and provide helpful tips to other readers. We are not affiliated with EA and cannot make changes to the game, nor fix bugs.
Support The Site via Amazon
John
This could be exploited with the cloning machine from get to work, using it to clone the crystals indefinitely. Thus, the crystal duration would be infinite, at least for practical purposes
24th November 2018 12:30pm
Jean
i smell Thanos here. .
27th November 2018 9:10pm
Lou
It's a bummer that the crown cannot be worn at the film studio location :(
30th November 2018 11:37pm
Acrid
Nice guide thx for ur hard work out there
19th December 2018 7:23am
Alena
This is like Lorenzo Cabot's artifact from Fallout 4

14th January 2019 2:50pm
Join in:
Sims 4 Packs & DLC
Support Us

Readers who use adblock or those who'd like to thank us for our efforts can now pledge $1/$5 monthly via Patreon to help us retain the freedom to do what we love to do.
New Videos and Guides
Armageddon Mod (Mod/CC Reviews).

Latest in The New How To Section : Learn How to Write Songs and Make Money with Music in The Sims 4. Also, How to Get Abducted by Aliens. We have a guide for using Pregnancy Cheats, Get a Job, Adopting a Kid and How to Cheat.

Alien Abduction: I made a Video Guide to Alien Abductions, Alien Babies in The Sims 4 Get to Work.
New How To Section : The new How To's section is updated with How to Get Abducted by Aliens. You can also learn how to use Pregnancy Cheats, Get a Job, Adopting a Kid and How to Cheat. It's meant to help newcomers or those with specific problems and will be greatly expanded over coming months.
New Charisma Video
I've created a fairly detailed Charisma Video Guide to accompany the normal Charisma text guide. My goal is to have every skill covered by the end of the year, if possible.
Seasons and Guide Updates