The Sims 4 Singing Skill
Money Making and Song Genres in City Living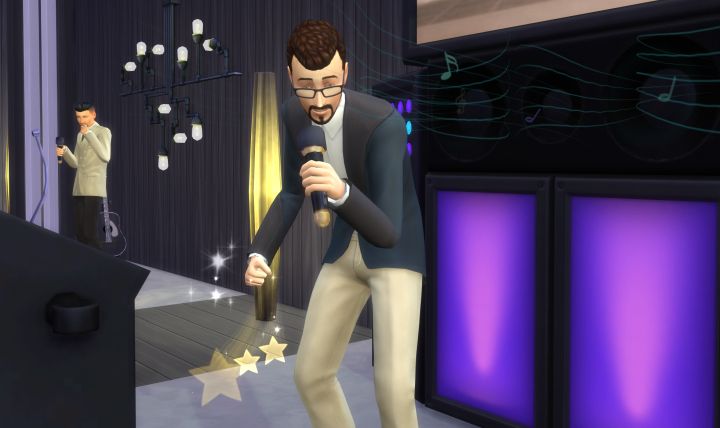 The Singing Skill in The Sims 4 City Living lets you earn money, write songs, and impress romantic partners.
The Sims 4 City Living features a singing skill, which lets Sims gradually improve their vocal range. This skill must have taken some work, as Sims grow to sing much better over time and eventually sing near-perfectly. With higher levels in singing, you can begin to write songs and even license them to earn some extra money. This skill synergizes with both the Piano and Guitar skills. Getting to level 3 in those two instruments, your Sim will be able to sing and play at the same time. It's not an enjoyable listen at first, but they get much, much better with practice.
How to: Singing Cheats
Press Control + Shift + C then type testingcheats on and press enter. You can now set your skill level with stats.set_skill_level major_singing x (fill in 1-10) - we also have a full listing of Skill Cheats and a master list of Cheats in The Sims 4
Getting Started as a Singer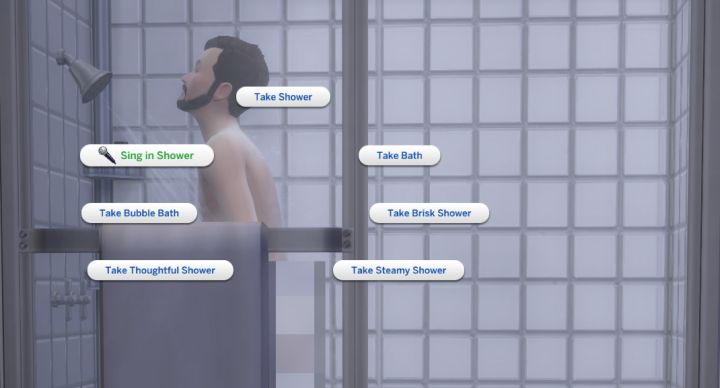 Singing in the Shower is not only a great way to unlock level 1, you can also do it every day when your Sim gets cleaned up without adding much time to the showering process.
Sims can begin to level up the Singing skill by using a karaoke machine. Practice singing is not initially available. Another quick way to get level 1 in order to practice is to use the shower. While taking a shower, you can pause the game and click it again to 'sing in the shower', which when done early enough (while in a good mood) will get that first level in the singing skill. Once the first level is gained, you can practice using a microphone or by simply clicking on your Sim. The ideal mood for singing is Inspired.
Level Up Singing

10 Million Views! My YouTube channel has grown a lot the last 6 months. I now have over 125 videos on Youtube and am nearing 100k subscribers. I'd like to invite people to check out my content and, if you like what I'm doing, subscribe!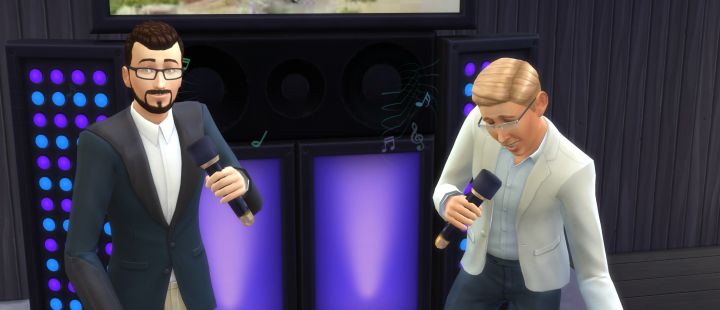 Karaoke is a good choice for leveling the skill and making new friends on a night out. Sims are awful when they first get started. It's funny but hard to listen to for any length of time.
As you level the singing skill, your Sim will noticeably improve, with their voice improvements actually making the listening experience enjoyable. You may even grow to love some of the songs, despite the gibberish that is Simlish. Since you can practice this skill anywhere, you should have no trouble gaining skill levels over time. Use it when there's nothing else to do, as you would by carrying around a guitar with your Sim. It is actually possible to level both guitar and singing at the same time, which is extra effective if you pluck some inspiration first using the guitar.
Skill & Song Genre Unlocks by Level
Level 1 - Click Microphone/Sim to Practice Singing. Genre unlocks: Solo House, Jazz, and Pop on Karaoke Machine. Country Duet with Karaoke Machine.
Level 2 - Rock songs on Karaoke Machine, Duet Pop songs. Folk genre unlocks on Microphone (and Guitar/Piano with level 3 in those Skills). Rave about Favorite Singers Interaction unlocks.
Level 3 - Country (solo) and Duet Jazz songs unlock on Karaoke Machine. Pop songs on Microphone (and Piano/Guitar with level 3 in those instruments). Can now select to sing pop songs by clicking on the Sim. Serenade interaction unlocks.
Level 4 - Can sing Disco songs and Duet Ballads on the Karaoke Machine
Level 5 - Can sing Jazz songs on Piano/Guitar/Microphone. Sing Jazz under the Sim-click Sing Song menu.
Level 6 - Singing voice continues to improve, more likely to get a good moodlet from singing Karaoke.
Level 7 - Theater Drama songs can be sung on the Microphone, Guitar, Piano, and under the Sing Song menu when clicking the Sim.
Level 8 - Write Lyrics is possible by clicking on the Microphone, Guitar, and Piano if you have at least level 3 in those instruments. The Sim can sing songs they've written, both on those instruments and through the Sing Song menu.
Level 9 - Written songs can now be Licensed by clicking the mailbox.
Level 10 - Better likelihood of a good outcome when using the Karaoke Machine (ie a better Moodlet) and a better voice.
Serenades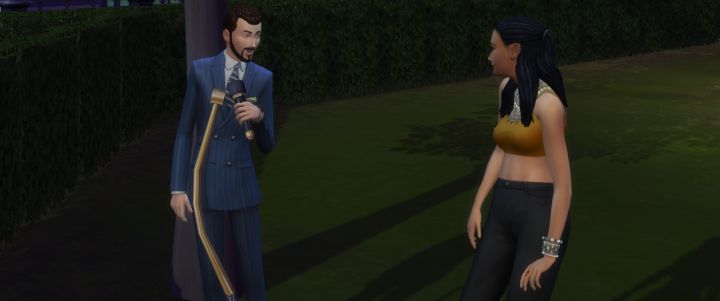 Serenading a Sim for Romance
The Serenade interaction provides powerful romantic boosts. A microphone isn't necessary to do this. Serenade is a very powerful ability as it gives a +2 8 hour flirty moodlet! It is likely a good idea to set a Sim up to accept this first, by using some friendly and romantic interactions. If they accept, you're set the tone for romance and have a much better success rate with riskier romantic interactions. Click here for a guide to romance in The Sims 4.
Making Money by Writing Songs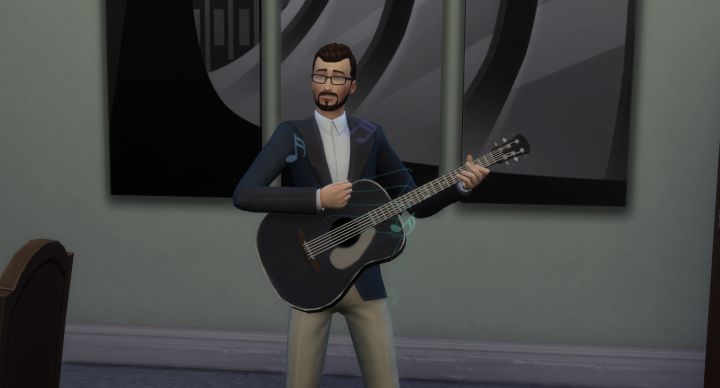 Sims can level both singing and guitar/piano at the same time, so long as they are level 3 in those instruments.
Writing songs unlocks at level 8 and licensing them is level 9. Singing is another way to earn money from music in The Sims 4, and in combination with the other instruments is viable as a self-employment career. However, it is one that requires substantially more work due to the effort required to master the instruments.
It takes 12 full hours to write a song, though you can resume writing one if necessary. Licensed songs generate income for 7 full days, and can range from $200 to $800 per day. Income is distributed daily at 10AM. You can have one song of each type - microphone, guitar, and piano counting only City Living and the Sims 4 base game. Songs written for lyrics on the guitar count as 'microphone'. You can then write a song that is instrumental for the two other instruments. Writing 3 songs a week, you could earn between $600-2000+ per day in royalties, but you'd need to continually produce more music for it to stay viable as a career choice. Expect to spend 36 hours per week writing music if you go this route.
Acting | Archaeology | Baking | Charisma | Comedy | Cooking | Dancing | DJ Mixing | Fabrication &nbsp|; Fishing | Fitness | Flower Arranging | Gardening | Gourmet Cooking | Guitar | Handiness | Herbalism | Juice Fizzing | Logic | Media Production | Mischief | Mixology | Painting | Parenting | Photography | Piano | Programming | Robotics Rocket Science | Singing | Vampire Lore | Veterinarian | Video Gaming | Violin | Wellness | Writing
How You Can Support The Site and Channel

If you like my sites and
Youtube Channel
, consider supporting me on
Patreon
to help me to continue. If you'd like to support my guides in another way you can use our
Amazon link
for your next purchase (if in the US). We also offer a
paypal donate link
so you can contribute directly.
Back to The Top
Check Out My Youtube Channel!
We now have a Youtube Channel with over 50 guides in video format to go along with the huge site I've already created. Check it out and consider subscribing if you like my style.
Comments (15)
Topic:
http://carls-sims-4-guide.com/skills/cityliving/singing/
Admin
Playalot
Not really. Your sim can play the guitar and sing at the same time, or play the piano and sing at the same time, or just sing. These options are linked through a menu that you access by clicking the sims instrument.
You could get a sim to play guitar and another sim to sing but I don't know how good that would sound as basically they are unrelated and just doing different tasks. It would look good for screenshots etc but it would be 'pretend' or 'staged' game play rather than actual game play.
New
wiggins
I am having problems with the karaoke contest. Even when I get 100/100 score I still lose because someone else does too. It doesn't matter if I go first or last. I just can't figure it out. Out of four times of that score I have lost 3 times. When my sim was having lower scores she would win often but now that she is in the 90's or 100 she loses most of the time.
New
wiggins
Forgot to mention she is level 10 at singing.
Admin
Playalot
Maybe it is a mod/cc conflict? Try removing all mods and cc and testing again. My sim is winning with 100 score but will still occasionally lose which I imagine is 'normal' but a sim shouldn't be losing more often with a score of 100 more than at the lower scores.
Also delete the localthumbcach.package file from your TheSims4 folder as that can help to clear out glitches.
Admin
Playalot
Try it! Pop a kid in the shower and see if the 'sing in shower' option is present.

Admin
Playalot
Who knows!

You can always use townies with the kelpto trait to get a sort-of burglar feel. Just befriend them and ask them over to your sims home lot. They'll swipe something before too long.
New
Spazilton
Admin
Playalot
This function is bugged in some games. It has nothing to do with the singing skill but is instead just a text adventure that sims can get invited to. When the times comes after clicking 'ok' the sim who asked will send a message to your sim saying it is time and then your sim walks off the lot and disappears (like they do when going to work). About an hour later (game time) your sim appears back with a text message saying they enjoyed the opera or whatever it was they went to 'see'.
Link to an
open bug report
on this issue.
Admin
Playalot
Your sims needs level 9 singing skill before that interaction unlocks. Licensing songs or music works just fine in apartments.
Regular
amy
Ok, so it must just be a bug with my game.
Thanks
New
Basil
My sims get calls from their friends that there is an opera in town or a circus in town, and yet EA seems to have left out these events after putting in the festivals. Really disappointing. If they were going put these in later then they should not make sims call up about these things. As such these phone calls are no different from spam calls...
Admin
Playalot
These calls are for a text adventure that, when working, your sim will disappear off the lot to go to. A bit like how sims disappear off to work. The 'event' lasts about one sim hour and then they reappear and you get a text notification about how great it was. These events are not working correctly in all games.
Bug Report Link
Admin
Playalot
This can happen so it's always best to stop just after starting a new song to check that the music sheet is in your sims inventory. If you are using any mods or cc remember too that they can cause issues if they are not up to date with the latest patch.
Clicking on your sim will always start writing a new song etc so that is why it is best to stop your sim and check early on if there is sheet music in the inventory.
New
PlantJohn
Does anyone have a picture of the Singing skill icon ?
New
Lissa Fofana
i am so excited to play the game
Regular
Josie
Admin
Playlot
Well I can get 99 reliably by practicing the song my sim is going to sing for the contest a few times just before the contest begins and having my sim be Very Inspired. I've done this with only L8 of the singing skill but the chances of winning the contest should go up the higher your sims skill level is.
Regular
Josie
Yeah, it's really interesting because I had both her and another sim practice their respective contest songs. She scored a 71 (lmao) while very inspired, and the other sims (who's L9), scored a 100 w/ the same mood. Idk, I wish the developers released more info on how these contests exactly are factored. (Also, I know it is a mere 500 simoleon prize, but it's nice to know your sims are the ruling couple at the karaoke bar lol)
Admin
Playlot
There could be a Hidden Attribute maybe, just a guess - but sometimes sims are given these hidden attributes through RNG game mechanics. For another example some sims are very good fishers and catch a lot of high priced fish, other really don't, some writer sims knock out Best Seller after another while others with same skills etc struggle to even write one. It's a bit frustrating when it's not the actual player input that defines a sims skills.
Admin
Playlot
I think you mean DLC (Downloadable Content) City Living is a DLC- a Game Pack, not a mod. And the 'sing in shower' is an action that came with this pack. Sims will still sound like they are singing in the shower even with just the base game but the Skill 'Singing" comes with the pack. So basically, no - although you will hear sims singing while showering, without City Living there is no singing skill and no specific 'sing in shower' action to be applied to a shower.
Admin
Playlot
If they are in a group and/or traveled to the lot together then they can not sing a duet together. This is a weird known bug that was supposed to have been fixed by a past patch but still occurs.
New
PolecatEZ
Its not necessary to write new songs to license, you can re-license the same songs over and over again. I don't know what this does to the income level though, as it seems completely random to me. I've gotten as much as $800/day when licensing old songs, while new ones can fetch just $200-300.
Are you sure you want to report it?
Share a link to this comment
Nifty Knitting & Eco Lifestyle Guides
Support Us

Readers who use adblock or those who'd like to thank me for my efforts can now pledge $1/$5 monthly via Patreon. This helps a lot with server costs and provides some stability for my business.
Super Sim Checklist + Other News
Let's Play Playlist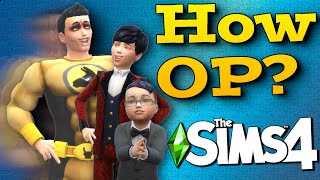 New I now have a guide to Making Super Sims in The Sims 4. Look for a text version within the next 72h. It won't have THAT much more info but it will help out as a checklist.
This was inspired by a series, "Let's Play a Super Sim" in which I start at toddler and gradually take on the major bonuses. Here's a link to each part for people who are interested. You can also see the Let's Play as a Playlist on Youtube.
Discover University Expansion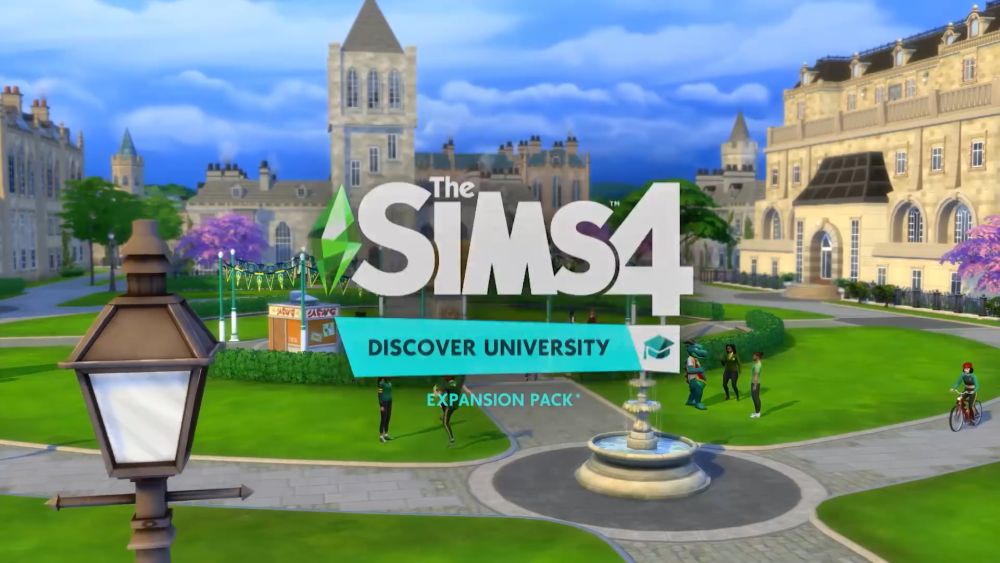 The Sims 4 Discover University has been announced for November 15 for PC/Mac and December 17 for Xbox and Playstation 4 consoles. Click to learn more about the pack, see my summary of the livestream or read our FAQs below.
Other Guides to Discover University:
New Lot Traits: Study Spot and University Student Hang Out
New: Discover University FAQ: Gameplay Features
New Video The Sims 4 Discover University Gameplay Tips Video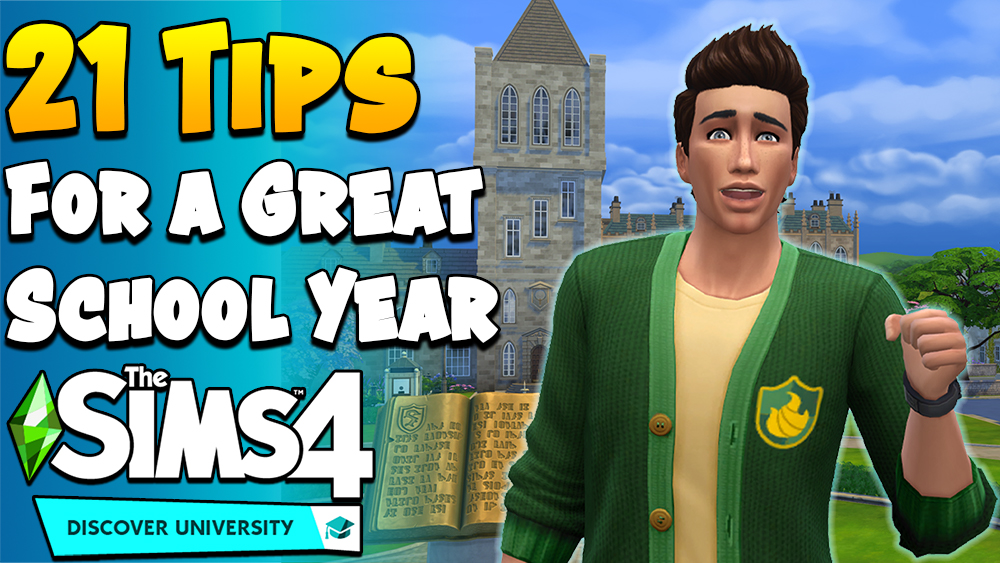 More videos coming soon!
Realm of Magic