The Sims 4 Research and Debate Skill
Gettin' Educated and Convincing Others in Discover University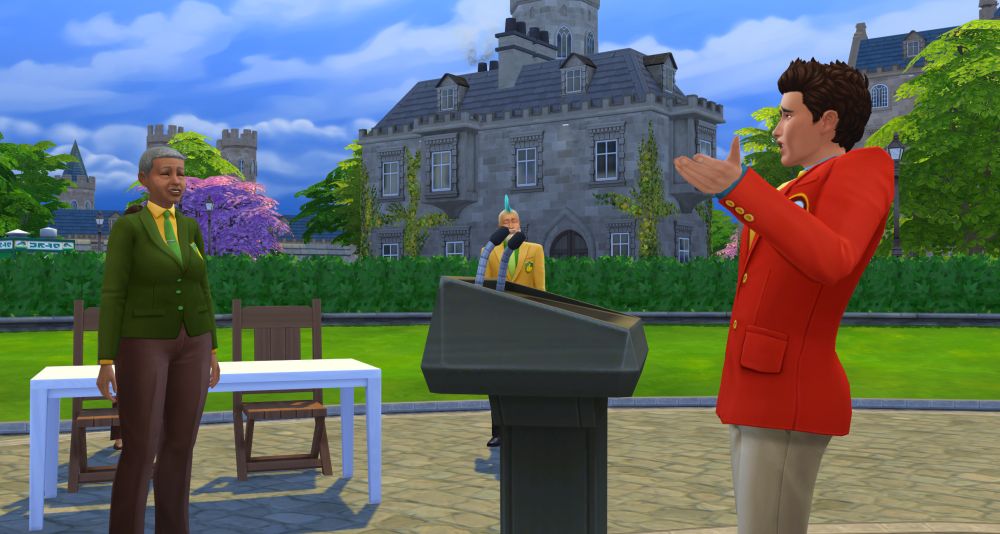 The Research and Debate Skill in The Sims 4 Discover University
The Research and Debate Skill is very interesting to me. It's essentially a skill that teaches Sims to learn and to be more persuasive in convincing others. You'll get a bunch of different passive boosts by leveling this skill, a few unique abilities, and can get other Sims to shower, cook meals, or clean up the house - perfect for managing Roommates in The Sims 4 Discover University.
Leveling Research and Debate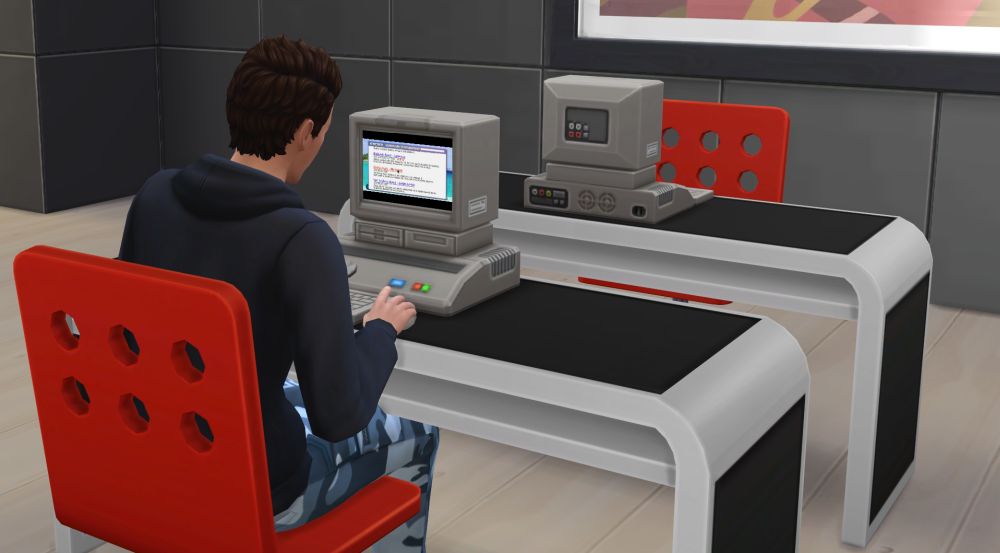 There are a few ways to level Research and Debate - the cheapest is perhaps using a mirror to Practice Debate. See, here's the thing - the Electromagnetic Research Archive Machine... It's $12,000. So yeah, most Sims won't afford it without cheating in some money. You can get Podiums on the cheap in buy mode under Miscellaneous Activities and Skills - there is also a double podium setup you can use for debates. Of course, you could just travel to one of the University's students buildings where you can use the Archive free of charge. Just not from the comfort of home.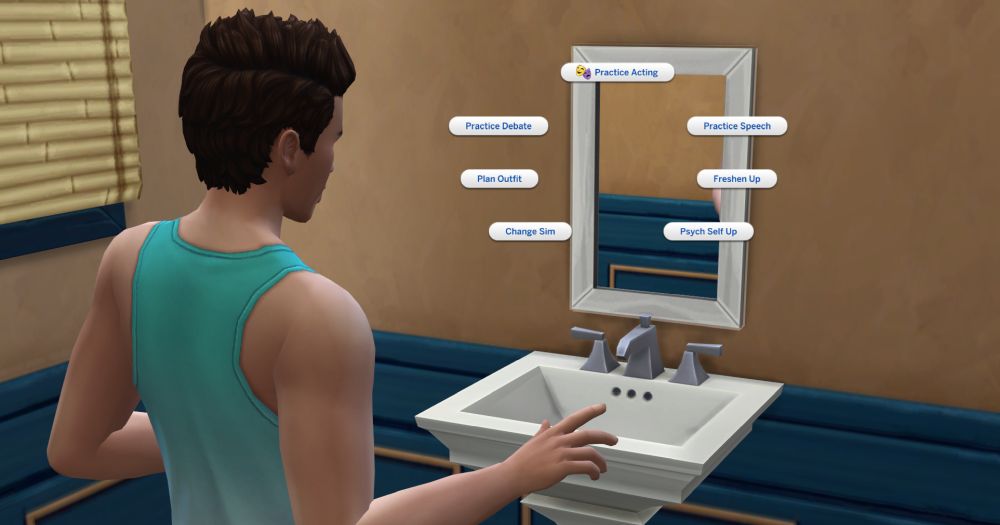 You can level up Research and Debate using the machine above, or just practice at a mirror! Put on your convincing face.
The ideal mood for Research and Debate is, of course, Focused. You'll gain +20% faster skill XP by being focused, 40% for very focused. Stack on a couple lot trait bonuses, and you'll cram info like a champion.
Research Machine is the New Death
The new death in Discover University is that when contributing knowledge using the Research Machine too much (specifically that high level ability), your Sim will grow exhausted. If you continue to do so beyond that point, they'll give their life to science. It's not a very exciting death but one very much worthy of warning people about.
Research and Debate Skill Unlocks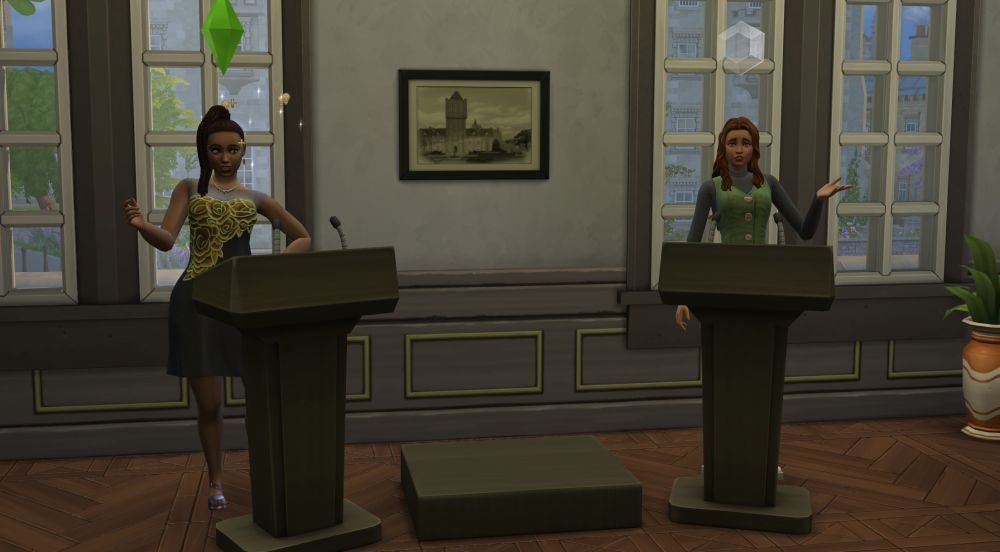 You get several active and passive abilities by leveling up Research and Debate. These help you complete homework faster, study more effectively, and even finish term papers faster.
Level 1 - Research & Debate is all about learning information and then utilizing it-whether that be in a debate or through social influence. This skill can be improved and used with the Research Archive Machine to Research varying topics, and the Mirror to Practice Debating
Level 2 - Your Sim can now finish reading books in less time. They can also Debate a Topic with other Sims at a Podium.
Level 3 - Your Sim can now complete their homework at an accelerated rate. They can Prepare for Debate at the Electromagnetic Research Archive Machine and Convince other Sims to Bathe or Do a Keg Stand.
Level 4 - Your Sim can now gain more study progress while studying. They can now research more skills on the Research Archive Machine.
Level 5 - Your Sim has become more persuasive. They can Convince other Sims to Do his or her homework and cook meals.
Level 6 - Your Sim can now complete University Presentations and Term Papers in record time. They may also Contribute Knowledge on the Research Archive Machine.
Level 7 - Your Sim can now use their persuasive powers to Convince other Sims to Clean house. They can also Convince roommates thinking of leaving the house to Stay.
Level 8 - Your Sim can now Write and Publish Research Papers at a Computer. They will also gain skill faster while reading sklil books.
Level 9 - Your Sim can now Convince others to Go Streaking. They can also Convince Boss to Give Bonus on the phone.
Level 10 - Your Sim can now have a Professional Debate with other Sim on a Podium Pair. They can also Give Professional Commentary at a Podium or Podium Pair. These are great ways to earn a few extra Simoleons.
Passive Study and School Work Bonuses
There are several of these unlocked above, so let's discuss just how good they are! It would appear that the level 3 Homework Speed buff is +25%, saving you at least 15-25mins each time your Sim needs to do homework, if not more. This stacks nicely with the Study Spot Lot Trait which can be put on any lot (and also increases skill gains - it's decidedly overpowered).
Study Speed is increased, therefore your Sim will increase their performance in a particular class much faster. This is all hidden to you, but if you miss class or fail to do homework it can be made up this way by spending a few hours studying for said course. You'll make up some of that time when it comes to making Term Papers and Presentations. The latter can be finished 40% faster. Not just the first stage, but all stages. In this way, Research and Debate is one of the best skills for students in Discover University. Who knew a skill around learning could be so useful to someone in Uni?
Convincing Others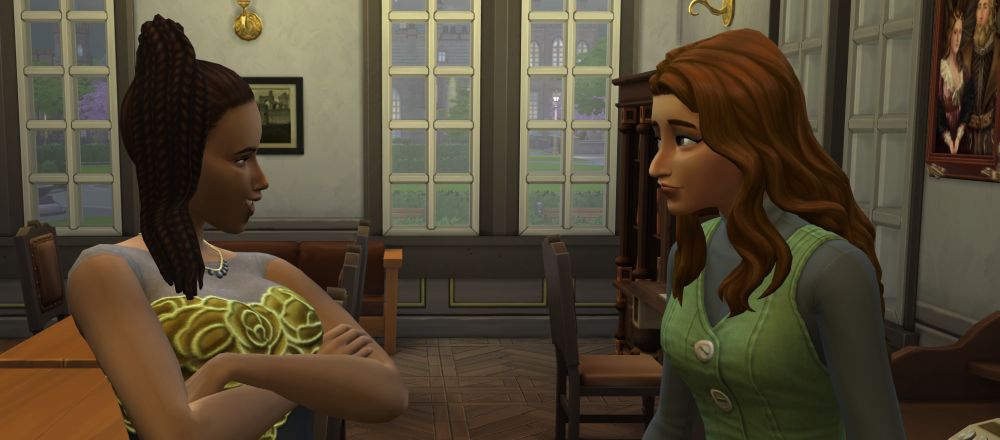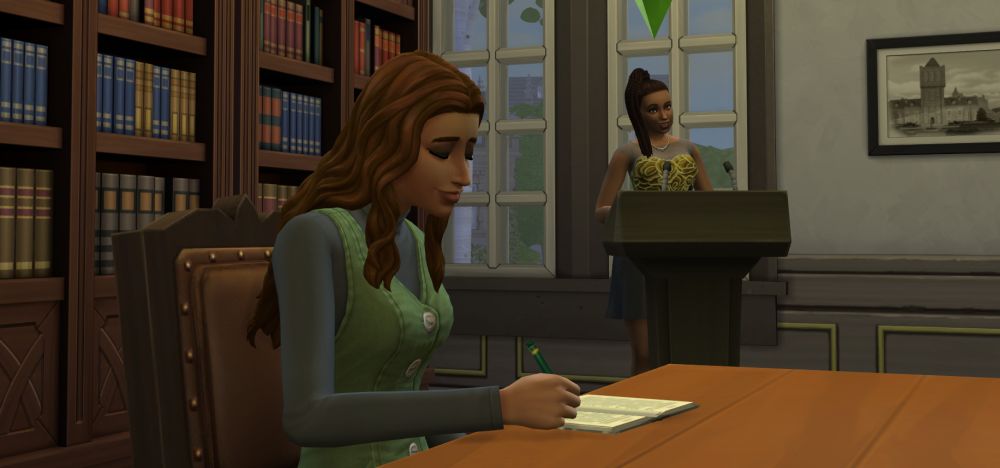 "Look this homework's due in 3 hours, and I just don't feel like it. Could you help out a friend?"
"Why, of course!" - Convincing others to do things is quite fun, but has a rather long global cooldown. You can't be a pest.
You can only do this every 4 hours (not on a per-Sim basis). You don't need to have met the target Sim in order for it to work, as the Convince To menu is available straight away. Overall, it can be super useful to get other Sims to do your Sim's homework though they won't gain skills. But you have Research and Debate, right, so you can definitely make up for that with a nice skill book.
Debating
You can practice debating at podiums, but also have a two-hour+ long debate with other Sims. Winning it gives you a +1 Confident moodlet for 4 hours, which is hardly appropriate given the time sink. Anyway, the main use of the debating wing of this skill is Convince and its use in helping you to rank up in the Debate Guild University Organization mentioned below.
Debate Organization - Britechester Students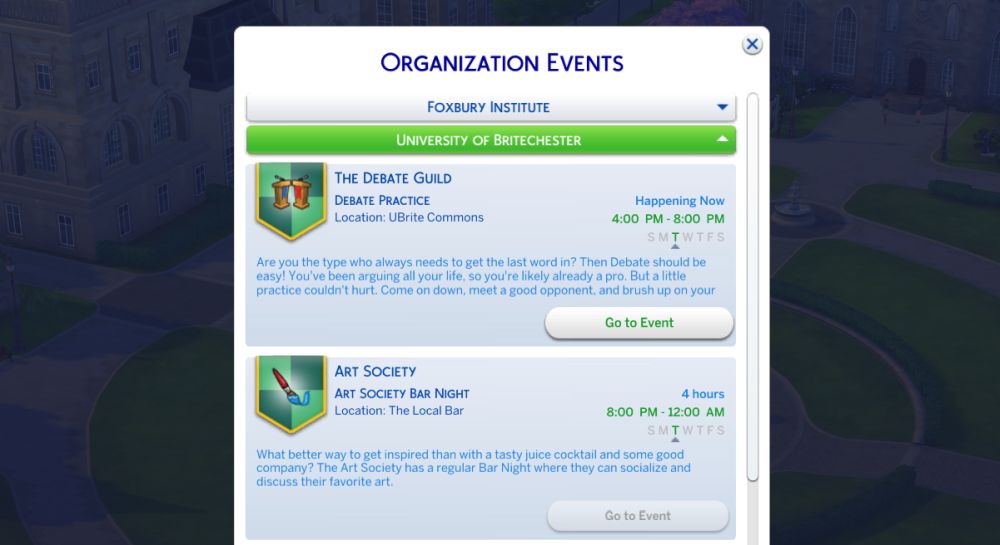 The Debate Guild meets weekly, Tuesday from 4PM to 8PM. You can ask a member to join, and will then have a planner in the Organizations menu (Hotkey U, exists with clubs with Get Together).
There is a debate organization in Discover University, but I haven't explored it much just yet. You must be a student of Britechester in order to participate.
Meet someone from the Debate Guild, and you can ask the other Sim to join. Then manage its tasks and schedule on the Organizations panel (chat bubble icon in the bottom right interface). You'll get tasks, and gradually rank up. It's actually worthwhile to pursue this, because I saw there's a very, very expensive reward for reaching the highest rank. Something that's unattainable for a poor student interested in R&D! I won't spoil that for you.
Contributing Knowledge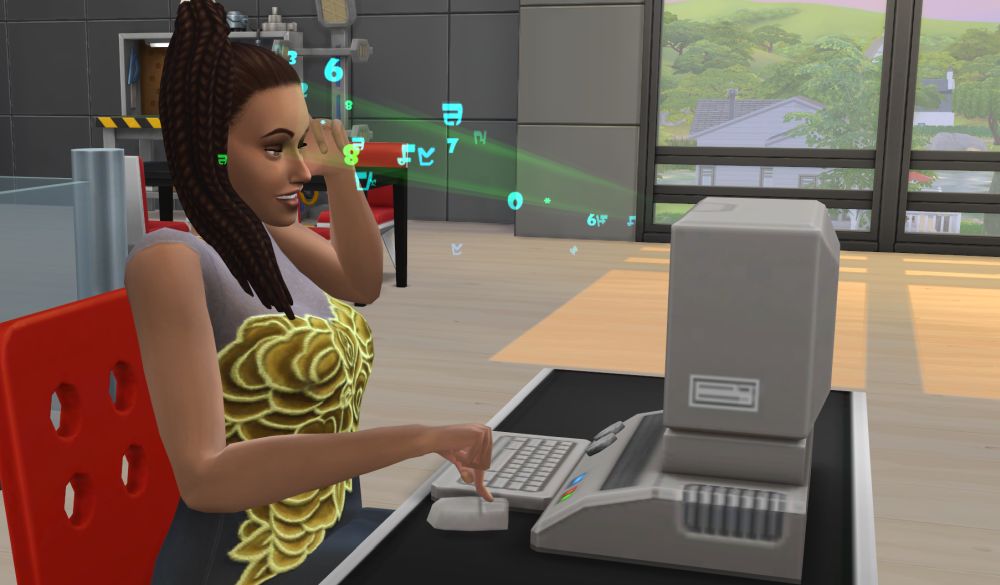 You can make money with the Research and Debate skill. Probably about $300/hour, assuming you have something of value to contribute!
When your Sim gets higher level, they can use the Research Archive Machine to contribute knowledge on one of several skills, including Research and Debate, Painting, Charisma, Handiness, Logic, and Robotics. Having skill in these in addition to your Research and Debate Skill helps to improve the amounts you make. It takes a couple hours and gives about $600 at max level, maybe a little more.
Convince to Do Homework
While useful for getting another Sim to knock out your homework and freeing up some of your own Sim's time, this ability has a whopping 20 hour cooldown but seems to be per class.
Learn Lore
Use the Research Archive to learn about ghosts on campus and, when a member of the Secret Society, learn about that Organization's origins. You can read about their origins in the link below, if you don't mind spoilers.
Other Discover University Guides
Acting | Archaeology | Baking | Charisma | Comedy | Cooking | Dancing | DJ Mixing | Fabrication | Fishing | Fitness | Flower Arranging | Gardening | Gourmet Cooking | Guitar | Handiness | Herbalism | Juice Fizzing | Logic | Media Production | Mischief | Mixology | Painting | Parenting | Photography | Piano | Programming | Research and Debate Robotics Rocket Science | Singing | Vampire Lore | Veterinarian | Video Gaming | Violin | Wellness | Writing
How You Can Support The Site and Channel

If you like my sites and
Youtube Channel
, consider supporting me on
Patreon
to help me to continue. If you'd like to support my guides in another way you can use our
Amazon link
for your next purchase (if in the US). We also offer a
paypal donate link
so you can contribute directly.
Back to The Top
Check Out My Youtube Channel!
We now have a Youtube Channel with over 50 guides in video format to go along with the huge site I've already created. Check it out and consider subscribing if you like my style.
Comments (4)
Topic:
http://carls-sims-4-guide.com/skills/discoveruniversity/researchanddebate/
New
Marcia Darbouze
You can also buy a skill book
Admin
Playalot
Yep, it's the new death included in the pack.
New
Armando Burletta
hi, anyone experience the skill to convince other to make homework not work well? they take book then put again in inventory, they not refuse. tried without mod. bug or 20 h countdown or other
Admin
Playalot
This skill just seems really buggy. Try quitting out of your game and deleting the localthumbcache.package file from your TheSims4 folder. And sometimes doing a Game Repair from Origin can really help with glitches etc. However I think this skill is just not expected to work 100% of the time even with the skill maxed, you should be seeing more successes than failures though at Level 10, if your Sim knows the target Sim well.
Are you sure you want to report it?
Share a link to this comment
Best Mods in Sims 4
I've created a massive List of The Best Mods in The Sims 4 that should be very helpful to new players and those who have not yet explored modding and how much it can do for your gameplay.
Secrets and Other New Stuff
Support Us

Readers who use adblock or those who'd like to thank me for my efforts can now pledge $1/$5 monthly via Patreon. This helps a lot with server costs and provides some stability for my business.
Super Sim Checklist + Other News
Let's Play Playlist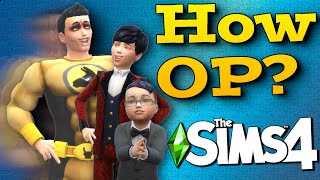 New I now have a guide to Making Super Sims in The Sims 4. Look for a text version within the next 72h. It won't have THAT much more info but it will help out as a checklist.
This was inspired by a series, "Let's Play a Super Sim" in which I start at toddler and gradually take on the major bonuses. Here's a link to each part for people who are interested. You can also see the Let's Play as a Playlist on Youtube.
Discover University Expansion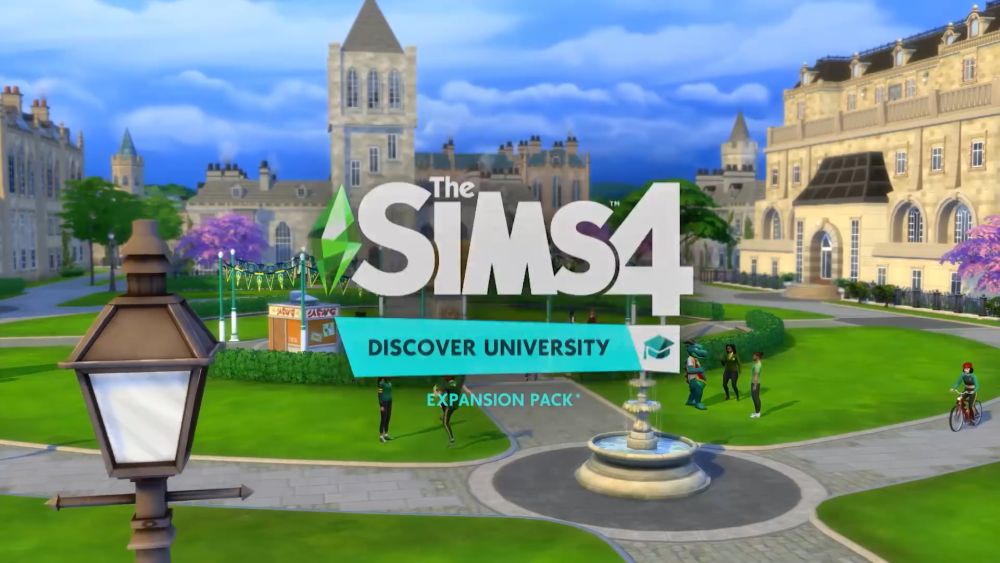 The Sims 4 Discover University has been announced for November 15 for PC/Mac and December 17 for Xbox and Playstation 4 consoles. Click to learn more about the pack, see my summary of the livestream or read our FAQs below.
Other Guides to Discover University:
New Lot Traits: Study Spot and University Student Hang Out
New: Discover University FAQ: Gameplay Features
New Video The Sims 4 Discover University Gameplay Tips Video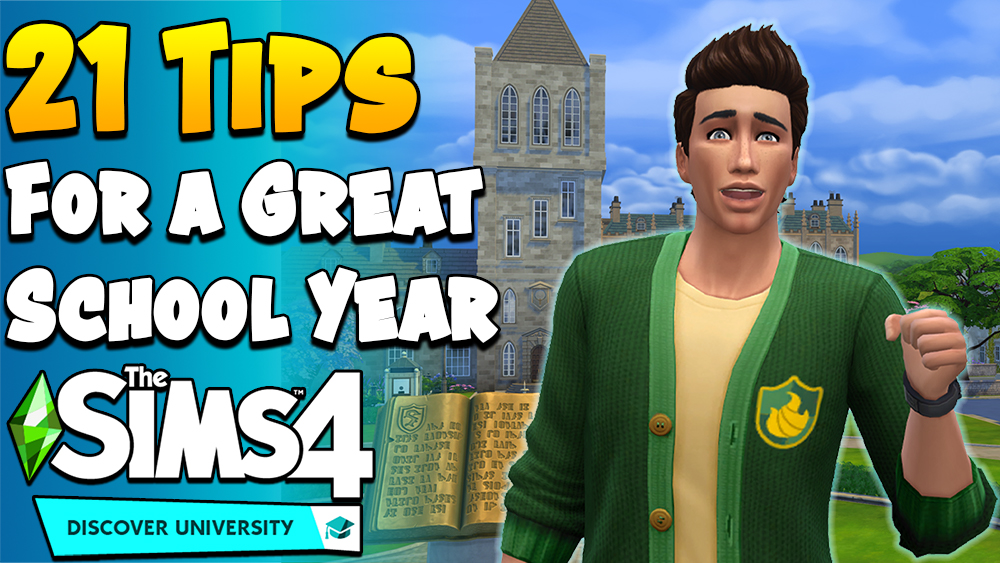 More videos coming soon!
Realm of Magic