The Sims 4 Piano Skill
Earning Tips, Serenades, and Licensing Songs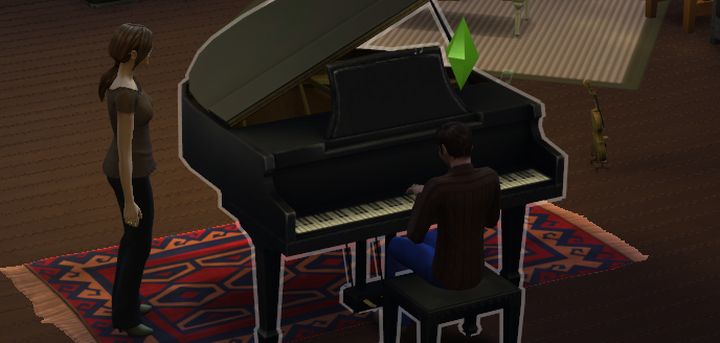 The Piano Skill allows you to Serenade, Write & Sell Songs, and Play for Tips
The Sims 4's Piano Skill is largely an accompaniment to the Entertainer Career's Musician Track. This Skill is not a big moneymaker, but does have some features unique to instruments in the game. If you're a music lover, you're sure to enjoy this Skill along with Guitar and Violin due to the sheer number of songs that Sims can play. Here is what you will unlock while levelling Piano, with further information on the more interesting interactions.
How to: Piano Cheats
Press Control + Shift + C then type testingcheats on and press enter. You can now set your skill level with stats.set_skill_level major_piano x (fill in 1-10) - we also have a full listing of Skill Cheats and a master list of Cheats in The Sims 4
Ideal Mood: Inspired
Pianists gain Skill Experience and perform better when Inspired. Taking Thoughtful Showers is a common way to do this, but the Skill offers its own methods of helping your Pianist find Inspiration. The second level in this Skill lets you use a Computer to get a +2 Inspired buff for 4 hours, and level 3 allows you to Plunk for Inspiration to get +1. This second one lasts 8 hours! If you can get some Inspirational Auras from Musician Career Reward Items, you will find it very easy to get to Very Inspired and gain Piano levels very quickly.
Piano Skill Level Unlocks
You'll unlock many genres of music as you go, and each of these gives you new songs to play - 4 to 5 each! So, there is a lot of music to be appreciated in this Skill, even if it is not an outstanding money maker.

10 Million Views! My YouTube channel has grown a lot the last 6 months. I now have over 125 videos on Youtube and am nearing 100k subscribers. I'd like to invite people to check out my content and, if you like what I'm doing, subscribe!
Level 1 - Practice Piano
Level 2 - Rhapsodize about Piano Sonatas Interaction, Appreciate Classical Music on Stereo, and Research the Piano on Computer (Inspired +2 4h buff)
Level 3 - Can Play Traditional Songs, Plunk for Inspiration (Inspired +1 8h buff)
Level 4 - Can Play Blues Songs, and Play a Concerto
Level 5 - Can Play Romantic Songs, and may Listen and Learn to other Pianists who are more Skilled
Level 6 - Can Play Post-Bop Songs and Serenade other Sims with Piano
Level 7 - Can Play Latin Songs and Promise to Dedicate Songs to other Sims (Romantic Interaction)
Level 8 - Pianist may Write, Scrap, and Name Songs. They can also play sings from the Ragtime Genre, and Perform Jazz Up the Place.
Level 9 - Can Play Classical Songs and may License Songs that have been written on Piano
Level 10 - Can Play Avant-Garde Songs and Mentor other Sims on Piano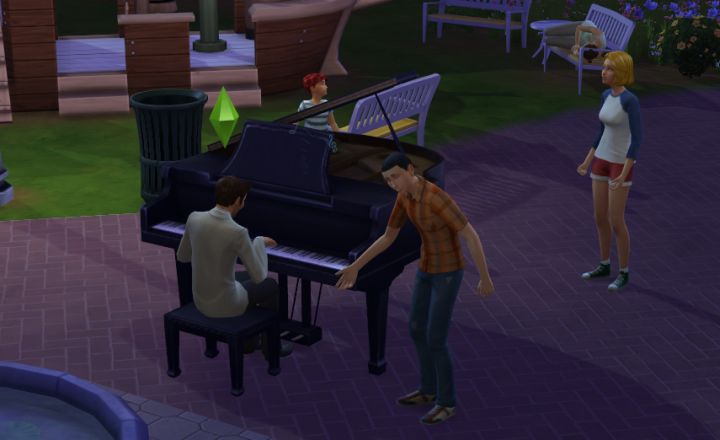 Playing for Tips in the Park requires placing a Piano
Playing for Tips: Concerto
At level 4, your Sim will be able to get Tips for playing Piano, so long as you can draw a crowd. One solution is to buy and place a Piano at the park. Simply visit the lot and press F2 to go to buy mode, and from there you may place the Piano wherever you like. Tips earned are 2xLevel so, at level 10, you'll get $20 Tips from Sims.
Romance and Piano
Piano offers two great Romantic options for Sims pursuing the Skill. Serenading gives the Pianist a +2 Confidence Moodlet for 4h, while the target gets an 8h +2 Flirty Moodlet. This can put the target in the right mood to help your romantic advances succeed. Piano also gives the ability to Promise to Dedicate a Song, which gives the target a +2 Flirty Moodlet for 4h. Combine these, and you've got a great date. Sims who are Flirty can Tickle the Ivories on Piano and play some romantic music.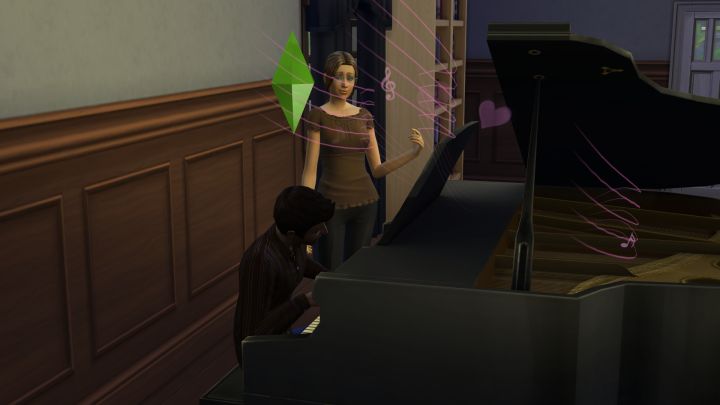 Serenading a Sim makes the Pianist Confident and the target Flirty
Licensing Songs
At level 8 Piano, Sims may begin writing their own Songs. Writing a song takes a long time, but will let you License it by using the Mailbox. You may have only one licensed song from each Instrument at a time. Licensing pays off for quite some time, so you can theoretically have one Piano, Violin, and Guitar song licensed and giving you $100-300 a day or more for each. This is great cash, and will supplement a Musician's income while working in the Entertainer Career.
Mentoring other Sims
At level 10, you can Mentor other Sims in Piano. This will help them learn the Skill much faster than usual, and is a part of the Musical Genius Aspiration.
Acting | Archaeology | Baking | Charisma | Comedy | Cooking | Dancing | DJ Mixing | Fabrication &nbsp|; Fishing | Fitness | Flower Arranging | Gardening | Gourmet Cooking | Guitar | Handiness | Herbalism | Juice Fizzing | Logic | Media Production | Mischief | Mixology | Painting | Parenting | Photography | Piano | Programming | Robotics Rocket Science | Singing | Vampire Lore | Veterinarian | Video Gaming | Violin | Wellness | Writing
How You Can Support The Site and Channel

If you like my sites and
Youtube Channel
, consider supporting me on
Patreon
to help me to continue. If you'd like to support my guides in another way you can use our
Amazon link
for your next purchase (if in the US). We also offer a
paypal donate link
so you can contribute directly.
Back to The Top
Check Out My Youtube Channel!
We now have a Youtube Channel with over 50 guides in video format to go along with the huge site I've already created. Check it out and consider subscribing if you like my style.
Comments (9)
Topic:
http://carls-sims-4-guide.com/skills/piano/
New
Korry
Admin
Playalot
To be honest I don't know if there is a difference between the songs. I've never tested it and can't find any information on the web. I usually write the song that came available last figuring that that one would bring in the most money. Maybe you've got time to test this out and post back your results/tips?

Admin
Playalot
Children can't learn the guitar until they are a teen but piano skill will continue through from childhood to all other life stages.

New
Joseph Olubaji
i love my piano

New
Mao
thanks for these tips


New
Ariana Goetting
I meant am I supposed to be able!
Admin
Playalot
Yes, definitely and it has always worked this way. Maybe you are experiencing a bug caused by out dated mods? If you do use mods or cc take them all out and delete the localthumbcache.package file from your The Sims 4 folder and try again. If you can hear the sim playing music then you'll know it is a mod or cc so you can begin to work out which one is causing the issue.No mods, still delete the cache file and try again. That is often enough to fix bugs. Also you could Repair your game.
Open up Origin, Click on the Game Library tab then Right-click Sims 4 > Repair Game.
Senior
Playalot
Most skills can be mentored, but not all. When one sim has mastered the skill (level 10) they can 'mentor' or 'teach' that skill to another sim when that sim is doing the skill. So in the case of piano: have the lower skilled sim play the piano and then while controlling the piano playing sim click on the L10 sim and choose the 'ask to mentor' social. You can also control the level 10 skilled sim and click on the sim who is doing the skill.
If you have a sim who you know has level 10 in a skill but is not part of your household you can still use this technique. Invite the skilled sim to your sims house, start your sim playing the piano (or whatever) and then ask the non-controlled NPC to mentor your sim.
Mentoring also works between adults and children/teens you just have to experiment as to which skills can be mentored. For some examples: swimming can be mentored, basketball, chess, handiness (repairing plumbing or using the bench), singing, musical instruments, painting and so on. Cooking and gardening can not be mentored.
Admin
Playlot
Literally Carl just hasn't had time to make the page. I've sourced all the info so if you want to know something specific just ask.
New
bmblb
what's the name of "rookie plays the banjo" irl?
Are you sure you want to report it?
Share a link to this comment
Nifty Knitting & Eco Lifestyle Guides
Support Us

Readers who use adblock or those who'd like to thank me for my efforts can now pledge $1/$5 monthly via Patreon. This helps a lot with server costs and provides some stability for my business.
Super Sim Checklist + Other News
Let's Play Playlist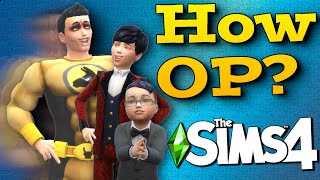 New I now have a guide to Making Super Sims in The Sims 4. Look for a text version within the next 72h. It won't have THAT much more info but it will help out as a checklist.
This was inspired by a series, "Let's Play a Super Sim" in which I start at toddler and gradually take on the major bonuses. Here's a link to each part for people who are interested. You can also see the Let's Play as a Playlist on Youtube.
Discover University Expansion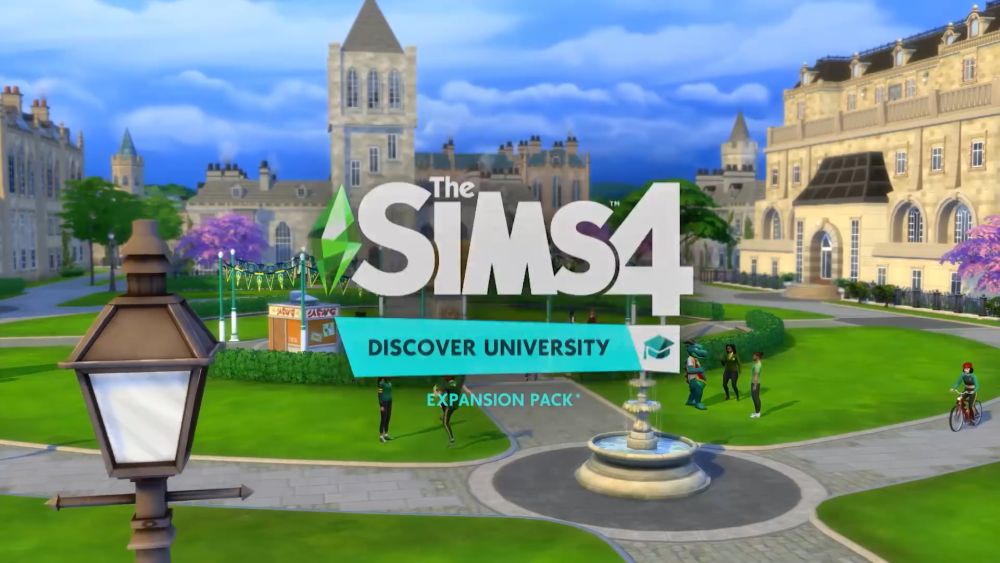 The Sims 4 Discover University has been announced for November 15 for PC/Mac and December 17 for Xbox and Playstation 4 consoles. Click to learn more about the pack, see my summary of the livestream or read our FAQs below.
Other Guides to Discover University:
New Lot Traits: Study Spot and University Student Hang Out
New: Discover University FAQ: Gameplay Features
New Video The Sims 4 Discover University Gameplay Tips Video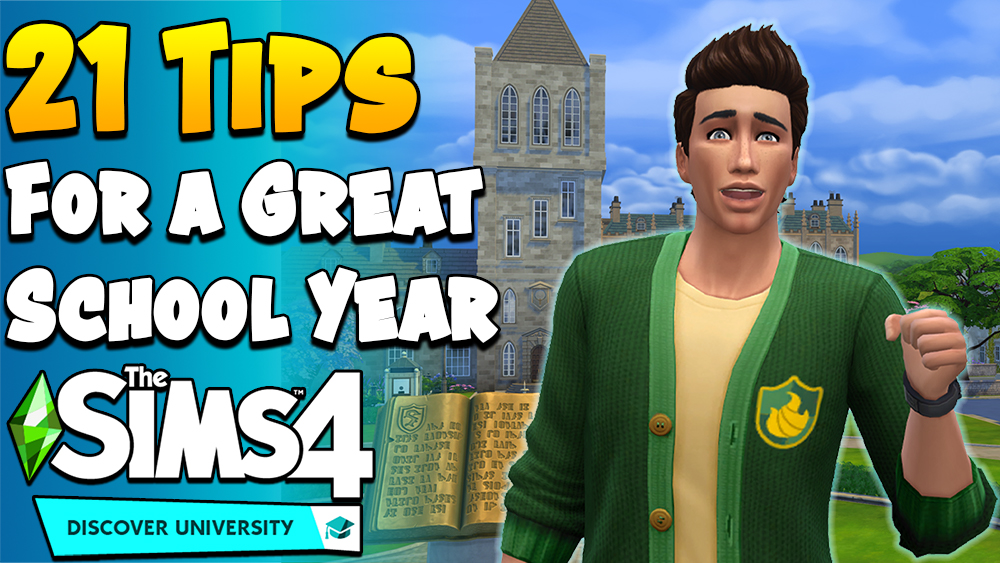 More videos coming soon!
Realm of Magic