The Sims 4 Eco Lifestyle
Making Insect Farms with Eco Lifestyle's Buggy Bug Houses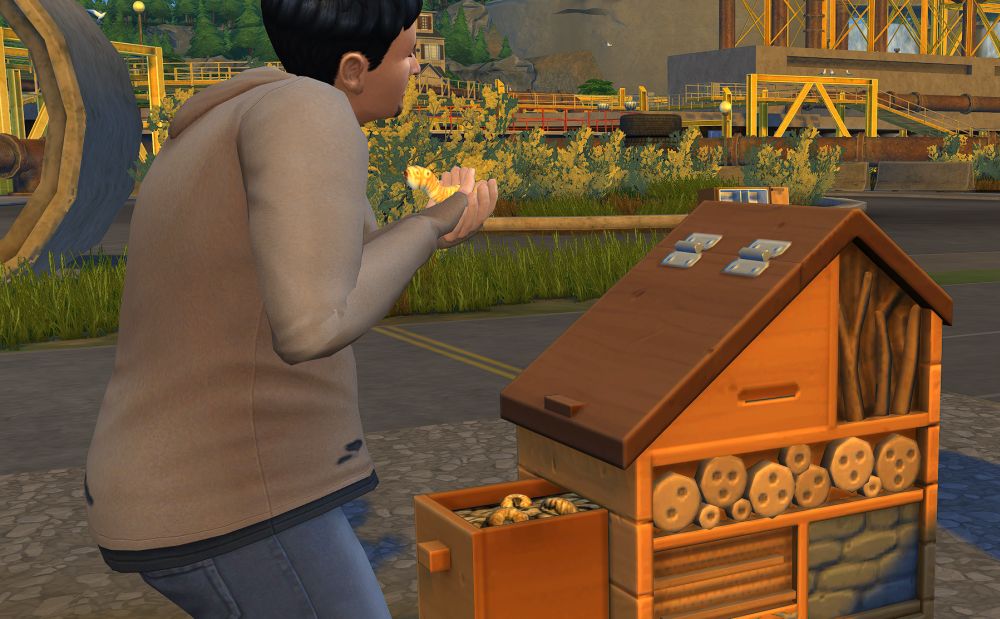 Nurturing a Grub in my Sim's Insect Farm from The Sims 4 Eco Lifestyle.
The Sims 4 Eco Lifestyle comes with a new Bug House object that lets you create an insect farm. While great in concept, they have some serious issues right now that require a mod to fix. Unfortunately, players on The Sims 4 for Xbox One and Playstation 4 can't use mods so I want to lay out what's wrong in order to help those Simmers decide if this pack is right for them.
Eco Lifestyle Guides
How to Make an Insect Farm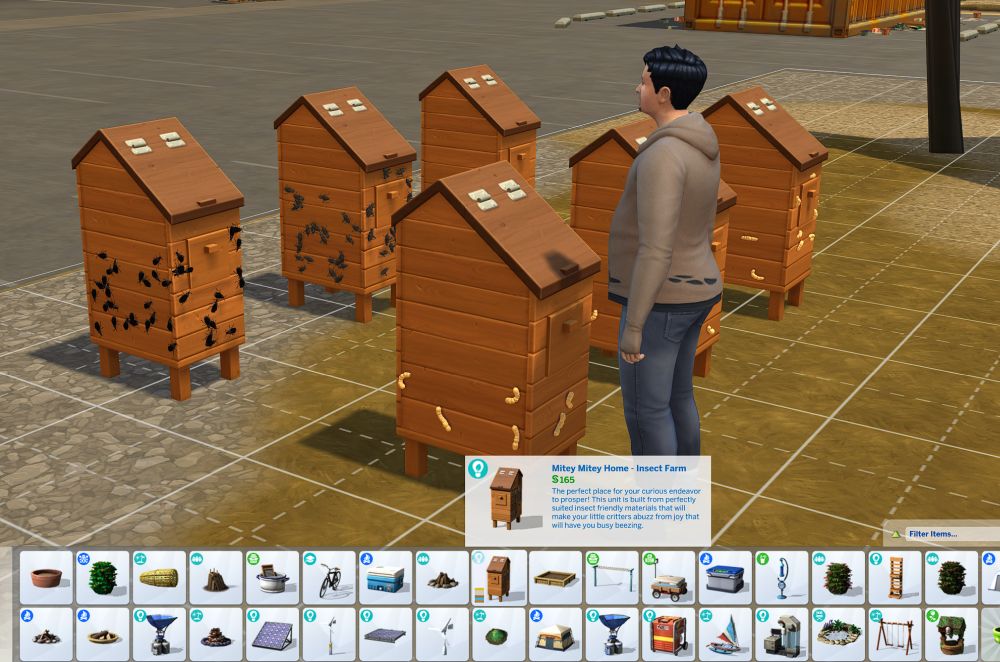 Insect Farms can be easily found in the new Off the Grid mode's Outdoor Activities tab.
Find the Mitey Mitey Home Insect Farm in Buy Mode > Off the Grid > Outdoor Activities. This new item functions a lot like the bee box, but allows you to choose one of four insect types for each house. The insects have various benefits, which we'll talk about next. Fair warning - the clean out interaction doesn't clean up their poo or something! It resets the whole thing, so don't be like us and do this on the first day to lose the colony and have to start over.
Which Insects to Grow?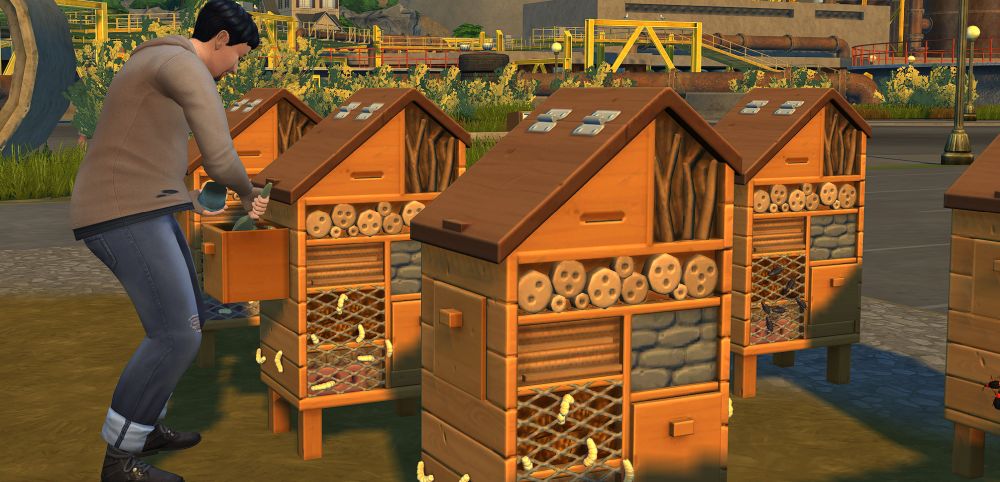 Insects are primarily a source of Bio Fuel, which can be used on Eco Lifestyle's new Generators for Off the Grid play.
There are four types of insect - Grubs (the ones confused for a baby chick), crickets, beetles, and bombardier beetles. This last type can sometimes set your Sim on fire if you have a failure while interacting with them. They require either level 9 Mischief or level 5 Homestyle Cooking.
What Do They Do?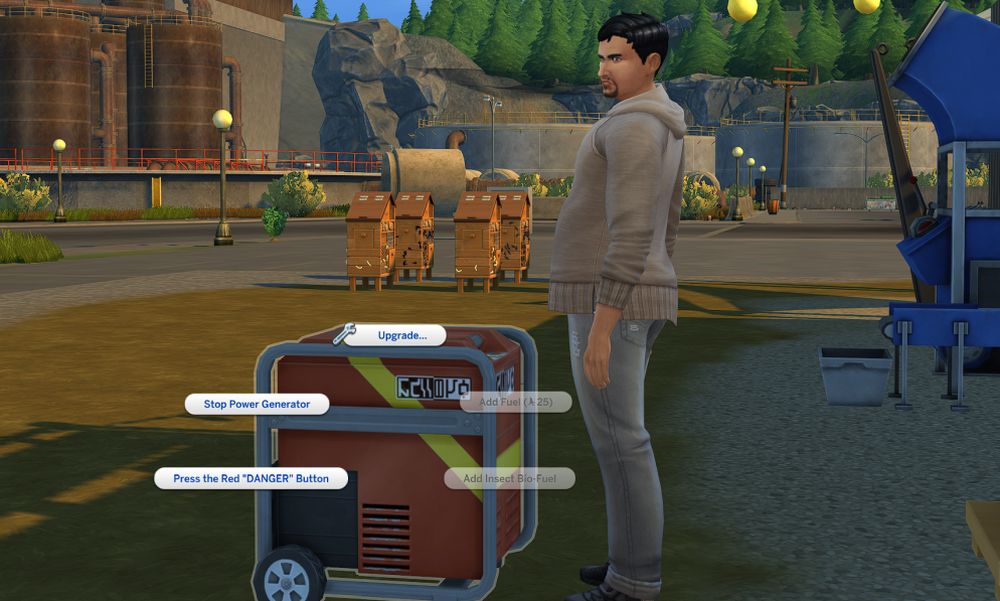 Bio Fuel is used on the new Generator objects, which can pollute with regular fuel but do not when you load them with sustainable fuels.
Each insect has a unique thing you can farm from them once a day when they are healthy enough and fed. The bugs can only be harvested once each 24h, so you must choose which type you want to farm.
You can collect the following from them:
Bio Fuel - This can be farmed from all four bug types. A unit of biofuel can be used to power generators without causing pollution. When you use regular fuel made from bits and pieces in a generator you move the Eco Footprint toward Industrial.
Grub Meal - Unsurprisingly, this comes from Grubs. This appears to mainly be used on a grill where you can make "mealworm dogs". Yum.
Cricket Flour - The most versatile of the food ingredients, allows you to make 3 or 4 dishes at the oven and requires the least experience. At level 1 you can cook Popcorn Crickets.
Bombardier Beetle Nuggets - These require Level 5 cooking to use at the oven. Bombardier beetle stir fry looks disgusting, but it's in good company here.
So the main purpose of these is to feed your Sim when you play Off the Grid and do not want to let them simply magic ingredients out of thin air, and rather live off what they have. Unfortunately it doesn't seem there is much to them, just regular recipes and regular buffs if you make it high quality. I may have missed at least one thing, but in the end it appears the insect farms are good for feeding your Sim and fueling your generators to produce power during Off the Grid play, or in order to offset bills when you have a regular home and want to keep a lot of bugs around. Personally, I think the game has enough of them.
Caring for Them and Why This is BAD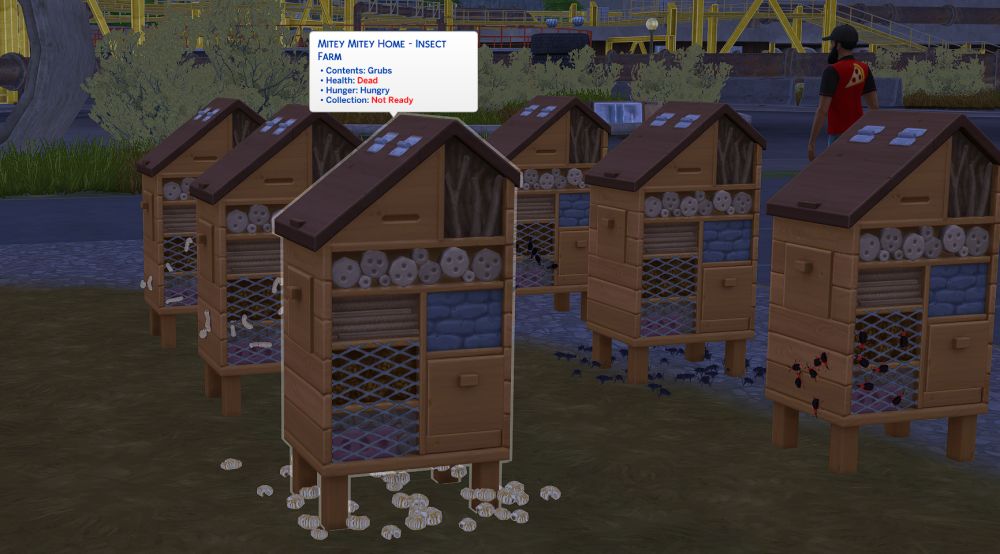 The health stat is not replenished enougy by the Nurture interaction. Given he only hugs one of them, how am I to be surprised?
Your insects have two stats - hunger and health - which must be kept up, else your bug farm will die with dead bugs all around on the ground. Hunger is simple. You don't need anything to feed them, just feed 'em with a few Simoleons and call it a day. Or, collect compost from Dumpsters and you'll be able to feed them that. It's $5 your saving, just sayin. You can start over at any time by cleaning out the bug farm, or simply feed them when dead. Here's the problem...
Insect Health is impossible to keep up with, and clearly wasn't tested beyond the first day. You see, you need to hug the bugs via the Nurture command and it is supposed to replenish that. It would appear that Nurture doesn't restore much health to the bugs. This is incredible realism on The Sims part because bugs do get absolutely nothing out of a hug from a human. In fact, I'd say it would be a stressful situation if they had typical brains.
So with 6 insect Farms, I needed to hug bugs all blasted day, 5x to get them from Declining health to Growing. It took 5 hug animations, which is super long, to get 1/5th of the way there. In all, it meant hugging bugs until my Sim peed himself and me cheating needs to keep going. It took me 24 hours. I'd say with about 8, you could not possibly keep their health up and would be playing whack a mole going around different farms.
This itself is clearly a bug, and a big one. It takes one feature from this Expansion and makes it unusable for console players. If on PC, you're in luck. LittleMsSam put out a mod that fixes exactly this issue, making the hug animation shorter and making it give a lot more Health stat so the bugs will be happy and healthy. You can download it here.
Eco Lifestyle Guides
How You Can Support The Site and Channel

If you like my sites and
Youtube Channel
, consider supporting me on
Patreon
to help me to continue. If you'd like to support my guides in another way you can use our
Amazon link
for your next purchase (if in the US). We also offer a
paypal donate link
so you can contribute directly.
Back to The Top
Check Out My Youtube Channel!
We now have a Youtube Channel with over 50 guides in video format to go along with the huge site I've already created. Check it out and consider subscribing if you like my style.
Comments (10)
Topic:
http://carls-sims-4-guide.com/expansionpacks/ecolifestyle/insect-farms.php
New
IndigoMay
I wish they'd included a way to get the stuff from insect farms without needing to farm it yourself. I mean, I've also wished the same for bees since Seasons came out, but this just exacerbates it. Maybe have it sold via computer at 100% markup, to encourage players to farm it themselves while still providing the option to not.
Thank you for including the link to the mod!
New
ravenspit
When collecting from the bugs, you also get super fertilizer (I always do, I only collect when they are all fed and thriving).
It seems to be the same fertilizer that one could get from Jasmine during the Growfruit challenge (that's what the description says).
I play on console btw, so it is not unuseable , but yes those bugs need way too much attention.....
New
Desiree Price
New
copypaste1128
My game did the same thing! I hope they fix this.
Senior
Brian Z
I think this is actually intended. It is far, far cleaner and more economical to have one powerplant supplying 100,000 homes, than to have 100,000 homes running gas generators. And now you've got EACH APPLIANCE burning fuel to run itself. Biofuel or not, you're still burning a hydrocarbon and making air pollution.
New
Cabbyla
Senior
Brian Z
Yeah, I discovered that the "Upgradios" CC spell will automatically do that upgrade on toilets. And the toilet (and my sim) burst into flame before I realized that.
New
Jess
The meal you make with Bombardier beetles will also increase your energy bar.
Admin
Playalot
It may be that the insects health is too low. They have to be at least 'Fine' so cuddle them a few times in a row and see if that brings up the 'harvest' option
New
Jenifer Thayer
Mine is doing that also and my bugs were perfectly healthy ...console needs to fix its bugs
New
Steph
New
Winston
I'm sorry but it seems the beetle nuggets section is missing in this guide, that's why I asked.
Admin:
Beetle Nuggets make food or bio fuel, that's it, which Carl mentions.

New
cinderz
My sim spends a lot of time at the community "Maker Space", so I put some bug boxes there. During the day the NPCs seems to fill, feed, nurture and, if you aren't careful, collect the results.
New
Jenn
I'm so glad I got Little Ms. Sam's mod. It makes the bugs useable. It's still challenging to keep your appliances filled, but my Freegan sim loves powering his house with free stuff made from toilet waste :)
Are you sure you want to report it?
Share a link to this comment
Star Wars in Sims 4

We now have a page on The Sims 4 Journey to Batuu.
It's not what I would have hoped for in a Star Wars Game Pack so far.
Secrets and Other New Stuff
Sims 4 Packs & DLC
Support Us

Readers who use adblock or those who'd like to thank me for my efforts can now pledge $1/$5 monthly via Patreon. This helps a lot with server costs and provides some stability for my business.
Super Sim Checklist + Other News
Let's Play Playlist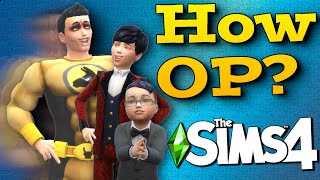 New I now have a guide to Making Super Sims in The Sims 4. Look for a text version within the next 72h. It won't have THAT much more info but it will help out as a checklist.
This was inspired by a series, "Let's Play a Super Sim" in which I start at toddler and gradually take on the major bonuses. Here's a link to each part for people who are interested. You can also see the Let's Play as a Playlist on Youtube.
Discover University Expansion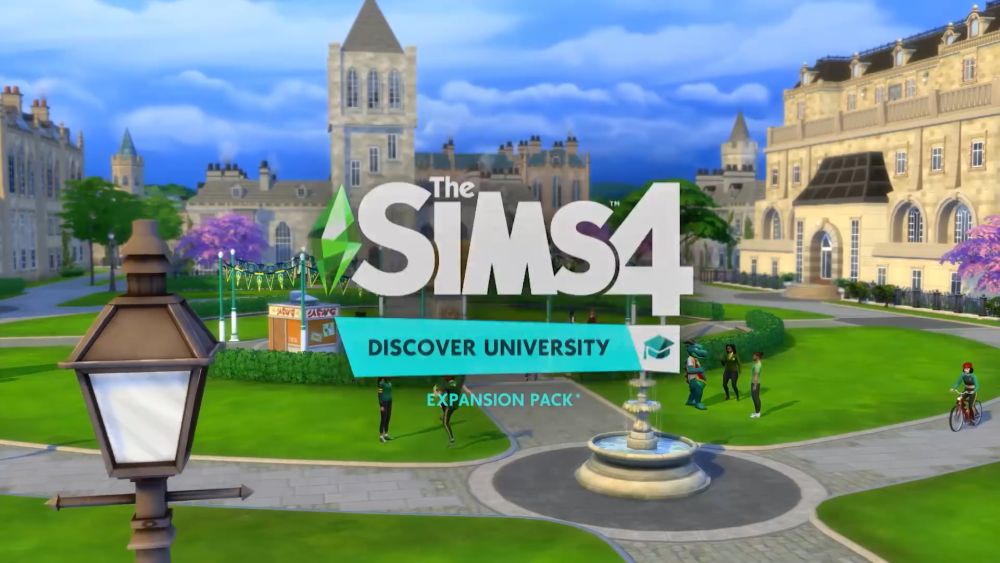 The Sims 4 Discover University has been announced for November 15 for PC/Mac and December 17 for Xbox and Playstation 4 consoles. Click to learn more about the pack, see my summary of the livestream or read our FAQs below.
Other Guides to Discover University:
New Lot Traits: Study Spot and University Student Hang Out
New: Discover University FAQ: Gameplay Features
New Video The Sims 4 Discover University Gameplay Tips Video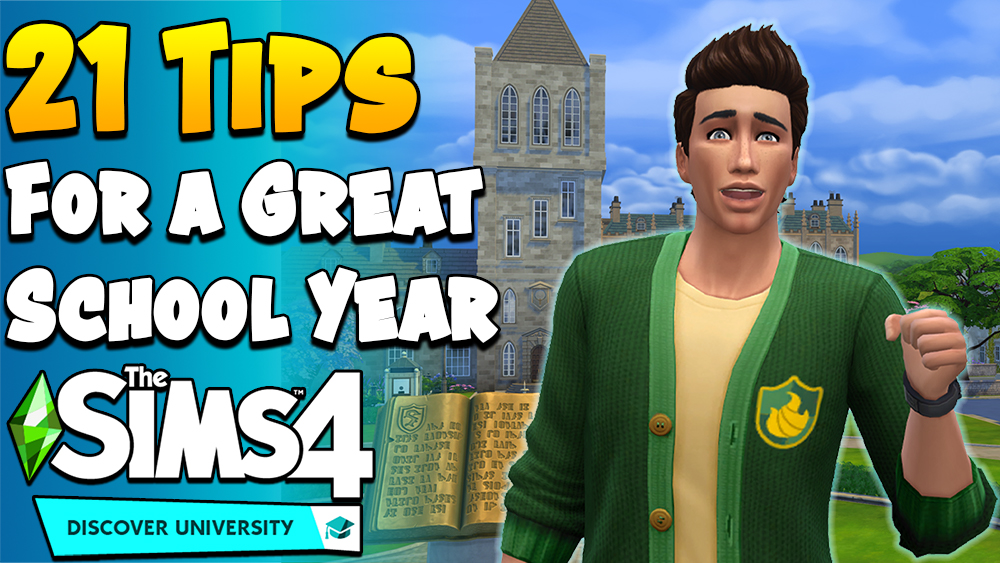 More videos coming soon!
Realm of Magic