The Sims 4 Mother Plant
The Source of the Infection in the StrangerVille Game Pack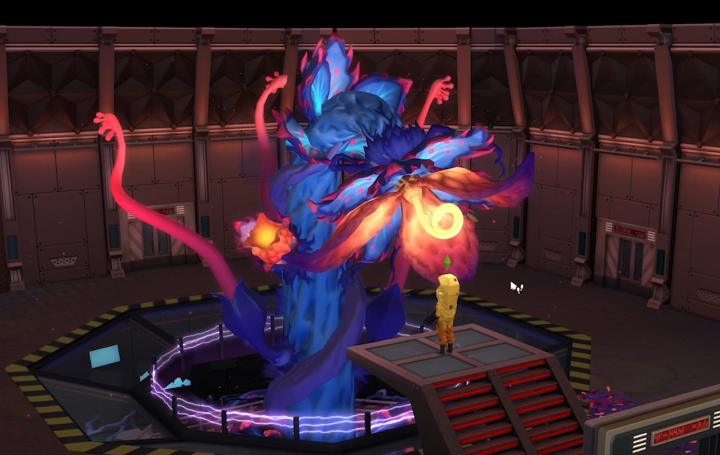 The Mother Plant
The Sims 4 StrangerVille features a new entity - The Mother. This massive mother plant is the cause of all the weirdness in StrangerVille, meant to be discovered by following the StrangerVille Mystery Aspiration which functions as the game's storyline (you can do it without the aspiration, but it's not recommended). This guide will help you win the battle against the Mother Plant while also giving you tips for befriending her and the advantages of doing so.
How Mother Works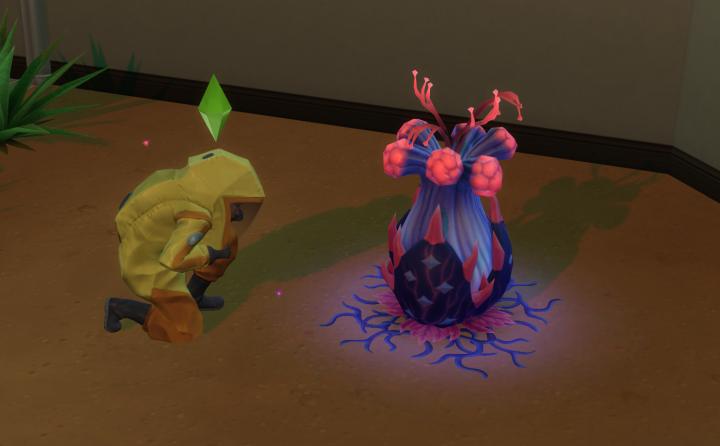 Once The Bloom begins, the plants in StrangerVille evolve and appear like this. You're then able to Nurture them to get a Bizarre Fruit.
The Mother Plant is not directly hostile to you, but does start deep in the red on friendship. Throughout the day and at night time for player Sims, she will Possess Sims who are 'Infected' by the virus. Eating bizarre fruit will infect a Sim as will exposure to spores, though this second route of infection may only occur if you don't have a hazmat suit. I've not yet been infected any way other than through bizarre fruit.
Naturally she is not too fond of Sims given how she's in a prison and all. Interactions with her will not go well very often unless you are actively mind controlled. You're able to fight her to finish the story but are recommended to do so with Sims you've recruited who are vaccinated (and this may be required due to the storyline).
Mother Plant Death

I now have over 70 videos on The Sims 4. Click here to check out my channel!

Our Latest: Realm of Magic Game Pack Guide NEW Realm of Magic Features Video New 10 Mods that Improve the Game New The Sims 4 Moschino Stuff Pack Review New Moschino Stuff Announced - See my Video for Trailer Graphics Options Guide (Video) My Sims Never Die. I Fixed That (How-To) Sulani Mana Let's Play Building Cheats Video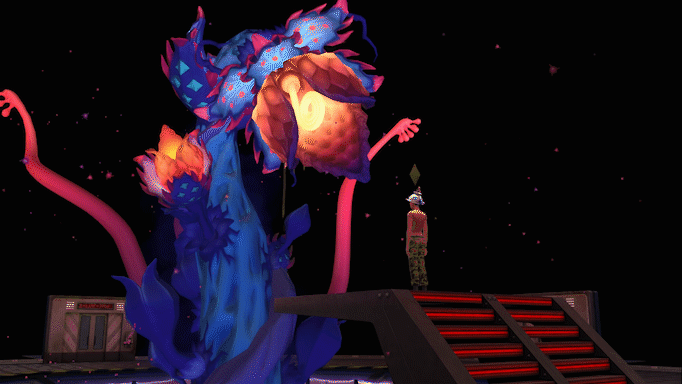 The new Mother Plant Death.
Attempt to fight the Mother Plant alone, or perhaps taunt her enough, and she'll actually eat you like above.
Befriending the Mother Plant
Get Bizarre Fruit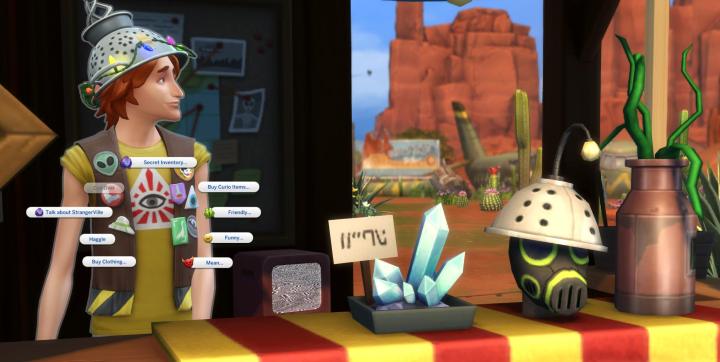 You can buy Bizarre Fruit from the Curio shop in StrangerVille
Bizarre fruit are acquired via nurturing the plants that come out of ground after you've made it to 'The Bloom' in the storyline, which occurs after opening the key card door in the Secret Lab. You can buy them from the Curio shop in StrangerVille as well, which is especially useful for players who have finished the story but did not know you can befriend her.
Communicating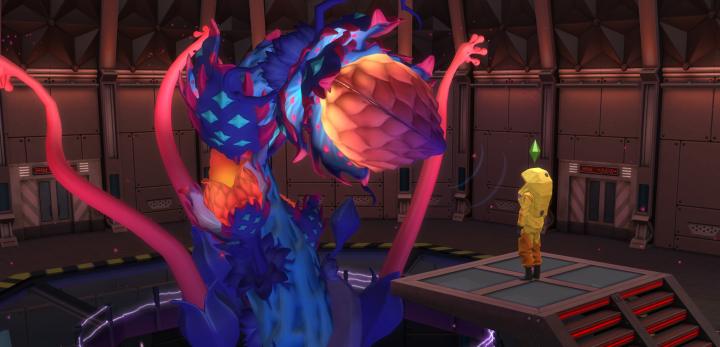 Communicating with Mother will gradually build a relationship. It takes several hours of effort at minimum to get the relationship bar to green.
While you can communicate with the Mother Plant, you're not going to get very far unless Possessed. Eat a Bizarre Fruit to trigger this "mood". When you then use the Communicate social which appears, your Sim will telepathically talk to her and gradually build up a relationship. When it's positive you start to get some benefits, like being able to ask her for a Bizarre fruit, which can help finish off the process.
Friendship Benefits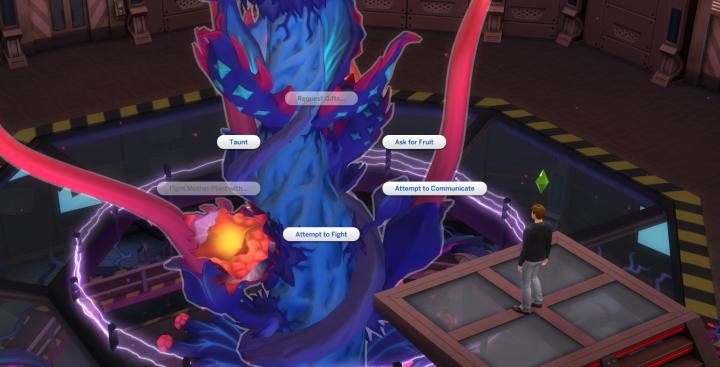 Mother will begin to offer Gifts to your Sim at 50% friendship.
At 50% relationship the benefits of being friend with Mother will appear when you click her. There is a new, "Request Gifts" menu option when you click her. You can only request 1 gift per 24 hours, but they are extremely long lasting when a moodlet is involved.
Gifts do the following:
Career Success - Give a +3 Focused Moodlet for 24h. In addition it gives a hidden +10 career performance mod that stacks with emotional boosts.
Energy - Request Energy is probably the best here. Get a +3 Energized moodlet for 24h, and your energy does not decay.
Life Extension - Functions similarly to a Potion of Youth, resetting your age back to the beginning of the current life stage.
Riches - Request riches will give you anywhere from 500 to 2,000 Simoleons.
Fighting the Mother Plant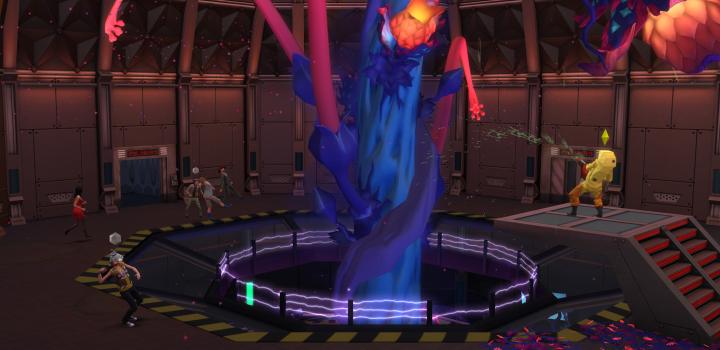 Fighting the Mother Plant.
For details on how to get to the point you can fight the Mother Plant, see my Walkthrough of the StrangerVille Mystery Aspiration. I don't yet know if it's humanly possible to defeat her fighting alone, but it's fairly unlikely as you really need your allies' help.
During the Mother Plant battle, you're able to click your allies to issue commands, like 'Throw Infection Cure' to damage her. She has 250 hp, and one infection cure brings her down by 20hp. During the fight, you'll gradually deal damage based upon which Battle Tactic you've set. Access this menu by clicking on the Mother Plant. There are several options, which I'll repeat here:
Sim Commands

Throw Infection Vaccine - Does the same as when an Ally throws one, as far as I can tell.
Retreat! - Your allies take more damage, but so too does the Mother Plant.
Mega Spray - Deals damage similar to throwing an Infection Vaccine, 90 min cooldown.
Group Commands

Be Careful - You and Allies take less infection but also deal less damage to the Mother Plant. Useful for allowing for cooldowns on more powerful abilities to be used to bring her down instead of automatic damage.
Charge! - Your allies take more damage, but so too does the Mother Plant.
Take a Breather - Allows your Sims to recover from infection while taking no damage. Use this just after firing off all your other cooldown attacks like Infection Vaccines and it may be the only tactic you need!
Warbling War Cry - repels the Mother Plant's Zombies
After You Beat Mother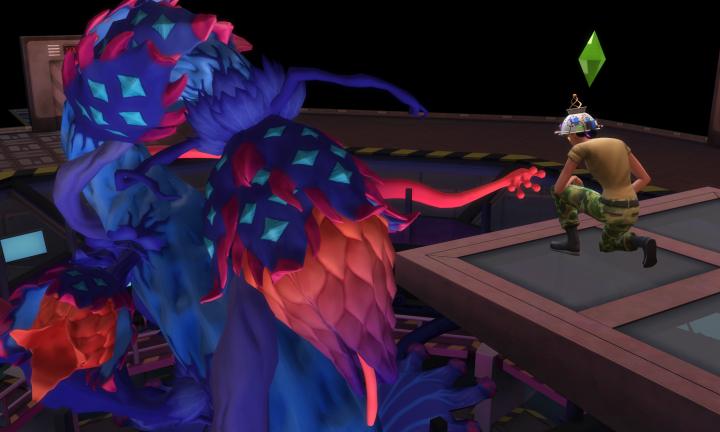 Reviving the Mother Plant.
You can revive the Mother Plant by clicking her with a Bizarre Fruit in your inventory. As plants disappear after you save StrangerVille, you will need to head to the Curio to buy the fruit. Once you've revived her, you can communicate normally with her without being possessed, and build up a relationship that way. She's receptive after she's been put in her place.
By doing this you can get all the benefits of befriending her without having to leave the town strange. However, once she is beaten she will let you set the Strangeness Level so that you can do the Strangerville Mystery with other Sims in the same save file. Do this by clicking her and selecting, "request strangeness". The strangeness levels are based upon the chapters - the lower strangeness level is just after 'The Bloom'.
StrangerVille Guides
StrangerVille Game Pack Guide
StrangerVille Town Guide
Military Career
StrangerVille Mystery Guide Act 1: Getting Started in a Strange Town
StrangerVille Mystery Guide Act 2: Evidence, The Dossier, and Key Card
StrangerVille Mystery Guide Act 3: Hazmat Suit, Spores and Spore Filter
StrangerVille Mystery Guide Act 4: Source of The Infection (Spoilers)
Story Guide (Spoilers) - Learn Things You May Have Missed - New
Sims 4 StrangerVille Mystery Guide Part 1 (Video)
Sims 4 StrangerVille Mystery Part 2 (Video) Ending the Source and Rewards
Cheats for StrangerVille
How You Can Support The Site and Channel

If you like my sites and
Youtube Channel
, consider supporting me on
Patreon
to help me to continue. If you'd like to support my guides in another way you can use our
Amazon link
for your next purchase (if in the US). We also offer a
paypal donate link
so you can contribute directly.
Back to The Top
Quick Links
Check Out My Youtube Channel!
We now have a Youtube Channel with over 50 guides in video format to go along with the huge site I've already created. Check it out and consider subscribing if you like my style.
Share Tips and FAQs
(2)
Our Sims 4 Community is the place to go for faster answers to questions and discussions about the game. Use the form below to share your own experiences and provide helpful tips to other readers. We are not affiliated with EA and cannot make changes to the game, nor fix bugs.
Support The Site via Amazon
KNSDAO
Hi Carl! I like your post since Sims 3! Really help me a lot
I wanna ask u "By doing this you can get all the benefits of befriending her without having to leave the town strange" can I leave the town even I befriending with her? thanks a lot xoxo
1st April 2019 6:12am
Playlot
You can befriend the Mother before fighting her if you want. This would leave all the sims infected and very strange, it will also leave the purple cloud above the crater. However, if you befriend her, then fight her, you will still either have friendship levels left or can befriend her again and then set the level of weirdness you want by clicking on her and requesting levels of strangeness.
2nd April 2019 4:54pm
Join in:
Sims 4 Packs & DLC
Support Us

Readers who use adblock or those who'd like to thank us for our efforts can now pledge $1/$5 monthly via Patreon to help us retain the freedom to do what we love to do.
New Videos and Guides
Armageddon Mod (Mod/CC Reviews).

Latest in The New How To Section : Learn How to Write Songs and Make Money with Music in The Sims 4. Also, How to Get Abducted by Aliens. We have a guide for using Pregnancy Cheats, Get a Job, Adopting a Kid and How to Cheat.

Alien Abduction: I made a Video Guide to Alien Abductions, Alien Babies in The Sims 4 Get to Work.
New How To Section : The new How To's section is updated with How to Get Abducted by Aliens. You can also learn how to use Pregnancy Cheats, Get a Job, Adopting a Kid and How to Cheat. It's meant to help newcomers or those with specific problems and will be greatly expanded over coming months.
New Charisma Video
I've created a fairly detailed Charisma Video Guide to accompany the normal Charisma text guide. My goal is to have every skill covered by the end of the year, if possible.
Seasons and Guide Updates