The Sims 4 Writer Career
Rewards for Journalists and Authors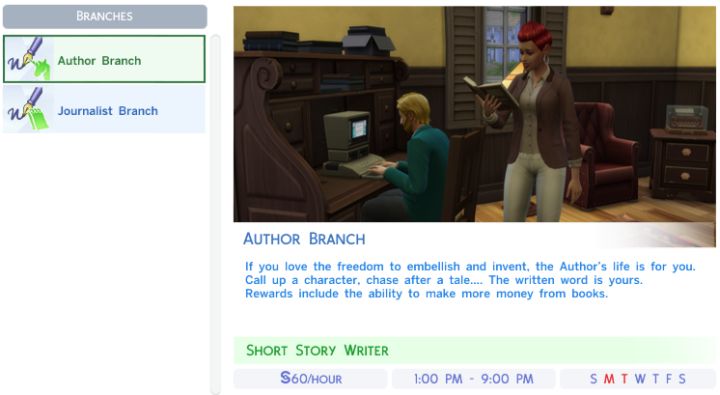 The Writer Career features the Author and Journalist Branches
Career Quick Links
The Sims 4's Writer Career allows you to make extra money from your Writing Skill while you're waiting on the Royalties to come in. It will somewhat hinder your ability to make more books and profit that way. However, with the Career come enough rewards that produce Inspired Moodlets that you can benefit by producing more Bestsellers. The number of hours required of your Sim also drops dramatically by the top levels, so you'll get to spend more time writing and less time at Work.
How to: Writer Career Cheats
Press Control + Shift + C then type testingcheats on and press enter. You can now get promotions with careers.promote adult_writer - you can also see all Career Cheats or visit a full list of Cheats in The Sims 4.
Naturally, the best choice of Trait is Creative. Neither Career Branch has an Aspiration associated with it. I suggest you start with the Writing Aspiration - Bestselling Author - so you can make the Book of Life, but later consider Fabulously Wealthy as it will be easy to complete given you can make loads of money as a Writer in The Sims 4.
The ideal mood for this Career and both Branches is Inspired. Here are the first 5 levels of the Writer Career and the requirements for your Sim to get Promoted. If you're going to be in the Journalist Branch, you might want to work on Charisma a little here and there.
Writer Career Levels 1-5
| | | | | | | |
| --- | --- | --- | --- | --- | --- | --- |
| 1 | Writer's Assistant | $25/hour | Sun-Mon, Wed, Fri, 11AM-7PM | $200 | Read Books. | Nothing. |
| 2 | Blogger | $32/hour | Sun-Mon, Wed, Fri, 11AM-7PM | $256 | Read Books. Reach Level 2 Writing | $407, Milton Word Processor |
| 3 | Freelance Article Writer | $38/hour | Sun-Tue, Thu, 9AM-5PM | $304 | Write Books. Reach Level 3 Writing | $509, Still Life with Apple and Pitcher and Books and Bottles and Flowers!, Pitch Story Idea Interaction |
| 4 | Advice Columnist | $44/hour | Sun-Tue, Thu, 9AM-5PM | $352 | Write Books. Reach Level 4 Writing | $611, The Thinker |
| 5 | Regular Contributor | $50/hour | Mon-Wed, Fri, 8AM-4PM | $400 | Write Books. Reach Level 5 Writing | $703, An Open Book - Framed, New CAS Parts |
Author Branch

Our Latest: Let's Play a Beach Bum New CAS Story Mode and New Build Cheats Guide New New Patch: Cas Story Mode, New Cheat for Build Objects, and Rebranding New The Sims 3's Skill Challenges Added Tons of Depth News: New CAS Mode Coming One of the Rarest Abilities: Snaggle Fluster Fishing Guide Updated Fishing Update Guide (Video) Island Living Review (Video) Island Living Gameplay Review Mermaids Island Living Cheats Features to Know About in The Sims 4 Island Living Features in Island Living (Video Format) Conservationist Guide Cleaning up Sulani Patch Notes: June 2019 (New Features)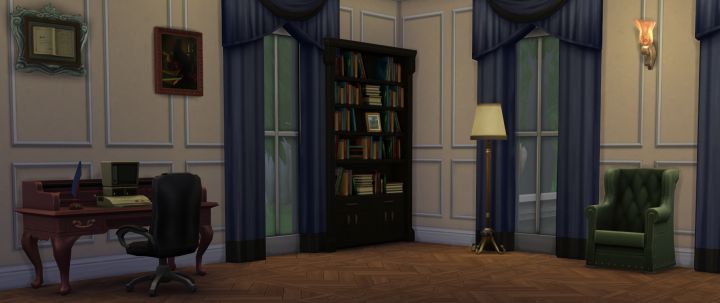 Author Career Rewards
This Career choice is much easier to complete than that of the Journalist, but doesn't come with any special abilities like Writing Articles, mentioned below. However, it gives plenty of Inspired items that can give off an Aura and will let your Sim focus more on writing than the other Career, which requires attendance 4 days a week and time investment in the Charisma Skill. This is the Branch I would choose.
Author Career
| | | | | | | |
| --- | --- | --- | --- | --- | --- | --- |
| 6 | Short Story Writer | $60/hour | Wed-Sun, 1PM-9PM | $480 | Write Books. Reach Level 7 Writing, Level 2 Logic | $956, Antique Tomes |
| 7 | Novelist | $115/hour | Sat-Sun, Wed-Thu, 1PM-8PM | $805 | Write Books. Reach Level 8 Writing, Level 3 Logic | $1243 |
| 8 | Fan Favorite | $202/hour | Sat-Sun, Wed-Thu, 12PM-5PM | $1010 | Write Books. Reach Level 9 Writing, Level 4 Logic | $1808, Nom de Plume Quill Pen |
| 9 | Bestselling Author | $296/hour | Tue-Wed, Sat, 12PM-5PM | $1480 | Write Books. Reach Level 10 Writing, Level 5 Logic | $2421, The Muse |
| 10 | Creator of Worlds | $465/hour | Tue, Sat, 12PM-6PM | $2790 | Write Books. Go to Work! | $2885, Unlocked Door of Perception |
Journalist Branch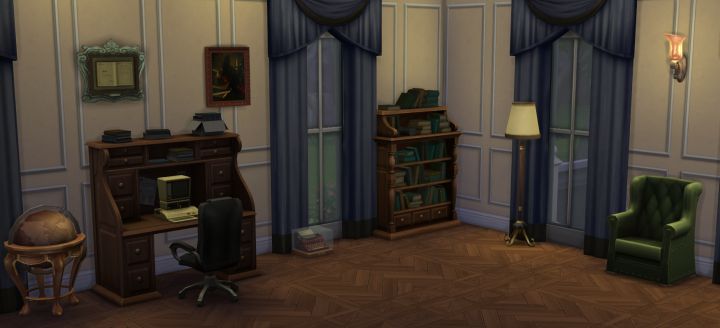 Journalist Career Rewards
With the Journalist Career, you get the ability to Write Articles about Sims. Simply select a Sim, find Interview about Life under Friendly interactions, then write either a Positive or Negative article about them. Thankfully, Sims will open up to your Journalist right away and you are able to interview multiple Sims and be able to write once about each of them. It takes four articles to meet the Daily Task requirement so interview four Sims or else be stuck interviewing, writing, and interviewing again. Both Positive and Negative will earn you the same amounts of instant cash, and take about an hour to write, but positive articles boost relations with that Sim while negative drains them. Neither makes a big impact, but could be helpful to your Sim's efforts to make some Friends.
This one is a little bit harder than Author, and requires more attendance at work than the other branch. However, take it if you want the Write Article ability. It's really not that great though - you don't get any Royalties for Articles, and their payouts stay around $200. Your time would be better spent writing books. Purchase a mirror to 'Practice Speech' and get Confident in order to level the Charisma Skill.
Journalist Career
| | | | | | | |
| --- | --- | --- | --- | --- | --- | --- |
| 6 | Page Two Journalist | $56/hour | Mon-Fri, 8AM-4PM | $448 | Write Articles. Reach Level 7 Writing, Level 2 Charisma | $956 |
| 7 | Front Page Writer | $83/hour | Mon-Fri, 8AM-3PM | $581 | Write Articles. Reach Level 8 Writing, Level 3 Charisma | $1562, Antique Writer's Desk |
| 8 | Investigative Journalist | $145/hour | Mon-Thu, 9AM-4PM | $1015 | Write Articles. Reach Level 9 Writing, Level 4 Charisma | $2031, The Where Should I Go? Ball |
| 9 | Editor-in-Chief | $189/hour | Mon-Thu, 9AM-4PM | $1323 | Write Articles. Reach Level 10 Writing, Level 5 Charisma | $2844, Antique Typewriter |
| 10 | Scribe of History | $287/hour | Mon-Thu, 10AM-4PM | $1722 | Write Articles. Go to Work! | $3697, Deep Thoughts Bookcase |
How You Can Support The Site and Channel

If you like my sites and
Youtube Channel
, consider supporting me on
Patreon
to help me to continue. If you'd like to support my guides in another way you can use our
Amazon link
for your next purchase (if in the US). We also offer a
paypal donate link
so you can contribute directly.
Back to The Top
Quick Links
Check Out My Youtube Channel!
We now have a Youtube Channel with over 50 guides in video format to go along with the huge site I've already created. Check it out and consider subscribing if you like my style.
Share Tips and FAQs
(23)
Our Sims 4 Community is the place to go for faster answers to questions and discussions about the game. Use the form below to share your own experiences and provide helpful tips to other readers. We are not affiliated with EA and cannot make changes to the game, nor fix bugs.
Support The Site via Amazon
Lolhfnjfnj





hi this was good
7th August 2015 5:42pm
Fran Helmer
Can you change the Sim from the journalist to author branch later?
29th August 2015 8:15pm
Gutbukket
No, once you have chosen either journalist or author branch then the other choice is permanently locked out for that Sim. Choose wisely.
9th September 2015 2:17pm
Courtflash
That's not true. No matter what career you choose, you can change branches afterwards. You just have to quit the job and take it again.
26th December 2015 12:48pm
Kayzels
In the other Sims games, yes. However, in Sims 4, even if you quit you can't join the other branch. Learned the hard way through the Cooking careers. It is very annoying
4th February 2016 2:06am
Jose
By the way, I have a sim with level 8 writing skill and it makes 2500 simoleons daily just from royalties.
19th September 2015 11:17am
Zoe
I have a level 10 who generally earns 1000 in royalties. Usually I write mysteries or biographies
6th March 2016 6:44am
Nathan
Before I had maxed out the writing skill and had published lots of books. I generally got between $10 000 - $30 000 each day.
10th January 2017 1:30pm
Dino Cookie
Thanks!!!


I needed this


17th October 2015 12:23pm
Fliffy Unicorn
Thank you for your help
15th November 2015 10:44am
Playalot
Great feedback, always nice to know Carl's guides are helpful

6th March 2016 6:28pm
sadsim
Is there a way to see a list of the books you've written and their daily royalty price? Besides the pop up menu?
29th April 2016 4:02am
playalot
No there isn't unfortunately.
29th April 2016 9:13pm
Courtney
i always make a copy of the books i write so i can keep track of them.

6th June 2016 3:15pm
JAIME BEEBE
Actually, you could use the cheats and do "careers.demote" and go back to level 5, which is the level before you choose which branch you want. Where there's a will there's a way! ;)
21st May 2016 3:10pm
attie
No, that doesn't work either. If you try to demote your sim below the level where the branch is chosen, they get fired instead.
10th June 2016 11:56am
JAN
where do I find out about writing articles .. I am stumped cant find anything on it .please help. before my vampire quits his job ..

7th April 2017 9:06pm
Playalot
It's just an interaction on the computer. Simply select a Sim, find 'Interview about Life' under 'Friendly interactions', then write either a Positive or Negative article about them on the computer.
11th April 2017 8:19pm
jan

thanks . he will give a try
11th April 2017 10:54pm
kelly
hi, when you reach level five, what new cas parts are there? I've looked all over and i dont know if i just missed them or something. help please!
3rd January 2018 3:16pm
Playlot
Sorry, I really don't know. tbh finding any of the new cas clothing items that most of the careers unlock has always been a bit of a mystery to me.

Usually they do not seem to be shown as a 'new item' when you take you sim into CAS so it is a case of having to know cas really well to be able to spot the new clothing. Really any career unlocks should show as 'new item' but for some reason this doesn't always happen.
4th January 2018 8:06am
Pinmat135
Um, since when does Fabulously Wealthy require a Level 8 Career?
14th April 2019 2:34pm
Playalot
When the game first launched in 2014! All the aspirations were made easier and more simple in a patch, thanks for pointing out the error, we obviously missed this when updating all the guide pages back then.

17th April 2019 10:36pm
Join in: