The Sims 4 Luxury Party Stuff
Stuff Pack Features, Hair, and Clothing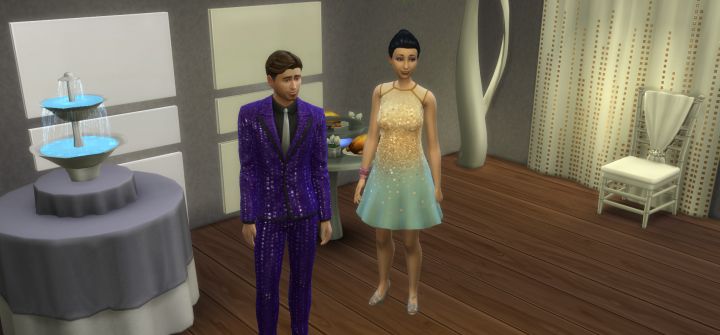 The Sims 4 Luxury Party Stuff gives you the items and styles necessary to make parties better and more elegant for your Sims.
The Sims 4 Luxury Party Stuff is the first Stuff Pack for TS4. This Pack's purpose is to expand upon content for existing parties. It won't add a new 'Luxury Party' to the list of events you can throw, but rather decor, hair and clothing styles, and a couple of gameplay oriented items that will make parties better. Here's a rundown of the Stuff Pack's features. The download size of the pack is 113MB.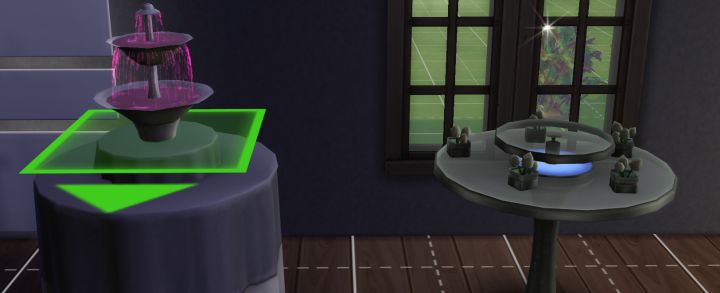 The Fountain of Mirth is great for serving parties, but can also help single Sims to get good moodlets for daily Sim life, work, and learning Skills
The Fountain of Mirth
In my opinion, the single biggest gameplay-impacting item in Luxury Party Stuff is the Fountain of Mirth. This new fountain can be placed on one of two buffet tables. The fountain features options to fill it with food or drink. You can add chocolate, cheese, or caramel in the food category, and a few different drinks. Their availability are based upon your Sim's Mixology and Homestyle Cooking skill levels. If you have level 5 in either, you can 'Improve' food or drink once it's in the fountain, and cause Sims to get a +2 Happy Moodlet for 4h after eating or drinking from it. Sims who have level 4 Mischief can taint the fountain's contents to give Sims a +2 Uncomfortable moodlet. Here's a list of the food and drink you can serve from the fountain:
Chocolate ($50) - no level requirement, but like all foods may give a Fantastic Food Moodlet
Fruit Punch ($25) - no level requirement, but doesn't do anything either.
Sparkling Apple Juice ($50) - Mixology Level 3, Makes Sims Playful (+1)
Cheese (Fondue) ($75) - Cooking Level 4, Makes Sims Inspired (+1)
Futuristic Punch ($75) - Mixology Level 5, Makes Sims Focused (+1)
Caramel ($100) - Cooking level 8, Fantastic Food.
Party Extender Punch ($100) - Mixology level 8, Makes Sims Energized (+1)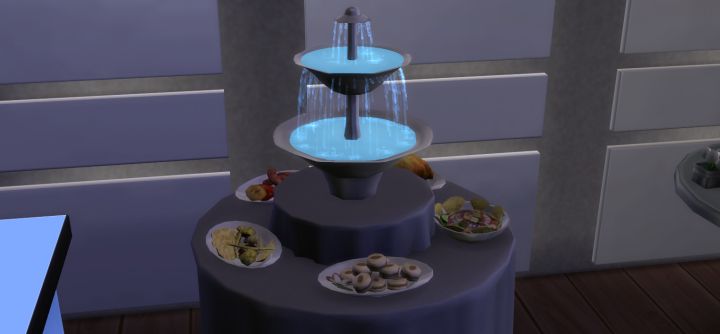 A buffet table, filled with food. Very handy for serving guests
Buffet Tables
There are 5 types of food that can be served from the buffet tables, though you may place your own in any of its 6 slots (counting where the Fountain of Mirth goes). The food output is not based on your Sim's level, so come out good quality. This means the best you can get is 'Pretty Tasty' from eating select foods. A Sim with level 10 Gourmet Cooking can garnish dishes to bring them up to Excellent. The main draw of these, however, is to easily feed a large group of Sims and it accomplishes that nicely. You can fill the table with all 5 types of food for $250, or individually for:
Almond Macaroons ($45)
Ceviche and Chips ($53)
Vegetable Tempura ($60)
Sausage and Peppers ($74)
Roast Chicken ($98)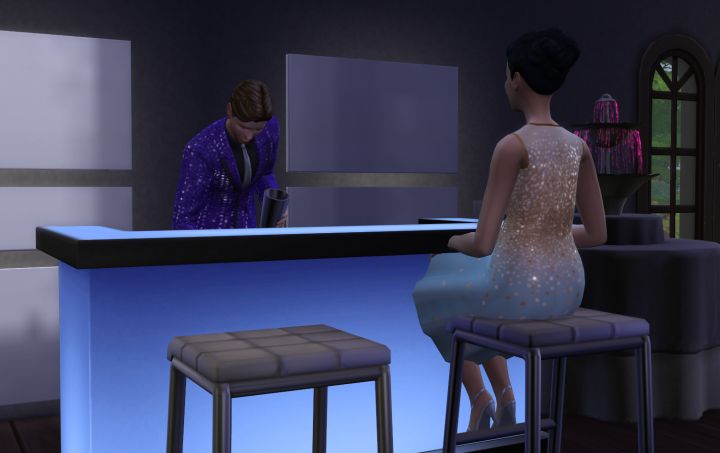 Other Gameplay
There isn't much more to say about it gameplay-wise, but that's not necessarily a bad thing. If every Stuff Pack comes with a least a couple of items that affect actual gameplay in new ways, I'll be a happy Simmer. There is a new bar, and Sims should have a larger variety of formal-wear when you throw a party. Here's the new 'Stuff' stuff.
New Objects

10 Million Views! My YouTube channel has grown a lot the last 6 months. I now have over 125 videos on Youtube and am nearing 100k subscribers. I'd like to invite people to check out my content and, if you like what I'm doing, subscribe!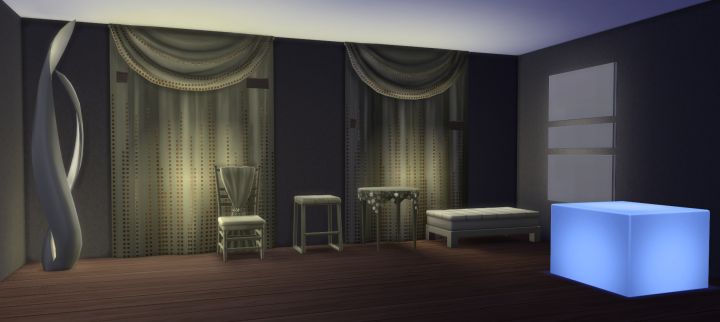 Click to Enlarge. As far as new objects, there is a new bar stool, curtains, wall light, end table, ottoman, and the lamp. Note the cube, which is a very cool new type of surface for placing decorative objects.
Clothes and Hair
Note I may have missed an object or two, hard to say! There is plenty going on here for the price tag, and people will be getting it for a steal if there are future sales. It's already low at $10. Everything here has a variety of color selections, so you can definitely make outfits match nicely.
Male Clothing and Hair in Luxury Party Stuff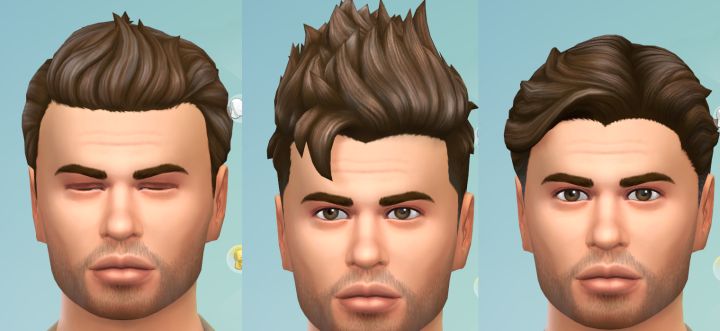 Click to Enlarge. The three new male hairstyles. Sorry, he blinked! That doesn't change his hair ;)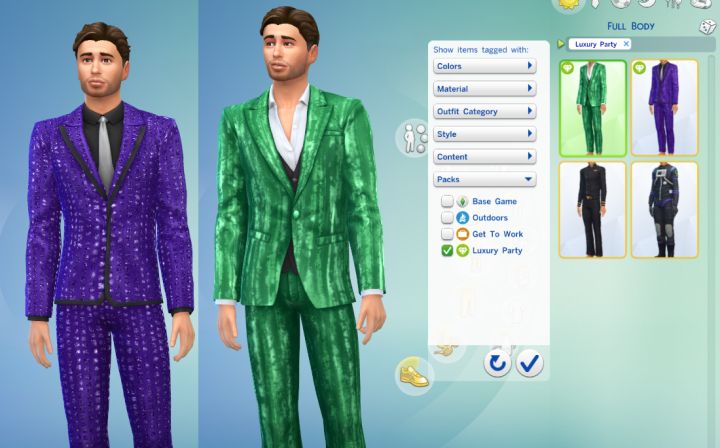 The male outfits in Luxury Stuff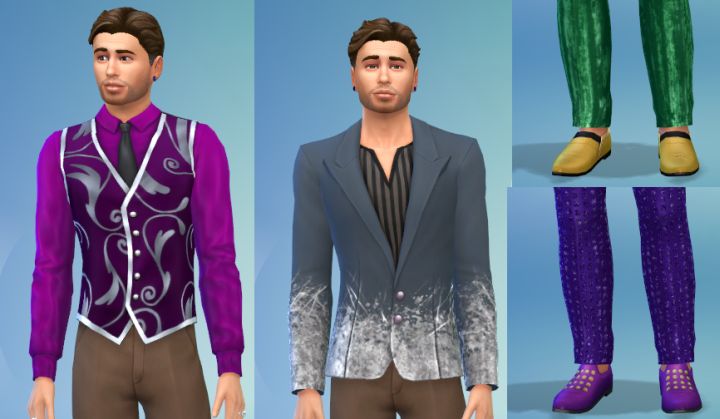 Male tops and shoes
Female Clothing and Hair in Luxury Party Stuff

Click to Enlarge. Female hairstyles. The short cuts are shown from the side, to give you an idea how they really look. The longer cuts are very elegant, as well. Great hair.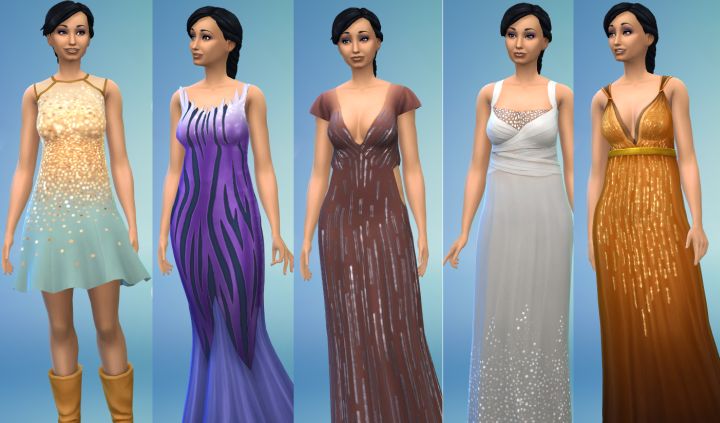 Click to Enlarge. The 5 female outfits all look good. Lyla Waller is rocking them.

Click to Enlarge. The ladies definitely get a lot more than male Sims in this stuff pack. Note the two accessories. New shoes, tops, and bottoms are featured here. As said before, everything has at least 8 different color schemes, so you can make things match. This is just to show the basic 'look' of the clothing.
New Makeup

Click to Enlarge. A collage of the makeup available in the Stuff Pack.
New Styled Rooms
Outdoor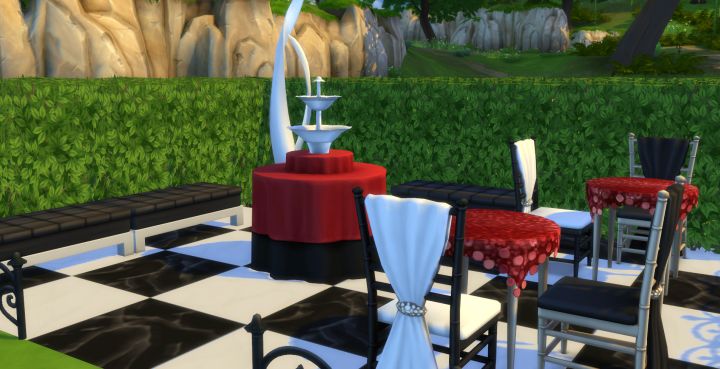 The outdoor styled room converts an open space into a nice party area.
Indoor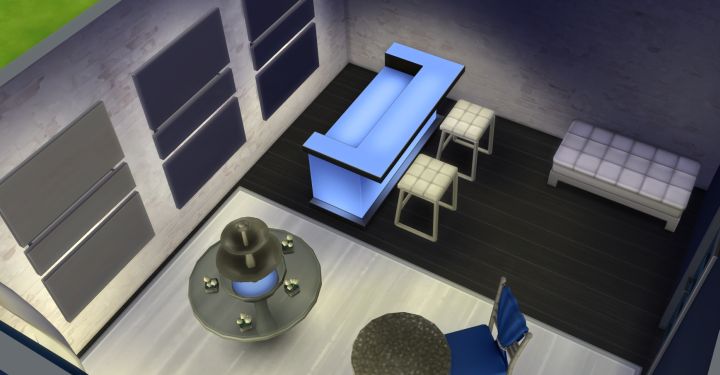 The indoor styled room should be made larger by your hand, so that more guests can comfortably fit. It gives an excellent start on a new party room and features several of the new objects.
How You Can Support The Site and Channel

If you like my sites and
Youtube Channel
, consider supporting me on
Patreon
to help me to continue. If you'd like to support my guides in another way you can use our
Amazon link
for your next purchase (if in the US). We also offer a
paypal donate link
so you can contribute directly.
Back to The Top
Check Out My Youtube Channel!
We now have a Youtube Channel with over 50 guides in video format to go along with the huge site I've already created. Check it out and consider subscribing if you like my style.
Comments (5)
Topic:
http://carls-sims-4-guide.com/stuffpacks/luxuryparty/
Admin
Playalot
I guess that depends on your definition of worth. Carl has already mentioned that in direct comparison to The Sims 3 that everything is about half price. SimsVip also have a very detailed guide to all the build/buy items, recipes and CAS items. For $10 I think it is value for money.
SimsVip Luxury Party Guide
New
Sadia muse
Admin
Playalot
No, the new game play items are the Buffet Table and the Drinking Fountain. We received a new party type with Spooky Day.
New
T.S.
Need more ethic hair dos in every pack that consist of new hairstyles.
Are you sure you want to report it?
Share a link to this comment
Best Mods in Sims 4
I've created a massive List of The Best Mods in The Sims 4 that should be very helpful to new players and those who have not yet explored modding and how much it can do for your gameplay.
Secrets and Other New Stuff
Sims 4 Packs & DLC
Support Us

Readers who use adblock or those who'd like to thank me for my efforts can now pledge $1/$5 monthly via Patreon. This helps a lot with server costs and provides some stability for my business.
Super Sim Checklist + Other News
Let's Play Playlist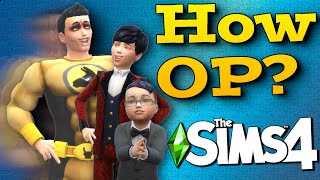 New I now have a guide to Making Super Sims in The Sims 4. Look for a text version within the next 72h. It won't have THAT much more info but it will help out as a checklist.
This was inspired by a series, "Let's Play a Super Sim" in which I start at toddler and gradually take on the major bonuses. Here's a link to each part for people who are interested. You can also see the Let's Play as a Playlist on Youtube.
Discover University Expansion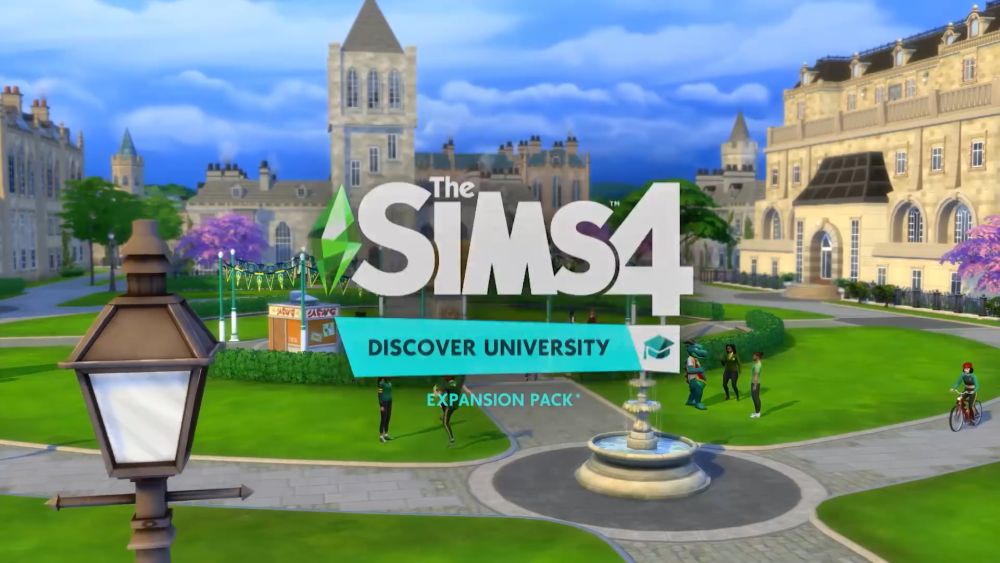 The Sims 4 Discover University has been announced for November 15 for PC/Mac and December 17 for Xbox and Playstation 4 consoles. Click to learn more about the pack, see my summary of the livestream or read our FAQs below.
Other Guides to Discover University:
New Lot Traits: Study Spot and University Student Hang Out
New: Discover University FAQ: Gameplay Features
New Video The Sims 4 Discover University Gameplay Tips Video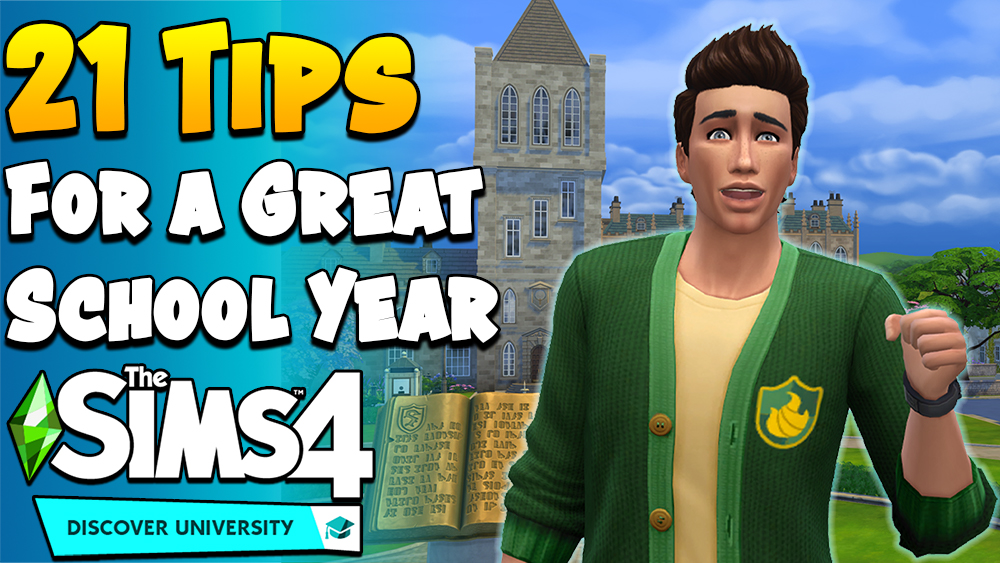 More videos coming soon!
Realm of Magic