The Sims 4 Seasons
Having Father Winter's Baby - Woohoo with Santa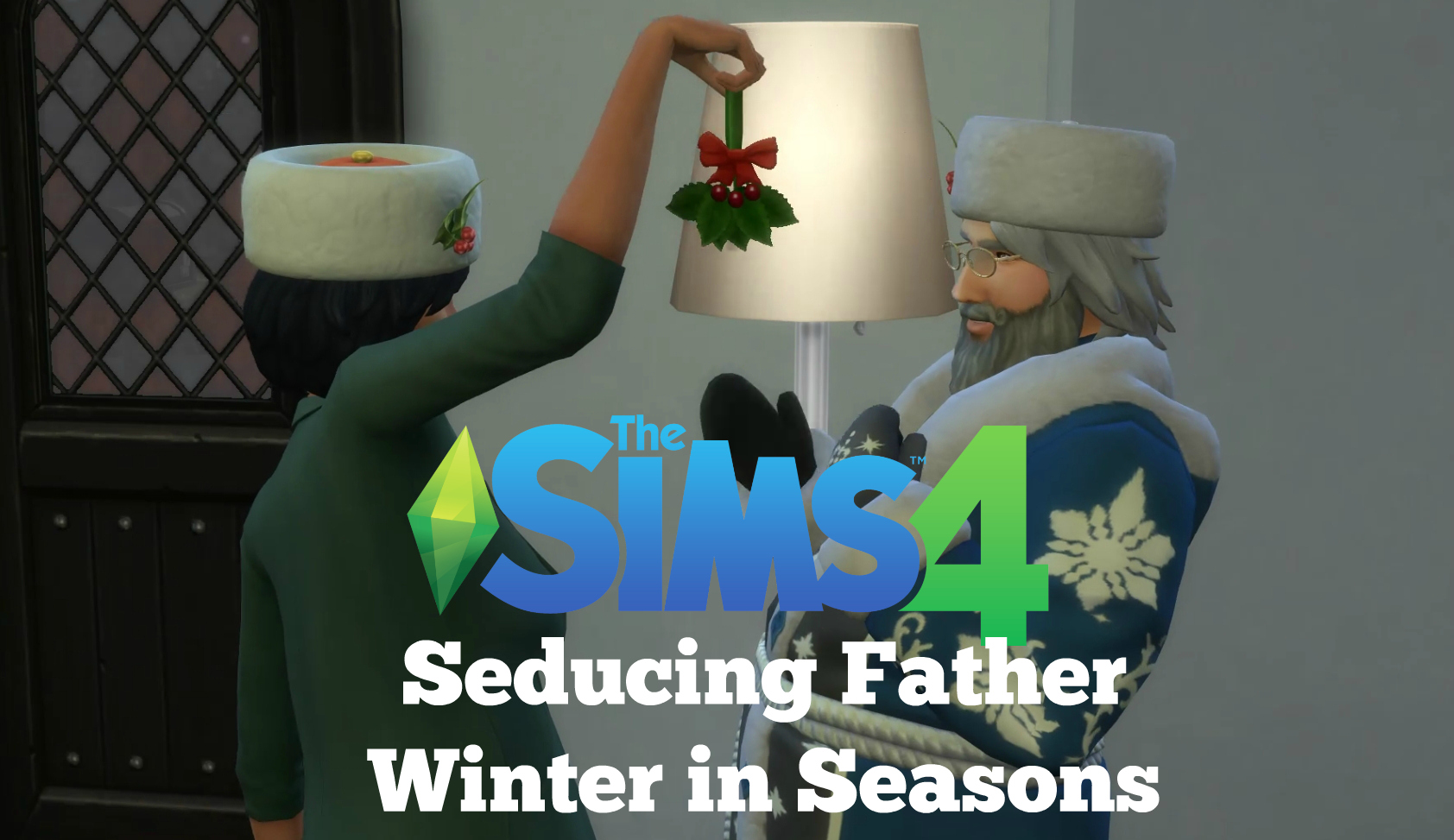 Seasons includes a reward for those who Try for Baby with Father Winter.
The Sims 4 Seasons features a Santa-like character known as Father Winter. When he visits for Winterfest, it's possible to seduce him and Try for Baby. It may take multiple years to succeed at Try for Baby if your Sim isn't very outgoing, but with preparation it's possible to do it in one night. There is a possibility of meeting Father Winter around town however this is the reliable way to make sure you're impregnated by the correct Sim. I've heard tell of a fake Father Winter - kind of dark if you consider the idea the impostor is out to capitalize on Sims trying to have a magical baby.
Video Guide
I've made a video guide for this including the traits I selected for my Sim, the way I approached this with only 3 days of prep time, and what happens after you've had the baby. View it below, go to the Try for Baby with Father Winter Watch Page or on My Sims 4 Guide Channel:
Preparing for Romance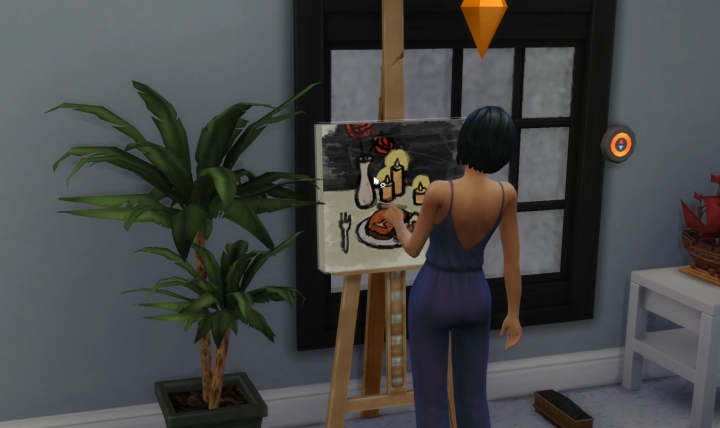 Get Father Winter in the (right) mood by using Flirty paintings or sculptures from handiness. Other options are available, but I focused on the base game.
Flirty Aura
Romantic socials work best when Sims are flirty, and more-so when they have mid to high Charisma skill. You can get by with one or the other but inducing a flirty mood greatly enhances your success rates. I went with Painting. Painters are able to get flirty ,then use the 'Paint Flirty Painting' option when they click the easel while in this mood. Once done, you will get a painting that has an extra option when you click it 'enable emotional aura'. Add these to the room with your Christmas Tree until it causes any Sim to get a moodlet providing at least +1 Flirty.
Beautifully Decorated
In addition to flirty, happy is desirable as it boosts Flirty and with enough happy moodlets you will get to 'Very Flirty' for both your Sim and Father Christmas. Purchase a few items that say at least Environment 4 or 5 when you view them in buy mode's decorations category. Make sure that when in that room your Sim gets the boost.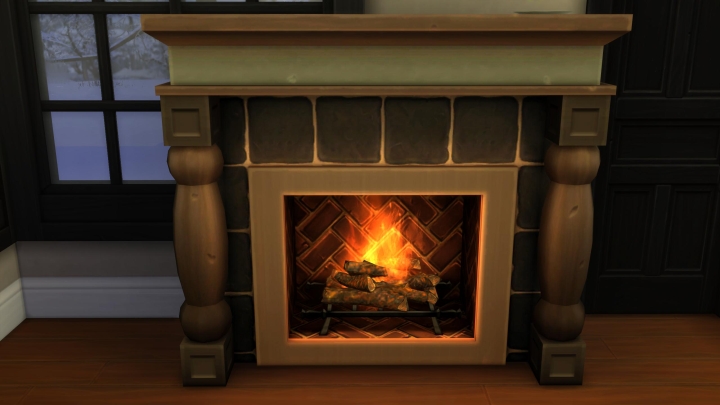 The game states that a fireplace is required for Father Winter to visit.
Fireplace: Getting Father Winter to Visit
First of all, you Require a Fireplace to get Father Winter to come. I suppose it's necessary anyway, the game says so but I didn't test it without. Regardless, it'll set you back about $800.
Celebrating Winterfest
This may also be required. Father Winter only visits households that are actively celebrating the holiday. Use Buy Mode > Decorations > Miscellaneous the day before Winterfest in order to buy a tree, present pile, and the decorations box that allows you to decorate your house. Make sure your house has the decorations applied via the box once you leave buy mode.
Requirements
Sims must cook a grand meal, serve it, use festive socials and open presents to satisfy the holiday's requirements. It's really, really easy. Use the checklist at the top left of your screen to be certain that you are knocking them out. They also show tips for how to complete the requirements.
Try for Baby

10 Million Views! My YouTube channel has grown a lot the last 6 months. I now have over 125 videos on Youtube and am nearing 100k subscribers. I'd like to invite people to check out my content and, if you like what I'm doing, subscribe!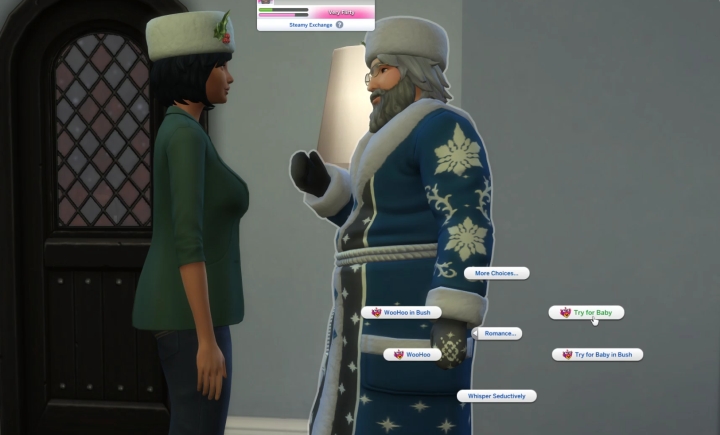 Try for Baby options only come up after romance has been developed. Strategically build up to it if you want to do this with Father Winter
Father Winter Comes!
When Father Winter arrives for Winterfest, you can begin with a brighten day social to make him happy. Move the conversation to your flirty room and begin with easy flirty socials (exchange numbers, flirt, etc.) and as the romantic relationship bar begins to fill switch to stronger ones like first kiss and massage, embrace. These all build the mood up to Steamy/Amorous Exchange which once over 2/3 full will allow you to select Try for Baby. It is a 100% chance of pregnancy if you can get Father Winter to agree to it. If you fail, you should have him as a contact so that you can try after the holiday, so don't give up!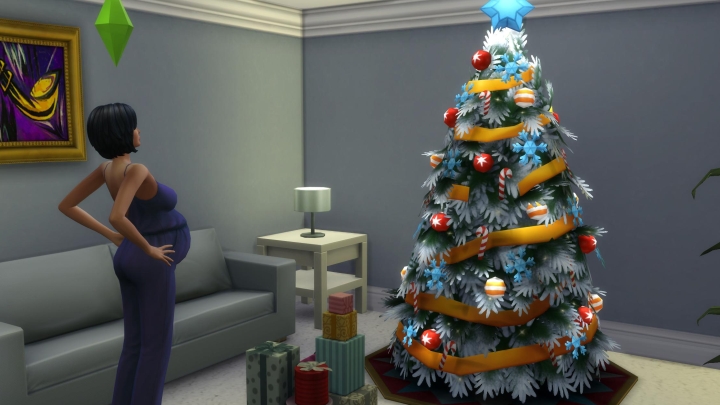 Pregnant after Woohoo with Father Winter
Father Winter's Baby Reward Trait
The child of Father Winter gets a special reward trait, as named above. This reward trait boosts satisfaction gain by 50% for Whims, but not Aspiration milestones. This is still very good especially if you use it strategically. Even more insane when combined with a couple of childhood aspiration reward traits and the Scouting special trait that occurs if you make it to rank 5. This is definitely the most a child has been boosted in The Sims 4, and it carries over into adulthood. Note that you should focus on the childhood aspirations over scouting - scouting can be completed as a teen, but you no longer have access to the childhood aspirations at that point.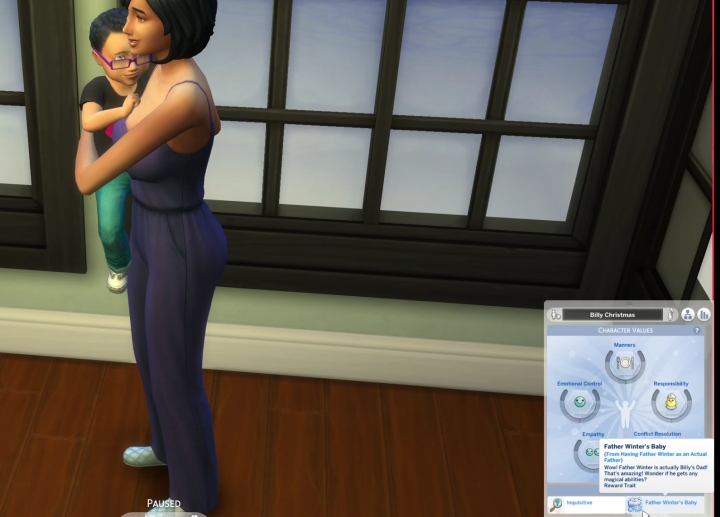 Ask to Move In
You can also ask Father Winter to move into your household. I was really surprised about this one. He has $500,000 in the bank and comes with level 10 Handiness, Baking, and Parenting among other skills. He's the perfect stay-at-home parent!
Seasons Expansion Guides
Seasons Cheats
Expansion Features
Weather Machine
Patchy the Straw Man
Beekeeping
Father Winter
Scouting (Children/Teens)
Flower Arranging Skill
Gardener Career

How You Can Support The Site and Channel

If you like my sites and
Youtube Channel
, consider supporting me on
Patreon
to help me to continue. If you'd like to support my guides in another way you can use our
Amazon link
for your next purchase (if in the US). We also offer a
paypal donate link
so you can contribute directly.
Back to The Top
Check Out My Youtube Channel!
We now have a Youtube Channel with over 50 guides in video format to go along with the huge site I've already created. Check it out and consider subscribing if you like my style.
Comments (14)
Topic:
http://carls-sims-4-guide.com/expansionpacks/seasons/father-winter.php
Regular
Holly
You don't necessarily have to wait for Father Winter it show up on Winterfest. I found him wandering around near the park in Brindleton Bay about 2 weeks prior. By the way, "Father Winter" is merely his Career title. His real name is Clement Frost (at least in my game. It may vary from save to save since he can be added to households and become unemployed in the process.)
Regular
Holly
By the way, if the Father Winter's Baby Trait, boosts Whim Satisfaction, that really has nothing to do with the Scouting Aptitude Trait or the Childhood Aspiration Traits since those boost Skill gain. That whole paragraph about the Trait boosts is pointless and a bit misleading.
Admin
Playlot
Carl was inferring that by stacking these rewards together gaining sims satisfactions points becomes very easy, which will enable you to purchase reward traits more quickly.
Admin
Playlot
All you will need to access the game play features with Father Winter is the Sims 4 base game and the expansion DLC 'Seasons'.
New
Just me
Senior
Brian
Ok near as I can tell my first attempt to comment got lost in the void. Anyway, if you haven't got a fireplace-- my latest game, the house was too small and there was no place to put one-- Father Winter will just walk in the front door. I have had my female sims seduce him and have fun, though actually trying to have his baby never occurred to me. After Winterfest is over, he has called them and asked for a date. I haven't tried inviting him over, or asking him for a date though.
Admin
Playlot
There seems to be a little confusion about this as the Father Winter that roams the world is often not the same sim that appears during Winter fest to distribute presents etc. I'm not sure if the roaming-around-the-world Father Winter actually gives the 'special' trait to any of his offspring.
If you have cancelled Winterfest for your actively played household then you should not be getting visits from Father Winter so I'm not sure why that seems to have happened in your game.
Senior
Brian
My current game has been going for a while, long enough that my couple that started as room mates have a teenager together. This most recent Winterfest, Father Winter had a new name, and the family didn't know him. I checked my relationships tab, and Clement Frost is alive and well... and married to Malcolm Landgraab! Didn't see that one coming...
Senior
Brian
Another Winterfest, another new Father Winter, although "last year's" Father Winter is alive and does not seem to have married anyone. I guess if Clement Frost stops being Father Winter, the game picks a random male elder each time Winterfest comes around.
New
Jesse Roberge
Father Winter came to my house without a fireplace, around 1AM. Because Father winter comes into your home un-invited, If your door is locked, he becomes trapped inside. Then you have all the time in the world to BFF and/or romance Santa Claus (Father Winter, Clement Frost).You can trap other sims if they come inside un-invited via unlocked door and then lock the door while they are inside the house, I've done this by accident with an old fart sim.
Senior
Brian
Speaking of trapped sims, I've had a couple different homes downloaded from the gallery that have buggy doors. Visitors walk in, turn around, and knock on the inside of the door. The Welcome Wagon got stuck for a day and a half, and finally followed one of my sims out the door as they went to work.
New
Microwave
This made me laugh so hard I needed my inhaler. The mental image is too perfect.
New
junnights
.. Tried it.. and neither twins had the trait despite them dating without ever marrying or the sim moving in.. So.. Here's the cheat to get it;
traits.equip_trait FatherWinterBaby
New
daddysims
if you have wicked whims and mc command center then you can do this very easily
go to the mail box and summon the sim "Clement Frost" (aka santa) and make sure your sims pregnancy percentage is 100% or at least high enough and do the deed with santa and your sim will be pregnant
I just did it with my sim and it worked
Admin
Playlot
New
Huh
Admin
Playlot
No, once you have had Father Winter in a played household he looses the special traits that make him the NPC. As soon as you play Father Winter actively the game spawns in another NPC Father Winter to take his place.
Admin
Playalot
As far as we can tell no. But if you play through a few generations and the trait resurfaces on grandchildren, let us know!
New
Sammy
My father winter had two sets of twins, they all had children and like one grandchild inherited the trait.
New
Georga
My sim had a baby boy with Father Winter and he does not have the Father Winters Baby trait. He is for sure the father so I don't know what went wrong.
New
kawaiixbish
Hi! I would like to ask you something. Do the sim have any special power after becoming teen/young adult?
New
MommaCat
In order for the child to have the trait, does it have to be conceived on winterfest day? I couldn't get them to be romantic with each other until 2 days after the holiday.
Are you sure you want to report it?
Share a link to this comment
Nifty Knitting & Eco Lifestyle Guides
Sims 4 Packs & DLC
Support Us

Readers who use adblock or those who'd like to thank me for my efforts can now pledge $1/$5 monthly via Patreon. This helps a lot with server costs and provides some stability for my business.
Super Sim Checklist + Other News
Let's Play Playlist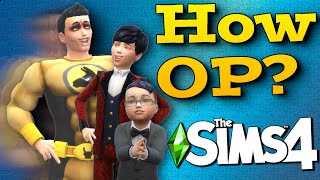 New I now have a guide to Making Super Sims in The Sims 4. Look for a text version within the next 72h. It won't have THAT much more info but it will help out as a checklist.
This was inspired by a series, "Let's Play a Super Sim" in which I start at toddler and gradually take on the major bonuses. Here's a link to each part for people who are interested. You can also see the Let's Play as a Playlist on Youtube.
Discover University Expansion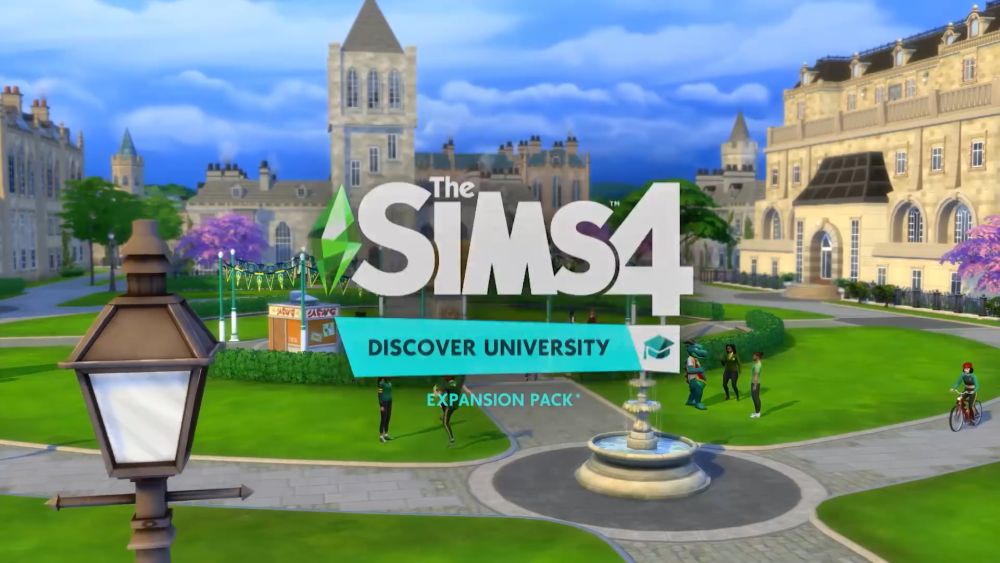 The Sims 4 Discover University has been announced for November 15 for PC/Mac and December 17 for Xbox and Playstation 4 consoles. Click to learn more about the pack, see my summary of the livestream or read our FAQs below.
Other Guides to Discover University:
New Lot Traits: Study Spot and University Student Hang Out
New: Discover University FAQ: Gameplay Features
New Video The Sims 4 Discover University Gameplay Tips Video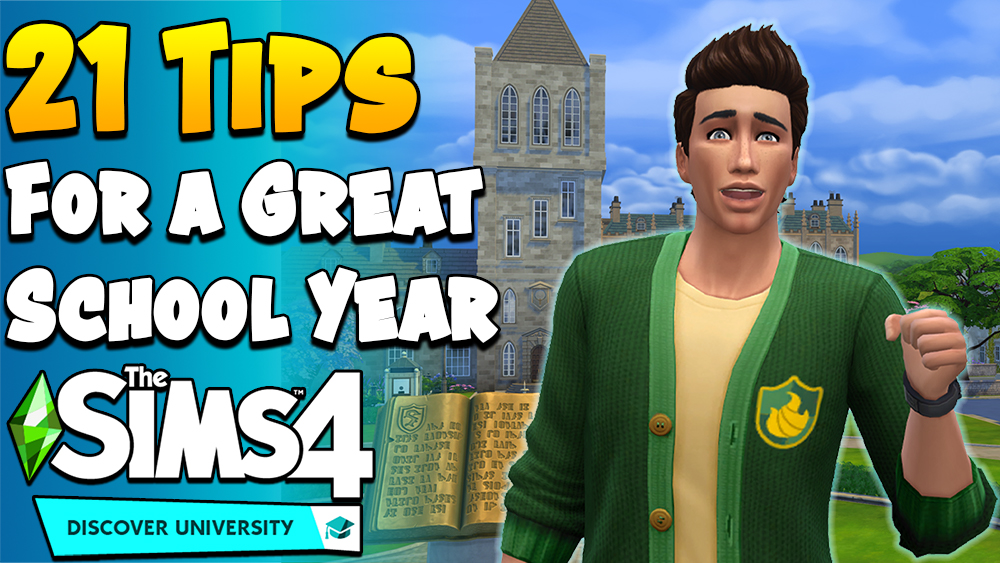 More videos coming soon!
Realm of Magic