The Sims 4 Movie Hangout Stuff
Stuff Pack Features, Objects, and Clothing
By Mr. and Mrs. Flynn Arrowstarr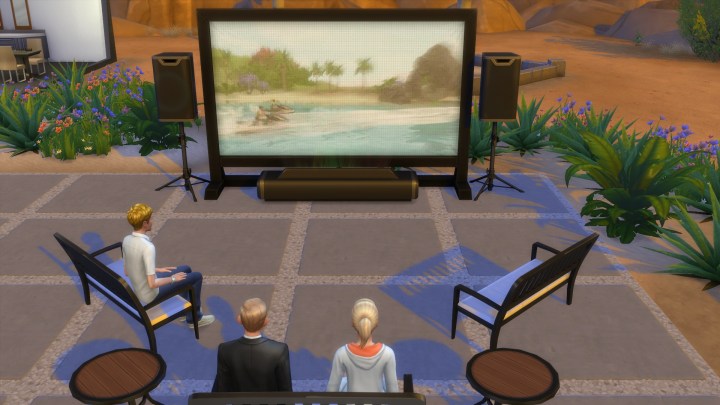 The outdoor television offered with the Stuff Pack. Click all pictures to get a more detailed view
The Sims 4: Movie Hangout Stuff is the fifth Stuff Pack for The Sims 4. Gather your Sims around the big screen TV, pop some popcorn and sit back to enjoy one of the ten new movies on offer. In addition to the new TVs and the Sugar Kane Popcorn Popper, the pack includes a number of new furniture and decorations and even a few new clothing items and hairstyles for your Sims to enjoy.
Projectotron Movie Screens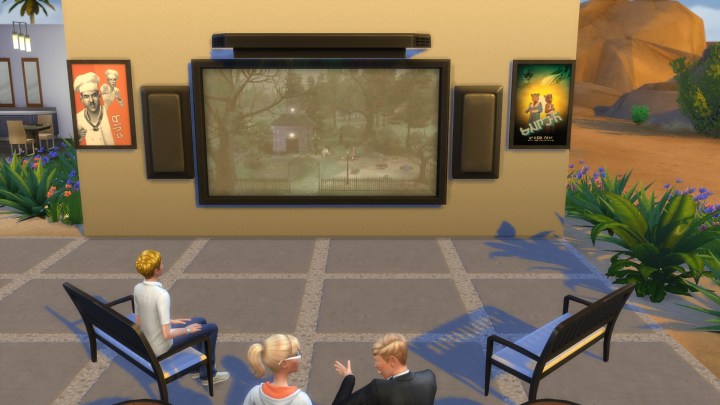 The main focus of the Movie Hangout Stuff Pack is the two Projectotron TV sets. There is an indoor wall-mounted TV and an outdoor freestanding TV set. Both take up six squares and each cost $2500. A couple of new interactions are added as well.
New Interactions

Watch Movie. - Select the movie you want your Sim to watch.
Watch Movie - Your Sim will pick a random movie to watch.
Watch Movie With. - Watch a movie with another Sim or group of Sims.
These options are also added to the normal TVs and are not exclusive to the Projectotron Movie Screens. Watching a complete movie will generate an Interesting Flick moodlet (Happiness +1) for 4 hours.
List of movies:
Collage Cram
Diamonds Are For Sims
Lost Dog's Journey Home
Moonlight Massacre III
Roaring Vice
Simder
Sims of the Dead
SuperKids: Cortex Catastrophie
Adventures of Spaceship Simulation
The Khlumzee Sisters
Sugar Kane Popcorn Popper

I now have over 70 videos on The Sims 4. Click here to check out my channel!

Our Latest: Realm of Magic Game Pack Guide NEW Realm of Magic Features Video New 10 Mods that Improve the Game New The Sims 4 Moschino Stuff Pack Review New Moschino Stuff Announced - See my Video for Trailer Graphics Options Guide (Video) My Sims Never Die. I Fixed That (How-To) Sulani Mana Let's Play Building Cheats Video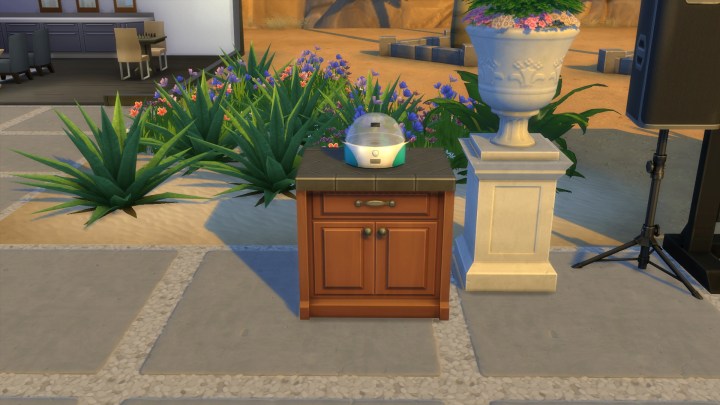 The other main premium object included in the stuff pack is the Sugar Kane Popcorn Popper. Your Sims can pop up a small variety of the treat using the following interactions:
Cook Buttered Popcorn ($10)
Cook Kettle Corn ($15)
Cook Cheddar Popcorn ($20) - requires Cooking Level 7
Cook Caramel Corn ($25) - requires Cooking Level 7
Each serving gives a Pretty Tasty moodlet (Happiness +1) for 4 hours.
Build Mode Objects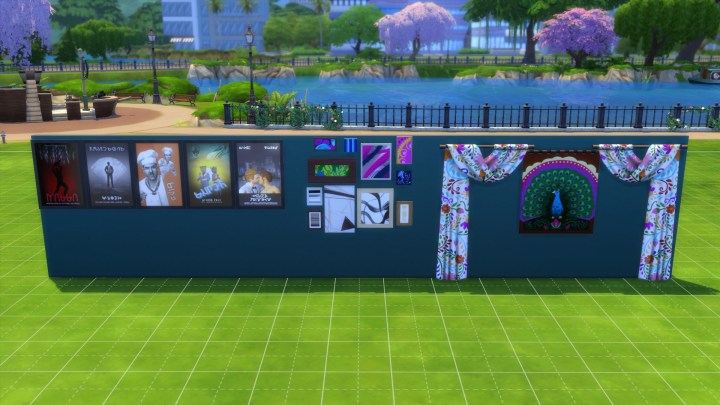 Most of the new wall decorations. The collage in the middle comes in two pieces - an upper and lower set.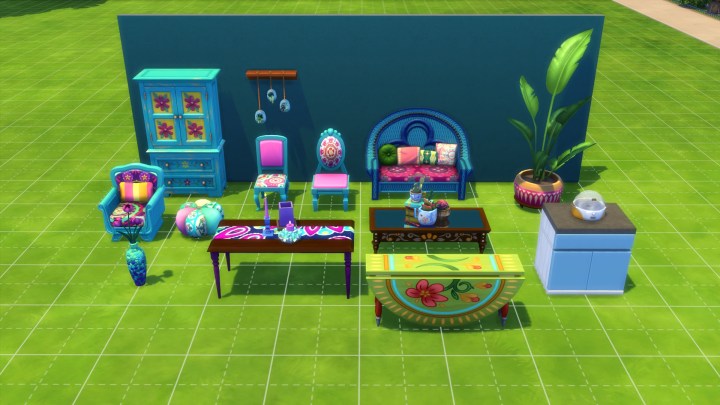 The new furniture. There's a decided tropical theme to the new objects.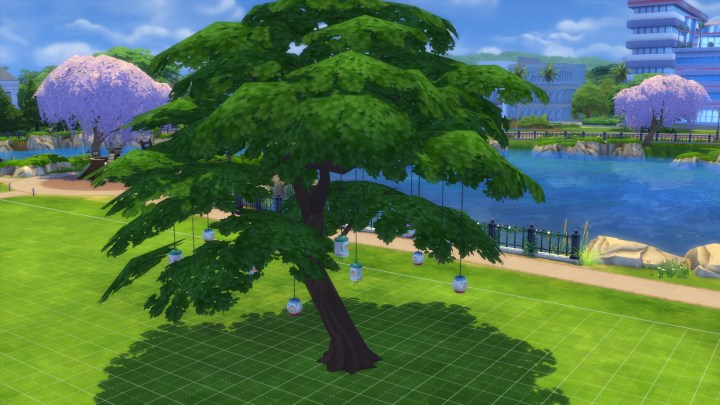 The new tree in the set come decorated for a party!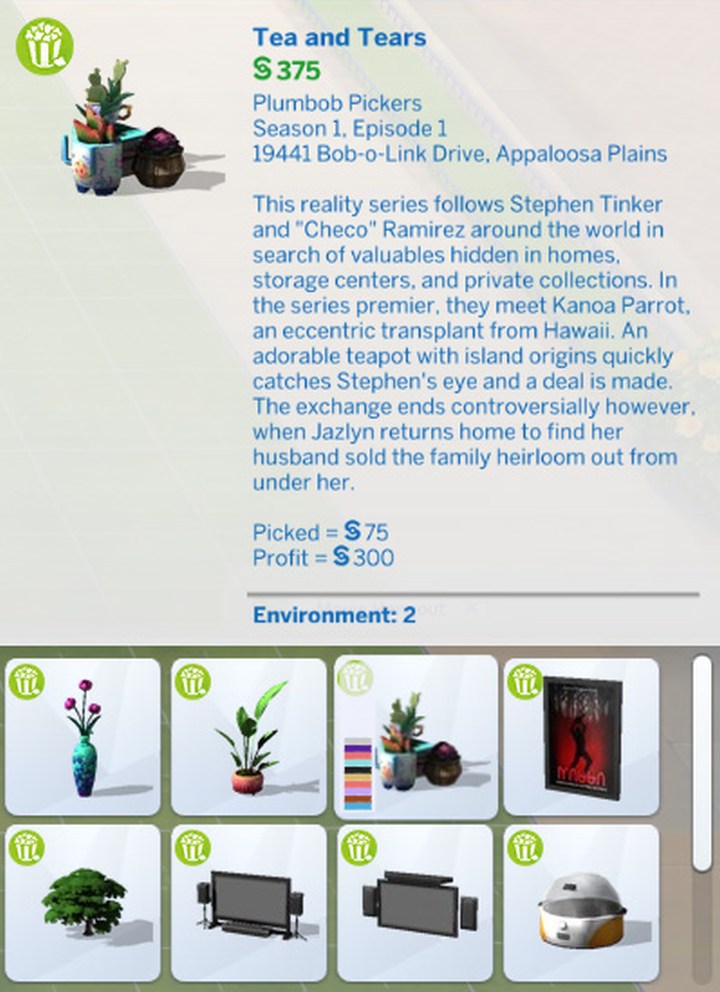 Most of the new objects in the pack have a story about how it was found during a reality TV show.
Clothing and Hair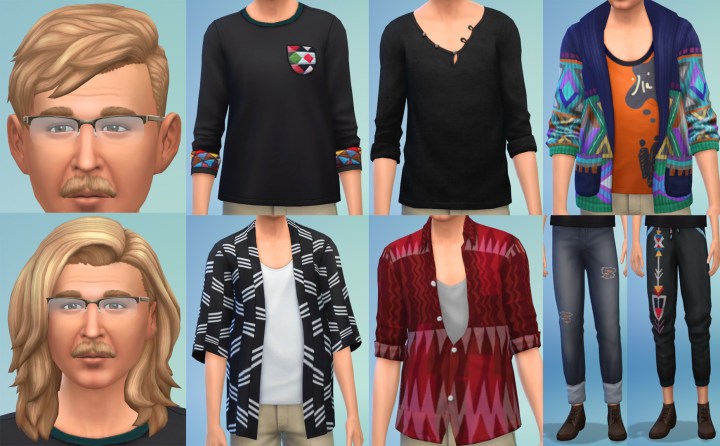 Guys get slightly more tops than the ladies, but fewer hairstyles.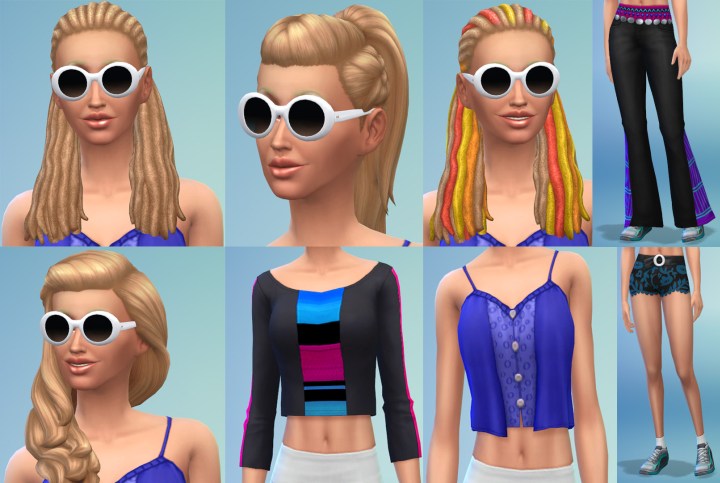 The options for the ladies.
New Styled Rooms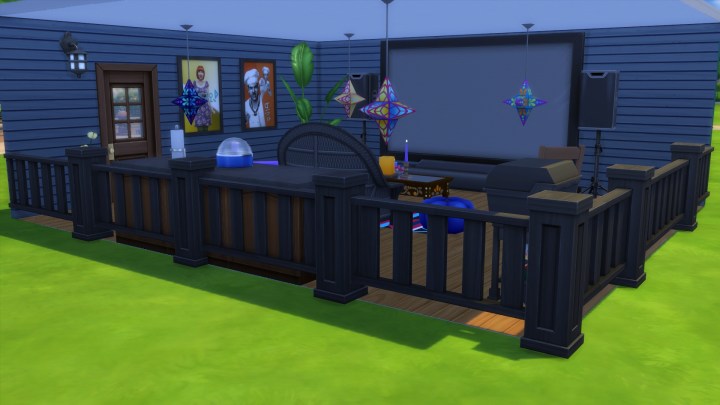 A nice covered outdoor patio turned into a home movie theater.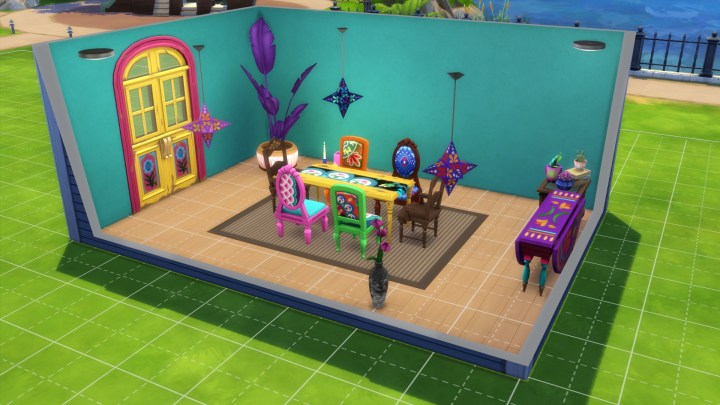 A tropical themed dinette.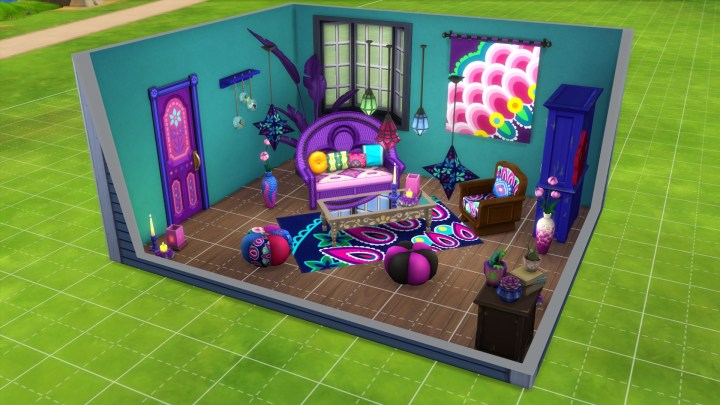 A similarly themed sitting room.
How You Can Support The Site and Channel

If you like my sites and
Youtube Channel
, consider supporting me on
Patreon
to help me to continue. If you'd like to support my guides in another way you can use our
Amazon link
for your next purchase (if in the US). We also offer a
paypal donate link
so you can contribute directly.
Back to The Top
Quick Links
Check Out My Youtube Channel!
We now have a Youtube Channel with over 50 guides in video format to go along with the huge site I've already created. Check it out and consider subscribing if you like my style.
Share Tips and FAQs
(3)
Our Sims 4 Community is the place to go for faster answers to questions and discussions about the game. Use the form below to share your own experiences and provide helpful tips to other readers. We are not affiliated with EA and cannot make changes to the game, nor fix bugs.
Support The Site via Amazon
Denise
Awesome

25th April 2016 3:24pm
Em
Thanks for this!
12th May 2016 12:46pm
Tessa Scoty
I love the ladies hairs especially the highlights one



1st January 2017 4:43pm
Join in:
Sims 4 Packs & DLC
Support Us

Readers who use adblock or those who'd like to thank us for our efforts can now pledge $1/$5 monthly via Patreon to help us retain the freedom to do what we love to do.
New Videos and Guides
Armageddon Mod (Mod/CC Reviews).

Latest in The New How To Section : Learn How to Write Songs and Make Money with Music in The Sims 4. Also, How to Get Abducted by Aliens. We have a guide for using Pregnancy Cheats, Get a Job, Adopting a Kid and How to Cheat.

Alien Abduction: I made a Video Guide to Alien Abductions, Alien Babies in The Sims 4 Get to Work.
New How To Section : The new How To's section is updated with How to Get Abducted by Aliens. You can also learn how to use Pregnancy Cheats, Get a Job, Adopting a Kid and How to Cheat. It's meant to help newcomers or those with specific problems and will be greatly expanded over coming months.
New Charisma Video
I've created a fairly detailed Charisma Video Guide to accompany the normal Charisma text guide. My goal is to have every skill covered by the end of the year, if possible.
Seasons and Guide Updates