The Sims 4 Hidden Area:
Finding Forgotten Grotto
There are two hidden areas included in The Sims 4, one in each World - The Forgotten Grotto in Oasis Springs, and Sylvan Glade in Willow Creek. Forgotten Grotto is accessible only to Sims that have level 10 Handiness skill. Once you've unlocked these areas, you can easily return to them at any time without having to go through all those steps - just travel to the neighborhood and head right in!
Video Walkthrough
Here is a video walkthrough for Finding Forgotten Grotto. Watch it here or follow the link to subscribe to our channel for content notifications.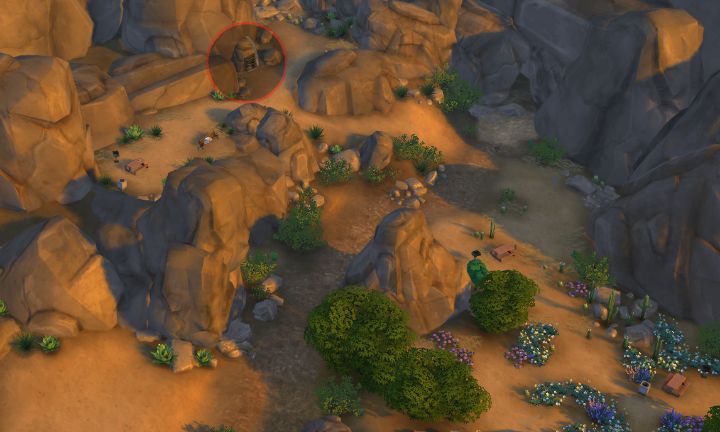 Where to find the Forgotten Grotto in Oasis Springs
Hidden Area: Forgotten Grotto
This area has two entrances, both of which are in Oasis Springs. For the purposes of the Guide, I'll use the one found in Desert Bloom Park. Look to the screenshot above to see the mine entrance, which is far back behind the park. The second is down the cliff behind the Landgraab Mansion. Both entrances require Level 10 Handiness.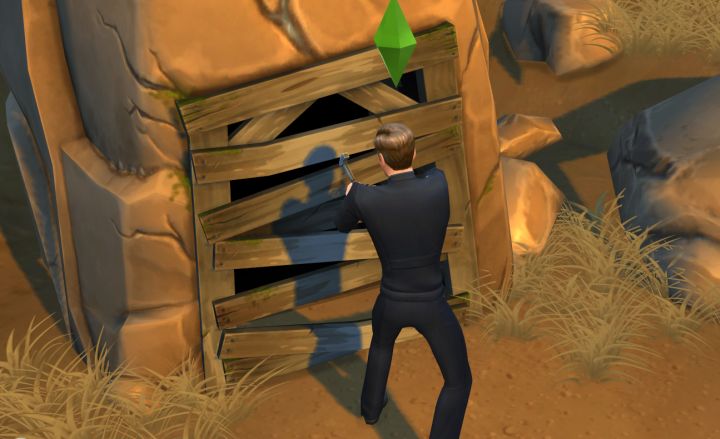 This Cave Requires Level 10 Handiness to Open
Once you've got the door down, you can select the Wide Path, Climb Ladder, Step onto Ledge, Travel to Grotto. You get as many tries as you like at this, so you don't have to memorize the four steps.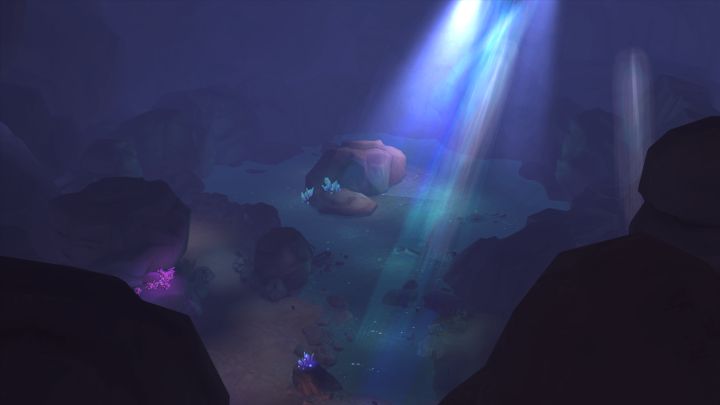 Click to Enlarge. The Forgotten Grotto is one beautiful area!
Inside the beautiful Forgotten Grotto area, you'll find several places to look for Frogs, a few Plant spawners, and Fishing spots.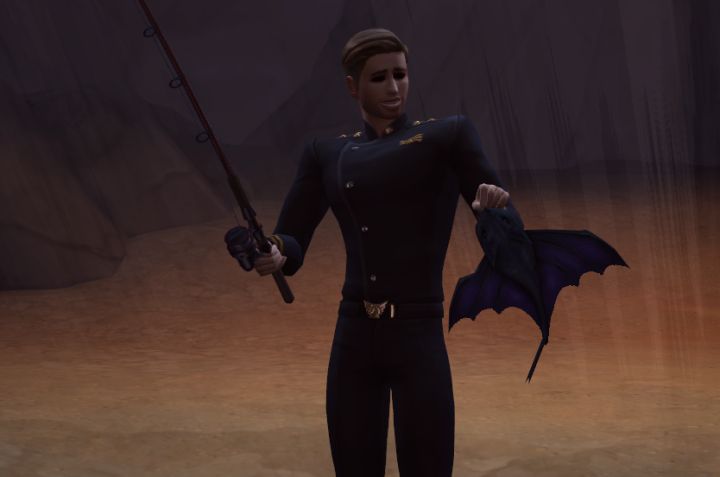 Catching a Batfish by Fishing in The Forgotten Grotto
This is the only place you can find the Batfish. I caught one, without bait, at the first fishing spot on the right upon entering the cave. I also caught several Health Potions in the process.
Quick Links
Check Out My Youtube Channel!
We now have a Youtube Channel with over 50 guides in video format to go along with the huge site I've already created. Check it out and consider subscribing if you like my style.
Share Tips and FAQs
(23)
Our Sims 4 Community is the place to go for faster answers to questions and discussions about the game. Use the form below to share your own experiences and provide helpful tips to other readers. We are not affiliated with EA and cannot make changes to the game, nor fix bugs.
Support The Site via Amazon
lulumarini
Im level nine of the handiness skill one more to go
22nd August 2015 3:12am
Sydney609
Is there a cheat for level 10 handiness?
25th October 2015 10:38am
Alexgabr
yeap :) - stats.set_skill_level major_handiness 10 -
30th December 2015 2:18am
Cassandra
How do you get a sim to like you?

23rd January 2016 8:23pm
Playalot
23rd January 2016 8:54pm
PixelPlays

Thanks! Super helpful/AWESOME!
6th March 2016 9:56am
JPSIMS
Hi thanks this website is awesome sim (donna) went there she got a bat fish there very weird looking hehe

27th April 2016 5:00am
Kiana
Super cool thanks for all the help! Can't wait to catch a bat fish!

12th June 2016 10:33am
キノコ
But.. Where the heck is that? I know that's oasis spring but where??

17th September 2016 1:21am
playalot
The top screenshot is in Oasis Spring park right at the very back of the routable area (way off the buildable area). Find the public toilet block right at the back of the park and then go left until you can match the screenshot with what you are seeing in your game.There is also another of the 'mine shafts' behind the Landgraabs house down the path to the left of the house as you look at it from the road. Follow this road down and around till the end and you will see the mine shaft.Both the mine shafts go to the same place.
17th September 2016 11:17pm
Astralis
The Batfish can also be found in Forgotten Hollow if you fish with a frog as bait.
25th February 2017 5:41am
OcelotsAndUnicorns
I noticed what looked like a boarded up mine entrance in Forgotten Hollow yesterday, but I thought it was just part of the background scenery. Then I saw your screenshot up there and now I'm curious about it. If mine is indeed like the one you're showing here, is it possible that there are more hidden areas in non-base game worlds?
21st March 2017 9:04pm
OcelotsAndUnicorns
Oi. I just saw the sidebar with Deep Woods and Sixam. It just makes me even more curious about Forgotten Hollow. :)
21st March 2017 9:49pm
Playalot
No sadly there are no more hidden lots. I think basically that they were a left over from when TS4 was being developed as an on-line game with a story mode. The only hidden lots are in the Base Game worlds of Oasis Springs and Willow Creek with the Hermits Area from the first Game pack (Outdoor Retreat) also being a hidden lot.
23rd March 2017 12:50am
OcelotsAndUnicorns
I'm sorry it took so long to respond. I'm a little disappointed there aren't more hidden /extra places, but hey, maybe that'll change and not because they're left over from something else, so there will be more to do and see. Thank you for your assistance, Playalot.
16th June 2017 7:03am
jess
whats the cheat to build on the ghrotto or glade i forgot


13th April 2017 12:45am
Bolbo
what kind of outfit is that batfish-fishing guy wearing? i've tried to find it in cas but could never find it
16th June 2017 9:49am
Playalot
It is one of the career outfits that unlocks on promotion. Astronaut or Secret Agent I think.
16th June 2017 8:31pm
Michelle
Hey! I've been trying to figure out how I can access the part of the neighborhood where Crick Cabana is in Willow Creek but with no luck. There's a lot of deaciptions on how to access the secret lots like the Forgotten Grotto and the tree in Crick Cabana, but absolutely no info on how to unlock the Crick Cabana lot itself. I've even asked in forums but no one will tell me! Please help me
28th February 2018 4:15pm
Playlot
You travel there by using your sims phone or pushing the shortcut key 'M' to access the map. Doesn't matter if no sims are living there, your own sims are able to travel to any lot at all. Also any lot in the neighborhood will grant you access to the entire surrounding neighborhood which includes the tree to take you to the Glade. So your sim could travel to Crick Cabana, Daisy Hovel, Garden Essence, Streamlet Single or even Bargain Bend.
This is true of all neighborhoods... any lot will allow access to the entire local neighborhood.
List of all townies and Neighborhood Maps
1st March 2018 3:47am
Michelle
Hey! I've been trying to figure out how I can access the part of the neighborhood where Crick Cabana is in Willow Creek but with no luck. There's a lot of deaciptions on how to access the secret lots like the Forgotten Grotto and the tree in Crick Cabana, but absolutely no info on how to unlock the Crick Cabana lot itself. I've even asked in forums but no one will tell me! Please help me
1st March 2018 9:13am
Join in: