The Sims 4 Military Career
Strangerville Game Pack: Rewards for Officers and Covert Operators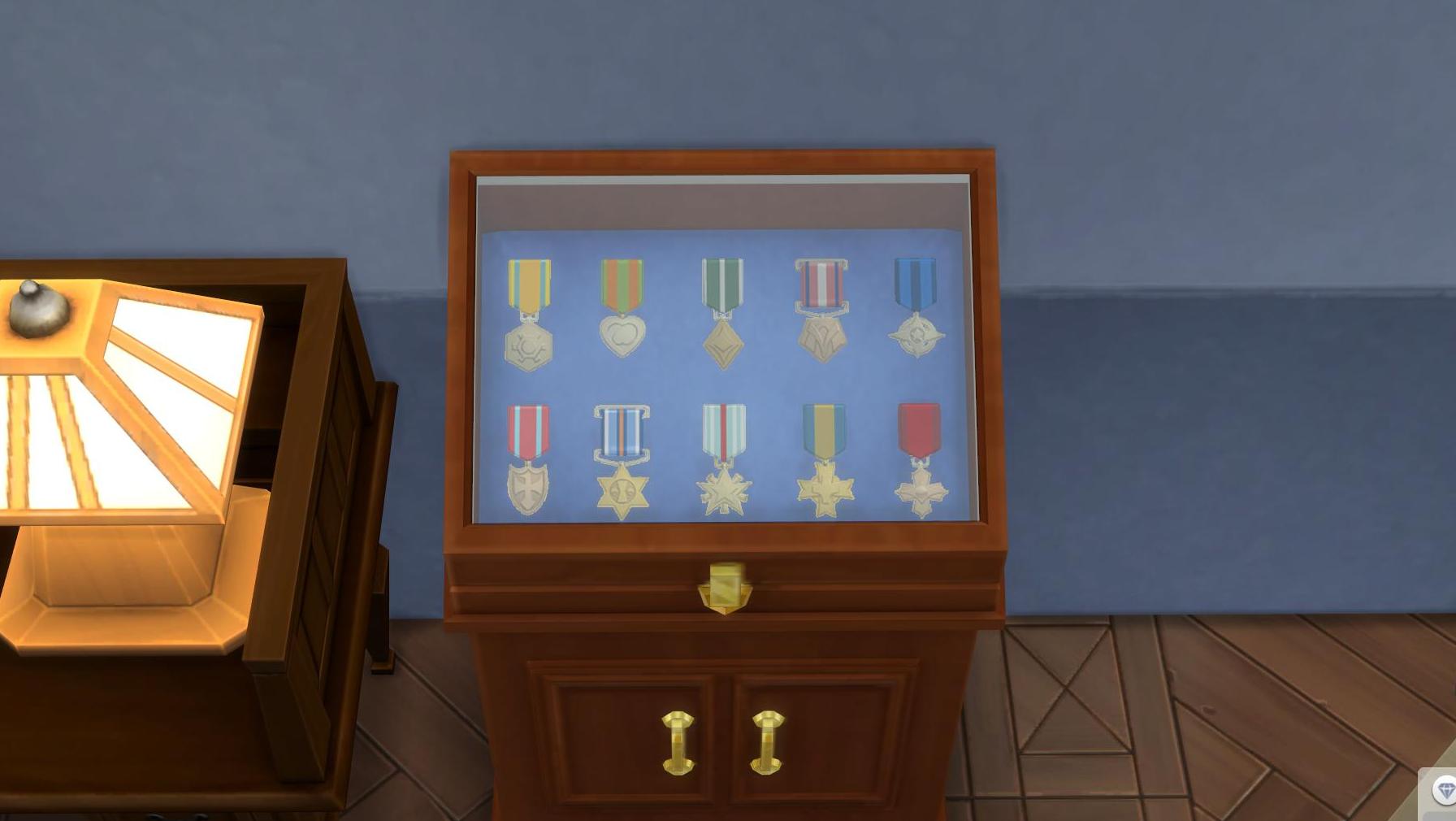 These are the Medals that Sims in the Military receive, regardless of rank, with display case.
Career Quick Links
The Military Career is included with The Sims 4 StrangerVille Game Pack. The new Career features two branches, Officer and Covert Operator which differ quite a bit. One will lead you toward spying on your neighborhood, while the other charges you with getting other recruits into shape. Here's a guide to the new career, its requirements and the rewards you can expect with each promotion. Each one comes with a medal, and there's a display case for storage which can be seen above.
How to: Military Career Cheats
Press Control + Shift + C then type testingcheats on and press enter. You can now get promotions with careers.promote military - you can also see all Career Cheats or visit a full list of Cheats in The Sims 4.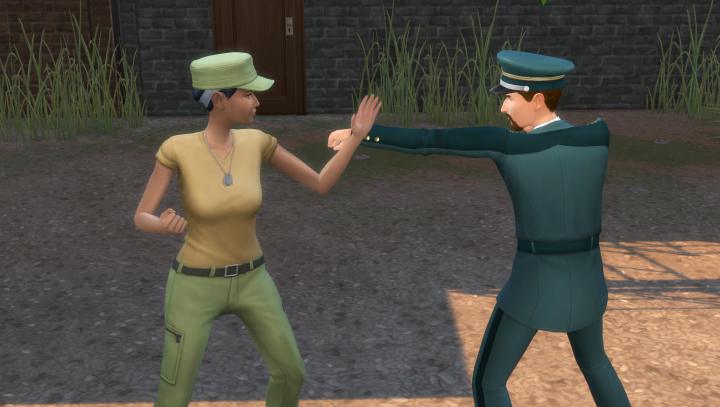 Military Sims can Spar and Order other Military around.
Sims in the Military can use the Spar interaction, which lets them fight in a friendly way with another Sim. This raises fitness and builds relationship between the participants. They also gradually gain access to the 'Order Around' menu which can be used on other Military Sims. You may instruct them to spar one another, among other activities.
Learn about THe Sims 4's Military career, new in the StrangerVille Game Pack. Includes information on both the OFficer and Covert Operator branches and where the jobs rank in pay overall.
Getting Started in Military

I now have over 70 videos on The Sims 4. Click here to check out my channel!

Our Latest: Realm of Magic Game Pack Guide NEW Realm of Magic Features Video New 10 Mods that Improve the Game New The Sims 4 Moschino Stuff Pack Review New Moschino Stuff Announced - See my Video for Trailer Graphics Options Guide (Video) My Sims Never Die. I Fixed That (How-To) Sulani Mana Let's Play Building Cheats Video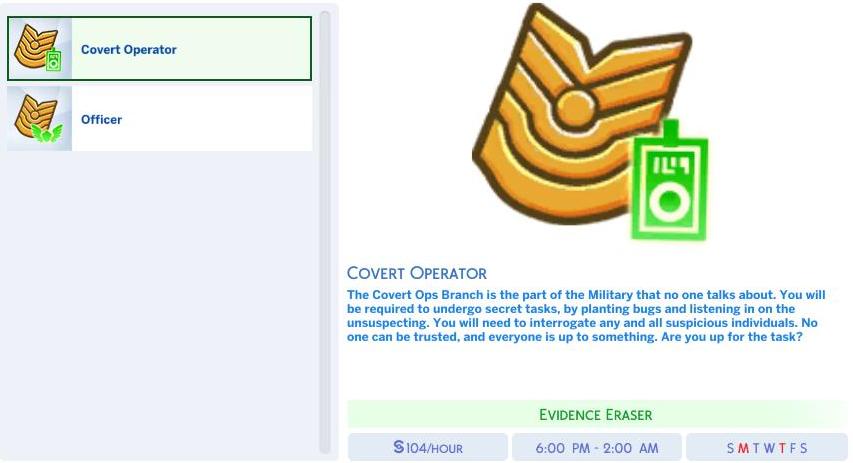 Want to be a Covert Operator or Officer? The Military Career is available for all owners of The Sims 4 StrangerVille Game Pack.
Take a job in the Military by using your phone or the careers panel (hotkey 'J' on PC) if you don't have one already. Early on, your Sim is very much focused on keeping fit and not much else. As a new recruit you'll want to keep energized during work hours to keep the fitness skill levels coming. Workout equipment for the home can help a lot with saving time, though you may at times need to get out in the world and go on a jog.
Military is like Gardener from Seasons in that it allows you to choose each day whether you'll attend work or work from home. If you choose work from home, you'll get an assignment which you're expected to complete during work hours. Gains toward promotion are not given until the next day, so do not worry if you don't see your Sim making progress. This allows for a lot of freedom while bringing in money. I personally prefer going in when I'm trying hard due to being able to use work hard and going in a positive mood,
Military Career Levels 1-5
| | | | | | | |
| --- | --- | --- | --- | --- | --- | --- |
| 1 | Raw Recruit | $26/hour | Mon-Fri 6AM-2PM | $208 | Reach Level 2 Fitness, Work Out | Tech Team Excellence Award (Medal) |
| 2 | Private Fourth Class | $34/hour | Mon-Fri 6AM-2PM | $272 | Reach Level 3 Fitness, Work Out | $581, Medal Display Case, Bravery Heart (Medal) |
| 3 | Lacking Corporal | $54/hour | Mon-Fri 7AM-3PM | $432 | Reach Level 4 Fitness, Go Jogging | $756, New Clothes, Medal of Questioning |
| 4 | Sergeant Minor | $71/hour | Mon-Fri 7AM-3PM | $568 | Reach Level 5 Fitness, Spar With Others | $869, Construction Engineering Reward |
| 5 | Warrant Officer | $96/hour | Mon-Fri 8AM-4PM | $768 | Reach Level 6 Fitness, Work Out | $1130, Eagle Eye Award, New Clothes |
Choosing Between The Two Branches
Unfortunately when it comes to choosing between these, the differences are there but not in the way we might like. They make the same amount per rank, gain the same bonuses except for the minor differences you see in pictures, and work the same number of hours (8). The vast difference is one is an early morning/daytime job (Officer) and one is a late night job (Covert Operator). Because of this it should be fairly easy for you to choose, but hinders the replayability of the two branches.
Covert Operator Branch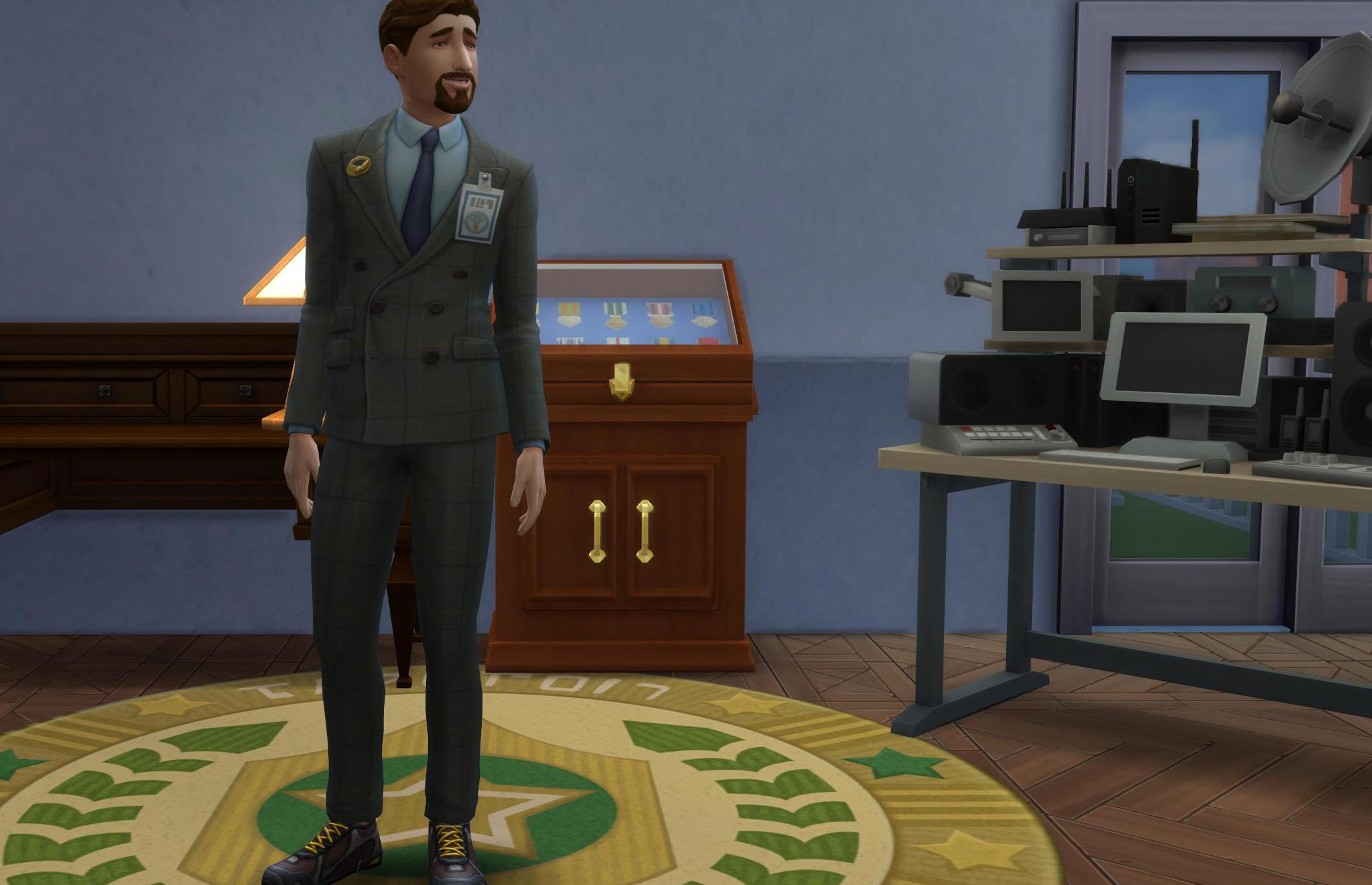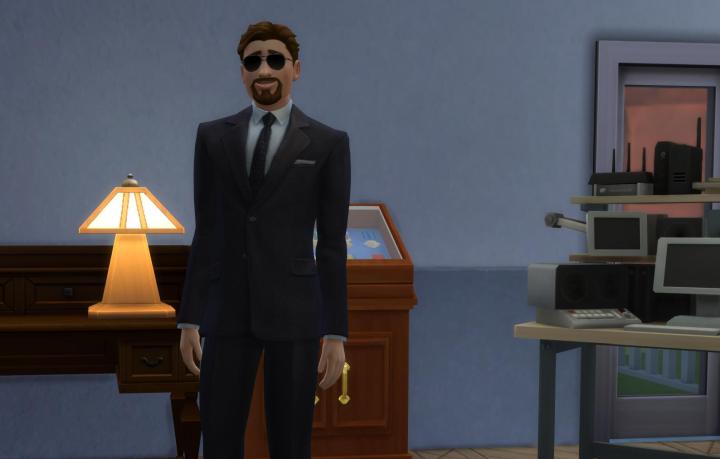 Uniform and rewards for the Covert Operator Career. Shown second is the Man in Black uniform for reaching Rank 10 in Covert Operator
Covert Operators will listen in on other Sims, using the Listening Device. This may mean planting bugs on them, as potentially used at one point during the StrangerVille Mystery, only an absolute requirement of the job in this case. They may also need to find evidence and research strange phenomena, while keeping the secrets of the military. The level 10 activity, 'Plan 10 Moves Ahead' means to simply play chess for 2 hours. I'm not sure why it doesn't change the name for agents or add an additional activity to the chessboard. It also lacks a tooltip, so hopefully this helps.
Covert Operator Career Promotions and Rewards
| | | | | | | |
| --- | --- | --- | --- | --- | --- | --- |
| 6 | Evidence Eraser | $104/hour | Tue-Wed, Fri-Sun 6PM-2AM | $832 | Reach Level 4 Logic Skill, Practice Chess | $1299, Air Award, New Clothes |
| 7 | Conspiracy Squelcher | $119/hour | Tue-Wed, Fri-Sun 6PM-2AM | $952 | Reach Level 6 Logic, Monitor Other Sims | $1689, Listening Device, Medal of Supreme Bravery |
| 8 | Clandestine Investigator | $179/hour | Tue-Wed, Fri-Sun 6PM-2AM | $1432 | Reach Level 8 Logic, Search the Stars (Telescope) | $1790, Ranking Rug, Medal of Discipline, New Clothes |
| 9 | [Redacted] | $297/hour | Tue-Wed, Fri-Sun 6PM-2AM | $2376 | Max Logic, File Reports (Computer) | $3149, Tactical Genius Medal, New Clothes |
| 10 | Sim-in-Black | $422/hour | Tue-Wed, Fri-Sun 6PM-2AM | $3376 | Plan 10 Moves Ahead (Play Chess) | $4567, Medal of Courage, New Clothes |
Officer Branch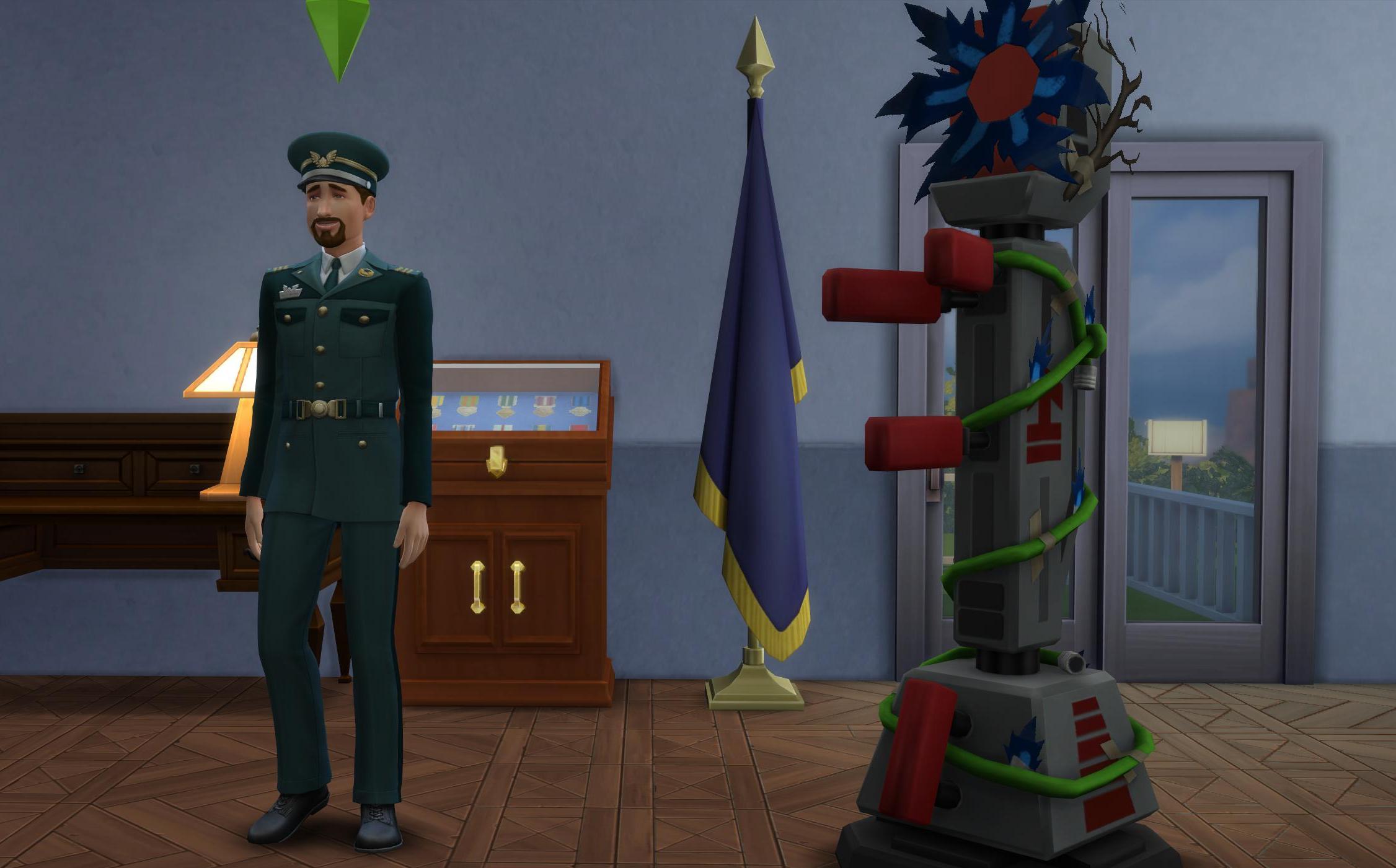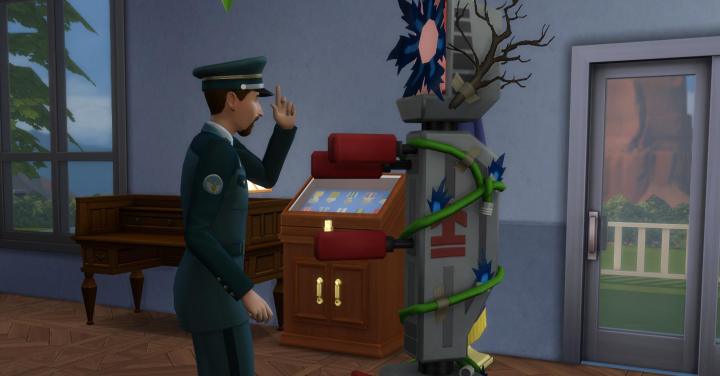 Officers may be expected to Recruit other Sims to the Military. They're also responsible for keeping other Sims fit, practicing combat, and improving their own ability to order other Sims around.
Officer Career Promotions and Rewards
| | | | | | | |
| --- | --- | --- | --- | --- | --- | --- |
| 6 | Fourth Lieutenant | $104/hour | Mon-Fri 10AM-6PM | $832 | Reach Level 4 Charisma, Practice Speech | $1299, Military Grade Flagpole, Air Award, New Clothes |
| 7 | Courageous Captain | $119/hour | Mon-Fri 10AM-6PM | $952 | Reach Level 6 Charisma, Give Orders | $1689, Medal of Supreme Bravery |
| 8 | Lieutenant Colonel | $179/hour | Mon-Fri 10AM-6PM | $1432 | Reach Level 8 Charisma, Practice Giving Orders | $1790, Modified B64 Training Bot, Medal of Discipline |
| 9 | Brigadier | $297/hour | Mon-Fri 10AM-6PM | $2376 | Max Charisma, Share War Stories | $3149, Tactical Genius Medal, New Clothes |
| 10 | Grand Marshal | $422/hour | Mon-Fri 10AM-6PM | $3376 | Recruit Sims | $4567, Medal of Courage, New Clothes |
How You Can Support The Site and Channel

If you like my sites and
Youtube Channel
, consider supporting me on
Patreon
to help me to continue. If you'd like to support my guides in another way you can use our
Amazon link
for your next purchase (if in the US). We also offer a
paypal donate link
so you can contribute directly.
Back to The Top
Quick Links
Check Out My Youtube Channel!
We now have a Youtube Channel with over 50 guides in video format to go along with the huge site I've already created. Check it out and consider subscribing if you like my style.
Share Tips and FAQs
(29)
Our Sims 4 Community is the place to go for faster answers to questions and discussions about the game. Use the form below to share your own experiences and provide helpful tips to other readers. We are not affiliated with EA and cannot make changes to the game, nor fix bugs.
Support The Site via Amazon
Sketch Elder
Looks like you missed the first medal. You get the Tech Team Excellence Award at level 1, as soon as you join the career.
2nd March 2019 4:16pm
Playlot
Thanks! Added that in now

3rd March 2019 2:43am
Lapetus
I had a bug happen when my sim was at the 'Covert' branch level 8 - Clandestine Investigator. The daily task is to search the stars using the backyard observatory. Even spending the ENTIRE 16 hours between shifts in the observatory, I could only get completion to 75%. I cheated my needs full as I started, to test the time it took.
3rd March 2019 9:51pm
Tracey
How do I plan 10 steps ahead as a task in lvl 10 covert military career?
4th March 2019 12:20am
Lapetus
You just need to play chess. 2 hours solid should get it to 100%. I always ponder moves first to get a focused moodlet, don't think that counts towards the total.
4th March 2019 10:55pm
Carl
Yeah it's chess, the game doesn't alter the name of the interaction at all so you're sort of forced to guess based on the name. I'm editing the guide to include this now.
5th March 2019 12:00pm
Wulfe
How do you guys manage the "Give Orders" daily task for Level 7 Officer? It doesn't progress with the training bot, and if I go to the bar after work to start ordering the enlisted soldiers around it takes something like 6-7 hours of constantly clicking while all the sims move around, realign, change chairs, etc. It's the most frustratingly tedious task I think I've ever encountered.I can't do that every day. My single-parent sim has two kids to look after. :)
4th March 2019 8:32pm
Cole
I love making and playing families, but for this and other games where I'm on a mission (eg. professions in Get to Work), I play with a single member household so I only have to look after the needs of one sim.
5th June 2019 9:25pm
Sketch Elder
Keep in mind that the Daily Task is not required for promotion. Performance will go up a little slower but that's all. It probably won't take more than an extra day.
5th March 2019 8:31am
Genaeve

My Medal Display Case is not working. Is there a trick to put my medals in it?
Thank you, in advance.
5th March 2019 1:04pm
Sketch Elder
I just drag the medals to the case.
5th March 2019 10:00pm
Julie
I'm at Conspiracy Squelcher for Covert Operator and the work at home assignment asks me to find evidence in the lab. I already played through the story and it won't let me search through the evidence. I tried searching the archives in the library and planting a listening device on a sim and listening but it doesn't count. Not sure how to complete it.
5th March 2019 6:01pm
E O' Connell
Hey, maybe trying to hack the computers there will help, i had this problem when my sim found a usb stick with evidence on it and was able to complete the secret dossier part of the mystery, i had to hack all the computers every day untill i got the required 15 pieces of evidence to move to the next step of the aspiration, but hacking the computers counted as evidence for me, hope it helps you
7th March 2019 10:09am
Oli
I had this problem too, the solution for me was to "sell" my keycard and then you can search for evidence in any of the piles. You might also have to get rid of any existing dossiers but I might be wrong about that. Since you're in the military career you can "Requisition Keycard" on a computer when you no longer need to gather evidence as a task.
7th March 2019 4:56pm
Maria
Is anyone else having issues with 'Search the Stars'? Mine gets to the just started phase, then nothing after that. No matter how many times, or how long my Sim stargazes, it never goes any higher. Am I doing something wrong, or is this a bug?
10th March 2019 8:39pm
Sketch Elder
Seems to be a bug. I did manage to reach 25% but it took several hours using Observe the Sky during the daytime. I went back after dark and tried Stargaze but I was still at 25% after a full hour of that and I'm not willing to continue trying. I'll just plan to make it through the next promotion without the daily task.
14th April 2019 12:36am
Kyle
Starting the career at level 3, I missed some medals. Does anyone know if there is a way to retroactively get them?
15th March 2019 6:50pm
Playlot
Yes, you can use cheats to find the medals in the debug menu. Turn on
testingcheats on
> go into build mode>type in cheat
bb.showhiddenobjects
> select debug on right hand filter>search 'medal' in left hand filter> there are all the medals
Cheats Guide
16th March 2019 11:50pm
Beatriz
How I can "Monitor Other Sims"?
24th March 2019 9:28pm
MartinC
You can buy a listening station in your build screen. You find it under electronics
25th March 2019 8:22pm
Claire
Hi. How do I share war stories. Can't seem to find out how you do it. It's clearly not as simple as just talking to someone. I can't find the action. Help please.
31st March 2019 1:52pm
Playlot
Despite having played through this career twice now this action hasn't appeared for me! I guess you find another military sim and it would be under friendly socials? Military sims hang out in the bar in StrangerVille so it should be easy to find one.
31st March 2019 5:21pm
jlc
How do you recruit ? I am not sure how i leveled up cause i didnt talk about war stories ..strange thing .afterall we are in strangeville
17th May 2019 1:34pm
Playalot
It should be under Friendly Socials when chatting to another sim.
18th May 2019 11:20pm
Jan
Thank you

28th May 2019 2:28pm
Join in: