The Sims 4 Dine Out
Guides, Additions and Features: Own and Manage Restaurants!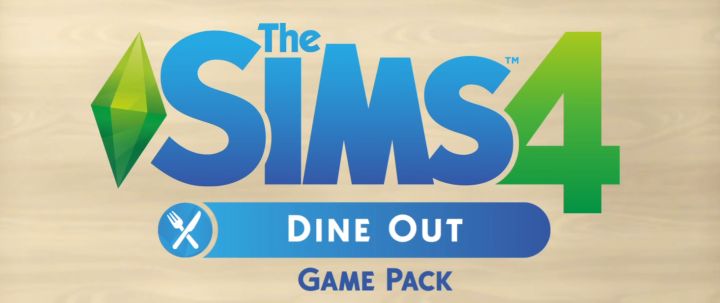 The Sims 4 Dine out Logo
The Sims 4 Dine Out Game Pack released June 7, 2016 for PC and Mac. The new game pack adds restaurants to the game. Not just restaurants that Sims can visit, but restaurants that your Sims can own, operate, and design. Here's are my guides to The Sims 4 Dine Out, along with its trailer should you desire to see it in action:
Dine Out Guides
Dine Out Release Trailer
Given EA's track record on game packs thus far, this is likely worth the $20 price tag to anyone who finds running and customizing restaurants appealing. It's probably not worth it if you'd only want to visit them or do not find the objects appealing, but that feature will be there for when players are in a game where they're not operating a restaurant.
Dine Out Screenshots
Right now, the main source of screenshots is the trailer. I've mainly acquired them from there so that people on mobile with low data caps can check out some of the images from the trailer. This gives you a chance to glance at new objects and decorations without pausing the trailer over and over.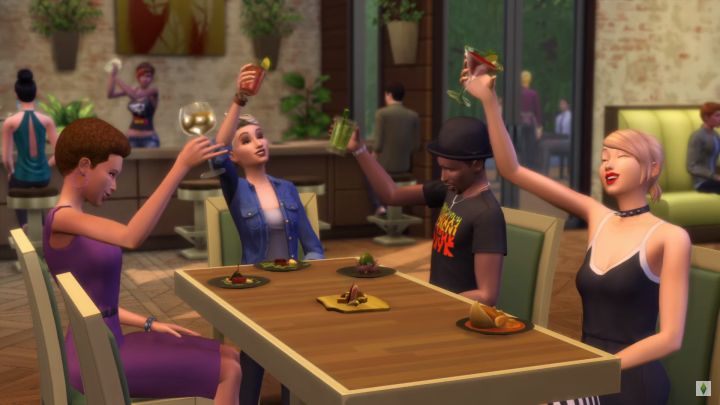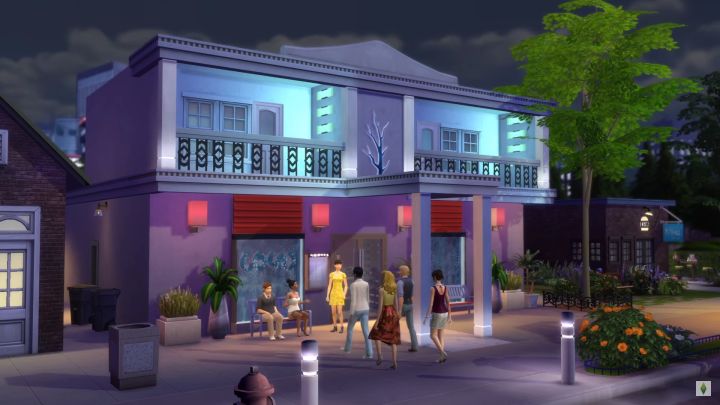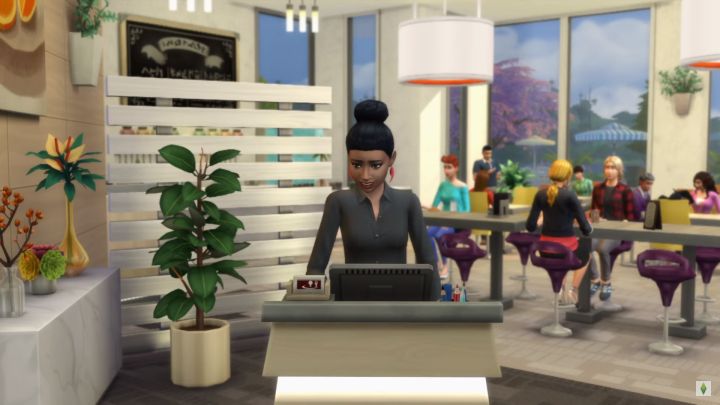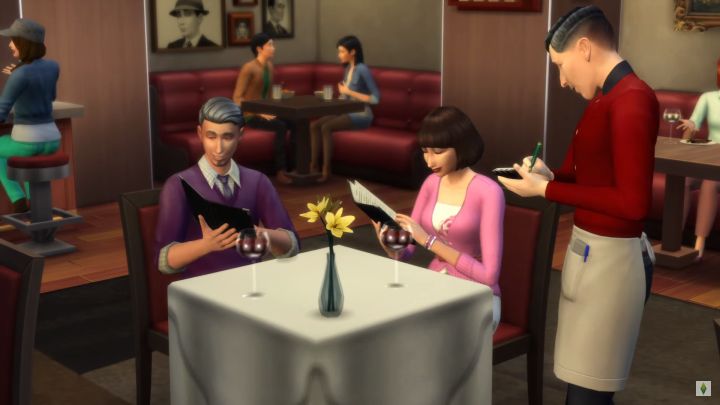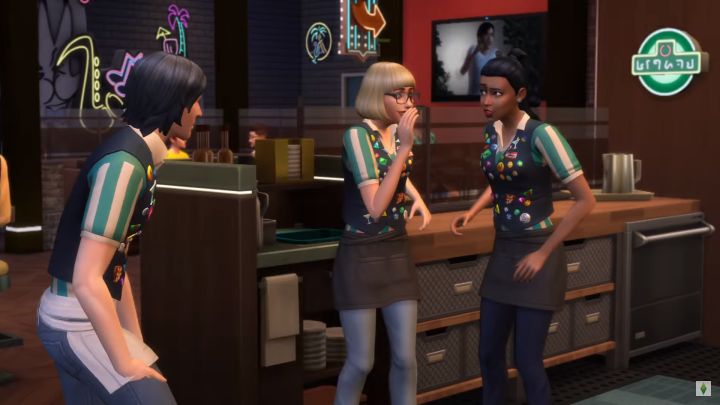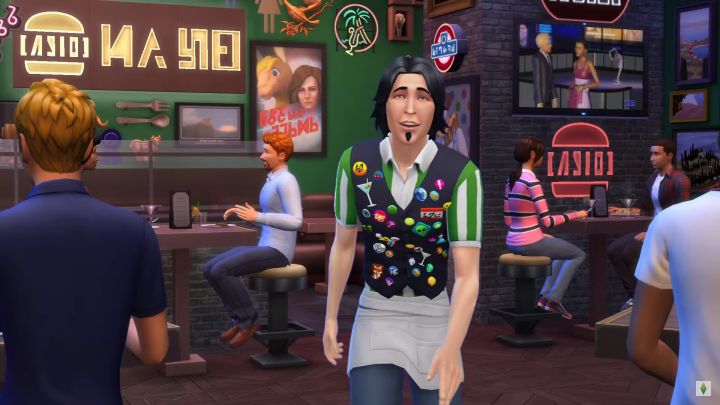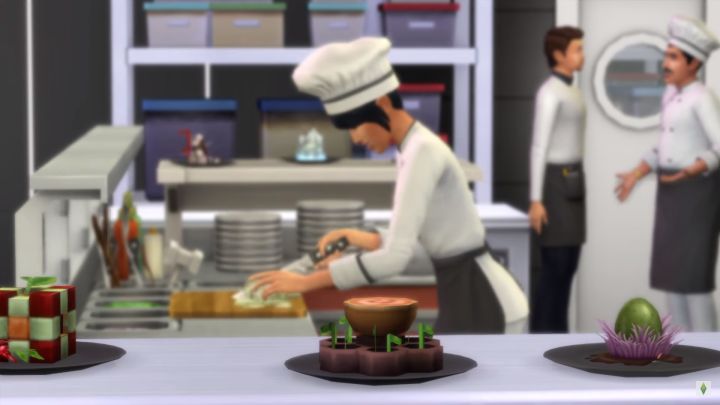 Dine Out Gameplay Features

Restaurants are the main feature of the Dine Out game pack (it's not a full-blown expansion but definitely offers value). Sims are of course able to visit restaurants in town and order food, but it's more interesting to own them from a gameplay standpoint. Thankfully, we can do both. The pack ships with several pre-built restaurants, and the gallery will undoubtedly populate with great creations from Simmers around the world. Pre-built restaurants your Sim can visit for a date, as part of a club with Get Together or for family night.
Own and Run Restaurants - The Sims 4 Dine Out will allow us to own and run restaurants. The whole system is fleshed out, giving us control over every aspect whether we have Sims present or not. That's right, we can schedule them to open at any time no matter where we are, and this results in being able to run a chain of restaurants and amass great wealth. You can own a small diner, a five-star restaurant that serves expensive food or both!
Fully Customizable Restaurants - the layout is up to you, you're required only to place a few stations. The decor, lighting, mood and floor plan are all fully customizable just as with building a house. Of course, you'll be able to share your creations through the gallery.
Manage Staff - Three new positions exist aside from you (manager) - host, waiter, and chef. Obviously your host will greet an seat guests, while the waiters take orders and clean up. Chefs will cook food for the guests, and all three of these positions have required skills to make them better at their jobs. Training employees will improve their ability to please your customers. They will, of course, develop skills naturally over time, but you can fork over cash to help them improve faster.
Please your Guests - Your service, the menu, pricing, it all factors into how your guests will view your restaurant. You can rank from 1 to 5 stars, and higher ranking establishments will see more guests arrive at any time of day. Of course, there are hours they are more likely to visit!
Customize Menu - Select from hundreds (literally) of drinks, appetizers, desserts, and main courses to define your restaurant's menu. You're not restricted and can choose your own style, along with the amount of profit you expect from each meal through a markup.
Customize Staff Uniforms - it's not yet clear if we can select the uniforms exactly, but Sims in the trailer use anything from flair vest to classy uniforms when serving food.
Choose Restaurant Perks - with success come perk points, which you can use to give boosts to the restaurant - both temporary and permanent. They range from adding extra waiters to making customers tip you or reducing ingredient costs.
Fine-dining Themed Objects - The trailer features some objects that are new, and it's obvious we can probably design restaurants from simple diners, to expensive fine-dining establishments. This is an exciting development for people who use the gallery, as I'm sure some amazing themed restaurants will pop up.
New Create-a-Sim Additions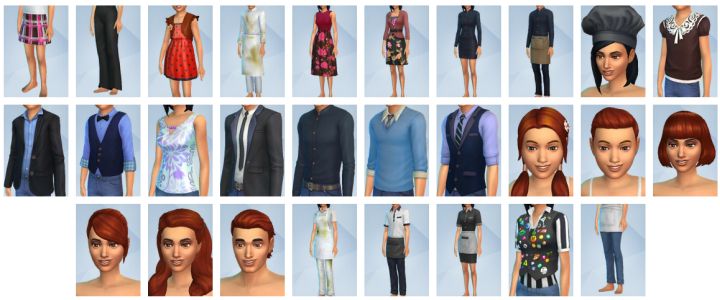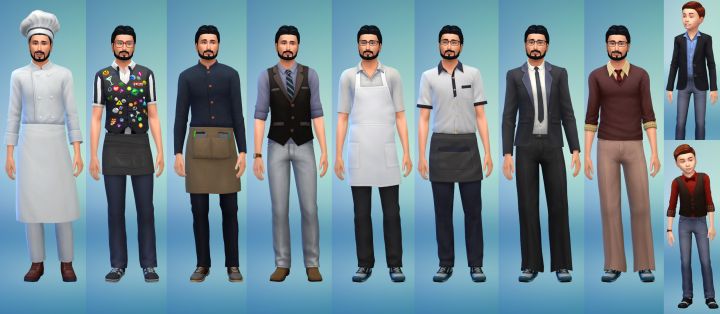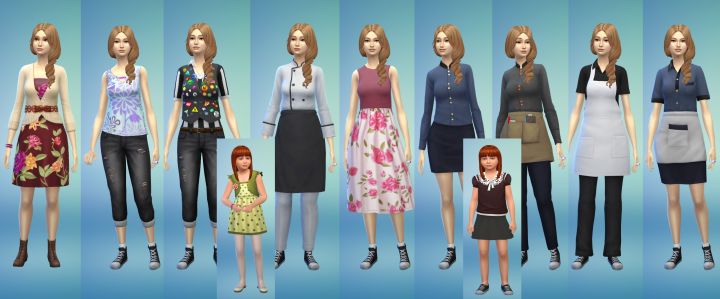 Click to Enlarge. New clothing and hair for males and females in Dine Out
New Build Mode Objects

10 Million Views! My YouTube channel has grown a lot the last 6 months. I now have over 125 videos on Youtube and am nearing 100k subscribers. I'd like to invite people to check out my content and, if you like what I'm doing, subscribe!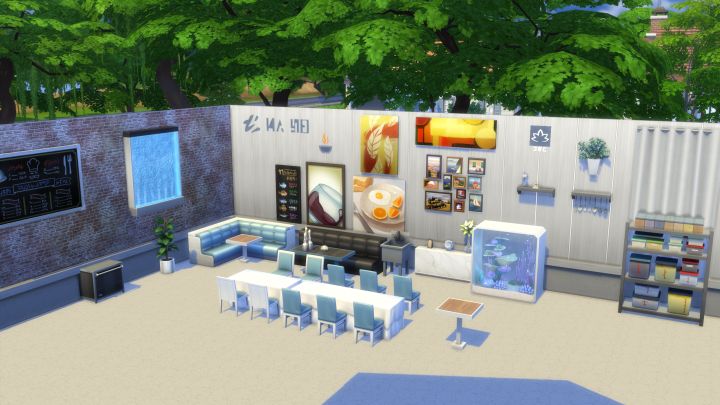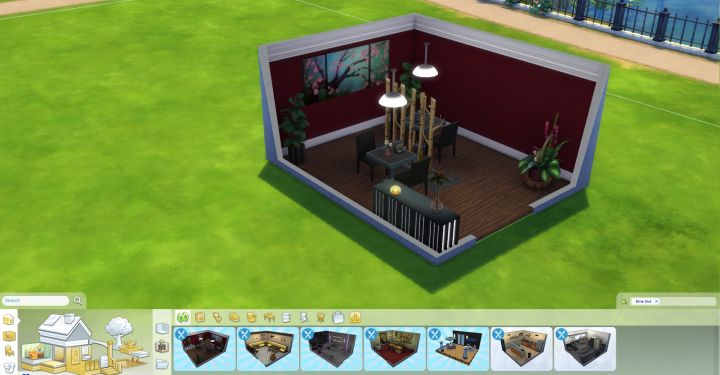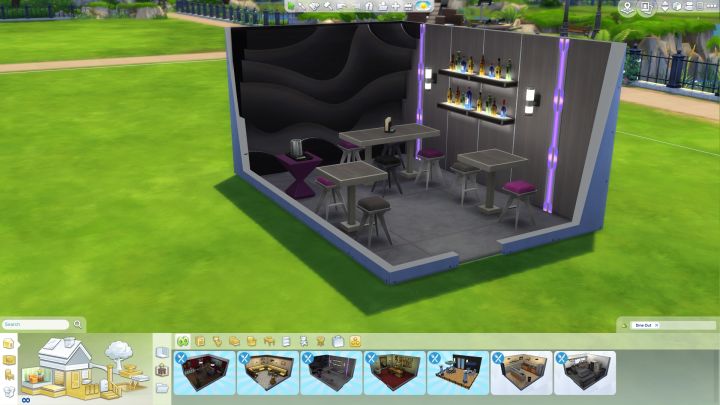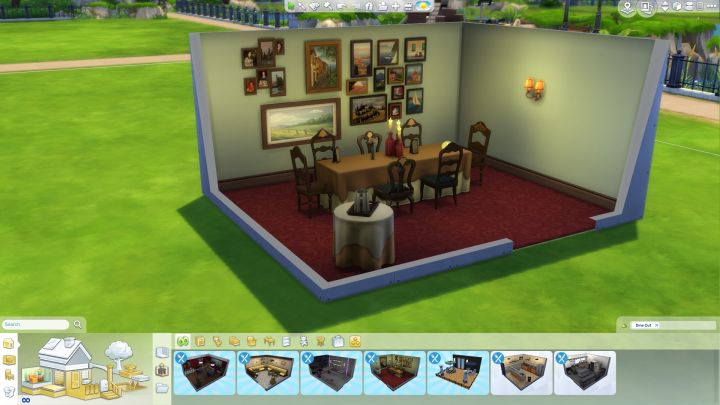 Click to Enlarge. This is just a selection of the new items players get when they buy Dine Out. There are also 7 pre-designed rooms available for your use.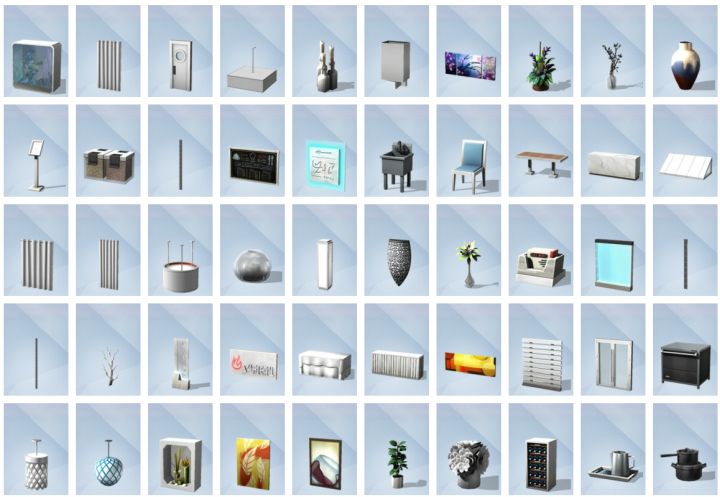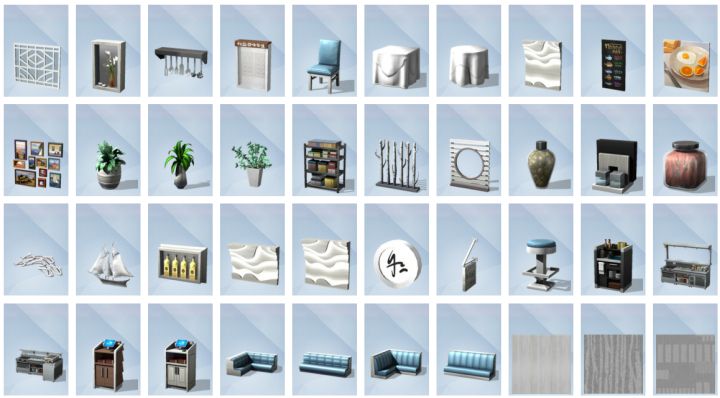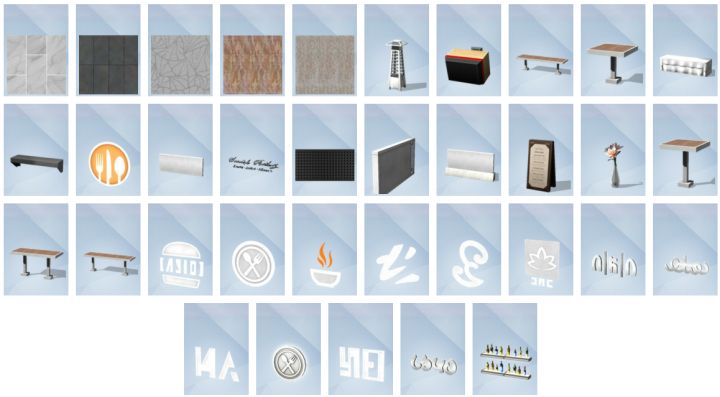 Click to Enlarge. New Build Mode items to decorate restaurants (and home) in the Dine Out Pack.
Other Dine Out Guides
How You Can Support The Site and Channel

If you like my sites and
Youtube Channel
, consider supporting me on
Patreon
to help me to continue. If you'd like to support my guides in another way you can use our
Amazon link
for your next purchase (if in the US). We also offer a
paypal donate link
so you can contribute directly.
Back to The Top
Check Out My Youtube Channel!
We now have a Youtube Channel with over 50 guides in video format to go along with the huge site I've already created. Check it out and consider subscribing if you like my style.
Comments (44)
Topic:
http://carls-sims-4-guide.com/gamepacks/dineout/
New
Ally




soo cool!









Regular
Zoe
It would be so cool to make the worst restaurant ever with cruddy food. It sounds so fun.
New
Chels
Senior
MrsFlynn
There hasn't been any word on when a new expansion will be out. As soon as we know we'll announce it here on the guide and forum.
New
burak
New
JaSmine

Im so happy that the game pack will be coming out in 2 days! I cant wait

New
Madison
No, we won't be able to. It will be a lot like Get To Work, we are able to manage the employees and the restaurant, but we can't actually play as them. The Sims did an official live stream here (https://www.twitch.tv/thesims/v/70329065) and that has most of the features on it.
Regular
Allie
New
Casey
One of the SimGurus stated that there won't be any physical copies, other than the expected bundle (I think with Movie Hangout and Romantic Garden stuff). You can buy a code through Gamestop (and probably Amazon before too long) if you don't want to buy direct from Origin.
New
Casey
Do you happen to know when the bundle will come out?
Regular
Julia
I believe around 8 PM, but I'm not sure.
Senior
Carl
Admin
Playalot
Regular
Melissa
You could move into a empty lot then once your restaurant is created you could add the bedroom, bathroom, kitchen etc. Once you have done that just go to your restaurant and don't go back to the empty lot. You can then stay there and run your restaurant whenever you like!

This is what i like to do when i own a retail store, hope this helps!
Senior
Carl
This is correct. It wouldn't count as your home lot I don't think, but you can just buy a really cheap home lot and then the restaurant lot. Might want to make a BIT of money first though, camp out in the yard and paint or something, because it is quite expensive to get a restaurant running, let alone the things you need for a home.
New
rosemary
I would guess at about 6pm if it's coming out at 1pm est in the us
Regular
Libby
Someone please tell me when it come out in the UK?
New
Anne
They are releasing it at 1 pm est or ten pt
New
Zulmi
Wow that late!!

Let play the waiting game then

Admin
Playalot
You will be able to purchase it on Origin.
Senior
Carl
I agree with you and prefer midnight releases. For some reason for these packs, they come out roughly 10 in the morning pacific time US. 3 hours from my post now. Someone said it comes out as late as the 8th in Australia. But they are ahead of us so it's nearly the same time I think.
Regular
Melissa
i think it may be around £15, as the other game packs are £15. However that is not guaranteed as it is new.
New
Michaela
When does it come out in the UK because i cant find anything to buy it :(
New
Norma AKA Twinmum
I'm in Australia too... have just downloaded it and have my first sims having a meal.
New
Michaela
ive been looking forward to it coming out for ages, just wish it would hurry up lol yeah it will be worth the wait in the end, im in the uk the 7th. Just excited haha




Admin
Playalot
Correct, gurus have confirmed that a stuff pack themed around children will be released later this month.
New
Justine
Sorry I found my answer. I didn't see the 1pm time. Thanks
Admin
Playalot
If you search 'The Sims 4' you'll see it listed and has 'Game Pack on the Way' written underneath the game pack art. Once it is released you will then be able to purchase it.

Regular
Melissa
Thankyou very much

Are you sure you want to report it?
Share a link to this comment
Nifty Knitting & Eco Lifestyle Guides
Sims 4 Packs & DLC
Support Us

Readers who use adblock or those who'd like to thank me for my efforts can now pledge $1/$5 monthly via Patreon. This helps a lot with server costs and provides some stability for my business.
Super Sim Checklist + Other News
Let's Play Playlist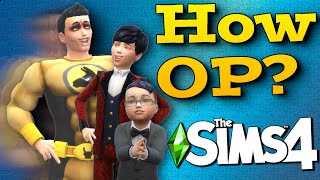 New I now have a guide to Making Super Sims in The Sims 4. Look for a text version within the next 72h. It won't have THAT much more info but it will help out as a checklist.
This was inspired by a series, "Let's Play a Super Sim" in which I start at toddler and gradually take on the major bonuses. Here's a link to each part for people who are interested. You can also see the Let's Play as a Playlist on Youtube.
Discover University Expansion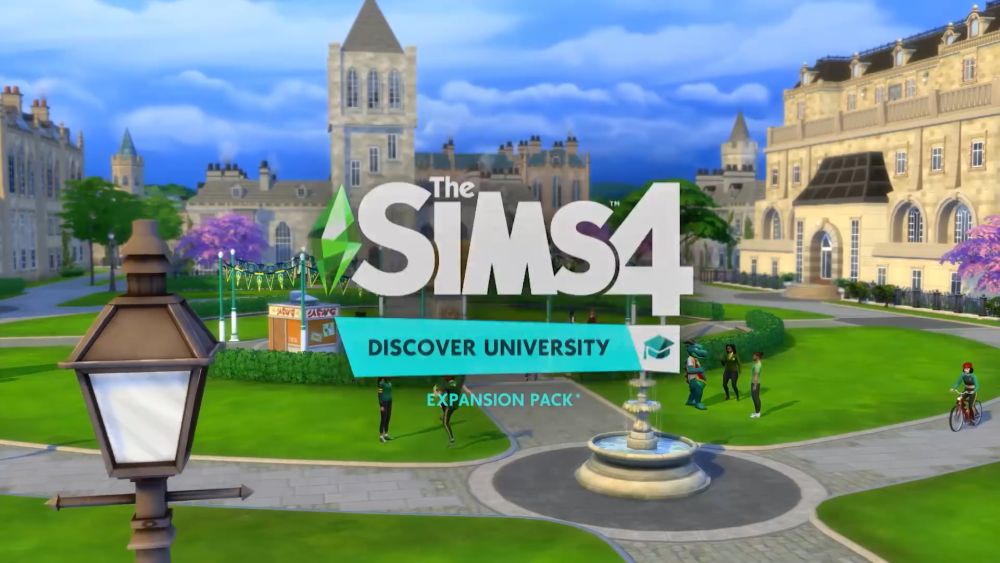 The Sims 4 Discover University has been announced for November 15 for PC/Mac and December 17 for Xbox and Playstation 4 consoles. Click to learn more about the pack, see my summary of the livestream or read our FAQs below.
Other Guides to Discover University:
New Lot Traits: Study Spot and University Student Hang Out
New: Discover University FAQ: Gameplay Features
New Video The Sims 4 Discover University Gameplay Tips Video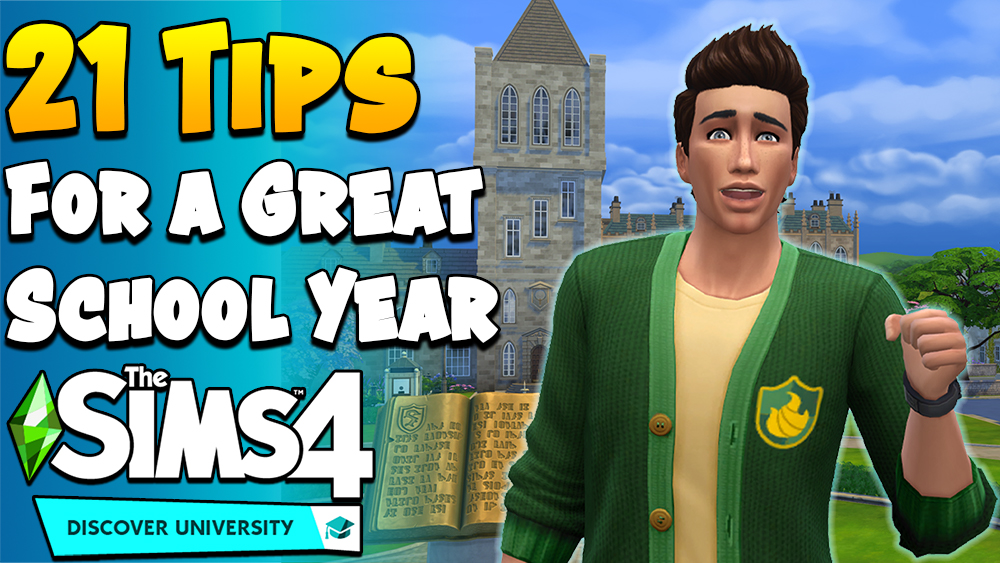 More videos coming soon!
Realm of Magic