The Sims 4 Get Together Expansion Pack Features Summarized, and Links to Buy the DLC

See my massive Guide to Clubs in the Expansion. We also have the two new skills: Dancing and DJ. Read on to learn more about the features and additions you get when you buy Get Together, along with moodlets from Espresso machines, building natural pools, and the uses of walk-in closets.


The Sims 4 Get Together Expansion Pack Logo

Overview of Features
The Sims 4 Get Together's released December 8, 2015, This guide highlights the major gameplay features of the Expansion and what you can expect when you purchase it. Below I've listed all the major elements, from Clubs, the new Skills, features of Windenburg, and some of the new objects you'll receive.
Club Feature in Get Together
I've written a Full Guide to Clubs, Perks, Hangouts, and Leadership. You can read a summary of Clubs below.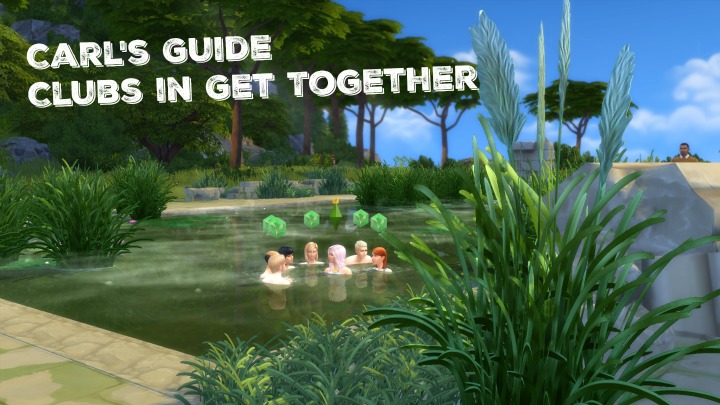 Clubs
Clubs are the single biggest feature of this Expansion Pack, and are far better than many first imagined them to be. Like Get to Work, this is where we get the whole name for the Expansion. There are some pre-existing clubs around town, but many players will enjoy making and customizing their own. Clubs seem promising, given many of us don't have a lot of reason to get Sims outdoors and explore the various neighborhoods. Having dedicated clubs and perks for participating in them, will help immensely in alleviating this flaw in The Sims 4's base game. You can choose which of your Sims will be involved in clubs, and even try to join specific exclusive clubs. Here are the main features of clubs: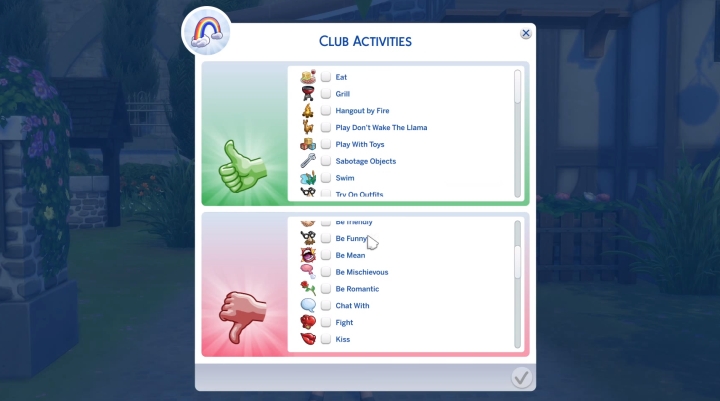 Choose entry restrictions, activities, personality traits, and other membership requirements for your club - you can then choose what type of activities the Sims will do when the club meets up. This feature sounds awesome, because it actually incorporates skills and careers from other Packs (such as Get to Work).
Name your Club and Choose a Symbol - You can name your Club whatever you want, and select a symbol which can appear over members' heads to show who is a member when they're nearby.
Choose who can join - You can select clubs' membership requirements and be very specific - for example, you may say only Teens can participate, but those teens also have to be Geniuses and Geeks. You can be as restrictive or open as you want - based on age (and select multiple age groups that qualify, like children and teens), traits, careers, and several other criteria, and you're able to select multiple choices from these categories - if this weren't the case, it'd be rather bland.
Skill and Career-based Clubs - Your Club may be open only to Sims who are skilled in any of the game's existing skills or Careers (most importantly, including those from other Packs) - so it'll be a great way to meet and hangout with coworkers or Sims who can benefit your own. Study clubs are possible, as Sims could, say, get together and cook.
Choose Activities - This is where you gain some major control over your club. The whole system might be worthless without this. You're able to select what types of activities Sims will do in your club, based on your Sim's interests, or your own gameplay goals. The list is HUGE, so just about any activity you can think of that already exists in the game can be ticked off in order to give your club just the right feel. One might even make a teen-only club that goes about causing chaos in town, sabotaging objects and laughing at the misfortune of other Sims.
No-No's - Don't want Sims to be mean to one other, or have some specific quirk - like telling jokes? You can make this a rule that your club members must follow. A group of silent bobs who only get together to work on rockets or a foodie club that gets together to cook out and chow down on fine foods, all of this is possible because of the clubs system incorporating most of the game's major activities.
Club Perks - A huge list of club perks allows you to customize your club further, and even get bonuses outside of the club. Powerful actions like Rally the Troops and Networked Club will help your day to day life.
Hang out! - Players are able to control when to have a club meeting and even build hangouts for their club, and on that lot it'll be members only! This aspect will give the clubs system some longevity, given you can do this for any age group. Want a group of socialites in a lounge? You got it. Want a secret hideout club for kids? It can be done! Chess clubs, astronomy clubs, all of these are possible and using existing (and new) objects, you can design your lot to be the perfect place for Sims who are in your club to enjoy or simply skill up!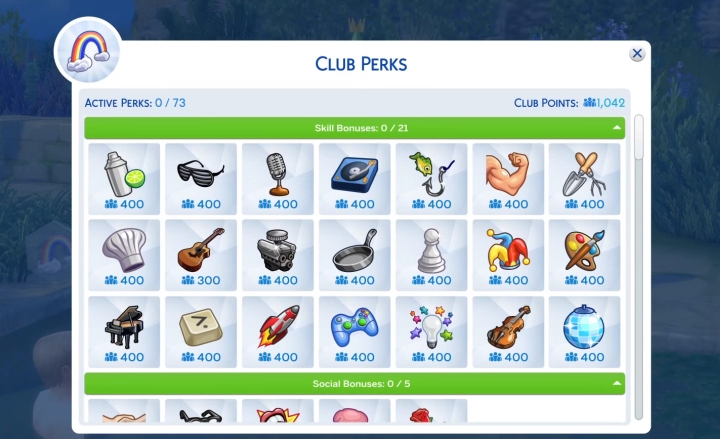 Club Perks are a huge part of The Sims 4 Get Together's club system - it will drive you to want to participate with your Sims, and those who do will get some cool benefits for being a part of their social group, such as emotional boosts and secret handshakes for club members only!
Overall the Clubs feature of Get Together seems really thought out and included most everything Sims can do in the game. It's the major selling point for this Expansion, and it's enough for me. Thankfully the Pack has some other additional features to bring extra value to the Expansion.

10 Million Views! My YouTube channel has grown a lot the last 6 months. I now have over 125 videos on Youtube and am nearing 100k subscribers. I'd like to invite people to check out my content and, if you like what I'm doing, subscribe!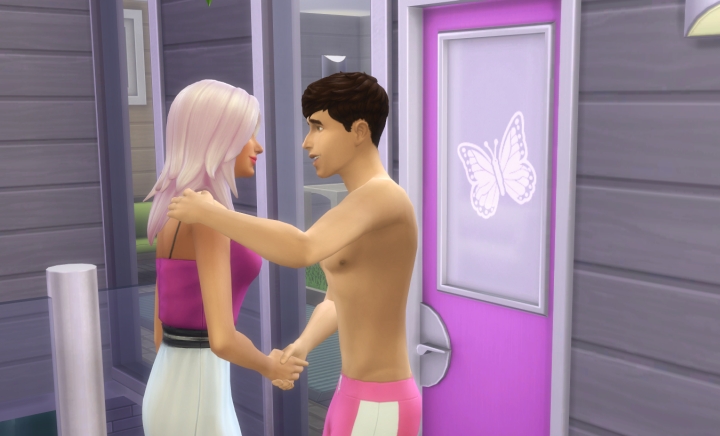 If you want to get into exclusive clubs, you may need to get to know members to ask for membership. You can even ask the leader to step down and let you take over!
A New Town - Windenburg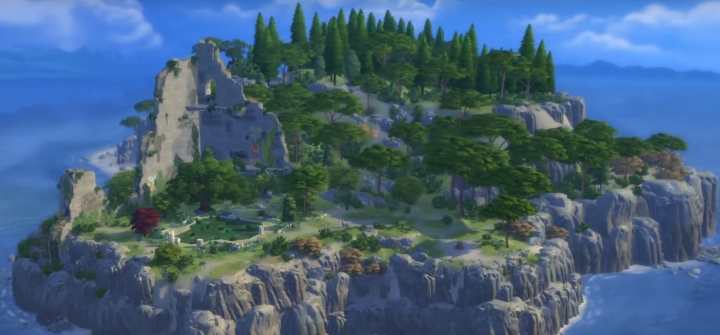 Windenburg
This new European-themed town brings some extra variety to the game, though you can use the Clubs feature anywhere you desire. Windenburg features an island, classical building architecture, and a beautiful countryside. There's a spooky yet elegant mansion with a hedge maze, natural pools, and ancient ruins to explore as well. Sims will even be able to sneak off into the bushes and Woohoo! Check the trailer below for some of the awesome features of this new world, with great places to hang out and teasers on some of the existing clubs: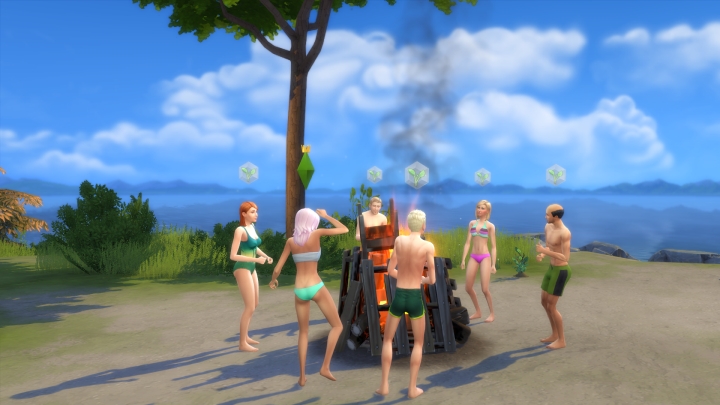 Hanging out at the bluffs in Windenburg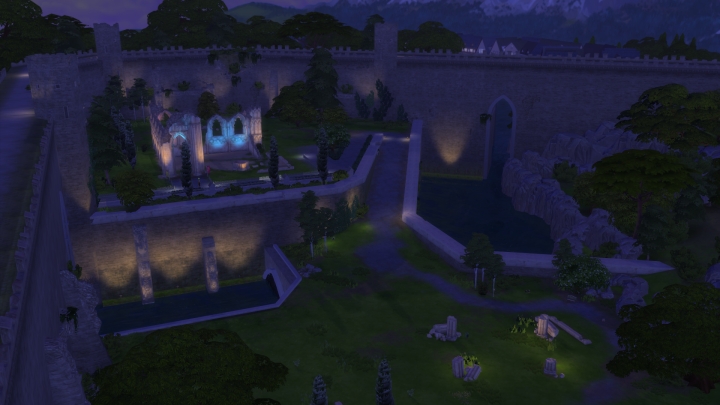 Click to Enlarge. The Ancient ruins are beautiful at night. It's a great place to hang out or collect, and you can build on this lot.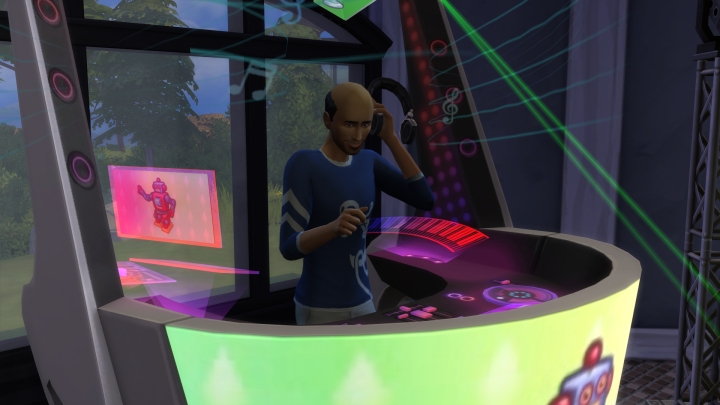 Read the guide linked above to learn all about DJ Mixing.
DJing is something a Sim can learn to do, entertaining others who take to the dance floor. Click the guide to learn more about this Skill, which will let you earn some tips when out at a nightclub - or even when hanging with your own club at a party. It is much like the other musical instrument skills in the game - you can license mixes and earn some side money when you own a DJ booth. They are portable and can even be upgraded.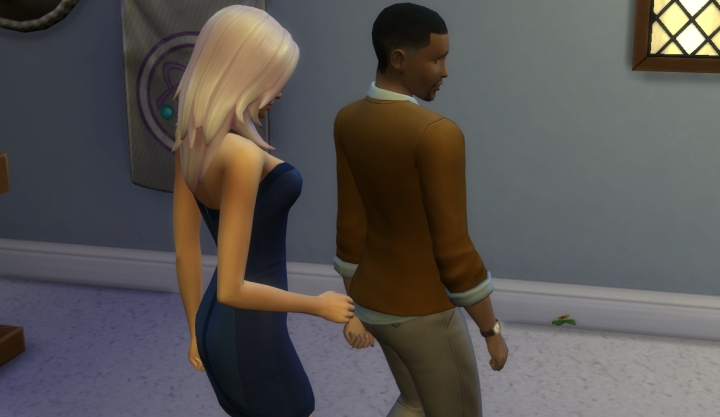 Click the link above to learn about Dancing. It can get frisky. You'll unlock more moves as you level up.
Dancing is a new minor skill added, but that's not to say it doesn't have features. Sims can have dance battles, show off their moves, or do group dances with the new groups feature. Add Sims to your group and head to a dancefloor to show off your moves. As you level, more dance moves and group dances will appear, and your Sim grows noticeably better at the skill.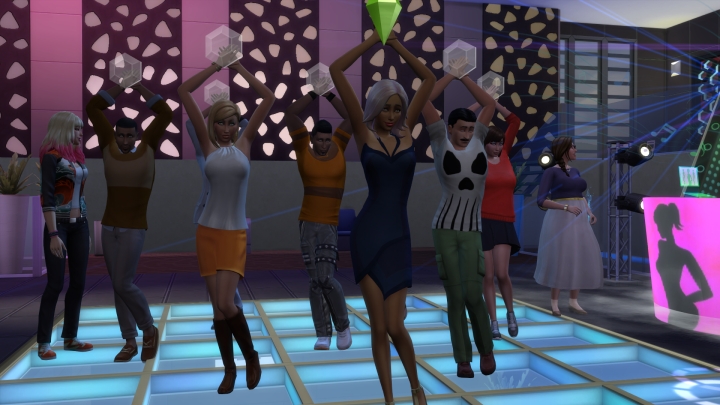 Sims in a group dance - there are 5 different types of group dance, and they're fun to watch.
Natural Pools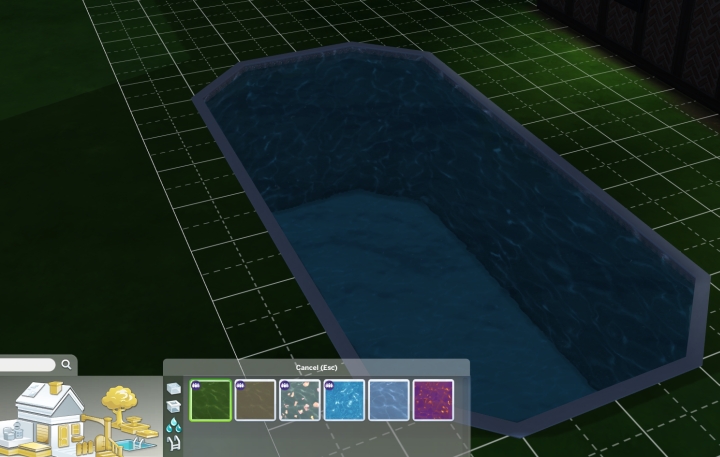 Natural Pools can be made, it's really the water and decor that make them 'natural', but it's a nice touch and builders will love the new options!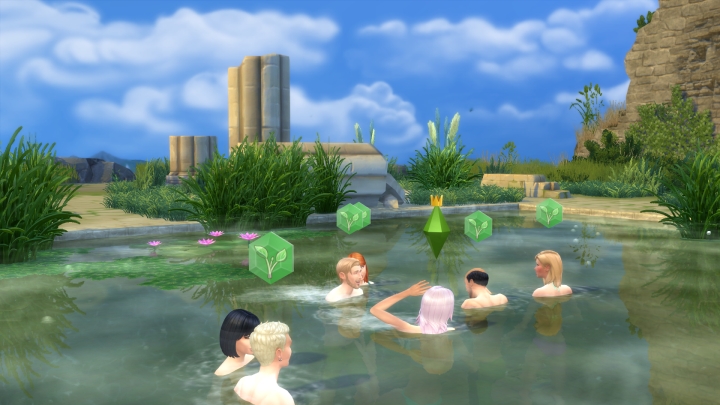 The Natural Pool at the Bluffs
While we cannot make perfectly round pools, we can make custom-shaped pools that Sims can naturally get in and out of or just do a belly flop off a rock! The natural pools are essentially new types of water and decor we can use to make them look like ponds, and the team did not disappoint. Really beautiful types of water are available and you can shape out the pool however you want, just expect edges.
Cafe Venue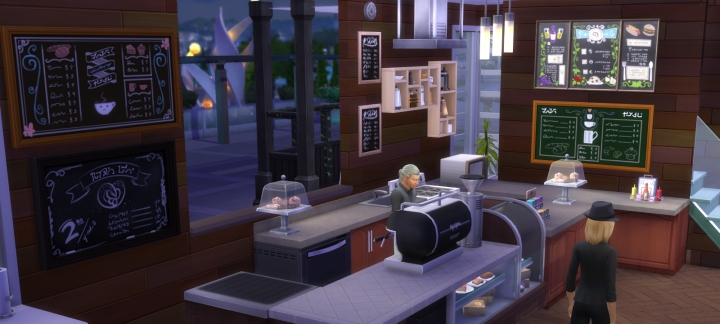 Cafe in Windenburg
While you cannot own a cafe nor sell drinks, we do have a new type of hangout available in Get Together. It's a good place to sit with friends, meet new Sims and have a cup of cappuchino for here or to go. There's also food you can order, so it's a functional restaurant. Some players will enjoy building their own, and of course you can sell objects from this venue (cafe drink machines) along with other Expansion items if you own Get to Work.
Nightclub Venue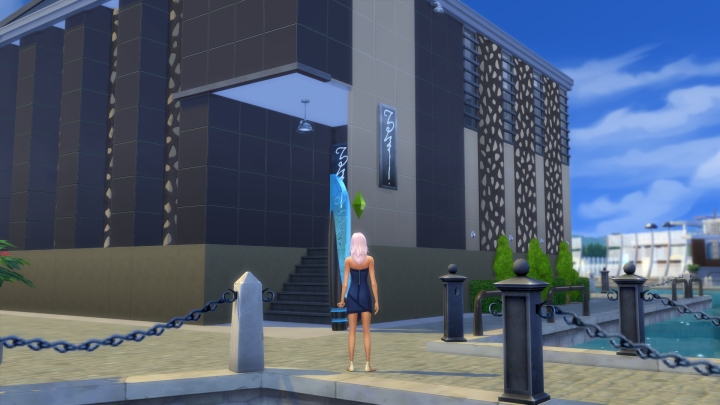 Nightclubs are a great place to hang out to dance, listen to music, and party!
The perfect place to party with your club or go on a date, nightclubs feature bartenders and DJs to liven up the party. The nightclub included in Windenburg is great, but you can certainly modify it, make your own, or find new nightclubs made by other Simmers on the Gallery.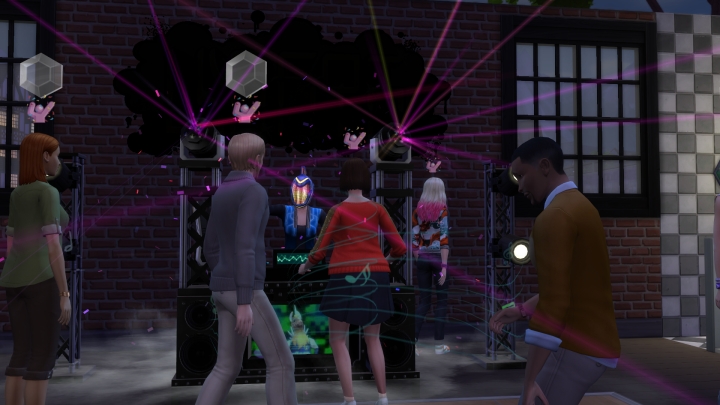 A shot inside the nightclub in Windenburg
There are also themed bar nights in Get Together, based on the EPs you own. Here is a list provided by Playalot:
Everyday: Happy Hour - Drinks are discounted by 50% for everyone.
Monday: Bear's Night - Needs Outdoor Retreat. Drinks are discounted 50% for Bears Only.
Tuesday: Alien Night - Needs Get To Work. Drinks are discounted 25% for Aliens only.
Wednesday: Ghost Nights - Drinks are discounted 25% for Ghosts only.
Thursday: Knight Nights - Sims have to be wearing the Knight Outfit. Drinks are discounted 50% for Knights only.
Friday: Ladies Nights - Drinks are discounted 25% for Ladies only.
Saturday: Singles Nights - Drinks are discounted 25% for singles only.
Sunday: Guys Nights - Drinks are discounted 25% for Guys only.
Arcade and Espresso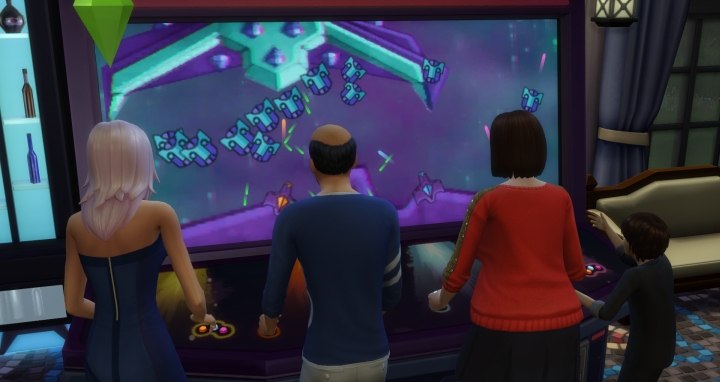 Sims can raise their Video Gaming skill while having fun with family and friends using the arcade machine
There are now types of coffee you can drink from the espresso machine to get moodlets. In order to use it, you require an espresso maker and grinder - so two objects that must be placed on the countertop. They are fairly fast to use and give 4h moodlets based on the drink. We know the following drinks give the following moodlets:
Perfect Pre-Work Shot: +1 Happy for 24 hours if you upgrade the Espresso Machine with Level 5 handiness
Expresso: +1 Energized for 4 hours
Mocha: +1 Flirty for 4 hours
'Mericano: +1 Confident for 4 hours
Macciato: +1 Playful for 4 hours
Cappucino: +1 Inspired for 4 hours
Cafe Latte: +1 Happy for 4 hours

Espresso machine products can be stored in your Sim's Inventory or their refrigerator until you're ready to drink them, though you usually have to cancel the action then drag it as the Sim will start drinking it right away.
Walk-in Closets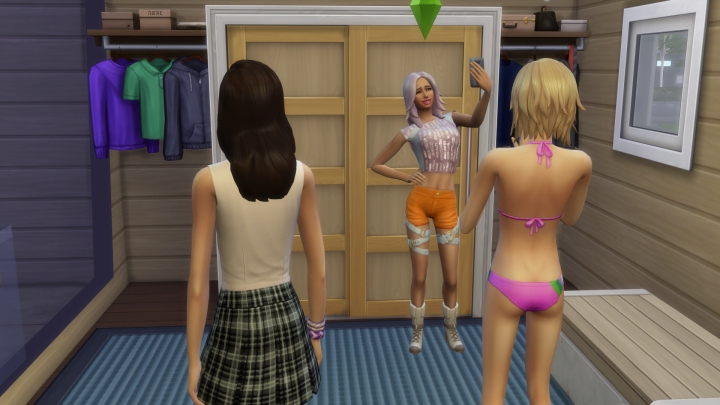 Sims can woohoo in these closets, which are meant for changing clothes. Additionally, you can plan outfits, kids can play, or Sims can cry inside them to relieve the embarrassed moodlet. There are a few varieties other than the one pictured.
Build Mode Additions
Get Together adds a whopping 200+ items to build with, and I know that's going to please a lot of people. There's a lot of european decor, but also things you can use to make modern-looking nightclubs. Here is but a sample of the items you can make, kind of cluttered together but you'll be able to use your imagination as far as what you can do with it!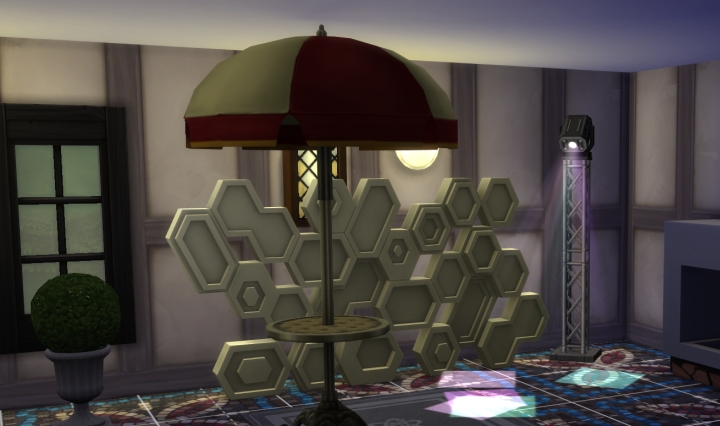 Laser Lights can be used to make a great nightclub or party room setting. A few other pieces of decor specific to this Expansion are featured.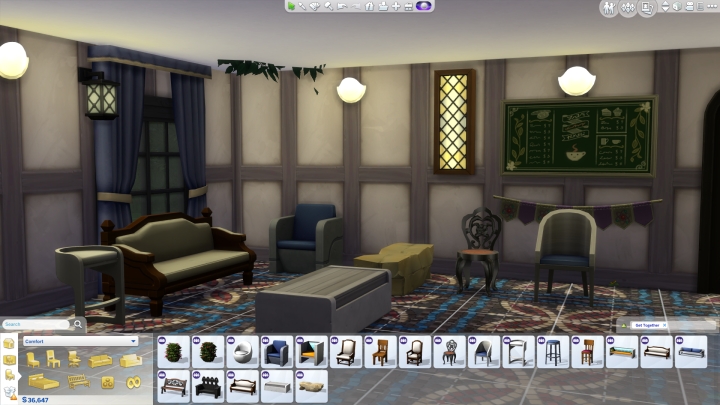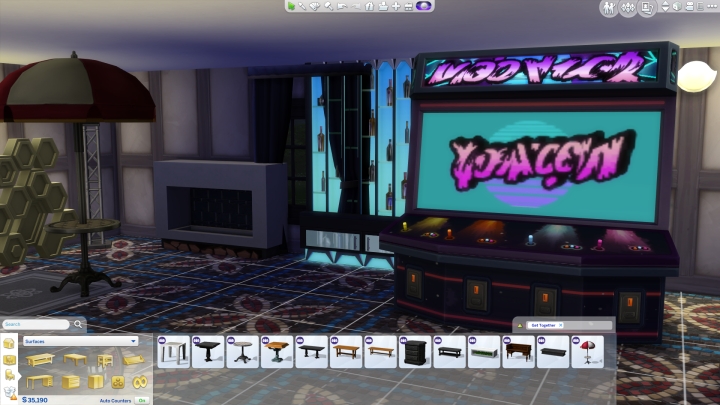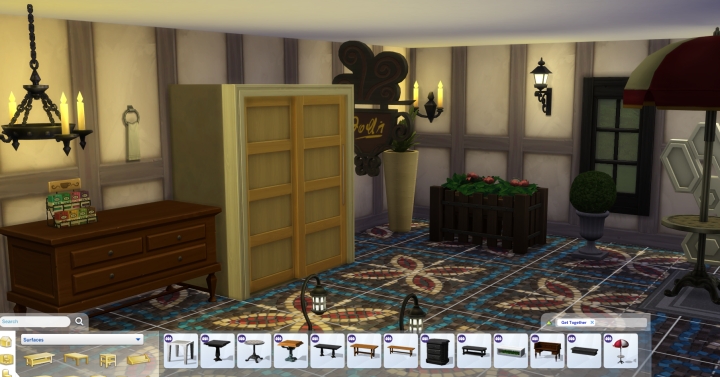 Click to Enlarge each image. A selection of new objects introduced with Get Together
How You Can Support The Site and Channel

If you like my sites and
Youtube Channel
, consider supporting me on
Patreon
to help me to continue. If you'd like to support my guides in another way you can use our
Amazon link
for your next purchase (if in the US). We also offer a
paypal donate link
so you can contribute directly.
Back to The Top
Check Out My Youtube Channel!
We now have a Youtube Channel with over 50 guides in video format to go along with the huge site I've already created. Check it out and consider subscribing if you like my style.
Comments (32)
Topic:
http://carls-sims-4-guide.com/expansionpacks/gettogether/
New
xavier
Will profits/items made by the members come to me when I'm the leader? I'm thinking of making a club full of programmers to hack and make viruses. Will their profits benefit me? Or a writers' club where the club activity is writing books, when they finish can I publish them or they publish them and I get a small income. I wanna make a club that would benefit me financially.
New
NicoFilippo
New
Colten hill
I so can not wait for this to come out!! Looks fantastic!
Admin
Carl
Sorry to answer so late. Windenburg has a lot of interesting places, but no hidden lot this time. There are just more unique lots to visit :)
New
FM
Senior
MrsFlynn
There are not ads in the actual game. However in the Origin client you may get ads. These you can turn off by going to the Advanced tab > Featured Today and checkmark Hide Featured Today when first opening Origin.
New
Abbe
New
alessia
omg i my mom just showed me that she got me this for christmas and im so excited
New
Mil
Just got the EP, I'm so excited! I was kind of worried I'd need internet to install it, but I think I'll be okay! :)
Admin
Playalot
If you hit 'tab' and then use the arrow keys on your keyboard you can move the camera around. It's slow going but you can get really good shots this way with patience.

New
Nirv
New
Nirv
Admin
Playalot
You need the Expansion Pack
Get Together
to see the themed pub nights.

Admin
Playalot
Totally possible. You may need to wait for Ghost night in the bars to have enough Ghosts to make a club but seeing as Ghost Night happens every Wed night that shouldn't be too difficult.

New
Pandagal
not really, only if you create the ghost sims and add them to your club.


New
mansoor



very good
Admin
Playalot
Have a read through this thread on our forum. One of our members 'Cheezey' made a list with pictures of all the residents of Windenburg.

Residents List
Admin
Playalot
There isn't an invisible dance floor in build mode. Probably with the case of the dance parties on the community lots they will be part of the set up like the lights that appear as well. The developers have 'made' those special event layouts as a feature of the world experience and although there are small editable lots at those locations, the area where the dance parties appear are not part of that. You can change the colors of the lights though.
New
mariahna veney
i like this game



















New
Ben
I WANT THAT GAME!!!!!!!!!!!!!!!!!!!!!!!!!!!!!!!!!!!!!!!!!!!!!

Admin
Playalot
There is a link on the word "here" under the last picture on this guide page that will take you to Origin where you can purchase the expansion pack. You will need the base game 'The Sims 4' to run any packs.
New
Chelsea
i just got it and im wondering what to do first

Admin
Playalot
Depends on which country you live in and where you buy it from! Origin has sales regularly for example.

Regular
Mary
New
annalise
i am very excited to have this adspantion pack
New
annalise
i love this pack it looks so real and it looks just so cool
Regular
Alice
(This isn't a specific question for the "Get Together" expansion pack, but I wasn't sure else to place this question.) As you know, the trait "kleptomaniac" has been added, which is great - except when something is stolen from you. Here's what happened: I gave the landlord, whom is a close friend, the key to my apartment. Immediately, he walked into my sim's bedroom and took one of our candle-lights! The question is: Is there anything that I can do about this, call the police, accuse him of stealing, etc.? Obviously the key will be revoked.
Admin
Playalot
No there is nothing you can do except replace the stolen items. I actually like the klepto trait for this very reason and give keys out to klepto sims on purpose! lol Makes it a bit like having burglars again.

New
elias
Are you sure you want to report it?
Share a link to this comment
Best Mods in Sims 4
I've created a massive List of The Best Mods in The Sims 4 that should be very helpful to new players and those who have not yet explored modding and how much it can do for your gameplay.
Secrets and Other New Stuff
Sims 4 Packs & DLC
Support Us

Readers who use adblock or those who'd like to thank me for my efforts can now pledge $1/$5 monthly via Patreon. This helps a lot with server costs and provides some stability for my business.
Super Sim Checklist + Other News
Let's Play Playlist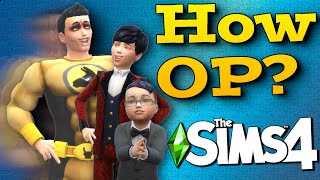 New I now have a guide to Making Super Sims in The Sims 4. Look for a text version within the next 72h. It won't have THAT much more info but it will help out as a checklist.
This was inspired by a series, "Let's Play a Super Sim" in which I start at toddler and gradually take on the major bonuses. Here's a link to each part for people who are interested. You can also see the Let's Play as a Playlist on Youtube.
Discover University Expansion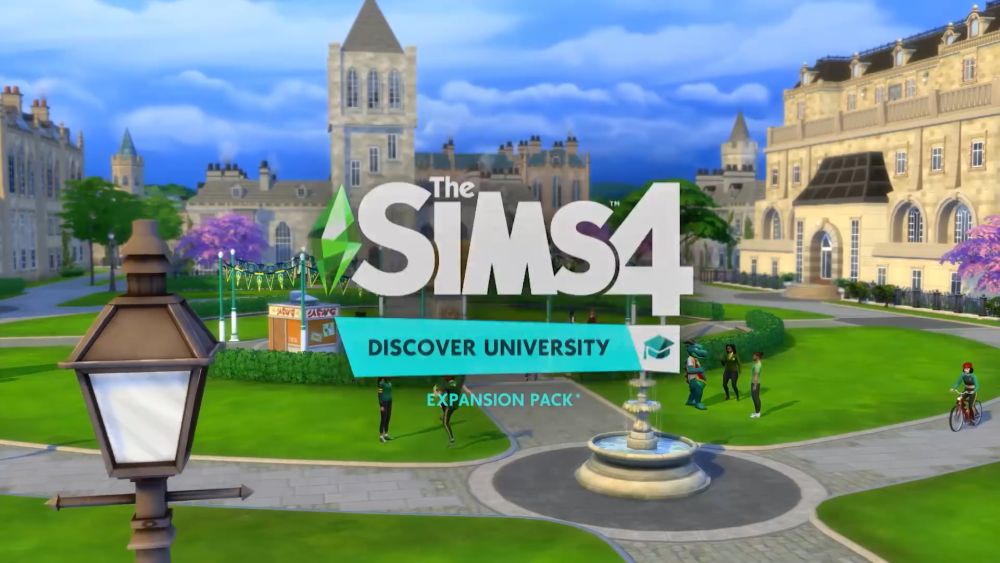 The Sims 4 Discover University has been announced for November 15 for PC/Mac and December 17 for Xbox and Playstation 4 consoles. Click to learn more about the pack, see my summary of the livestream or read our FAQs below.
Other Guides to Discover University:
New Lot Traits: Study Spot and University Student Hang Out
New: Discover University FAQ: Gameplay Features
New Video The Sims 4 Discover University Gameplay Tips Video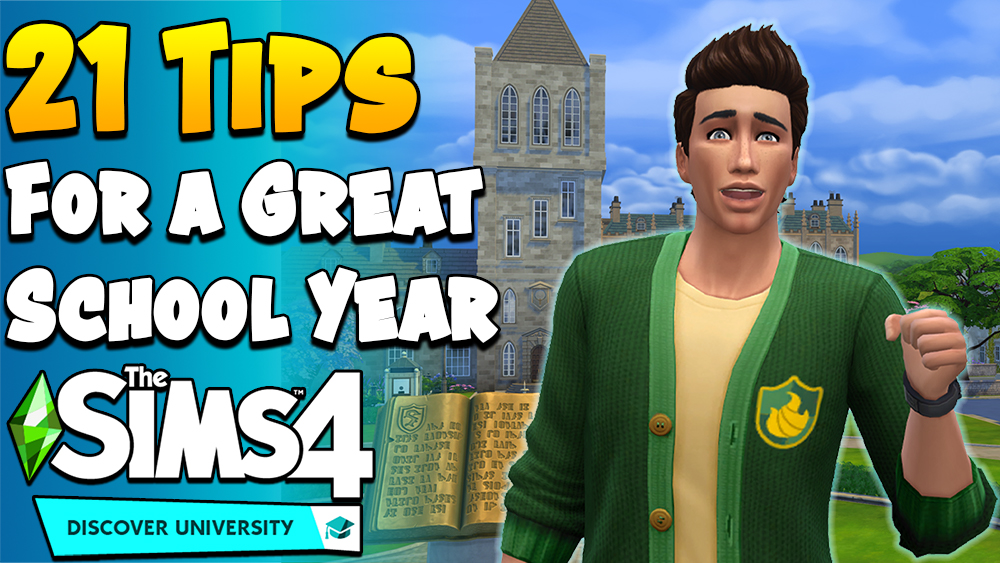 More videos coming soon!
Realm of Magic