The Sims 4: Ghosts
Removal, Resurrection, and Joining the Family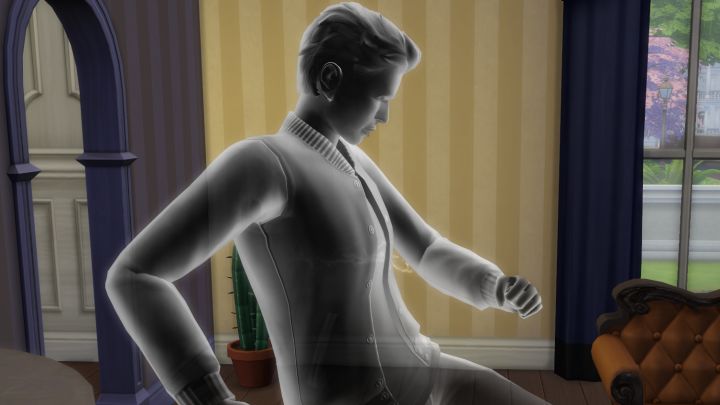 A Ghost
Ghosts are a feature of the Sims 4 Base Game. They are the result of Sims who've passed away, and their behavior and abilities vary based upon the cause of death. We have a separate guide to individual ways Sims can die, and preventing death. This guide to Ghosts will teach you about their attributes, means of getting rid of ghosts, having ghosts join your household, and how to bring a ghost back from the dead.
Ghost Visits & Basics
While there is some variation in what ghosts can do and how they behave, they also share the same qualities. Ghosts will visit in the middle of the night (after 10) and depart in the morning (around 6am). The presence of their urn (indoors) or tombstone (outdoors) is what determines the lot they will spawn on. Ghosts tend to behave erratically, but also in ways tied to the type of death they experienced. Having a haunting can be predictably chaotic, given the damage they could cause overnight, but they're mostly a minor nuisance that sometimes leads to funny moments and overall has a negligible impact on gameplay.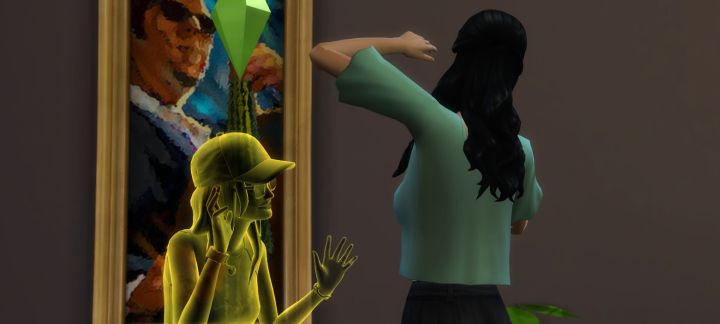 Ghosts get a few unique socials, namely 'Scare' and 'Pass Through'
Ghosts may cause a Tense +2 Moodlet on Sims whenever they possess a nearby object, and possess the spook and pass through socials in order to scare Sims. Often, their arrival is nothing special to a group of Sims unless they possess a nearby object, and you're able to easily socialize with them and even befriend them over time. The color of a ghost shifts based on their emotions, not on their death type. You can easily tell if a ghost is happy if they're green. Flirty if pink, red is angry, blue sad, and so on.

10 Million Views! My YouTube channel has grown a lot the last 6 months. I now have over 125 videos on Youtube and am nearing 100k subscribers. I'd like to invite people to check out my content and, if you like what I'm doing, subscribe!

Befriending ghosts lets you ask them to move in.
Given the odds are somewhat low for a visit from an individual ghost each night, the more urns on your lot the more likely you are to experience paranormal activity. Players of multi-generational families who keep their previous Sims around may have 2-3 ghosts running around at night, messing with the house. I'd say a ghost appears on average 1-2 nights a week, sometimes more, and you may experience long dry spells with no activity.
Cheat to Get a Ghost
The following cheats add or remove a specific type of death trait that is responsible for making a Sim into a ghost in the first place. Turning one of these on will immediately turn them into a ghost of the appropriate type. Equip the trait with traits.equip_trait X to turn them into a ghost or remove it with traits.remove_trait X to return the Sim back into a normal, living Sim. For this second part, you must use the exact type of death cheat to reverse it. Use the simology panel (hotkey Y) if you're unsure.
traits.equip_trait anger - Anger, and for example traits.remove_trait anger to remove it. This cheat may be temporarily broken due to a patch.
traits.equip_trait cowplant - Cow Plant
traits.equip_trait drown - Drowning
traits.equip_trait electrocution - Electrocution
traits.equip_trait embarrassment - Embarrassment
traits.equip_trait fire - Fire This cheat may be temporarily broken due to a patch
traits.equip_trait hunger - Hunger
traits.equip_trait laugh - Laughter
traits.equip_trait oldage - Old Age
traits.equip_trait exhaust - Overexertion (Old Age)
traits.equip_trait steam - Sauna
Removing Ghosts and Bringing Back the Dead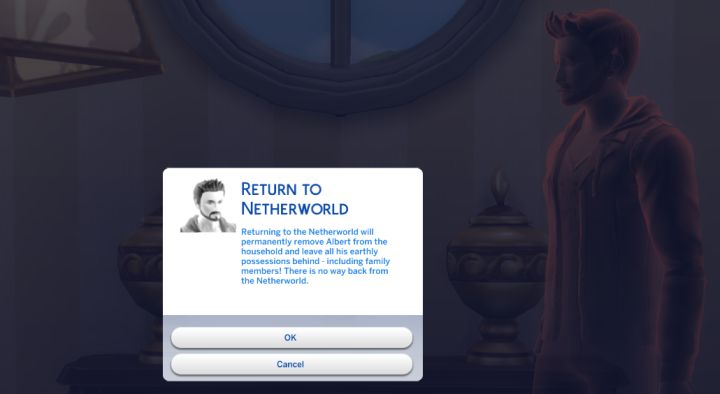 Ghosts can be removed from the game by sending them to the netherworld. Afterward, the tombstone or urn they belonged to can be destroyed.
Return/Send to Netherworld
This is how you get rid of a ghost, forever. Do not use this option unless you are sure that you never want to see a ghost again and that you'll never want to play them. Click the ghost's urn or tombstone and you can release their spirit, permanently. Family tree aside, it will be as though that Sim never existed as far as the game is concerned and they cannot be recovered. Ghosts can decide to 'move on' this way, even once controlled by the player. Simply have the ghost select their own remains and return to netherworld.
Resurrecting Ghosts
Sims who complete the Bestselling Author Aspiration can earn the Poetic Reward Trait, which allows them to write the Book of Life. This book, which cannot be bound to the author, allows a Sim to be restored to life when they are a Ghost. If you want to protect the Author, you'll need to have another Sim do this Aspiration. Once it's written, simply bind the book to a Sim while still living, and then have them read the book themselves. You can make one for every member of your household. The Ghost must use the Restore feature to resurrect themselves. Any other Sim who reads it can only summon the Ghost.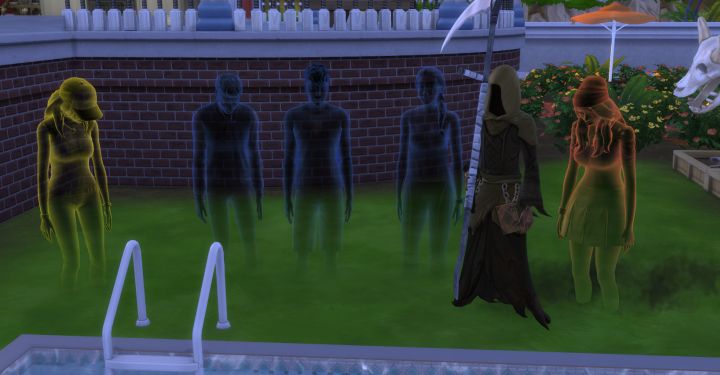 A group of ghosts gathers around, as the Reaper prepares to make another of the poor test family join their ranks.
If you did not get the Poetic Trait, then you need to make Ambrosia to bring the Ghost back to life. This requires a Death Flower, Potion of Youth, and Angelfish, along with mastery of both Cooking and Gourmet Cooking. Click to learn about Ambrosia and how you can get all its requirements in an efficient way. Ambrosia is one of the more challenging things to create in The Sims 4.
Warning: Culling
The game has a limit of 180 Sims, and ghosts are subject to deletion in multi-generational games. They are likely targets for the game to delete and make room for new Sims as others grow old. You can prevent this and remove the limit entirely with the No Culling Mod, available at modthesims.info.
Playing as Ghosts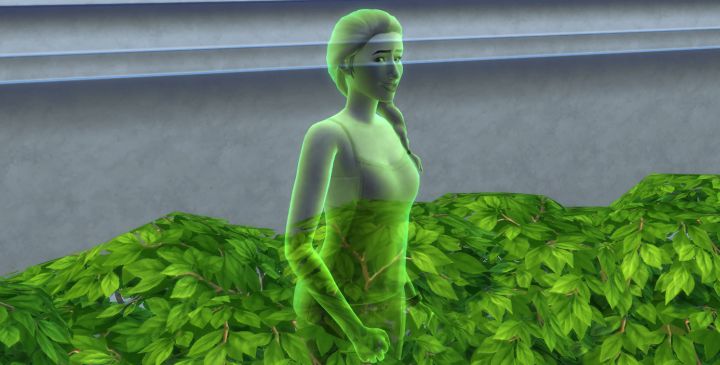 Ghosts can sometimes take shortcuts to get from A to B faster. This is great, even better is that they're immortal and have all the time in the world.
Playable Ghosts
Even if a ghost was your Sim's husband, relationship will decay at the normal rate and thus levels may fall. In order to play as a ghost, you can simply befriend one each time it visits and then ask it to join your household. If you don't mind cheating, you can easily use testingcheats on and shift-click the ghost when it visits, click add to family. If you wait it out, you should be able to befriend them within 2-3 visits and get them to rejoin the family.
Ghosts are immortal as they have already died, and you can play as a single ghost without any living Sims in the household without issue. Sims can Woohoo with ghosts, but may not produce the ever-coveted Ghost Baby. Ghosts do not have any special abilities when it comes to need decay, their needs are exactly the same as those of living Sims.
They can, however, walk through walls (when you've clicked and automatic pathing decides it's a good idea) and get a few unique socials related to scaring Sims. Ghosts can do the 'Ghostly Repair' on certain objects (mainly plumbing, but not electronics), fixing them and saving Sims time. They'll actually gain handiness skill in the process. Other behaviors relate to how they died: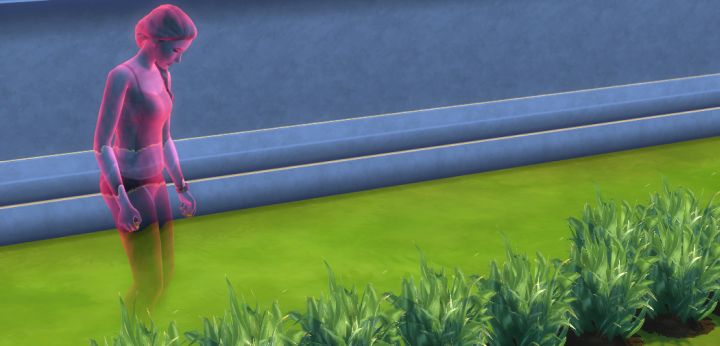 Sims' death type determines their abilities as a ghost. In this case, she was eaten by a cow plant and can now decay plants when angry - hence the red.
Ghost Behavior by Death Type
Here are the behaviors ghosts exhibit, based upon the type of death. Many of these effects are situational or only existent whenever the ghost is a non-player character:
Anger - May give nearby Sims a small angry Moodlet (+1) with +2 for the Ghost.
Cow Plant - When angry, they can Decay a plant and cause it to grow weeds and lose water, possibly killing a plant that was already in bad shape.
Drowning - May cause pools of water to appear.
Electrocution - When angry, they may break electronics by possessing them. They can also shock Sims for a laugh.
Embarrassment - May give nearby Sims a small embarrassed Moodlet, with +2 for the Ghost.
Fire - May set fires at times, in random places. When player controlled, click the ground while angry to start a fire (may only work on the home lot).
Hunger - Will often eat in the middle of the night
Laughter - May give nearby Sims a small playful Moodlet, +1 for others, +2 for the Ghost.
Old Age/Overexertion - They just tend to chill when acting autonomously.
Sauna - Like the death-by-hunger Sim, except they strongly desire a cool-off. Because of this, they can near-instantly absorb puddles from the ground as opposed to mopping them.
How You Can Support The Site and Channel

If you like my sites and
Youtube Channel
, consider supporting me on
Patreon
to help me to continue. If you'd like to support my guides in another way you can use our
Amazon link
for your next purchase (if in the US). We also offer a
paypal donate link
so you can contribute directly.
Back to The Top
Check Out My Youtube Channel!
We now have a Youtube Channel with over 50 guides in video format to go along with the huge site I've already created. Check it out and consider subscribing if you like my style.
Comments (103)
Topic:
http://carls-sims-4-guide.com/death/ghosts.php
New
Aaron
Found this by accident, in get to work, if your sim is a ghost already, using the ghost goo serum and you clone your sim, the result is a playable ghost sim.
New
Moony

ha I used the cheat, and then went to random sim houses to destroy their plumbing and stuff. So much fun.
New
Moony

but for me, when I tried to remove the trait it didn't work, so I guess I will try it again next time I play
New
Ayoub
all you need is already activated cheats "testingcheats true"
it will work if you already used cheats that before.. okay




New
Polly
I haven't really experienced ghosts, so I guess that will come soon!
New
KitsuniSim
These are just general guidlines for help finding a ghost, it is not too unusual for a ghost to step outside this timeframe. There is nothing wrong with your game.

New
Zara

No, no it does not.
New
Emmi
Has a baby as in is pregnant with a baby? Pregnant sims can't die. Also, some death cheats take longer to take affect if you are talking about the death cheats.
Regular
Jess
I feel really dumb I got rid of both of my ghosts before I knew you could play them in you household and now I can never see them again.


New
Scoed
Regular
Julia
kids can die, but only two ways, one by fire, and the other by drowning
New
Joshua
Yes they can, look up in the webpage.
Admin
Playalot
Late reply, sorry, but yes the trait works still when the sim is a ghost.
New
Carol
I own spa day! Infant, I own every download there is on the sims! Spa day is REALLY fun!
New
Simister
OKay so my wife died, how do i play as her? .-.
Regular
Julia
if you fridge is empty then you may have your sim make food, then once it is made, you click the food and press "put away" and your sim will put the food in the fridge. you can also drag the food into the fridge by click and holding it until your mouse reaches the fridge, then your food should disappear from its existing spot and be in the fridge when you open it
Admin
Playalot
If the parents were in a different household and you can not find their urns then I don't think there is a way to bring them back unless you had captured their Epic Saga in a Book of Life.
Scroll down to the bottom of the page I have linked you to and you will see the section on the Book Of Life
Writing Skills and Book of Life
Some more information on the forum:
Some info on the forum
Regular
Julia
generally baby's do not cry due to a dead sim, you should try feeding it, changing its diaper, or bouncing/shushing it, if its not hungry or stinky then its crying due to neglect and wants to cuddle and play
New
dailysimmer
hello, thanks for this guide :) i just killed my sims by starvation and then summoned them from the dead with the book of life. then i put the desired death trait to them and remove their original one. now i got 1 who died from a cowplant, one by drowning, 1 by exhaustion, 1 by electrocution and 1 by steam. but your fire and anger trait isn't working. XD
Admin
Playalot
Try going back to the web page where you found the cheat and see if there are any comments about removing the cheat. The only other way might be through a mod that allows you to see a sims hidden traits, but I don't know if this would work.
Admin
Playalot
Do you want to remove the ghost from your household? If so you could move him out the normal way using Manage Worlds.
Moving Sims
New
Emmanuel
I want to remove him from my household, but I want him to make his apparation once in a while(like his niece that died my I never tried to control as a ghost).
Admin
Playalot
I'm not sure that is possible. If you had not invited the ghost into your household after he had died he would have appeared as a visitor from time to time. But now that he is part of your household you really only have the option to move him out. Eventually your game will cull any ghosts not part of your household (or living in a house) so moving the ghost into a house will at least ensure he doesn't get deleted.
Admin
Playalot
Cheats do sometimes have unexpected results but it could just be that your ghost is in the 'Fine' mood as they display their emotions through colors.
Admin
Playalot
Maybe you have some outdated CC or a Mod that is conflicting?
Admin
Playalot
I don't know. I suspect that it maybe got broken with the December patches.
Admin
Playalot
If you have used the cheat: traits.equip_trait X
with X being the emotion such as anger... then
traits.remove_trait X
will return the ghost to a sim. Just as it says in the guide above. If you don't want to use cheats then read the section above titled: Resurrecting Ghosts and follow the links provided in the guide to take you to pages to learn more.

Admin
Playalot
Just tried it myself, its definitely working. Are you in live mode and did you have the sim chosen? (As in click on the sim-then apply the cheat) You also need to have 'testingcheats on' .
If you're still having problems consider posting in the misc section of the forum.

Misc Help.
New
LeaSims
Admin
Playalot
Yes, you are correct. The relationships spouse, boyfriend/girlfriend get removed with death but the actual romance and friendship bars stay intact and will just decay at the normal rate. I'll ask Carl about rewording that paragraph to make that clearer.

Are you sure you want to report it?
Share a link to this comment
Star Wars in Sims 4

We now have a page on The Sims 4 Journey to Batuu.
It's not what I would have hoped for in a Star Wars Game Pack so far.
Secrets and Other New Stuff
Sims Information
Support Us

Readers who use adblock or those who'd like to thank me for my efforts can now pledge $1/$5 monthly via Patreon. This helps a lot with server costs and provides some stability for my business.
Super Sim Checklist + Other News
Let's Play Playlist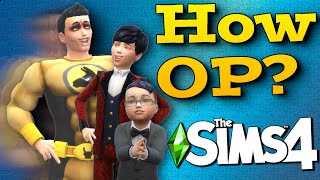 New I now have a guide to Making Super Sims in The Sims 4. Look for a text version within the next 72h. It won't have THAT much more info but it will help out as a checklist.
This was inspired by a series, "Let's Play a Super Sim" in which I start at toddler and gradually take on the major bonuses. Here's a link to each part for people who are interested. You can also see the Let's Play as a Playlist on Youtube.
Discover University Expansion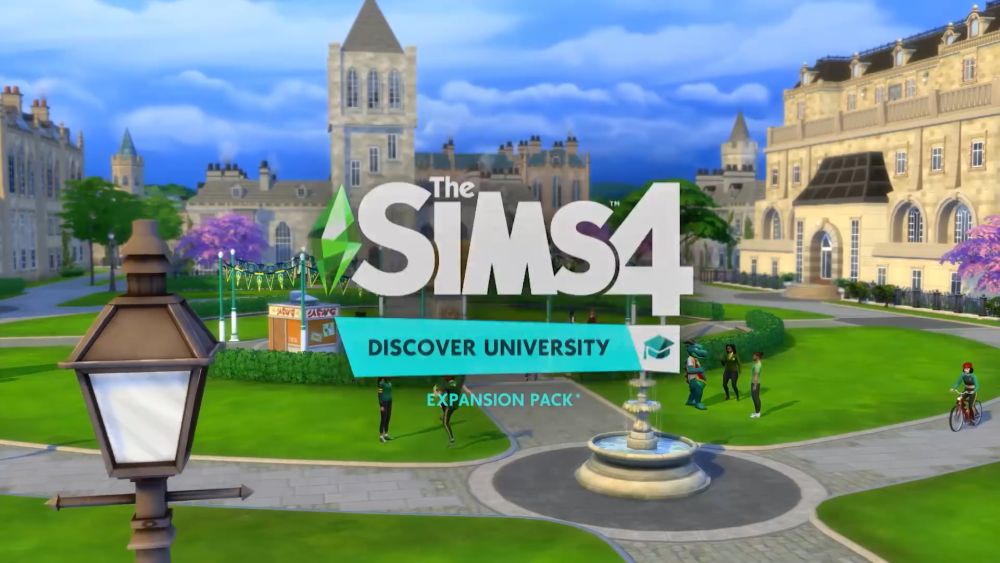 The Sims 4 Discover University has been announced for November 15 for PC/Mac and December 17 for Xbox and Playstation 4 consoles. Click to learn more about the pack, see my summary of the livestream or read our FAQs below.
Other Guides to Discover University:
New Lot Traits: Study Spot and University Student Hang Out
New: Discover University FAQ: Gameplay Features
New Video The Sims 4 Discover University Gameplay Tips Video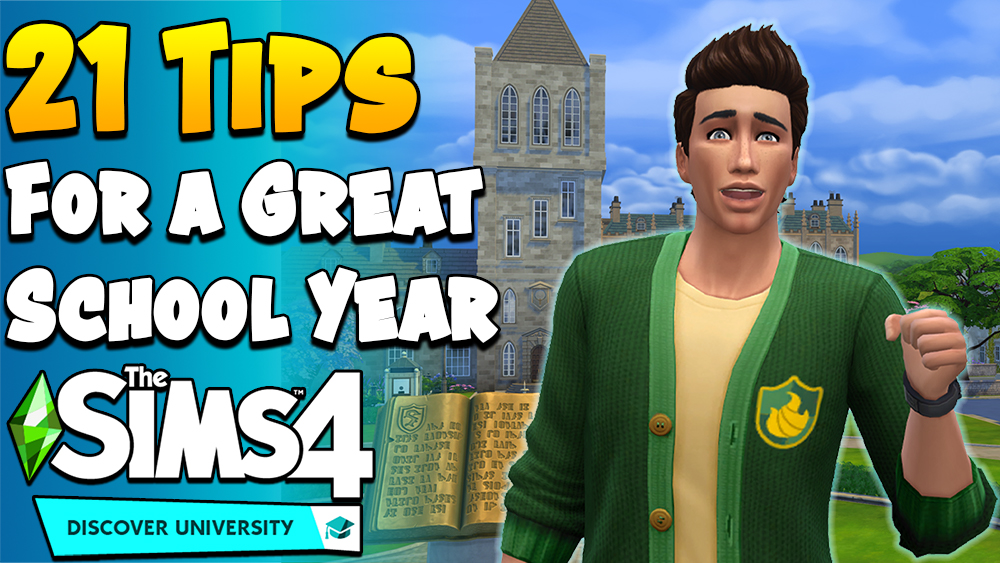 More videos coming soon!
Realm of Magic