The Sims 4 Discover University
Degrees, Scholarships List and Applying for College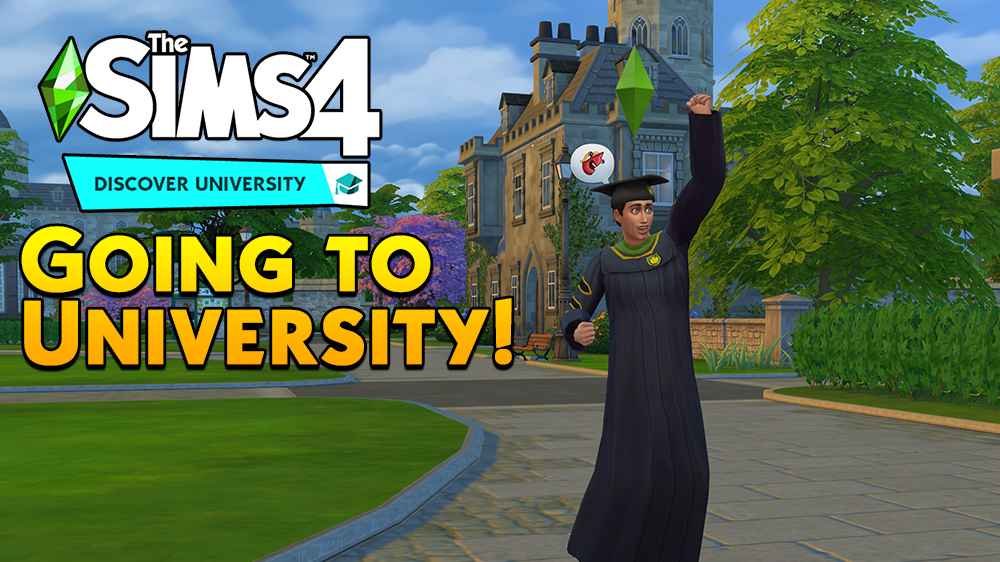 Want to graduate in a Destinguished Degree with Honors? Let's learn how you do that in this guide to Discover University!
Applying for school can be a real nail-biter as you wait on an acceptance letter. In The Sims 4 Discover University, you'll have to do the same. Your Sim's achievements up until that point will be judged, and if worthy you can be accepted for scholarships and distinguished degree programs at either University of Britechester of Foxbury Institute. This guide's goal is to help you maximize your chances of a distinguished degree and perhaps get you a scholarship as well. I have a full list of scholarships on the page below, then the degrees. Let's learn about getting into school.
This section of the site has a total 13 extra pages linked below for detailed information on the various degrees and what you get for a distinguished degree vs a regular one, and the extra promotions that come with a BA or BS with Honors. You can also try to find scholarships that have skills that benefit your degree.
Other Discover University Guides
Distinguished Degrees and Honors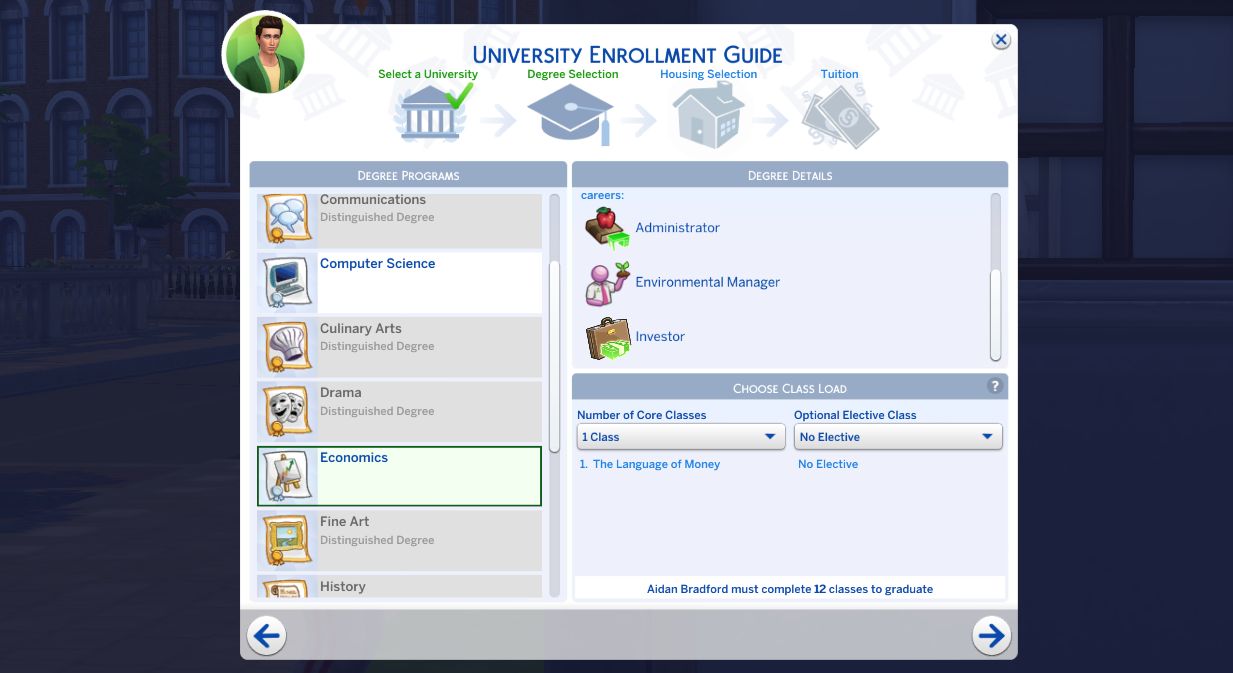 See the degrees listed out here. Note the silver and gold on the degrees. Silver is a regular degree, gold a distinguished one. They don't seem to be harder, it's just harder to get in. You can take between 1 and 4 University classes. Taking four will help you graduate from college quickly but it's more time-management intense.
Each of the two schools - Britechester and Foxbury - specialize in one area. Britechester is a school for the arts, while Foxbury Institute is more for science and technology. They both offer the same degrees, but Britechester's arts program is distinguished while Foxbury's is not, and the same goes for science on Foxbury's end. Distinguished degrees yield better bonuses.
When you apply for school, you may be accepted into a few different distinguished degrees but not the one you want. In that case, you can take a regular degree from the other school. Worry not if you just can't get into the program you want - a regular degree that you worked hard on can be great because you can also graduate 'with Honors'.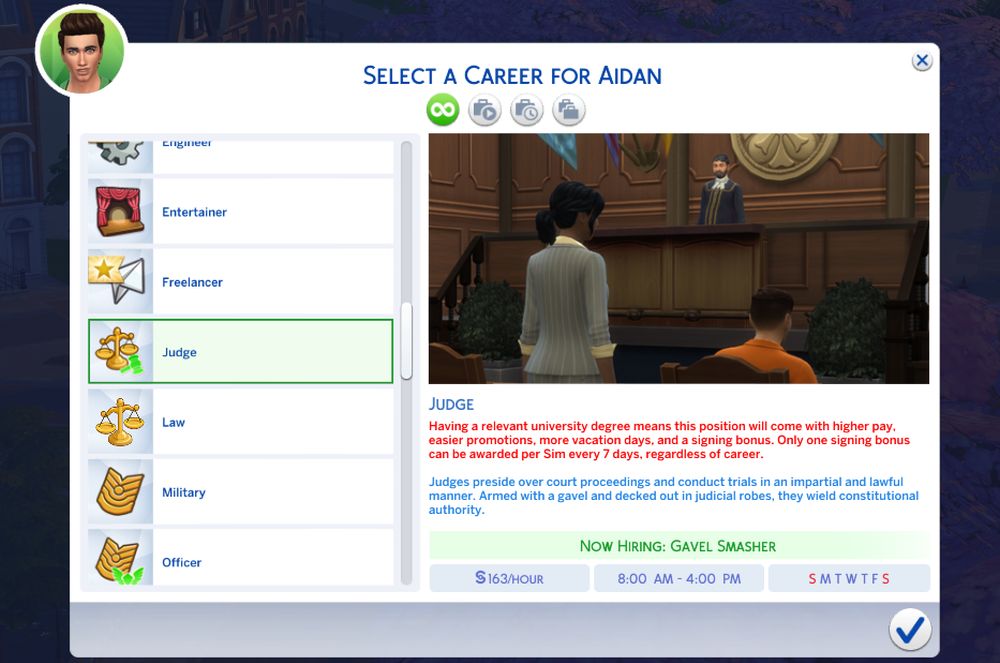 You can see the new Law Career's Judge track unlocked here. I could still start on the bottom as a law clerk, but I have the option to jump straight to judge because of a degree I cheated in.
With Honors means you were basically an honor-roll or Dean's list student with a high GPA. You need a greater than 3.9 GPA to graduate With Honors. Doing this actually is about as good as a distinguished degree, but of course it's entirely possible to get a distinguished degree with honors which is the absolute best you can achieve from University in The Sims 4.
Preparing for School
If you want better scholarships or to be accepted for distinguished degrees, you should do some work ahead. If you have a High School "A" student on your hands, they already have a slight advantage. You can take that a bit further by improving their skill levels a touch before they apply. What's more, you can save some time by only going so far in each skill. Having a little of several is faster than maxing one due to the nature of skill experience in The Sims 4. Use the guides below before you apply, and you'll
Getting Scholarships
There are a number of scholarships available - those based on where you live, based on how much money your Sim's family has, and more scholarships based on other accomplishments like participating in Scouts (Seasons). Some of these aren't particularly easy to obtain, but you should know that Skill-based Scholarships also exist. In general, it'd appear you need at least level 3 in order for them to appear in the list. While level 4 will help you get a better multiplier for a distinguished degree, it takes level 5 to get better odds (over level 3) for a scholarship. So, you can go for level 3 in skills related to your actual degree based on info you learn here. This will give you at least 1-2 opportunities for skill-based scholarships and improve the odds of getting into distinguished degree programs.
Even though you've already applied for a Scholarship, you should know that you can apply for more. Apply for every one you see, as far as I can tell, unless you know you'll gain more skill levels before enrolling in University. Scholarship cooldowns are likely one week like the application process itself.
Discover University Scholarships List!
By popular demand, I've made a list of all the scholarships in Discover University. There are quite a number. I'm going to lump some together that are very similar. The requirements listed here are to be eligible to apply, and does not mean you will be accepted.
Location-Based - Live in any of the worlds from Willow Creek to Forgotten Hollow. You can't do anything to improve your odds, but they're worth a shot.
Education for All - Needs Based($400) - It appears you need to have less than $25k in property value and less than $2500 cash on hand.
Helping Hand - Needs Based ($250) - It would appear you need 10-15,000 in cash and to have a property value between 80k and 100k.
Merit-Based ($500) - Sims who are accepted for a Distinguished Degree can apply for this, so do it after you've applied and got in. You likely only need one more other scholarship to get a Full Ride.
Super Scout ($175) - You need to have been at least rank 2 in scouts and get a better chance with each level beyond that.
Workplace Scholar ($300) - If you've been rank 3 in a career, and I suppose this means part-time jobs as Teen, you can be eligible to apply.
Skill-Based Scholarships List
I separated these out, because they are a bit different. Like with Scouts, having a higher skill level will improve your chances. I wanted to list out the break points for them, as in where you'll get a better shot with each skill. Realize for multi-skill scholarships having multiple skills will increase your chances. However it may not be worth going for another level up in a skill if it doesn't reach the "break point". So you have the same odds at level 3 as you do at level 4, so I'll note where the skill boosts you next. You need a minimum skill level (the first number) in one listed skill to be able to apply and are not guaranteed a scholarship.
Alley Cat ($400) - Bowling Skill. Unlocks at Level 2, improves at 3, then 5 - this being our example, your odds would not improve with level 4. You'd need to hit 5 and at that point should have a 90% chance of success.
Athletics ($450) - Fitness Skill. Unlocks at Level 3. improves at 5 and 9.
Building the Future ($400) - Handiness and Rocket Science. Unlocks at Level 3 of either, improves with each at level 5 and level 9.
E-Sports ($450) - Video Gaming skill. Unlocks at level 3, improves at level 5 and 9.
Food and Drink ($200) - Cooking, Gourmet Cooking, Baking, and Mixology. Unlocks at level 3 of any, improves at level 5 and 9
Friend of the Animals ($400) - Have Dog Training at level 2, improves at 3 and 5. Or/also have Veterinarian at level 3, improves at level 5 and 9.
Future Star ($200) - Guitar, Piano, Violin, DJ Mixing, Singing, Pipe Organ, Acting, or be in the Drama Club (at rank 2+). Unlocking Level 3 in any of the skills here will make you eligible, and like the others they are boosted at levels 5 and 9.
The Great Outdoors ($200) - Fishing, Gardening, Herbalism, Flower Arranging skills. Unlocks at level 3, improves at 5 and 9 like the others above.
There you go. If you manage to pay the entire cost of your schooling with scholarships, you get a 24-hour +2 Happy 'Full Ride" moodlet that says, "Having a fully paid tuition takes some weight off your shoulders!". I'll say. Good luck with those Scholarships! Now for applying to school!
Second Degrees and Onward
A few people have noted that after your first degree, you no longer need 12 credits. We initially thought this was tied to skills, but it's actually unrelated. Once you have a degree, any others you obtain will only take 8 credits each. This is perhaps simulating general education requirements and how there's no need to take those courses again when going for a second bachelor's degree.
Applying for School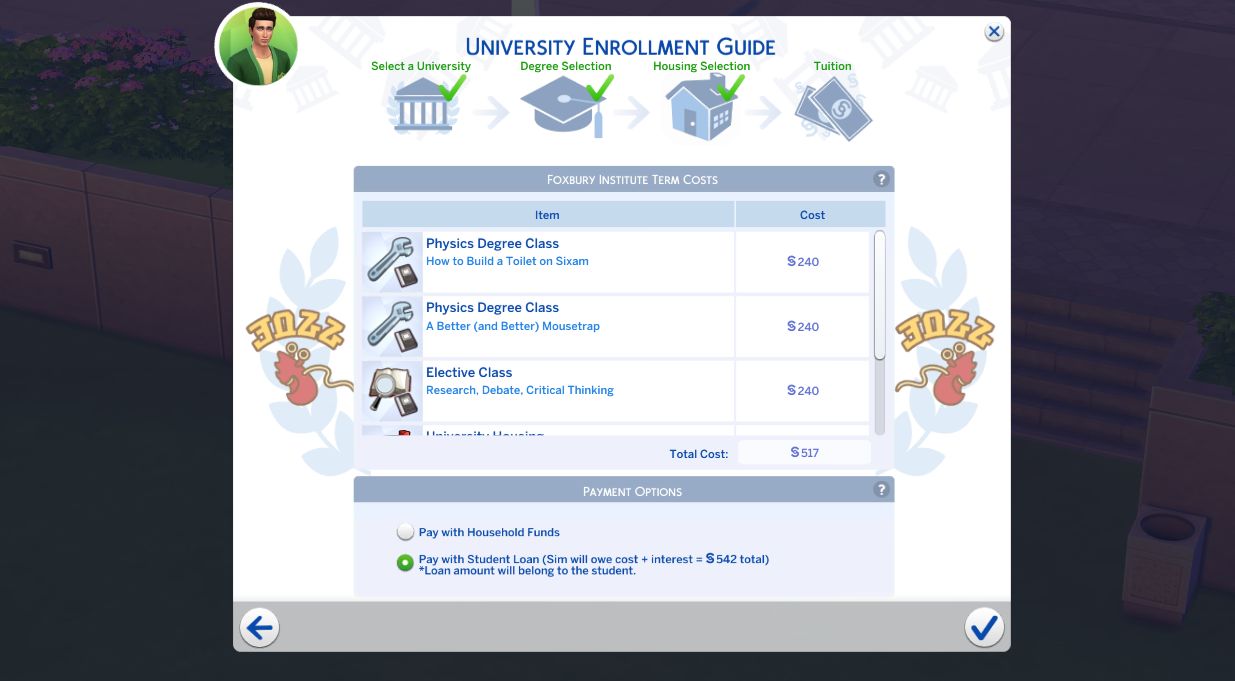 You can use Student Loans to pay for University if you wish. A scholarship will typically cover a couple of classes but not all your housing cost if you choose to live in a dorm.
Use your Sim's mailbox to apply for University. When the letter comes back in a couple days, you can check to see if you which degrees you were approved for at each school. Remember to apply for the Merit-based scholarship if you get into a Distinguished Degree program!

Art History Click for More Info
Distinguished Available at Britechester

Associated with Careers: Arts Critic (Critic Career), Patron of the Arts (Painter Career), Trendsetter (Style Influencer Career)
Degree Description: Can anyone truly understand art? A degree in Art History will attempt to answer that question! Leveraging skills such as Painting, Writing, and Charisma, Art History students will be able to expand their cultural horizons and also provide fun facts in art museums forever.
Biology Click for More Info
Distinguished Available at Foxbury Institute

Associated with Careers: Bodybuilder (Athletic Career), Botanist (Gardener Career), Marine Biologist (Conservationist Career), Doctor
Degree Description: It really is a matter of life and death! Biology attempts to unlock the mysteries of life through the study of - among other things - the Fitness, Gardening, and Logic skills. A scientific foundation and a Biology degree can truly open your eyes to the world around you.

Communications Click for More Info
Distinguished Available at Britechester

Associated with Careers: Management (Business Career), Charity Organizer (Politician Career), Public Relations (Social Media Career), Journalist (Writer Career)
Degree Description: To understand one another, we must first learn how to communicate with one another. With an emphasis on building the Charisma, Writing, and Logic skills, the Communications degree is a big help to anyone looking to work effectively in a professional environment.

Computer Science Click for More Info
Distinguished Available at Foxbury Institute

Associated with Careers: Oracle (Criminal Career), Computer Engineer (Engineering Career), Start-Up Entrepreneur (Tech Guru Career)
Degree Description: Computers are everywhere, so learning to manage and program them is a smart move! Join the technical revolution with the Computer Science degree, which will primarily build the Programming and Robotics skills.

Culinary Arts Click for More Info
Distinguished Available at Britechester

Associated with Careers: Food Critic (Critic Career), Chef (Culinary Career)
Degree Description: There's really only one degree to consider if you love food. Join the Culinary Arts program, learn more about food and its preperation than you ever imagined, and build those Cooking skills.

Drama Click for More Info
Distinguished Available at Britechester

Associated with Careers: Comedian (Entertainer Career), Internet Personality (Social Media Career), (Actor Career)
Degree Description: If all the world's a stage, become a better player in it by enrolling in our Drama degree! It's a chance to dig deep into your emotions, find your true self, and let it shine for everyone to see, all while honing your Charisma and Comedy skills!

Economics Click for More Info
Distinguished Available at Foxbury Institute

Associated with Careers: Investory (Business Career), Administrator (Education Career), Environmental Manager (Conservationist Career)
Degree Description: One of the largest forces affecting everyone's decision-making is the flow of money between individuals, groups, and nations. The Economics degree examines the properties of money and its effects, while helping to build the Charisma, Logic, and Research & Debate Skills.

Fine Art Click for More Info
Distinguished Available at Britechester

Associated with Careers: Musician (Entertainer Career), Floral Designer (Gardener Career), Master of the Real (Painter Career), Stylist (Style Influencer)
Degree Description: The creation of culture is no easy task, but those enrolled in a Fine Arts degree understand the importance of just such a task. Through the study of the Painting, Photography, and Violin skills, the program hopes to imbue the creative spirit of creation in all its students.

History Click for More Info
Distinguished Available at Britechester

Associated with Careers: Judge (Law Career), Officer (Military Career), Politics (Politician Career)
Degree Description: To move forward, we must understand our past. The History degree uses historical people and events as a jumping-off point for examining our modern age and the consequences of major historical choices. The degree helps build the Charisma, Logic, and Research and Debate skills.

Language and Literature Click for More Info
Distinguished Available at Britechester

Associated with Careers: Private Attorney (Law Career), Author (Writer Career)
Degree Description: Since the invention of the written word, the goal to capture information, emotion, and stories for future generations has been a noble one. The Language & Literature degree continues this tradition, with a focus on building the Charisma, Research and Debate, and Writing skills.

Physics Click for More Info
Distinguished Available at Foxbury Institute

Associated with Careers: Space Ranger (Astronaut Career), Mechanical Engineer (Engineering Career), Scientist
Degree Description: Whether you like to think big or think small, the Physics degree has got you covered. From subatomic particles to the edges of our universe, this degree will help build the handiness, robotics, and rocket science skills along with a fascination for the way things truly work.

Psychology Click for More Info
Distinguished Available at Foxbury Institute

Associated with Careers: Professor (Education Career), Diamond Agent (Secret Agent Career, Detective, Covert Ops (Military Career)
Degree Description: Psychology considers one of the core questions of existence - why do we do what we do? - and unpacks in an academic setting. Boost skills such as charisma, logic, and research & debate, all while unlocking the mysteries of the mind.

Villainy Click for More Info
Distinguished Available at Foxbury Institute

Associated with Careers: Interstellar Smuggler (Astronaut), Criminal Boss (Criminal Career), Villain (Secret Agent Career)
Degree Description: Life isn't fair, but those that know how to exploit that unfairness end up on top! With courses that boost the fitness, logic, and mischief skills, a degree in Villainy can set anyone up for success - as long as honesty and morals aren't a priority.
Other Discover University Guides

10 Million Views! My YouTube channel has grown a lot the last 6 months. I now have over 125 videos on Youtube and am nearing 100k subscribers. I'd like to invite people to check out my content and, if you like what I'm doing, subscribe!
How You Can Support The Site and Channel

If you like my sites and
Youtube Channel
, consider supporting me on
Patreon
to help me to continue. If you'd like to support my guides in another way you can use our
Amazon link
for your next purchase (if in the US). We also offer a
paypal donate link
so you can contribute directly.
Back to The Top
Comments (26)
Topic:
http://carls-sims-4-guide.com/expansionpacks/discoveruniversity/degrees.php
New
Dary
they both have the same degrees. the difference is that one has distinguishable degrees for science and one for arts.
New
Ally
So basically Foxbury has every class but only the technology, science extra are distinguished degrees so Brichester has also all the degrees but it's distinguished degrees are more English based so more old school.
Regular
Sketch Elder
Haven't tried it yet but I think you just have all of them apply, then wait until they all get accepted, and have them all choose the same dorm or house.
Admin
Playalot
Just enroll them all (game makes you do this one at a time) then place them into the exact same house or dorm and they will all become the one active household.
Admin
Playalot
Yes, use Carls guide to see what skills your sim needs and gain those then reapply.
New
Maddy
So there is no associated major for the career branch of mixology? I initially thought it was a little weird that there wasn't an associated major for Athlete and eSports Gamer, but then realised you get the career boost from the eSports and Soccer teams... but nothing for mixologists, seems they're the only ones that miss out.
New
Jack
Not sure how I got it, but my sim have a "Mixologist Certification"

Admin
Playalot
Mixology certificate comes from sitting in on 11 mixology skills classes when enrolled.
Admin
Playalot
Not sure, maybe you are making typos? All the cheats are working for me.
New
Bobby
Sometimes cheats are different on console, so what device are you using?
New
Misty N
My Sim had a full ride into college plus made almost 2000 simoleons each time she signed up for a term. She had finished the Nerd Brain aspiration before applying (sometimes it's good to take things slow), had cooking and gourmet cooking maxed also. (She got scholarships for that too.) She got merit, Willow Creek one, Education for all (she lived in one of the lowly homes and didn't have much money.) Plus she had the skill scholarships. Not bad! They basically paid her to go to college. She attended Foxbury in the Physics program for Robotics. I also learned that if you max a skill and tutor someone at college, you make 100 simoleons a session. Not bad for a job on the weekend. I have season, long 28 day seasons - so I just had her do 2 courses at a time. She managed to get amazing grades, juggle a boyfriend and go out to festivals and tutor on the weekends. I would rather have my Sims take it slow and do well and have a life other than rushing to class and studying. I hope these bits can contribute to the guide or people's gameplay.
New
Bobby
Click on the subjects in the guide
New
Ally
Boost your skills for the degree you want to go into if you get them above four you can do a distinguished degree in your choosing.
Admin
Playalot
Is there an option to leave via the 'work panel' UI? Or perhaps on your Sims phone?
New
ceruleantear
I suffered from the same problem, but it looks like you can leave the team by using the phone, go to the work tab, and "quit job."
I would be interested to know if dropping the team after receiving scholarship money has any consequences.
Senior
Brian Z
Sweet, thanks, I just posted basically the same question in the main DU section. The e-sports team is tremendously time consuming!
Admin
Playalot
Do 11 'Sit in on Skills' classes when enrolled at uni with your Sim and choose 'mixology'.
New
Lucifer Amadeus
What if I have various permanent perks that increases my skill gain rate from different sources, and before I can complete 11 classes, I already maxed the skill? Will I be locked out from getting the certificate?
New
Spikefan74
If you get the e-sports scholarship, you are forced to join the e-sports team to keep it. It's the same with fitness, you join the soccer team.
New
Ally
Yes if you max out the required skills you don't have to take the first term. The first term is basically building you skills up but as you have maxed them all it's just pushed you ahead.
Admin
Playalot
No actually all second degrees only need 8 credits once a Sim has completed their first degree. So even if your sim had no cooking skill their second degree will still only need 8 credits.
Admin
Playalot
Yes just reapply the same way again, there is a cool down of 7 sim days I believe which seems a bit ridiculous really.
There is info about the various scholarships here (click) but I don't know of any cheats for the actual scholarships themselves. tbh most of them are not worth much so really aren't worth waiting another 7 days, I'd just go off to uni and apply for scholarships for the second semester while at uni. Use the laptop, PC etc to reapply and the dorms mailbox.
New
Grace P.
Thank you so much! I will give that a try.
New
KoalaCakes
For the Location Scholarship, your sim has to live somewhere for a while. I would try with a one young adult household after a few days of gameplay and I got nothing. But I made a household with a teenager and when he aged up he got about 250. I think if your sim lives somewhere from childhood, you may get the whole thing.
New
Telepathy97
SCRATCH THAT! The merit scholarship is applied on the screen where your tuition total is added up, so you don't have to submit an application for it, you just have it. That would be good to note in this guide as I haven't seen it mentioned anywhere online yet.
New
Kara
Thank you for the detailed information!
Just one detail missing that I noticed, for the future star scholarship you didn't include Painting (I mean it's for all the artsy stuff so maybe it's obvious, but I thought I would mentioning since that's how my Sim got it ) I suspect writing may get it too.
New
Shanta
I want to re-apply for the Fine Arts Degree (Distinguished). Turns out not just any instrument would do. (Guess I should have read the guide better!) Now I have 4 levels in Violin and Piano, with 7 in Guitar. I've been able to apply to a few more scholarships since, but can't re-apply after my initial application to University. I'd love to be re-considered, now that I think I'd have a good chance of getting into that degree.
Admin
Playalot
Once you have enrolled for a degree you can't re-enroll for the same degree so the game basically thinks your Sim has done the degree but failed badly if you enrolled but failed to go.
You could save your Sim to your library, place them into a new game and try again that way, even then I'm not sure if it would work.
Admin
Playalot
Yes, of course, the amounts in the Guide are the 'most often possible amounts' but the game will certainly award your sim less money for less skills or other various conditions within the game.
New
Junan
Interesting situation I've found with my sim enrolled in Computer Science at Foxbury is that on his third term, he somehow has THREE merit-based scholarships (does each term stack?). That sounds pretty powerful if you manage to enroll onto distinguished degrees.
New
Grace
If you enroll two sims in opposite universities at the same time and in the same off campus household, can they both attend their graduation or does one just not get to have their ceremony and graduation unlockable? I've tried everything I can think of, but if I leave one university and send the other to theirs, it cancels out the first interaction and they never go through with the graduation. They enrolled 30 minutes apart and have their ceremonies 30 minutes apart, but they can't just go in without talking to every generated sim and their mother on the lot and get it over with.
Admin
Playalot
tbh I don't know, I haven't play tested this scenario. I'd imagine that only one of the Sims will be able to attend their graduation ceremony though knowing how simple the game play is around this event. Even if your Sim does not go to a graduation ceremony they still graduate with a degree and the degree certificate, it just takes quite a few in-game hours for it all to happen. As in....really...quite a few in-game hours, it's painfully long and drawn out.
New
Nicole
Does the biology degree help with a Vet career tract?
Admin
Playalot
Just the same minus the High School bonus. I've had all my YA and Adult Sims get Distinguished Degrees and all were made as adults in CAS.
Senior
Brian Z
I just put 2 sims through the aspiration, and the third step was horrible. 5-hour tutoring sessions, and you have to do them 5 times!
I went looking to see if there was a mod for that, and found this: https://modthesims.info/d/636143/faster-tutor-class-in-discover-university.html
It comes in several versions, I installed the 2-hour flavor. It seems like that's long enough to be worthwhile for the pupil, and a much more reasonable demand on your time.
Admin
Playalot
Thanks for the link, that part of the aspiration is so painful!
Regular
Aurelia Aurita
This page and the list of plants and when they're in season are by far the most helpful imo. At least for my own gameplay. Thanks a lot for taking the time and making them.
New
Chiquita
My Sim got her Merit scholarship with applying for it after she had been accepted to a Distinguished degree. I was applying for school and the option was already applied in the scholarship list.
Are you sure you want to report it?
Share a link to this comment
Star Wars in Sims 4

We now have a page on The Sims 4 Journey to Batuu.
It's not what I would have hoped for in a Star Wars Game Pack so far.
Secrets and Other New Stuff
Sims 4 Packs & DLC
Support Us

Readers who use adblock or those who'd like to thank me for my efforts can now pledge $1/$5 monthly via Patreon. This helps a lot with server costs and provides some stability for my business.
Super Sim Checklist + Other News
Let's Play Playlist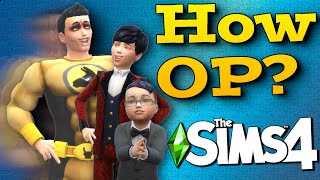 New I now have a guide to Making Super Sims in The Sims 4. Look for a text version within the next 72h. It won't have THAT much more info but it will help out as a checklist.
This was inspired by a series, "Let's Play a Super Sim" in which I start at toddler and gradually take on the major bonuses. Here's a link to each part for people who are interested. You can also see the Let's Play as a Playlist on Youtube.
Discover University Expansion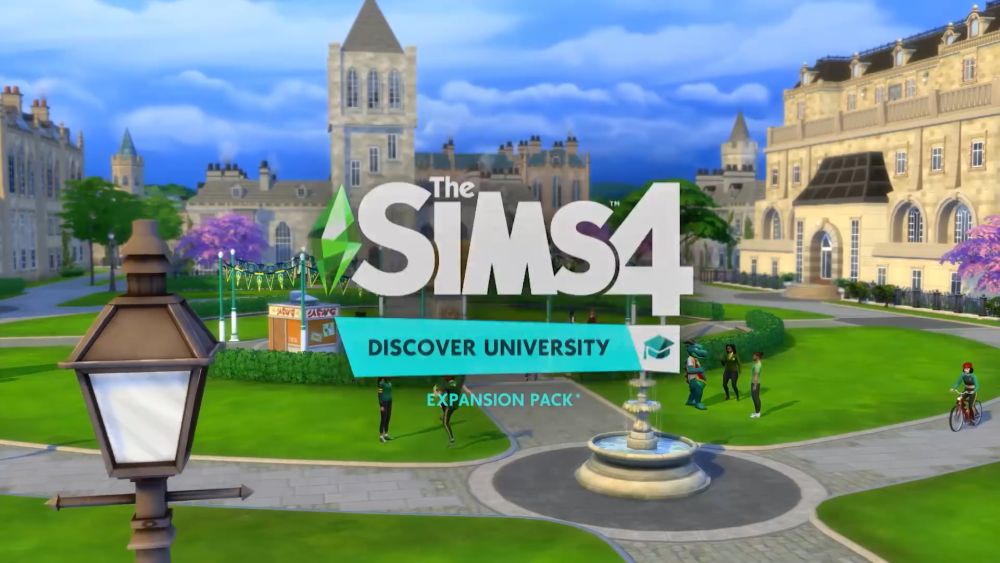 The Sims 4 Discover University has been announced for November 15 for PC/Mac and December 17 for Xbox and Playstation 4 consoles. Click to learn more about the pack, see my summary of the livestream or read our FAQs below.
Other Guides to Discover University:
New Lot Traits: Study Spot and University Student Hang Out
New: Discover University FAQ: Gameplay Features
New Video The Sims 4 Discover University Gameplay Tips Video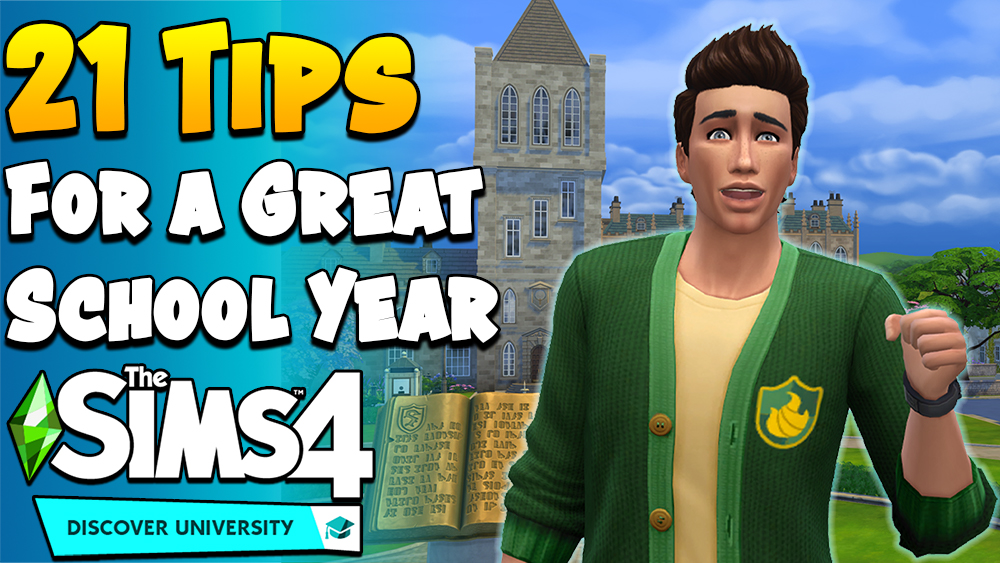 More videos coming soon!
Realm of Magic