The Sims 4 University Expansion Discover University's Gameplay Features and Additions

Click to Enlarge. Graduates play Juice Pong, dressed in cap and gown


Discover University Release Date
The Sims 4 Discover University will release on November 15 for PC and Mac, with consoles receiving the new Expansion on December 17, 2019. The new pack revolves around a new campus and two competing schools - University of Britechester and the modern Foxbury Institute. Sims will be able to pursue a degree at one of the two. Here's a listing of gameplay features, my video covering the gameplay livestream, and miscellaneous info about the pack.
Gameplay Guides
I've made the following guides for The Sims 4 Discover University. Remember that many will be expanded upon, so visit back later this week.
Gameplay FAQ
I've made a list of Frequently Asked Questions about Discover University's Gameplay you can read. It's got a lot of details about how roommates, dorms, and actually attending University in FAQ format.
A guide to putting together various strategies in order to make a Super Student in The Sims 4 Discover University Expansion Pack..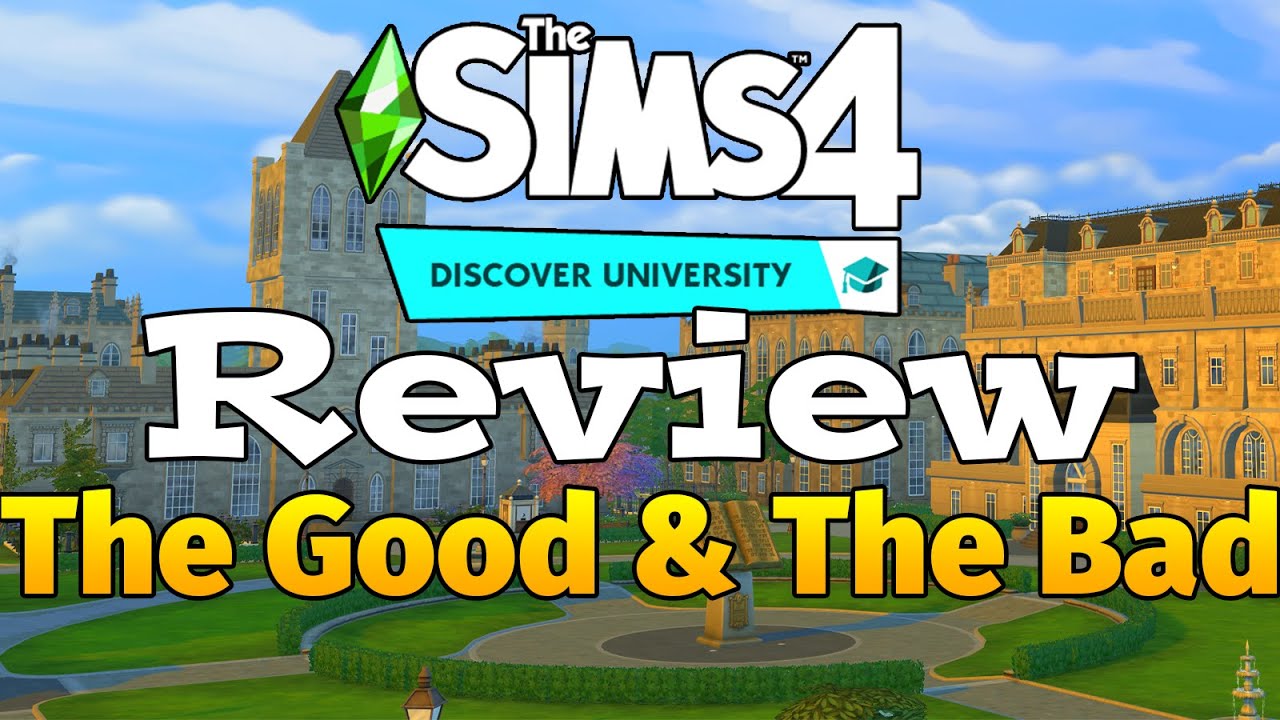 A guide to The Sims 4 Discover University and getting the most of its gameplay. Features 21 tips, and my thoughts on the pack overall based on my experience playing it.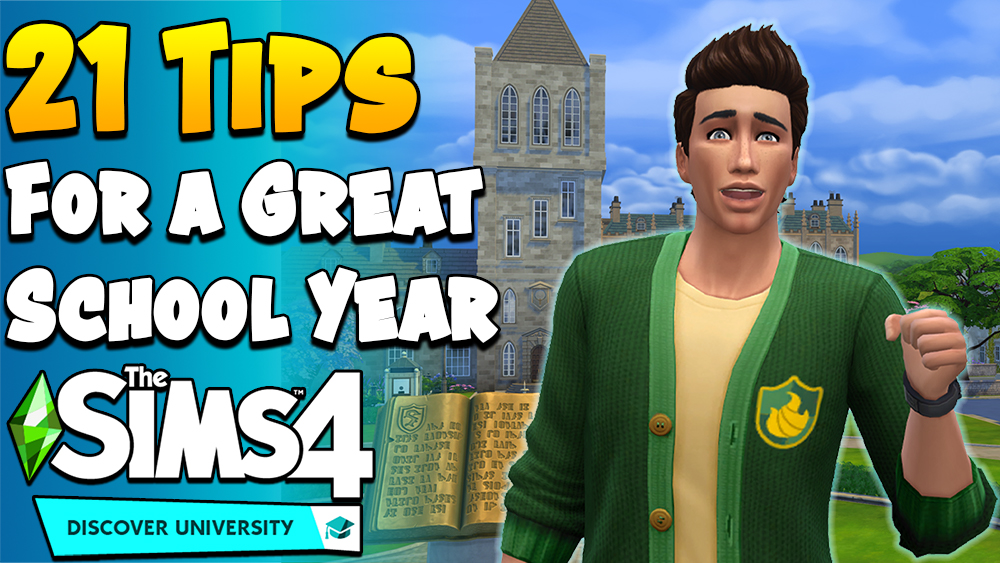 Campus and Dorms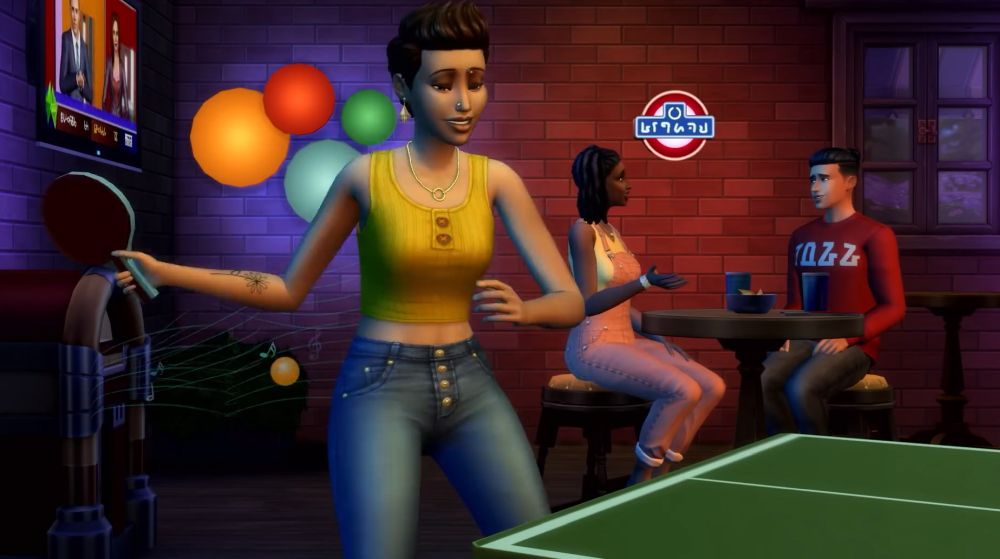 Click to Enlarge. A Sim plays ping pong. She has both an eyebrow and nose piercing.
Sims can either attend University off-campus, or live in a dorm. Players will be free to customize their dorm's appearance, though building space may be limited. There's a common area, library for study, and recreational areas. We will learn more in coming weeks and share everything we know.
Roommates
Sims can have a roommate whether they attend university or not, by placing an ad. Multiple Sims will show up as applications, and you can select among them who you'd like to be a roommate. They will pay a portion of the household's bills each week. What they might not do, is clean up after themselves. Some roommates are hellish, while others are great to live with. They are added as a NPC to the household, meaning you won't have much (if any) control over their actions.
Degrees and Graduation Requirements
There are a total 13 degrees available in Discover University, with each university offering the same degrees in some form. However, each degree has a Distinguished variety. While you will never be turned down enrolling for a regular degree, Sims can indeed be rejected from distinguished degrees based on comments from the developer livestream.
Graduation Requirements: In order to graduate sims require a total of 12 course credits. You can pursue up to 4 credits in a term, with elective counting toward your degree. A term is one Sim week, with courses taking place on weekdays. You can take one elective per session - use this to boost a skill that helps your Sim in some way but isn't needed for their future career.
Bicycles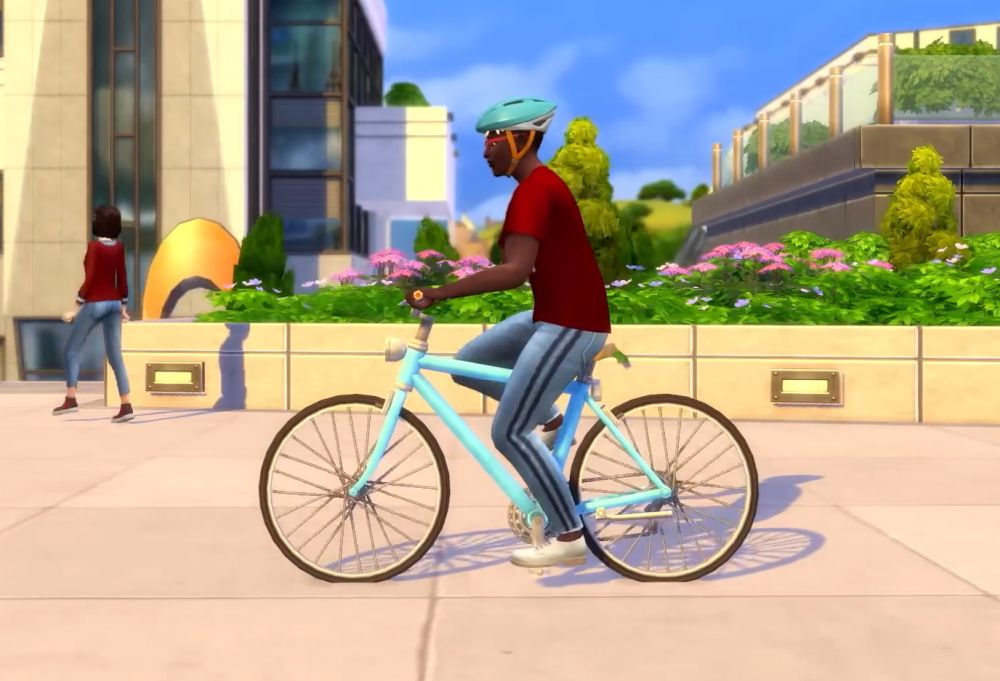 Click to Enlarge.
Bikes are making a comeback in this pack, allowing players to quickly get around the huge campuses of Britechester and Foxbury Institute. It would appear it'll be possible to use them everywhere, which is fantastic.
Courses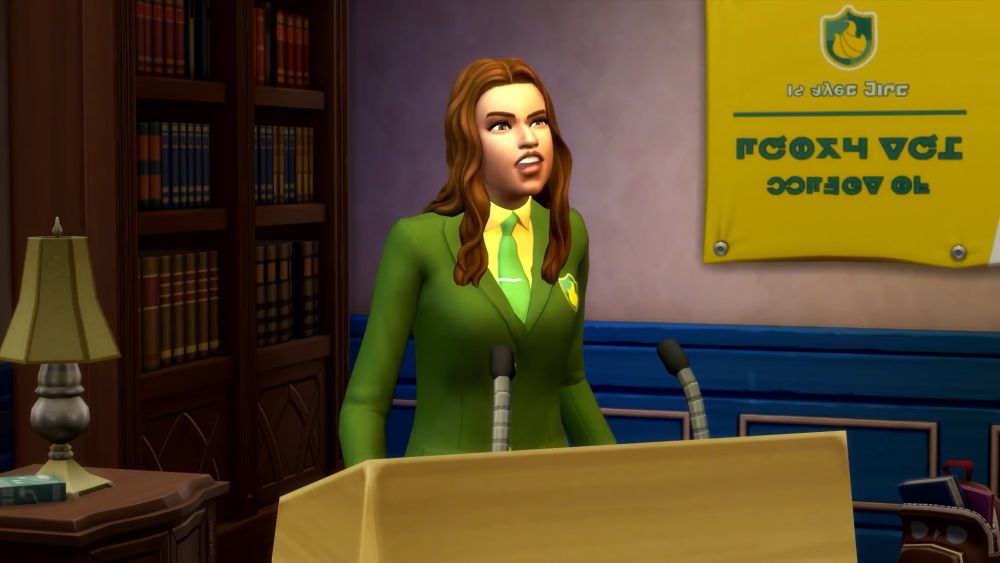 Click to Enlarge. A Sim at the podium, participating in debate club.
There are many classes in Discover University, many related to existing skills. You'll need to work to keep up your Sim's grades, with class attendance counting along with how they perform on various assignments like presentations and term papers. Time management will be a must.
Sims are given a course book in their inventory, which can be used to study and improve grades. They may be required to write a term paper before the week-long term is up. A term paper's quality is stated when you hover over it, so you can decide not to turn in a poorly-written paper. Similarly, with presentations you will receive a presentation board. This allows you to practice before ultimately going to do the presentation in a rabbit-hole style meeting.
Extracurricular Activities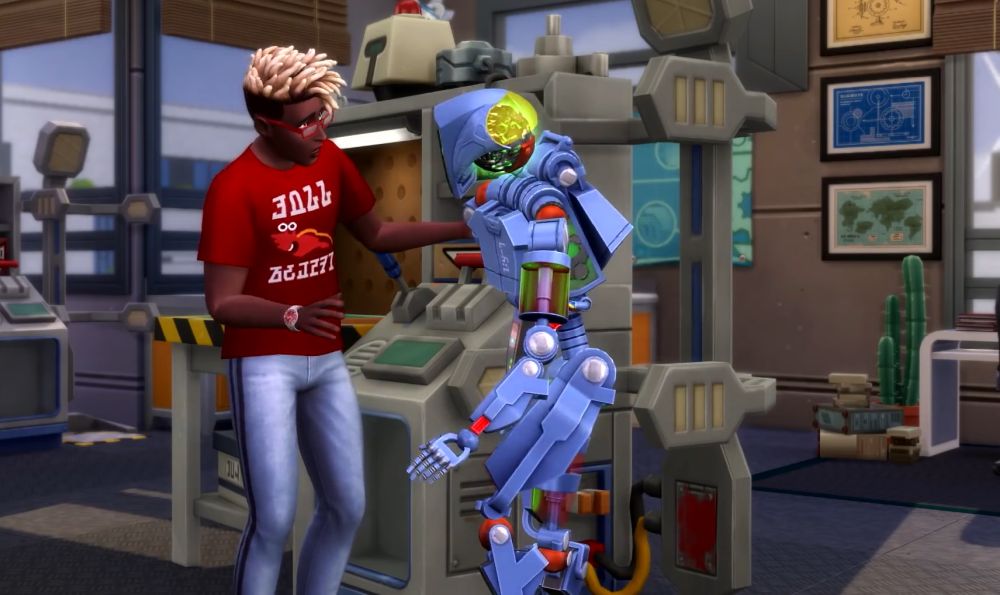 Click to Enlarge. A Sim works on his robot in robotics class. Evidently, Robots can move in to your home with you if you make one good enough.
There are Organizations on campus that provide extracurricular activities: robotics, art, and debate clubs as well as spirit clubs for each school's sports teams. We don't know a lot about them yet, but they are fully featured - meaning you can take your Sim and participate in them (not rabbit holes). Sims in the trailer are seen working on robots and debating one another.
Robotics Skill
The pack features a new robotics skill, which lets Sims build various types of robot - from basic household helpers like party bots, repair bots, and gardening bots, to Servo. Servo is the ultimate reward for pursuing the robotics skill and can join the household (consuming one of the max slots) upon activation. Servos require maintenance and to keep their batteries charged. They have a fun and social need, but no hunger or bladder.
Another New Skill: Research and Debate
This was brought up briefly in the livestream, but we don't know much about it yet.
New Careers
There are Education, Law, and Engineering Careers in Discover University. These do not require you to attend school, you'd just start at the bottom like any other Sim career track. Education has the Professor and Administrative branches, while Law has Judge and Private Attorney branches. Engineers were shown in the deep dive livestream and have Computer Engineering and Mechanical Engineering. The Mechanical Engineer's reward of an exo-suit was shown briefly in that gameplay livestream.
Sims could also join careers in soccer and as an esports gamer (shown in the careers interface) and these required attendance at the University to participate, so we don't know much yet about how that ties in. They are clearly not typical careers, howwever.
Miscellaneous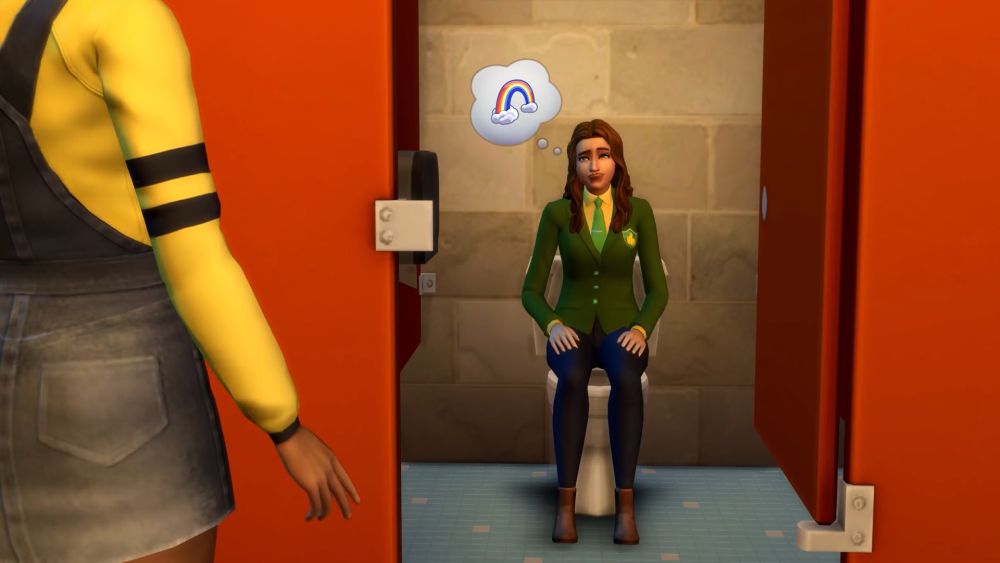 Click to Enlarge. Private bathroom stalls are available in University.
Juggle Soccer Balls
Ping Pong
"Juice" Pong
Kegs of Juice
...and Keg Stands!
Eyebrow and Nose Piercings
a Secret Society on Campus
Toilet Stalls (or Cubicles, the Private Kind!)
Shower Woohoo
More to Come!
This page will be updated over time now that Discover University is in our hands.
Other Discover University Guides

10 Million Views! My YouTube channel has grown a lot the last 6 months. I now have over 125 videos on Youtube and am nearing 100k subscribers. I'd like to invite people to check out my content and, if you like what I'm doing, subscribe!
How You Can Support The Site and Channel

If you like my sites and
Youtube Channel
, consider supporting me on
Patreon
to help me to continue. If you'd like to support my guides in another way you can use our
Amazon link
for your next purchase (if in the US). We also offer a
paypal donate link
so you can contribute directly.
Back to The Top
Check Out My Youtube Channel!
We now have a Youtube Channel with over 50 guides in video format to go along with the huge site I've already created. Check it out and consider subscribing if you like my style.
Comments (20)
Topic:
http://carls-sims-4-guide.com/expansionpacks/discoveruniversity/
New
Georga
When you move into campus living, you are splitting from the household. I'm not sure what happens after graduation, but while you are attending you are in a separate household so your other sims will be idle.
New
Elizabeth Holen
I had the unfortunate experience of losing everything in my household when my sim split and went off to college. I might have accidentally clicked sell furniture, but I lost all my collections, plants, etc when the households combined again after college. I would definitely save a separate file before sending anyone off to college.
New
La La
Thank you for always explaining Sims for us!! Your page is great!!
Senior
Brian Z
Ok, so can I do the roommate search thing to move into a dorm on campus? So that I don't have to buy the place, or join household with the existing tenants (which would then mean I have to control them). I am wondering how having NPC roomies will play out, seeing how stupid sims are if you don't give them commands. Especially the way they always want to go to bed too early, then get themselves into a vicious cycle of getting up too early, going to work/class already down to 50% energy, come home drop dead exhausted and go to bed immediately...
Senior
Brian Z
Ok my sim actually aged up and I saw the answer to my question, that you pick your dorm as you register for classes, and you just pay rent.
New
Misty N
Just a helpful, fun tip for the dorms. Since you can't have stoves and if you have the City Living pack - the park in San Myshuno has a full kitchen. Just go cook there, go back to the dorms and store the food in your fridge for a better mood. Also if you have Fresh Chef, you can cook up a storm there or before you go to college and store the food in the mini fridges. I made a BUNCH of food before my Sim left for college (she had Fresh Chef) and put them out on the tables for people - less chance of stinky rotten food around the dorms. Oh, it still happened! It's just the Sims were happy having good quality food and made less of messes. One thing - and you may want to play through and try to confirm. I felt like the dormmates mirrored my Sim - got up when she did, went to sleep when she did, cleaned up if she did and were as stinky or whatever as she was. (She wasn't - which, I saw a lot of YT playthroughs where there Sims were and the dormmates were also.) I'd love to see if the dormmates really do mirror our Sims or not.
Admin
Playalot
They can all live together in a dorm or any University Housing lot but you have to enroll them one by one. Just place them all into the same Uni House when that part of the enrollment happens and the game will auto place them into the same controlled Household for you.
So basically, any played sim enrolled and housed in the same house will auto become the same active household.
Senior
Brian Z
I don't know if it goes with a particular trait, or which one, but I have a roommate that leaves these passive-aggressive notes if you do something they don't like.
"You know what I really love? Stepping in a puddle of who knows what, left by who knows who. That's the best." - I think I left a puddle after taking a shower.
"I may not be the best room mate, but at least I'm not Violet." - I used his bed for... er, nevermind.
Senior
Brian Z
No build mode for occupied dorms. The only way to edit is to do it from Manage Worlds, before you move in. Yes, it's a bummer.
Admin
Playalot
If you mean you can't move your sim into a different dorm - you'll have to wait to re-enroll at the end of a semester to get that option.
New
Anette
My sim was part of the secret society, but it became a bit annoying with her being visited by a sprite for 4 hours and them wanting entertainment all the time, so I left the society, and finished her degree the next day. She still gets visited by them every other day or so, and she is constantly tense from "Feeling guilty about neglecting the sprites". I can't remove that moodlet, and it has no timer, it's just always there... This is driving me crazy. Don't join a cult, kids. You'll never get rid of them...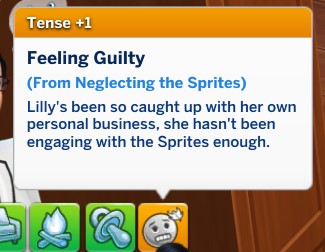 New
M
I'm on PC, not a console.
New
ceruleantear
There are two drop down menus when selecting classes. The first list is your core classes (based on your degree) and you can take up to four of those at once. The second list are the available electives. You are allowed to take one per semester, but only if you aren't taking the full load of core classes.
I hope that helps.
Senior
Brian Z
I'm on my third set of roommates, seems you may or may not get new ones each term. The first ones left after the first term, the second ones were with me through the second and third, and now in my fourth term I just got new ones again. And one of them is dead! They arrived overnight Tuesday night/Wednesday morning, and one of them just stood outside all night, in freezing weather, in Everyday clothes. My introduction to him was when the screen suddenly snapped to him, keeling over and getting covered in ice.
Senior
Brian Z
I just finished sending a sim through university, and for the first time, she had the same roommates all the way through. Unfortunately. I didn't mind the Romantic guy and his different girlfriend every day, or the slob. The one I wished would go away was a female, with apparently 3 different roommate quirks. It was awesome that she brought food back all the time, I didn't really care about the note writing, but what really got old is that she was sad. All the time. Constantly moping and crying under the covers. She didn't have Gloomy, I don't know what it might have been related to.
Admin
Playalot
One of the 'quirks' or 'archetypes' (like breaker, fixer, meal provider etc) given to roommates is Gloomy or perhaps more like Emo Loner, so you will see them sad and crying under the covers all the time.
Senior
Brian Z
I found out the hard way... If a day-off holiday falls on a class day, go to class anyway! I took a B because of Harvestfest.
Admin
Playalot
Try restarting your game, often little glitches like this get reset on a reload.
New
Jordan
New
The Dude
So... i have twins and each will go to a different uni, but i don't want them to live off campus (is and old save and before they were born the parents got crazy rich, so i want the twins to "mingle" in a dorm...), and since they can't share the same dorm, i'm planning on doing one degree at a time. Because of that, i want to know if while i am doing one degree my original household will age? Thanks xoxo
Admin
Playalot
Yes, the rest of the households just carry on as normal and ages as per your game play options settings.
New
Courtney Renee
I love your site! I trust your advice exclusively :) and now I have a question that I CANNOT figure out!
In the Sims 4 University, I finally figured out why the "Roommates" option wasn't coming up for my Sim's boyfriend- he is a NPC! So I added him to the neighborhood and EVERY TIME I ask him to be a roommate, he says no thank you because he already has a home. I have tried EVERYTHING! Waiting a day, being very confident, making sure our friendship and relationship bonds are both 100%, exiting the game and restarting it... Any hints as to how to make him say yes to being a roommate?
Senior
Brian Z
Go to Manage Worlds, click his house, and evict him? That would make him homeless, so I think he'd accept after that. I think. I've only had the random generated roommates in college myself.
Admin
Playalot
Only unhoused and unplayed sims can be roommates. So evict the sim in question and then mark them as Unplayed.
Senior
Brian Z
Admin
Playalot
Depending on quality of degree work progress can be greatly boosted. As for tasks, they shouldn't be completing until your sim physically completes them. Try a Game Repair or delete the localthumbcache.package file from your TheSims 4 folder.
Senior
Brian Z
I think so, my sim has the option to enroll even after graduating. Maybe I should try it and see if she needs to earn 12 credits the second time around, or if part of her classes will already count toward a second degree.
Senior
Brian Z
Ok, I tried it. Yes, you can re-enroll for another degree. I only need 8 credits to graduate, however- I returned to the same university, and I'm also in a course that seems related to the first one- I have a degree in Fine Arts, now I'm going for Art History. I don't know if it being the same school and or a related degree affect the 4 credits I was spotted.
Also, you don't automatically quit your job if you have one! My sim is in the Master of the Real branch of Painter, and at level 10. That's the "laziest" job you can get, 2 shifts a week for 5 hours a shift. She has 6 vacation days, so she can just take vacation for 3 terms.
Admin
Playalot
Yes, my sim is on his fifth degree currently. No limit to the number of degrees a sim can do.
Admin
Playalot
Any venue/community lot that does not fulfill the building requirements will not function in the game.
With a University Housing Lot instead of 'forcing' the lot with cheats have your Sim take a BBQ/Grill to uni with them in their personal inventory and drag it out/in when you want to use it. Or just leave it out so your Sims roommates can cause chaos, which is my preferred option tbh.

Senior
Brian Z
I did not realize you could carry a grill! My sim has the Refined Palate fame quirk, so I wanted her to be able to make excellent quality food for herself. And also make fruit cobbler to offer at the statue, which gives you a nice buff even if you don't want to join the secret society.
Senior
Brian Z
Ok, found it in another thread here. Seems you can use your phone and "Quit Job."
Admin
Playalot
New
Armando Burletta
aye but is not my case, the other sim agree then take the notebook, but not go to make homework for my sim they just put back the notebook, the animation for refuse is different. when they agree they smile
Admin
Playalot
I understand that and was agreeing with you. The skill seems glitched and even successful interactions don't always work.

You can always go make a Bug Report about this error as I can't always help solve glitches and bugs that need a developers coding fix, as sometimes there is no work around: EA Bug Forum

Senior
Brian Z
So, I just discovered that you can die from contributing knowledge on the research machine. Got a +40 Dazed moodlet, with text warning of dire consequences. Wait, does that mean if I do it again...? Yes, yes it does. I saved first though, so Rebecca is alive and well, just feeling a bit loopy.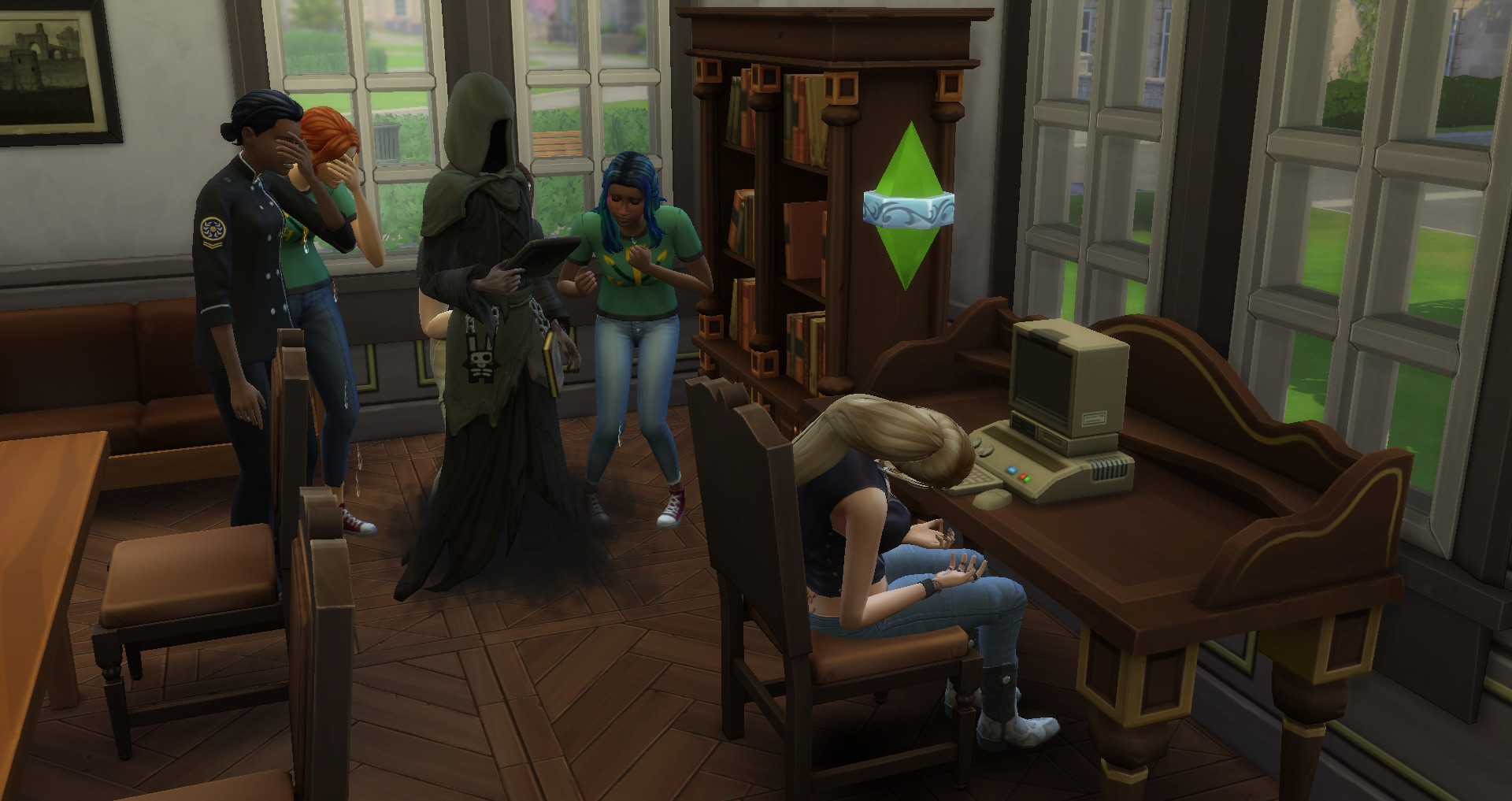 Are you sure you want to report it?
Share a link to this comment
Nifty Knitting & Eco Lifestyle Guides
Sims 4 Packs & DLC
Support Us

Readers who use adblock or those who'd like to thank me for my efforts can now pledge $1/$5 monthly via Patreon. This helps a lot with server costs and provides some stability for my business.
Super Sim Checklist + Other News
Let's Play Playlist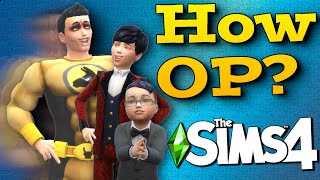 New I now have a guide to Making Super Sims in The Sims 4. Look for a text version within the next 72h. It won't have THAT much more info but it will help out as a checklist.
This was inspired by a series, "Let's Play a Super Sim" in which I start at toddler and gradually take on the major bonuses. Here's a link to each part for people who are interested. You can also see the Let's Play as a Playlist on Youtube.
Discover University Expansion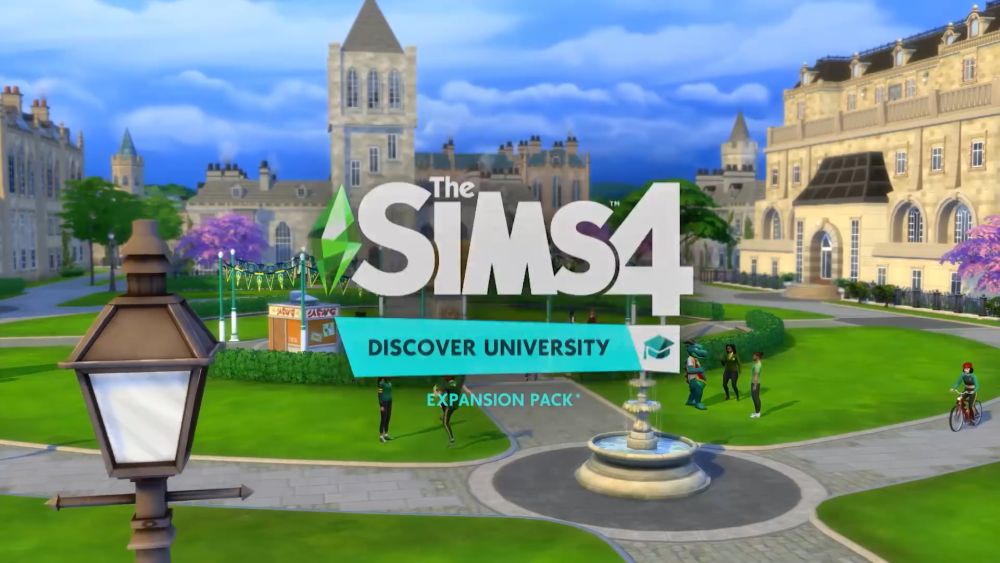 The Sims 4 Discover University has been announced for November 15 for PC/Mac and December 17 for Xbox and Playstation 4 consoles. Click to learn more about the pack, see my summary of the livestream or read our FAQs below.
Other Guides to Discover University:
New Lot Traits: Study Spot and University Student Hang Out
New: Discover University FAQ: Gameplay Features
New Video The Sims 4 Discover University Gameplay Tips Video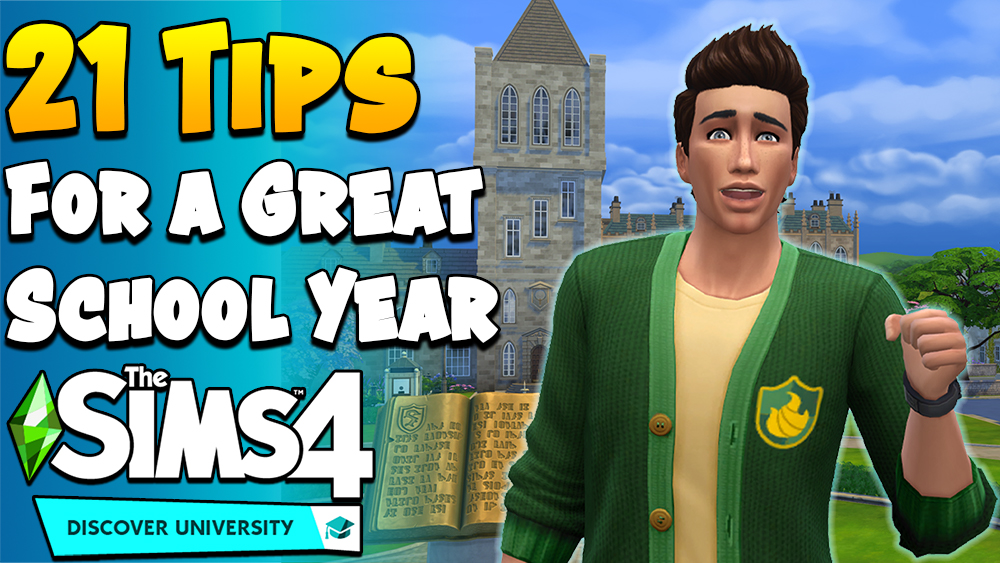 More videos coming soon!
Realm of Magic