The Sims 4 Eco Lifestyle Expansion Gameplay Features and Major Additions in The Pack

Eco Lifestyle Logo and art EA provided.



The Sims 4 Eco Lifestyle Expansion releases June 5, 2020 for both PC/Mac and the Xbox One and Playstation 4 consoles. For the first time in the Sims 4 era, the console players will enjoy a simultaneous launch of a new Expansion. This DLC's entire focus is a new environmental system that allows players to change the world they live in, for better or for worse. It features other things that will help you to achieve that goal. You can see my 10 Things to Know guide video below, which will help get you up to speed, or read below for info here on the site.
Eco Lifestyle Guides
A guide to ten features we know of in the Sims 4 Eco Lifestyle Expansion Pack.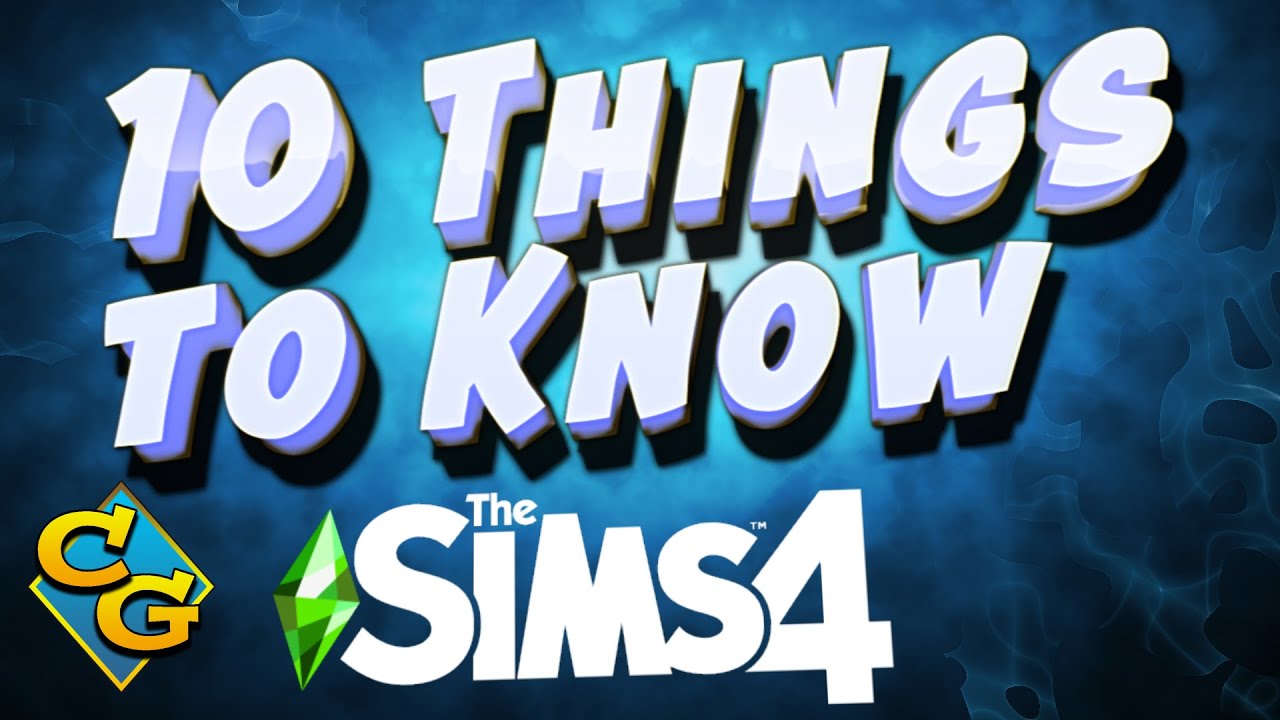 Environment System
A Sim is ill from polluted air in Evergreen Harbor.
Eco Lifestyle features a new Eco Footprint system that determines how polluted each neighborhood will be in a sense of air quality. Sims choke on polluted air in an Industrial neighborhood, while those in a Green one enjoy great air quality and great views - Sun Rays and Auroras can be seen in these worlds.
These "layer changes" are limited to the new world, which is an important thing for some players to realize. You will have global impacts on Sims in another world like San Myshuno or Willow Creek, but the trash will not pile up outside the player's lot the way it will in Evergreen Harbor.
Unfortunately, trash is not tied to Eco Footprint at all. The trash in each neighborhood (even the green one) is there when you first move in. While you may have some role in cleaning up the air via the Eco Footprint system, it requires you to pass a Neighborhood Action Plan to get the trash cleared up. So, do not be misled, it's not possible to make a world trashy. This is how they start, and there isn't more to be seen there. There are two paths you can take - Modern Development or Green Initiative. One of these makes modern homes, the other attempts to bring nature back to the area. Both of them clean up the trash.
I'm more than a little disappointed that player input has little bearing on the trash levels, and that this is not dynamic in some way. Many players were excited to play in a trashy world, but now that I've touched the pack I know this is not possible in the way people were thinking. You can have smog in any world, but trash is limited to Eco Lifestyle's Evergreen Harbor. It doesn 't get worse than seen, and players can only impact air quality via build mode choices and a few select activities.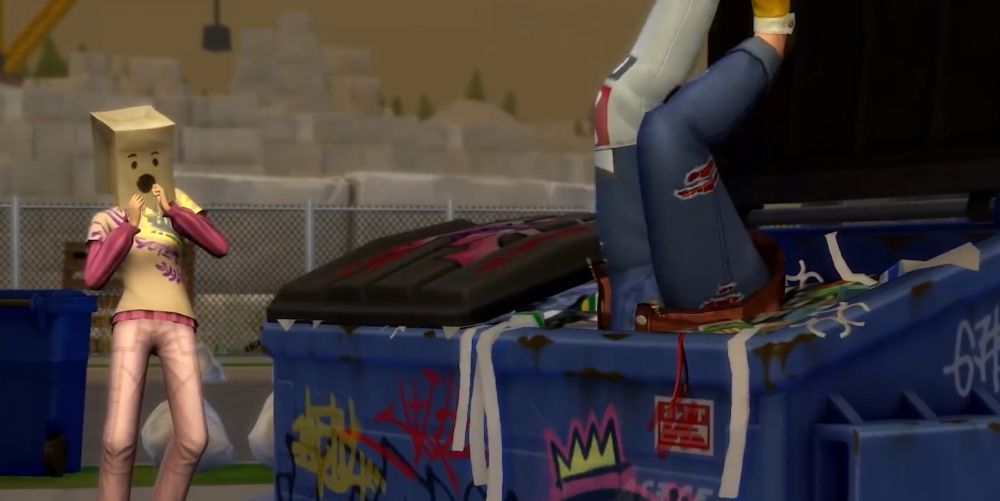 Sims can dumpster dive, and perhaps find materials that will help them to craft. They may even find furniture, apparently.
Players get to choose if they want the world to be in a polluted state or if they'd like to clean up via either letting it stay as it is, or passing those Modern/Green Initiatives via neighborhood action plans. You will need to make modifications in order to play in an Industrial world. See my Eco Footprint page to understand fully how this works. The system can also be disabled in the game options menu, and there will be cheats you can use to decide which world type you'd like to live in.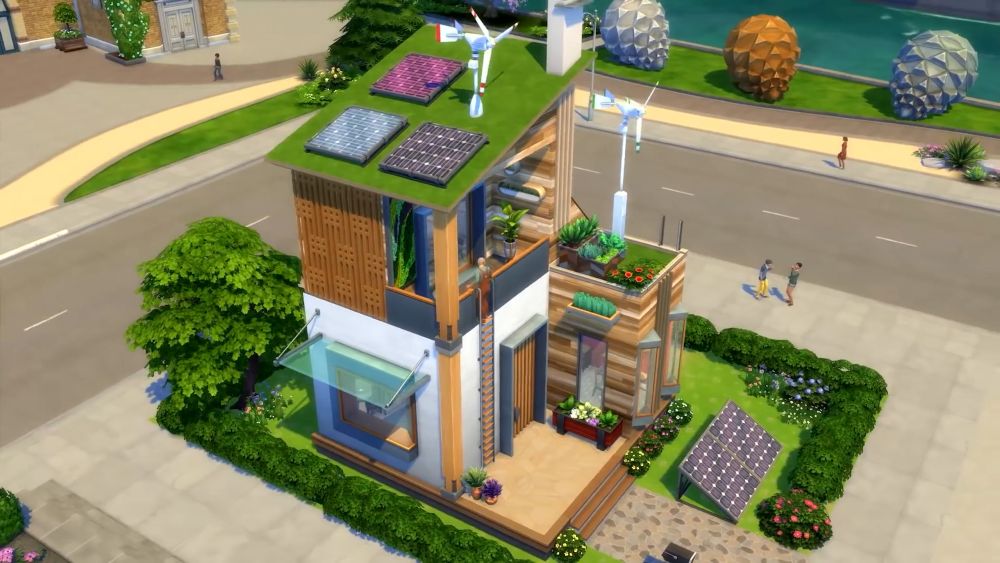 Solar panels, dew collectors, and wind turbines are all featured in this pack and will impact a home's bills.
Supporting the Eco Footprint system are new wind turbines, solar panels, and dew collectors. This reduce your bills when used on a lot. If you generate more power than you need, you'll be able to sell that electricity back to the local power station for a credit on your bill (or turn a profit and let The Man pay you). Alternatively, you can store excess power and water. Storing power in particular is useful if you plan to do a bunch of crafting and are playing on an Off The Grid lot. Running that Fabricator will take more energy than you normally use, but you can lean on your stockpile to get the work done.
As part of the new patch that came with this pack, players will for the first time be on the hook for power and water usage in their homes. A new bill interface has been shown that will state how many "kwh" or gallons/liters your lot is using in some simplified way. Leaving televisions on, or leaving a toilet leaking will run up your bill so it's best to stay on top of things. You can learn more at the June 2020 Bills and Inventory Patch Page that I made.
Community Shared Lots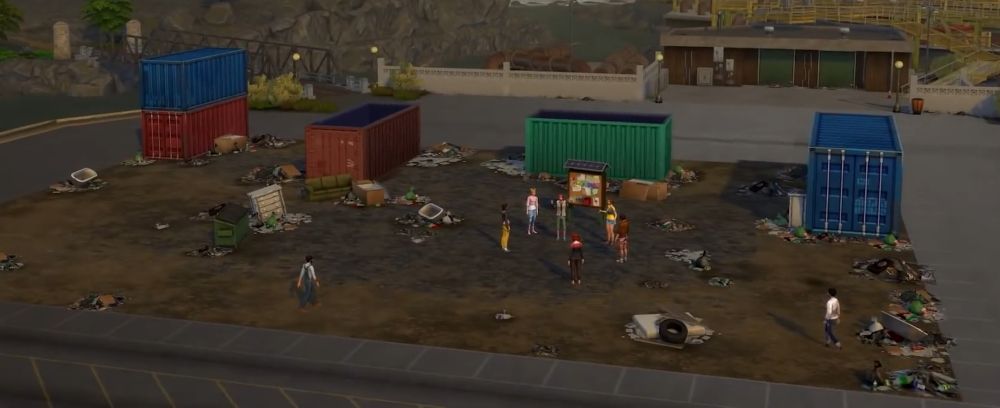 Community shared lots allow you to repurpose the land to let neighbors do something useful with the wasted space.
Players are able to use a new lot type - shared community spaces. These are kind of like abandoned lots, and the community can decide what it wants to do with them. You could host a weekly workout, or turn it into a public garden or maker space for the new crafter career. These can be placed in any world you can live in.
You will have to use the voting system to change these lots, though not much about this has been released to the public just yet. What we do know is that you get a currency called Influence. This is used to vote on what the community lot will be, or more broadly on negibhorhood action plans (NAPs). Neighborhood action plans influence the entire neighborhood and may influence Sim behaviors, such as the Sims with bags on their heads in the trailer or "free love" which makes jealousy reactions disappear.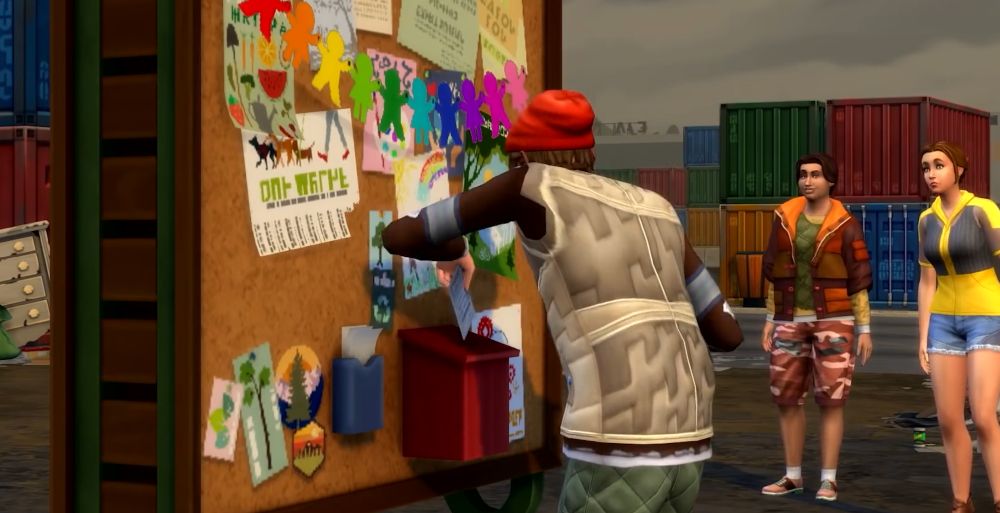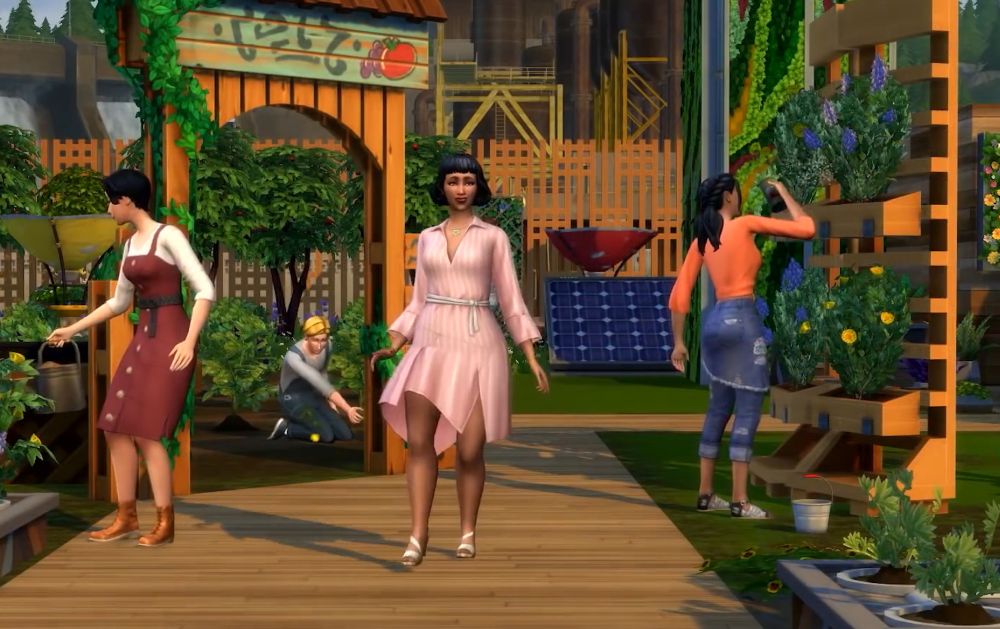 Voting will play a role in the community shared lot's fate. In this shot, vertical gardens can be seen - a new feature of this expansion.
Reduce and Recycle: Maker Career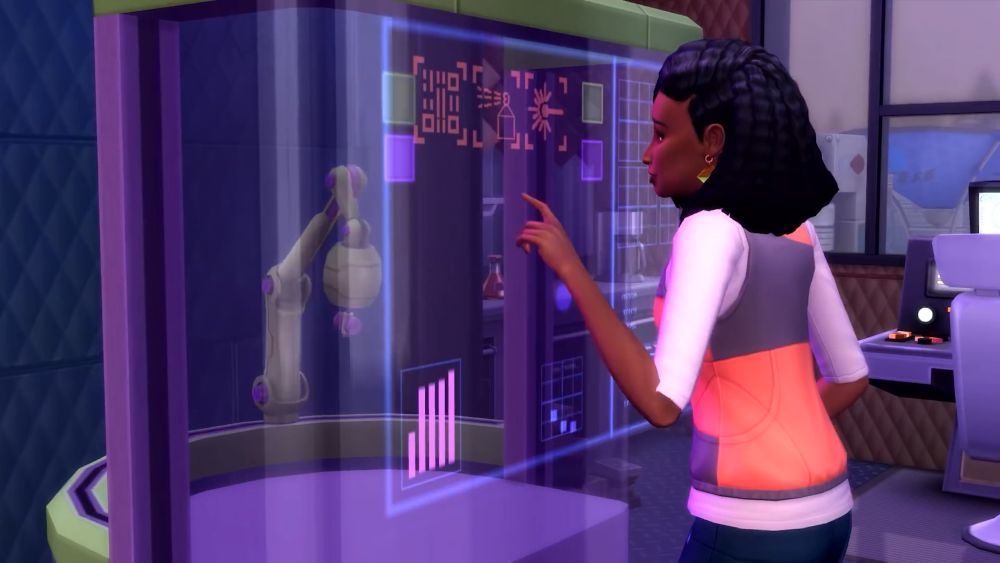 The new crafting career makes use of recyclables and old bits and pieces to create new things.
While you can certainly take part in recycling and other activities like that, repurposing things and crafting are a big part of the new crafting career that comes with this pack. Almost anything that can go in your inventory can be recycled, and perhaps other things. So you can break down things like vegetables, or mySims collectibles to get bits and pieces that can be used to craft other things.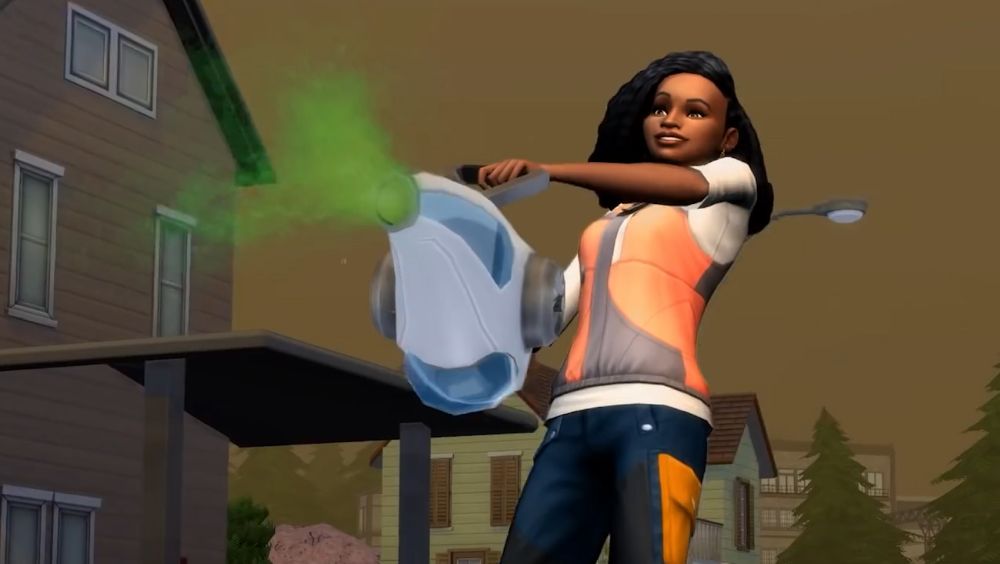 A Sim straight up sucks the pollution out of the air with her invention.
There are two new skills - first is fabrication, which allows you to use the fabricator to craft furniture. This skill also covers candle making, though this is done at the new candle dipping station. A second skill, juice fizzing, allows your Sims to brew craft 'juices' from many produce ingredients. Depending on how many produce are put into the machine, you may get only one 'brew' or a six pack. Players who master the skill will get the 'Affizionado' reward trait, though we don't know much yet about what this does.
Bug Motels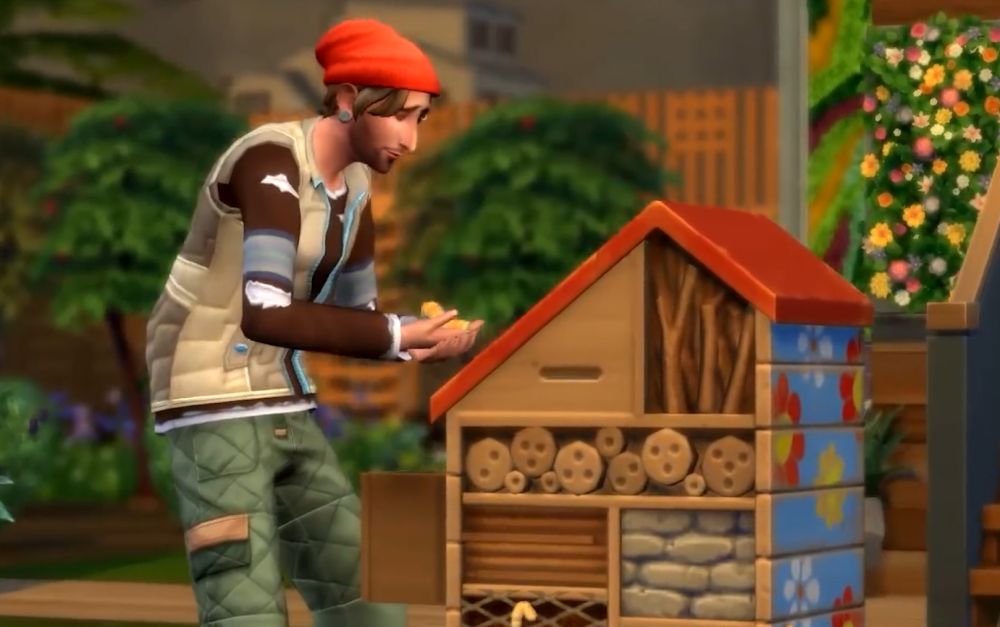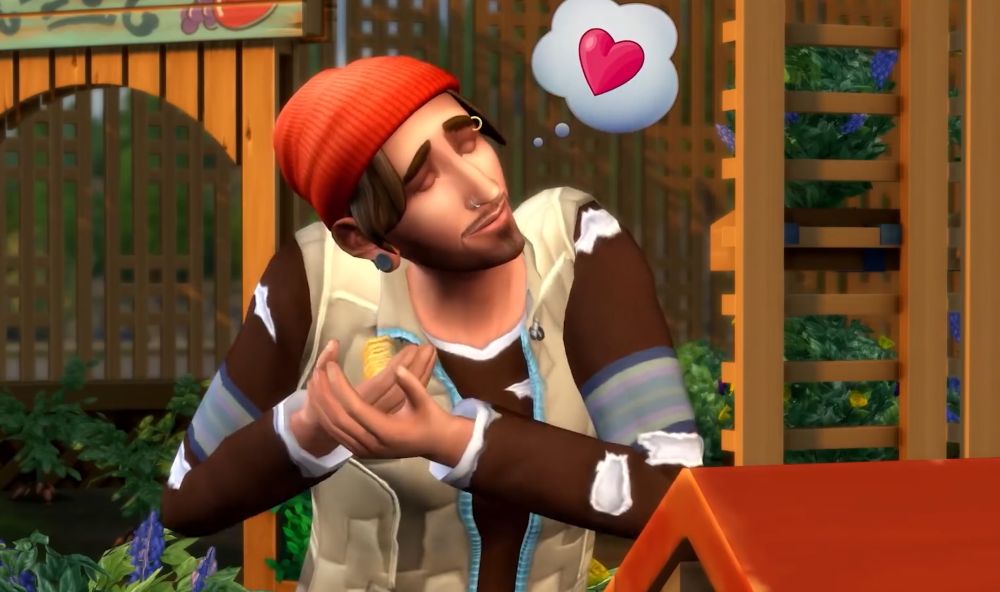 Hugging your bugs seems to do something, for one or both of you. The new bug motel probably helps in some way. Probably.
In the trailer, a Sim is seen hugging a bug that many of us swore was a chick. It was not, to our great disappointment, a chicken or other fowl. It was a grub. This is the new bug hotel, which will let Sims grow bugs for a variety of purposes. You can for instance create cricket flour, or turn them into a bio-fuel. They also function as an ingredient for a variety of tasty dishes, but sustainable insect-based protein diets are a part of many cultures worldwide. This will probably serve Sims well when they choose to live off the grid, among many other features that support that playstyle in this pack.
Meat Wall?
The Sims team tweeted a gif of a Sim carving meat from a wall. This is created from the new vertical garden object. If you massage the meat, you can improve its quality. If you neglect the meat, it'll dry up and turn into jerky. Yes, you read that right.
Random Pictures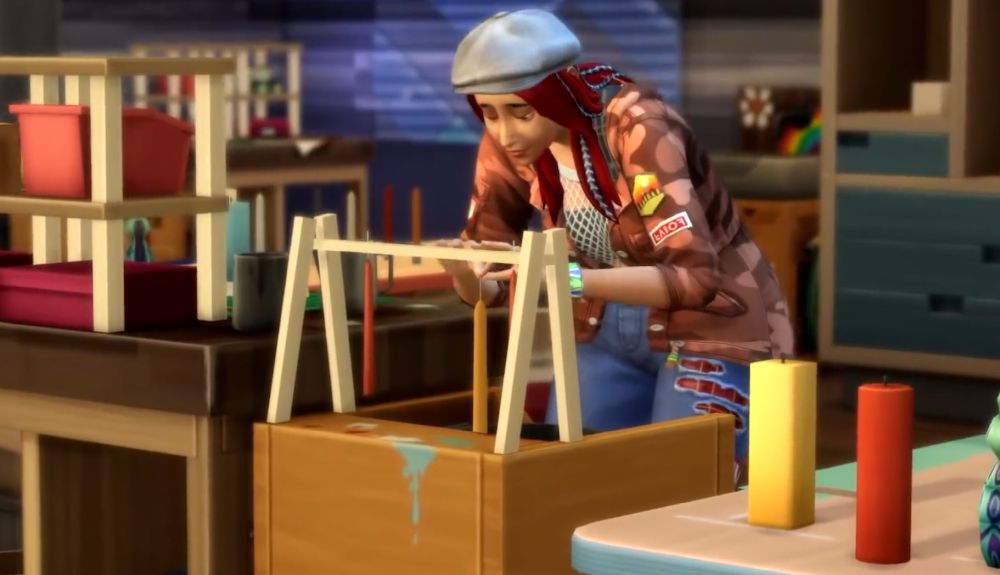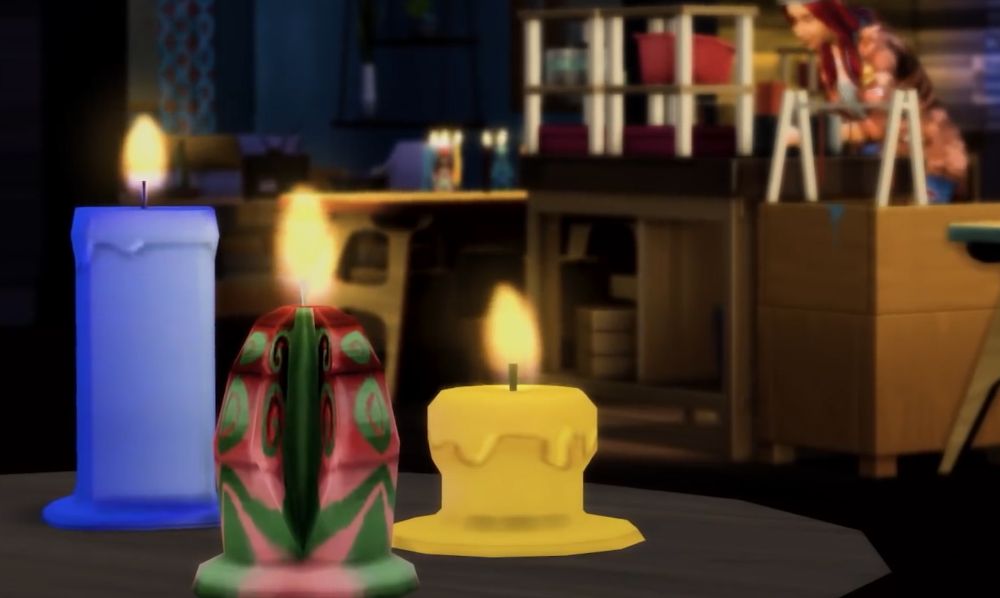 A Sim crafts candles. Evidently, the candles can melt down!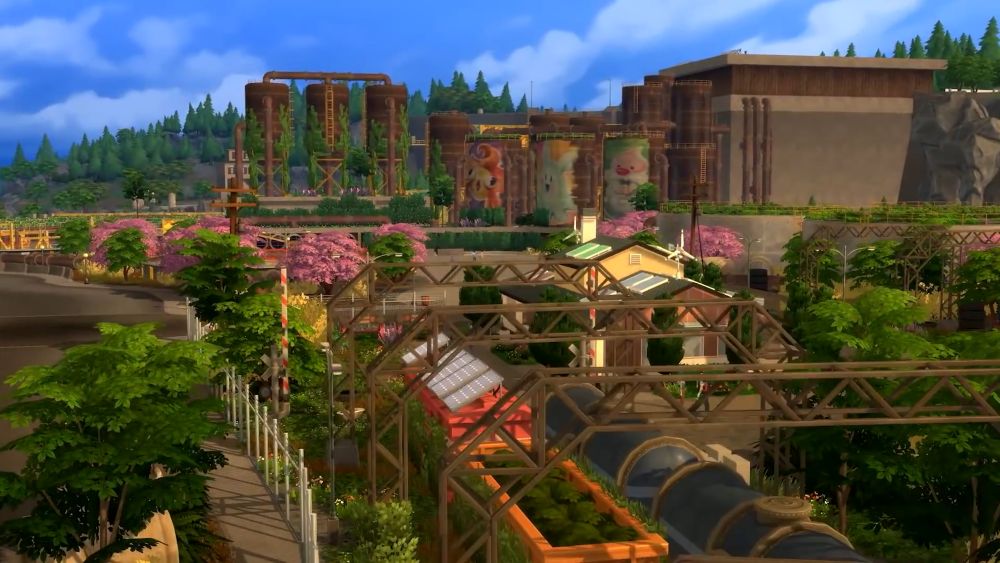 Nature overtakes an old industrial area in a pristine world.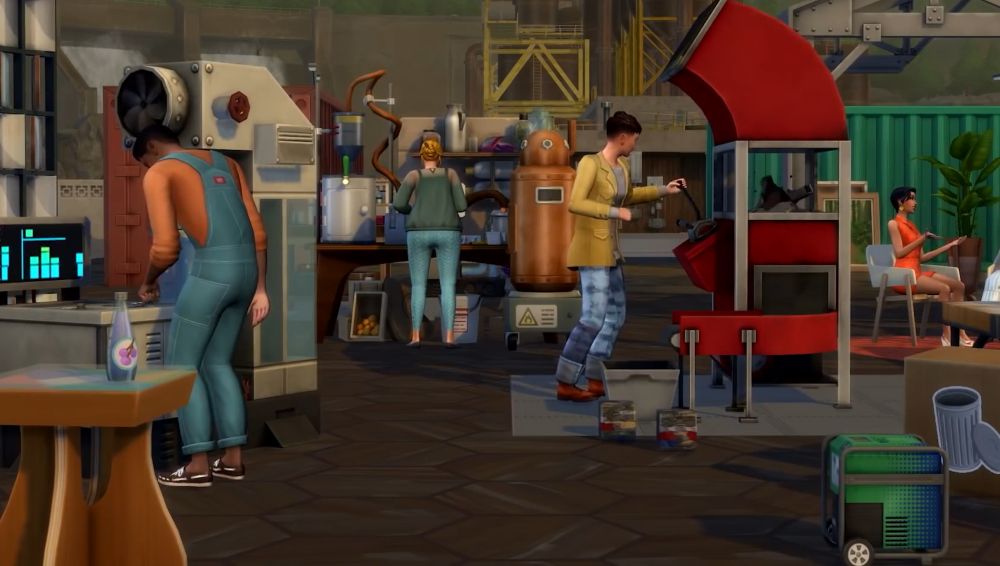 A community shared lot transformed into a maker space.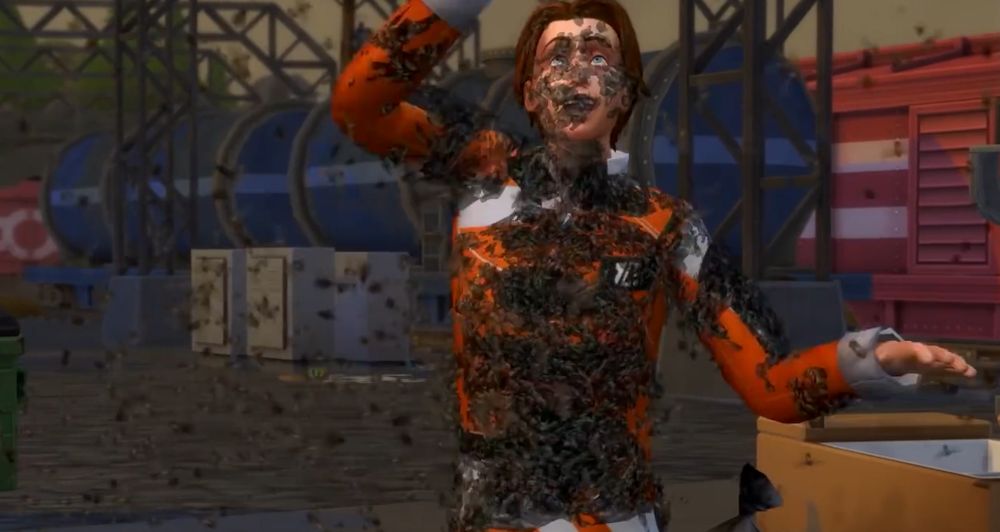 A sim dying by flies.
Eco Lifestyle Guides

10 Million Views! My YouTube channel has grown a lot the last 6 months. I now have over 125 videos on Youtube and am nearing 100k subscribers. I'd like to invite people to check out my content and, if you like what I'm doing, subscribe!
How You Can Support The Site and Channel

If you like my sites and
Youtube Channel
, consider supporting me on
Patreon
to help me to continue. If you'd like to support my guides in another way you can use our
Amazon link
for your next purchase (if in the US). We also offer a
paypal donate link
so you can contribute directly.
Back to The Top
Check Out My Youtube Channel!
We now have a Youtube Channel with over 50 guides in video format to go along with the huge site I've already created. Check it out and consider subscribing if you like my style.
Comments (13)
Topic:
http://carls-sims-4-guide.com/expansionpacks/ecolifestyle/
Senior
Brian Z
Now that the livestream actually told us something about the pack, we now know that it is "cruelty-free" meat, which you do indeed grow in your garden. And you can massage your meat (giggity), which improves the quality. If you don't water, it will dry out and turn into jerky. And setting it on fire will give you some sort of meat cube.
New
Maki
That's so gross! If they ever do make a farming pack, I'd prefer to get my meat the healthy way: raising healthy animals with love and care while they revitalize the environment like those cattle farmers are doing in Australia. Or somewhere in Africa? I forget. The way raising livestock should be! Better for the earth, the animals, and us! Meat walls. Wow.
Senior
Brian Z
Yeah, I imagine there would be a whole lot of Sims players who don't have the stomach for the reality of how a cow becomes a steak. With pack after pack containing more and more environmental stuff, I think we see which way Maxis leans, and I don't see them going there.
New
summer
still think it should've been a game pack
New
Grace
Senior
Carl
Hi, Claire. Thing is, that is an unlock of the Green Technician branch of the Civil Designer career. I did manage to cheat one by joining the career, using careers.promove civildesigner - then take the Green Technician branch. Promote 1x and bam, you have the ability to make cruelty free meat.
New
Jordan
I bought the pack and its so immersive. I love it
Admin
Playalot
Senior
Brian Z
Also, assuming you DO want your neighborhood to look nice, get BOTH of those NAP's passed. In spite of what they sound like, they aren't mutually exclusive, and each adds different improvements.
Senior
Brian Z
This was stated by the devs in the live stream, but good luck getting a zone to stay industrial long enough to get a rainy day. Port Promise drifted to Neutral the day after I moved in, and a lot of people are saying whatever they do, it won't go back. The eco footprint, the big overarching feature that is the entire focus of the pack, is broken and just wanders all over. No rhyme or reason, nothing has changed, it goes left, it goes right, we're green now, we're neutral now, it just does whatever.
Senior
Brian Z
On weekends, some of the premade townies walk into my house like they own the place. I do not have any of the NAP's that involve busybodies telling me what I can and can't do on my lot, so I can't figure out what they're doing here. It's the two scam artists, Bess and Rico, and the old lesbian couple. They don't knock, they just walk right in.
Admin
Playalot
Yes, it's a bug. I couldn't find the bug report but the link to the main page is here: Bug Forum
New
me
They took icemunmun candle making idea
Admin
Playalot
Eco Upgrade parts are made with the Fabricator and should be available with no skills. They are the top item on the fabricate list in my game.
Senior
Brian Z
You might have had the fabricator act up on you. At low skill level, it will sometimes squirt you with dye, or pull you into the tank and fight you. It doesn't hurt your sim, but you do have to start over. At higher fabrication level, it seems to behave itself.
New
PgUp
So after playing this pack I have some major issues:
I have family from Evergreen Harbor and they are owning store in Windenburg. Today when I opened store sims just came and stole everything from store.
If you have Freelancer Botanist aspiration and you are living in green neighbourhood you can't complete it because plants auto evolve. Actually plant are changing in quality from normal to perfect in few sims hours and back to normal.
I bought Household Power Generator which caught on fire when my sim was asleep. I put out the fire and destroyed generator and send my sim back to sleep. After he fell asleep fire started again on the same spot just without generator and each time sim went to sleep fire started without any reason.
On Port Promise neighbourhood community space some random items are spawning like refrigerators, TVs.. for some reason one refrigerator is outside the lot and I can't destroy it... and when I play my family on the lot The Shipping Views they just want to use that one refrigerator nearby community lot...
This pack is so frustrating.
Admin
Playalot
I agree with your frustrations. Here are the reasons in order of your comments:
The Reason NPC's are stealing is because NAP's are voted for in ALL neighborhoods as you play, even ones that you have not loaded - this then is a bug as every single NPC will have every single NAP that has been voted for anywhere in your worlds and so will act accordingly. So somewhere, in your world the Sharing is Caring NAP has been auto-voted for so your NPC's now steal all the time everywhere: Bug Report NAP's from all Neighborhoods
Plants changing quality and reverting back to seeds randomly: Bug Report here (click)
Fire issue..no idea but probs due to the newly introduced Firefighters bugging out.
Community Space on Port Promise is by design supposed to spawn random broken items for your sim to repair etc as it has the Landfill Lot Trait applied on it and this is what that lot trait does. So remove the lot trait and delete the broken appliances in build mode and the issue will go away. However a bug report is HERE about it if you would like to also go add a comment on your experiences with this lot trait.
Admin
Playalot
Are you sure you want to report it?
Share a link to this comment
Nifty Knitting & Eco Lifestyle Guides
Sims 4 Packs & DLC
Support Us

Readers who use adblock or those who'd like to thank me for my efforts can now pledge $1/$5 monthly via Patreon. This helps a lot with server costs and provides some stability for my business.
Super Sim Checklist + Other News
Let's Play Playlist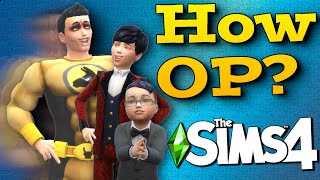 New I now have a guide to Making Super Sims in The Sims 4. Look for a text version within the next 72h. It won't have THAT much more info but it will help out as a checklist.
This was inspired by a series, "Let's Play a Super Sim" in which I start at toddler and gradually take on the major bonuses. Here's a link to each part for people who are interested. You can also see the Let's Play as a Playlist on Youtube.
Discover University Expansion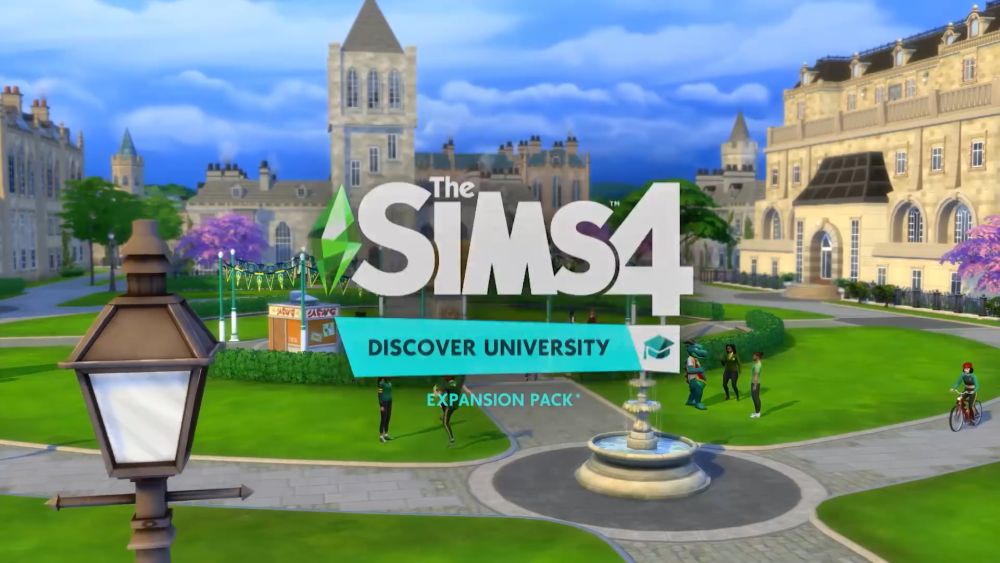 The Sims 4 Discover University has been announced for November 15 for PC/Mac and December 17 for Xbox and Playstation 4 consoles. Click to learn more about the pack, see my summary of the livestream or read our FAQs below.
Other Guides to Discover University:
New Lot Traits: Study Spot and University Student Hang Out
New: Discover University FAQ: Gameplay Features
New Video The Sims 4 Discover University Gameplay Tips Video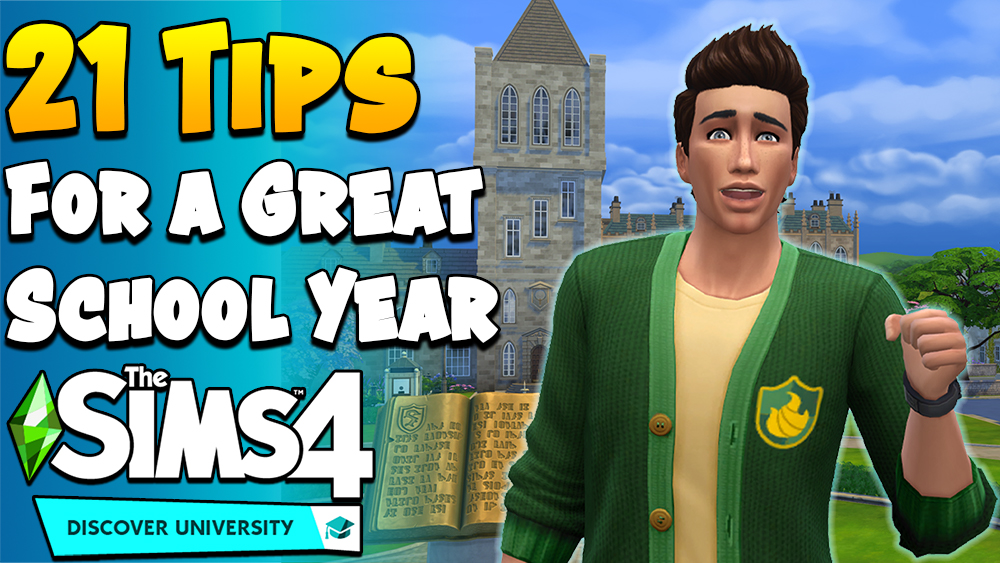 More videos coming soon!
Realm of Magic