The first neighborhood you will load into is Glimmerbrook. It has five lots. Four residential including one starter home and one empty lot with the fifth lot being a community lot or venue, which is a bar. Glimmerbrook also has the Portal to the Realm of Magic where your Sim will find the Sages.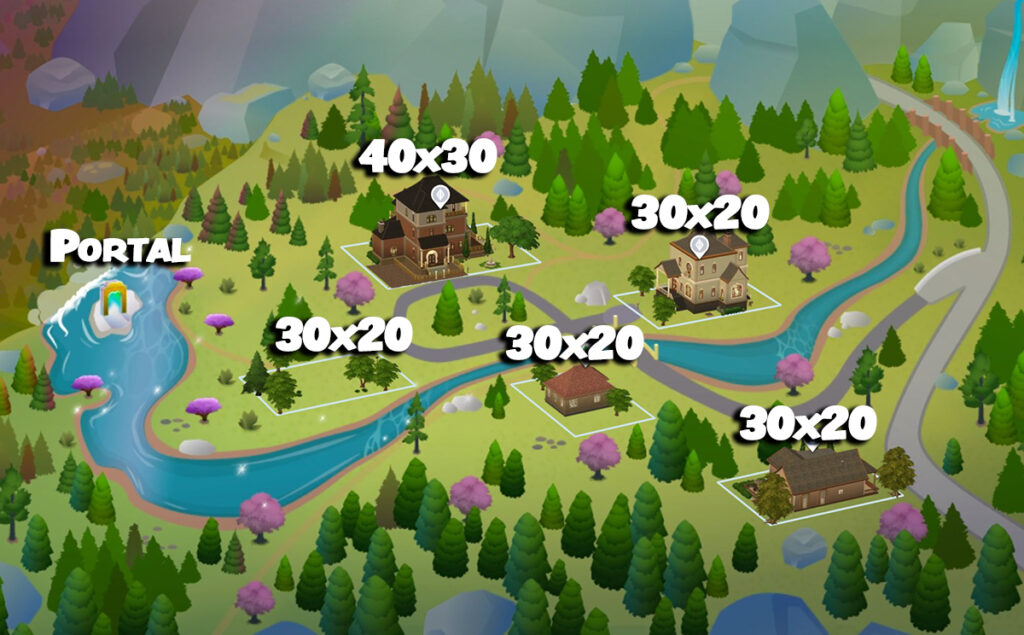 The neighborhood of Glimmerbrook is pretty enough, it has a stream running through it with two fishing spots and a little crossing where your sim will run through the shallows to continue along the path towards the next lot.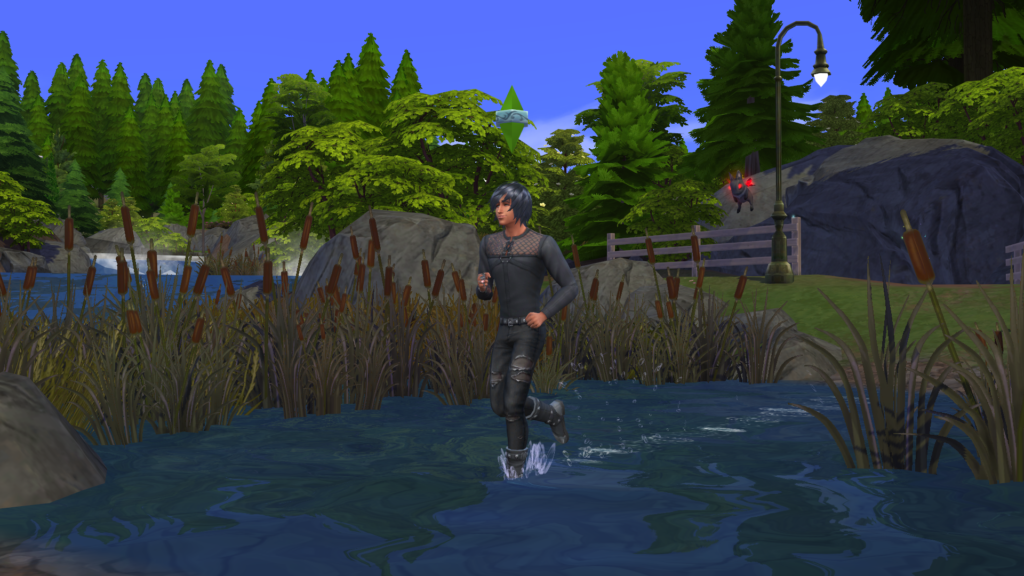 Your sim will find frog logs, dig sites and plants to harvest in Glimmerbrook so it is relatively easy to get started on gathering potential ingredients for potion making here. There are two pre-made households in residence that are Spellcasters so your Sim will always be able to find someone to duel with.
Unless your sim is already a Spellcaster they will need to travel through the Portal to get to the Magic Realm. Newly made Spellcasters can use the Glimmerstone in their personal inventories to travel directly there via a loading screen. Just click on the Glimmerstone to access the travel options.
Once in the Magical Realm you will want to look around the Magic HQ building and locate the three Sages to begin your Sim's journey into the life of a powerful Spellcaster. This is as simple as introducing your Sim to a Sage and 'Ask How to Use Magic'. Your sim can also go fishing, frog collecting or harvest wild plants here, but there are other places to look at too.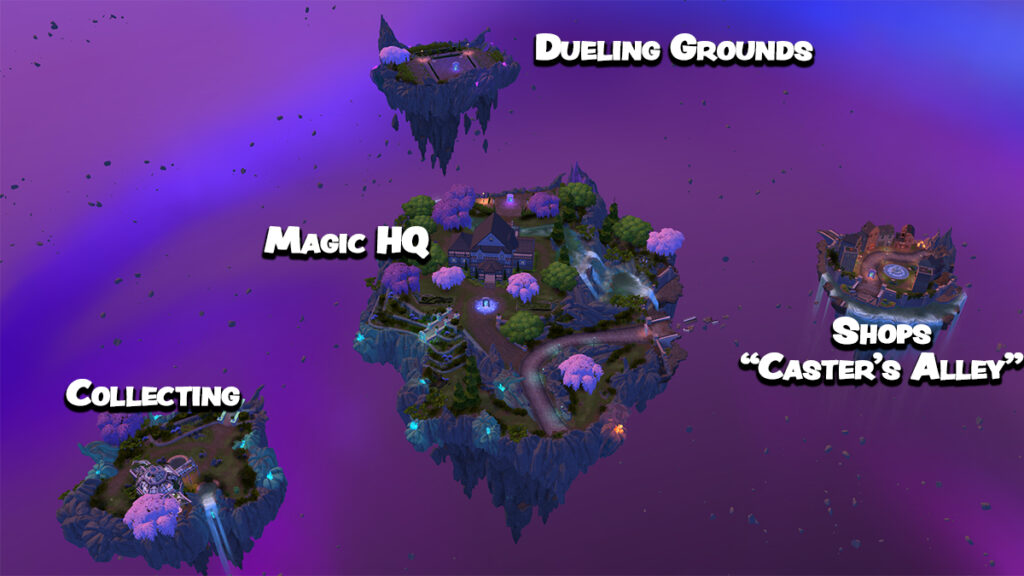 In Caster's Alley you will find the three magical vendors where you can buy Familiars, wands, brooms/mops, tomes, potions and potion ingredients (frogs, crystals, fish, harvestables including the Death Flower and metals). Due to being able to purchase both the Death Flower and Angelfish in Caster's Alley making ambrosia is now a very easy and quick task.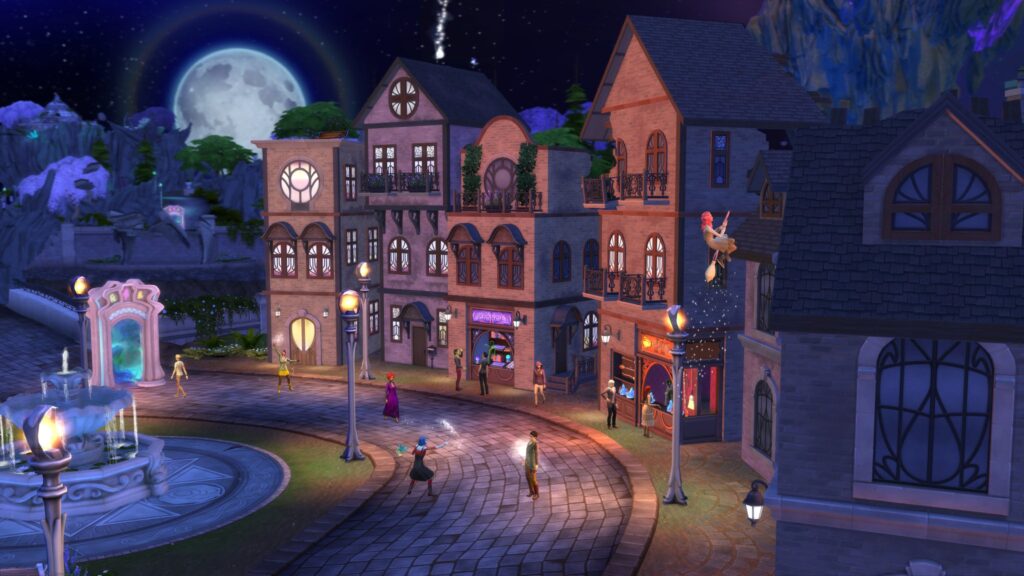 The Collecting Area is a small island with a pretty glasshouse looking backdrop that has one fishing spot, some frog logs, wild plants including the new mandrake and valerian plants and some dig sites. So it is useful to a small degree if you are going to grind for potion ingredients.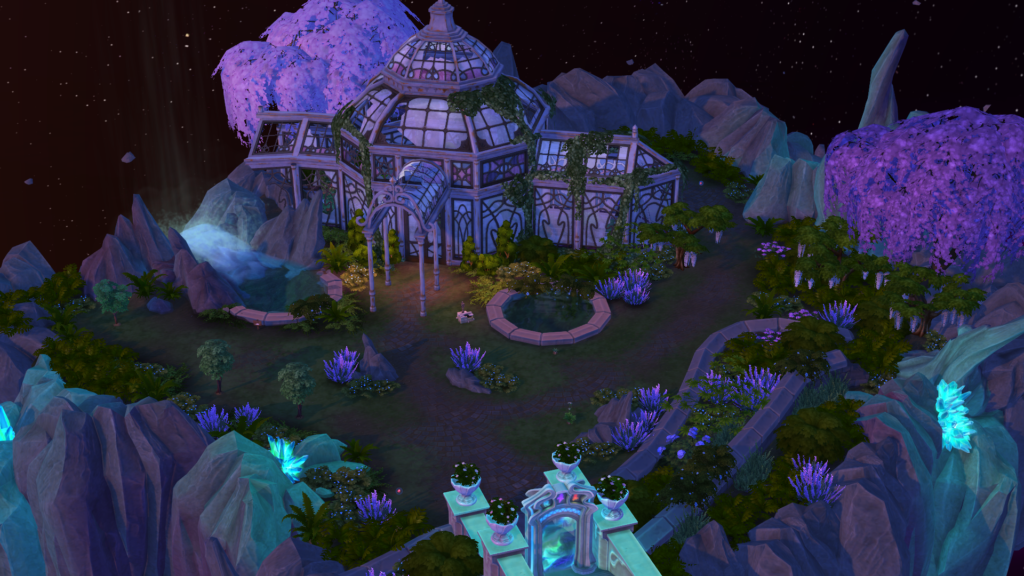 The Dueling Grounds is another little floating magical island where Sims will automatically path to in order to have a magic duel or you can choose for your sim to go there and have a duel with a nearby Spellcaster. It has a couple of benches that I guess your Sim could nap on or sit and chat with another sim once the duel is over.
There aren't many new places to know about in Realm of Magic. This about covers them all, but now you should have a firm understanding of the lay of the land, and after reading this introduction you will know where your sims need to go to do what you want them to do. Happy casting!
Other Realm of Magic Guides