The Sims 4: Butlers
Hiring and Using a Live-in Butler (Vintage Glamour Stuff)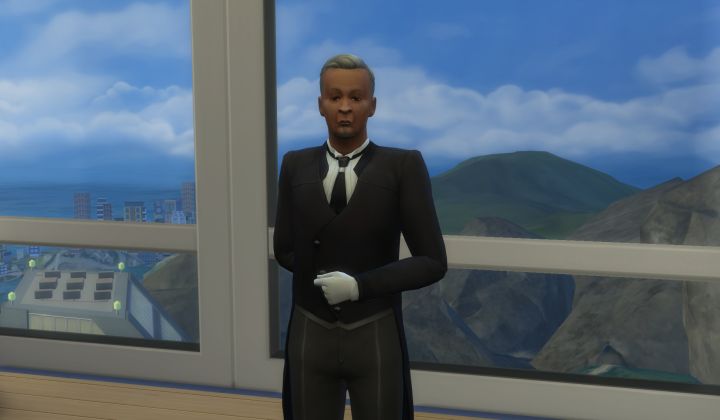 A Butler in The Sims 4. They can be hired if you have the Vintage Glamour Stuff Pack
The Sims 4 Vintage Glamour Stuff Pack allows you to hire a live-in Butler. This guide to utilizing the butler services will teach you how to move in a butler, assign them a bed, what you can expect to pay, and how the service works.
Hiring a Butler & Cost of Services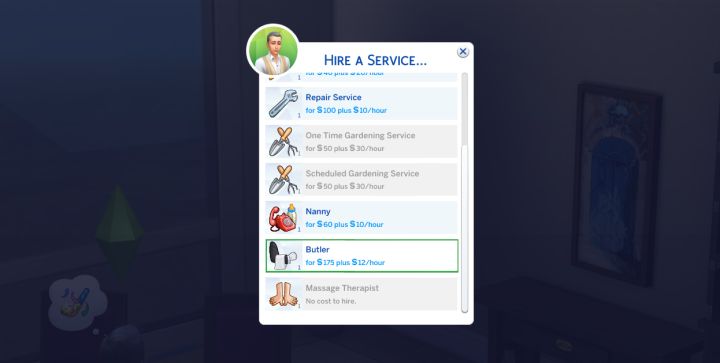 How to hire a Butler? Look to the phone's household tab.
Use the phone and select the Household category. From there, 'Hire Services'. You can see the Butler has a one-time fee of $175 and costs $12 per hour. After the initial fee, you can expect to pay exactly $288 per day the Butler lives with your Sims. This is quite pricey, so it's definitely a luxury meant for rich but busy Sims. However it is clear that for those Sim households, it's worth the time to not have to clean up, cook meals, and repair things. Their time could be spent making friends, having fun and making money!
Giving the Butler a Bed and Access to Rooms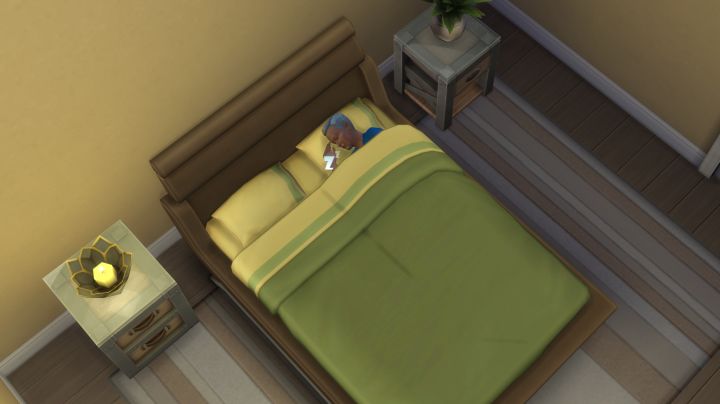 Give your Butler a small bedroom so they have a place to sleep without stealing your Sim's bed. You should be able to afford it if hiring one.
Once the Butler is hired, you can click a bed to assign it to them. Giving them their own small bedroom is a good idea. It's also worth noting that you seem to be able to lock the butler out of areas of your home by using the door lock system. 'Everyone but household members' may work on them. You can also keep household members from autonomously going into their private quarters.

Our Latest: Let's Play a Beach Bum New CAS Story Mode and New Build Cheats Guide New New Patch: Cas Story Mode, New Cheat for Build Objects, and Rebranding New The Sims 3's Skill Challenges Added Tons of Depth News: New CAS Mode Coming One of the Rarest Abilities: Snaggle Fluster Fishing Guide Updated Fishing Update Guide (Video) Island Living Review (Video) Island Living Gameplay Review Mermaids Island Living Cheats Features to Know About in The Sims 4 Island Living Features in Island Living (Video Format) Conservationist Guide Cleaning up Sulani Patch Notes: June 2019 (New Features)

Use the walls up menu in the top right to see doors and click them to manage access. Lock doors to areas you don't want your Butler to enter. In this way, you can also keep your Sims from entering your Butler's bedroom.
Butler Responsibilities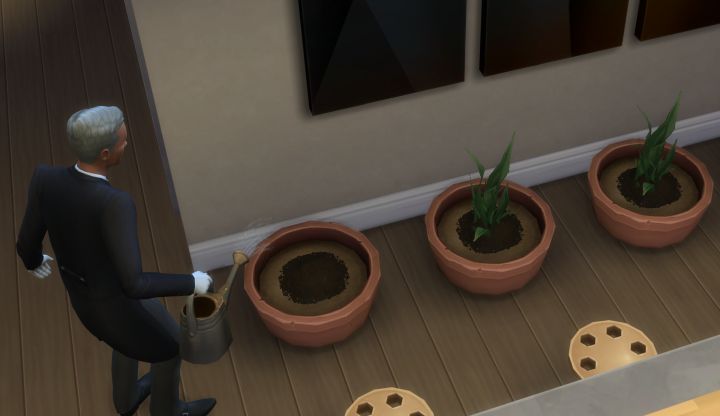 If you make enough garden space, the Butler just might pay for himself.
All Butler management is accomplished using the Butler menu when you click on your servant. Your Sims' Butler can do four different tasks automatically. Any of these tasks can be turned off by clicking the Butler and selecting the 'Responsibilities' tab. This may help them to better prioritize the things you want them to do. For example if having the Butler do child care is not a priority because you want your Sim to do it, turn it off.
Butlers will automatically look for things that need done around the home that fit various criteria, and will do little tidying up animations when there's nothing to do. Butlers can:
Help Raise Children - Is the baby crying? Let the Butler get him! Nothing says rich and powerful like letting someone else change the dirty diapers!
Tend Garden - If interactions are available, like watering and weeding, the Butler will do this. I recommend starting a moderately-sized garden, as it gives them something to do when nothing is broken or dirty. You need to plant the seeds yourself, but from there the Butler can handle it.
Repair Broken Things - Your Butler will eventually get around to unclogging the toilet, or fixing that leaky pipe.
Clean Stuff - When surfaces get dirty, the Butler will handle it. Given what you pay them, it's wise to let them take care of this.
Greeting Guests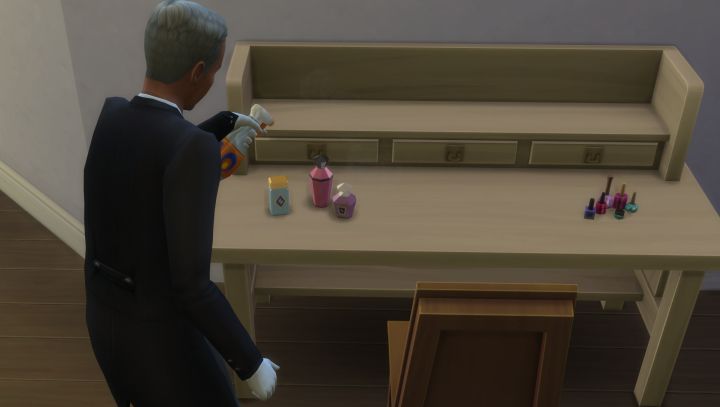 Butlers have animations that help them appear to be busy. This table can't get dirty, but the Butler is removing the dust anyway.
Another area of management can be found under the 'Visitors' sub-menu. The Butler can be told how to handle any guests who come knocking. You can tell the Butler to make them go away, or else greet all guests. The default setting is to have the Butler ignore the front door entirely. Wealthy Sims will surely like having the Butler greet guests and allow them inside from time to time.
Preparing Meals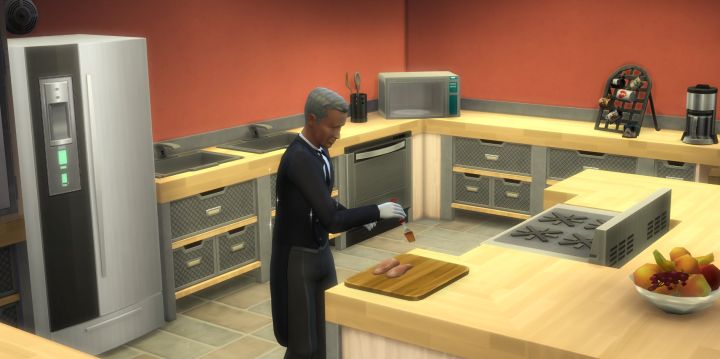 A Butler prepares a meal in The Sims 4
On demand, your Butler can be assigned to cook a meal. It is $20 for a single meal, $40 for a family meal, and $60 for a party meal. They can also serve drinks for $8. That you can choose when they cook is a good design decision, since it does come out of your household funds. Importantly, your Sim does NOT have to interact with the Butler to ask them to do this - it's like the Call Over command, else the request to cook meal would be kind of useless. The attention to detail is nice here, as my vegetarian Sim got a vegetarian-friendly dish when she was the one who requested the meal. They will sometimes cook dishes automatically, but those are free (assuming they don't eat it!). They have a high success rate in regards to producing Excellent-quality meals.
How You Can Support The Site and Channel

If you like my sites and
Youtube Channel
, consider supporting me on
Patreon
to help me to continue. If you'd like to support my guides in another way you can use our
Amazon link
for your next purchase (if in the US). We also offer a
paypal donate link
so you can contribute directly.
Back to The Top
Quick Links
Check Out My Youtube Channel!
We now have a Youtube Channel with over 50 guides in video format to go along with the huge site I've already created. Check it out and consider subscribing if you like my style.
Share Tips and FAQs
(68)
Our Sims 4 Community is the place to go for faster answers to questions and discussions about the game. Use the form below to share your own experiences and provide helpful tips to other readers. We are not affiliated with EA and cannot make changes to the game, nor fix bugs.
Support The Site via Amazon
Katastrophe1112
Hi, I've purchased and installed The Sims 4 Vintage Glamour Stuff Pack, however, on two of my computers I have butler and nanny options. On the pc in the family room those features are missing. Anyone care to hazard a guess as to what's going on there? I've repaired the game without luck.
12th December 2016 6:12pm
Playalot
Not sure what is going on but if you want to hire a nanny or a butler your sim can also use their phone. The fact that you have the options available on some PC's should be enough as you only need access to hire them not to manipulate them etc. Is the other PC a reward PC from a career?
13th December 2016 4:50pm
japjeet
I have hired a butler but 17 hrs ago (gameplay time), a notification popped up from him saying 'you don't want me anymore? well, that'll be $219 for today's services' and hasn't showed up ever since
13th December 2016 10:13pm
Playalot
lol! Funny but very annoying for you I'm sure. Using your sims phone Hire a service>Hire a butler. If that doesn't fix it if you can remember which NPC sim it was go into Manage Worlds>Manage Households>Unplayed Sims and delete the butler NPC and then try hiring another. Also check that you don't have the front door locked to everyone but the active family.
14th December 2016 5:17pm
japjeet
Thank you so much!!!
15th December 2016 11:35pm
LMZ
I have a big problem with my butlers. When ever I hire one only (ugly) female butlers are coming.

It's said that with the CAS cheat you can sculpt them, but once in CAS only the normal outfits sections are showing and no chance of changing the look in butler outfit.

Plus NO butler will cook but I get charged, nor do they ever go to their room and sleep. That is very strange. I get the feeling that all these butler stories and showing pics here are just fake lol... I've already repaired the game etc.
17th December 2016 6:56pm
Playalot
I took my butler into CAS using the
cas.fulleditmode on
cheat and turned her (old, over weight and ugly) into a gorgeous YA male butler. The work clothes do not appear in CAS but will reappear on the Butler once you leave CAS and travel away from your lot and back. You can also reset the butler which I do from time to time when he glitches out and starts doing weird stuff like getting in and out the bath continually. Turn on
testingcheats on
and shift click the butler and choose (debug) reset.
My Butler only occasionally sleeps as their needs seem to get reset somewhat each time your sims travel and return to the home lot. If you stay long enough at home you will eventually see your butler sleep.
As for the cooking glitch, delete your localthumbcache.package file from your TheSims 4 folder and make sure there are no items on the kitchen counters that were placed there with the MOO cheat and that the space around the fridge is also clear.
Once you get your butler 'organized' and CAS-ed they seem to work relatively well. The traits are a gamble as butlers can have any traits so it is worthwhile CAS-ing an ugly sim with good traits to be the perfect butler.

18th December 2016 4:18pm
LMZ
Thanks for the reply :)
Yes, as I wrote in the Sims4 USForum, I have figured that all out already how to change gender traits and appearance in cas.fulleditmode. But the actual appearance in the butlers outfit you can't change like adding lashes and makeup unless you have makeup in the detail section which I don't have. There should be a cheat like for the appearance in work clothing like we have for the normal Sims.
I have also managed to make my butler finally go to his room and sleep by activating his needs in his menue. As you have said this must be deactivated by default I guess. Still no cooking though. He eats my cooked food

I will try what you wrote about freeing the area around the stove and see if this helps.
Again, thanks alot for trying to help. Have a nice day.
20th December 2016 3:52am
Sarya3
when ever i do the cas cheat (cas.fulleditmode) and click on the butler it takes me to my household cas i have no idea what to do!
21st April 2017 4:14pm
Playalot
There is currently a bug with CAS cheats not working on sims outside your own controllable households. Nothing to fix it until a developers fix is released in a patch.
21st April 2017 10:38pm
Nick
I haven't got the stuff pack yet but can I hire a butler if my household already has 8 sims? And can I go up to 8 when I hired a butler or will it be limited up to 7 sims?
19th December 2016 9:23am
Lavender
Your butler is not a part of you household
20th December 2016 12:04am
LMZ
I read somewhere in the i.Net that the butler doen't actually cound as a sim. Therefore it should be possible to add him. Why don't you just try and see... ;)
20th December 2016 3:56am
Playalot
You absolutely can hire a butler in an 8 sim household. I have that in my game now. In fact I had six sims when I hired him and since then my sim has had twins making my active household = 8 sims and a butler.
20th December 2016 4:53pm
ReichalRose
Help! I have the pack and everything but I do not have the option of hiring a butler! I'm not sure what to do.
22nd December 2016 3:24pm
Playalot
You'll find hiring a butler under Household>Hire a Service>Butler on a sims phone.
22nd December 2016 6:16pm
Tessa
I can't hire a butler. I have gone to different sims phones to hire a service, but the option for a butler isn't there. Any thoughts on what I can do?
I've tried in different households as well.
23rd December 2016 9:38pm
Playalot
Delete the localthumbcache.package file from your The Sims 4 folder and load up your game and try again. If the option is still not there then repair your game.
Repair Your Game
23rd December 2016 11:04pm
LMZ
What I hate about the Butler thing is that when ever I leave my lot and come back a new butler is generated! WTF*! I spend lot of time in CAS to customize my MALE butler and then the game generates me new female butlers?! What for?! SMH* I want to keep MY BUTLER! I have send the new once away until the game finally gives me my old butler back!
I mean common! That part is really spoiling the fun. Also I have changed the butlers traits in CAS to all positives, but in the game it still shows the old ones! EA sure needs to patch the pack! Too many bugs if you ask me. Not to mention all the still exsisting bugs since CL.
27th December 2016 5:16am
Eagle
Exactly! It's so frustrating.. I already had friendly relationship with butler then I go to neighbor and when I return some completely different butler shows up. Makes no sense.
27th December 2016 9:31am
simster
I have the same problem. Whenever I leave my lot and come back, I have a different butler every time. It's so annoying.
26th March 2017 8:58pm
Playalot
That's not happening in my game. I play rotationally and even after being rotated away from the family with the butler for over 5 sim weeks the same butler is still there. I wonder what we are doing differently to have such different results? Do you use mods?
27th December 2016 3:23pm
LMZ
Yes I do have a few mods and CC's but I have also tested without and still the same. It mostly happens when I leave with my sim to a restaurant or another lot. When I return home my butler is gone and a new one arrives. It's not just me having this problem as I read in the forums. So it must be a bug. The other day I went to work with my sim and when returning back home my butler was still there but a second one came! This is so crazy!
27th December 2016 7:01pm
LMZ
Oh and now my butler is sick. He sneez alot cough and gets dizzy and there is no way I can help him

Now THAT really s**ks!
27th December 2016 7:15pm
Playalot
Oh dear, that sounds like a bit of a hot mess. Sorry you're having these problems.

I'm not sure what to even suggest to help but I'll keep looking into it and see if there is a work-around anywhere. I saw a few comments on the OF's seems it still may be mod related especially if you didn't clear the cache files after removing your mods. The needs on your butler should be disabled and so they shouldn't actually get sick. Sounds like for whatever reason in your game the butler is being recognized almost as an ordinary sim.
27th December 2016 11:32pm
Join in:
Sims 4 Packs & DLC
Support Us

Readers who use adblock or those who'd like to thank us for our efforts can now pledge $1/$5 monthly via Patreon to help us retain the freedom to do what we love to do.
New Videos and Guides
Armageddon Mod (Mod/CC Reviews).

Latest in The New How To Section : Learn How to Write Songs and Make Money with Music in The Sims 4. Also, How to Get Abducted by Aliens. We have a guide for using Pregnancy Cheats, Get a Job, Adopting a Kid and How to Cheat.

Alien Abduction: I made a Video Guide to Alien Abductions, Alien Babies in The Sims 4 Get to Work.
New How To Section : The new How To's section is updated with How to Get Abducted by Aliens. You can also learn how to use Pregnancy Cheats, Get a Job, Adopting a Kid and How to Cheat. It's meant to help newcomers or those with specific problems and will be greatly expanded over coming months.
New Charisma Video
I've created a fairly detailed Charisma Video Guide to accompany the normal Charisma text guide. My goal is to have every skill covered by the end of the year, if possible.
Seasons and Guide Updates