The Sims 4 Dine Out Game Pack
Building a Restaurant Part 1: (Lot Type Requirements)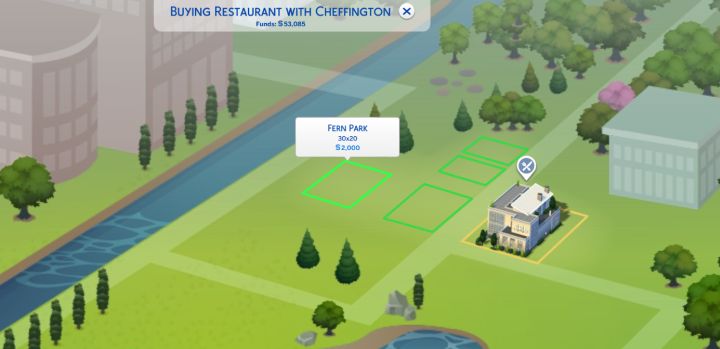 You can build your own restaurant in Dine Out, fully staff it, customize the menu, and run it.
To even begin managing a restaurant in The Sims 4 Dine Out, you must first own one. This guide will teach you to build your own. First, know that unless you're cheating, building/placing one from manage worlds will not be a shortcut to ownership. You'd then need to pay the lot value to purchase the restaurant. So, if you've saved up some money from your Sim's careers or other money-making methods, you may want to start with what you have. I'd estimate you wanting a decent chunk of Simoleons (at minimum 12,000-15,000) before ever starting this process, because you will need to put funds into the restaurant to pay employees and cover expenses. If you just buy one that someone else has built, you'll need even more Simoleons because it's probably not built on a budget. So, I'll cover making one from scratch and the requirements to do so.
Making Your Own Restaurant
Consider your size needs and also that you might expand the building. You can own more than one restaurant, so you could start with a small diner and later sell it, only to build a bigger restaurant. Click in the bottom right corner of the screen and select, 'Buy a Restaurant'.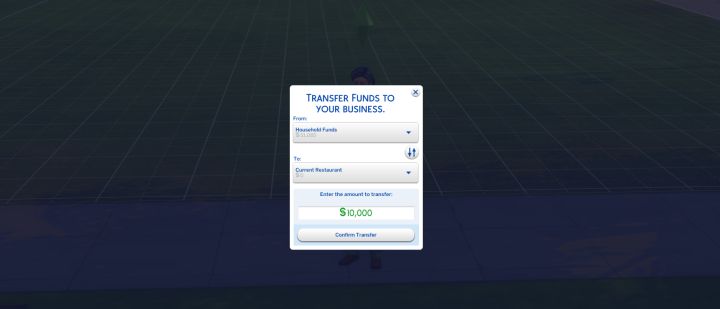 You must transfer funds to your restaurant to begin construction. I suggest at least 12-15k on hand. It's expensive to start, and you won't be rolling in Simoleons your first day.
You need to first cover the cost of the lot and transfer money to it. When you first pick a lot, you'll be prompted to transfer funds to the business. Like with The Sims 4 Get to Work, the owner can remove or add funds to the business at any time. The game recommends $10,000, and it's a good starting point. I think you'll need more like $15,000 due to Chef's Stations being so expensive. You can always add more. If you start a restaurant and don't have enough money, you can even leave build mode, go home, make more cash, and return with more to finish construction. Click the little icon in the bottom left corner when you're in build mode on your restaurant lot to transfer funds.
Qualifying a Building as a Restaurant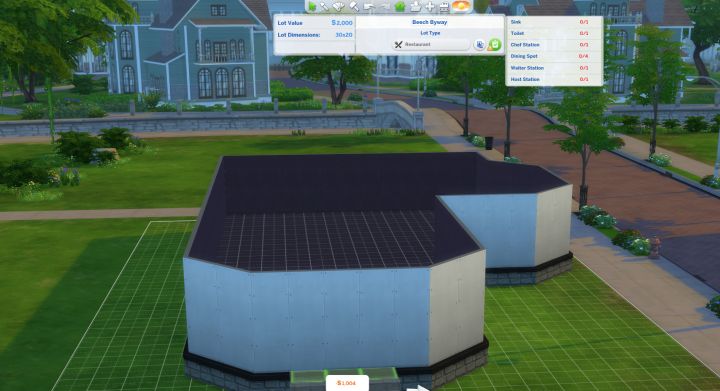 Restaurant Lot Requirements
For a lot to be complete and allow you to open the restaurant, you will require the following items. Thankfully there's no strict building code. You only need:
1 Toilet
1 Sink
4 Dining Spots (Tables, bars with seats)
1 Chef Station
1 Waiter Station
1 Host Station
1 Dishwasher (Recommended)
Toilet/Sink - these two are obvious. Visiting Sims need a place to use the restroom, and you can provide that. You really only need one or two bathrooms at most. Ensure they are separated by a wall if you make more than one.

Our Latest: Let's Play a Beach Bum New CAS Story Mode and New Build Cheats Guide New New Patch: Cas Story Mode, New Cheat for Build Objects, and Rebranding New The Sims 3's Skill Challenges Added Tons of Depth News: New CAS Mode Coming One of the Rarest Abilities: Snaggle Fluster Fishing Guide Updated Fishing Update Guide (Video) Island Living Review (Video) Island Living Gameplay Review Mermaids Island Living Cheats Features to Know About in The Sims 4 Island Living Features in Island Living (Video Format) Conservationist Guide Cleaning up Sulani Patch Notes: June 2019 (New Features)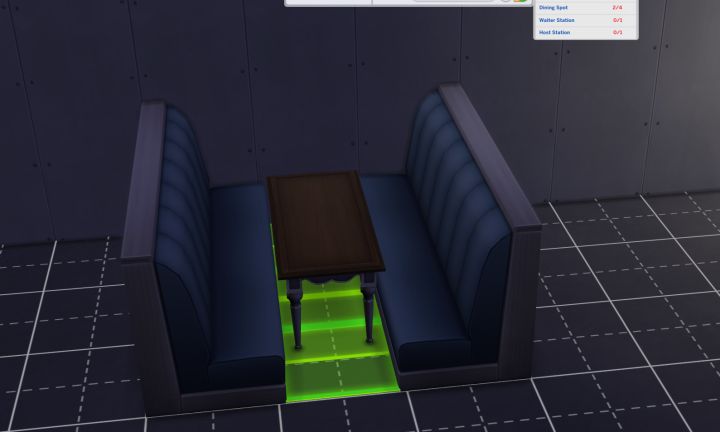 Booths were a little clunky in my review copy, but they are possible and I expect them to improve.
Dining Spots & Booths - The game pack introduces booths. You can use any proper-height two square table. Tables that are three full squares long will not work, despite it being symmetrical with the booth. Booths are meant to serve four Sims maximum. A corner booth will allow two Sims to be served and takes a single-square table. Most other table/chair arrangements are obvious, therefore the focus on how booths work in Dine Out. If you have trouble making a true booth with two sides, try to place the table first THEN the booth seats. Know that 2/3 of your visits will be 1-2 Sims, while family gatherings are a bit more rare - this will help you decide the proportion of smaller to larger tables.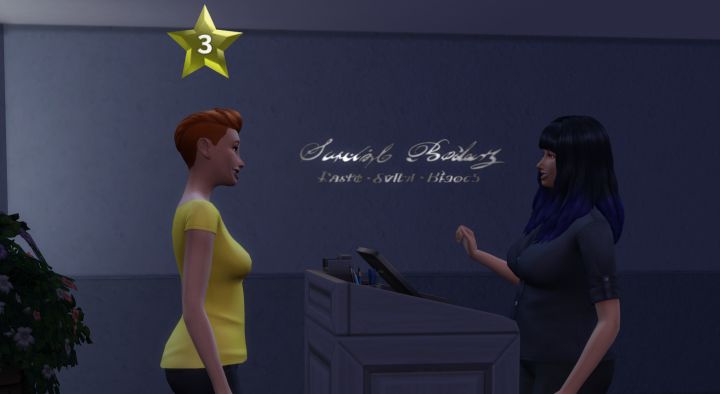 Three stations are required for your employees. They're rather costly, but necessary to operate.
Host Station - If you've been to a restaurant, you know the host will seat guests. Place this near the entrance of your restaurant so the host can direct Sims to an empty spot.
Waiter Station - It's obviously more efficient if these are nearby the tables, so that waiters can get menus for visiting customers.
Chef Station - This is the most expensive item - they're $3300. Note that the Full Disclosure Chef Station must be placed along a wall within the restaurant. As though you were making a room for the kitchen. It will create a hole in the wall through which waiters can get the food, and management can even speak to the chef. I found it hard to place, and they'll probably fix this, but once it's placed you can fiddle with it, select it again, and hopefully get it to face the direction you want. The second type of chef station is much easier to handle. Place these so the areas the plates go are closer to the waiters, with the chefs in the back.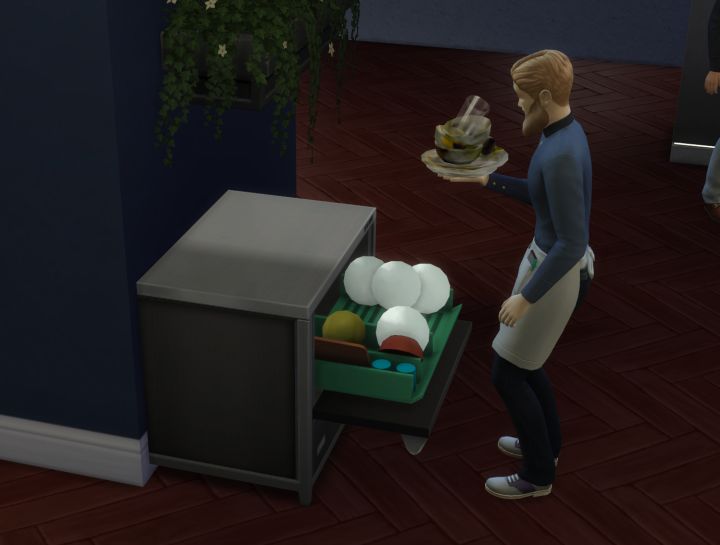 Dishwashers (and trash cans) may be helpful to cleaning up after guests.
Dish Washer (Not Required) - While a Sink may be used to wash dishes, you really want a dish washer for efficiency's sake. Somewhere near to the tables so that waiters do not have to walk far to take care of them. This lets them spend less time in a public bathroom - either impeding Sims who need to use it or else just taking longer to do a job. A waiter could also be blocked if a Sim's in the restroom. You can get by with a sink early on, but you want your waiters serving Sims and clearing tables, and a real dish washer will get the job done. It also looks better and can be placed much closer to tables.
Other Dine Out Guides
How You Can Support The Site and Channel

If you like my sites and
Youtube Channel
, consider supporting me on
Patreon
to help me to continue. If you'd like to support my guides in another way you can use our
Amazon link
for your next purchase (if in the US). We also offer a
paypal donate link
so you can contribute directly.
Back to The Top
Quick Links
Check Out My Youtube Channel!
We now have a Youtube Channel with over 50 guides in video format to go along with the huge site I've already created. Check it out and consider subscribing if you like my style.
Share Tips and FAQs
(71)
Our Sims 4 Community is the place to go for faster answers to questions and discussions about the game. Use the form below to share your own experiences and provide helpful tips to other readers. We are not affiliated with EA and cannot make changes to the game, nor fix bugs.
Support The Site via Amazon
Rae
I've been trying to figure out how to place booths since I purchased the game. I tried your suggestions above, but nothing is working. I tried placing the table first. No luck. I then tried placing the booths first. Still no luck. They turn red and say that I can't place objects that will intersect each other? If I use bb.moveobjects, they don't snap together? Any other pointers or suggestions? It's super frustrating.
9th June 2016 11:57am
playalot
The placing of booths seems pretty tricky. Try placing one booth first then the table that came with the pack and then move those two joined items to make sure they are 'locked'. Then place down the next booth and move the locked items to the second booth until they 'snap' together. Also, check that you are not using any mods or cc as quite a few mods now do not work with Dine Out.
9th June 2016 4:57pm
Susan
Would it be possible to live on the lot where you have your restaurant? Because I'm building a house and I was thinking of making the first floor a restaurant and the second floor a living area?
9th June 2016 11:59am
Zahna
If your sim is alone in his household, the best is to buy an empty lot, don't build on, and live on your restaurant lot. Don't forget to lock your "apartment door".

9th June 2016 3:55pm
playalot
Yes, it is possible. Sometimes you have to claim any dining tables as 'your sims' in the apartment area as the game can see it as part of the restaurant. Also, make sure you lock the door to your sims apartment or you will have staff and customers using all your sims things! Your sim will still need a 'residential' home lot but you don't need to live there or even build anything on the residential lot at all.
9th June 2016 4:58pm
Joey
Hi, How do you "claim" a table?Thanks!
16th June 2016 10:05am
playalot
Just click on the table you want your sims to sit at.

16th June 2016 5:32pm
Emily
Hi; quick question!
Do your sim waiters clean up the dirty dishes? Mine don't at all, I have to do it. I have a dishwasher and waiters station but still nothing.Is this a bug or am I doing something wrong? Thanks!!!
10th June 2016 12:07am
playalot
Try removing the dishwasher. I've noticed that when waiters stop clearing away dishes that just having the waiters station seems to help. Also if you notice sims sitting down who are waiting for food but they have an empty plate in front of them if you drag it to the waiters station yourself it will clear the back log.
10th June 2016 5:31pm
Abby
My Sims 4 Dine Out is practically unplayable. Nearly all of the interactions are blank so I don't know what anything is or means. Please help. I also have other blank boxes dotted around the game. Desparate for help! Ahhhh

11th June 2016 9:26am
playalot
Quit out of your game and delete the localthumbcache.package file from your TheSims4 folder. Next Go to origin and right click the Sims 4 icon in your library>Repair Your Game.
If this doesn't fix it then try a Factory Reset:
Factory Reset
We also have a great technical help section on the forum
Technical Help
11th June 2016 7:13pm
Kali
Is there a way to make an owner the chef at the restaurant? I wanted to have a couple own the restaurant with one of them acting as the owner and the other as the chef but I can't figure out how.
11th June 2016 2:00pm
playalot

Unfortunately no. This ability was not included in the game pack. Maybe a modder might be able to make something like this possible eventually.
11th June 2016 7:14pm
Kirsten
Do you know if it's possible to have two hostess?
12th June 2016 1:07pm
Shelly
Someone can pleas tell
Me where the host and waitress stations at???? I can't find them!
9th August 2016 5:56pm
Kaden
I build a new restaurant on a previous restaurant lot and open my place for the first time. All my employees showed up and customers. but none of them could get in the building. I have all the required equipment need. I replaced my front door with an arch but still nothing. Please help. Thanks

12th June 2016 4:21pm
playalot
Did you check that there wasn't a door lock command in place?
12th June 2016 7:02pm
Charline
I build my restaurant, everything is okay but when I opened it the customers don't sit so don't eat and I don't understand why.
13th June 2016 4:35am
playalot
Check that all your seats are 'locked' into the tables by picking them up in build mode where they should all move as one object. Check that the hosts station is clicked to grid and was not placed with MOO or the alt key and is also not facing a wall. Have your controlled sim walk around the tables and sit just to make sure there are no routing failures. Did you purchase this restaurant lot or just build it for NPC's ownership?
13th June 2016 6:07pm
Adrianna Ellis
I'm guessing you need get to work to buy a restaurant? I don't really want get to work because I'll probably never use it.. But I really would like to own my own restaurant
14th June 2016 9:52pm
playalot
No you only need to purchase the Game pack 'Dine Out' to access these game play features.

15th June 2016 7:27pm
Hayley
My customers don't order any food. Am I doing something wrong???
15th June 2016 6:28pm
playalot
Do you have an mods or cc in your game? If so remove them all and try another shift at your restaurant. Have a read through this tips section as layout and design of your restaurant can affect the hosts and wait staff.
Restaurant Tips
15th June 2016 7:28pm
Devin
Can your sims own a restuarant and be the head chef?
18th June 2016 4:51pm
playalot
Your sims can own restaurants but unfortunately they can not be part of the staff. This ability was not included in the game pack. Maybe a modder might be able to make something like this possible eventually. Until then your controlled sim can only be the owner/manager.
18th June 2016 10:21pm
Join in: