The Sims 4 Secret Agent Career
Rewards for Diamond Agents and Villains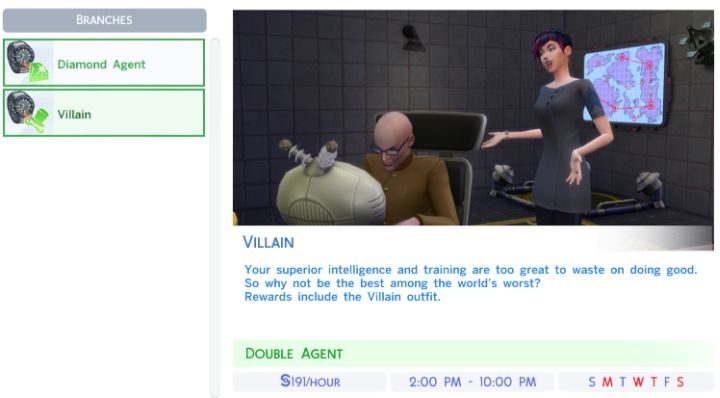 The Secret Agent Career has the Diamond Agent and Villain Branches
Career Quick Links
The Sims 4's Secret Agent Career Track features the only Career with 11 levels (Villain Branch). Diamond Agent has the usual 10. This Guide to the Career will show you the various ideal moods, daily tasks, promotion requirements and a comparison of rewards for each branch. Here are the first 7 levels of the Career, which need an Ideal Mood of Focused.
How to: Secret Agent Career Cheats
Press Control + Shift + C then type testingcheats on and press enter. You can now get promotions with careers.promote secretagent - you can also see all Career Cheats or visit a full list of Cheats in The Sims 4.
Because of the differences in the two's Promotion Requirements, the optimal traits are a little different. The best all-around for both Careers is to go with Genius to help your Sim get Focused. For Diamond Agents, Self Assured will help a lot as will anything that aids in Charisma. Hot-Headed can be good for Villains, as angry Sims level Mischief faster.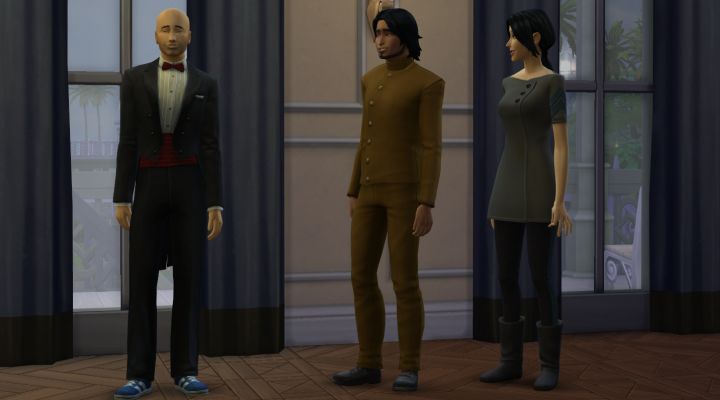 Diamond Agent Tux on left, Villain Uniforms for M/F on Right
The Browse Intelligence Database (under Web on the Computer) can give your Sim a Focused Moodlet if they find a good lead. This Moodlet lasts a whopping 2 days, providing +1 Focused and will particularly help Villains, since that is their Ideal Mood. Intelligence Research is mainly for promotion requirements and doesn't seem to do much. Investigate Sim will reveal a Sim's Traits and is useful for socializing as well as Promotions.
For the early stages of the Career, have your Sim ponder chess Moves at a chess table, drink pitch black tea, or 'Browse Simpedia' on a computer to get a quick Focused boost before Work. Here are the first seven levels of Secret Agent and the things you must do to get Promoted, in order to help you plan ahead:
Secret Agent Career Levels 1-7
| | | | | | | |
| --- | --- | --- | --- | --- | --- | --- |
| 1 | Agency Clerk | $17/hour | Mon-Fri, 7AM-3PM | $136 | Browse Intelligence on a Computer | Nothing, but Browse Intelligence Interaction with Computers |
| 2 | Intelligence Researcher | $19/hour | Mon-Fri, 7AM-3PM | $152 | Browse Intelligence. Reach Level 2 Logic. | $349, The Swiveler, Intelligence Research on Computer |
| 3 | Agent Handler | $21/hour | Mon-Fri, 8AM-4PM | $168 | Friendly Interactions. Reach Level 2 Charisma | $384, Reconnaissance Workstation, Tranquilizing Handshake Interaction |
| 4 | Field Agent | $37/hour | Mon-Thu, 10AM-6PM | $296 | Browse Intelligence. Reach Level 3 Logic, Level 3 Charisma | $422 |
| 5 | Lead Detective | $47/hour | Mon-Thu, 10AM-7PM | $423 | Friendly Interactions. Reach Level 5 Logic, Level 5 Charisma | $599, Nerves of Steel Desk Lamp, Investigate on the Computer |
| 6 | Government Agent | $52/hour | Mon-Thu, 10AM-7PM | $468 | Browse Intelligence. | $851, Tactical Map |
| 7 | Secret Agent | $87/hour | Sun, Tue, Thu, 2PM-10PM | $696 | Browse Intelligence. Reach Level 6 Logic, Level 6 Charisma | $936, Unlock Hidden Bookcase Door, New CAS Parts |
Diamond Agent Branch

10 Million Views! My YouTube channel has grown a lot the last 6 months. I now have over 125 videos on Youtube and am nearing 100k subscribers. I'd like to invite people to check out my content and, if you like what I'm doing, subscribe!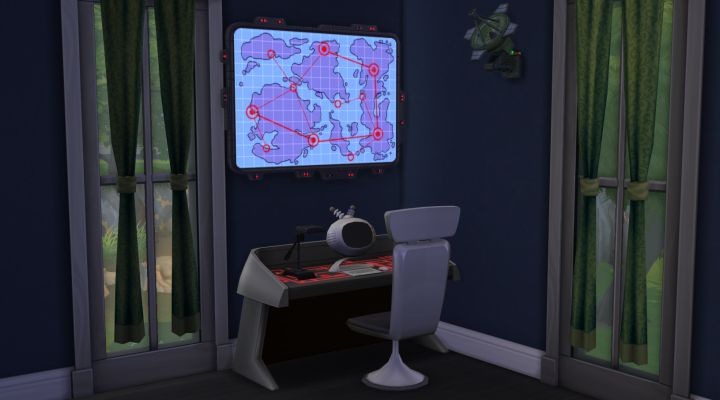 Diamond Agent Career Rewards
The Diamond Agent's Ideal Mood is Focused. They get a mid-range Computer, and the chair/computer both put off a Confident Aura that helps a little with Romance and Friendly Interactions, and can help them build Charisma. The rest is Decor, but you do also get the nice tuxedo that is featured above. Overall, this is a rather simple Career with few interesting bonuses compared to Villains. They do, however, require just 3 days at work, but they are very long shifts - the longest of any Career thus far.
This is clearly inspired by James Bond, since it encourages Romantic Interactions as a Daily Task to help you advance. It's possible to get by without doing that, but you will get promoted much faster by doing so. This Career used to require a whopping 8 Friends to get the last promotion, but it's no longer required thanks to a well-thought patch that made getting promotions much easier.
Diamond Agent Career
| | | | | | | |
| --- | --- | --- | --- | --- | --- | --- |
| 8 | Spy Captain | $173/hour | Sun, Wed-Thu, 2PM-10PM | $1384 | Romantic Interactions. Reach Level 8 Logic, Level 7 Charisma | $1039, Spy Satellite |
| 9 | Shadow Agent | $208/hour | Sun, Tue-Wed, Fri, 2PM-11PM | $1872 | Romantic Interactions. Reach Level 10 Logic, Level 8 Charisma | $2078, Information Database |
| 10 | Double Diamond Agent | $284/hour | Sun, Tue, Thu, 9AM-12AM | $4260 | Romantic Interactions. Go to Work! | $3741, New CAS Parts |
Villain Branch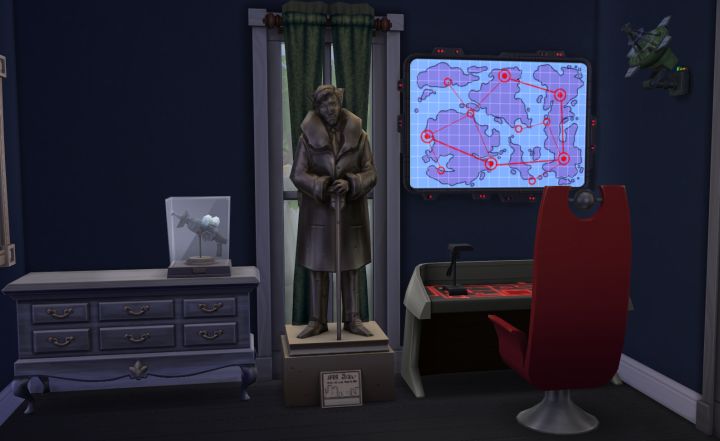 Villain Career Rewards
The Villain's Ideal Mood is Focused. Browsing Simipedia on the Computer can help with that, as well as drinking Pitch Black tea from the Tea Brewer and playing Chess. This one makes substantially more money than the other Branch, but its rewards' auras are Playful. There isn't anything here other than a $13k chair, statue, and decorative freeze ray (all Playful Auras). All other items pictured above are from the first 7 levels of the Career. I consider this to be the easier of the two branches, and an overall better choice. All it's really missing is the computer. You get the best abilities of Secret Agent early on. Level Mischief by using a Computer to 'Troll teh Forums' at level 2. This will give consistent Skill gains, as opposed to going about using the actual interactions and gaining small bits of XP at a time.
The CAS Parts featured above are really nice - both villain outfits for Male and Female look appropriate for a Villain.
Villain Career
| | | | | | | |
| --- | --- | --- | --- | --- | --- | --- |
| 8 | Double Agent | $191/hour | Sun, Tue, Fri, 2PM-10PM | $1528 | Mischief Interactions. Level 8 Logic, Level 2 Mischief | $1039, Evil Am Eye Swiveler |
| 9 | [Redacted] | $278/hour | Sun, Tue, Thu-Fri, 6AM-1PM | $1946 | Mischief Interactions. Level 10 Logic, Level 4 Mischief | $2286 |
| 10 | Supreme Villain | $479/hour | Sun, Tue-Wed, Fri, 2PM-8PM | $2874 | Mischief Interactions. Level 6 Mischief | $3886, Commemorative Freeze Ray |
| 11 | Triple Agent | $515/hour | Sun-Wed, Fri, 2PM-7PM | $2575 | Mischief Interactions. Go to Work! | $5743, Our Founder Statue, New CAS Parts |
How You Can Support The Site and Channel

If you like my sites and
Youtube Channel
, consider supporting me on
Patreon
to help me to continue. If you'd like to support my guides in another way you can use our
Amazon link
for your next purchase (if in the US). We also offer a
paypal donate link
so you can contribute directly.
Back to The Top
Check Out My Youtube Channel!
We now have a Youtube Channel with over 50 guides in video format to go along with the huge site I've already created. Check it out and consider subscribing if you like my style.
Comments (12)
Topic:
http://carls-sims-4-guide.com/careers/secretagent/
Regular
John
Why would you want to be confident before work if your ideal mood is focused in the early stages of this career?
Admin:
I'm glad you asked, because it brought the error to my attention and I fixed it.. At first, it was that way, but they did a major overhaul of Careers to make their goals more attainable. So that was a missed edit when I had to redo the whole careers section!
You had to have tons of friends to advance in that career and the ideal mood was confident. They switched to focused and the simple skill requirements in order to level up, because players were finding it a struggle to get promoted.
New
jonyleo2000
This site is pretty good.
Anyone knows if it got harder to get promoted, in terms of time?
Before i could do like 3 promotions in a row and now i cant.
Im talking about different sims not like the 3 first and 3 last promotions.
Admin
Playalot
There are only three active careers that came with the expansion pack Get To Work. It is only these three careers that you can follow your sim to work with.
Carl's Guide on Get To Work
New
Abbie
This may sound a bit silly, but I only bought the sims 4 a week ago and have never played any of the earlier versions, and have now reached the agent handler level, but have no idea how to complete the daily task of friendly interactions. Being friendly with other sims doesn't seem to be working, so any cheats or tips on how to get complete the daily task? Thanks :)
Admin
Playalot
Click on another sim and chose one of the 'friendly' socials. If that isn't working it could be a bug. Try traveling with your sim to another lot and back, this resets your sim.
New
DiaNyx
opps I think I misread it XD never mind
Regular
Josie
If you look, it's because you work from 2-8 as a supreme villain and 2-7 as a triple agent. You have a shorter shift and a little more pay but it still doesn't add up to as much as the previous level. It's stupid, but it does add up.
Admin
Playalot
It is a computer action. Click on a PC and under 'web' there will be the option to browse intelligence.
Admin
Playalot
No there are no NPC police in The Sims 4
Admin
Playalot
Thank you! Will do a play through of this career today and let Carl know this guide needs an update.

Admin
Playalot
Not with the same sim. Any one sim can not complete both branches of the same career.
New
DragonFlykm
Just noticed that the VILLAIN CAREER Branch has a Redacted at lvl 9 for some reason. I guess EA stuffed it up at some point as it never was like that before. Please note that getting lvl 10 gives you the achievement for top career path, however, there is a lvl 11 to actually be at the true top and receive the final rewards. They really need to fix this.
Senior
Playalot
This is the guide to the Secret Agent career: Social Media career here:
(Click)
. But as far as I know there isn't a cheat to get more followers, you just have to grind it out.
Are you sure you want to report it?
Share a link to this comment
Best Mods in Sims 4
I've created a massive List of The Best Mods in The Sims 4 that should be very helpful to new players and those who have not yet explored modding and how much it can do for your gameplay.
Secrets and Other New Stuff
Support Us

Readers who use adblock or those who'd like to thank me for my efforts can now pledge $1/$5 monthly via Patreon. This helps a lot with server costs and provides some stability for my business.
Super Sim Checklist + Other News
Let's Play Playlist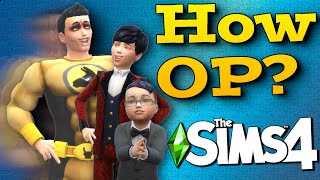 New I now have a guide to Making Super Sims in The Sims 4. Look for a text version within the next 72h. It won't have THAT much more info but it will help out as a checklist.
This was inspired by a series, "Let's Play a Super Sim" in which I start at toddler and gradually take on the major bonuses. Here's a link to each part for people who are interested. You can also see the Let's Play as a Playlist on Youtube.
Discover University Expansion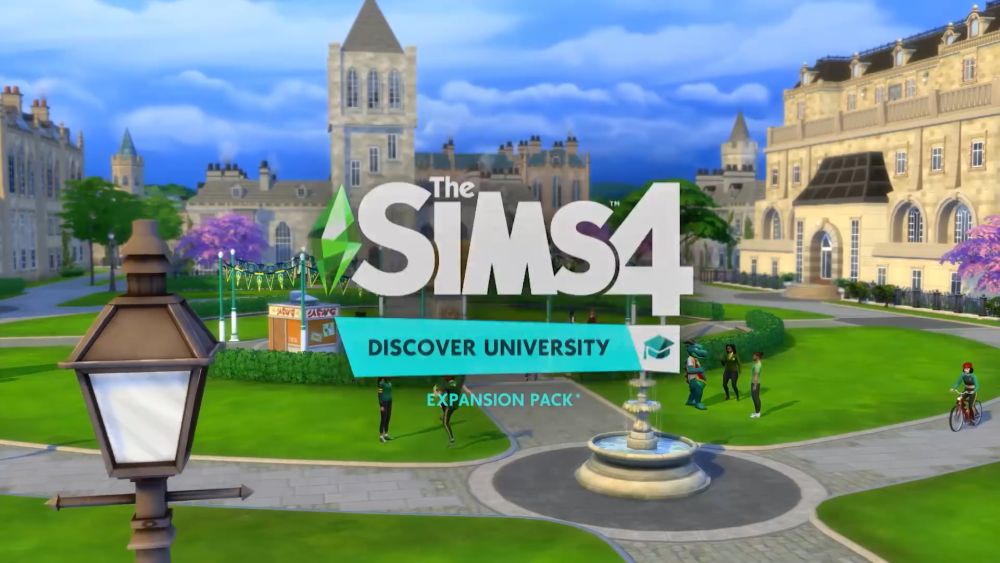 The Sims 4 Discover University has been announced for November 15 for PC/Mac and December 17 for Xbox and Playstation 4 consoles. Click to learn more about the pack, see my summary of the livestream or read our FAQs below.
Other Guides to Discover University:
New Lot Traits: Study Spot and University Student Hang Out
New: Discover University FAQ: Gameplay Features
New Video The Sims 4 Discover University Gameplay Tips Video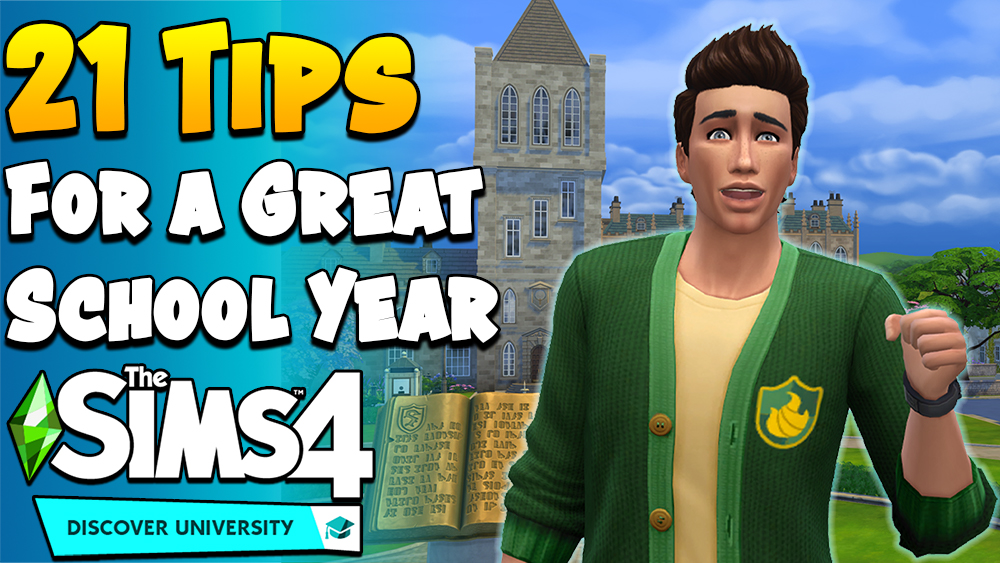 More videos coming soon!
Realm of Magic