The Sims 4 Perfect Patio Stuff
Hot Tubs and other Stuff Pack Features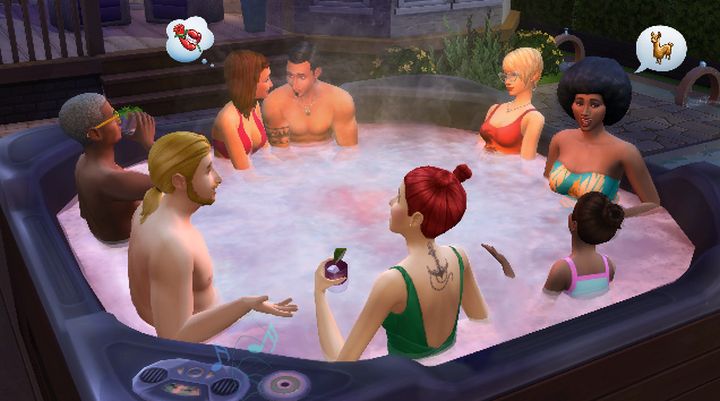 The Perfect Patio Stuff Pack gives players the ability to use Hot Tubs in The Sims 4
The Sims 4 Perfect Patio Stuff allows more options for outdoor decoration, while also introducing hot tubs to the game. These are something most players expected in the base game, however it is good that this stuff pack does not start at $20 but rather half that. The content here is not quite as huge as that offered in the first stuff pack, Luxury Party, but does indeed compete with past offerings in terms of objects and clothing. Here's what's in it.
Hot Tubs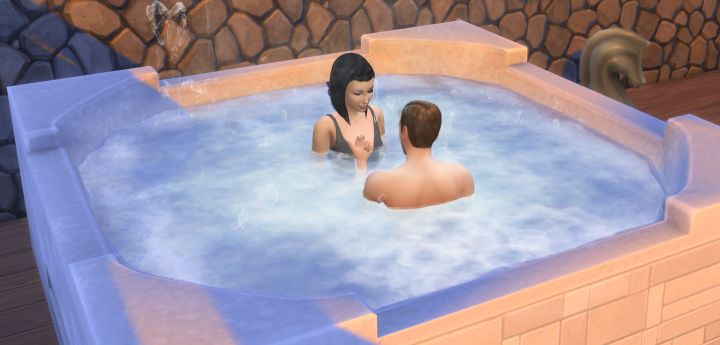 Sims can Woohoo in Hot Tubs and also upgrade them with the Handiness Skill
Hot Tubs
Hot Tubs return in this stuff pack, though it's unclear as of now if they will be introduced to the game through other routes. For now it's the only way to have them in the game. Hot Tubs provide the perfect route for socializing when multiple Sims get in together, while also gradually replenishing the Hygiene need. Sims can be shoo'd from the hot tub if they're unwanted there. You can, as expected, Woohoo in the Hot Tub for a Flirty +2 Moodlet (typical Woohoo result), and Sims can 'skinny dip' together (and alone if that's their thing). There are three hot tub upgrades available if your Sim has the required Handiness Skill:
Add Aromatherapy Filter (Level 3) - Use one of four oils in the Hot Tub to help alleviate Sims' negative moodlets, while providing positive ones. See below.
Add Stereo (Level 5) - Adds a stereo to the Hot Tub, which you can find the option to listen to under the Stereo menu when you click it, but only while inside.
Make Unbreakable (Level 8) - Prevents the hot tub from breaking down. Essential if it will be used regularly, and prevents the fun being cut off during parties.
Hot Tub Aromatherapy
Aromatherapy can be used if your Sim has upgraded the Hot Tub. These give the following bonuses, and all are free to use once it's upgraded. The effects last 2-4 hours after leaving the hot tub (depending how long you stay) and the oils themselves will stay in effect for users of the hot tub until they're removed or changed.
Build Mode Objects

Our Latest: Let's Play a Beach Bum New CAS Story Mode and New Build Cheats Guide New New Patch: Cas Story Mode, New Cheat for Build Objects, and Rebranding New The Sims 3's Skill Challenges Added Tons of Depth News: New CAS Mode Coming One of the Rarest Abilities: Snaggle Fluster Fishing Guide Updated Fishing Update Guide (Video) Island Living Review (Video) Island Living Gameplay Review Mermaids Island Living Cheats Features to Know About in The Sims 4 Island Living Features in Island Living (Video Format) Conservationist Guide Cleaning up Sulani Patch Notes: June 2019 (New Features)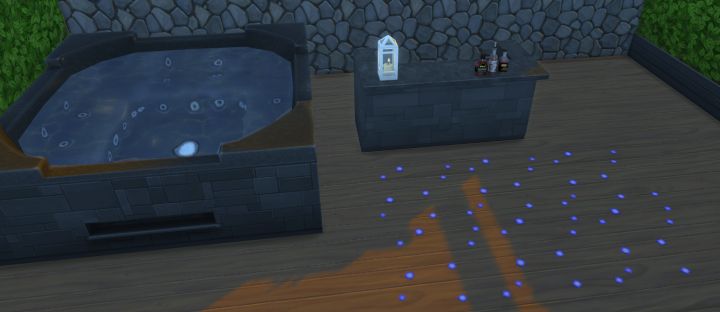 Click to enlarge. The other, more expensive hot tub and a new type of bar for Mixology. Note the floor stars, which give a +1 environment boost, much like a rug. Good for outdoor decorating to help keep Sims happy, while subtly glowing.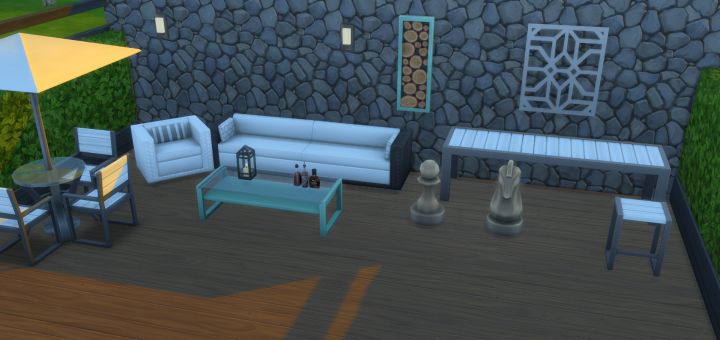 Click to enlarge. The other 'stuff', different outdoor furniture that comes in a variety of colors. The chess pieces are actually floor lamps.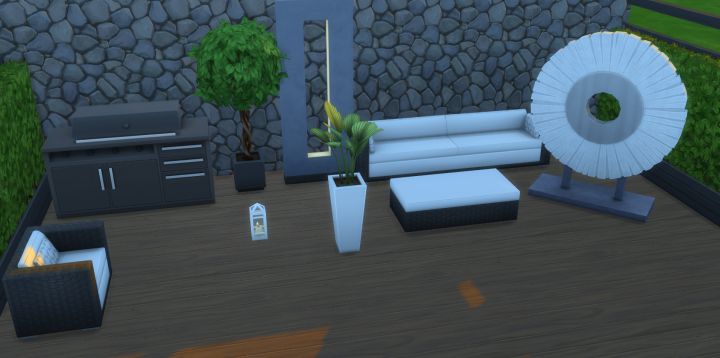 Click to enlarge. More decor and furniture.
Clothing and Hair
Not much here, but they do offer a few good looks for lounging on the patio. Females get a bit more than males. It's possible I missed a thing or two.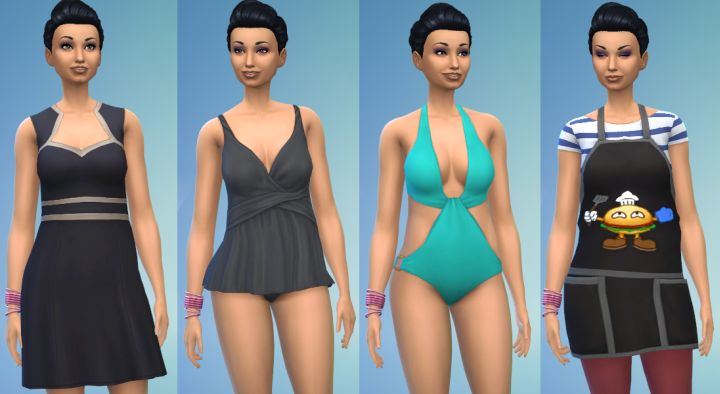 Female outfits available in the stuff pack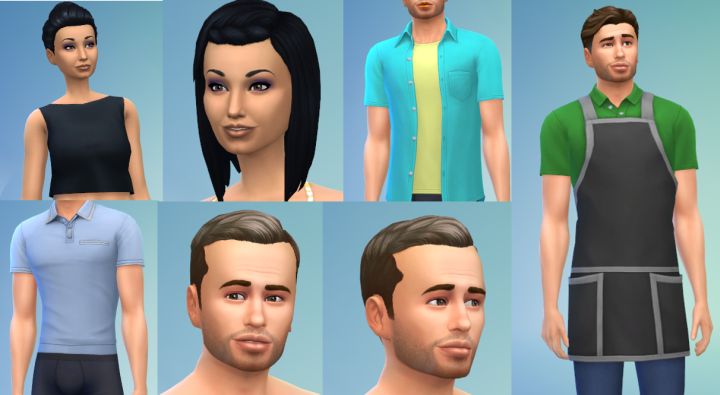 Misc tops, bottoms, and hairstyles
New Styled Room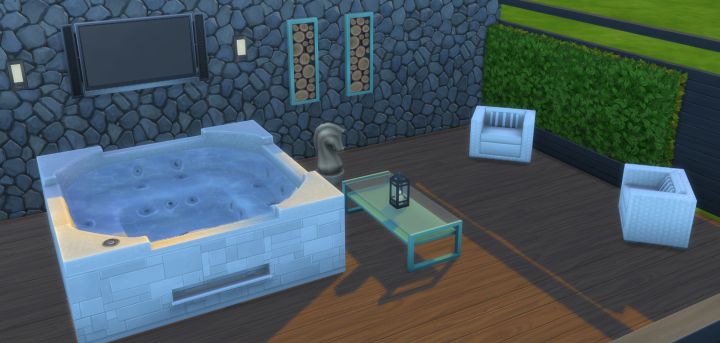 This new secluded patio area found under styled rooms features some of the new objects, but could use a bar!
How You Can Support The Site and Channel

If you like my sites and
Youtube Channel
, consider supporting me on
Patreon
to help me to continue. If you'd like to support my guides in another way you can use our
Amazon link
for your next purchase (if in the US). We also offer a
paypal donate link
so you can contribute directly.
Back to The Top
Quick Links
Check Out My Youtube Channel!
We now have a Youtube Channel with over 50 guides in video format to go along with the huge site I've already created. Check it out and consider subscribing if you like my style.
Share Tips and FAQs
(21)
Our Sims 4 Community is the place to go for faster answers to questions and discussions about the game. Use the form below to share your own experiences and provide helpful tips to other readers. We are not affiliated with EA and cannot make changes to the game, nor fix bugs.
Support The Site via Amazon
kat
how do u get the expansion pack?
7th July 2015 11:19pm
Carl
EA Origin, their download platform that you already have if you own the Sims 4. Most of the SIms 4 packs won't be sold in stores as far as I know.
8th July 2015 9:41am
samyap
i want to ask that the luxury party stuff got include swimming pool inside??? and also got include all the updates like the old pack (get to work, outdoor retreat & digital deluxe) ??

19th July 2015 4:35am
Carl
The game got a free update several months back that gave everyone pools. All Expansions and Game Packs get updates along with the base game, depending upon the bugs that the Sims Studio fixes on each release.
21st July 2015 10:31am
Morgan
I have just bought the perfect patio stuff on the sims 4 pc/Mac and it says I own the pack but i can't find any of the items I just payed for on my game??

23rd August 2015 3:01pm
Paxial
You have to download the gamepacks just like you did with sims3. Once you have done this you will see the stuff in game.
11th September 2015 12:49pm
MrsFlynn
18th January 2016 6:50pm
Jay-Jay
if i buy the sims 4 in stores instead of through origin, will i still be able to download origin households and get expansion packs.



17th December 2015 10:36pm
BooperDooper
Yes, I own the hard copy of the game and I can buy all expansions and such,
25th December 2015 5:15pm
MrsFlynn
It doesn't matter whether you purchase game content in-store or online. As when you purchase game content from a store or even online, you will get a game code for whatever Sims 4 content you've purchased. When you go install it Origin will help take care of that for you. Same goes for whatever other game content you purchase.
18th January 2016 7:16pm
Sissi
I need an advice, when i try to download it, i always get an email that says " Not finished "
What do do?

20th January 2016 12:54pm
Sissi
Btw its my bday





20th January 2016 12:56pm
Playalot
Happy Birthday!

Let's get your game working! Try the following:
1. Quit the game.
2. Log out of Origin - *If exiting Origin isn't working, open Task manager (Ctrl-Shift-Esc) search for a file called ts4.exe. Click on it and select end process.
3. Run Cleaner and it's registry cleaner
4. Restart computer, and try downloading again.Ccleaner -
https://www.piriform.com/ccleaner/download
(Standard Edition is Free)
-- This helps clean up temporary files, internet cache files and other files that are left behind that are no longer being used.How to use CCleaner to fix PC issues
http://help.ea.com/en/article/how-to-use-ccleaner-to-fix-pc-issues/
If you don't understand any of this please post in our Technical Support section on the forum where we can help you further than just here in the comments section.

Technical Support TS4
20th January 2016 2:25pm
YUME
When upgrading, will you be able to have all upgrades at once or will they be replaced if you choose another upgrade?
8th February 2016 6:25am
Playalot
Upgrades in The Sims 4 stack. So you can eventually have them all as your sims handiness skill improves and unlocks the different upgrades.

8th February 2016 3:23pm
Amberemily13
My cheats aren't working now I have the pack is it different now I have them?

23rd April 2016 1:23pm
playalot
No, the cheats are global and work with everything. Maybe you are making a typo or are not in live mode when trying to apply the cheats?
Guide of How-To's
scroll down to the link 'How to Turn on Testing Cheats' and that might give you some tips so you can figure out what is going wrong for you.
23rd April 2016 8:47pm
Ruth Galloway
I don't understand , can you have all expansion packs in one game.I don't understand , can you have all expansion packs in one game.

4th May 2016 10:41am
playalot
Yes, I have the base game and all the stuff packs, game packs and expansion packs released so far. They all are designed to work together with the base game.
4th May 2016 7:32pm
Ruth Galloway
What are mods and what do they do
4th May 2016 10:43am
playalot
Here is a link to the Guide on Mods and CC. Hopefully that should help to answer your questions.

Guide To Mods and CC
4th May 2016 7:33pm
Join in:
Sims 4 Packs & DLC
Support Us

Readers who use adblock or those who'd like to thank us for our efforts can now pledge $1/$5 monthly via Patreon to help us retain the freedom to do what we love to do.
New Videos and Guides
Armageddon Mod (Mod/CC Reviews).

Latest in The New How To Section : Learn How to Write Songs and Make Money with Music in The Sims 4. Also, How to Get Abducted by Aliens. We have a guide for using Pregnancy Cheats, Get a Job, Adopting a Kid and How to Cheat.

Alien Abduction: I made a Video Guide to Alien Abductions, Alien Babies in The Sims 4 Get to Work.
New How To Section : The new How To's section is updated with How to Get Abducted by Aliens. You can also learn how to use Pregnancy Cheats, Get a Job, Adopting a Kid and How to Cheat. It's meant to help newcomers or those with specific problems and will be greatly expanded over coming months.
New Charisma Video
I've created a fairly detailed Charisma Video Guide to accompany the normal Charisma text guide. My goal is to have every skill covered by the end of the year, if possible.
Seasons and Guide Updates