The Sims 4 Fertilizer
Gardening Plant Quality and How Fertilizers Work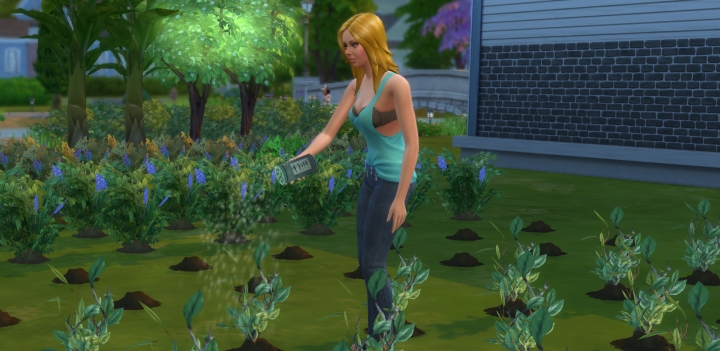 Fertilizing a plant in The Sims 4
The Sims 4's Gardening skill allows you to grow plants and fertilize them. Unfortunately a lot of what I'd learned had to be scrapped, as the devs at some point changed how fertilizer functions. First we'll look at plant evolution and quality then we'll move on to types of fertilizers. We're going to focus on only the best fertilizers and send you to other areas where you can get specific fertilizer strengths for both produce and fish.
You can like/subscribe to our Here. This video guide to fertilizer in The Sims 4 summarizes a lot of what is here and gives visual instructions on where to find some of the best fish to use for fertilizer.
How to Fertilize and Evolve
Players must be at level 3 Gardening in order to fertilize, which is done by simply click the plant and 'Fertilize'. Fertilizers can be applied about once every four Sim days. The fertilize command will be greyed out when you click the plant if it's not ready yet - check the next day. You are not notified when a plant is ready to be fertilized again, so it's good to form a schedule if you're trying to make plants perfect quality as quickly as possible.

10 Million Views! My YouTube channel has grown a lot the last 6 months. I now have over 125 videos on Youtube and am nearing 100k subscribers. I'd like to invite people to check out my content and, if you like what I'm doing, subscribe!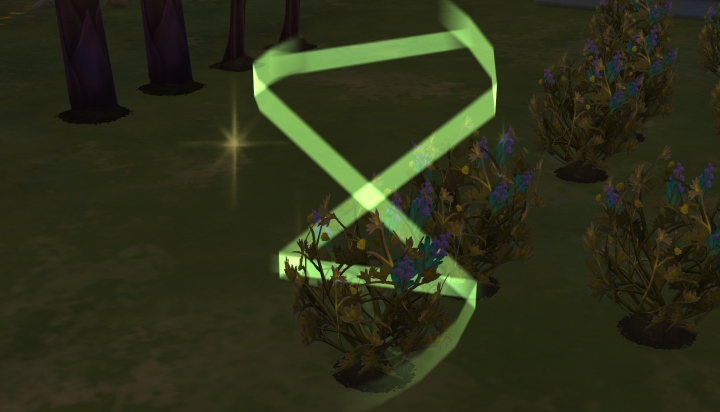 Evolve happens instantly. Your plants will begin making higher quality produce the next day.
Plants evolve best when outdoors. There are five levels of plant evolution: Normal, Nice, Excellent, Magnificent, and Perfect. With each evolution, your produce will be worth more - much more when you consider at least 4-6 produce per harvest per day when in season. They will also serve as better fertilizers and boost the quality of meals when used as fresh ingredients in cooking recipes. When a plant is ready to evolve, it will begin to sparkle and the Evolve option will appear when you click the plant. Further progress will be blocked, so it's important to click the Evolve button as soon as possible. Evolve then fertilize, just in case excess 'experience' is wasted.
Fertilizers strength is tied to Simoleon value. More potent fertilizers will apply instant progress to the bar that appears when you hover over a plant. Because you're locked out after fertilizing it is best not to waste the opportunity to fertilize by using a junk fertilizer, such as using rotten minnows or low value flowers/herbs to fertilize. You're better off waiting until you have something better in many cases. Thanks to jjrmich for pointing out these levels and teaching me a bit in the process:
Less than $5 - Near-Useless
$5 to $11 - Low-Grade
$12 to $19 - Medium Strength
$20 to $49 - High Strength
$50+ - Best Fertilizer
Using Plants as Fertilizer & Their Strength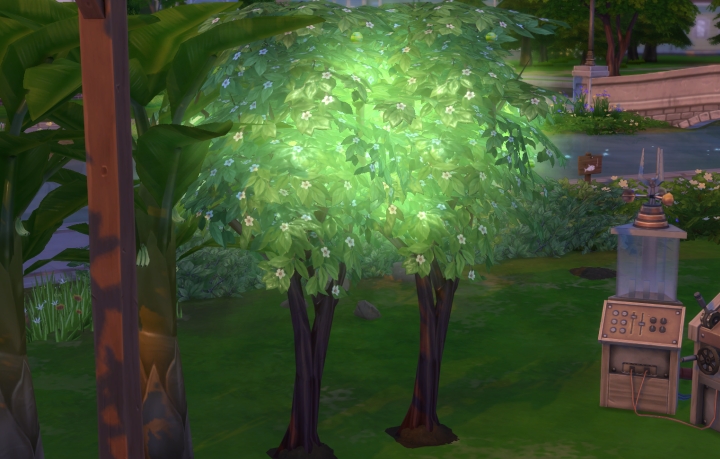 How to get Growfruit: Buy Rare Seed Packets for $1,000 each at level 10 Gardening and get lucky (around 20% chance). Or cheat.
Plants are a primary go-to for fertilizing due to their extreme availability. Grow produce, use your own produce to fertilize other produce. Great! However, many produce are simply not worth using as fertilizer due to the long cooldown on the fertilize ability. The higher the quality level of the produce you have on hand, the higher the price becomes. You've got to GET high quality level produce to use them though, and fish are great for getting you there.
Growfruit
At level 10 Gardening, you get the ability to open rare seed packets. Growfruit, originally part of the spring challenge, can be found inside these packets about 20% of the time. They are no better than any other fertilizer as far as I can tell, they are just easy to get to $50.
Fish as Fertilizer and Their Strength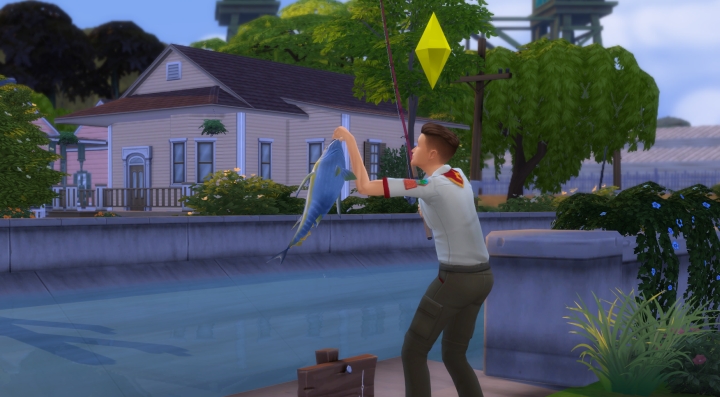 Large fish make excellent fertilizer. The bigger the better, but they also have a hidden modifier that determines the base rate.
The strength of fish as fertilizer varies wildly, based upon freshness. You can see all fish listed on the Fishing Guide. Here I am going to repeat the fish list and order them not by how common they are, as I do there, but by fertilizer strength THEN how common. So you can see common high strength then common medium strength. Now, there is a big caveat. One thing seriously messes with fish as fertilizer.
Freshness of fish matters and directly impacts its fertilizer strength. A foul salmon may not do as well as a fresh tuna of half the size, because it suffers a penalty due to a lack of freshness. What is happening in the background is, as a fish spoils, its internal value falls even if you can sell it for the same amount. Any fish over $100 Simoleons will still function as max-level fertilizer even when foul. An excellent freshness bass at $50 can do the same but if it ticks down even one freshness level it will no longer be high quality. Refrigerate your fish in the $60-90 range to keep them fresh until you get Excellent Pomegranates or something like that, which will let you retire your rod and reel.
There is no benefit to using a $3000 Sturgeon as a fertilizer over a $100 Salmon! Many rares should be sold for money instead. The fertilizer strength column is a remnant of the old fertilizer system but it just so happens most of the fish at the top of this chart will meet the $50 minimum requirement when fishing at level 7-10. Fish weight scales with level so you're able to catch heavier fish as you skill up.
| | | | | | | |
| --- | --- | --- | --- | --- | --- | --- |
| | Tuna | L | Common | $50-$90 | High | The Sims 4 City Living. Found in San Myshuno fishing spots and in many spots throughout the world. |
| | Salmon | L | Common | $90-$342 | High | Available in most Fishing Spots |
| | Tambaqui | L | Common | $60-$90 | Med | The Sims 4 Jungle Adventure. Found all over - can be caught at all spots around the marketplace in Selvadorada. |
| | Wolf Eel | L | Uncommon | $108-$364 | High | Use Frog as Bait. Found in Forgotten Grotto. |
| | Sturgeon | L | Rare | $140-$3000 | High | Found at pool in back of Oasis Springs Park, Pond in Willow Creek Park, as well as Forgotten Grotto. |
| | Mountain Lionfish | L | Rare | $166-$900 | High | Outdoor Retreat Game Pack. Found in Deep Woods of Granite Falls (Waterfall Spot) |
| | Bass | M | Common | $16-$70 | Medium | Available in most Fishing Spots |
| | Cichlid | S | Common | $10-$20 | Medium | Caught at most fishing spots. Magnolia Promenade (GTW) is a good one, as well as fishing spots in Willow Creek's bottom-right neighborhood. |
| | Koi | M | Common | $24-$37 | Medium | Found in Ponds in Willow Creek and Oasis Springs' Parks |
| | Yellow Perch | M | Common | $24-43 | Medium | Outdoor Retreat Game Pack. Caught in most Granite Falls Fishing Spots |
| | Trout | M | Common | $19-$113 | Medium | Found in Pond in Oasis Springs Park |
| | Walleye | M | Common | $22-81 | Medium | Outdoor Retreat Game Pack. Caught in most Granite Falls Fishing Spots |
| | Armored Catfish | M | Uncommon | $50-$?? | Med | The Sims 4 Jungle Adventure. Found under Omiscan Royal Baths (take left doorway when facing the temple gateway, if it is open). |
| | Catfish | M | Uncommon | $43-$107 | Medium | Use Plants as Bait. Found very commonly in Rivers. |
| | Discus | M | Uncommon | $35-50 | Medium | Spa Day Game Pack. Caught near the businesses in both Willow Creek and Oasis Springs |
| | Exotic Goldfish | S | Uncommon | $30-60 | Medium | Spa Day Game Pack. Sylvan Glade's waterfall fishing spot |
| | Tilapia | M | Uncommon | $54-$62 | Medium | Found in Sylvan Glades, Waterfall Area. |
| | Anglerfish | M | Rare | $38-$1630 | Medium (but high weight) | Use Bass, Salmon, or Catfish as Bait. Found in Forgotten Grotto and Sylvan Glade Ponds. |
| | Electric Eel | L | Rare | $50-$?? | Med | The Sims 4 Jungle Adventure. Found near the temple entrance - take the right gateway when facing the temple entrance, if it is open. |
| | Batfish | M | Rare | $119-$278 | Medium (but high weight) | Found Commonly in Forgotten Grotto. |
| | Rainbowfish | M | Rare | $65-$85 | Medium | Found in Forgotten Grotto and the Waterfall in Sylvan Glade. |
| | Treefish | M | Rare | $151-$375 | Medium (but high weight) | Found at Pond in Willow Creek Park, Sylvan Glade Pond. |
| | Vampire Squid | M | Rare | $50-$?? | Med | The Sims 4 Vampires. Hardly rare - it is caught in Forgotten Hollow and an easy catch at level 10 with no bait. |
| | Goldfish | S | Common | $12-$15 | Low | Found in Ponds in Willow Creek and Oasis Springs' Parks |
| | Guppy | S | Common | $7-$10 | Low | Found in Pond in Oasis Springs Park |
| | Minnow | S | Common | $7-$9 | Low | Available in most Fishing Spots |
| | Perch | S | Common | $10-$13 | Low | Available in most Fishing Spots |
| | Tetra | S | Common | $6-$11 | Low | River at Willow Creek Park |
| | Angelfish | S | Uncommon | $14-$20 | Low | Rivers in Willow Creek |
| | Betta | S | Uncommon | $11-$20 | Low | Pond in Willow Creek Park |
| | Kissing Gourami | S | Uncommon | $16-$18 | Low | Found commonly in Rivers. |
| | Red Crawdad | S | Uncommon | $11-16 | Low | Outdoor Retreat Game Pack. Found in most Granite Falls Fishing Spots |
| | "Captain Fishbones" Bonefish | S | Rare | $10-$25 | Low | Magnolia Promenade (Get To Work), Oasis Spring's Park, Sylvan Glades (Willow Creek), Hermit's Secret Location (Outdoor Retreat) |
| | Gummie Guppie | S | Rare | $15-30 | Low | Magnolia Promenade (GTW), Oasis Spring's Park, Sylvan Glade waterfall, Hermit's Secret Location (Outdoor Retreat) |
| | Piranha | S | Rare | $19-$27 | Low | Use Koi, Bass, Catfish, Rainbowfish, and other Medium Fish as bait. These are caught somewhat regularly in the pool at the back of Oasis Springs Park (not the pond, see below), and occasionally the pond in Willow Creek. As with all Rare catches, it may take higher than Fishing Level 7 to catch. This one most definitely requires bait to come up reliably. |
| | Red-Tailed Black Shark | S | Rare | $18-$22 | Low | Use Small Fish as Bait. Found in Pond in Willow Creek Park. |
| | Blue Crawdad | S | Rare | $50-81 | Low | Outdoor Retreat Game Pack. Found in Deep Woods of Granite Falls (Waterfall Spot) |
Growfruit, Bee Boxes and Fungal Infusion (Hermit)
Growfruit (from the Spring Challenge) are the only plant that gets a 'high' fertilizer grade score. They are available by cheating (bb.showhiddenobjects). Another item that is extremely potent but not listed here is the special fertilizer you learn from the herbalism Skill and the hermit of Granite Falls. This requires a collectible item to craft, and isn't worth it unless you are a Scientist with access to a cloning machine.
Lastly, Beekeeping can provide an area of effect fertilizer effect to your plants that stacks with everything listed here. See the Seasons Beekeeping Guide for further details.
How You Can Support The Site and Channel

If you like my sites and
Youtube Channel
, consider supporting me on
Patreon
to help me to continue. If you'd like to support my guides in another way you can use our
Amazon link
for your next purchase (if in the US). We also offer a
paypal donate link
so you can contribute directly.
Back to The Top
Check Out My Youtube Channel!
We now have a Youtube Channel with over 50 guides in video format to go along with the huge site I've already created. Check it out and consider subscribing if you like my style.
Comments (8)
Topic:
http://carls-sims-4-guide.com/skills/gardening/fertilizer.php
New
Maple Simmer
Thanks for such a helpful guide! I have evolved growfruit in a few of my saves so I'll definitely be using that. FYI, you can buy growfruit at the supplies booth in Granite Falls, so if you have Outdoor Retreat you can easily get it that way.

New
jjrmich
While you've done a great job on this guide and I can see the hard work that's gone into it, the fertilizing quality system is actually far less complicated than this

. While there is leftover code in the game for different types of haervestables and fish having different inherent qualities as fertilizers, it looks like at some point that system was scrapped. Instead, the quality simply revolves around the
simoleon value
of the fertilizer. fertilizers worth less than 5 simoleons are the worst, followed by 5 to 12 simoleons, followed by 12 to 20, followed by 20 to 50, with the best quality of fertilizer being those worth more than 50 simoleons. This probably explains why you noticed a dip in quality as fish got less fresh and therefore, lost their retail value.
Senior
Carl
Looks like you may be right about some of this, and you are correct in how the game threw me a massive curveball. All tests come out to show this info 'working' and an extra degree of complexity is added when trying to test this because fish do not visibly drop in value due to freshness. If you catch a salmon at $100, it will still be $100 at foul (I even traveled to test this). So in that way, freshness matters.I think a LOT of what was stated stands because you pretty much are wasting time to use low yield fertilizer, but it's very good to be able to say that fertilizer caps in quality a 50 simoleons. You're doing yourself 0 favors by using $1,000 sturgeon vs a fresh bass. So yeah it's correct that a bass (that would be listed as medium here) that is heavy and thus value > $50 can be as good as a salmon.I feel a bit iffy about nuking so much of this, particularly the video. I show fishing spots in it that are good for catching the higher value fish that happen to almost always be higher value (with some padding to account for freshness) and make fantastic fertilizers. I guess next what needs to be known is to what degree freshness of fish affects the HIDDEN value for retail. If it is $60 and it drops a grade is it now under $50 internally? Some people really like to min-max so I may do some extra testing on this before I pin a comment on my video and make some edits here.
Regular
Joria
Loving the videos Carl! It makes it so much easier to see what you are trying to explain as well as hearing what you are saying. Combine that with the Guide and it's a terrific way to learn to play more efficiently.
New
gardening-fan
Reading the comments above, I'm super curious to know if freshness really *does* matter. I've never noticed that it does in my play. I think it makes more sense story-wise to put decomposed fish in a garden then a perfectly fresh fish, so that's my bias.The real reason I'm writing is to request the addition of pet poop to your fertilizer study. Yes, it is gross if you take it literally, but it's a nice gameplay feature to have a household member naturally produce fertilizer. I am curious to know how it compares to other fertilizers.
Admin
Playlot
Foul fish have a negative penalty when using as fertilizer so they are like an 'anti-fertilizer' in some circumstances, so definitely not a good item to use. I'll pass on your request about pet poop.
New
drscott11
I did not see this in your guide so I'll pose the question...According to your guide, fish make the best fertilizer, with heavier fish being better so I thought, "Why fish when I can just stock the fish tank then transfer to my inventory?" It does work, and the plants accept them as fertilizer but the fish have "no value" or "weight", the fields for this info simply don't exist for them. So the question is, how does this affect their quality for evolving plants?
Admin
Playlot
It's a good question, same thing happens when you use the fish vendor to purchase salmon or tuna and then use those fish as fertilizer. In-game testing shows these unweighted fish as far less effective as fertilizer compared to caught fish.
New
Gwen Spellblade
copypasto as a caster also works for replicating many things, from highly evolved plants, excellent quality fruit, as well as the fungal infusion fertilizer. . .
New
Rose
I was able to fertiliser my plant with growfruit and then add the fungal infusion immediately afterwards. I was wondering if this stacks the effect of fertilisation or if the fungal infusion replaces the growfruit as the plants' fertiliser. If it stacks the affect that would be amazing!
New
Savuti6
Carl Re: Fertilzers ~Hight strenght Dragon fruit which sell for over 50 make excellent fertilizer (that way you do not have to be a level 10 gardener to get the growfruit ..Although my level 7 fisherman /mermaid did hook one out of the sea in Sulani)
She is now growing Growfruit at a level 8 gardener
Are you sure you want to report it?
Share a link to this comment
Nifty Knitting & Eco Lifestyle Guides
Support Us

Readers who use adblock or those who'd like to thank me for my efforts can now pledge $1/$5 monthly via Patreon. This helps a lot with server costs and provides some stability for my business.
Super Sim Checklist + Other News
Let's Play Playlist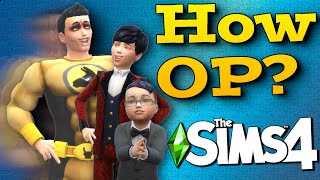 New I now have a guide to Making Super Sims in The Sims 4. Look for a text version within the next 72h. It won't have THAT much more info but it will help out as a checklist.
This was inspired by a series, "Let's Play a Super Sim" in which I start at toddler and gradually take on the major bonuses. Here's a link to each part for people who are interested. You can also see the Let's Play as a Playlist on Youtube.
Discover University Expansion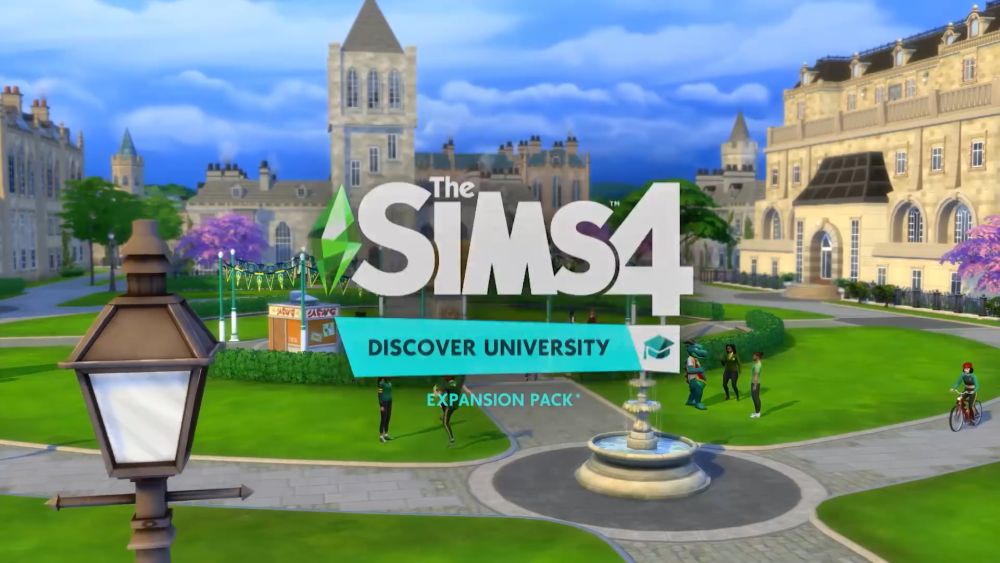 The Sims 4 Discover University has been announced for November 15 for PC/Mac and December 17 for Xbox and Playstation 4 consoles. Click to learn more about the pack, see my summary of the livestream or read our FAQs below.
Other Guides to Discover University:
New Lot Traits: Study Spot and University Student Hang Out
New: Discover University FAQ: Gameplay Features
New Video The Sims 4 Discover University Gameplay Tips Video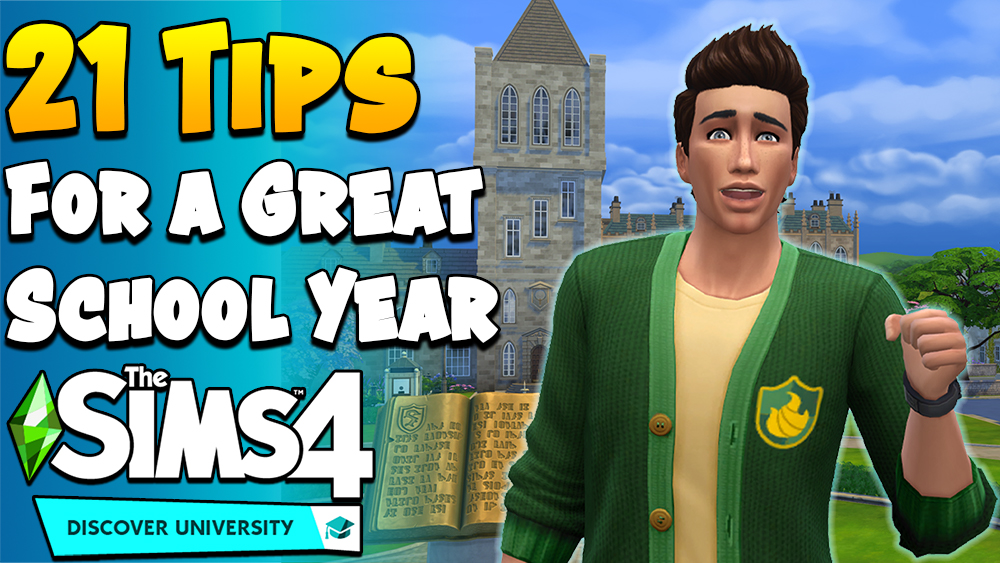 More videos coming soon!
Realm of Magic