The Sims 4 Star Wars Game Pack
Journey to Batuu DLC Additions and Gameplay Features

Star Wars: Journey to Batuu. The Sims 4 is in there, too.
The Sims 4 Journey to Batuu Game Pack aims to let players enjoy an authentic Star Wars experience by letting them take a trip to Batuu. While adventuring there, they'll be able to meet Star Wars characters, collect some iconic items like lightsabers and droids, and bring those items home once the trip is done. Journey to Batuu has a September 8, 2020 release date.
Where Does This Come From?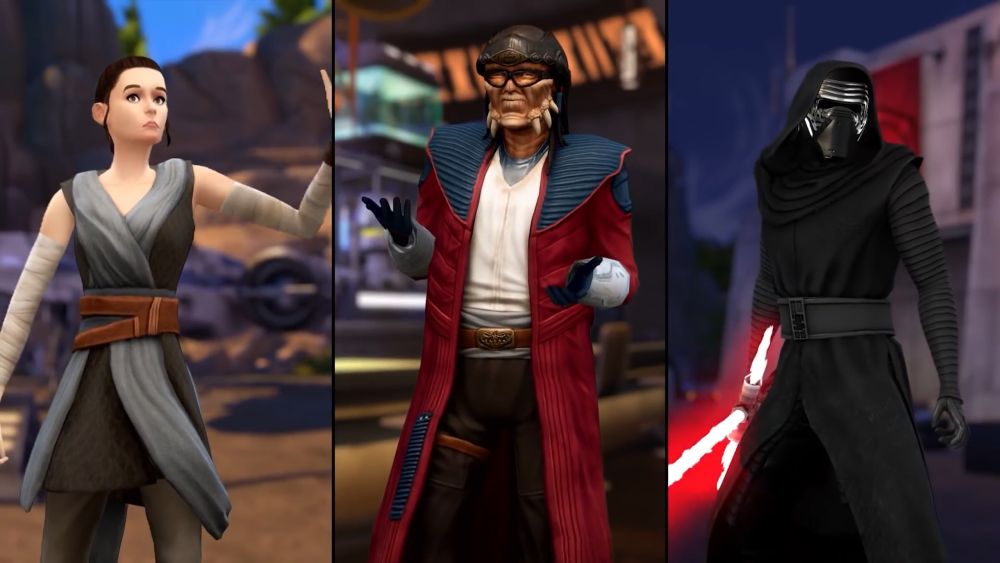 Who are these characters? Check out the blog linked below to learn about Galaxy's Edge and the characters involved in the Disney attraction.
A blogger named Crazy Cat Nerd did an excellent write-up that you can read on her blog which will explain Batuu, the factions and characters involved. This pack has a tie-in with a Disney theme park attraction called Galaxy's Edge. If you are a Sims player who wants to understand what is going on in this pack and who the characters are, I highly recommend you visit her blog to learn more.
Batuu: A Star Wars Outpost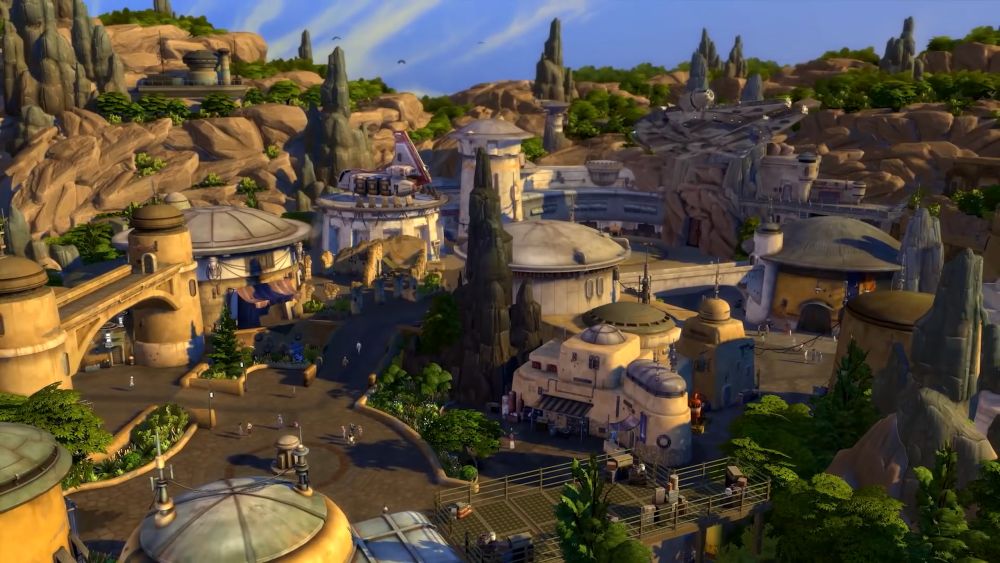 The Outpost at Batuu
Players will get a phone call offering them adventure, which leads them to the world of Batuu. It's an outpost in the Outer Rim in the Star Wars universe. You'll find three separate factions here: smugglers and scoundrels, the First Order, and of course the Resistance. Each of these groups is attempting to take control of Batuu as a valuable trading outpost.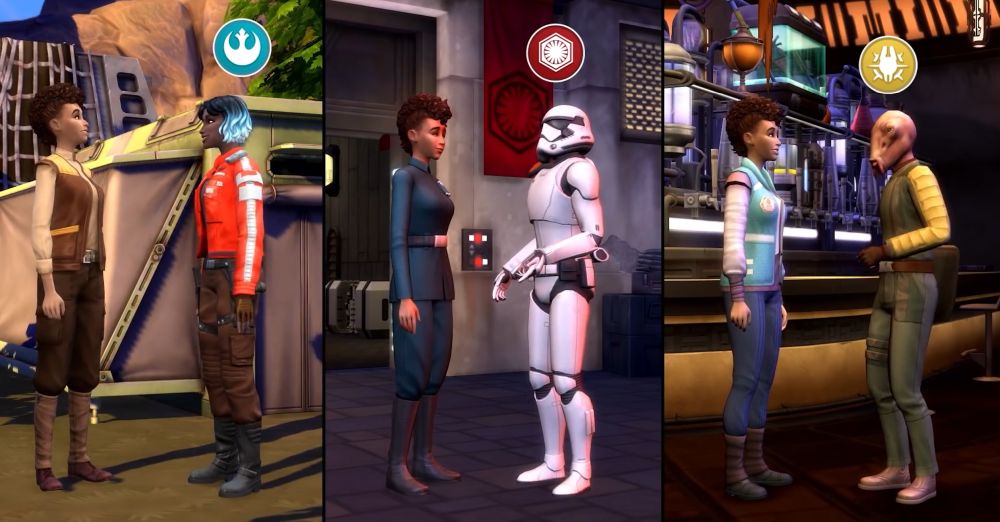 You'll work for multiple factions in order to increase standing.
Missions sound like they are the primary gameplay. You'll develop a reputation with each faction as you perform missions for them. This may involve spying, sabotage, collecting, or making repairs and flying starships.
Droids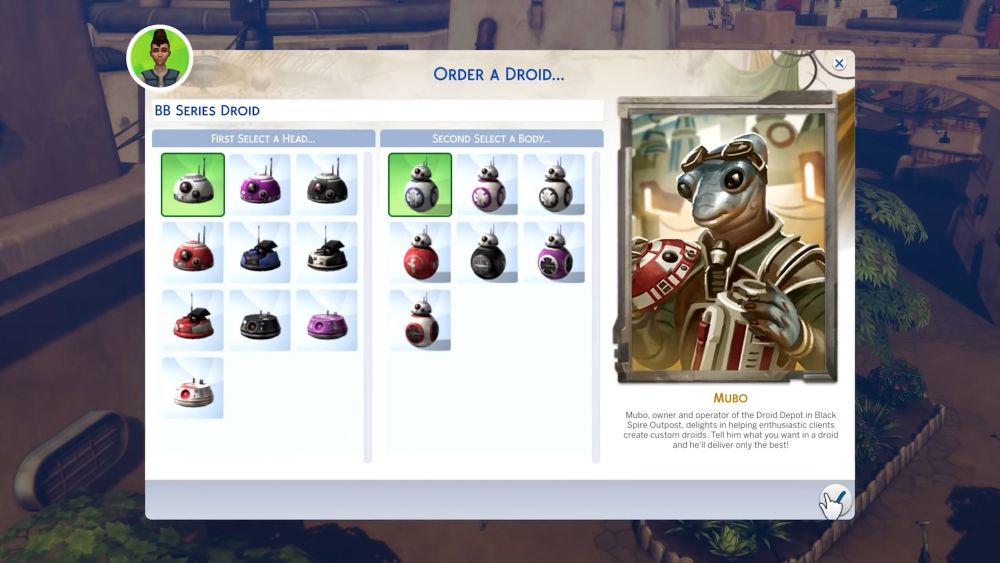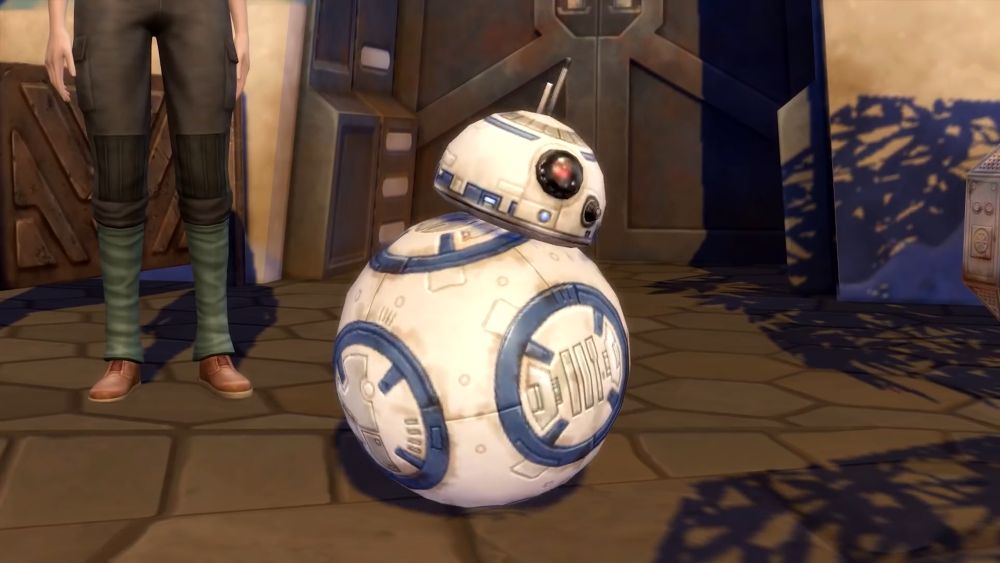 You can purchase and customize droids in Journey to Batuu
In order to assist you with missions for the three factions, you'll be able to purchase your own Droid at the Droid Depot. It would appear there are both R-series Droids (think R2-D2) along with B-series, like BB-8 in the new trilogy. These can assist you on missions, and you're able to at least customize the color. They apparently can be instructed to help you by providing distractions and helping with repairs.
Lightsabers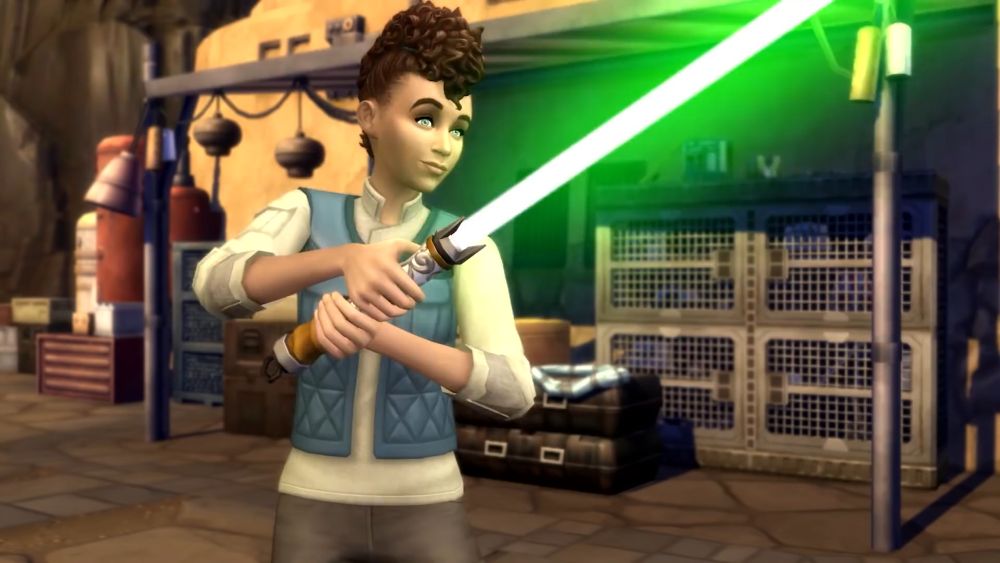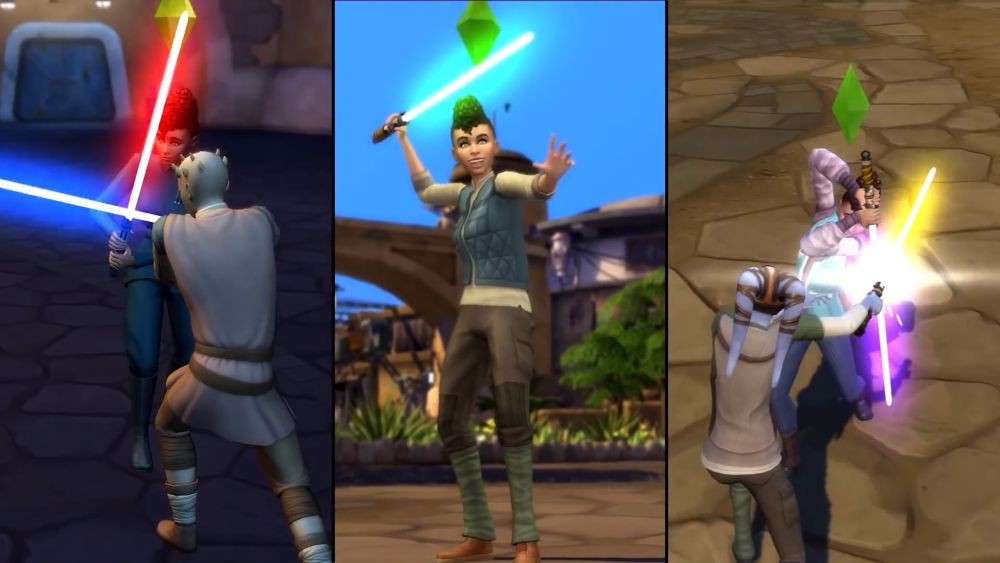 Fitness skill is used for lightsaber combat. It seems there will mostly be friendly duels.
Lightsabers are also included in the pack. You'll have to collect Kyber Crystals (not our typical Sims collectibles) and get a hilt to make your own. Lightsabers use the fitness skill to determine your ability with them.
Back at Home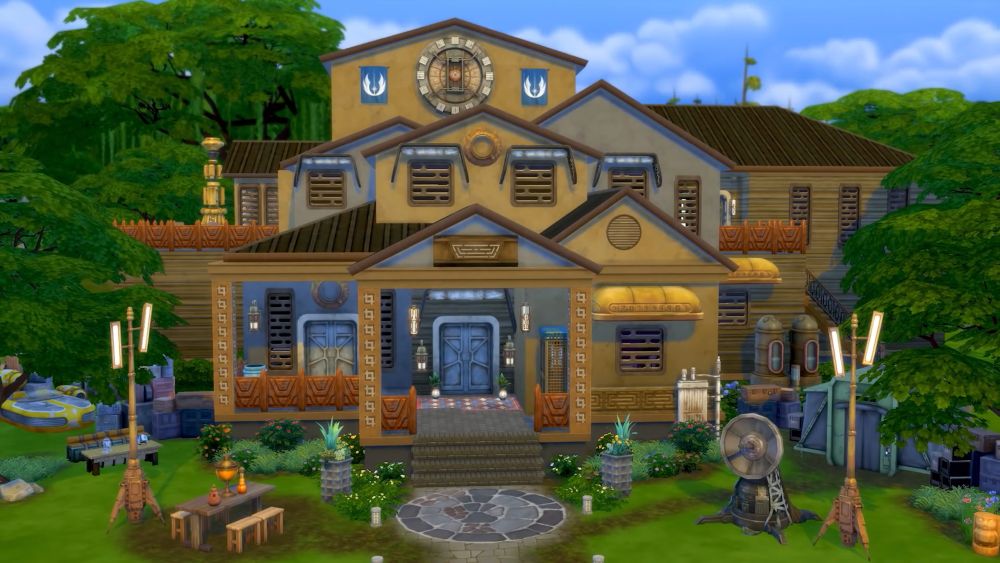 Decorate your home with items you bring back from Batuu.
This is a travel experience, not something that is going to have a lot of impact back in Sims-ville. You will be able to bring your Droid back home, and use your Lightsaber in friendly duels with Sims. Additionally, there are objects you can use to decorate your home (and of course you'll get access to the assets they used to make various things on Batuu). It's not a pack that is extensively integrated with the rest of the game, and comes across to me as a very contained experience due to these things.
Thus far, I'm not aware of any new skills or careers, just missions and galactic credits you can spend when on Batuu. To take advantage of this pack, you'll need to cheat or travel to Batuu.
My Opinion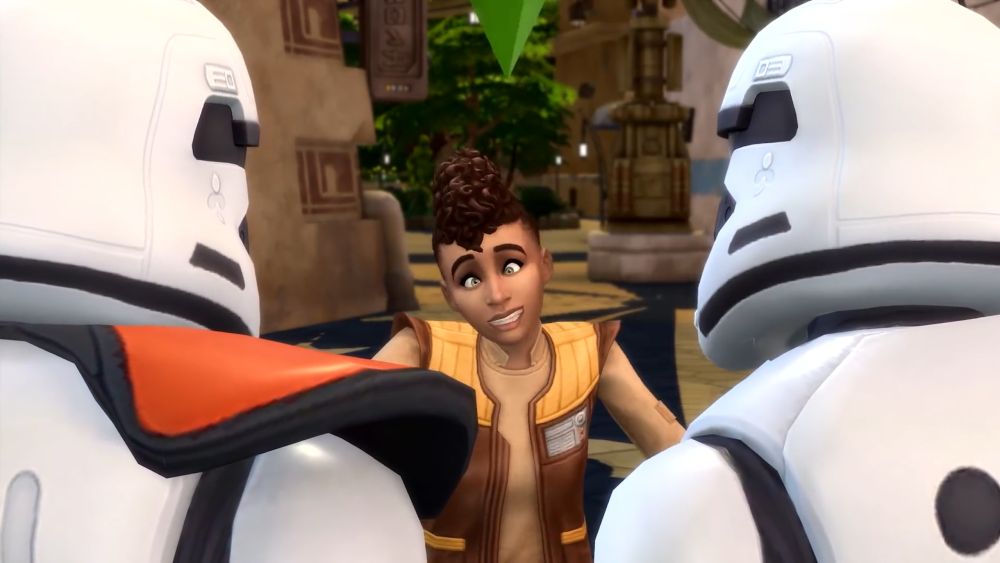 My opinion doesn't belong on this page, but I've definitely provided one.
Because I know that some people are excited and would prefer my main pages to be about the actual content, I've kept my opinion on this pack separate. It's evolving, but you can read my thoughts here if you are interested in what I think.
A Few More Pictures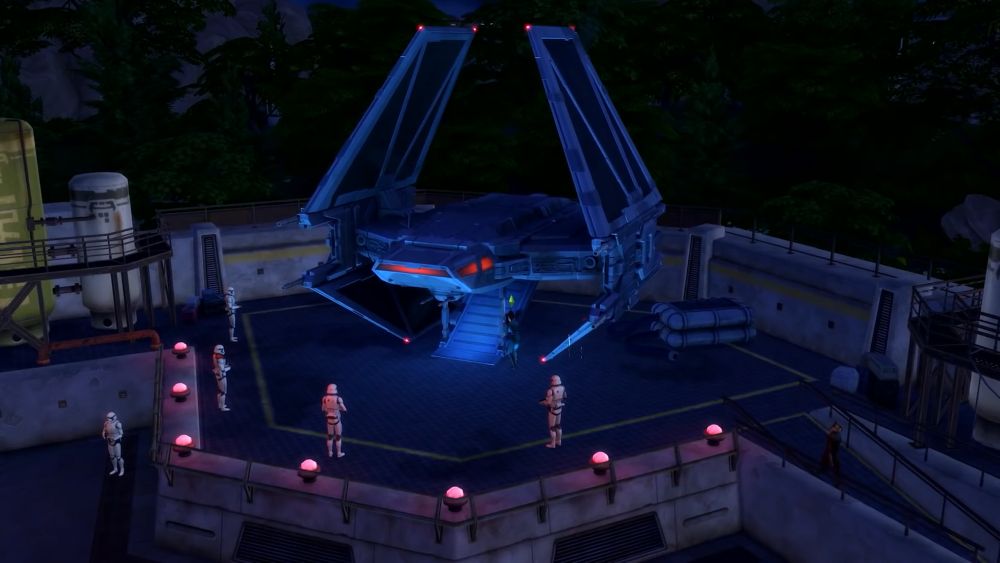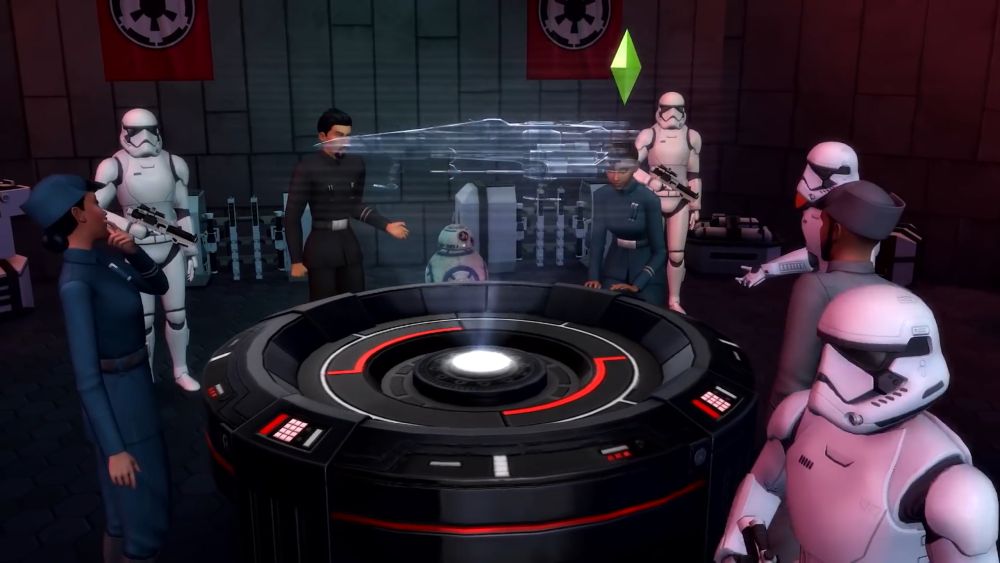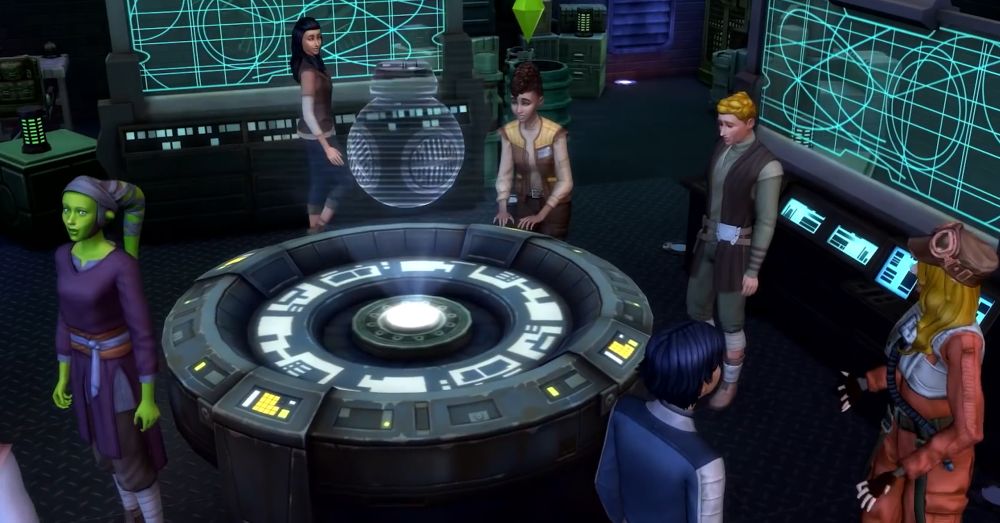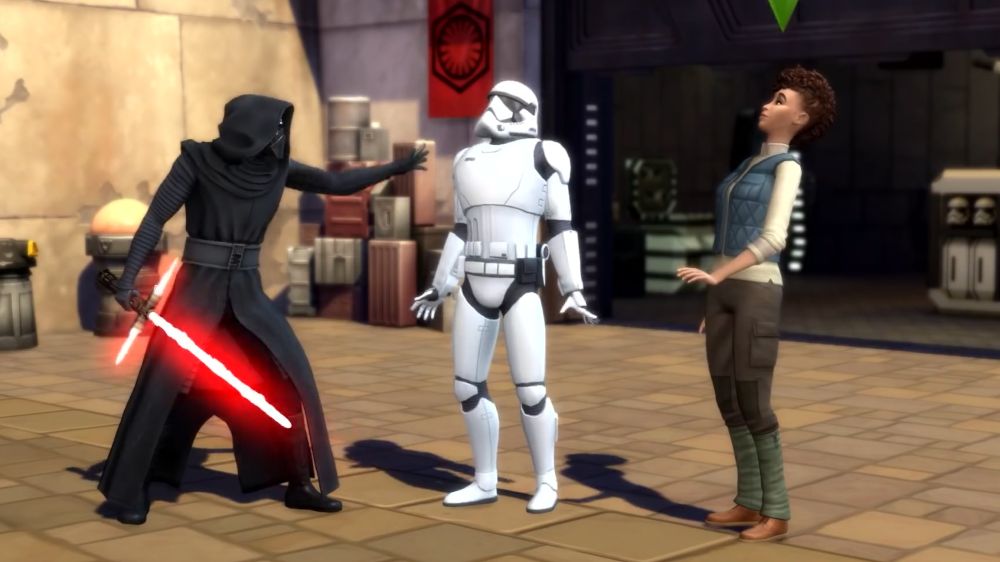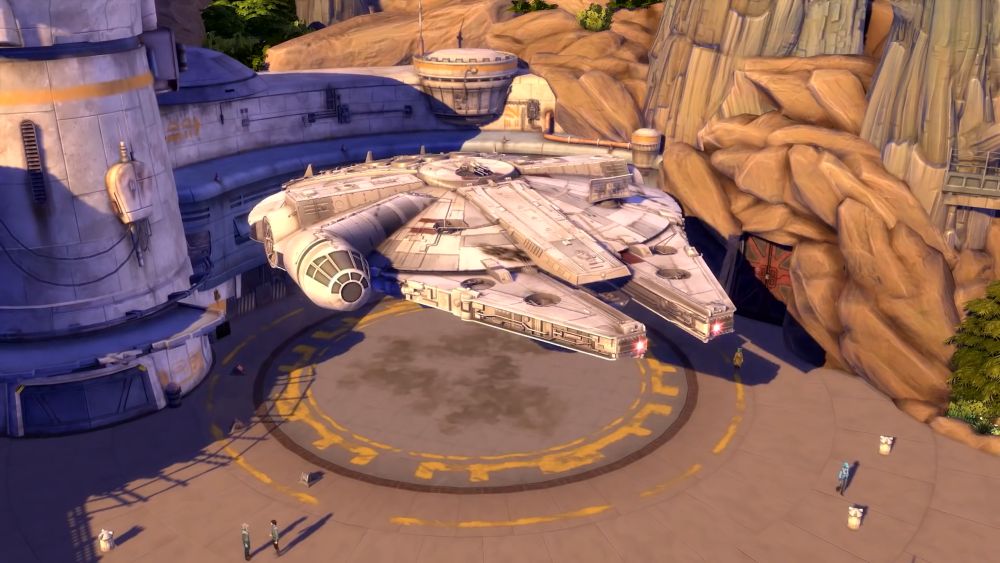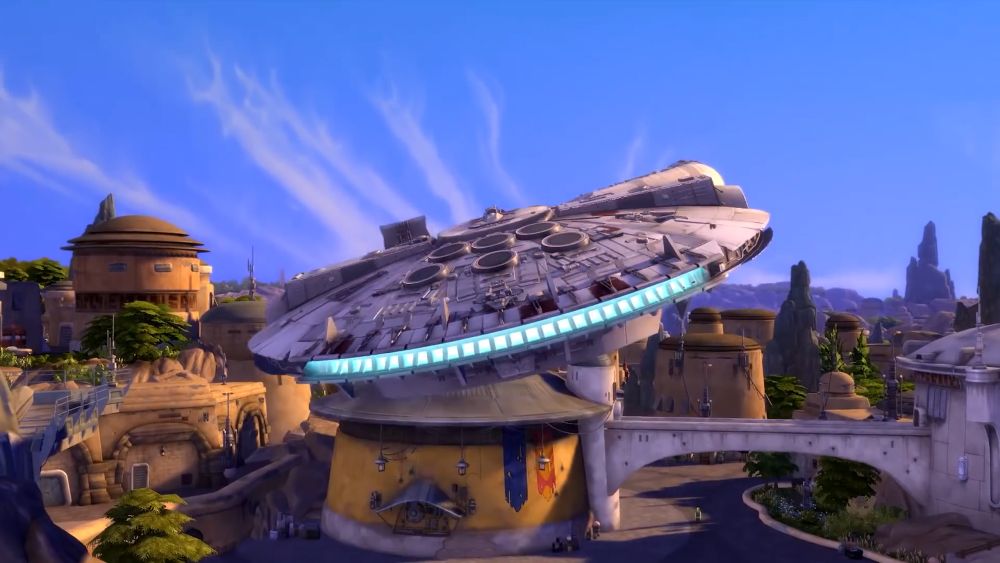 How You Can Support The Site and Channel

If you like my sites and
Youtube Channel
, consider supporting me on
Patreon
to help me to continue. If you'd like to support my guides in another way you can use our
Amazon link
for your next purchase (if in the US). We also offer a
paypal donate link
so you can contribute directly.
Back to The Top
Check Out My Youtube Channel!
We now have a Youtube Channel with over 50 guides in video format to go along with the huge site I've already created. Check it out and consider subscribing if you like my style.
Comments (9)
Topic:
http://carls-sims-4-guide.com/gamepacks/starwars/
Regular
Zero
So is it just the lightsaber and the droid no Jedi or Sith abilities? That's HIGHLY illogical if it's the case what's the point of a Star Wars based add on without the ability to make a Jedi or Sith character.
Admin:
The droids are 'functional' on Batuu but then seem to turn into some sort of motorized toy when back in your Sim normal home as the EA blog says they can be driven around with a datapad. The lightsaber builds fitness skill only. No Jedi or Sith 'skills' it seems. Basically you take your Sim to Batuu as a replica of the real life experience of visiting Galaxies Edge, your Sim does 'missions' to gain reputation and the local money, buys trinkets (droids and lightsaber etc) to bring home as souvenirs I guess.
New
Kimosauve
first.
excited for this pack!!
New
Cyn
I'm sad that this pack (like many others) have so much more potential, but this is just another vacation spot with a lacking story and no real feel for Star Wars to it from my understanding
New
Adam1978
Have you noticed that both Rey and Kylo Ren have unique voices apart from all other sims. Most noticeable is Rey's which seems to have a "British/Simlish" accent, and is modeled after Daisy Ridley's voice presumably. My question is, is there a way we can cheat maybe and assign this other voice to other sims during CAS? I'd love to have Sims with a British type voice.
New
Heart Foam
I'd be quite happy with the pack exactly as it is... if only there was a gameplay hook like a bloodline trait. Let's say a sim completes one of the faction aspirations, and has a child with a NPC from Batuu, then the child would have "the force" or whatever -- something similar to the magical bloodline that can get stronger or weaker. And in this case it could give more XP for completing missions (because that can be a tedious chore) and better performance in lightsaber duels.
And forming that bloodline would give a reason to go back, to have a family of the force. It would be a great gamplay hook, like the Sulani Mana trait and ancient magical bloodline gives the player a goal, and makes engaging with the respective game mechanics more worthwhile. I want to like the pack. I want my sims to have a fun reason within their pixelated existence to to go. But they don't. I, the player, may or may not be a Star Wars fan, but my 7th gen sim? Why does he want to go? For him it's not a holiday, it's work. With no benefits. Right now, Batuu is beautiful but a pointless grind. But if I could have a baby Jedi? Sure.
New
Adam1978
Yes, I've completed it, you have to make sure that you've either created a distraction with your droid, or be completely clear of First Order personnel. Anyone near you at all will screw up the action.
Regular
Sketch Elder
I used my droid to unlock the door.
New
Mew
The first few days I played the heck out of it and enjoyed it. There are a few things The reviews are missing and maybe it is just as simple as no one knows what to do with them either LOl but what is with the scans are they just an inventory item or is there something you can use to display them like a holotype thing?
New
Adam1978
Scans are intended to teach you about Star Wars objects/people/places, assuming that you're a newcomer to the series. BUT, if you multiselect them after you've read them in your inventory, they can be sold for a small amount of galactic credits, so they are also worth some money too! I had a small bug in my game when I played, and I could sell them multiple times for infinite credits!
New
Mew
Not New to either Star Wars Or The Sims Franchise. That's Disappointing that there is no display option.
New
Mew
Oh And Thank you for the Answer!
New
Tony E.
So has anyone else had an issue with their Magical or Vampire powers not working here?
Like Sims in my household/travel group can't use any Magic or Vampire abilities while on Batuu?!?
But Wizards/Witches and Vampire AI that wandered in still have access to their powers...?!? Has anyone found a way to fix this?
New
nina
You could try zeros vampire mod..just google "zeros vampire mod"..
Bugs me that my super speed has gone and I can't drink from anyone..but seems that eating sim food fills up the thirst bar..going to put his mod back in because u can invite a vamp along and feed from him or her with this mod..wish they hadn't frozen our supernatural powers..they need to fix that asap >.>
New
Beth
If you create a new sim they can a star wars theme for their aspirations. Unfortunately, they are not able to live there full time and still require housing in one of the sims worlds.
Are you sure you want to report it?
Share a link to this comment
Star Wars in Sims 4

We now have a page on The Sims 4 Journey to Batuu.
It's not what I would have hoped for in a Star Wars Game Pack so far.
Secrets and Other New Stuff
Sims 4 Packs & DLC
Support Us

Readers who use adblock or those who'd like to thank me for my efforts can now pledge $1/$5 monthly via Patreon. This helps a lot with server costs and provides some stability for my business.
Super Sim Checklist + Other News
Let's Play Playlist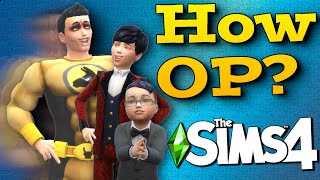 New I now have a guide to Making Super Sims in The Sims 4. Look for a text version within the next 72h. It won't have THAT much more info but it will help out as a checklist.
This was inspired by a series, "Let's Play a Super Sim" in which I start at toddler and gradually take on the major bonuses. Here's a link to each part for people who are interested. You can also see the Let's Play as a Playlist on Youtube.
Discover University Expansion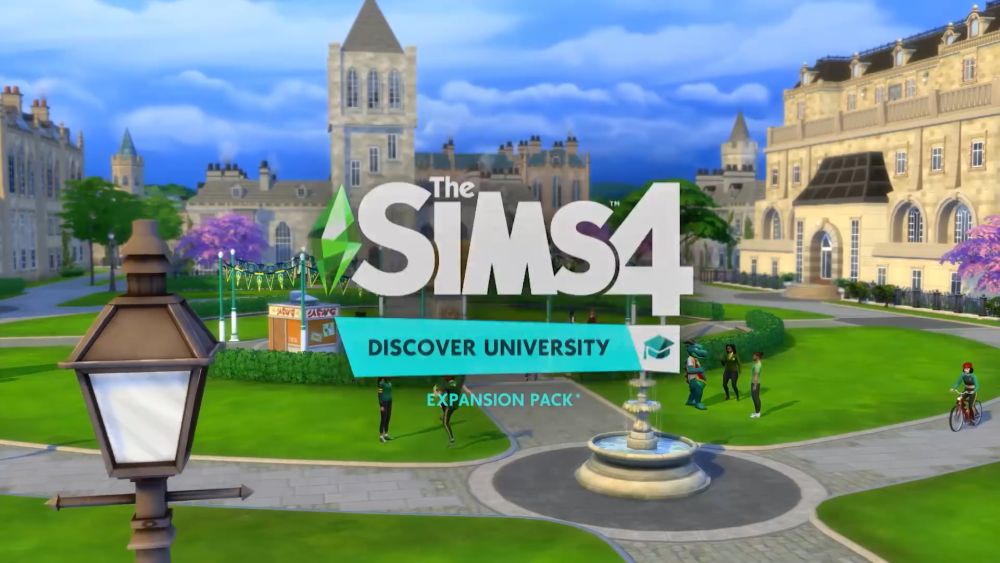 The Sims 4 Discover University has been announced for November 15 for PC/Mac and December 17 for Xbox and Playstation 4 consoles. Click to learn more about the pack, see my summary of the livestream or read our FAQs below.
Other Guides to Discover University:
New Lot Traits: Study Spot and University Student Hang Out
New: Discover University FAQ: Gameplay Features
New Video The Sims 4 Discover University Gameplay Tips Video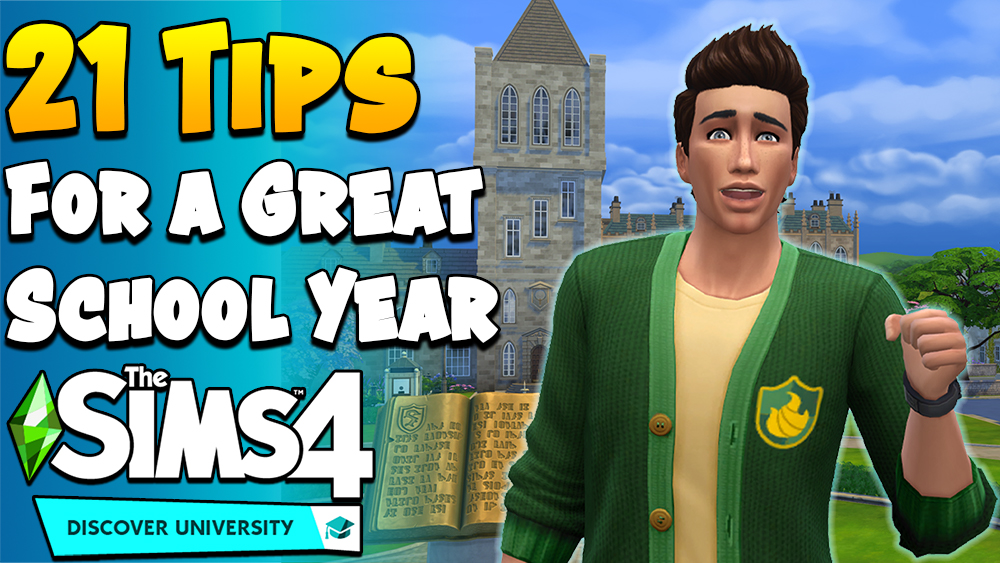 More videos coming soon!
Realm of Magic