The Sims 4 Get Famous: Fame Perks Guide
Learn About the Expansions Benefits for Celebrities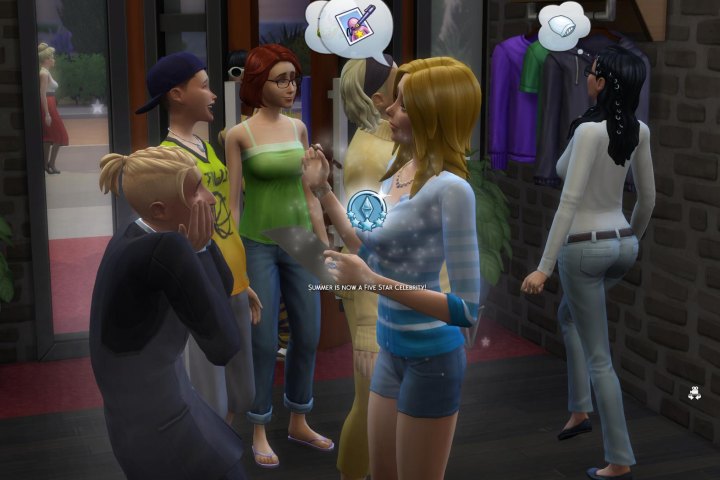 With Global Superstar, you have a total of 10 Fame Perks you can purchase. Some require a positive or negative reputation.
Get Famous includes fame perks, unlocked as you increase your celebrity's fame rank. There are 5 ranks in total, and almost two dozen perks to choose from. Every single one of these has at least two benefits, and sometimes more. Odds are you will find something that benefits your Sim.
How it Works
Gaining fame and public image in Get Famous (or losing public image) will increase these two metrics in rank. There are 5 rankings for fame and three for the two sides to public image (positive/negative). When you go up in fame, you get access to more perk points. To help you plan what perks you want, you get:
Rank 1: Notable Newcomer - 1 Fame Point
Rank 2: Rising Star - 2 Fame Points (3 Total)
Rank 3: B-Lister - 2 Fame Points (5 Total)
Rank 4: Proper Celebrity - 2 Fame Points (7 Total)
Rank 5: Global Superstar - 3 Fame Points (10 Total)
It is mentioned on the Fame Guide, but you also get other benefits for rising in rank - not just perks.
Losing Fame
It's repeated elsewhere, but your Sim can lose fame ranks if they do nothing that increases fame for a time. It slowly decays. If you drop a rank, you will lose access to the perks you no longer qualify for, but will get the perk points refunded. When you return to that rank you will get no extra points but will get back any Fame Level benefits you previously had.
Get Famous Perks List

10 Million Views! My YouTube channel has grown a lot the last 6 months. I now have over 125 videos on Youtube and am nearing 100k subscribers. I'd like to invite people to check out my content and, if you like what I'm doing, subscribe!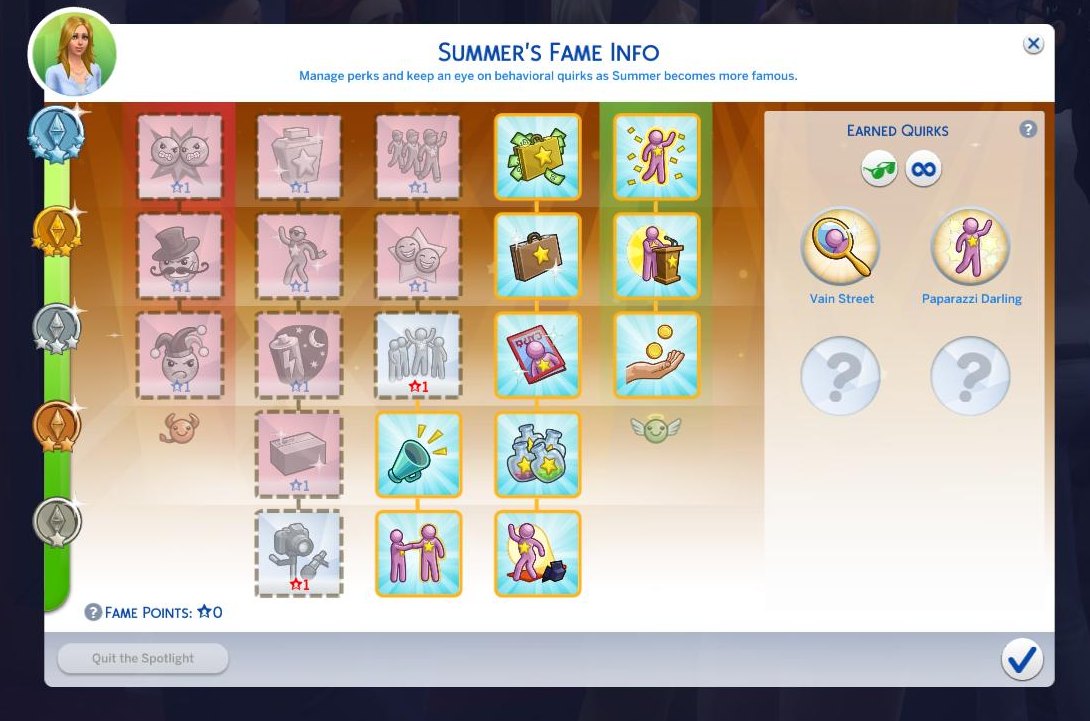 Fame Perks can be reset using a celebrity cleans (on the phone, $275). Don't worry too much about your picks as they are not permanent. You may start one direction to help you gain fame (the media or skill tree is good for that) then switch to another 'build' later.
When organizing these, I realized there's not a great way to do it. They are broken into three 'trees' so you may as well see the prerequisites. They way I'm listing them, you know if you want rank 3 you need 1 and 2 as well. You get a total of 10 fame perk points to spend, so try to plan carefully. There are a total 21 perks so you can get just under half of them but no more than 2 level 5 abilities due to this constraint.
Media Production and Branding Perk Tree
| | | | |
| --- | --- | --- | --- |
| | Corporate Partnership | 1 | Allows the video/music station for the Media Production skill to grant more fame and money. At times you will be asked to film a video within a certain timeframe, and will receive an immediate bonus for doing so. May require the drone to complete certain tasks. These objects are all found under electronics > misc in Buy Mode sort by function. |
| | Influencer | 2 | Your Sim will get random gift from his or her fans in the mail - collectibles, decorative items, and even food. |
| | All-Nighter | 3 | Gives the Sim an Energy boost, giving them more time to stay awake. This can be used for the 24-Hour Charity Stream your Sim can also use with this Perk (Requires Media Production). Completing a 24-hour stream will give you a large amount of both Fame and Reputation. |
| | Trailblazer | 4 | Increases the payouts for the Video Station (Media Production, again). For Sims not using that skill, an additional "bonus" is that Sims will begin to emulate the way your Sim dresses. Well, at least you can help fix all the poorly dressed Sims. |
| | Lifestyle Brand | 5 | Allows your Sim to launch a brand, granting income daily. Must be maintained, but gives residual cash. Your Sim can then Enthuse about Brand to other Sims. Sims may discuss your brand. |
Networking and Popularity Tree
| | | | |
| --- | --- | --- | --- |
| | Networking | 1 | Allows your Sim to form relationships with more famous Sims. Socializing with them can then help you to gain fame, with even more provided so long as they are higher rank than your Sim. |
| | PR Agency | 2 | Helps you to boost or reduce your public image using the phone. This can help you to get to get both reputation and fame. You'll also be invited to parties where celebrities are present. |
| | Fan Favorite | 3 | Allows your Sim to ask a fan to boost the fame or reputation of a household member. Additionally, the Sim can now Strike a Pose and cause nearby Sims who are fans to faint. |
| | Instant Besties | 4 | Greeting Sims gives the target a positive buff (on which I'll get details later). An additional bonus to the rate friendships and romance are formed is also provided. |
| | Squad | 5 | Allows you to summon an Entourage. They will show up dressed like you, and will cheer you on. This one, like a few others, will take some testing to see if it's truly useful. Thankfully the rest of this tree is good if you want to be popular. |
Skill and Career Boosting Fame Perks
| | | | |
| --- | --- | --- | --- |
| | Noticeable | 1 | Skill and Career-based fame rewards sometimes provide extra fame. This can help you to grind more. I'm not yet sure if it provides fame on activities that give none (like practicing) but it's clear it will help with those that definitely do (publishing music, performing in public). |
| | CelebuSerum | 2 | Every day, a CelebuSerum will arrive in the mail. They have random effects, such as boosting emotions or needs, and even providing skill boosts. Might be handy at times! |
| | Established Name | 3 | Increases the instant money or royalties for skill-made objects, such as books, paintings, music, and media. A fantastic ability for creative Sims to gain wealth. Actors get an additional bonus in that they can bypass auditions and get gigs straight away. Very handy for speeding up the process of becoming a Global Star. The Sim can also skip hair and makeup with no penalty. So so nice for avoiding the tedium of repeat actions. |
| | Career Hopper | 4 | Helps you jump several ranks when starting a new career, with increased job performance (and thus faster promotions) as well. If you then quit a career, you can get rehired into the exact same rank as when you left. |
| | Easy Street | 5 | This one will make you super rich if you are in a career, as you evidently get a doubled paycheck and even more career performance. Your Sim will always come home in a positive mood. Super powerful if you want a full money vault! |
Positive Public Image Perks
| | | | | |
| --- | --- | --- | --- | --- |
| | Giving Back | 3 | Good | Increases all reputation gains, and allows your Sim to donate objects from home for fame. May help you turn money into popularity. The more expensive the object, the more the Sim will receive. It will be worth determining if there is an upper limit on this - no need to donate a $1000 item if the max reputation gain is for $500, as an example. |
| | Rally | 4 | Great | Allows your Sim to give an inspirational speech, boosting the skill gain of nearby Sims (good for parents?) Your Sim will have increased social success rates him/her self after giving an Inspirational Speech. |
| | Star Treatment | 5 | Pristine | Free... everything, as far as meals, drinks, hiring bartenders, etc. goes so your Sim may enjoy a free afternoon at the spa. Sims will throw confetti to celebrate your arrival at a venue. |
Negative Public Image Perks
| | | | | |
| --- | --- | --- | --- | --- |
| | Who's Bad | 3 | Bad | Helps your reputation to drop faster. In addition, you'll gain fame from Mischief interactions. |
| | Play the Villain | 4 | Awful | Now allows Mean interactions to increase fame, in addition to mischief. Also, amusingly, Sims will cheer you on when you do this to others and may ask for your autograph afterward. |
| | FeudBringer | 5 | Atrocious | Your Sim can now start Celebrity Feuds. Allows some new feud-y interactions like Blame for Feud, Badmouthing on the computer, and publicly disparaging comments. Your Sim will benefit from the news reporting on this feud, since they like being mean, after all. Feuds can be ended once started. |
Latest Get Famous Guides
New - Celestial Crystal Crown Effects and Quirk Removal
New - Fame Quirks
New - Media Production
Fame Perks Guide
Becoming a Star: The Celebrity Fame System Explained
Actor Career in Get Famous
Acting Skill in Get Famous
Get Famous Cheats

How You Can Support The Site and Channel

If you like my sites and
Youtube Channel
, consider supporting me on
Patreon
to help me to continue. If you'd like to support my guides in another way you can use our
Amazon link
for your next purchase (if in the US). We also offer a
paypal donate link
so you can contribute directly.
Back to The Top
Check Out My Youtube Channel!
We now have a Youtube Channel with over 50 guides in video format to go along with the huge site I've already created. Check it out and consider subscribing if you like my style.
Comments (5)
Topic:
http://carls-sims-4-guide.com/expansionpacks/getfamous/celebrity-fame-perks.php
Are you sure you want to report it?
Share a link to this comment
Nifty Knitting & Eco Lifestyle Guides
Sims 4 Packs & DLC
Support Us

Readers who use adblock or those who'd like to thank me for my efforts can now pledge $1/$5 monthly via Patreon. This helps a lot with server costs and provides some stability for my business.
Super Sim Checklist + Other News
Let's Play Playlist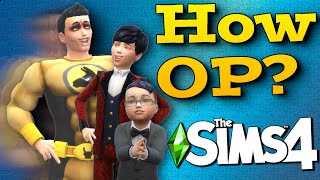 New I now have a guide to Making Super Sims in The Sims 4. Look for a text version within the next 72h. It won't have THAT much more info but it will help out as a checklist.
This was inspired by a series, "Let's Play a Super Sim" in which I start at toddler and gradually take on the major bonuses. Here's a link to each part for people who are interested. You can also see the Let's Play as a Playlist on Youtube.
Discover University Expansion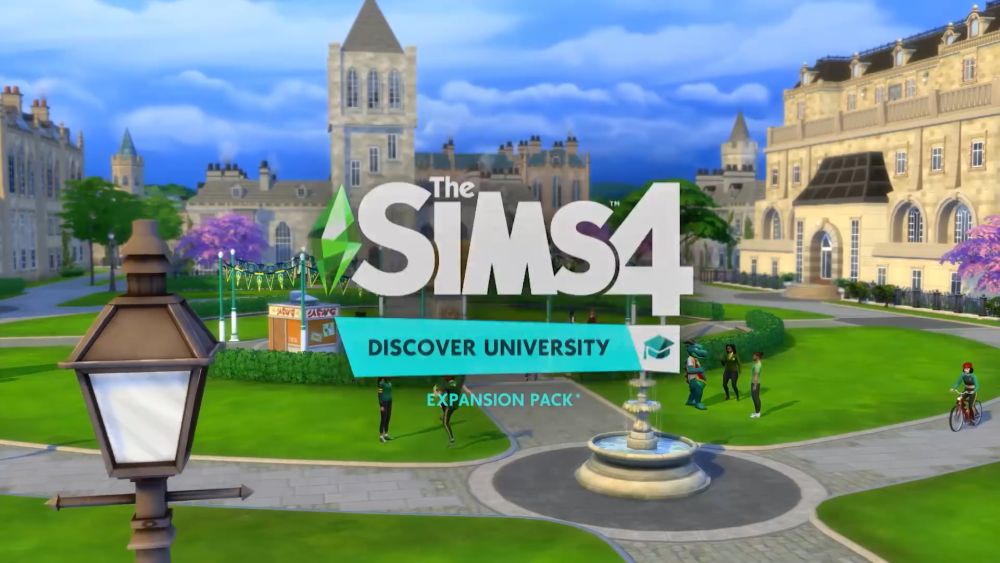 The Sims 4 Discover University has been announced for November 15 for PC/Mac and December 17 for Xbox and Playstation 4 consoles. Click to learn more about the pack, see my summary of the livestream or read our FAQs below.
Other Guides to Discover University:
New Lot Traits: Study Spot and University Student Hang Out
New: Discover University FAQ: Gameplay Features
New Video The Sims 4 Discover University Gameplay Tips Video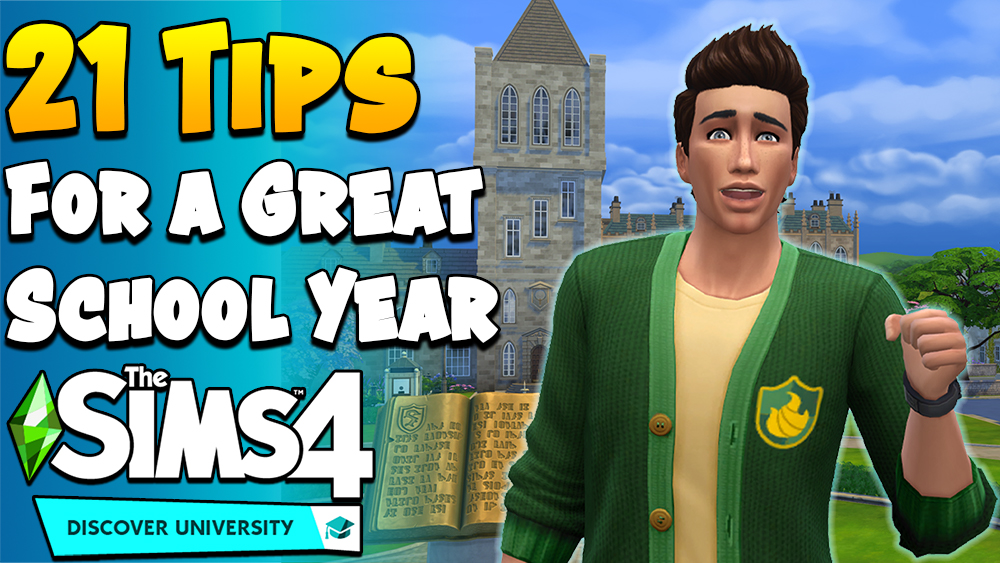 More videos coming soon!
Realm of Magic