The Sims 4 Outdoor Retreat Game Pack Additions
New Gameplay Features, Pictures, Objects, and Vacations in Granite Falls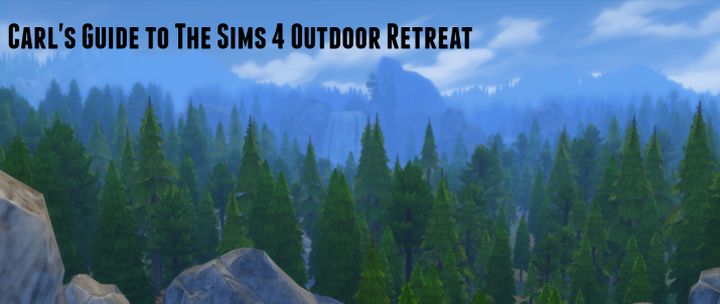 The Sims 4 Outdoor Retreat is the first Game Pack in the franchise. It sets a precedent that minor add-ons for the game will include gameplay features, as opposed to objects and clothing via Stuff Packs. That's not to say this GP doesn't compete with The Sims 3's Stuff Packs in terms of 'stuff'. There is actually more here than in a typical Stuff Pack, with gameplay to make it more appealing to players deciding to buy it. I am eager for the game to be expanded upon in this way, as most of us could get free decorative content from the many CC sites without needing to fork over any dough. Maxis-designed Skills and interactive objects are simply more appealing to purchase. Even as a Guide author, I never bought more than 2 Stuff Packs for TS3 and had Twinmum (a Moderator of our Forum) cover those for me.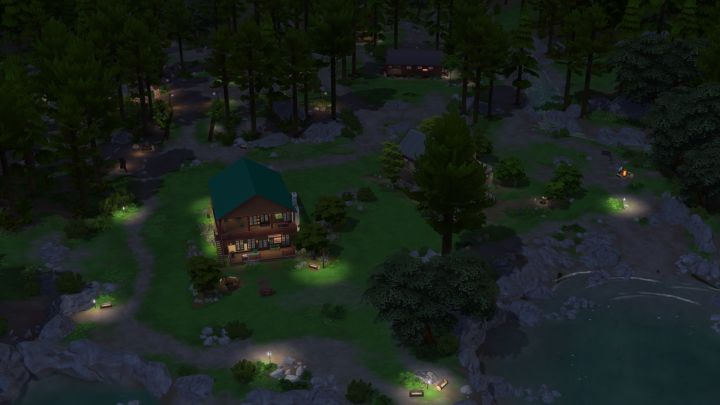 Click to Enlarge Picture. Night Shot of the Campgrounds at Granite Falls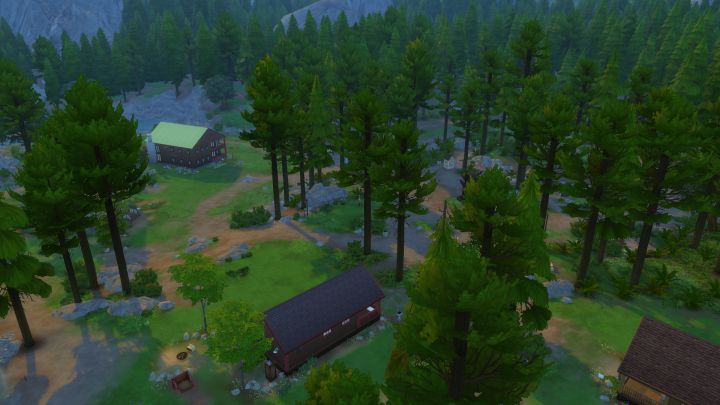 Click to Enlarge Picture. Outdoor Retreat's Campground Area
Comparing TS3 Stuff Pack Content to Sims 4's Game Packs
To help you understand why Outdoor Retreat is a value at its $20 launch price, we can compare the first Stuff Pack for Sims 3: High End Loft Stuff. In all, the Game Pack offers 65+ objects vs High End Loft's 45, and over 80 articles of clothing, hair, and accessories vs HEL's 13(these were counted by user Simify on reddit.com/r/thesims/). Game Packs will not be the only additions to The Sims 4. We will still get Expansion Packs for TS4 that add major gameplay, but these Game Packs will be released at times in between EPs.
Vacations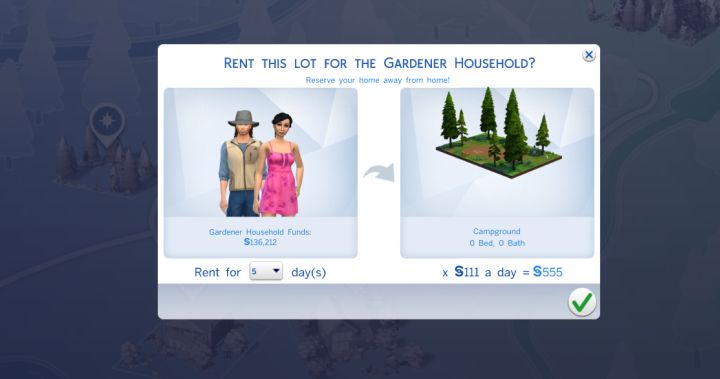 Renting a Lot for a Vacation in Granite Falls, the Game Pack's World
Vacationing in Granite Falls
In order to explore the new Neighborhood of Granite Falls National Park, you need to use your Sim's phone. From there, you can select Travel, and Go on Vacation With... You will need to select one of five Lots to rent, which cost the following amounts per day: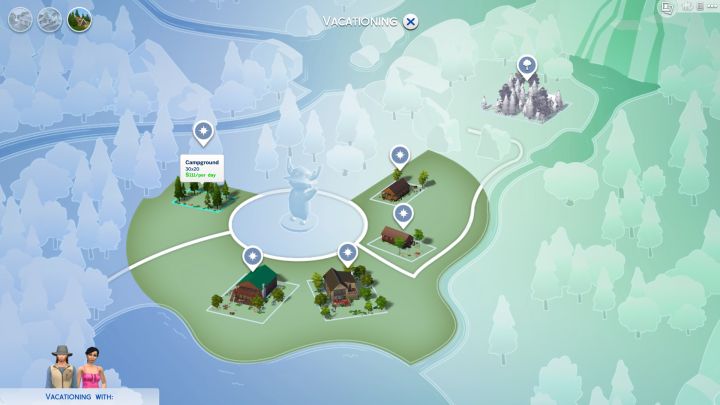 Click to Enlarge Picture. Renting a Cabin costs $ per Day and Uses Career Vacation Days
Campground - $111/day
Riverside Retreat - $282/day
Green Getaway - $397/day
Forest Hideaway - $635/day
Lakeside Retreat - $893/day
You can elect to stay up to 7 days, and will pay ahead of time. At any time while on Vacation, you can go home or Extend Vacation through the phone to pay for more time there. If your Sim has a job, know that their Career's Vacation days will be used while visiting Granite Falls, and continuing to stay beyond the allowed Vacation time could cause a performance hit - so stay on top of the Careers Tab ('J' Hotkey) and be sure you are not about to lose your Job! With Vacation Days available, your Sim will earn money equivalent to a normal day's pay when the shift ends.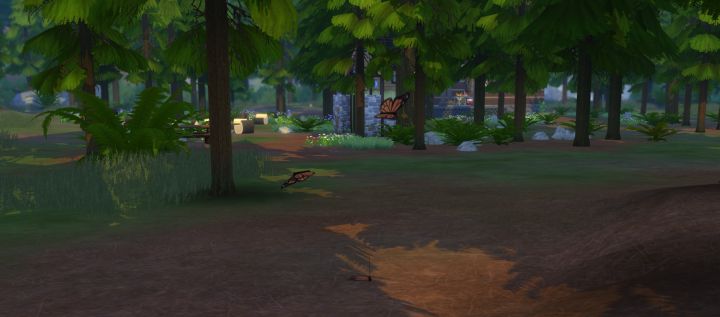 Butterflies can be caught, along with other Flying Insects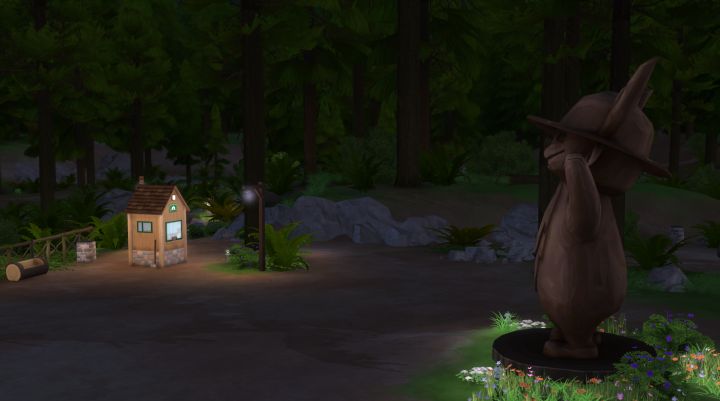 Click to Enlarge Picture. Buy Supplies and Tents at the Ranger's Aid Station
Two Main Areas & One Secret Area
There are two main areas (Neighborhoods) in Granite Falls, and one secret area. First is the area you are automatically taken to when visiting - the Campgrounds. There, you will find the five lodgings you can rent, along with plenty of visiting Sims. Park Rangers are available, and can be asked about the new Game Pack's features, as well as giving you some minor advice. A Sim in a bear costume lingers here, waiting to make tourists Tense. You can don the costume yourself in Create-a-Sim. There is a Ranger's Station you can visit to purchase supplies near the Mascot Statue (which can be examined to get a Woodworking Schematic). You are able to buy tents, food, campfires, tables, and chairs there, which can help you to drop everything and relax anywhere in the Forest. There are, of course, collectibles and fishing spots in this area but the best new fish, insects, and herbs are found elsewhere.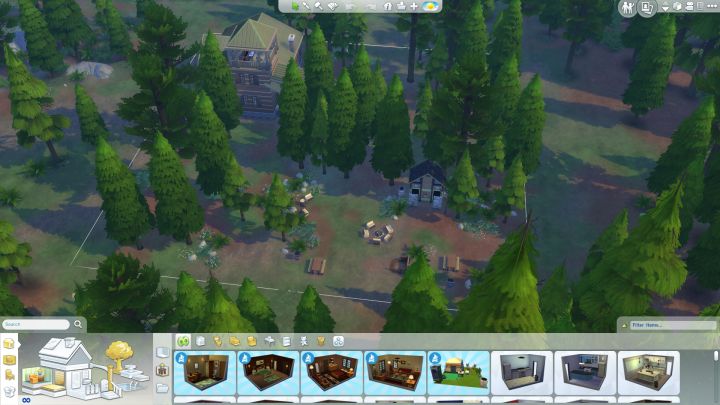 Click to Enlarge Picture. You can build and customize the lot in the Forest Area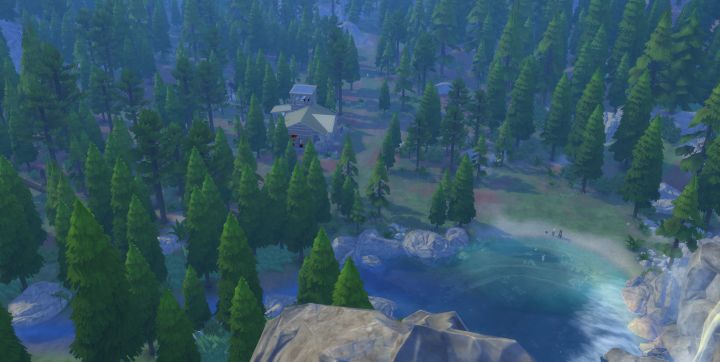 Click to Enlarge Picture. A Wide Pic of Granite Falls National Park's Forest Area
The other area is the Forest where you will not find a Bigfoot because they aren't in the game (yet?). As noted by Nutella on our Forum, there is a huge lot you can build on here, so you can make your own retreat if you like. The whole thing can be bulldozed and customized to your own specifications. It comes with a nice public cabin that can be used for a night's sleep and cooking a meal, if tents are not for your Sim. This is a massive forest with waterfalls and great scenery where you can find most of the new collectibles. You'll see scurrying wildlife (birds, squirrels) and be able to search for the third area, which is secret yet not-so-secret, the Deep Woods where the Hermit resides.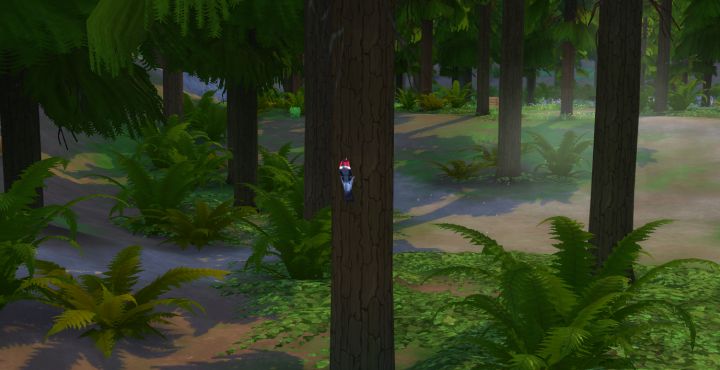 A Woodpecker taps away at a Tree, adding Realism to the Game Pack
Overall, the areas are beautifully crafted by the Game Pack's designers. There is a sense that you are actually exploring the woods thanks to the little touches they put in - the sound effects, animals, and sea of trees with rocks and logs all come together nicely to make the world itself worth a purchase, gameplay aside.
Outdoor Retreat Gameplay Additions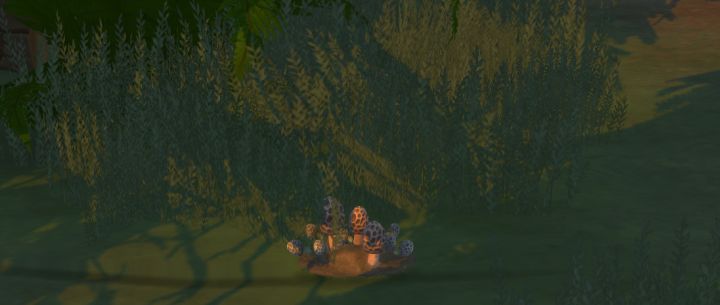 Outdoor Retreat comes with Herbalism - Identifying Wild Plants and making Remedies
New Skill: Herbalism
Outdoor Retreat's Herbalism Skill relies on 10 new Herbs and some of the new insects that can be collected. The Skill allows your Sim to make potions and salves that heal ailments like bug bites and calm emotions like anger, while also producing excellent Fertilizer for your Garden and weed repellent. Visit the linked Guide to see more about this Skill, which is as fully featured as others, just difficult to use heavily because of the ingredient requirements. You can take Herbs you collect back home to grow and use in practicing it, but will sometimes need insects in order to complete a recipe.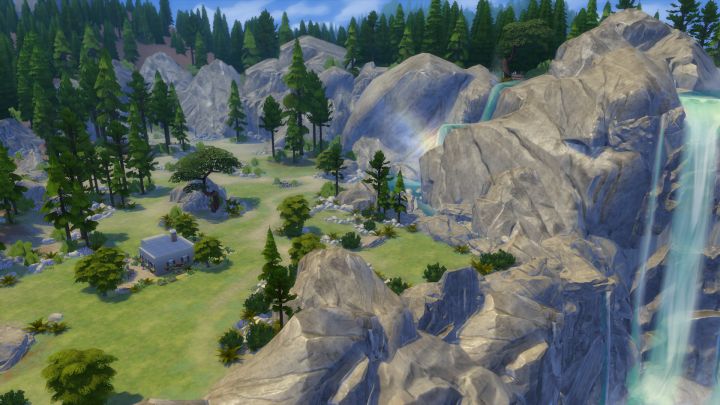 Click to Enlarge Picture. Meeting the Hermit here is required for Outdoor Enthusiast
New Aspiration: Outdoor Enthusiast
The game pack's new Aspiration is tied in with the new content. You'll have to harvest Herbs, catch fish, level Herbalism, collect Insects, sleep 5 nights in a tent, and befriend the Hermit of Granite Falls, who resides in the Deep Woods. Its Reward Trait is Survivalist, which makes Sims happier when camping (even at home) and enjoying the great outdoors.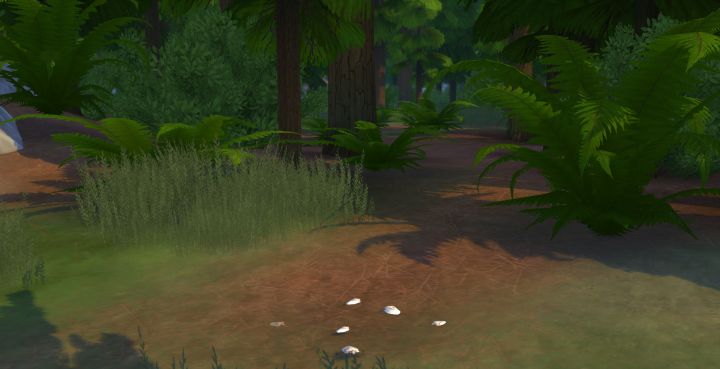 There are 21 different Insects to Catch - Flying and Crawling Types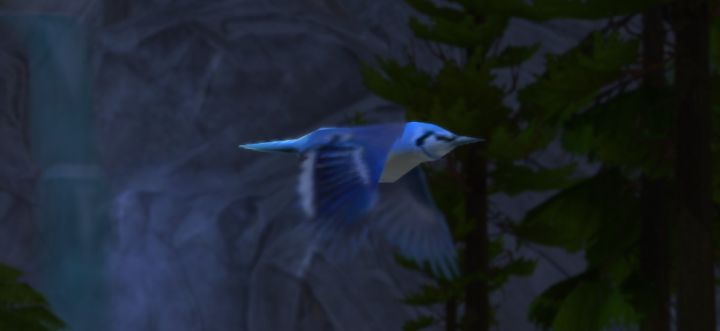 Wildlife Can't be Caught, but add Great Scenery to Granite Falls
New Collectibles: Fish, Insects, and Herbs
The Game Pack comes with a number of new Collectibles for Sims to search for, including 5 Fish, 10 Herbs, and 21 Insect types - both flying and crawling. Completing these will require a keen eye, because it is hard to spot things in the Forest. You'll get them all over time as you vacation in Granite Falls, so long as you keep your eyes open for movement and unidentified plants. Within the secret area, you may catch the Mountain Lionfish or spot a rare insect, the Will-o-the-Wisp which comes out only at night.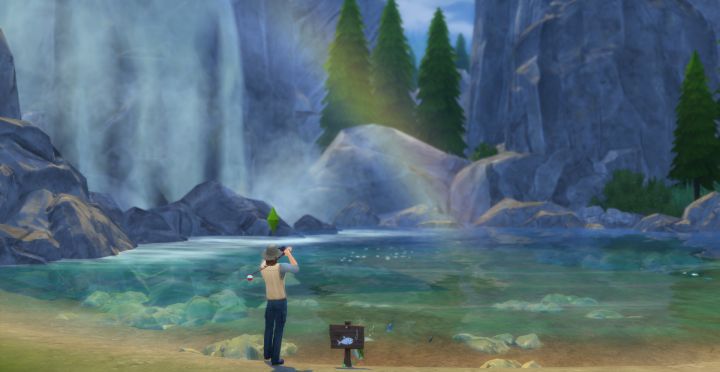 Click to Enlarge Picture. A Waterfall Fishing Spot - Absolutely Beautiful Picture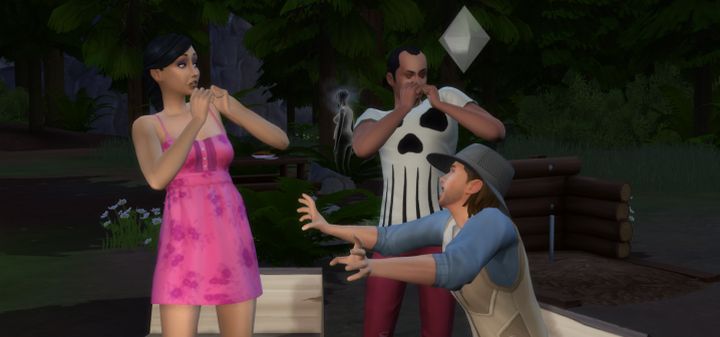 Telling a Ghost Story can Summon a Ghost, which is seen in the Background
New Activities
There is now the option to roast insects and weenies over the campfire, and invite other Sims to join you there. You can even plan a Weenie Roast Social Event, so long as you have a fire pit to roast them. Adding a log will keep the fire going for everyone to enjoy. Sims will warm their hands at the fire, and the new Tell Group Story option will let you select one of a few types of Stories. Picking a Ghost Story at night may cause an apparition to appear near the listeners, scaring them and bringing GREAT effect to the story if you want everyone terrified!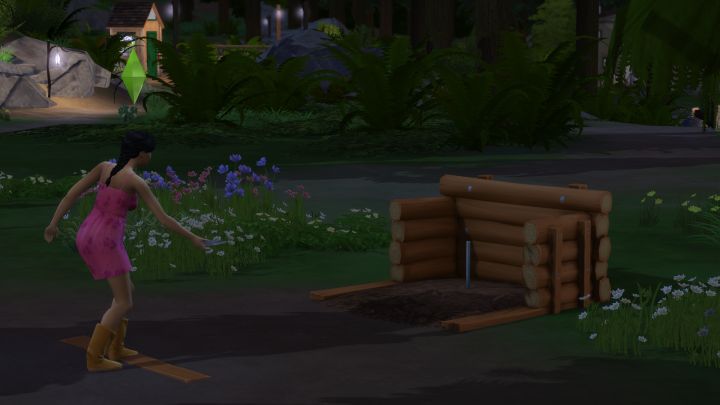 Horseshoes is a way to help Sims have fun at the Campground, or at Home!
On the fun side, there are Horseshoes that Sims can play together, and a portable activity table for playing cards out in the woods. Many of the items your Sims can use are portable, so you can drop down a Tent to Woohoo in it or even read a magazine to learn a bit about Granite Falls' features.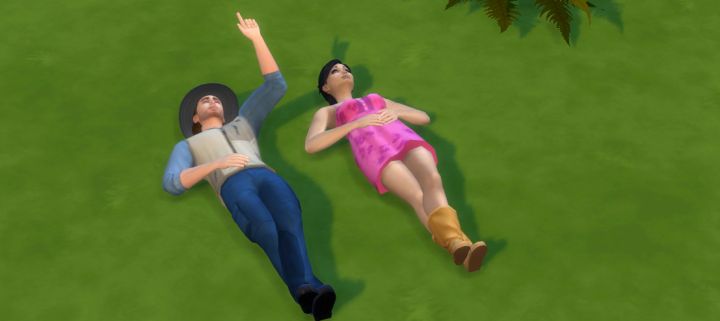 Sims may Cloudgaze and Stargaze with one another, making them Inspired
Sims who play Guitar can pluck one at the Fire and let other Sims join in to sing Campfire Songs. There is a new ability that can help creative types - Stargaze or Cloudgaze, depending on the time of day. This gives a +1 Inspired Moodlet that lasts 6 hours - yes, 6. Unlike most Moodlets, which last 4. This is super useful for a Painter, Writer, Mixologist, or Chef.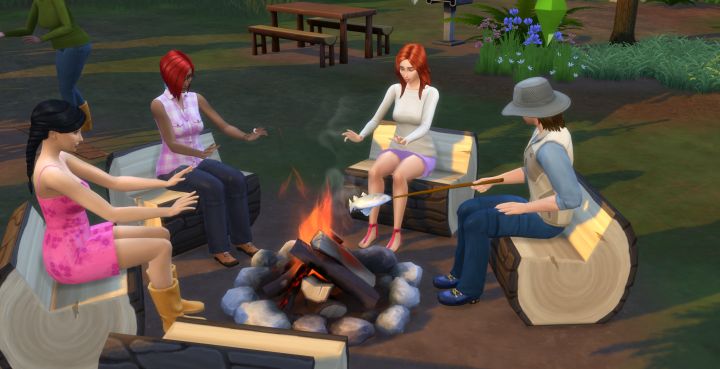 Click to Enlarge Picture. Roasting Food at the Campfire levels Cooking Skill
Misc Additions: Recipes, Traits, and Rewards
Within the Game Pack, there are also some outdoors-y Cooking Recipes like Franks and Beans, Camper's Stew, and Walleye Surprise. You'll also find Baked Potatoes and Gumbo (with Crawdads as an ingredient). There is a new Trait - Squeamish, which makes Sims get upset around anything dirty and, of course, bugs! Several new Woodworking Schematics are available to help your Sim earn cash with that Skill, and three new Rewards you can purchase:
Great Storyteller (500 points) - This will help your Sim's success when telling Stories to others, especially campfire stories through the 'Group Story' Interaction.
Stoves and Grills Master (1500 points) - Stoves and Grills Masters have the opportunity to sometimes make Impeccable-Quality food when using these. It can help for regular cooking, since that uses a Stove.
Incredibly Friendly (2000 points) - Sims that are Incredibly Friendly will get a major boost to Friendship with Sims when they make a friendly Introduction of any type.
New Stuff and Clothes in the Game Pack!
Buy/Build Mode Object Pictures

10 Million Views! My YouTube channel has grown a lot the last 6 months. I now have over 125 videos on Youtube and am nearing 100k subscribers. I'd like to invite people to check out my content and, if you like what I'm doing, subscribe!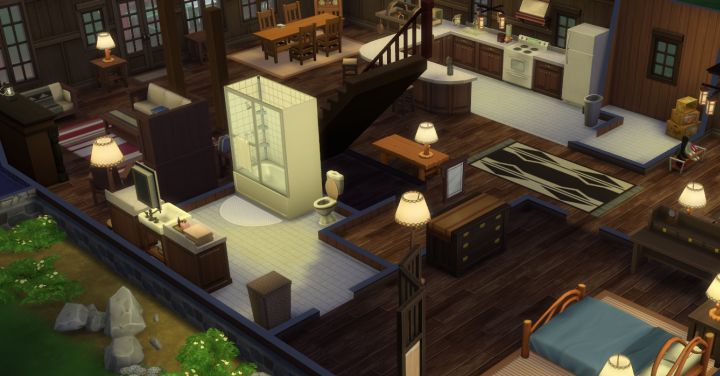 Click to Enlarge Picture. A view inside a Cabin depicts Good Decoration
New Objects
As mentioned, there are over 60 new Objects for use in building and not all of them are only suited to building a lodge. Many will fit into your Sim's home back in Oasis Springs or Willow Creek, particularly thanks to the many coloring options available. The expected are here - camp fires, tents, inflatable mattresses, and wood paneling for lodges, but you will also find furniture (couches, chairs, beds etc.), lighting, a new Bearly Gnome, and a horseshoe pit you can place anywhere. For Build Mode, there are new types of trees and shrubs, wildflowers, and some nice wood paneling and flooring for your homes. Click on the picture below to see some of the objects, placed on an empty lot so that you can get an idea of what is available: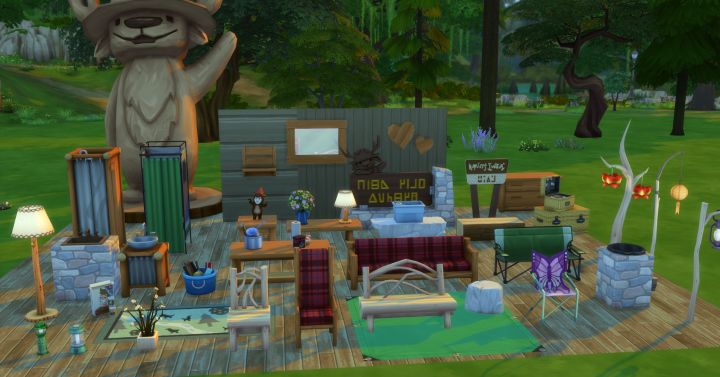 Click to Enlarge Picture. New Objects and Furniture in Outdoor Retreat
Outdoor Retreat Female Clothing and Hair Pictures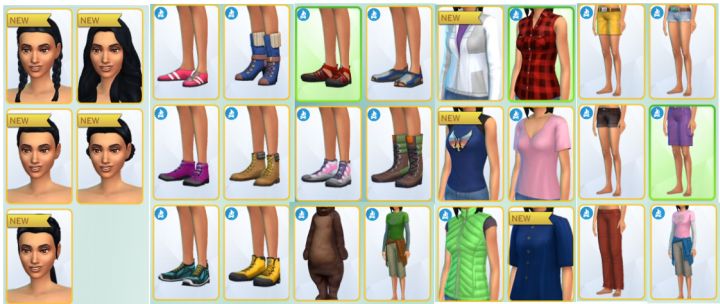 Click to Enlarge Picture. Female Clothing and Hair Styles
Outdoor Retreat Male Clothing and Hair Pictures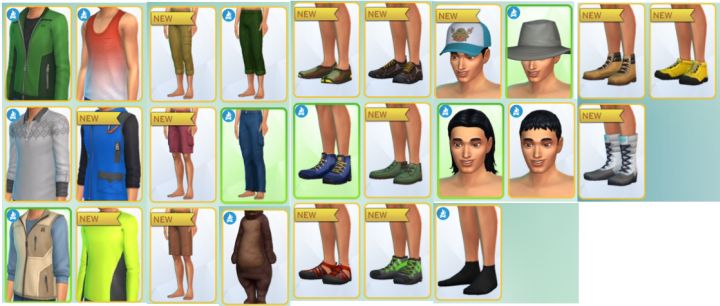 Click to Enlarge Picture. Male Clothing and Hair Styles
How You Can Support The Site and Channel

If you like my sites and
Youtube Channel
, consider supporting me on
Patreon
to help me to continue. If you'd like to support my guides in another way you can use our
Amazon link
for your next purchase (if in the US). We also offer a
paypal donate link
so you can contribute directly.
Back to The Top
Check Out My Youtube Channel!
We now have a Youtube Channel with over 50 guides in video format to go along with the huge site I've already created. Check it out and consider subscribing if you like my style.
Comments (16)
Topic:
http://carls-sims-4-guide.com/gamepacks/outdoorretreat/
New
Jordan
I LOVE THE BEAR COSTUME YOU CAN ROAR AT PEOPLE

Senior
Playalot
No nets needed, the sims catch the bugs with their hands. The herbalism skill starts as you collects the plants and then try to identify them. To do this just click on a plant in your sims inventory. Herbalism skill is not needed to catch bugs.

New
Brielle
You can't go to build mode because your renting the place but if you do it before you start playing you can edit it.
New
Lina
if you want to you can have cheats to build on the property




New
Simoleon
All of them!

but u should get the get to work one, then if possible this one

New
Somebody
Really don't know whether to just use the cabins that are already there or build my own?!?! I don't really want to destroy them but I find it really annoying living in a place I haven't built.
Admin
Playalot
You need to own the Game Pack 'Outdoor retreat' first. Then using your sims phone you can choose to take a vacation and travel to the Campgrounds where you will get to choose which lot to visit for your vacation. You can chose from a campsite or from a selection of cabins.
Admin
Playalot
No, it's just they way the game works. I guess because they can't auto phone for a day off unless you are controlling them, the game pushes them to carry on with their normal lives.
Admin
Playalot
The cost will depend on where you live and if any sales are currently happening. Best bet would be to google around to find the best deals.

New
Phyu phyua
Regular
Cathleen
Hi Korach, If you have Outdoor Retreat, but your Sims don't have enough to go there very much, then, you could download my lot from the gallery. My lot is called, "Broke Sim Camp" and my screen name in the gallery is cat315118
New
louisa au
Hi. Please I need help. I have the outdoor retreat, but I my Sims can't go on a vacation to any of the camp grounds. When I click on the "go on vacation"option on my Sims phone, the page that says "vacationing "shows, but is blank(white) with my sims a the bottom left of the screen..so I cant even click on any camp ground because I can't see them
Admin
Playalot
What I do is make a new folder on my desktop and name it 'Current Mods'. I then go into the mods folder inside TheSims 4 folder and highlight them all and drag them into the new Current Mods folder I just made. Basically you just want to empty the mods folder, not delete them. Every time you remove mods or cc you need to delete the localthumbcache.package file too.
New
xoxladybug
I can't access granite falls, there isn't an option on the cellphone to go on vacation. And when I'm in world mode, it says "This world is unusable because there are no rental units left. Change a lot back into a rental unit in order to have it be usable again." but I don' t know how to make the lots usable again. And when I go in manage worlds and click granite falls, it sends me to blank page, and then freezes and I cant click back out I have to return to the main menu !!! HELP

Admin
Playalot
First thing I'd do is repair your game.
How To Repair Your Game
Then go into your game and try it. If it still does not work then try a
Factory Reset (guide)
Also remove all mods and cc before doing either. If you do not want your game saved in a cc-less state then exit without saving after play-testing.
If the problem is a mod or cc then you will need to work out which one it is before replacing them all.
Testing Problem Mods/cc
New
Mommyof8SimminisGreat
Please let me know if you have figured out what works to fix this issue you were having.
Admin
Playalot
Not sure, maybe check out some of the modding community sites? Maybe Mod the Sims as a starting point? I don't use mods so I'm not even sure if someone has made any.
Are you sure you want to report it?
Share a link to this comment
Star Wars in Sims 4

We now have a page on The Sims 4 Journey to Batuu.
It's not what I would have hoped for in a Star Wars Game Pack so far.
Secrets and Other New Stuff
Sims 4 Packs & DLC
Support Us

Readers who use adblock or those who'd like to thank me for my efforts can now pledge $1/$5 monthly via Patreon. This helps a lot with server costs and provides some stability for my business.
Super Sim Checklist + Other News
Let's Play Playlist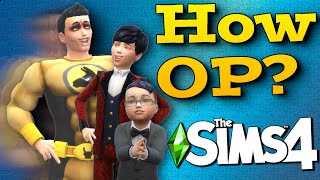 New I now have a guide to Making Super Sims in The Sims 4. Look for a text version within the next 72h. It won't have THAT much more info but it will help out as a checklist.
This was inspired by a series, "Let's Play a Super Sim" in which I start at toddler and gradually take on the major bonuses. Here's a link to each part for people who are interested. You can also see the Let's Play as a Playlist on Youtube.
Discover University Expansion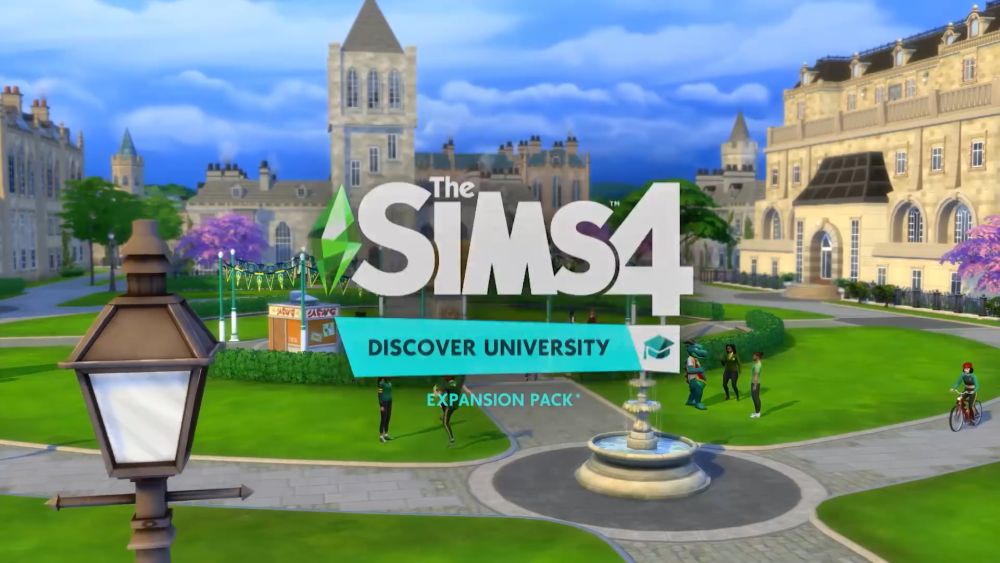 The Sims 4 Discover University has been announced for November 15 for PC/Mac and December 17 for Xbox and Playstation 4 consoles. Click to learn more about the pack, see my summary of the livestream or read our FAQs below.
Other Guides to Discover University:
New Lot Traits: Study Spot and University Student Hang Out
New: Discover University FAQ: Gameplay Features
New Video The Sims 4 Discover University Gameplay Tips Video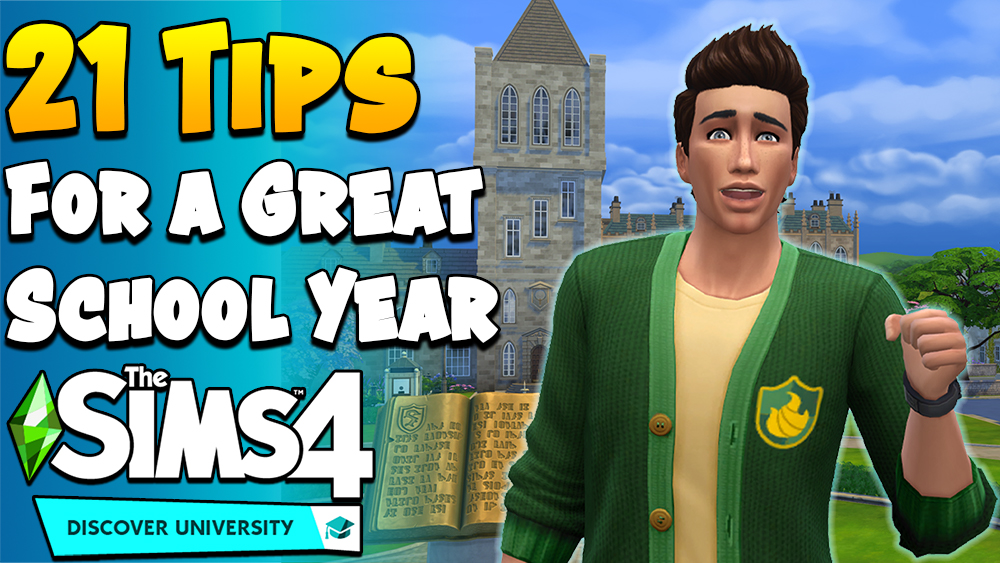 More videos coming soon!
Realm of Magic