The Sims 4 Politician Career
Work as a Politician or Activist in City Living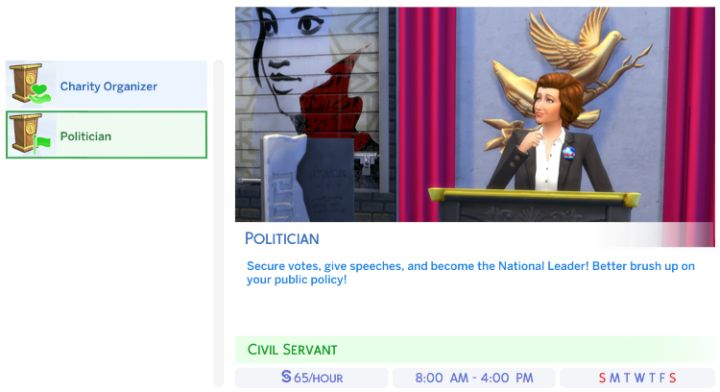 The Politician Career offers the option of becoming an elected representative or branching out to raise money for charity
Career Quick Links
City Living lets you play politics, Sims-style. You can elect to go all-in as a Politician and become President (National Leader), or switch to the Charity Organizer career track and pursue a number of causes. This career starts with 4 levels, after which you pick one of the two branches. Before diving in to the career levels themselves, let's look at some of the features of the base Politician career. The ideal mood for this Career is Confident. You can get confident by psyching your Sim up using a mirror. It's also possible to do speeches and other things. See the linked confidence guide to learn more.
How to: Politician Career Cheats
Press Control + Shift + C then type testingcheats on and press enter. You can now get promotions with careers.promote activist - you can also see all Career Cheats or visit a full list of Cheats in The Sims 4.
Work from Home
This applies to both branches of this career, along with the other two included in the City Living Expansion Pack. Each day before work, you will see a popup in the lower left corner. Selecting this, you can choose to have your Sim work from home. You'll get a couple of tasks that must be completed in order to secure your pay and career performance. Aside from the tasks you're given, you have total control and can use the time to skill up or else work on career promotion requirements.
Podiums and Giving Speeches
At level 4, you can begin to use the podium to give expert speeches which can make your Sim confident. Podiums are portable items, so buy one at home and drag it to your Sim's inventory or click it to 'put in inventory'. Once on a public lot, you can click the podium in your Sim's inventory to place it on the ground then use it to give a speech. This is primarily useful for gathering Sims, the speech itself will raise your Charisma skill. Being confident, you can then talk to Sims who form up to listen and promote your cause or secure their vote.
Politician Career Levels 1-4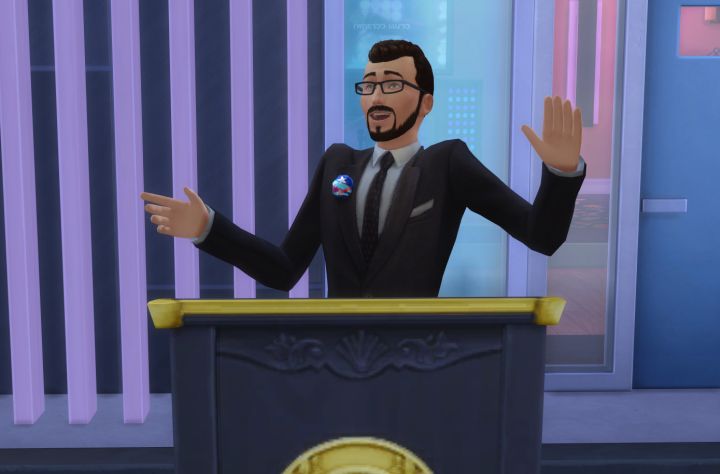 As noted, get confident before work if you want your Sim to have a boost in performance. Also use 'work hard' by clicking on your Sim's portrait while they're at work.
Selecting and Promoting a Cause
Your Sim can pick from one of five causes, which can be switched at any time. Pick a cause by clicking on your Sim and going into the Political Career sub-menu. Successfully convincing Sims is required as a daily task for the first four levels of the career. Once you've picked a cause, you can click the ground to begin a protest for that cause, and also talk to Sims about it. Check the support for your cause by using a computer. If you go with the Politics career path at level 5, you'll lose these abilities.
| | | | | | | |
| --- | --- | --- | --- | --- | --- | --- |
| 1 | Unruly Activist | $16/hour | Sun-Mon, Wed-Thu, Sat 8AM-3PM | $112 | Successfully Promote Cause (After Picking a Cause) | None |
| 2 | Campaign Intern | $26/hour | Sun-Mon, Wed-Thu, Sat 8AM-3PM | $182 | Level 2 Charisma, Successfully Promote Cause | $172, Debate Politics Social Interaction |
| 3 | Social Justice Worker | $39/hour | Sun-Mon, Wed-Thu, Sat 8AM-3PM | $273 | Level 3 Charisma, Promote Cause | $275, Check Cause Progress Interaction on Computer, New Clothes |
| 4 | Community Organizer | $49/hour | Sun-Mon, Wed-Thu, Sat 8AM-3PM | $343 | Level 4 Charisma, Successfully Promote Cause | $413, Give Expert Speech Interaction at Podium |
Politician Branch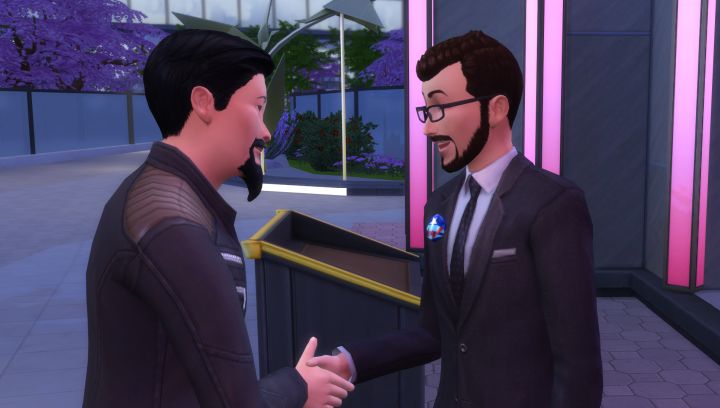 Becoming National Leader will require you to secure Sims' votes
This assumes you continue as a politician, you can look at activist below. The next phase of the Career retains the ideal mood of Confident, while changing up the requirements for daily tasks. Instead of getting support for causes, you'll be securing votes. The necessary interactions are found under the Friendly > Politics Career menu. From there, you can pick 'Secure Vote' along with Debate from the Left/Right, and other interactions that you unlock. All of these are boosted by confidence and higher levels of Charisma. Use 'Secure Vote' once you've built a good rapport with them and inched the friendship bar upward a bit. You can certainly choose to make empty promises, though the interaction can fail. The Promote Policies interaction is powerful, and not only builds relationship between your politician and the voter, it also increases the success rate when asking for their vote. It is important to note that Secure Vote has a cooldown, so only use it after you've given yourself a better shot by being friendly with the voter and using promote policies beforehand.
Speeches
Giving speeches are not a major part of the career, but as noted above you can get some Sims to gather around, level your Charisma, and get a confident moodlet to help your Sim interact with any listeners after the speech. This can help you secure votes, but the process itself is hit and miss. Sometimes few Sims will stop and listen, it is far worse than playing guitar. Sims just don't seem interested. Perhaps this will be patched.
Becoming President
| | | | | | | |
| --- | --- | --- | --- | --- | --- | --- |
| 5 | Civil Servant | $65/hour | Mon-Fri 8AM-4PM | $520 | Reach Level 5 Charisma, Secure 2 Votes | $518, Promote Policies Social Interaction, Secure Vote Interaction, Make Empty Promises Interaction, Ask for Small/Large Bribe Ability |
| 6 | Public Official | $91/hour | 8AM-4PM Mon-Fri | $728 | Level 6 Charisma, Secure 3 Votes | $1,555, New Create-a-Sim Clothes |
| 7 | Councilperson | $127/hour | Mon-Fri 8AM-4PM | $1,016 | Level 7 Charisma, Secure 5 Votes | $2,177, The Squared Office Unlocks in Build Mode, Kiss Baby Social Interaction |
| 8 | Representative | $178/hour | Mon-Fri 8AM-4PM | $1,424 | Level 8 Charisma, Secure 10 Votes | $3,049 |
| 9 | Elder Statesperson | $231/hour | 8AM-4PM Mon-Fri | $1,848 | Max Charisma, Secure 20 Votes | $4,268, New CAS Clothes |
| 10 | National Leader | $340/hour | Mon-Tue, Thu-Fri 8AM-3PM | $2380 | None | $5,548, Stately Chic Pre-Built Room Unlocks |
Charity Organizer Branch

10 Million Views! My YouTube channel has grown a lot the last 6 months. I now have over 125 videos on Youtube and am nearing 100k subscribers. I'd like to invite people to check out my content and, if you like what I'm doing, subscribe!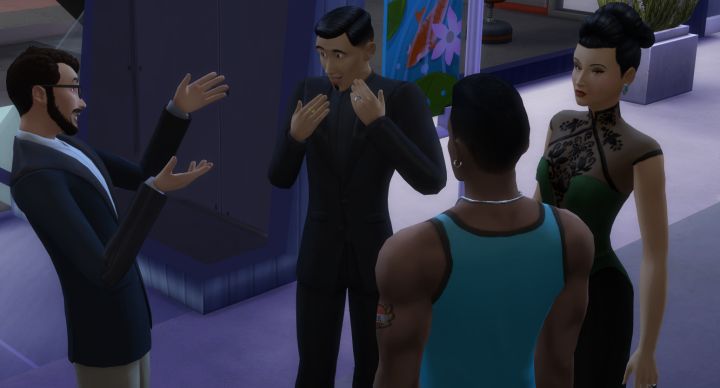 Fundraising is the main goal of the charity organizer
Again, the ideal mood of confident is retained. The Charity Organizer branch makes about 10% less money than the Politician, but features less required hours per week. While the amount of money you need to raise increases steeply with each level, it's easier due to the new interactions that unlock when compared to the politician's need to secure more votes. Sims will be more likely to donate money if you've attained their support and been friendly before asking for a donation. The 'easier' part comes into play because you can make a bit extra in donations simply by requesting the smaller amounts before the big ones as you level up (or in reverse), while the politician gets but one vote per Sim. In total you can raise $1,375 from a single Sim if they are feeling generous that day.
Charity Organizer Career Levels
| | | | | | | |
| --- | --- | --- | --- | --- | --- | --- |
| 5 | Friendly Lobbyist | $57/hour | Mon-Tue, Thu-Fri 9AM-5PM | $456 | Reach Level 5 Charisma, Collect $50 in Donations | $518, Collect Donation ($25), Convince Protesters to Leave Interaction |
| 6 | Fundraising Specialist | $98/hour | Mon, Thu, Fri 9AM-5PM | $784 | Level 6 Charisma, Collect $500 in Donations. Collect Donations | $449, Every Little Thing Counts (Pre-Built Room), Collect Donations ($100) Interaction |
| 7 | Charity Organizer | $123/hour | Fri-Sun 11AM-7PM | $984 | Level 7 Charisma, Collect $1500 in Donations | $471, Collect Donation ($250_ Interaction, New CAS Clothes |
| 8 | Non-Profit Director | $153/hour | Mon, Wed, Fri 9AM-5PM | $1,224 | Level 8 Charisma, Collect $5,000 in Donations | $589, Collect Donation ($1,000) Interaction |
| 9 | Leader of the Cause | $219/hour | Mon, Wed, Fri 10AM-5PM | $1,533 | Max Charisma, Collect $20,000 in Donations | $736, New CAS Clothes |
| 10 | Charity Icon | $342/hour | Mon, Wed, Fri 10AM-4PM | $2,052 | Collect Donations | $920, Making a Difference (Pre-Built Room) |
How You Can Support The Site and Channel

If you like my sites and
Youtube Channel
, consider supporting me on
Patreon
to help me to continue. If you'd like to support my guides in another way you can use our
Amazon link
for your next purchase (if in the US). We also offer a
paypal donate link
so you can contribute directly.
Back to The Top
Check Out My Youtube Channel!
We now have a Youtube Channel with over 50 guides in video format to go along with the huge site I've already created. Check it out and consider subscribing if you like my style.
Comments (25)
Topic:
http://carls-sims-4-guide.com/careers/cityliving/politician/
Regular
taylor
Hello. I am trying the "careers.promote politician" cheat for this career and nothing seems to work. Is there a new cheat for promotions for this career branch?
Thanks,
Taylor
New
boa
Yeah it's careers.promote activist.
New
boa
Yeah it's careers.promote activist.
New
Savannah
Click on your sim, and you'll see an option for "political career" and from there you'll have options to choose your cause
New
Savannah
It's under the mischief socialization option.
Admin
Playalot
Your sims needs to pick a cause for the protesting etc to count towards this goal. And then, after picking a cause your sims needs to protest about that cause.
Admin
Playalot
Under the 'friendly' interactions you will see 'Politics' and in that sub menu you can ask for a donation. Make sure you have chatted to the sim before asking for a donation and start with the small amounts first. Also if you start a political debate from the left/right and it matches the sim who you are talking to it becomes easier to get donations from that sim.
So basically, all these interactions are under 'friendly>political' talking interactions.
New
Feffdoodle
I went under the Friendly interactions on another sim, then to political, and it only gives me options to debate politics or promote cause.
Admin
Playalot
Make sure you have chatted to the sim before asking for a donation and start with the small amounts first. This interaction doesn't always show immediately and so chatting about how they are etc first is often necessary.
Admin
Playalot
To chose a cause simple click on your sim and then chose which cause you want. I don't think it makes a difference which cause you choose just as long as your sim has chosen one.
Or, were you meaning the debating left or right politics? I had my sim use both with different sims all the time. If the sim you are debating with matches your sims debate (left or right) then getting donations becomes easier with that sim. It's a game of chance really. Again, it doesn't matter which your sim chooses for any conversation as you have no way of knowing if the other sim will agree.
New
mud
So far I've discovered two items of clutter that are unlocked by the political career track. One is a megaphone - "The Voice of Reason" unlocked at level 4. The other is a protest sign (wall decoration) - "Signs With a Purpose" unlocked at level 2. You don't get them for free in your household inventory like other unlockables, though, so I don't know what that's all about. A bug, maybe?
Admin
Playalot
My sim received the megaphone in his inventory, which I deleted immediately lol I hate my sims using that thing!
Admin
Playalot
Around the San Myshuno neighborhoods you will see space marked out on the ground to paint murals on. Click on one of those and choose 'Political Mural'. Or you can buy the mural outlines in buy mode. They are called 'DIY Wall Mural' or 'DIY Floor Mural'
Admin
Playalot
They appear in any of the neighborhoods of San Myshuno. I have seem more in the Spice District but they can occur in the other areas too.
New
PokemonGirl
Admin
Playalot
Umm, am I missing something? My sim maxed this career and wasn't married.
Admin
Playalot
Once you have reached level 10 of any career your sim can still get promoted. One of my sims is Level 24+ in the science career and just simply continues to get promotions and pay rises so I'm sure the same will apply to all of the new careers in City Living.
Admin
Playalot
Admin
Playalot
This is a bug in some peoples games. There is an open bug report about this.
EA Bug Report
Adding a 'Me Too' helps bring the bug to the developers attention.

New
Summers
Hi, I saw this guide just before starting a new job a few days ago. I thought it was the best job for my sim because there's no daily task at the national leader level. I expected NO Daily Task and finally, my sim promoted onto the top level. Now I'm surprised to see there's a daily task, 'secure vote'. Would you have a look for this please? I'm doubting my game is right or wrong, thanks.
New
Summers
I tested this daily task. Luckily, only one time of secure vote is all done for daily task. Then, I'm still happy with this job. :)
Admin
Playalot
As sims progress through their careers often some of the career/work uniforms get unlocked in CAS so that you can dress other sims in these outfits.
New
Simonjae Frasier
Do you have to be in a happy mood to discuss changes? I have a sim that's in the same neighborhood, but my sims can't discuss...he's in a confident mood.
New
CraigSH
Little bit late to the game (well very late to the game). I very recently picked up the Sims 4 and was wanting to pick up this exp pack or the Get to Work pack and I was wondering if you can have the jobs from this pack whilst living in one of the base game worlds like Newcrest for example. I'm really wanting a politician but I don't like the idea of living in an apartment or anything. I'd like to live in one of my old builds that I like, or even build a stately home. Is this possible? can I have a career in politics whilst living in Willow Creek? (with the expansion pack of course I know you cant with the base game.
Senior
Playalot
Sure, sims living in other neighborhoods in other worlds have neighbors so I don't see why it wouldn't be possible. Your sim can always travel to San Myshuno to use the podium etc when you need to if you don't want to buy your sim their own one.
Regular
Jessica
Thank you for having made this page, your work, dedication, presentation and consistency is constantly valued whenever I need help with the game, thank you <3 You are really appreciated Jesse
Senior
Playalot
If you have previously played the charity branch of the political career with this sim then you wont be able to play the other branch.
Admin
Playlot
Just means you've completed all the game play around that particular scenario. You don't actually need to do anything else or pick another cause unless you want to.
Admin
Playalot
This should be under the 'Funny' social category. Your sim may need to level up their Comedy skill to L2 or so to see this specific option appear. As long as your sim is in a positive mood the ability to tell a joke to another sim is always available under the social menu.
New
Ethan Pierce
Hi. I have the same problem and I'm even trying Playalot's solution. How much do I have to keep spamming 7 funny interactions over and over and over again before it shows up?!
Senior
Playalot
Sometimes you need to cycle through a few of the other friendly socials for it to show up. You will also need to be in your home neighborhood.
Admin
Playalot
There are literally too many methods of getting Confident to list Ways to Get Confident. After some years we decided against continuing to list every method as let players explore for themselves. Depending on what pack a player has different methods for emotions will be available to them.
Admin
Playalot
No sorry I don't. The promotions cheat is working as expected in my game. maybe you have outdated mods? The cheat does need entering each time but you should be able to enter the cheat one after the other until your Sim is promoted to whatever higher level you choose.
Are you sure you want to report it?
Share a link to this comment
Star Wars in Sims 4

We now have a page on The Sims 4 Journey to Batuu.
It's not what I would have hoped for in a Star Wars Game Pack so far.
Secrets and Other New Stuff
Support Us

Readers who use adblock or those who'd like to thank me for my efforts can now pledge $1/$5 monthly via Patreon. This helps a lot with server costs and provides some stability for my business.
Super Sim Checklist + Other News
Let's Play Playlist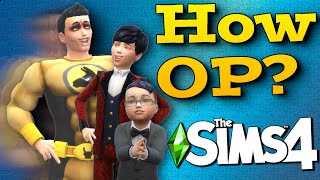 New I now have a guide to Making Super Sims in The Sims 4. Look for a text version within the next 72h. It won't have THAT much more info but it will help out as a checklist.
This was inspired by a series, "Let's Play a Super Sim" in which I start at toddler and gradually take on the major bonuses. Here's a link to each part for people who are interested. You can also see the Let's Play as a Playlist on Youtube.
Discover University Expansion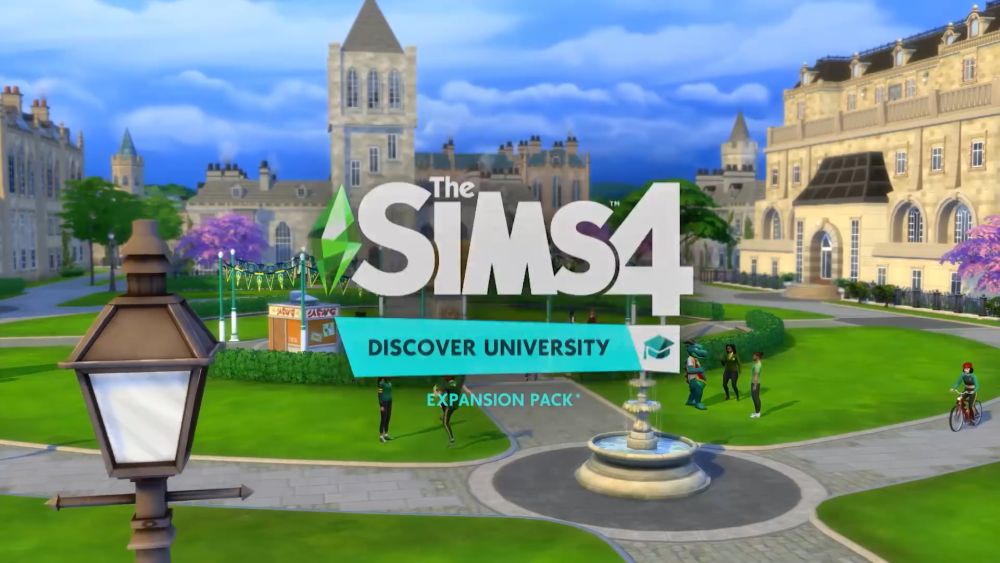 The Sims 4 Discover University has been announced for November 15 for PC/Mac and December 17 for Xbox and Playstation 4 consoles. Click to learn more about the pack, see my summary of the livestream or read our FAQs below.
Other Guides to Discover University:
New Lot Traits: Study Spot and University Student Hang Out
New: Discover University FAQ: Gameplay Features
New Video The Sims 4 Discover University Gameplay Tips Video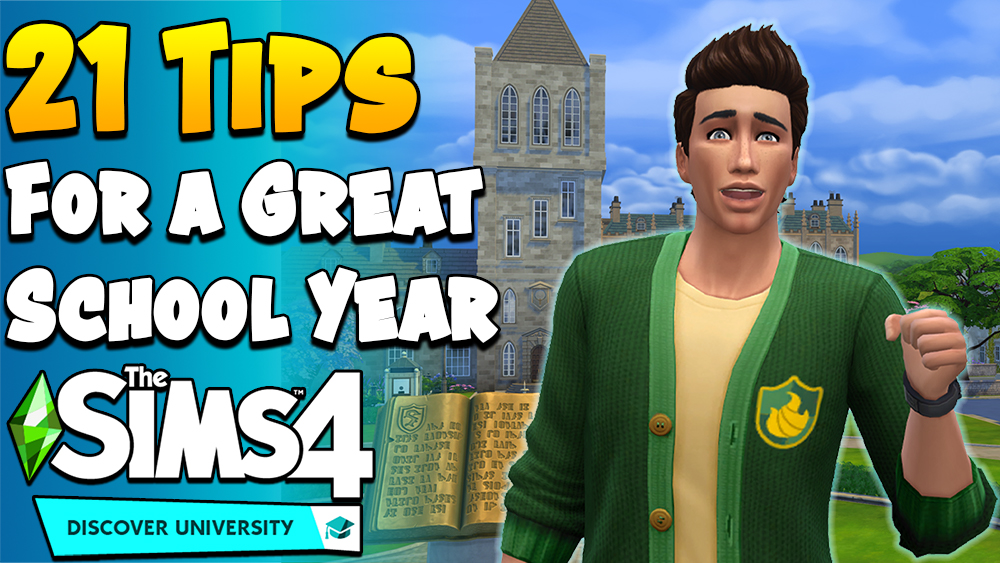 More videos coming soon!
Realm of Magic