The Sims 4: Vampire Lore
Skill Levels, Unlocked Abilities and Recipes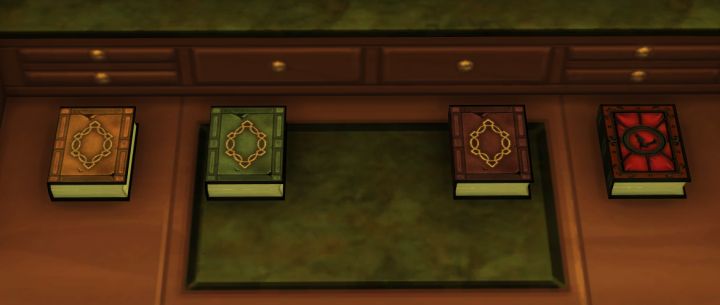 The Sims 4 Vampire Lore Skill Books
The Sims 4 Vampires Game Pack comes with a Vampire Lore skill. This new skill helps your Sim to learn to make potions and other items that are useful to vampires, and can teach regular Sims tips for dealing with vampires. This is the first Skill in The Sims 4 that goes beyond 10 levels, with a total of 15. However, they are gained a bit faster than other skills. It is meant to show your Sims' growing knowledge of the occult. As you gain levels, new tips about vampires as well as story bits will appear in your notification panel. If you came here from search, be aware our other information on vampires is available as well, at the bottom of this guide.
How to: Vampire Lore Cheats
Press Control + Shift + C then type testingcheats on and press enter. You can now set your skill level with stats.set_skill_level vampire_lore x (fill in 1-15) - we also have a full listing of Skill Cheats and a master list of Cheats in The Sims 4
Learning Vampire Lore
Raising the Vampire Lore Skill is accomplished by first starting at the computer. Under the vampire secrets menu, you can find information on vampires. Once you graduate to level 2, you'll need to start learning from the Encyclopedia Vampirica series of books. So you don't waste time looking, these are not found under the normal buy books menu. Go to vampire secrets, THEN hit by books to get to the Encyclopedia Vampirica series. Start reading, and you can advance in the skill. In total, you'll need about $1500 worth of books to master it.
Encyclopedia Vampirica Volume I - Gets you to Level 6
Encyclopeida Vampirica Volume II - Works up to level 10
Encyclopedia Vampirica Volume III - Works to level 13
Ultimate Vampire Compendium - Max the Skill at level 15
Skill Levels

Our Latest: Let's Play a Beach Bum New CAS Story Mode and New Build Cheats Guide New New Patch: Cas Story Mode, New Cheat for Build Objects, and Rebranding New The Sims 3's Skill Challenges Added Tons of Depth News: New CAS Mode Coming One of the Rarest Abilities: Snaggle Fluster Fishing Guide Updated Fishing Update Guide (Video) Island Living Review (Video) Island Living Gameplay Review Mermaids Island Living Cheats Features to Know About in The Sims 4 Island Living Features in Island Living (Video Format) Conservationist Guide Cleaning up Sulani Patch Notes: June 2019 (New Features)
This Skill isn't about making money, it's all about learning new things about Vampires. Here are the numerous things that you unlock with the Vampire Lore Skill and what they will do for your Sims. Bear in mind that while some of the skill levels are dry of new features, your notification panel will show you more info as your Sim reads. You get nothing for the first level, so we'll jump to level 2.
| | | |
| --- | --- | --- |
| 2 | Unlocks Vampire Tome | Lets you purchase Encyclopedia Vampirica Volume 1 |
| 3 | Order Plasma Packs | Plasma Packs can be purchased under Vampire Secrets. This lets Vampires satisfy their thirst need without feeding on Sims. Incredibly helpful to the new Aspiration for being a 'good' vampire. |
| 4 | Make Plasma Packs | Using fish or frogs, your Sim can create Plasma Packs to satisfy the thirst of vampires. For each fish or frog in your Sim's inventory, you can craft one plasma pack. All too easy to use to keep thirst topped off, whether you go around the neighborhood looking for logs or catch masses of low level fish at the river. |
| 5 | Garlic Braids | After growing some garlic, your Sim can now make Garlic Braids, Wreaths, and Garlands from their inventory. These make Vampires uncomfortable and will help to keep them at bay. Vampires cannot drink plasma while around even a regular garlic sat on a table or other surface, these braids have a much larger aura (about double). |
| 6 | Unlocks Vampire Tome | Lets you purchase Encylopedia Vampirica Volume II |
| 7 | Share Vampire Knowledge | Gives Sims a bump to their Vampire Lore skill. This gives a big chunk of skill experience for the user, so it can help you finish leveling the skill. |
| 8 | Order Seeds | Allows you to buy Plasma Fruit, Wolfsbane, and Sixam Mosquito Trap seeds for your home garden. Necessary to make many of the vampire drinks in large quantities, such as Sunlight Reversal Cocktail. Grow your own instead of searching the new neighborhood! |
| 9 | Plasma Fruit Recipes | Can make Plasma Fruit Salad (cooking) and the Plasma Jane drink (bar). These regenerate Vampire thirst. Can be handy as a good cook could provide a happy moodlet from it being a good meal, which isn't present when feeding. |
| 10 | Unlocks Vampire Tome | Can now purchase Encyclopedia Vampirica Volume III |
| 11 | Sunlight Reversal Cocktail | Allows Sims to create a cocktail at the bar that will reduce the harmful effects of Sunlight, allowing Vampires to go out in the daytime. It's great. So great, in fact, that it reverses sunlight's effects to instead produce energy. Your Sim will gain vampire energy as they walk about the daylight. This can work wonderfully with the Fresh Chef reward trait from Master Chef, which stops foods and drinks from spoiling. Takes 2 garlic and one plasma fruit to create. |
| 12 | Vampire Resistance Cocktail | Make at the bar. Reduces the chance of being affected by harmful vampire powers. Takes 2 wolfsbane to make this drink. |
| 13 | Unlocks Vampire Tome | Allows you to buy the Ultimate Vampire Tome from the computer, again found under Vampire Secrets. The book is $1,000 |
| 14 | Draught of Reconfiguration | This allows your Vampire to reset all of their powers and keep their points. Good if you want to re-spec your vampire. The Draught of Reconfiguration is very easy to craft, requiring only 2 wolfsbane, 2 garlic, and 2 plasma fruit. |
| 15 | Cure for Vampirism | The Ultimate Vampire Cure drink can now be made at the bar. This will revert a Sim back to a regular mortal. Good if you change your mind about wanting to be a vampire and would like to change back to normal! It can also be thrown at a vampire to force a cure on them. Takes 10 garlic, 10 plasma fruit, and 10 wolfsbane to craft. |
Other Vampire Guides
Acting | Archaeology | Baking | Charisma | Comedy | Cooking | Dancing | DJ Mixing | Fishing | Fitness | Flower Arranging | Gardening | Gourmet Cooking | Guitar | Handiness | Herbalism | Logic | Media Production | Mischief | Mixology | Painting | Parenting | Photography | Piano | Programming | Rocket Science | Singing | Vampire Lore | Veterinarian | Video Gaming | Violin | Wellness | Writing
How You Can Support The Site and Channel

If you like my sites and
Youtube Channel
, consider supporting me on
Patreon
to help me to continue. If you'd like to support my guides in another way you can use our
Amazon link
for your next purchase (if in the US). We also offer a
paypal donate link
so you can contribute directly.
Back to The Top
Quick Links
Check Out My Youtube Channel!
We now have a Youtube Channel with over 50 guides in video format to go along with the huge site I've already created. Check it out and consider subscribing if you like my style.
Share Tips and FAQs
(14)
Our Sims 4 Community is the place to go for faster answers to questions and discussions about the game. Use the form below to share your own experiences and provide helpful tips to other readers. We are not affiliated with EA and cannot make changes to the game, nor fix bugs.
Support The Site via Amazon
Kelly
Tip for those wishing to re-spec:
If you see 2 "drink" options, use the lower one. The top one is just like drinking any other juice, or at least it was for me. The bottom one is the one that actually reset my points.
25th January 2017 1:06am
Playalot
Thank you for posting this. This has been acknowledged by the Q&A team as a bug so hopefully a fix will be out soon! I didn't see your tip until it was too late but hopefully more people will see it before clicking the wrong 'drink' option!
26th January 2017 3:01pm
Gabriel
Thanks sad I learned that the hard way just last night night
7th February 2017 6:21am
davester
So, does the Draught of Reconfiguration also reset weaknesses?
28th January 2017 7:40pm
Anon
Yes, but you still have to have so many weaknesses per Vamp level.
29th January 2017 2:17pm
Ophelia
I'm level 10 cooking and level 15 vampire lore, but the plasma fruit salad recipe never unlocked. Ideas?
29th January 2017 6:20pm
Playalot
Have you clicked on a fridge rather than the stove?
29th January 2017 8:11pm
Geeky Meerkat
FYI: If you have a restaurant in your world, you can set it to sell the Plasma Jane as a drink for $13 and the Plasma Fruit Salad as an appetizer for $11. If you take the Vampire Weakness that doesn't let you eat human foods you can still drink the Plasma Jane no problem.If restaurants aren't an option for your vampire sim for some reason (perhaps you don't have that expansion), you can order a Plasma Jane at a normal bar for $30.
30th January 2017 9:12am
Scoed
Children can learn this skill, no other skill needed.
17th March 2017 11:51am
StoneOfJordan
does anyone know the easiest vampire to befriend ? i tried to befriend that Vlad fellow but him and the sim id like to turn just dont seem to get along :(
30th May 2017 4:42pm
Playalot
Probably Caleb Vatore or his sister. Vlad has vampire traits that make it a challenge to not only befriend him but then also stay his friend.
31st May 2017 8:05pm
Brian
I'm curious about curing vampires who don't want to be cured. Do you have to fight them and win first? My sim was good friends with Vlad, and then the SOB broke in and bit her anyway. This particular saved game world randomly spawned a LOT of vampires too, so she's training to be sort of a Buffy the Vampire Slayer. Maybe she'll leave the Vatores alone though, they seem nice enough.
8th January 2019 3:08am
Playlot
Yes your sim has to fight the vampire and win, it's a mean interaction called 'Slay Vampire' and your sim must have the Ultimate Vampire Cure drink in their inventory first.
9th January 2019 11:39pm
Cat.and.dog.lover
I ❤ The Sims 4
2nd February 2019 4:29am
Join in: