The Sims 4 Island Living
Expansion Pack Features and Release Date

Island Living features Mermaids, jet skis, diving and open water swimming, a frequently requested addition.
At EA Play 2019, The Sims 4 Island Living Expansion was announced for June 21, 2019 for PC/Mac and July 16 for the Xbox One and Playstation 4 Consoles. The new pack is set in an island nation with a very strong tropical vibe including many of the recreational and customary activities of places like Hawaii and Polynesia. Let's look at the features of the Expansion Pack, then I'll spit out a couple dozen pictures from the trailer so you can see details.
Island Living Guides
I'm working on getting all the new content covered. This is going to be about 10 pages, due to the variety of activities and concepts in Island Living. The most important stuff is done but several pages have yet to be made.
The Sims 4 Island Living Expansion Pack
Island Living Gameplay Review
Mermaids in Island Living New
Mermaids Video New
Island Living Cheats
Features to Know About in The Sims 4 Island Living
Features in Island Living (Video Format) NEW
Conservationist Career Guide
Conservationist Video Guide
Cleaning Up The Island - How it Works and What's Best
Child of the Islands Trait New
Child of the Ocean Trait New
Using New Foundations, Clear Floors, and Other Build Mode Items

A review of the Sims 4 Island Living Expansion Pack with a gameplay focus. Presented by EA Game Changers.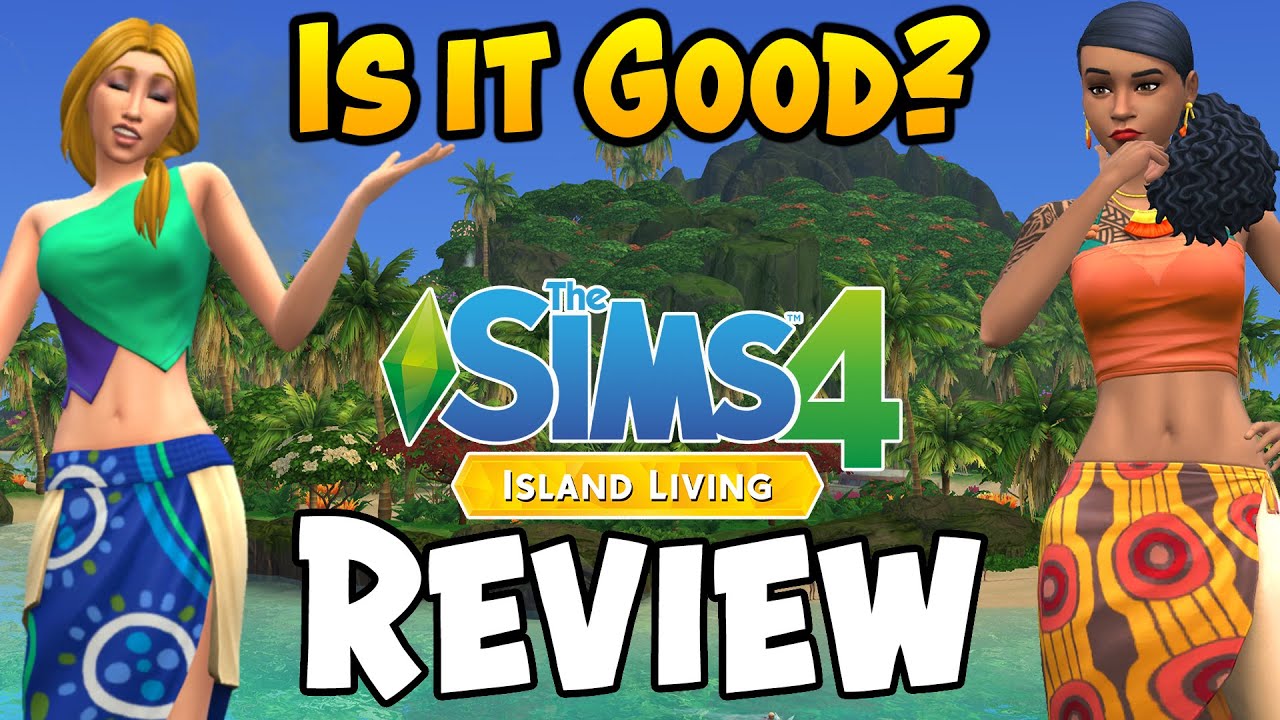 A list of features in Island Living that every player should know about in order to get the most out of their purchase.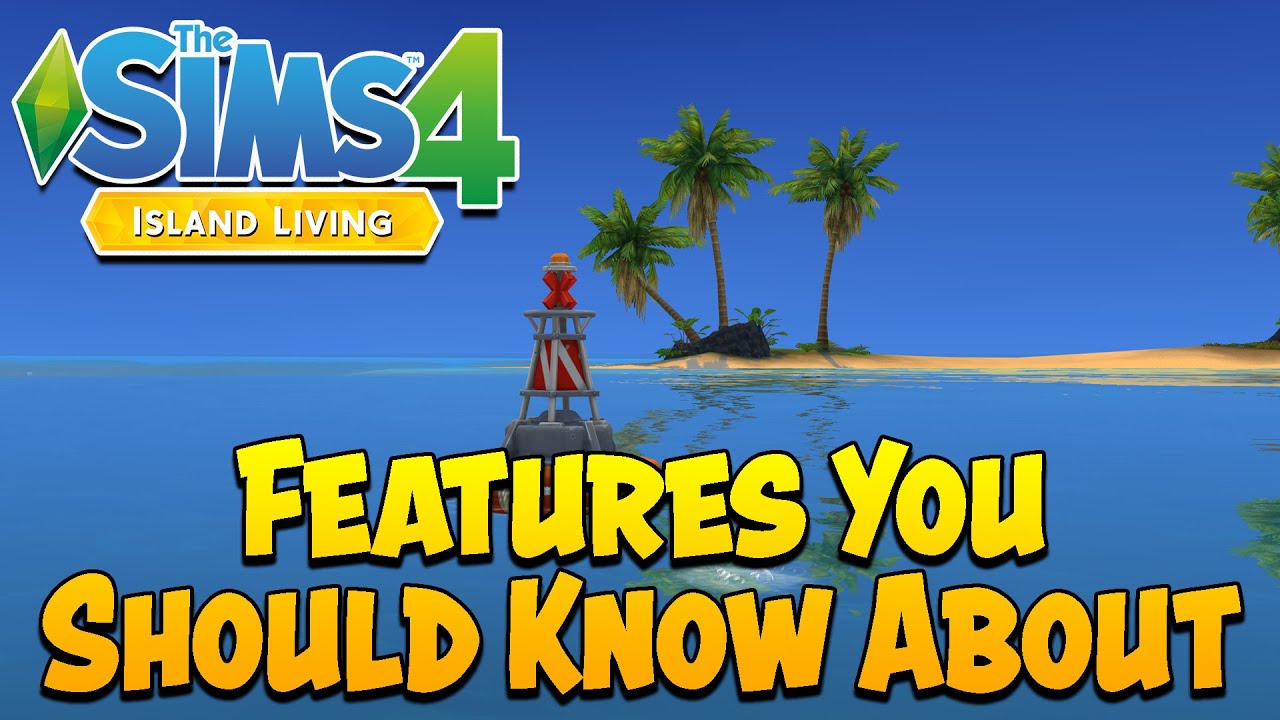 A summary of the trailer and Q&A session held by the devs at EA Play 2019, where they announced The Sims 4 Island Living Expansion among other things (hint: there's more).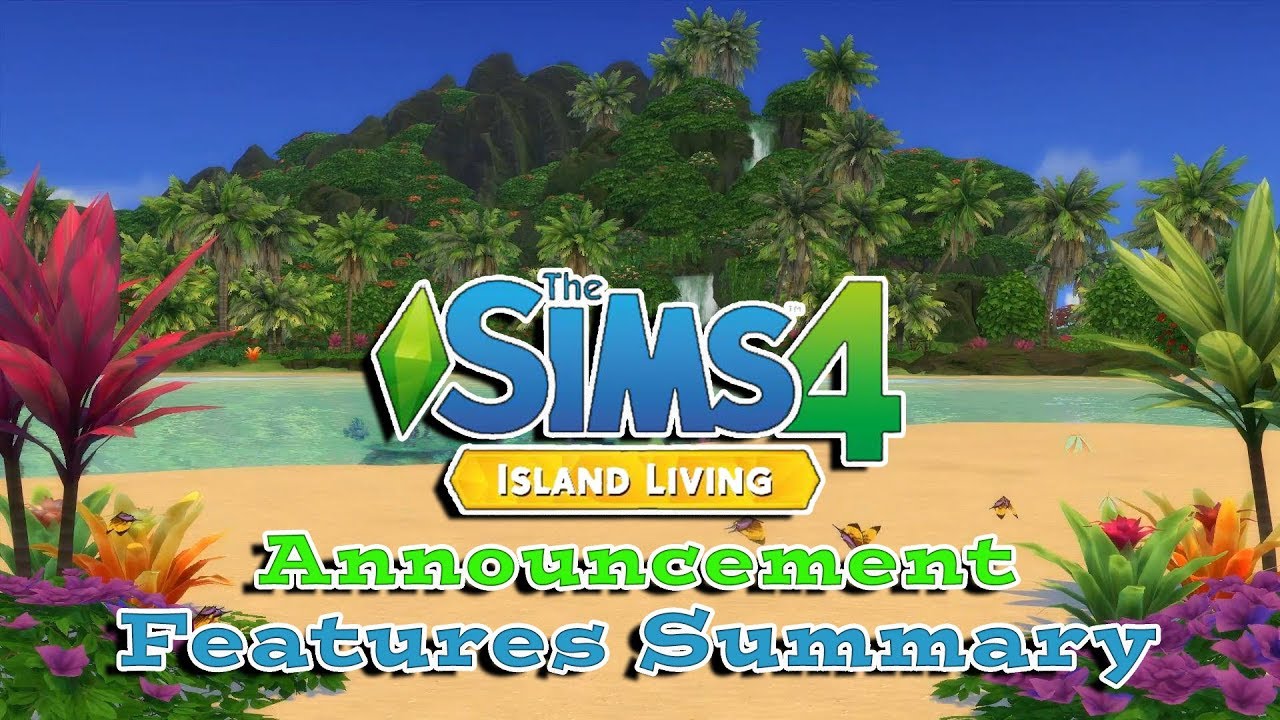 New Patch
I want to make people aware that a few things that may be listed on this page are now free with the Base Game and not just included with Island Living. For one, there's a new stilt foundation type, float on back interaction, a new lounge chair for chilling poolside, and new LGBTQ+ items brought to the game via a partnership between EA and It Gets Better, a non-profit organization that helps gay youth. Fishing has also been overhauled. Check out the Island Living Patch Notes Page for more information.
New World: Sulani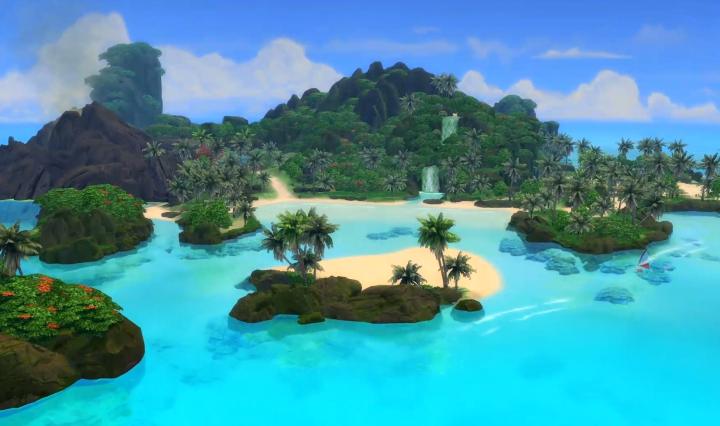 Click to Enlarge the pics on this page! Sulani is certainly beautiful!
Couldn't have a new Island-themed pack without a new world, right? The "neighborhood" of Sulani is required for many of its features, with both areas by the coast and up in the hills as places Sims can live or visit. There's also an active volcano, so beware of falling lava-bombs. The danger is offset by the wonder of getting to watch little baby turtles hatch by the beach.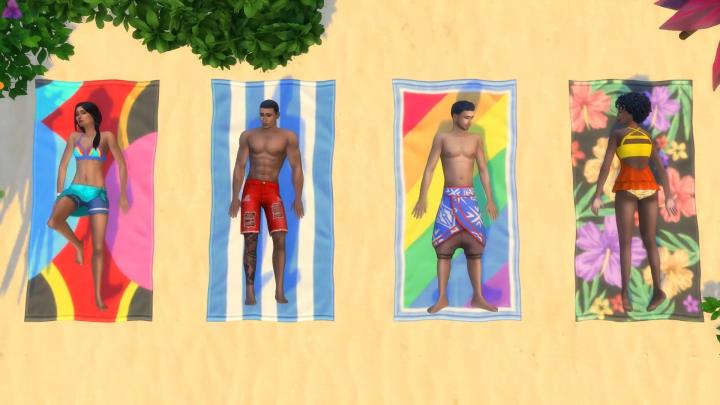 Sims bathing in the sun to get a tan should be careful, as they can get a sunburn.
The island is home to Elementals, ancient spirits that will be displeased if you treat the island poorly like some filthy litterer, but may befriend you if you take care of the land. There is a deep sense of community here, with impromptu community gatherings and kava parties on public lots. Neighbors care about you and may come help if you have a fire.
Sulani has its own unique weather. Tropical variations of existing systems brought by the Seasons Pack (if you have it). It tends to have warmer temps earlier in the day and cools off overnight. Winter will be cool. There's also a new Tropical Monsoon weather style that will occur at random in late Summer to Late Fall. This storm system features heavy rains and strong wind with very frequent thunder and lightning.
The Island's Ecosystem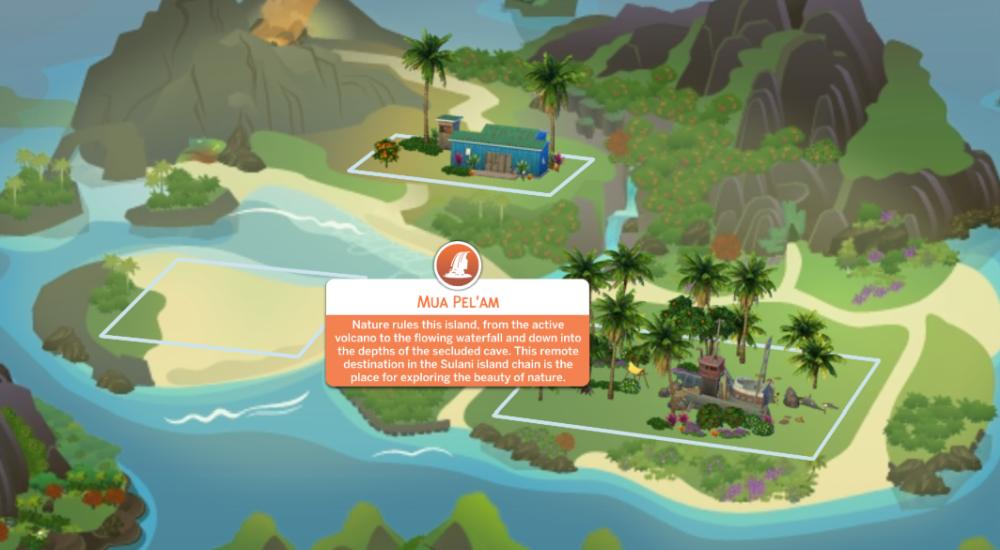 The scenery on Mua Pel'am will improve as you clean up the islands. Doing things on any island that improves the environment will impact Mua Pel'am, and visuals will improve as you do so.
While the new Conservationist Career is focused on improving the health of the Island's ecosystems, all Sims can take part. Island living features a system that tracks your progress in improving the health of one of the three islands, one that is a refuge for wildlife. Collecting garbage, performing scientific analysis on water quality, or passing new regulations can all make a big impact. You might also confront a litterbug.
The island improves in look when you do this. The palms grow more green, more butterflies appear on the beach, and flowers bloom. Sulani's coral systems also grow healthier, with a much more colorful set of reefs appearing as you proceed with the quest to clean up the island. Learn more about this system in the Guide to Conserving Sulani's Ecosystems.
Learn about the Conservationist Career and cleaning up Sulani's Ecosystem. The island can be improved twice, for mostly visual effects but the new career is hands-on and offers various ways to make money.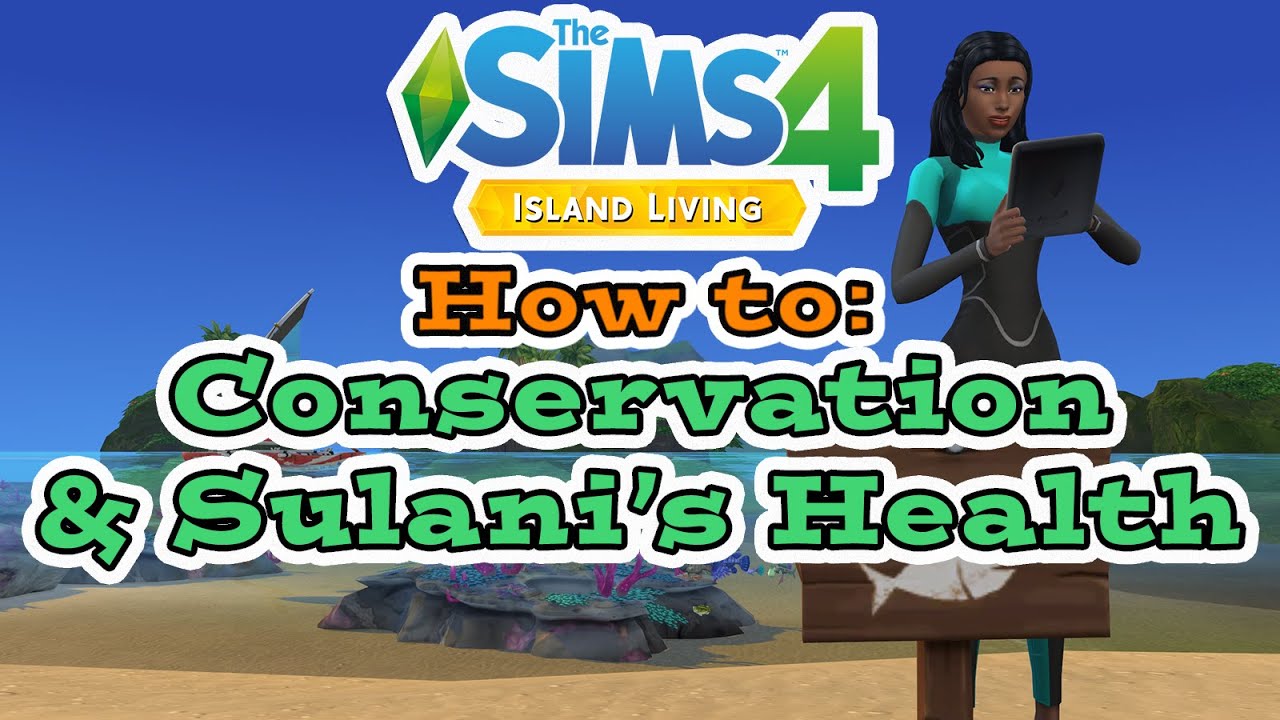 Mermaids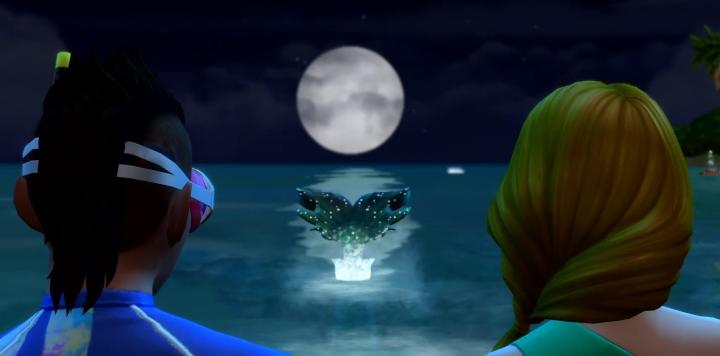 A mermaid swims away. Mermaids have access to powers and are a fully-featured Occult life state..
Mermaids are a new occult with their own powers. Becoming a Mermaid is a fairly simple affair, as the Kelp you need can be purchased in the Rewards Store for only 500 Satisfaction. To learn about them, see my Mermaids Guide or watch the video below.
A guide to becoming a Mermaid in The Sims 4 Island Living Expansion. Includes a summary of all their powers so you can take advantage of what Mermaids have to offer as an occult.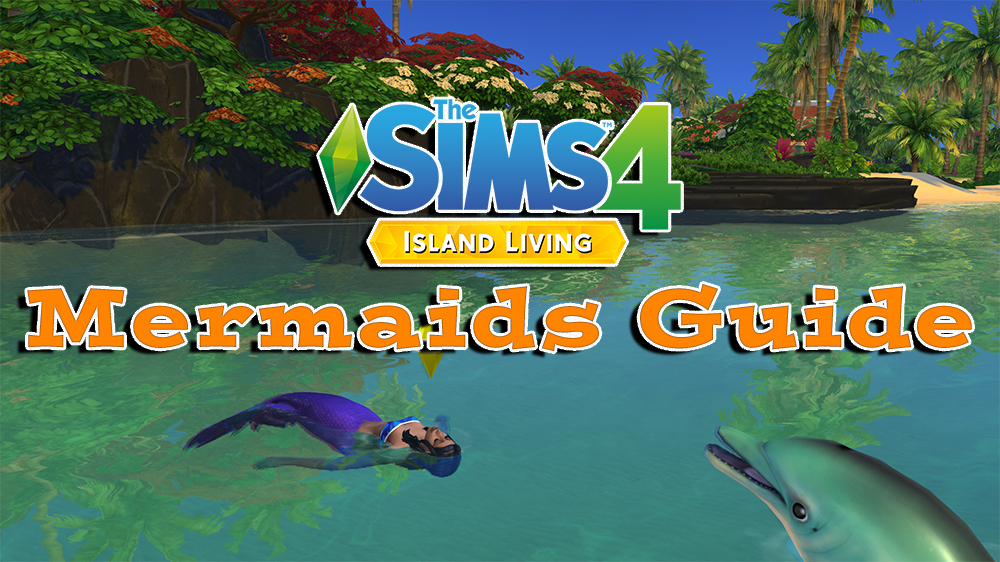 The Ocean & Beach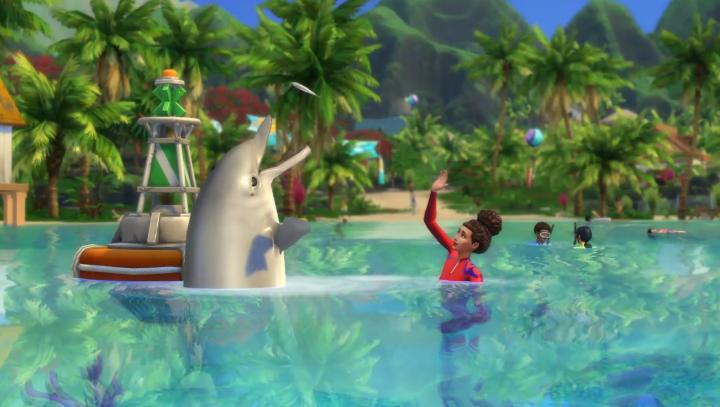 Dolphins can be fed fish in an attempt to befriend them.
Sims are able to jump right off the deck of their beach house, straight into the ocean or sail about in a canoe. There are new types of fish and coral reefs, as well as the aforementioned dolphins. Sims can be friendly and feed them, but little is known right now about what they'll be able to do. It's a cool idea, to have a little dolphin buddy snacking on your gummy guppies...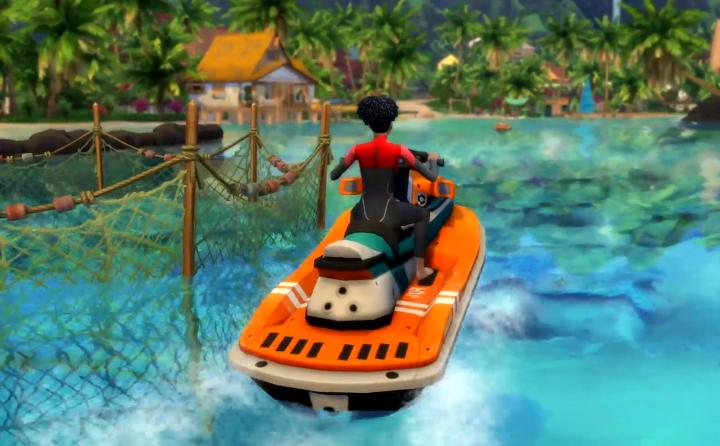 Aqua-zips are present along with canoes as transportation options on the water.
Sims can take an aquazip (Jet Ski) and may even learn tricks they can perform while riding them. Collect seashells as a family and maybe make some side money or decorate your island pad with them.
Lounge chairs are new, as are suntans! But be careful or that tan might turn into a burn. You might want to watch it if your sand castle takes a little too long - we don't know yet if Sims have to deliberately try to tan to get a burn.
Fishing Improvements & Fish Trap
While the improvements to the Fishing skill are mentioned above, there is also a new Fisherman part-time job worth noting. Additionally, Sims who level up the Fishing Skill can fish off of boats if they want. There's also a new object available in Buy Mode. Head to Outdoors > Outdoor Activities to buy The Admiral's Fish Trap for $75. This thing is awesome and gradually fills up with fish. It can be baited too!
Conservationist Career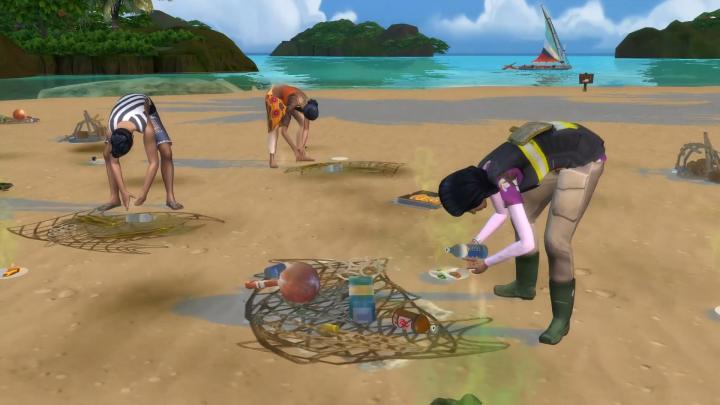 Conservationists can clean up the environment, and will be rewarded by a more lush ecosystem if they maintain it.
There are likely active elements to the new environment-focused Conservationist career. Conservationists can have a direct impact on the ecosystem of the island. Actions and choices have an impact - the island changes over time if you take care of it with more lush greenery and more butterflies. You'll directly take care of the island's litter problems so the critters and reefs can thrive.
Dive Instructor, Fishing and LifeGuard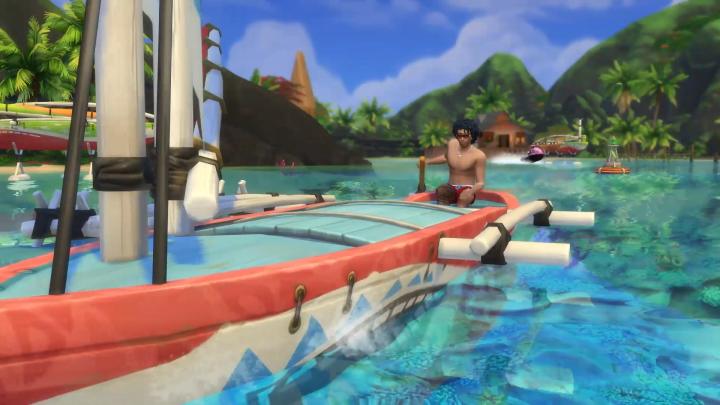 A Sim sails a boat in Sulani.
It seems Sims can take up a few other ways to make money in Island Living. You're able to do side gigs as a Dive Instructor, or be a Lifeguard and get a tan while you work. Fishing gets a new Fisherman part-time job that pays a little. What is more, the recent patch made it possible for Adults to partake in any part-time job they want (also good for Elders).
Relax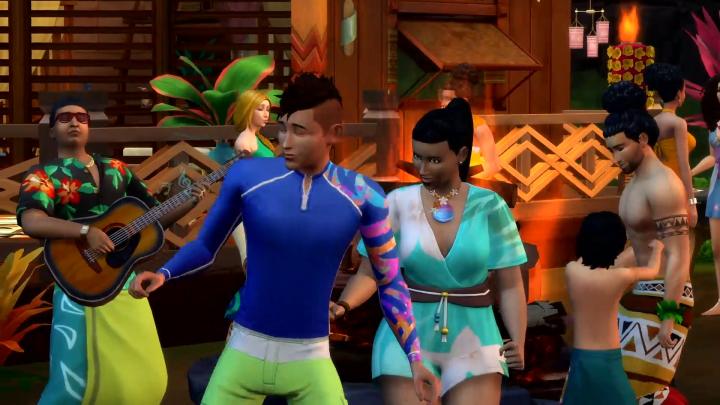 Impromptu gatherings are common in Sulani, as there is a strong sense of community here. A local bar is in the background in the screenshots section of this page.
Sims can actually drink a relaxing plant known as kava in the new pack and will undoubtedly get some chill moodlets from a visit to the bar. People familiar with it will find it kind of funny how The Sims avoids certain references with mixology but has included this traditional drink in Island Living. It's a drink in a few tropical places that is relaxing due to the presence of a chemical that comes from the plant (and only meant for grown ups).
New Clothing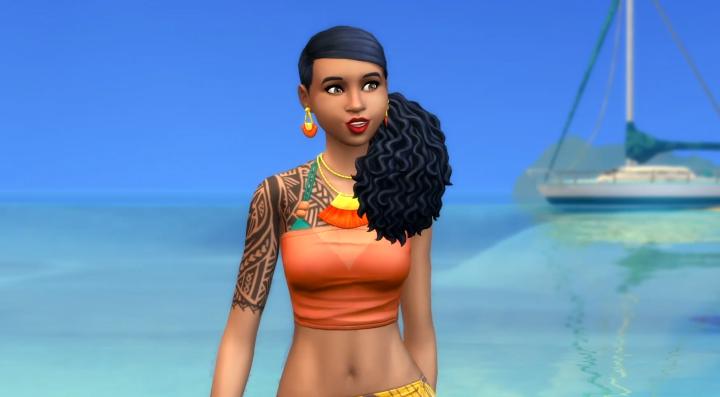 There are tons of new clothing options, all themed around island life.
A lot of Polynesia and Hawaiian-inspired clothing is in this pack so expect to be able to dress your Sims like they're ready for a relaxing day at the beach or dressed in traditional clothing for a gathering. Lots of new unique hairstyles and dresses were shown in the presentation at EA Play.
New Traits and More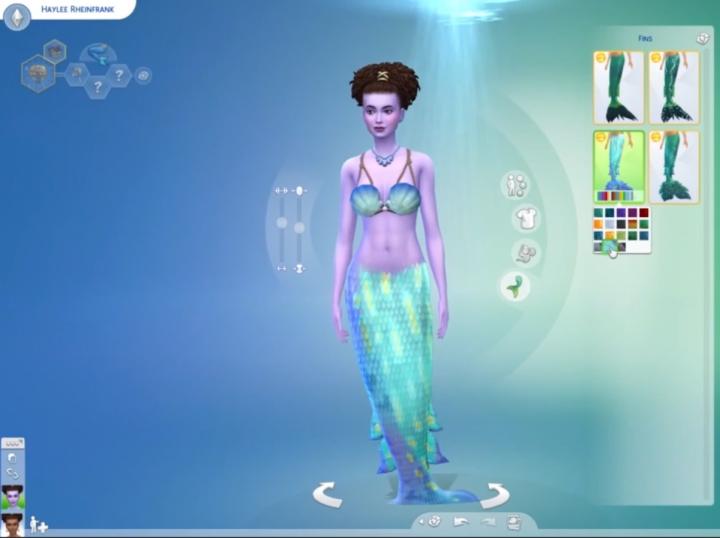 A Trait Randomizer button snuck its way into this screenshot of a Mermaid in CAS. Mermaids have two customizable forms - one for in the water and on land. You're able to customize their fin colors and give them mermaid-appropriate attire.
Several few new traits appear in the pack. First, Sims can take on two new regular traits upon creation. They're able to pick to be a Child of the Islands with an ancestral connection to Sulani. This gives them the ability to summon Elementals, powerful ancient spirits of the Islands that can confer a blessing to your Sim. Another regular trait is Child of the Ocean, giving Sims powerful moodlets when they're part of water activities. Sims who take on Conservation can get one of two new traits from maxing the career, Natural Speaker (Environmental Manager Branch) or Master of the Sea (Marine Biologist Branch). Finally, there's also the new Aspiration - Beach Life - which gives the Laid-Back reward trait, making you a happy beach bum.
Island Living Screenshots? Here You Go!
I made a dump of many frames from the gameplay trailer. Here are some of the best pics of the Island Living Expansion.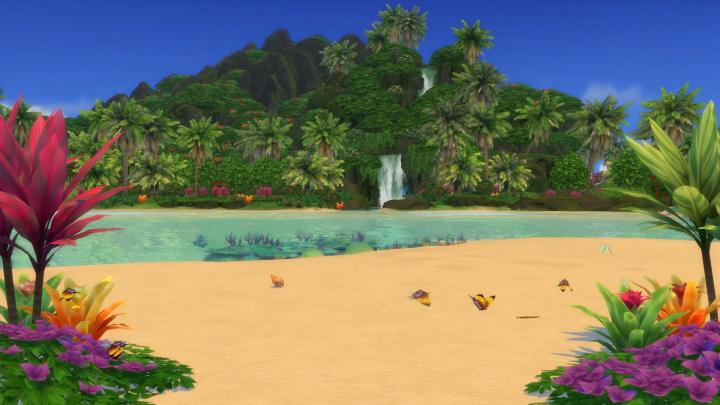 Click to Enlarge. Butterflies on the beach. The ecosystem is in great shape, so the wildlife is abundant.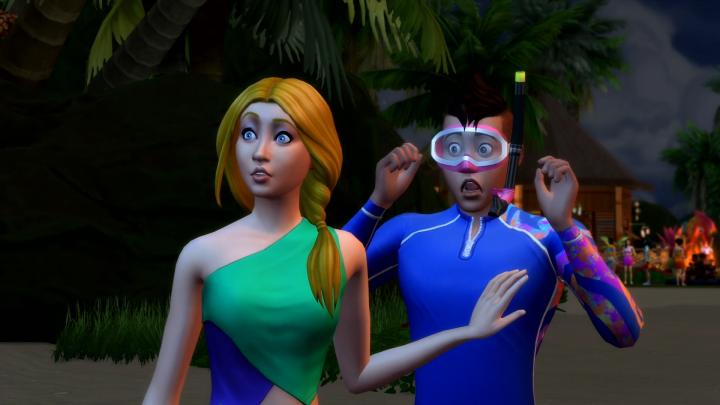 A female Sim and a diver look on as a Sim changes to a Mermaid.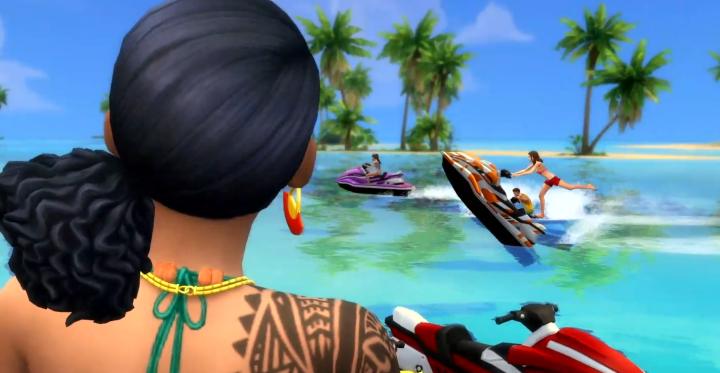 Sims can learn to do tricks on the Aqua-zips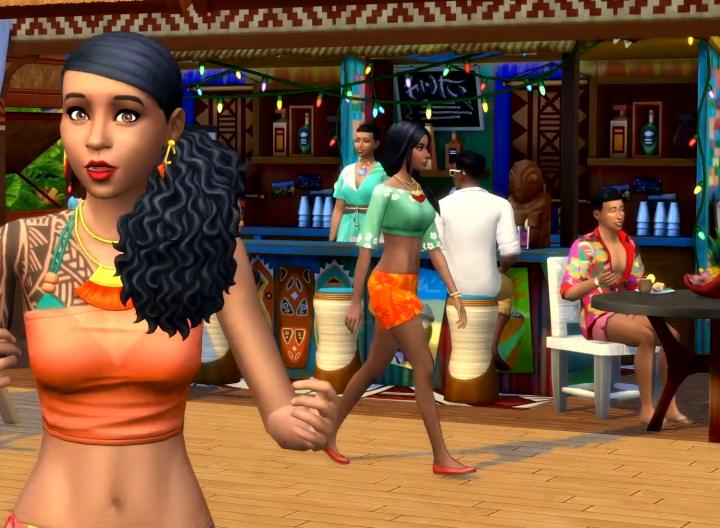 Sims can relax and drink Kava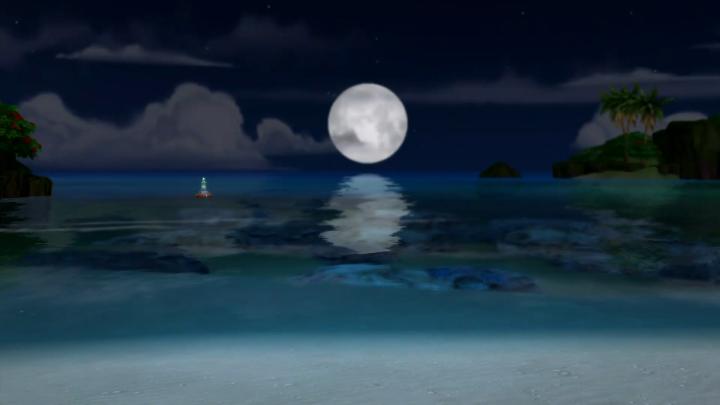 The moon rises over the ocean at night. Beautiful.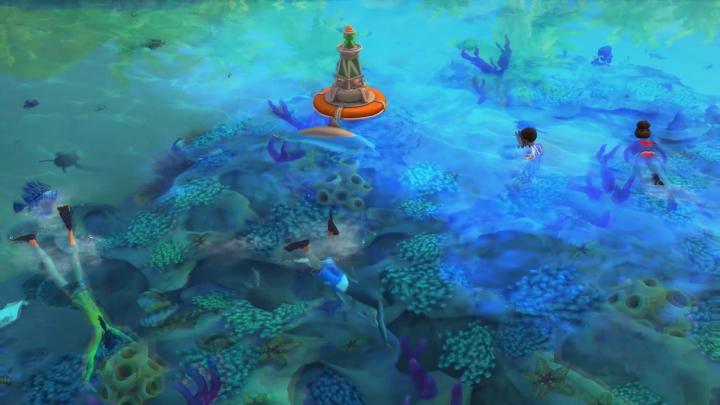 A reef teeming with life.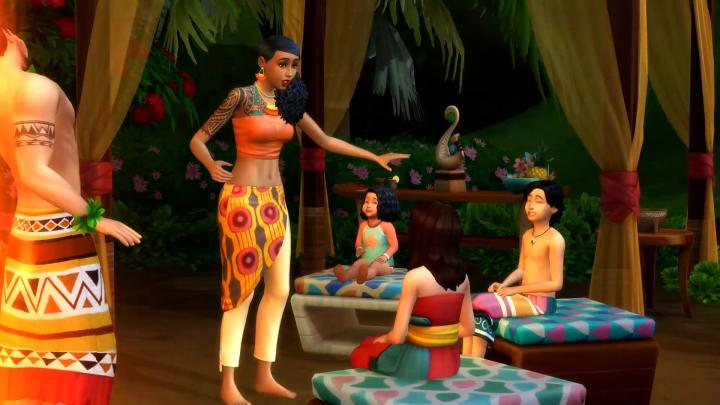 Children listen to a story at a gathering, or a lecture. Hard to tell.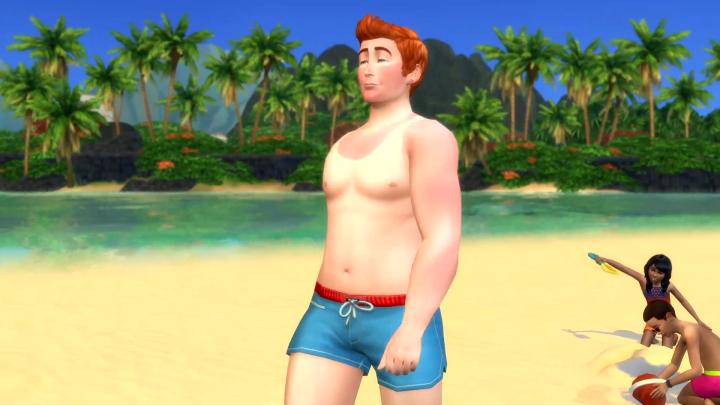 Someone got too much Sun.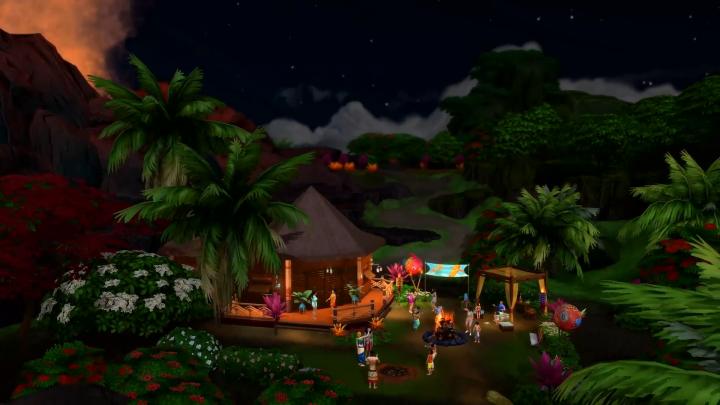 Did I mention the active volcano?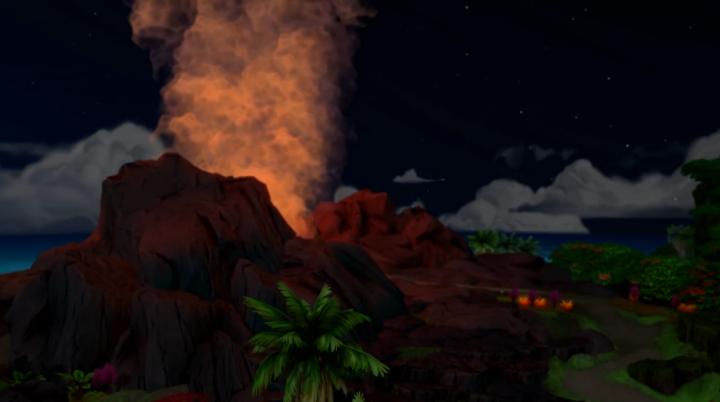 Don't yet know if the fiery lava rocks kill Sims, but I'm going to go with "likely".
Other Island Living Guides
The Sims 4 Island Living Expansion Pack
Mermaids in Island Living New
Mermaids Video Guide (Island Living New
Island Living Gameplay Review
Island Living Cheats
Features to Know About in The Sims 4 Island Living
Features in Island Living (Video Format) NEW
Conservationist Career Guide
Conservationist Video Guide
Cleaning Up The Island - How it Works and What's Best
Child of the Islands Trait New
Child of the Ocean Trait New
Using New Foundations, Clear Floors, and Other Build Mode Items

How You Can Support The Site and Channel

If you like my sites and
Youtube Channel
, consider supporting me on
Patreon
to help me to continue. If you'd like to support my guides in another way you can use our
Amazon link
for your next purchase (if in the US). We also offer a
paypal donate link
so you can contribute directly.
Back to The Top
Check Out My Youtube Channel!
We now have a Youtube Channel with over 50 guides in video format to go along with the huge site I've already created. Check it out and consider subscribing if you like my style.
-->
Comments (9)
Topic:
http://carls-sims-4-guide.com/expansionpacks/islandliving/
Senior
Brian Z
So I had my sims Research Conservation when they got jobs as conservationists. While they were doing that, their skills went CRAZY! They were leveling all different skills-- Comedy, Fishing, Guitar, you name it. Ding-Ding-Ding, notice after notice.
Admin
Playalot
Links to the last game patch details
here (click)
. It was on 6/18/2019 Patch PC 1.52.100.1020 / Mac 1.52.100.1220
Link to our Origin Help forum section, including how to get in touch with EA for help regarding issues like yours.
Forum's EA and Origin Help Tech Section
Admin
Playalot
Either the ability to learn these new recipes was not added to the game or has been accidentally broken... either way there is no way to learn these recipes at the moment.
New
Ema
You can cook the new recipes by using a special item (I believe it is called a fire pit) in the same way you can make special recipes on the campfire or grill. You can get it from build/buy mode and there are also some around Sulani :)
New
DegDeg89
Sims 4 Island Living New feature!Odd Jobs ( here's how to find it)

1) Go to the sims mobile
2) Select the suit case icon
3) It is located as " Find Odd Jobs" above Standard " Find A Job"
It's soo cool! P.S. I think EA might have included teen jobs as adult jobs. I decided to see if there was any new jobs available and thought I was bugging! I'm assuming EA because whenever they have added something new it'll have a huge gold star
New
DegDeg89
Oh! By the wayyyy: New careers are: Life guard Conservationist and Fisherman. Another awesome feature: you can pick between two schedules that are available by clicking on sun or night symbol it's the middle tab ( ex: left is hourly pay middle: day/night shift <---- * new feature* Not sure if all careers have this feature.
New
Similians
So I found that, there is a trait for "Powerful Elementals" that "Child of the Island" can summon to give them blessings. I searched out that trait on google but seems like not much people knows about that trait. The name of the trait is "Sulani Mana" based on Sims Fandom Wiki and in-game appeareance. I still don't know how to get that trait until now, unless using cheats "traits.equip_trait trait_Hidden_IslandAncestor_Elemental". But I know that every "spirits of the island" that "Child of the Island" summoned are had that trait. So I wonder if you guys could help me how to get that trait by making article or anything that could help.
Admin
Playalot
Yep, we've that on the list to add in a suitable guide soon.
New
summer
So I just bought island living on my laptop it's a windows 10 and I've bought expansion packs before but for island living it says requires the sims 4 game (sold separately) and all game updates to play. See minimum system requirements for this pack. And I have no idea what it means and i was really looking forward to playing this expansion pack. Can someone please help me
Admin
Playalot
You will need the Base Game "The Sims 4" to be able to play any extra content (Stuff packs, Game Packs or Expansion Packs). The base game "The Sims 4" can be purchased through your online Origin Store. If you have already purchased the base game but downloaded it onto another computer then this will be why it is not installed on your laptop. We've got a
Help Topic (click)
here on this that might be helpful for you to read.
New
Amber Martin
I want to know more about the "Off-Grid" cooking options. I was really excited about this off-grid thing but so far am not too impressed with it. Am I only able to make toast from now on? My sims are always gardenig foodies. Off grid and gardening go hand and hand in my mind, yet I can't cook any of this? Huh? How do some of my seemingly electric lights work? So many questions about this.
Admin
Playalot
Off Grid isn't implemented particularly well but all grills and BBQ's and fire pits work for food cooking so your Sims will be able to cook far more than toast.
Admin
Playalot
Not unless you are ok with using mods. Zerbu has made a mod for this but you will also need his Venue Changes mod too. Zerbu's Mods
Are you sure you want to report it?
Share a link to this comment
-->
Star Wars in Sims 4

We now have a page on The Sims 4 Journey to Batuu.
It's not what I would have hoped for in a Star Wars Game Pack so far.
Secrets and Other New Stuff
Sims 4 Packs & DLC
Support Us

Readers who use adblock or those who'd like to thank me for my efforts can now pledge $1/$5 monthly via Patreon. This helps a lot with server costs and provides some stability for my business.
Super Sim Checklist + Other News
Let's Play Playlist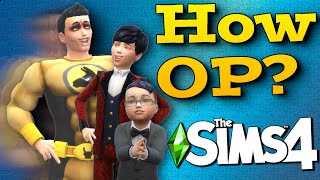 New I now have a guide to Making Super Sims in The Sims 4. Look for a text version within the next 72h. It won't have THAT much more info but it will help out as a checklist.
This was inspired by a series, "Let's Play a Super Sim" in which I start at toddler and gradually take on the major bonuses. Here's a link to each part for people who are interested. You can also see the Let's Play as a Playlist on Youtube.
Discover University Expansion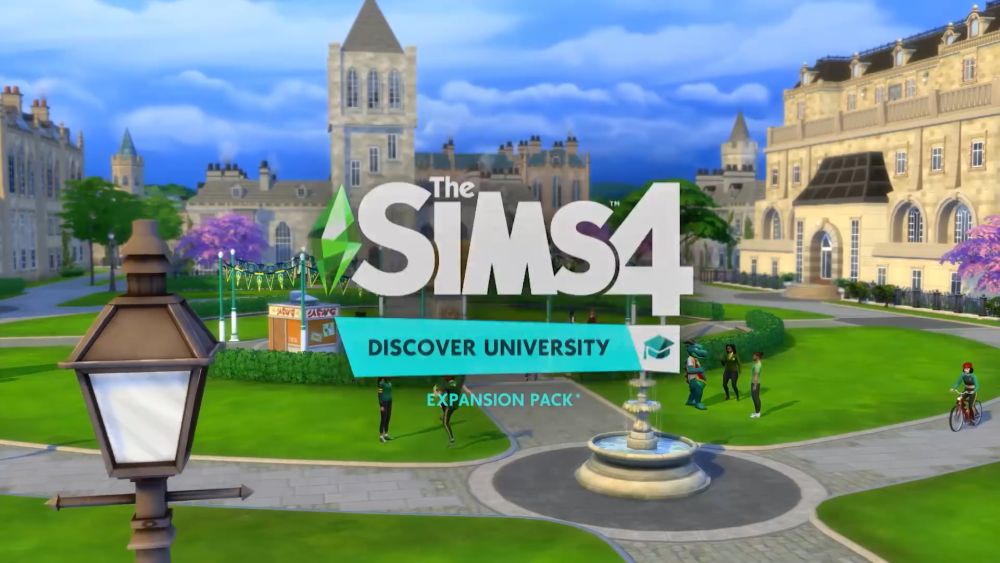 The Sims 4 Discover University has been announced for November 15 for PC/Mac and December 17 for Xbox and Playstation 4 consoles. Click to learn more about the pack, see my summary of the livestream or read our FAQs below.
Other Guides to Discover University:
New Lot Traits: Study Spot and University Student Hang Out
New: Discover University FAQ: Gameplay Features
New Video The Sims 4 Discover University Gameplay Tips Video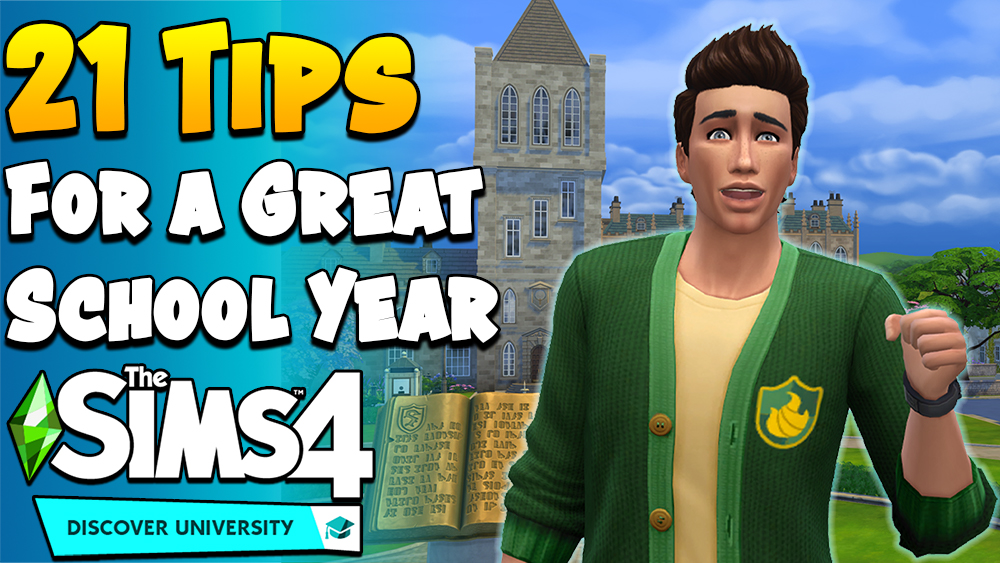 More videos coming soon!
Realm of Magic