The Sims 4 Island Living
Expansion Pack Features and Release Date

Island Living features Mermaids, jet skis, diving and open water swimming, a frequently requested addition.
At EA Play 2019, The Sims 4 Island Living Expansion was announced for June 21, 2019 for PC/Mac and July 16 for the Xbox One and Playstation 4 Consoles. The new pack is set in an island nation with a very strong tropical vibe including many of the recreational and customary activities of places like Hawaii and Polynesia. Let's look at the known features of the pack, then I'll spit out a couple dozen pictures from the trailer so you can see details.
A summary of the trailer and Q&A session held by the devs at EA Play 2019, where they announced The Sims 4 Island Living Expansion among other things (hint: there's more).
New World: Sulani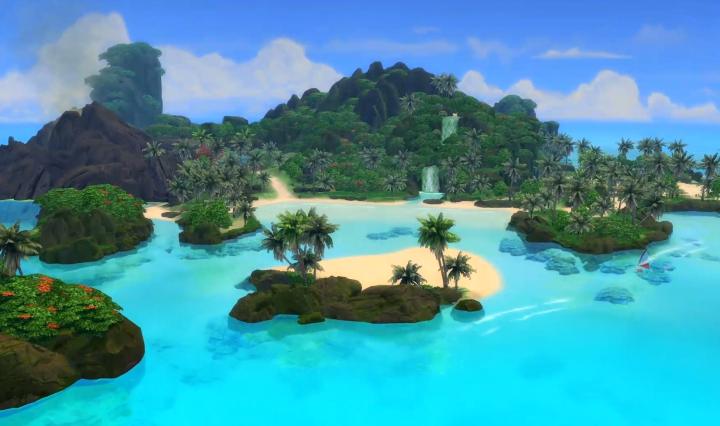 Click to Enlarge the pics on this page! Sulani is certainly beautiful!
Couldn't have a new Island-themed pack without a new world, right? The "neighborhood" of Sulani is required for many of its features, with both areas by the coast and up in the hills as places Sims can live or visit. There's also an active volcano, so beware of falling lava-bombs. The danger is offset by the wonder of getting to watch little baby turtles hatch by the beach.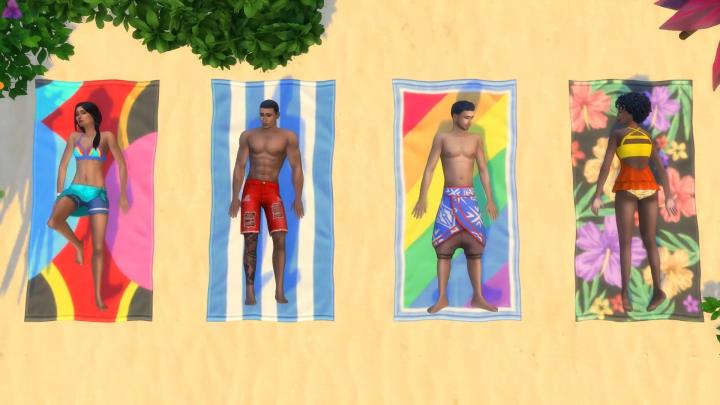 Sims bathing in the sun to get a tan should be careful, as they can get a sunburn.
The island is home to Elementals, ancient spirits that will be displeased if you treat the island poorly like some filthy litterer, but may befriend you if you take care of the land. There is a deep sense of community here, with impromptu community gatherings and kava parties on public lots. Neighbors care about you and may come help if you have a fire.
Mermaids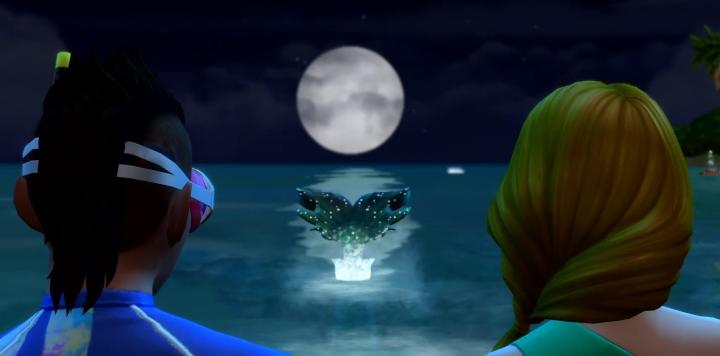 A mermaid swims away. Mermaids have access to powers and are a fully-featured Occult life state..
Mermaids are a new, fully-featured occult with their own powers. Obviously they're great in the water, and have a deep connection to the ecosystem in Sulani. Evidently something special will happen when they befriend dolphins, but we do not know much about the special abilities mermaids get yet, so keep an eye out for news if you're interested in this feature. I'll be sure to cover any upcoming livestream if it is possible.
The Ocean & Beach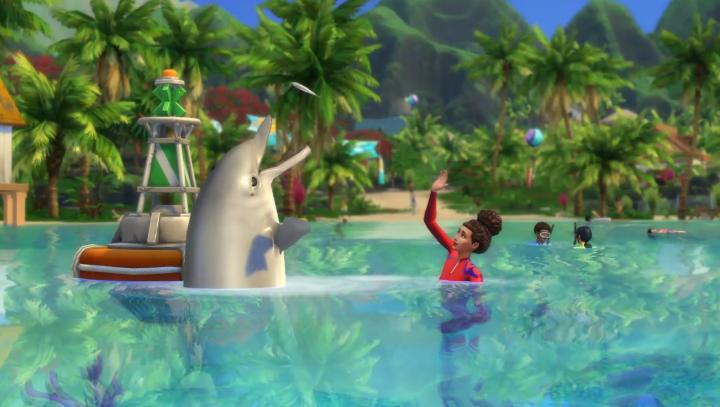 Dolphins can be fed fish in an attempt to befriend them.
Sims are able to jump right off the deck of their beach house, straight into the ocean or sail about in a canoe. There are new types of fish and coral reefs, as well as the aforementioned dolphins. Sims can be friendly and feed them, but little is known right now about what they'll be able to do. It's a cool idea, to have a little dolphin buddy snacking on your gummy guppies...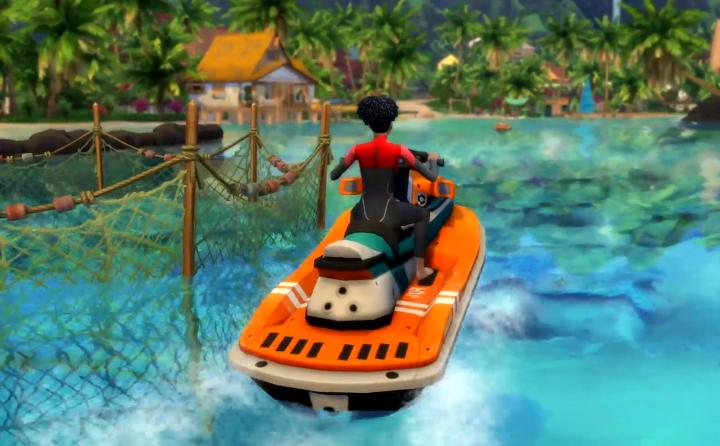 Aqua-zips are present along with canoes as transportation options on the water.
Sims can take an aquazip (Jet Ski) and may even learn tricks they can perform while riding them. Collect seashells as a family and maybe make some side money or decorate your island pad with them.
Lounge chairs are new, as are suntans! But be careful or that tan might turn into a burn. You might want to watch it if your sand castle takes a little too long - we don't know yet if Sims have to deliberately try to tan to get a burn.
Conservationist Career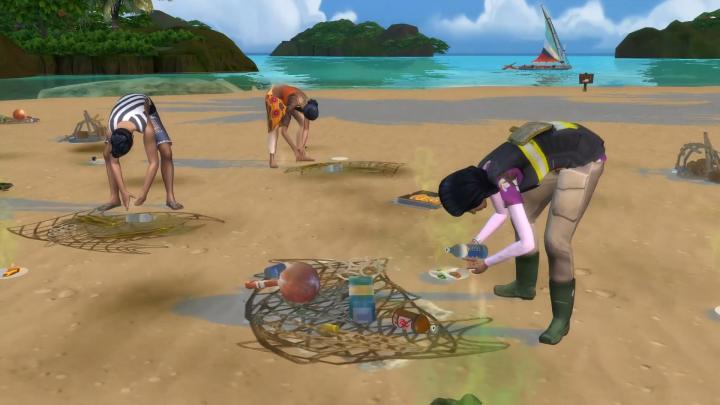 Conservationists can clean up the environment, and will be rewarded by a more lush ecosystem if they maintain it.
There are likely active elements to the new environment-focused Conservationist career. Conservationists can have a direct impact on the ecosystem of the island. Actions and choices have an impact - the island changes over time if you take care of it with more lush greenery and more butterflies. You'll directly take care of the island's litter problems so the critters and reefs can thrive.
Dive Instructor, Fishing and LifeGuard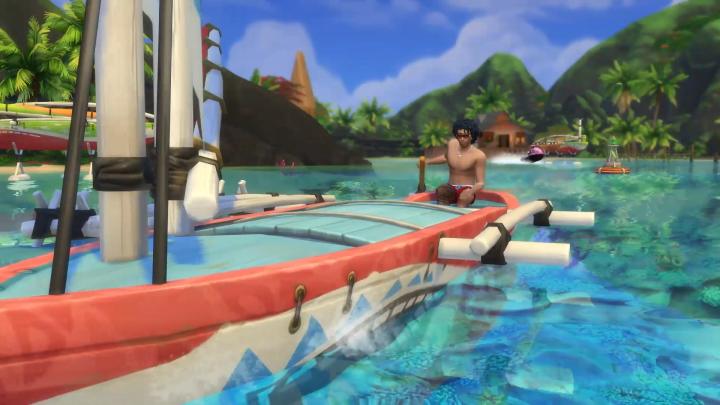 A Sim sails a boat in Sulani.
It seems Sims can take up a few other ways to make money in Island Living. You're able to do side gigs as a Dive Instructor, or be a Lifeguard and get a tan while you work. Fishing, a skill that is somewhat unreliable at making money is evidently being improved to be more of a career.
Relax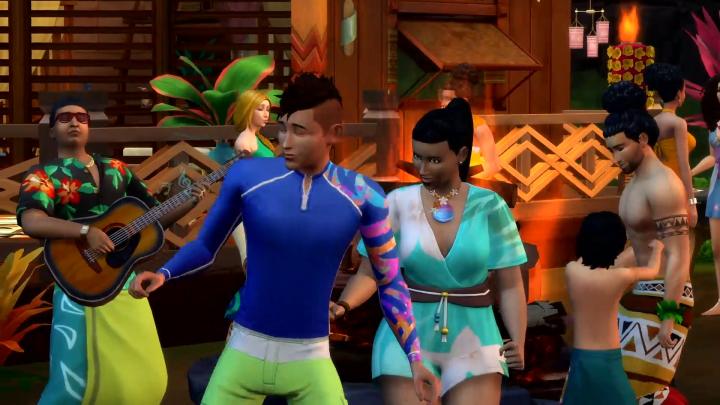 Impromptu gatherings are common in Sulani, as there is a strong sense of community here. A local bar is in the background in the screenshots section of this page.
Sims can actually drink a relaxing plant known as kava in the new pack and will undoubtedly get some chill moodlets from a visit to the bar. People familiar with it will find it kind of funny how The Sims avoids certain references with mixology but has included this traditional drink in Island Living. It's a drink in a few tropical places that is relaxing due to the presence of a chemical that comes from the plant (and only meant for grown ups).
New Clothing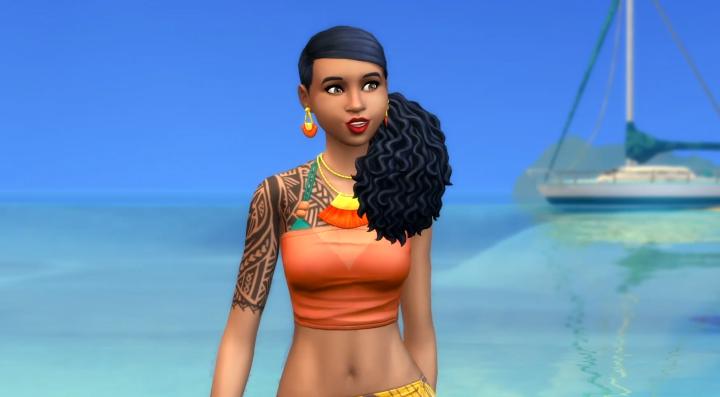 There are tons of new clothing options, all themed around island life.
A lot of Polynesia and Hawaiian-inspired clothing is in this pack so expect to be able to dress your Sims like they're ready for a relaxing day at the beach or dressed in traditional clothing for a gathering. Lots of new unique hairstyles and dresses were shown in the presentation at EA Play.
New Traits and More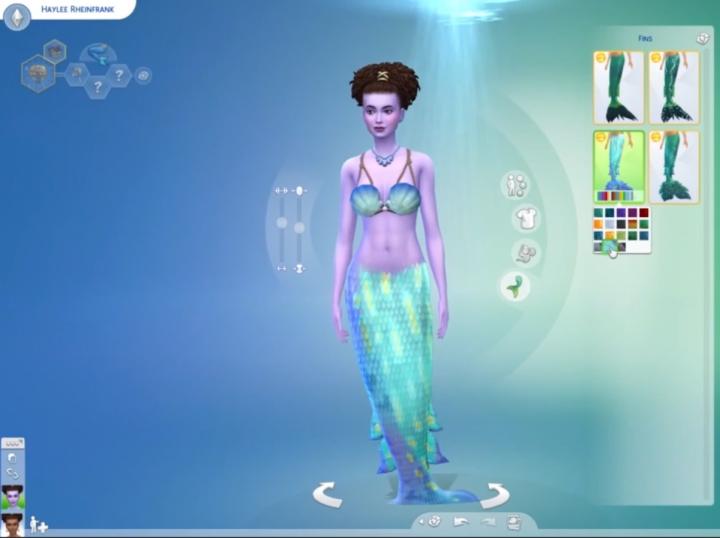 A Trait Randomizer button snuck its way into this screenshot of a Mermaid in CAS. Mermaids have two customizable forms - one for in the water and on land. You're able to customize their fin colors and give them mermaid-appropriate attire.
While it's not yet known exactly what they are, we know there are at least a couple new traits related to land and water that impact Sims' behavior around the island. As new features become known, I'll try to add to this page. The pack is coming soon though, so there will be only a couple updates before we have it in our hands. I'll be doing guides to all the new content in both video and text format, so subscribe to our Youtube channel to stay in the know.
Island Living Screenshots? Here You Go!
I made a dump of many frames from the gameplay trailer. Here are some of the best pics of the Island Living Expansion.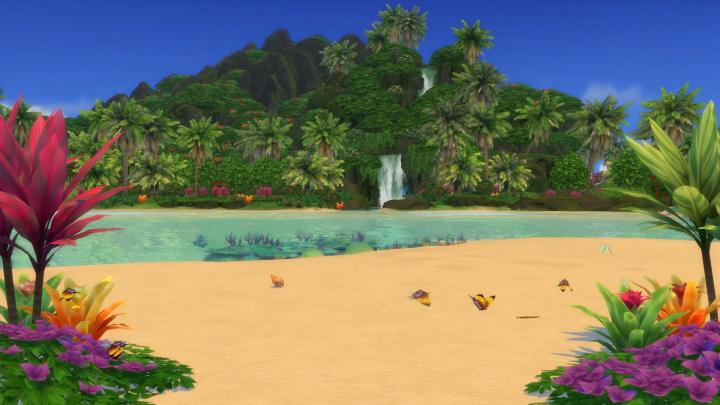 Click to Enlarge. Butterflies on the beach. The ecosystem is in great shape, so the wildlife is abundant.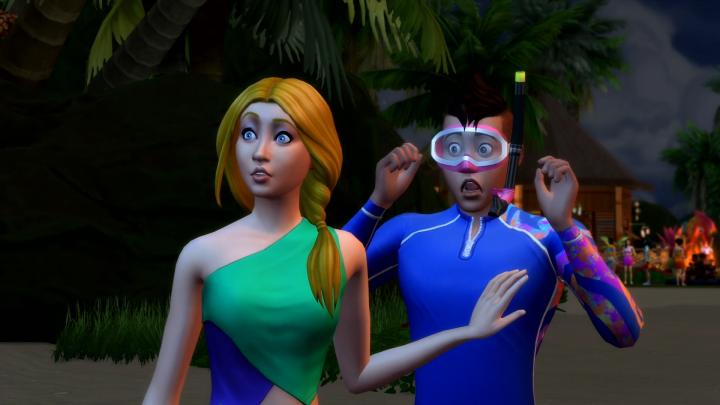 A female Sim and a diver look on as a Sim changes to a Mermaid.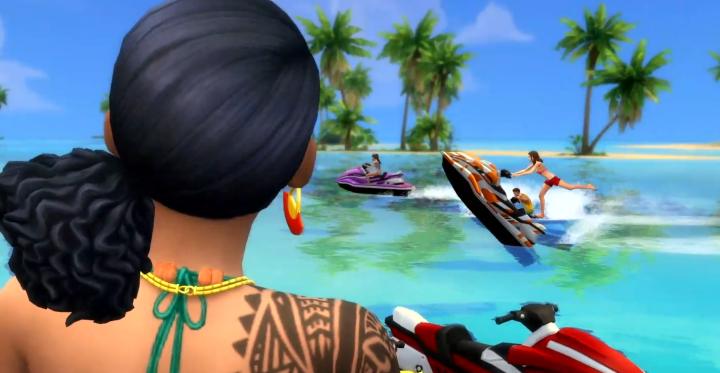 Sims can learn to do tricks on the Aqua-zips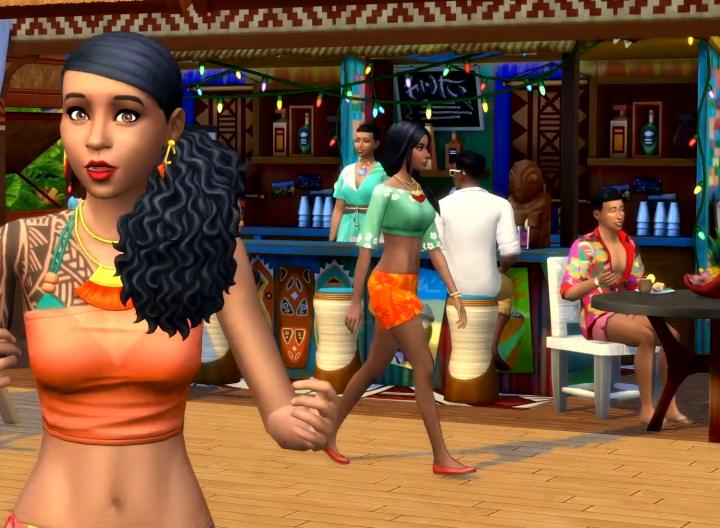 Sims can relax and drink Kava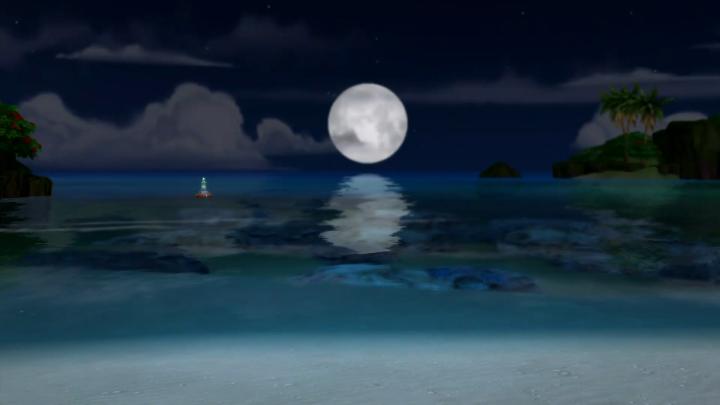 The moon rises over the ocean at night. Beautiful.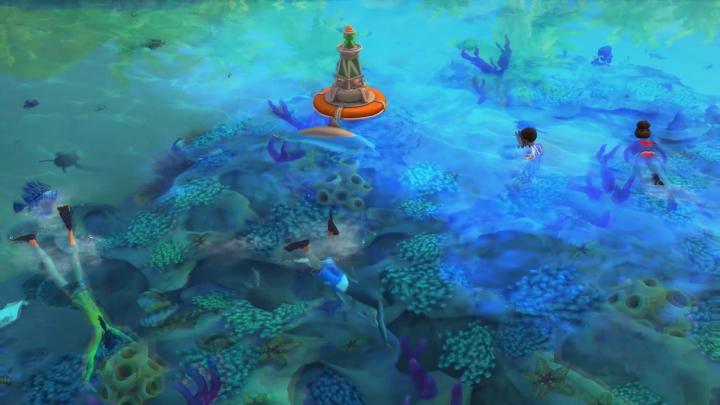 A reef teeming with life.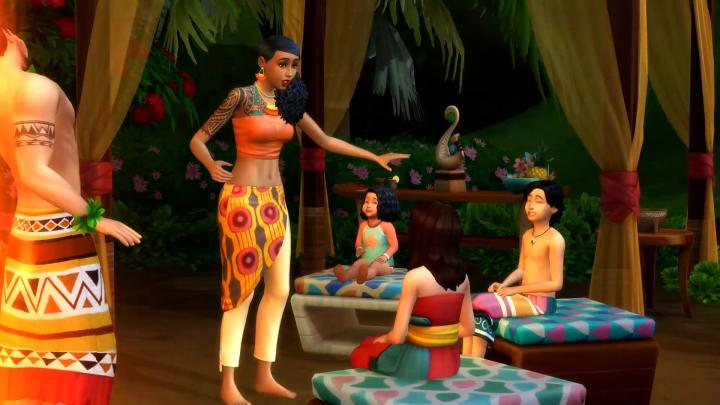 Children listen to a story at a gathering, or a lecture. Hard to tell.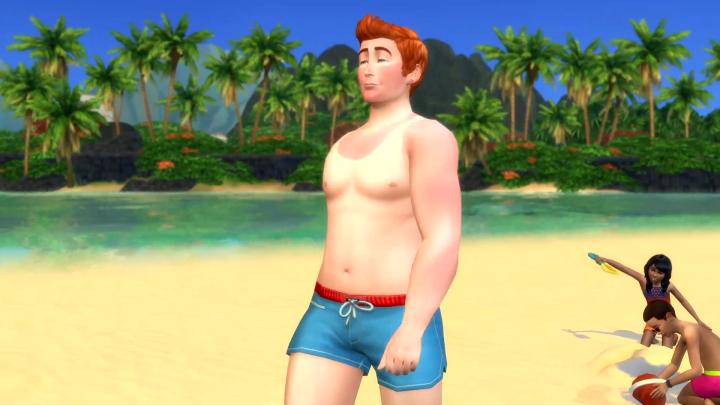 Someone got too much Sun.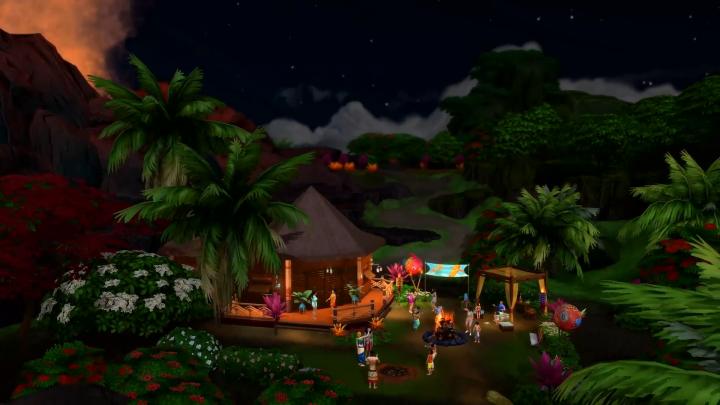 Did I mention the active volcano?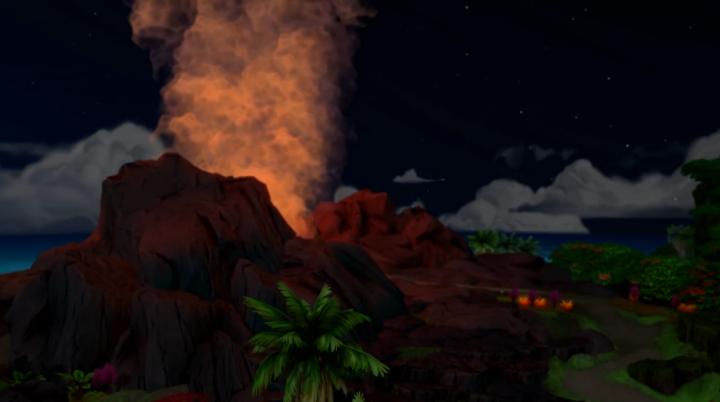 Don't yet know if the fiery lava rocks kill Sims, but I'm going to go with "likely".
Quick Links
Check Out My Youtube Channel!
We now have a Youtube Channel with over 50 guides in video format to go along with the huge site I've already created. Check it out and consider subscribing if you like my style.
Share Tips and FAQs
Our Sims 4 Community is the place to go for faster answers to questions and discussions about the game. Use the form below to share your own experiences and provide helpful tips to other readers. We are not affiliated with EA and cannot make changes to the game, nor fix bugs.
Support The Site via Amazon
Nothing yet!
Join in:
Sims 4 Packs & DLC
Support Us

Readers who use adblock or those who'd like to thank us for our efforts can now pledge $1/$5 monthly via Patreon to help us retain the freedom to do what we love to do.
New Videos and Guides
Armageddon Mod (Mod/CC Reviews).

Latest in The New How To Section : Learn How to Write Songs and Make Money with Music in The Sims 4. Also, How to Get Abducted by Aliens. We have a guide for using Pregnancy Cheats, Get a Job, Adopting a Kid and How to Cheat.

Alien Abduction: I made a Video Guide to Alien Abductions, Alien Babies in The Sims 4 Get to Work.
New How To Section : The new How To's section is updated with How to Get Abducted by Aliens. You can also learn how to use Pregnancy Cheats, Get a Job, Adopting a Kid and How to Cheat. It's meant to help newcomers or those with specific problems and will be greatly expanded over coming months.
New Charisma Video
I've created a fairly detailed Charisma Video Guide to accompany the normal Charisma text guide. My goal is to have every skill covered by the end of the year, if possible.
Seasons and Guide Updates