The Sims 4 Pets: Cats and Dogs DLC
Making a Mixed Breed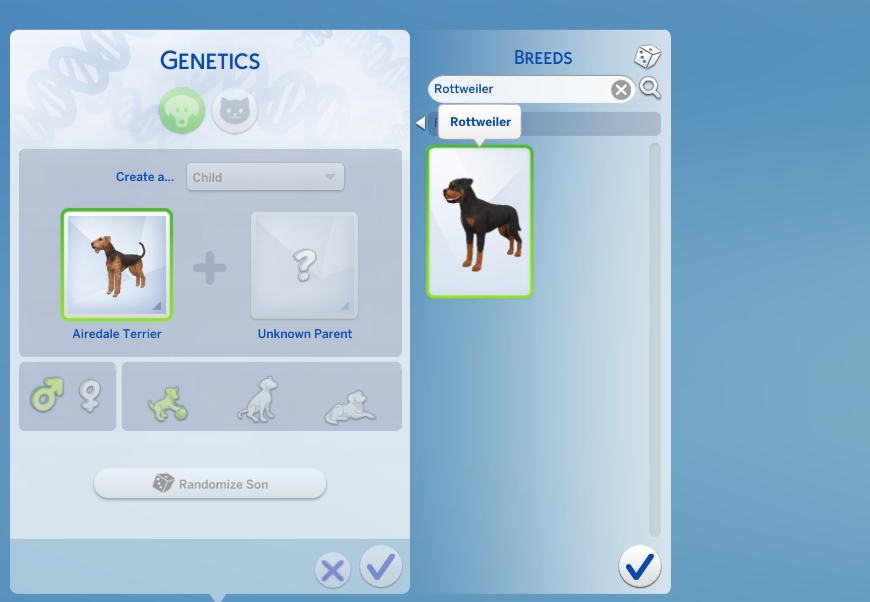 To create a mixed breed in The Sims 4 Cats and Dogs, enter the create-a-household screen, which doubles as create-a-pet. In the bottom left, where you add Sims to the household, select 'Add a Pet'. Rather than select, 'create a dog' or 'create a cat' pick the 'make a mixed breed' button. You can also create a pet as usual, select the breed and pick 'open breed mixer' at the bottom of the breed selection catalog.
A new screen will come up that allows you to select the two dogs or cats you'll combine. Pick dog or cat at the top. It doesn't matter which is in the mother or father box, because the results are entirely random. Thankfully, if the first combination of breeds is not to your liking, you can elect to use the randomize button at the bottom until you get what you think the result should look like.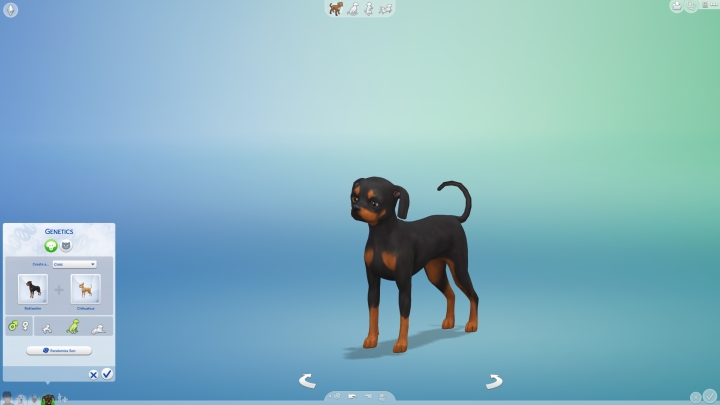 Create-a-Pet will let you make combos that are unlikely or rare in reality, such as this Rotthuahua!
It can be further tuned from there once it's added, by modifying the pet like you would any other animal. This is mainly to get the shape of the pet looking how you'd prefer. The system is not perfectly predictable in that it won't give results that you might expect (given the infinite combos of mixed breeds out there) but it's quite flexible and can give pretty great results if you're willing to click randomize a bit.

I now have over 70 videos on The Sims 4. Click here to check out my channel!

Our Latest: Realm of Magic Game Pack Guide NEW Realm of Magic Features Video New 10 Mods that Improve the Game New The Sims 4 Moschino Stuff Pack Review New Moschino Stuff Announced - See my Video for Trailer Graphics Options Guide (Video) My Sims Never Die. I Fixed That (How-To) Sulani Mana Let's Play Building Cheats Video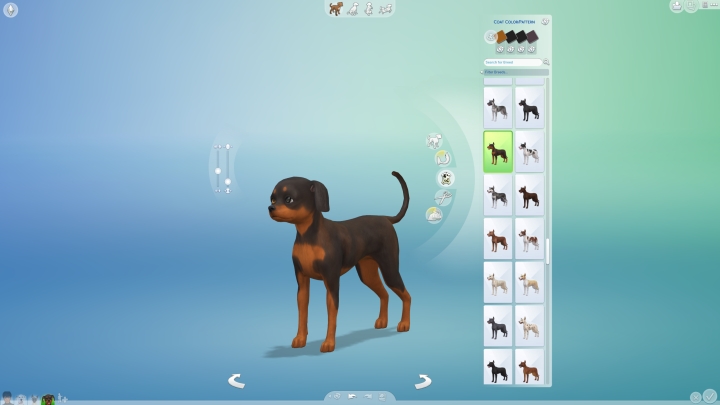 This fur looks a little better for my rotthuahua, but I could have made it a German rotthuahua.
As nothing is ever going to be exactly how you'd want, you can now click the animal directly and pick furs until you're happy with the mixed breed's look. The fur of nearly every type of dog is available under the furs option, so you can certainly make your rottweiler-chihuahua have a husky-colored fur if you like.
Going one step further, if you made a mixed breed, then go into the make a mix system a second time, it will let you pick a member of the household for the mother/father box. You could do this twice to make dogs that have 1/4 parts of various breeds, to get a result that looks much more uh, mixed. You can then delete the parents from the household by hovering over their icon in the bottom left once you're done, allowing you to use the genetics without keeping the pet.
When you're happy with the look, select three Pet Traits and name your companion.
How You Can Support The Site and Channel

If you like my sites and
Youtube Channel
, consider supporting me on
Patreon
to help me to continue. If you'd like to support my guides in another way you can use our
Amazon link
for your next purchase (if in the US). We also offer a
paypal donate link
so you can contribute directly.
Back to The Top
Quick Links
Check Out My Youtube Channel!
We now have a Youtube Channel with over 50 guides in video format to go along with the huge site I've already created. Check it out and consider subscribing if you like my style.
Share Tips and FAQs
(10)
Our Sims 4 Community is the place to go for faster answers to questions and discussions about the game. Use the form below to share your own experiences and provide helpful tips to other readers. We are not affiliated with EA and cannot make changes to the game, nor fix bugs.
Support The Site via Amazon
winterholiday
I found that my mixbreed puppy can't be trained like oher pure breeds. There's no interaction options to train them to sit, speak, etc. Can somebody enlighten me on this? Thank you.
2nd December 2017 2:11am
winterholiday
note: They have aged to adult.
2nd December 2017 2:15am
Playalot
When you click on your pet there should be a 'Training' tab and under there you'll be able to choose which command you want to train your dog in. Is this tab missing? Have you tried placing down an obstacle course item and commanding the dog to use that?
2nd December 2017 5:26pm
winterholiday
The 'Training' tab is missing. The 'Trained Command' tab only contains action from trait. I also can't train my dog not to play in or drink from puddle. The options are missing.
There's no problem in commanding my dog to run obstacle course, although it has to be from the object.
4th December 2017 12:45pm
Playalot
4th December 2017 9:18pm
winterholiday
Right. My pet was transferred from another pre-existing household. It's definitely a bug. Thanks for your help.
5th December 2017 8:59am
ForestDew
I like the result I got form mixing the breeds together. Is there any ways I can register my result as a new breed?
22nd April 2018 5:44pm
Playlot
You can rename the breed to whatever you want. Just click in the tab in CAS where it will say 'Mixed Breed' and type in the new name. As far as I can tell there is no way to save this 'new breed' in the Maxis made Breeds Tab in CAS though.
22nd April 2018 7:46pm
Kiri
Just wondering but, are there any mods out there that let your breed a CAT AND a DOG? I know, it sound's really weird to want a mod like that, and it would be nearly impossible or frustrated to make, plus, breeding a cat and dog is impossible in real life. But if theres
a mod out there like that, I would like information/to be told about it!
15th December 2018 5:16pm
Playlot
Sorry, don't know of any mods like that. Maybe try asking on
ModTheSims

16th December 2018 8:19pm
Join in:
Sims 4 Packs & DLC
Support Us

Readers who use adblock or those who'd like to thank us for our efforts can now pledge $1/$5 monthly via Patreon to help us retain the freedom to do what we love to do.
New Videos and Guides
Armageddon Mod (Mod/CC Reviews).

Latest in The New How To Section : Learn How to Write Songs and Make Money with Music in The Sims 4. Also, How to Get Abducted by Aliens. We have a guide for using Pregnancy Cheats, Get a Job, Adopting a Kid and How to Cheat.

Alien Abduction: I made a Video Guide to Alien Abductions, Alien Babies in The Sims 4 Get to Work.
New How To Section : The new How To's section is updated with How to Get Abducted by Aliens. You can also learn how to use Pregnancy Cheats, Get a Job, Adopting a Kid and How to Cheat. It's meant to help newcomers or those with specific problems and will be greatly expanded over coming months.
New Charisma Video
I've created a fairly detailed Charisma Video Guide to accompany the normal Charisma text guide. My goal is to have every skill covered by the end of the year, if possible.
Seasons and Guide Updates