The Sims 4: Quick Gardening Graft and Take Cutting to Get Rare Plants

Taking Cuttings, then Grafting them to existing plants will produce new types of plants, but only in the right combination!
Once you've leveled Gardening to 5, you can begin taking cuttings from plants in your garden and in the wild. These can then be grafted onto other plants. The base plant type determines the type of cutting you get as well as the graft result (so first listed in a plant that has multiple types growing). Having other harvestables growing from a plant doesn't matter, so long as the first one listed is the right type. So a tulip base cutting grafted onto a chrysanthemum base plant will produce bird of paradise.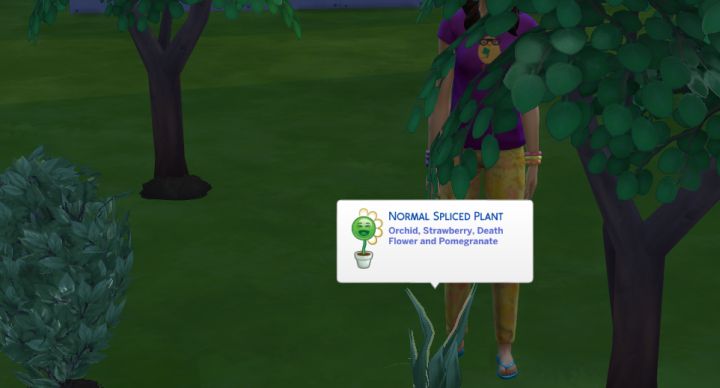 The base type is what matters, not what else is on the plant. This applies to both grafting and take cutting. The base here is Orchid.
You can take cutting from either type of plant in this list and graft it onto the other. It works in both directions. Some plants grow faster than others, however, so I've listed them in such a way that the one you'll graft it onto is the faster-growing type of plant.
Common Plant Grafting
Why mess with those from seed packets? Well, the new fruit will be of the same quality as the base plant. So you can skip several evolution levels by getting it from grafting, while getting Gardening Skill XP in the process.
Grape (Common) - Graft Bluebell onto Strawberry
Parsley (Common) - Graft Sage onto Basil
Plantain (Common) - Graft Pear onto Lemon
Rare Plant Grafting
Bird of Paradise (Rare) - Graft Tulip onto Chrysanthemum.
Bonsai Buds (Rare) - Graft Daisy onto Strawberry.
Bonsai Buds (Rare) - Graft Roses onto Grape.
Pomegranate (Rare) - Graft Cherry onto Apple.
Dragonfruit (Rare) - Graft Snapdragon onto Strawberry.
Cow Berry (Rare) - Graft Dragonfruit onto Snapdragon.
Orchid (Rare) - Graft Lily onto Snapdragon.
Death Flower (Rare) - Graft Pomegranate onto Orchid.
Death Flower
Getting a death flower can be extrapolated by using the above info, but I'll simplify it for you here:
Graft Cherry to Apple to make Pomegranate
Graft Lily to Snapdragon to make Orchid
Graft Pomegranate to Orchid to make Death Flowers
Harvest the Death Flowers, Plant one, and enjoy unlimited Death Flowers, which can be given to the Reaper by another Sim to save his target from death!
Learn the locations of all plants with our Gardening Plant List here.
Comments (30)
Topic:
http://carls-sims-4-guide.com/help/grafting.php
New
Edwina Gilbert
I needed the tip for grafting thanks
Admin
Playalot
It goes straight into the sims personal inventory.

Admin
Playalot
There are cherry trees in Oasis Springs near the Landgraab lot, In the neighborhood in Oasis Springs where the Caliente lot is, in Sylvan Glade, and the neighborhood of Windenburg where the pond is. You could find it tricky to find them with the grow fruit challenge currently on in-game as many players are reporting that wild trees are all becoming grow fruit.
Admin
Playalot
Because of the Spring Challenge most of the wild cherry trees are grow Fruit at the moment. if you have Get Together there are cherry trees in the garden of the Von Haunt Estate where the huge maze is. After the challenge is over (April21st) the wild trees should revert back to their 'original' fruit and should be easier to find.
Links to in-game screen shots of cherry tree locations
New
RastaPasta
I found a Wild Cherry Tree in Sylvan Glade today (Saturday 4/15/2016) but there was only one there... and it died as soon as I harvested it's fruit. It gave me two cherries though, and now I have a couple of Cherry Trees growing on my lot.
Admin
Playalot
Neat! You can also remove wild plants so that they spawn back. And taking 2 cuttings from one plant will always kill it. Weird that it died after you harvested it but wild fruit trees have been a little strange with the Spring Challenge.
Admin
Playalot
The grow fruit doesn't seem to unlock any new plants once grafted so I guess you could let your sim eat them or sell them.
Admin
Playalot
You can find the lilies near the Oakenstead Lot in Willow Creek. (To the left under the 'cliffs' as you look at the front of the lot.) You'll have to have your sim there for a while for the plants to spawn and then for a bit longer before they will be grown enough to take a cutting.
New
Brittney
I found a Lily plant in the park in Willow Creek, down on the far bottom right.
Admin
Playalot
This is a current bug. It has been fixed previously but seems to be back in some games. Have you tried cutting/grafting on your home lot as some people have reported not being able to cut/graft wild plants but can at home.
Here is the open bug report
read through to the most recent posts and you'll see that grafting works mostly on home lots so the work around is to harvest wild plants, grow them on your home lot where you can then graft to complete the plant collection etc.
New
Siobhan
this hasn't worked for me what should I do?



Senior
Playalot
Update your game as grafting/cuttings have been fixed and are all working as expected in my game now. Not quite sure which bit you are having problems with as you didn't tell me.
If you're still having problems after updating your game, removing all/any mods and cc and testing in-game and trying a Repair Game option through the Origin Client, follow the link I provided in the above comment to the Bug Report and report it.
New
Mackenzie
So, I'm having a bit of trouble, not sure if it is a big or I'm just not figuring something right. I'm trying to get a cow berry so I grafted a snap dragon onto a strawberry to get a dragon fruit, and it says the recipe is in my my notebook and it is, however I have all the "ingredients" but I'm not sure how to actually GET the dragon fruit? Help?
Admin
Playalot
Eventually the grafted plant will be ready for harvest at which point there will be snapdragon flowers, strawberries and dragon fruit all growing on that one plant.
Admin
Playalot
Yep you can graft either of these plants onto any other plant. I think I have my plasma fruit grafted onto some potato plants at the moment as they were the only ones at perfect at the time.
New
maya
No. Snapdragon are actually quite common in willow creek, half my garden is full of them.
Admin
Playalot
Just wait a while. A grafted plant will eventually grow all the types but at a shared rate. A plant can only grow 10 fruit max for any one harvest so if the plant is 'shared' between a few fruit types then it is random as to which type will show for each harvest. Usually you will get at least one of each type but only if you are harvesting the max (10) each time.
New
Nykrotik
Growfruit are an excellent fertilizer.
Senior
Playalot
I've never once seen dragonfruit in any of the City Living pop-up stalls! Are you sure your sim bought a dragonfruit from a stall? Dragonfruit sometimes spawn in as the 'special' plant in the planter-boxes at the festivals, often in the Romance Festival and sometimes in the Spice.
We do have this guide here there if you are looking for more precise info.
Plant Location Guide
We also have a list on the forum that has all the pop-up stalls info:
(Click)


Admin
Playlot
The grafted plant will grow the original flower plus the grafted one plus whatever hybrid it makes (if it makes one). You will need to wait for a full harvest (10 flowers) before maybe seeing the correct result. If you harvest too soon all you will see is whichever flower happened to grow first.
I actually happened to graft this combo last night in my own game and it worked fine so I suggest hovering your mouse over the grafted plant as this will tell you exactly what kind of plant it is.
Admin
Playlot
Nothing that makes a new plant/harvestable but you can graft anything onto anything else so just graft it where it makes it easy for the size of your sims garden. I like to graft all the plants that do not make new harvestables on to potatoes as they grow fairly quickly so slower growing plants will also grow as fast once grafted on. Faster growth= more harvests over a sims life = more money!
Senior
Playlot
No, that is not right. Fertilizing has nothing to do with the grafting mechanics.
Grow all plants until they are mature and also have your sim get to Level 5 of the gardening skill. At that point your sim will have an option to 'Take a Cutting' when clicking on a plant. So take a cutting from one plant then go to the other plant and the option 'Graft" will appear. When you have multiple cuttings in a sims inventory you can click to expand the stack and hovering over each will give you it's name so you know what cutting came from what plant. Then just follow the grafting guide to figure out what pairings make new plants.
You can graft all plants onto each other to make less overall plants in a sims garden to reduce the work needed but only some graft together to make brand new plants.
New
Leanne may
Thank you so much! WIll try this when I go home! :) What do I do with shoots? Basically I went to the Landgrabb lot and took 2 cuttings off a cherry tree. The tree then died lol.
So I had only shoots of cherry. It won't let me plant the shoots? What do I do. I'm trying to make ambrosia you see :)
Senior
Playlot
Wild trees that die can be removed when your sims clicks on them. This allows new ones to grow back when the lot is actively loaded.
You can't plants the cuttings, only graft them. Like the Guide above says Cherry>Apple = pomegranate. Then wait till your sims can harvest a pomegranate fruit and plant this; wait until it grows; then graft orchid>pomegranate=death flower.
Admin
Playlot
Nothing, my game is bugged the same way. No grafted plants in my game produces the grafting result, I only get the two initial plants. Carl's game didn't have this bug..so it seems a little random. I ended up having to use the' bb.showhiddenobjects' cheat to get the grafted plants from build/buy mode as there was simply no other way for me.
EA Bug Report (click)
Senior
Playlot
Discovered that this in fact, is not a bug but part of the gardening overhaul. There is now a chance element as to whether a spliced plant will produce the combo harvestable. So you can either try again and splice a few more plants together or spam the seed packets.
Admin
Playlot
There is a chance every harvest on each spliced plant that the expected harvestables will grow. If you are waiting for a rare harvestable to grow on a spliced plant then it is a very low chance, around 1%. You can either plant and graft more of the same sort so that you have more grafted plants in total to try to get the rare harvestable or just keep harvesting every day and wait.
The plant should say 'spliced plant' when you hover over it also it should say what type of plants are spliced together. If it doesn't display that try saving and restarting your game.
New
RoxyPandora
Admin
Playlot
Any time a sim dies you can transfer most items in their personal inventories to another sim in the same household, just pause your game before the sim is actually collected by Grim. Sadly cuttings are not transferable.
New
RoxyPandora
Thanks! I tried to transfer when she was dying too and it didn't work. Oh well, guess I gotta go back to Oasis.
Admin
Playlot
Yes, with the 'newish' update to gardening the rarer the plant the less chance of it spawning in on a grafted plant. So because orchid and pomegranate are both classified as Rare, the chance or odds of them spawning in any morning (as long as the plant was harvested the day before) is very low. So you can either keep harvesting your plants every day (so you can get a new harvestable lot in each morning) or try your luck with the seed packets. You can buy the Rare Seed packets on the PC as long as your sim has a high gardening skill level.
Pomegranates can also be bought from the city fruit vendors if you have City Living.
Admin
Playalot
The plant list on the main
Gardening Guide
has basic instructions on where to find the plants. Also this
Guide to Cherry Trees
I threw together years ago on the forum has screen shots taken from in-game to help. In some of those locations in Oasis Springs you'll also find lemon trees.
Admin
Playalot
No, the new plants can be grafted onto any other plant as normal but no new plants from such graftings in Island Living.
New
Kelsey

I Love The Sims 4!
Are you sure you want to report it?
Share a link to this comment
Best Mods in Sims 4
I've created a massive List of The Best Mods in The Sims 4 that should be very helpful to new players and those who have not yet explored modding and how much it can do for your gameplay.
Secrets and Other New Stuff
Most Popular
Support Us

Readers who use adblock or those who'd like to thank me for my efforts can now pledge $1/$5 monthly via Patreon. This helps a lot with server costs and provides some stability for my business.
Super Sim Checklist + Other News
Let's Play Playlist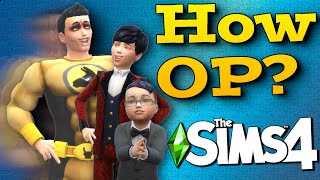 New I now have a guide to Making Super Sims in The Sims 4. Look for a text version within the next 72h. It won't have THAT much more info but it will help out as a checklist.
This was inspired by a series, "Let's Play a Super Sim" in which I start at toddler and gradually take on the major bonuses. Here's a link to each part for people who are interested. You can also see the Let's Play as a Playlist on Youtube.
Discover University Expansion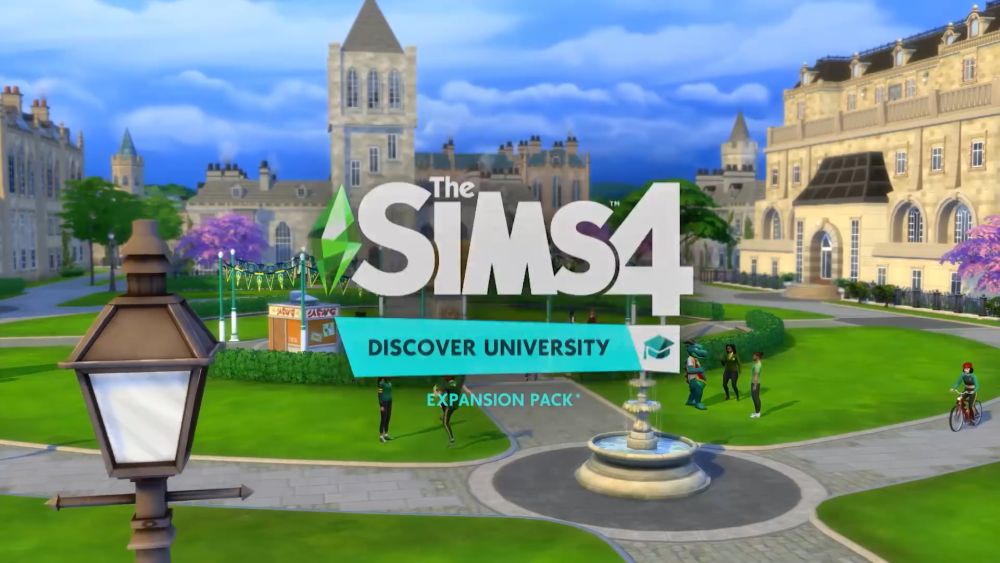 The Sims 4 Discover University has been announced for November 15 for PC/Mac and December 17 for Xbox and Playstation 4 consoles. Click to learn more about the pack, see my summary of the livestream or read our FAQs below.
Other Guides to Discover University:
New Lot Traits: Study Spot and University Student Hang Out
New: Discover University FAQ: Gameplay Features
New Video The Sims 4 Discover University Gameplay Tips Video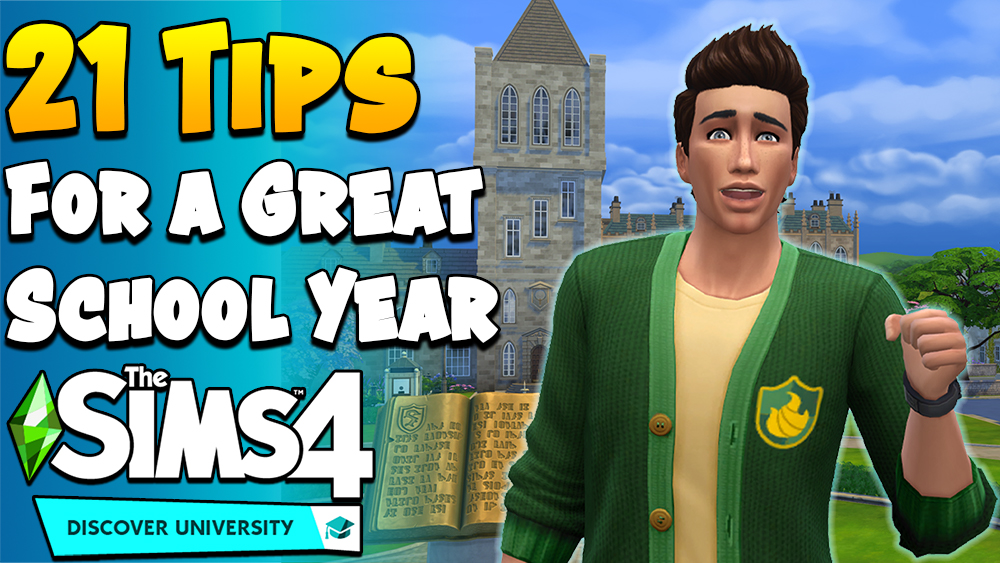 More videos coming soon!
Realm of Magic