The Sims 4: Quick Gardening Graft and Take Cutting to Get Rare Plants

Taking Cuttings, then Grafting them to existing plants will produce new types of plants, but only in the right combination!
Once you've leveled Gardening to 5, you can begin taking cuttings from plants in your garden and in the wild. These can then be grafted onto other plants. The base plant type determines the type of cutting you get as well as the graft result (so first listed in a plant that has multiple types growing). Having other harvestables growing from a plant doesn't matter, so long as the first one listed is the right type. So a tulip base cutting grafted onto a chrysanthemum base plant will produce bird of paradise.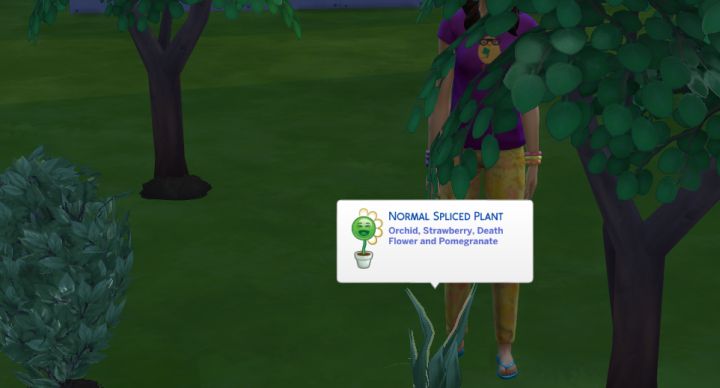 The base type is what matters, not what else is on the plant. This applies to both grafting and take cutting. The base here is Orchid.
You can take cutting from either type of plant in this list and graft it onto the other. It works in both directions. Some plants grow faster than others, however, so I've listed them in such a way that the one you'll graft it onto is the faster-growing type of plant.
Common Plant Grafting
Why mess with those from seed packets? Well, the new fruit will be of the same quality as the base plant. So you can skip several evolution levels by getting it from grafting, while getting Gardening Skill XP in the process.
Grape (Common) - Graft Bluebell onto Strawberry
Parsley (Common) - Graft Sage onto Basil
Plantain (Common) - Graft Pear onto Lemon
Rare Plant Grafting
Bird of Paradise (Rare) - Graft Tulip onto Chrysanthemum.
Bonsai Buds (Rare) - Graft Daisy onto Strawberry.
Bonsai Buds (Rare) - Graft Roses onto Grape.
Pomegranate (Rare) - Graft Cherry onto Apple.
Dragonfruit (Rare) - Graft Snapdragon onto Strawberry.
Cow Berry (Rare) - Graft Dragonfruit onto Snapdragon.
Orchid (Rare) - Graft Lily onto Snapdragon.
Death Flower (Rare) - Graft Pomegranate onto Orchid.
Death Flower
Getting a death flower can be extrapolated by using the above info, but I'll simplify it for you here:
Graft Cherry to Apple to make Pomegranate
Graft Lily to Snapdragon to make Orchid
Graft Pomegranate to Orchid to make Death Flowers
Harvest the Death Flowers, Plant one, and enjoy unlimited Death Flowers, which can be given to the Reaper by another Sim to save his target from death!
Learn the locations of all plants with our Gardening Plant List here.
Share Tips and FAQs
(59)
Our Sims 4 Community is the place to go for faster answers to questions and discussions about the game. Use the form below to share your own experiences and provide helpful tips to other readers. We are not affiliated with EA and cannot make changes to the game, nor fix bugs.
Support The Site via Amazon
Edwina Gilbert
I needed the tip for grafting thanks
16th November 2015 5:04pm
Matty
Once you've done the grafting where does it go?
20th February 2016 2:31pm
Playalot
It goes straight into the sims personal inventory.

20th February 2016 9:57pm
Patricia
Where is the cherry?
28th March 2016 3:11pm
playalot
There are cherry trees in Oasis Springs near the Landgraab lot, In the neighborhood in Oasis Springs where the Caliente lot is, in Sylvan Glade, and the neighborhood of Windenburg where the pond is. You could find it tricky to find them with the grow fruit challenge currently on in-game as many players are reporting that wild trees are all becoming grow fruit.
28th March 2016 6:36pm
Pichu
I can't find the cherries, at all, I need an image (or more) to help.
16th April 2016 2:04pm
playalot
Because of the Spring Challenge most of the wild cherry trees are grow Fruit at the moment. if you have Get Together there are cherry trees in the garden of the Von Haunt Estate where the huge maze is. After the challenge is over (April21st) the wild trees should revert back to their 'original' fruit and should be easier to find.
Links to in-game screen shots of cherry tree locations
16th April 2016 5:57pm
RastaPasta
I found a Wild Cherry Tree in Sylvan Glade today (Saturday 4/15/2016) but there was only one there... and it died as soon as I harvested it's fruit. It gave me two cherries though, and now I have a couple of Cherry Trees growing on my lot.
16th April 2016 8:34pm
playalot
Neat! You can also remove wild plants so that they spawn back. And taking 2 cuttings from one plant will always kill it. Weird that it died after you harvested it but wild fruit trees have been a little strange with the Spring Challenge.
17th April 2016 5:13pm
Jamie
Do you know what you can do with growfruit? like what it can turn into if you graft it with other things.
25th June 2016 9:06pm
playalot
The grow fruit doesn't seem to unlock any new plants once grafted so I guess you could let your sim eat them or sell them.
26th June 2016 8:19pm
Skye Herkins
Where do you find Lily's?
13th August 2016 12:59pm
playalot
You can find the lilies near the Oakenstead Lot in Willow Creek. (To the left under the 'cliffs' as you look at the front of the lot.) You'll have to have your sim there for a while for the plants to spawn and then for a bit longer before they will be grown enough to take a cutting.
14th August 2016 8:37pm
Brittney
I found a Lily plant in the park in Willow Creek, down on the far bottom right.
14th October 2016 4:02pm
Amanda
Whenever I go to get cuttings for tomatos, lemons, etc. the cuttings just say "garden cutting" and when I try to graft, they won't work. How do I fix this?
20th December 2016 6:51pm
Playalot
This is a current bug. It has been fixed previously but seems to be back in some games. Have you tried cutting/grafting on your home lot as some people have reported not being able to cut/graft wild plants but can at home.
Here is the open bug report
read through to the most recent posts and you'll see that grafting works mostly on home lots so the work around is to harvest wild plants, grow them on your home lot where you can then graft to complete the plant collection etc.
20th December 2016 9:38pm
siobhan
this hasn't worked for me what should I do?



31st August 2017 8:01am
Playalot
Update your game as grafting/cuttings have been fixed and are all working as expected in my game now. Not quite sure which bit you are having problems with as you didn't tell me.
If you're still having problems after updating your game, removing all/any mods and cc and testing in-game and trying a Repair Game option through the Origin Client, follow the link I provided in the above comment to the Bug Report and report it.
31st August 2017 10:43pm
sonia
Cherry can also be found in the secret glade in willow creek :)
23rd December 2016 2:34pm
Mackenzie
So, I'm having a bit of trouble, not sure if it is a big or I'm just not figuring something right. I'm trying to get a cow berry so I grafted a snap dragon onto a strawberry to get a dragon fruit, and it says the recipe is in my my notebook and it is, however I have all the "ingredients" but I'm not sure how to actually GET the dragon fruit? Help?
19th March 2017 11:10pm
Playalot
Eventually the grafted plant will be ready for harvest at which point there will be snapdragon flowers, strawberries and dragon fruit all growing on that one plant.
23rd March 2017 12:43am
Niamh
Can you graft a plasma cutting with a wolf's bane plant or the other way around?
5th April 2017 4:11am
Playalot
Yep you can graft either of these plants onto any other plant. I think I have my plasma fruit grafted onto some potato plants at the moment as they were the only ones at perfect at the time.
5th April 2017 8:15pm
Cari
Is the growfruit still spawning in the park? I've played 2 different games & neither one had a growfruit in the park

15th April 2017 10:22pm
Join in: