The Sims 4: Frog Collection
Catching and Breeding Frogs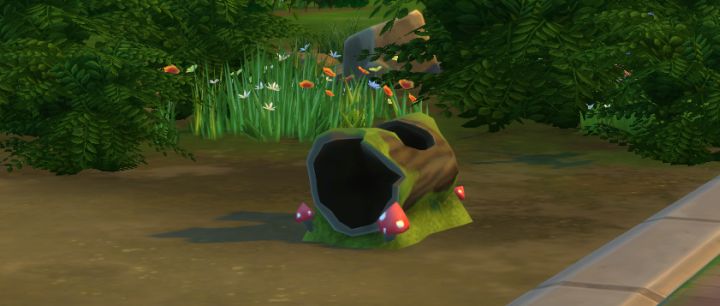 Frogs can be found in Logs and Water Pumps
In The Sims 4, Frogs can be caught and bred to make new types. Finding these little guys is guaranteed when you search a log or water pump (as in Forgotten Grotto). However, they can also be found in ponds, but this requires you to queue up multiple actions in order to catch the slippery critters. I'd do it with the game speed on at least 2, and continually click to add new Search for Frogs interactions with the Pond.
While Frogs were initially set at a rather low value, a patch changed them to be more valuable, particularly for the rarer breeds. You can easily get a few hundred Simoleons by catching frogs for several hours. In this Guide, I'll teach you all you need to know about collecting Frogs with a little help from Forum Member Kresh, who graciously provided information on Frog Breeding Mechanics.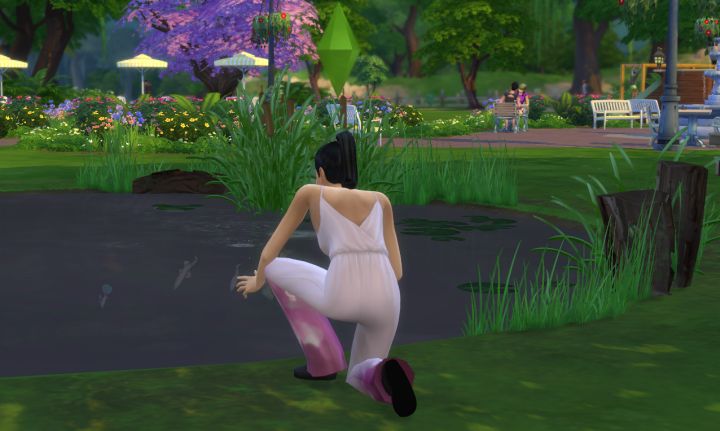 Ponds are the best places to find Frogs
Where to find Frogs
Skip the logs. You may have some luck here and there, but overall scouring each neighborhood for logs is just too time consuming. The best way to do it is to use the three ponds in the game. I first hit up the park in Willow Creek and got a good portion of my collection, probably about half. Afteward, a trip to Sylvan Glade provided some new types of Frogs. After several runs, my Frog collection was missing Spotted Heart, Heartsurfer, Dirtwhirl, Whirlyflower, and the Bullseye frog. Since I hadn't been there, I headed to Oasis Springs park and found all the missing ones.
To me, this provided proof that there are frogs common to all ponds, but different types may be found in each. If you are missing a particular frog, you can breed them to complete your collection. Read more on that below the list of Frogs.
Sims 4 Frog List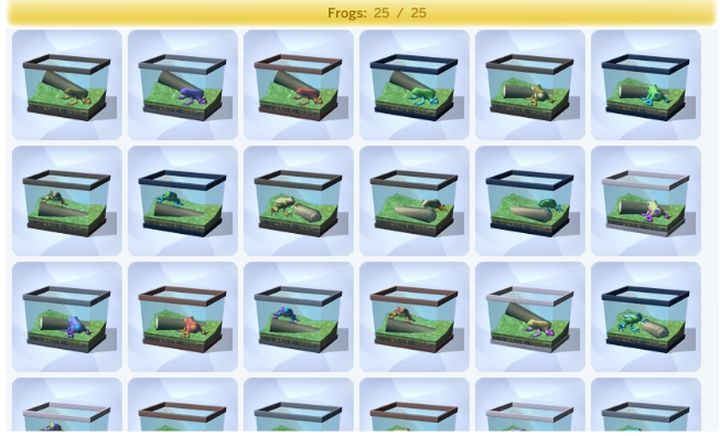 There are 25 Types of Frog in The Sims 4
Frogs List
Frog Name
Value
Rarity

When placed, all Frogs give Environment +3 for Decorated Moodlets

Striped Leaf Frog
$10
Common
Striped Dirt Frog
$30
Common
Dirt Frog
$10
Common
Leaf Frog
$10
Common
Heart Frog
$10
Common
Spotted Leaf Frog
$10
Common
Spotted Dirt Frog
$30
Common
Eggplant Frog
$10
Common
Surfer Leaf Frog
$10
Uncommon
Tiger Frog
$35
Uncommon
Leopard Frog
$100
Uncommon
Striped Eggplant Frog
$10
Uncommon
Striped Heart Frog
$10
Uncommon
DirtSurfer Frog
$100
Uncommon
DirtWhirl Frog
$120
Uncommon
Spotted Eggplant Frog
$10
Uncommon
Spotted Heart Frog
$30
Uncommon
Sunflower Frog
$30
Uncommon
HypnoFrog
$25
Uncommon
SunSurfer Frog
$125
Rare
Eggplant Whirl Frog
$100
Rare
Bullseye Frog
$100
Rare
Heart Surfer Frog
$25
Rare
Whirlyflower Frog
$160
Rare
Surfer Eggplant Frog
$30
Rare
Frog Breeding
Mechanics of Combining Frogs
As mentioned before, the following information comes from Forum Member Kresh. I'm grateful for this, as it may have taken me some time to figure out myself. As Kresh explained, each Frog has two genes. One type, and one attribute. The table below shows what a frog's type will be when its type has a particular attribute.
Types are like the frog's basic type - they may be Leaf, Dirt, Eggplant, Heart, or Sunflower. An attribute of 'None' produces a frog of that generic type, ("Sunflower Frog", or "Dirt Frog") while spotted, striped, surf, and whirl are other attributes. Since each frog has two variables, you have a 25% chance of getting the desired Frog when combining them. So, take the following example:
A regular Dirt Frog has the 'Type' Dirt and the Attribute 'None'. Combining this with a Spotted Eggplant frog, Eggplant 'Type' and Spotted 'Attribute' may give you either A regular Eggplant Frog, a regular Dirt Frog, a Spotted Dirt Frog or a Spotted Eggplant frog. Gathering numerous frogs and combining intelligently can help you to finish your Frog Collection and get a decorative plaque in the mail. So, if you are missing a Spotted Eggplant Frog, get any kind of Spotted Frog and any type of Eggplant frog and combine them until you get lucky!
To understand this table,
A Heart Frog with the Whirl Attribute will be a Bullseye Frog
and
A Dirt frog with the Surf Attribute will be a Dirtsurfer Frog.
The table will not appear correctly on small mobile devices, so visit on your computer!
frog Types and Attributes
Common Frog, Uncommon Frog, Rare Frog

None
Striped
Spotted
Surf
Whirl
Leaf
Leaf Frog
Striped Leaf
Spotted Leaf
Surfer Leaf
Hypnofrog
Dirt
Dirt Frog
Striped Dirt
Spotted Dirt
Dirtsurfer Frog
Dirtwhirl Frog
Eggplant
Eggplant Frog
Striped Eggplant
Spotted Eggplant
Surfer Eggplant
Eggplant Whirl
Heart
Heart Frog
Striped Heart
Spotted Heart
Heartsurfer
Bullseye Frog
Sunflower
Sunflower Frog
Tiger Frog
Leopard Frog
Sunsurfer Frog
Whirlyflower Frog
How You Can Support The Site and Channel

If you like my sites and
Youtube Channel
, consider supporting me on
Patreon
to help me to continue. If you'd like to support my guides in another way you can use our
Amazon link
for your next purchase (if in the US). We also offer a
paypal donate link
so you can contribute directly.
Back to The Top
Check Out My Youtube Channel!
We now have a Youtube Channel with over 50 guides in video format to go along with the huge site I've already created. Check it out and consider subscribing if you like my style.
Comments (16)
Topic:
http://carls-sims-4-guide.com/collections/frogs.php
Admin
Playalot
It does but it is related to the sim not to the frog. So if you have multiple sims in your household you can move the frogs between the sims personal inventories and keep breeding.

Admin
Playalot
The frog spawners should be in your neighborhood area, the area around your home that your sim can walk to without encountering a loading screen. Sometimes they look like little stone wells with a dripping tap.
New
IA
Valuable info. Lucky me I found your website by accident, and I'm shocked why this twist of fate didn't happened earlier! I bookmarked it.
New
PH
Excellent post. I'm facing some of these issues as well..
New
Hannoie
I don't think the breeding system is quite as straightforward as that. I just bred a Surfer Leaf and an Eggplant Frog in the hopes of either getting a Leaf Frog or a Surfer Eggplant, but I got a Sunflower Frog?? So either it's my game that's wacky, or there's a random aspect to the breeding as well.
Senior
Playalot
The sunflower frog is the equivalent of the leaf frog or the heart frog etc. It is like the 'base' frog for the sunflower breed and does weirdly pop up as a result of pairings where it isn't expected. Not sure if it is a glitch or not but keep breeding the 'correct pairs' and you will get the target resulting frog eventually.
New
rickm70
I have gotten some random frogs from combinations that should not have produced them (leopard frog with sunsurfer frog made a spotted eggplant frog, for example)
Admin
Playalot
That is a correct breeding though as the leopard frog is one of the 'spootted' variety.
Senior
Playalot
Have two frogs in a sims personal inventory. Click on one and the option to breed will show, then choose which other frog to breed it to. There is a cool down on the frog breeding but it is linked to sims so that once bred you can then drag the two frogs into another sims inventory and breed them again. This makes getting the full collection a little faster than if you have to wait for the full cool-down period each time after breeding. Also collection frogs from ponds in parks is a great way to get a lot of frogs quickly and from there breeding for just the ones you need makes it a bit easier.
Admin
Playalot
This info is right there in the last table on this guide page under the heading frog Types and Attributes. Just read across and down. Note that breeding 2 frogs together can result in the same as both types or the desired result so it is a bit of RNG luck which type you'll get. This means that it can take multiple breedings to get the missing frog you need.
So breeding a Striped Leaf and a Heart will result in a Striped Heart, but can also result in another Stripped leaf and another Heart.
Admin
Playalot
Have two frogs in a sims inventory, click on one and then a menu will pop up for you to choose which frog to breed it to.
More info there in the last table on this guide page under the heading frog Types and Attributes. Just read across and down. Note that breeding 2 frogs together can result in the same as both types or the desired result so it is a bit of RNG luck which type you'll get. This means that it can take multiple breedings to get the missing frog you need.
So breeding a Striped Leaf and a Heart will result in a Striped Heart, but can also result in another Stripped leaf and another Heart.
Admin
Playlot
The pond in Oasis park will have them. Get a sim focused and then just spam catch frog interaction on the pond.
If you use mods and or cc make sure they are not outdated and I'd also delete the localthumbcache.package file from your The Sims 4 folder even if you do not use mods/cc.
Senior
Playlot
You should have the option to look for frogs when you click on the pond water.
New
Fran
It seems a patch removed this feature because it doesn't work anymore.
You can only fish in ponds not search frogs
Senior
Playlot
Wow, you are correct! I wonder when this feature was removed as there is no mention in any of the patch notes. We'll get to updating the guide asap to reflect this change.So, only way to get frog is by searching in the Frog logs and then breeding from there.
Admin
Playlot
Just drag them out of your sims inventory. They can also be dragged between sims without being placed in the world.
Admin
Playlot
I actually usually store them in a basement room that has no access. Sims will traverse many flights of stairs just to go 'view'. They don't stack so they do take up a lot of floor/attic/basement space.
New
Jennifer Korp
You can put them on shelves, desks, counters, tables or in the household inventory. They, unfortunately, don't stack at all.
Admin
Playlot
Placing them on the various shelf slots doesn't really work if you are trying to have them laid out in an orderly way so you can clearly see what pair to breed next though. It's nice to have them as decor as they give off a +3 environment boost which is nice, but they do take up a lot of space while collecting/breeding to complete the collection.
New
sara
How do I get a heart frog? I've been searching logs as this is the only way to get frogs now (ponds don't let you catch frogs), and I've never come up with a heart frog. I have all other frogs except heart and its variants. Maybe I'm searching logs with someone who has the collector trait so I am less likely to get a common? Idk
Admin
Playalot
Collecting frogs from ponds should be working again, but basically you catch them from a pond or find them in a log or from the little water tap wells in Oasis Springs. The area behind and below the Langraabs house in
this map
has a frog collecting spot as well as behind the house across the road. That's often a good place to try.
Once you have one type of heart frog you can just keep breeding it with the other variants to get the specific heart type you're missing. i.e. heart frog + striped leaf =(eventually) striped heart frog. If you have City Living you will sometimes see frogs for sale from various NPC's manning the market table stalls.
New
Kez the Collector
Admin
Playalot
The spawns are random so every game file the locations will be different. The best way to complete the frog collection is by breeding. Remember the cool down is for sim not frog so the same breeding pair can be passed form sim to sim within the household for breeding to hopefully, speed up the process of collecting them all. Keep breeding any whirl with a sunflower, eventually the missing frog will be bred. For some reason the sunflower variety always seem the least likely to occur.
Admin
Playalot
You really have to spend the entire day at a pond and constantly and continuously spam queue the action. It seems to go better if your sim is focused so 'Study Moves' on a chess table for a quick way to get focused. Different parks seem to give different frogs too, so move between Oasis Creek and Willow Creek parks as the day progresses. Don't be surprised if it takes you 2-3 days of constant frog catching spam-grind to complete collection. And remember you can also breed frogs together as you do this to try to get the types you are missing.
Are you sure you want to report it?
Share a link to this comment
New Patch for November 2019!
Discover University Expansion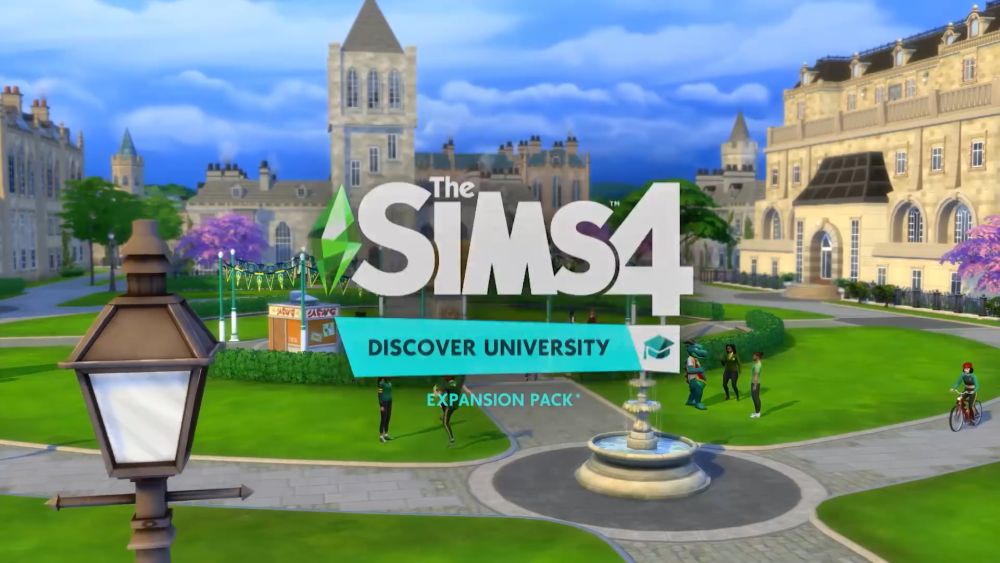 The Sims 4 Discover University has been announced for November 15 for PC/Mac and December 17 for Xbox and Playstation 4 consoles. Click to learn more about the pack, see my summary of the livestream or read our FAQs below.
New: Discover University FAQ: Gameplay Features
For video info see my Summary of the Sims 4 Discover University Deep Dive Livestream.
Realm of Magic
The Sims 4 Realm of Magic comes September 10 for PC/Mac and releases October 15 for Xbox One and Playstation 4. See my Video Guide to Features in Realm of Magic. We've compiled information on upcoming features from developer tweets and used the trailer to try to share everything we know.
The Sims 4 Moschino Stuff Review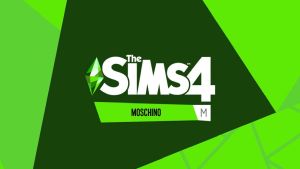 New: The Sims 4 Moschino Stuff Review - My thoughts on the photography improvements, fashion photographer, and build buy additions in The Sims 4 Moschino Stuff which is available today for PC/Mac.
New: A Features of Moschino Stuff Summary Video
The Sims 4 Moschino Stuff Pack is available by 12:30-1PM EST for PC/Mac and September 3 for Xbox One and Playstation 4. Click to learn about the new pack, freelance photography and the new clothing. You can also see my announcement video and the game's trailer within that upload.
Collections
Support Us

Readers who use adblock or those who'd like to thank us for our efforts can now pledge $1/$5 monthly via Patreon to help us retain the freedom to do what we love to do.
New Videos and Guides
Armageddon Mod (Mod/CC Reviews).

Latest in The New How To Section : Learn How to Write Songs and Make Money with Music in The Sims 4. Also, How to Get Abducted by Aliens. We have a guide for using Pregnancy Cheats, Get a Job, Adopting a Kid and How to Cheat.

Alien Abduction: I made a Video Guide to Alien Abductions, Alien Babies in The Sims 4 Get to Work.
New How To Section : The new How To's section is updated with How to Get Abducted by Aliens. You can also learn how to use Pregnancy Cheats, Get a Job, Adopting a Kid and How to Cheat. It's meant to help newcomers or those with specific problems and will be greatly expanded over coming months.
New Charisma Video
I've created a fairly detailed Charisma Video Guide to accompany the normal Charisma text guide. My goal is to have every skill covered by the end of the year, if possible.