The Sims 4: Moving Tutorial
Moving a Sim out or Moving Households into a New House
Moving an entire Household of Sims in The Sims 4 is fairly easy, but moving out a single Sim can be confusing for new players. This tutorial for managing Households will cover both of these concepts - so you can kick out a recently divorced Sim, a teen, or just move the family to a nice home you found in the Gallery and placed in your Neighborhood.
Moving a Sim Out in The Sims 4
Moving one or more Sims is perhaps the most confusing part for players unfamiliar with the game, so I'll start with that. You may need to do this with a Teen who has grown up, or when Sims have broken up and no longer want to live together. To do this, press Esc to bring up the main menu and select 'Manage Worlds'.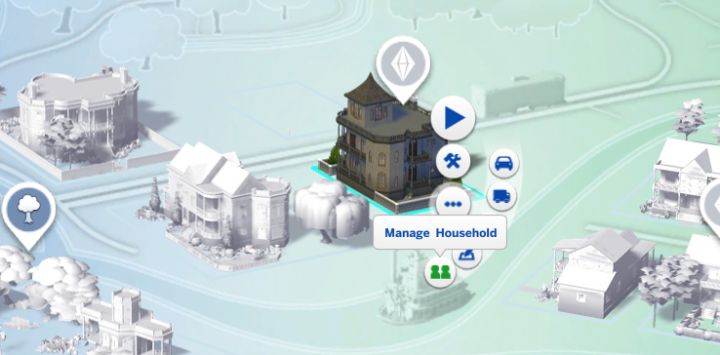 Now, select the Home of the Sim you'd like to move out. Click the '...' button and select Manage Household.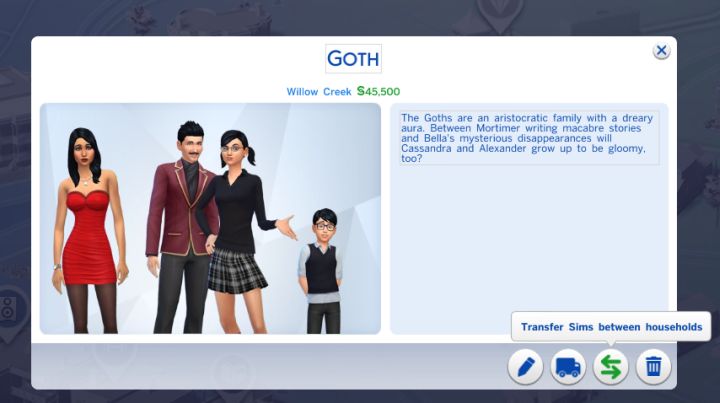 This screen will come up. Here you have two options. If you want to simply remove a Sim from the game, you can go into Create-a-Sim and delete anyone. But, if you want your Sim to live on in the Neighborhood, you must select 'Transfer Sims Between Households'.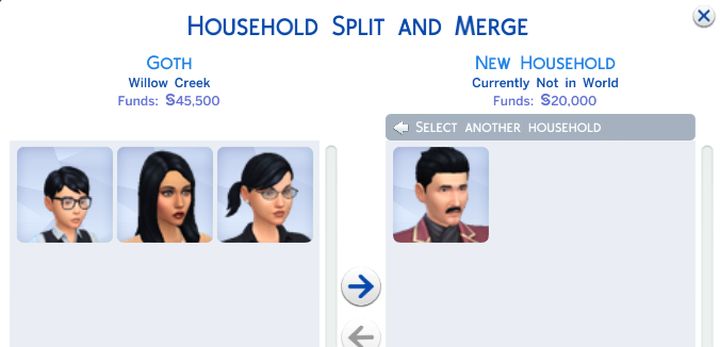 Pick the Sim(s) you want to move out, but realize that Children can't live without an Adult (although Teenagers can!). You have the option to 'Create a New Household' at the top, should you not want to move the Sim into an existing household (like throw Teen Cassandra Goth in with the Pancake household to get rid of her). Most will want to pick 'New Household' as this will let you pick where the Sim(s) will live.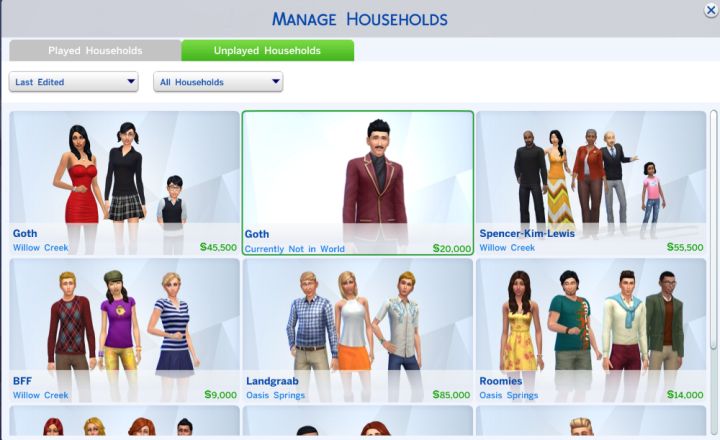 With 'New Household' chosen and the Sim placed on the right, you will then be taken back to the map. If you want your Sim to move into a home in the Neighborhood, pick 'Manage Households' at the top right corner in the map view. You will see your Sim either under Played or Unplayed Households. Pick the Sim, then Move Household onto Lot (the Moving Truck icon) and select OK.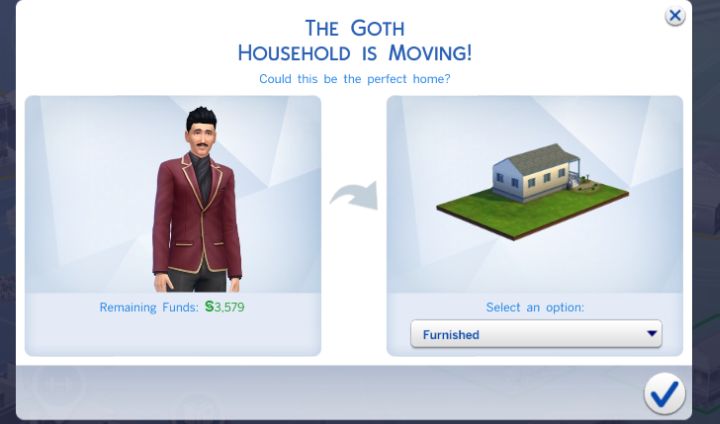 Now you can select where that Sim will live. You can use Control + Shift + C to bring up the cheat console and type freerealestate on to give them more options on where to live, but that is up to you. A single Sim will only have $20,000 having left the household, so normally will need to live in one of the starter homes. Once you have picked where that Sim will live, you've successfully moved that Sim out of your home. You can then click on the Household you want to play - either playing the new Sim in their new life, or resuming play with your previous household. The Sims 4 lets you switch between Households at any time through 'Manage Worlds', allowing you to play any Sims in the Neighborhood at any time and saving all that progress in one save file.
Moving a Household of Sims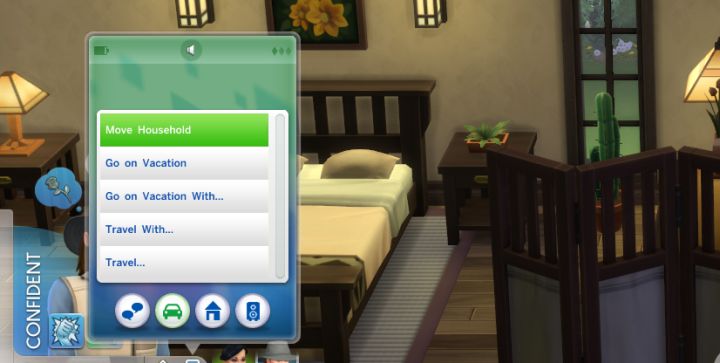 Moving to a New Home
To begin, click your Sim's phone and select 'Move Household' under the travel category.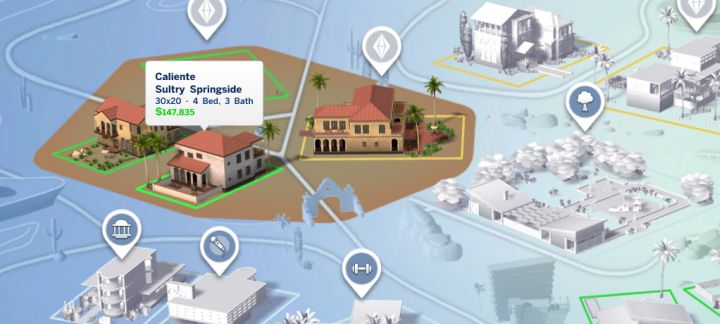 You will be taken to the map, where your funds will determine what homes you can afford. Homes you can afford will be in green, while homes you can't afford are yellow. If you want to cheat, you can at this point press Control + Shift + C and type the command freerealestate on. This makes all houses free.
A Warning on 'Sell Furniture': If you plan to sell your Sim's furniture, it is advisable to place anything you want to keep in your Sim's Household Inventory by going to Buy Mode, and clicking/dragging those things to the inventory. When you elect to Sell Furniture, it means everything - not just furniture - so if you have a large garden, you should preserve those plants, along with any awards you want to keep. So, if you don't want to lose stuff, go back to your household and take care of this before moving your Sims to their new house.
Affording Houses Tip: A home you can't afford can be made affordable by clicking it, and selecting to either sell your own furnishings or buy the house unfurnished.
If a house is not vacant, as many are not, you may select to either Move In with those Sims or Evict them. Evicting them will place them in Household Management, where you can then select a home for that family.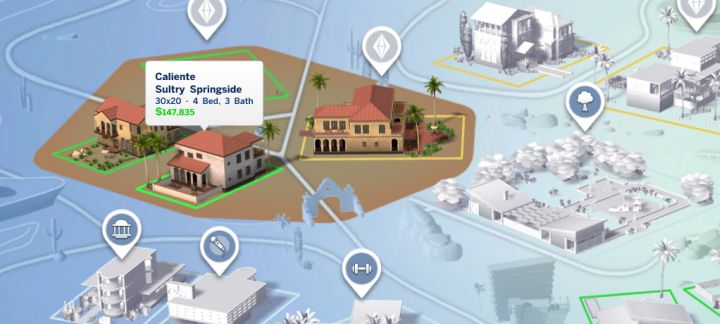 Once you've chosen a home, you will get the option to either keep your furniture or sell it to make more funds available. Remember what was said about about the Sell Furniture option, and select what you want. You will also get to choose between keeping the home furnished or buying it unfurnished. If you purchase it furnished, you can immediately sell the things you don't like to recover some money.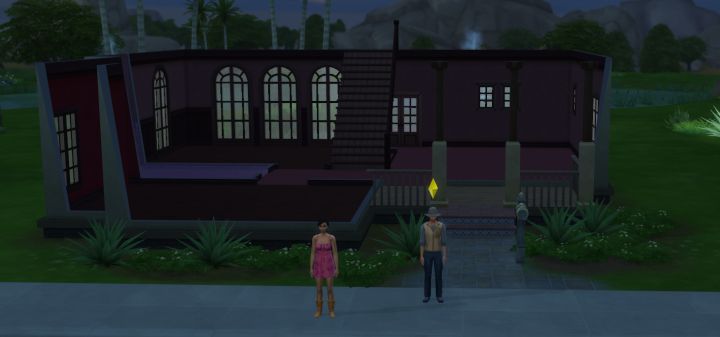 When you're done, your Sims will be in the new home. You can find your belongings in the Household Inventory (bottom left button in Buy Mode).
Moving Lots
Learn to move lots around in The Sims 4 by going to our Lot Placement Tutorial.
How You Can Support The Site and Channel

If you like my sites and
Youtube Channel
, consider supporting me on
Patreon
to help me to continue. If you'd like to support my guides in another way you can use our
Amazon link
for your next purchase (if in the US). We also offer a
paypal donate link
so you can contribute directly.
Back to The Top
Check Out My Youtube Channel!
We now have a Youtube Channel with over 50 guides in video format to go along with the huge site I've already created. Check it out and consider subscribing if you like my style.
Comments (39)
Topic:
http://carls-sims-4-guide.com/tutorials/moving-sims.php
New
Jazzalil
I move my household to a new lot and chose to keep the furnitures when the option came up. However, none of the furnitures were kept except those kept in the household inventory before the move. Is this the only way to keep the furnitures, plants etc from the old lot, ie to move them to household inventory? Seems a bit impractical and labor intensive...
Admin
Playalot
Normally that option would auto-place all the furniture into your sims household inventory. Currently inventories, both household and personal are very buggy. The only way to ensure items are moved currently are to place them into the sims personal inventory. Obviously this has limitations as only certain items can actually be placed in there.

Admin
Playalot
After you have created your sim you will get the option to save that household and play. This option will take you to the map world where you can choose a lot to place your sim on.
Or once in the game you can move sims in from your library in two ways.
1) In-game click on the house you want your sim to live in from having a sim in the neighborhood but not on the lot you want to choose. Click on the lot/house and you will get the option to move a sim in from your library.
2) In the map view, choose the world>neighborhood and then click on the empty house and choose Create New Household To Move In from the bottom right UI choices. (The icon looks like a standing sim with an arrow pointing to the right).
Admin
Playalot
Use the Household Management function which you will see in the top right of your screen when in world map view. Households are organized by played/unplayed, and then the various worlds or 'not in world' for the various game generated townies. Find the world then the household and click on 'Move Household onto a Lot'. From there you can navigate to another world to place this household in and choose another house/lot. If they can't afford it you can cancel it then use the 'freerealestate on' cheat and then choose to move them again. You don't need 'testingcheats on' for this cheat to work, it can be applied in the world view map.
New
Eve
I'm very new to the sims and I've been looking everywhere to try to find out, how do you raise the fund for buying a home without cheating? The fund for buying a home isn't the same amount that normally displays for my sims; right now my sims have about $2,000 but when I click move household the fund for that says $16,000. What determines that amount? How can I make that number higher without cheating?
Admin
Playalot
Your sims will need to earn some money and increase their Household Funds. When your sims move you will get an option to sell the furniture. If you sell that amount is added to the total funds for moving. You can also buy a new lot unfurnished which makes the purchase price a lot cheaper. Save your game and try a few different moving options and then quit without saving. That way you can explore the game mechanics without it ruining your current game.

New
mari
Okay so I have an issue, well more of a question. My sim wants to ask their good friend and neighbor to move in. This neighbor has a spouse and son. If I ask for the one to move in, would the rest of their household move in as well? Or will they be separated? [asking because both are active households of mine]
New
mari
Alright so I tried it out [after saving] and it brings up split and merge households. So yay! I merged both households together.
I hope this helps someone else :3
Admin
Playalot
When you 'make a new household' this places the newly moved sims into a household that has not yet been placed into a house in any of the game worlds. You can find the newly moved household in the Not In World part of the Mange Households menu.
Don't quite understand what highchairs have to do with your question about moving sims? ? You'll have to give me more information if it is a game problem!
Admin
Playlot
No, these screenshots were taken when the game launched. A lot has been added and improved since then. The directions are still relevant though and I kind of like the older screenshots to remind us just how far the game has improved.
I've got a small update guide on how the newer culling features impact the game now and here you can see the up-to-date My Households screenshot
Click
New
Hunter
Hey quick question. Currently playing on Xbox one x and wanting to move my current sim household to another prebuilt household. I am wanting to make sure that the furniture(beds, baths, showers, and other expensive items) that I spent lots of money on, can be kept during the move. Then, placed into the new house. What is the process here? Is it to move items into the build mode inventory before hand? Or select keep furniture.Thanks for the help!
Senior
MrsFlynn
Depends on whether you have a lot of items you want to keep or not. If you select Keep Furniture it will strip everything out of the house and put it into the build mode inventory.If you don't want to keep everything then add the items you want to keep to the Build mode inventory before moving. Sell the remaining furniture with the house.
Admin
Playlot
No there is no way to do this, no mod either. The best you can do is just not direct a sim. I would love if non-played house-members were added. I love that feature in TS3
Admin
Playlot
Sadly that sounds like a random bug.

New
Rabbit
That's really what I thought, but wasn't sure if anyone else had experienced it.
Admin
Playlot
Sims shouldn't be losing family relationship/ties when moving out. Skills, relationships, careers etc all stay intact. All that happens is the moving out sims live in on separate lot/different lot.
New
Ingrid
Hi!So I've been playing with multiple families which are related kinda like a legacy challenge thing, but I don't know why my save is not working (hospital lot won't load, any house I buy it's only the lot, apartments don't even apear) so I tried it if ai start a new save it's gonna work and it does but the problem is I don't know how could ai move my whole family and not lose the relationship/family three. It is a really big one, so they are more than 8 sims. I don't know if you understand what I try to explain but ai hope so.Thanks!
Admin
Playlot
If you have more than 8 sim in one household then I guess you are playing with mods. Using mods like that will cause issues in your game.
You can save your sims to your library and then just place them into a new game. Trouble is that different households will lose their relationships with each other. There isn't anyway to change that. If it is a parent/child relationship and they are in different households but placed into a new game... sometimes that does actually remain in a new game. You'll just have to experiment with it and see what works.
New
Ingrid
They are not more than 8 in a houdehold. I have like 23 sims only they live in different houses with their family and I fon't want to lose the grandpa, aunt kind of relationships.
I nevet used mods, I don't even know how or where I can find them. I just like to stick with the original game.Thank you
Admin
Playlot
So my answer is still the same really, merge as many as you can into one household and then all you can do is save those households into your Library and when you have started a new game then move them into houses. There is no way to 'save' relationships of sims that are not in the same household as each other. And like I said above, sometimes the game does still recognize those relationships of newly placed sims so start your new game and experiment. Generally the game will recognize up to 4 gens even if they have been newly placed into a fresh game... but because there isn't an actual way to 'save' those relationships built into the game, it doesn't always work. This is just how TS4 works.
Admin
Playalot
Kinda but once you've done it a few times it feels much easier.
New
Kadija Sillah
Are you sure you want to report it?
Share a link to this comment