The Sims 4 Confident Emotion
How to Make Your Sims Very Confident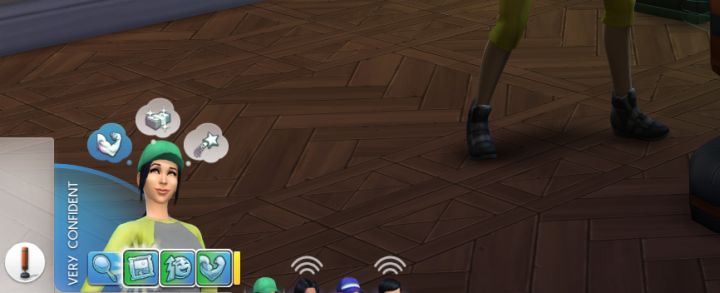 Very Confident
Confident Mood
Very Confident is one of the harder Moods to get, as you would need Mixology or to be almost Very Happy. It's easier if your Sim is Self Assured, as they'll get a random moodlet at times. Here is a long list of Moodlets you can use to make your Sim Confident.
Skill/Career Ideal Moods
Confident is useful for the Charisma Skill in that it raises effective level of interactions, Secret Agents (early levels and Diamond Agent Branch), Interstellar Smugglers (Astronaut) and Criminal Bosses.
How to Get Very Confident
Be Happy and:
Texting Another Sim (Get Together) +1 2 hrs
Using Phone to Prank Successfully +1 3hrs\4hrs
Psyching Sim Up in a Mirror +1 3hrs
After Mentoring Another Sim +1 3hrs
Drinking Cafe Coffee - Americano +1 4hrs (Get Together)
Helping With Homework +1 4hrs
Brushing Teeth +1 4hrs
Successful Pick Pocket +1 4hrs
Binding Voodoo Doll +1 4hrs
Drinking Sea of Fire Mixology Drink +1 4hrs
Viewing A Confident Art Work +1 4hrs
Collecting a Collectible (Geek Trait) +1 4hrs
Taking a Slide Sample (Geek Trait) +1 4hrs
Completing a Painting +1 4hrs
Commando Training (Punching Bag -Fitness Skill) +1 4hrs
Extinguishing a Fire +1 6hrs
Being near a sim with the Snob Trait (sim with Snob trait only) +1 For duration
Lotus Massage (Spa Day) +1 12 hrs
Practise Speaking in Mirror +2 2hrs
Stepping Up (from showing off dance moves) +2 2hrs (Get Together)
Earl Grey Tea +2 4hrs
Drinking Hot and Smokey Mixology drink +2 4hrs
Winning a Fight (technically a chance element but can keep redirecting your sim)+2 4hrs
1st woohoo in Rocket Ship (Fifty Mile High Club Achievement) +2 4hrs
Complete A Plug-In (Programming Skill) +2 4hrs
Completing Freelance Work (Programming Skill) +2 4hrs
Making a Virus (Programming Skill) +2 4hrs
Complete Writing a Book +2 4hrs
Completing a Song +2 4hrs
Completing a Masterpiece Painting +2 6hrs
Successfully Taking Over A Club +2 8hrs (Get Together)
Hosting a Successful Weenie Roast +3 4hrs (Outdoor Retreat)
Winning A Fight (Mean Trait Only) +3 4hrs
Confident Club Vibe +1 through to +3 For as long as Club Meeting is Active (Get Together)
Confident Potion +100 3hrs
Situations - Game Controlled (Random Chance)
Catching a Fish (Larger than last fish caught)+1 2hrs
Completing Homework (Child-Teen) +1 3hrs
Winning Chess Match (Lower levels of Logic skill) +1 3hrs
Winning Cards Game +1 4hrs
Confident Moodlet From Self Assured Trait +1 4hrs
Watching Sports on TV (Bro Trait) +1 4hrs
Becoming Fitter (Fitness Skill) +1 4hrs
Successful Wishing Well Wish for Skills +1 4hrs - also can learn skills faster (Romantic Garden)
Using the Water Slide - Trick Slide (Backyard Stuff Pack) +1 4hrs
Cooking Food (with at least Level 5 Homestyle Cooking Skill) +1 4hrs
Using Motion Gaming Mat +1 4hrs
Confident From Work (Secret Agent Work Event- Risky Mission) +1 4hrs
Drinking a Smart Serum +1 6hrs (Active Science Career. Get To Work)
Work Event (Beat The Virus- Criminal Career) +1 6hrs
Work Event (Mentor Discovered - Oracle Branch L10) +1 8hrs
Work Event ( Respected Gamer - Gamer Branch L8) +1 8hrs
Killer Day at School +1 8hrs
Work Event (Mixology Branch Level 9) +1 8hrs
Successful Pick Pocket Work Event +1 8hrs
Winning Chess Match (Higher Logic levels) +2 3 hrs
Catching an Amazing Fish +2 3 hours
Winning a Foozball Game (Get Together) +2 3hrs
Winning a Horseshoe Game +2 4hrs (Outdoor Retreat)
Successful Wishing Well Wish for Skills +2 4hrs - random skill increases 3 levels (Romantic Garden
Rocket Ship Woohoo +2 4hrs
Successful Wishing Well Wish-For A Skill +3 4 hrs random skill maxed (Romantic Garden)
Successfully Seducing Grim Reaper and Saving Sim +2 6hrs
Successfully Demanding another Sims Life +2 6hrs
Socials - User Directed
Praised For Good Grades (child/teen) +1 3hrs
Exchanging Phone Numbers (Get Together) +1 4hrs
Bragging About Conquests (Bro Trait - unlocks after first woohoo) +1 4hrs
Discovering an Alien +2 2hrs
Serenading Another Sim (Sim serenading on Guitar) +2 4hrs
Recommend Self Esteem Exercises (Listening Sim - Spa Day) +2 8hrs
Items - Auras
Mounted Fish +2
Reward Lamp Showtime +4
Reward lamp World Adventures +4
Dead Aliens +2
Emotion Paintings From Completing Painter Extraordinaire Aspiration
These are just some of the things that can make a Sim Confident, though there are surely more to be found in the game. Also read the main Emotions Guide to learn how Emotions work - Emotional Auras, what determines the main Emotion, and how to control your Sim's mood at all times.
How You Can Support The Site and Channel

If you like my sites and
Youtube Channel
, consider supporting me on
Patreon
to help me to continue. If you'd like to support my guides in another way you can use our
Amazon link
for your next purchase (if in the US). We also offer a
paypal donate link
so you can contribute directly.
Back to The Top
Quick Links
Check Out My Youtube Channel!
We now have a Youtube Channel with over 50 guides in video format to go along with the huge site I've already created. Check it out and consider subscribing if you like my style.
Share Tips and FAQs
(3)
Our Sims 4 Community is the place to go for faster answers to questions and discussions about the game. Use the form below to share your own experiences and provide helpful tips to other readers. We are not affiliated with EA and cannot make changes to the game, nor fix bugs.
Support The Site via Amazon
RadioMan
Somehow I get the feeling this is copied from Sims 3, not a deja-vu feeling though.
When you look at the above list under Items - Auras, you'll notic there are 2 times a reward lamp in show time and world adventures.
Now I don't remember ever having received those rewards in sims 3, but those expansions are for sims 3. Now I think that it could have been a mistake, so that you named it world adventures where you meant jungle adventures or show time where you meant get together or even get famous.
Like I said I don't remember getting those rewards in sims 3, so maybe it was meant for sims 4 just used the wrong names, just wanted to inform you about this so you can either change it or remove it. Keep up the good work

Items - Auras
Mounted Fish +2
Reward Lamp Showtime +4
Reward lamp World Adventures +4
Dead Aliens +2
Emotion Paintings From Completing Painter Extraordinaire Aspiration
17th June 2019 9:27am
Playalot
This was not copied from The Sims 3 this is original to The Sims 4. The award lamps were given as a gift to TS4 players who had purchased the corresponding Sims 3 expansion packs and had them in their Origin Accounts (Games Library). It took me a long time in-game compiling the various emotional auras etc so you can be assured they are correct. Every Sims 3 pack you had in your Origin Games Library gave you another different sims 4 aura lamp in the build/buy menu. Obviously these emotional lists are not complete as after a few years of The Sims 4 the list would be ridiculously large. However there are enough items here from the Base Game and some DLC to get the beginner player a good idea on how to use these build/buy and in-game items to their advantage.
Here is a
link (click)
to a forum thread where players chat about how they use the lamps in their games as well as a list of what TS4 lamps came from which ts3 expansion pack.
17th June 2019 7:13pm
RadioMan
Well this is better than I expected, got almost all the sims 3 pack and these +4 bonus is pretty nice too, it feels OP, but I like that, sims 3 had a lot of OP stuff in the store that I really enjoyed playing with and I will certainly play with this in the future. Thanks for pointing this one out.
18th June 2019 1:04am
Join in: