The Sims 4 Save Files Backing Up Sims, Creations, and Game Saves

Many players have a lot of save files. Backing these up can avert loss of Sims and prevent a lot of heartache.
Losing your save game in The Sims 4 can go from a minor annoyance to devastation depending how much time you've invested in the game. Saves are stored locally, so hard drive failure and errors can cause you to lose them unless you've backed them up. If you've got to reinstall the game, you may need to do this as well. This is a tutorial to teach players how to properly ensure the safety of their Sims 4 save files - from the game data itself to mods and screenshots.
Where are Saves/Sims/Mods Stored?
If you know about backing up and just wonder where saves are stored, they're in Documents/Electronic Arts/The Sims 4/Saves. Mods/CC are located in the Sims 4/Mods directory, and Sims, Lots, and Rooms you've made are stored in the Tray folder. There are also Recorded Videos and Screenshots folders here. These five folders contain everything most players would want to backup. If you need more info, read on...

My saves are now safely stored on another hard drive. USB thumb drives are cheap these days, should your desktop computer or laptop lack a second hard drive.
Basic Information: Copy
If you're a total newbie at computers, you need to know about copying. Dragging and dropping files can be useful, but it doesn't make a copy. Open Windows Explorer or Finder (Mac). Navigate to Documents/Electronic Arts/The Sims 4 and click on Saves to highlight it. Highlighting something and pressing Control + C will make a copy of that file or folder (Command + C on Mac), which you can then put elsewhere with paste. You can also right-click a folder to get a menu and select copy. Holding Control and left-clicking can let you select multiple folders at once. Be careful not to drag them!
Paste
Once you've told the computer to copy, you are now ready to paste. Navigate to a new place by clicking a drive to the left. There are better places to store files, but for now let's say C: because everyone has one, and right click in blank space to select New Folder, name it Sims 4 Saves Backup. Go into that new folder by double clicking it and press Control + V (Windows) or Command + V (Mac) to paste the file there. You will see the saves folder appear, and all your data will go with it. If you want, you can also make backups of Houses/Sims, screenshots/videos, and Mods you've downloaded by using the information above to copy those particular folders. If you backup regularly, you'll need to tell the computer to copy and replace files so that the new files write over the old ones.

10 Million Views! My YouTube channel has grown a lot the last 6 months. I now have over 125 videos on Youtube and am nearing 100k subscribers. I'd like to invite people to check out my content and, if you like what I'm doing, subscribe!
Best Places to Store Saves
A safe location is typically another hard drive, because if one piece of hardware fails, you've got it stored on another device until your computer is repaired. So, I recommend a USB thumb drive for this or another hard drive on your computer. You can even burn a copy to DVD if you have the rewriteable kind and know-how. It's good enough to just make a copy and store it somewhere other than the Sims 4 folder on your drive, in a place you can easily access later.
Restoring your Saved Games
If you've got a new install of The Sims 4 or have somehow lost save game information, you can now head to your backup folder and copy the save folder. You can paste it inside The Sims 4 and choose yes to overwrite all files in the save folder. Be careful though, if you have other games that have not been backed up recently you may not want to overwrite them. In this case, go inside your save backup folder and choose the files related to the save you want to restore by dragging a box around them - again press Control + C to copy. You can then go to The Sims 4/Saves folder (where you'll see all save games listed) and paste that individual file. They are named in a strange way, but you may be able to tell which is right by looking at the last modified date on them.
Backup Sims Downloads
Your downloads from Origin can be backed up in order to avoid downloading them again. Here's a great post by Flynn on the Forum, which explains the process. The game always needs patched after installing anyway, so this will save a lot of time in the process of reinstalling the game. Just invest the time once to backup the game downloads, and you'll be free from redownloading them again. This applies to everything from the base game to expansions and stuff packs.
Comments (41)
Topic:
http://carls-sims-4-guide.com/help/save.php
Senior
MrsFlynn
There is suppose to be a Sims 4 folder in Origin Games. However, it should be just the install files/folders. Not the user folder where game saves and saved Sims/houses etc are suppose to be.The user folder should be in:
\My Documents\Electronic Arts\The Sims 4\If it's not the game won't know where to find the game saves or saved Sims/houses etc. So yes, that is a problem.In the post linked below you'll find more information on how to fix this.My Sims User Folder or Install Files are Missing?
http://www.carls-sims-4-guide.com/forum/index.php?topic=21899.msg431335#msg431335
In short - If you do not have a Sims 4 user folder, you'll need to load the game once to create one in the Documents folder.If your user folder is not in the Documents folder, but found to be some where else on your hard drive. It can be safely moved back to the Documents folder.
Senior
MrsFlynn
Copy/paste ensures you don't accidentally erase the original files.
Admin
Playalot
If you are meaning a saves folder with all your saved games, just right click-paste it into The Sims 4 folder.
New
Aymin
I guess I should clarify first. So my problem is my computer crashed and we got it fixed. My sims 4 and origin went away, so I re-downloaded origin and had to re-download the sims as well. Now that I did that, my saved family is gone. Are these steps for that, because I have the sims 4 folder with 2 saves. Now I'm still confused as to how to load them into my game
Senior
MrsFlynn
Admin
Playalot
I just can't tell from your description. We have a technical help board on our forum where there is more space to describe the problem. Maybe you would like to post there?
Technical Help Board Forum
New
Aymin
So, basically our computer crashed for a little while, but we got it fixed. When it got fixed I realized both origin and sims 4 were uninstalled. When I re-installed it, my save file was gone and it's making me create a new character. I've tried the directions on this post but I'm not sure If I'm doing it right.
Senior
MrsFlynn
I'm sorry for any misunderstanding. How I read and understood it is that you had a Sims 4 folder with save game files in it. They just weren't recognized by the game. If this is still the case. They should be recognized by the game if you rename the save files.Here's an example: Slot_00000001.save (this is the auto-save file)
Slot_00000001.save.ver0What you would do here is either delete or rename the .save file for temorary. Give it the name Slot_00000001a.save So that way if something goes wrong, you've got a backup.Then rename the file with the .ver0. Give it the name Slot_00000002.saveLoad the game, and you should see a playable saved game that the game can recognize.If it's that your save games are completely gone from the saves folder and you have no backups. Then you will have to start completely over with creating a new Sim and game save.
Senior
MrsFlynn
Go to your Sims 4 saves folder:
\Documents\Electronic Arts\The Sims 4\saves1. Sort by date modified
2. Find most recent save file and make note of the name.
3. Add .old to the end of the filename.
4. Find the file with the same name that ends in .ver0
5. Remove the .ver0 from the end of the filename.
6. Open the game to verify your saved game.Repeat steps 4-6 for any other .ver files for that save slot.
Admin
Playalot
New
ramirezi
I uninstalled the game and reinstalled the entire thing and I'm wondering if I can just copy and paste everything (from old backup folder) into the new game folder. I ask because I actually deleted the new copy folders and put the old copy folder in its place (mods, tray, screenshots, saves, recorded videos) and everything was back in my game except the Sims homes and everything that comes with their relationships. I understand there's a restore game feature but since I'm reinstalling basically everything, should I go about it differently? When the patch was released originally, I copied the entire folder and pasted and that's what ruined the game. So should I just paste the folders like I did previously (mentioned in the beginning of this guide) and overwrite and then should I change the save folder like it suggest? I just want to put everything back into the game where I left off but I'm not having success when I copy everything into the new Sims 4 folder. I'm just wondering if the directions are different on a fresh install with a full previous backup folder.
Senior
MrsFlynn
It sounds like you've already answered your own question. If you don't have a fresh-new Sims 4 folder, create one by loading the game and then exit without saving. This will create a new Sims 4 folder.Then copy/paste your folders/files into the new Sims 4 folder from your backup and overwrite them.
Regular
Emily
I play the sims 4 on my Mac (which is a 21.5 in late 2009 model) Its really old and Its been running pretty slow recently. Ive had it for awhile and playing sims on it is awful it runs super slow. I play on completely restarting the thing and re downloading sims. All I wanna know really is if saving these save files and putting them on a flash drive will allow me to put the save files right back into my game so I can play with the same sims and builds all in the world.
Senior
MrsFlynn
You should be able to save your whole Sims 4 folder (\Documents\Electronic Arts\The Sims 4) Put it on a flash drive and then put it back after you've restarted your computer and are done downloading Sims 4. Copy the Sims 4 folder back into your Electronic Arts folder and you should be good to go.
New
Bianca
hi all
I have somehow accidently deleted a saved game!
here's how it happened I was playing in my saved world ( one of many) and then when I wanted to exit I just went to "save as" so I could rename the world as I changed a few things while playing it ( but I didn't click save I just renamed the saved game then cancelled) then I just went "saved and exist to main menu" as I always do. but then when I wanted to play another world through load game I realised that the saved game that I was playing earlier had also override one of my other saved games.so now I have lost a saved world ( that I didn't touch earlier) that I have spent so much time and effort in. is there any explanation for this and how do I get it back ?
Admin
Playalot
New
Madison
I went to play the sims 4 and when i opened the game, nothing I had done was there. I went into my Documents, found the saves Folder, and put it on my desktop( I have a mac). However, I am having trouble finding where to paste my save in the game. I went on some help Forums and apparently to make the menu less confusing , they deleted the load game button on the menu and I have the latest update. How do I get my saved game back? I deleted and re-installed the game so now what should I do???
Senior
MrsFlynn
If you still have your Saves folder backed up on your desktop. Have a look in there to see if you have any save files. They should look something like this:
Slot_00000001.save or Slot_00000001.save.ver1If you do, what you may need to do is rename or restore a game save so the game recognizes the file again.Here's a post that can help explain how to do that.How-To: Restore a Saved Game
http://www.carls-sims-4-guide.com/forum/index.php?topic=21519.msg387147#msg387147
Admin
Playalot
Sure, shouldn't matter where you save what just as long as they are accessible for your new computer.
New
Emmi
Are there any instructions for the Mac?
New
zombehdoll
How many separate save files can you have at one time? I share a computer with other family members and we have 5 separate saved games currently, and I'd like to add a new one (we are working on different challenges and don't want to impact each other). Is there a limit to the number of saved games you can store/load in Sims 4? If you get to a certain number, will they start to overwrite previous saves? Thanks!
Admin
Playalot
Well I have about 32 save files currently so I'm assuming there is no real limit. The only challenge for me is naming them carefully so I remember which save file is what!
Admin
Playalot
Electronic Arts Folder>The Sims 4 Folder> and all these folders could be placed back in if you want to:
Options.ini File -- The graphic/sounds/gameplay options
Saves Folder -- Saved game files
Tray Folder -- Sims, Houses, and Rooms
Screenshots -- Photos you've taken with the C key in-game.
Video -- Video clips you've taken with the V key in-game.
Mods folders -- Game mods and custom content
Admin
Playalot
The save file saves the entire game. The tray folder saves the sims and lots separately.
Here's a link to a forum thread. In the second section there are many links to tips about saves and save folders etc.

I'll also link you to crinricts user files explained post.
crinricts user-files explained
Tips about game play and saves
New
globe
I recently lost my game due to Apple's iCloud drive moving my documents file into the cloud. I was able to move my Electronic Arts folder back to my macbook and located the save files within the folder. I renamed the .ver0 files to .save files yet they have not shown up in my game. Is there anything else I can do?
Senior
MrsFlynn
I'm not a Mac user, so I might not be of much help. I did search on the issue and found that Bluebellflora has a post regarding Sims 4 not loading saved games.Sims 3 and Sims 4 not loading save games
https://bluebellflora.com/2017/02/06/sims-3-and-sims-4-not-loading-save-games/
If you're still having issues with the saved games not loading, you may want to contact her via the page linked above.
New
globe
Thanks for the reply! I did check out her page prior to posting here and followed her instructions to no avail, but I'll contact her directly and see if she can help. Thanks!
Admin
Playalot
All the best with that, sorry we couldn't pin down a fix for you.
Admin
Playalot
The save file saves the entire game. The tray folder saves the sims and lots separately.
Here's a link to a forum thread. In the second section there are many links to tips about saves and save folders etc.

I'll also link you to crinricts user files explained post.
Tips about Game Play and Saves
Crinrict user files Explained
Senior
Playalot
Senior
MrsFlynn
Save your Sims 4 folder from your C:\Users\Username\Documents\Electronic Arts\The Sims 4 to a USB flash drive or external hard drive.Take that to your new computer and then copy/paste the Sims 4 folder to the C:\Users\Username\Documents\Electronic Arts\ of the new computer.You should have everything there for you to play your game.
Senior
Playalot
If you have any mods and/or cc take them all out and repair your game in Origin. Then start a new test world and play still without mods and cc and see if everything is normal. if it is then you'll know that one of your mods/cc is incompatible with the update.
It could be a number of things but usually it is mods.cc that cause the issues.
Senior
Playalot
You can easily start a new save file by clicking 'New Game' in the game menu when the game first loads. What you can't do so easily is transfer all your sims and houses etc to that new file, if that is what you are asking about.
Your new game will be just that... a new game with none of your sims and houses in it. To get your made sims into your new game you would have to save them to your library and then place them into your new game. That's easily done but the newly placed sims will have no relationships with other sims. They will keep their jobs and skills as of the time of saving (in your old game) but will not save with their money or relationships to other sims other than within the same household download.
New
Please help
I dont really understand these things.
1. If i want the WHOLE game, with storylines, , households, friends, and everything. Like , where i last left the game i want to start there so everything Will be the same, BUT at another computer, how do i transfer the whole game as it is from the old computer to the new one and start where i last left it? So Nothing will change? Please tell me how do i do that?
2. And IF i do, will the game Only be playable on the new computer and deleted from the old one?
3. If one game is already running on another computer but i want (everything i Said above) at that computer too, Will the game that's already in there be lost? Many questions and bad English but please respond
Admin
Playalot
You would need to copy the actual game files from your TheSims 4 folder and then transfer this save file to the other computer. There literally is not enough room on this post to explain this process so please follow the link to the explanation.
How to Transfer a Save file to Another Computer
Regular
cat
I don't think I saw anything on this in the article or comments so I'm going to ask. I moved the saves just fine but when I load up the gallery I lost all of my saves in there. What file is that? I have some sims I made in CAS but never played with in there (meaning there is no other place they would be stored) and would like to get them back if possible.
Senior
Playlot
Senior
MrsFlynn
No, you can not just copy and paste the install files from C to E. - If you want to change where the game gets installed do this:1. Log into Origin.
2. In the Origin Menu, select Application Settings > Install & Saves tab
3. In the Game library location of this tab, you can change the location that the game gets installed.
Are you sure you want to report it?
Share a link to this comment
Best Mods in Sims 4
I've created a massive List of The Best Mods in The Sims 4 that should be very helpful to new players and those who have not yet explored modding and how much it can do for your gameplay.
Secrets and Other New Stuff
Most Popular
Support Us

Readers who use adblock or those who'd like to thank me for my efforts can now pledge $1/$5 monthly via Patreon. This helps a lot with server costs and provides some stability for my business.
Super Sim Checklist + Other News
Let's Play Playlist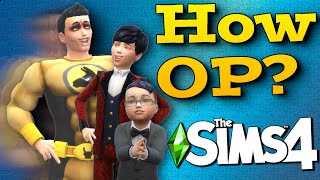 New I now have a guide to Making Super Sims in The Sims 4. Look for a text version within the next 72h. It won't have THAT much more info but it will help out as a checklist.
This was inspired by a series, "Let's Play a Super Sim" in which I start at toddler and gradually take on the major bonuses. Here's a link to each part for people who are interested. You can also see the Let's Play as a Playlist on Youtube.
Discover University Expansion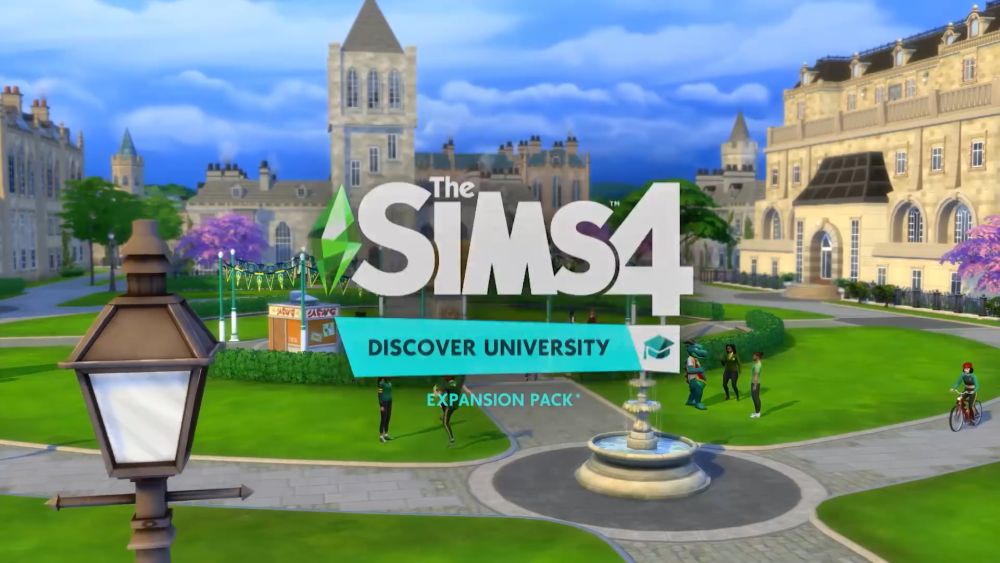 The Sims 4 Discover University has been announced for November 15 for PC/Mac and December 17 for Xbox and Playstation 4 consoles. Click to learn more about the pack, see my summary of the livestream or read our FAQs below.
Other Guides to Discover University:
New Lot Traits: Study Spot and University Student Hang Out
New: Discover University FAQ: Gameplay Features
New Video The Sims 4 Discover University Gameplay Tips Video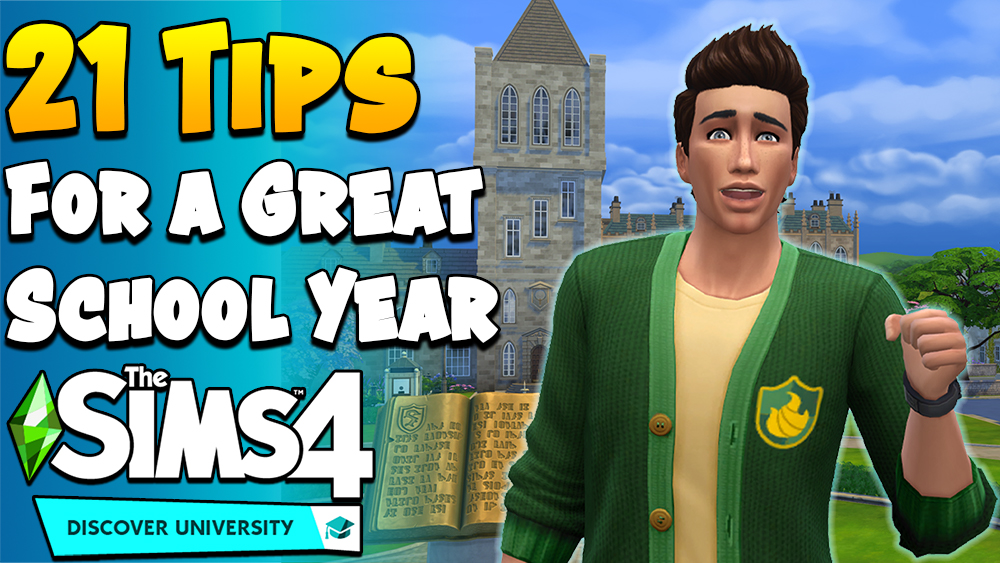 More videos coming soon!
Realm of Magic