The Sims 4 Building Tutorials:
Advanced Counters, Islands, and Cabinets
by Norma Blackburn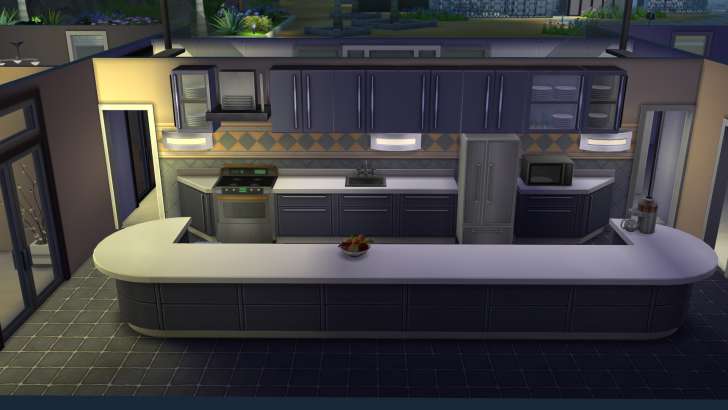 When building your kitchen, it's easy to just plop down a couple of benches around the essential stove and fridge, yet investing a little more time and effort could result in a kitchen even a master chef would be proud to cook in.
Let's look at a few tricks to use when placing counters and cabinets.
Counters
The easiest way to find all the available counters and cabinets is to search by room in buy/build mod and select the kitchen submenu.

Click on a counter and you will get a choice of counters and islands to use. Hover the mouse over each one and select the color palate to choose the counter you want. Counters and islands can both be placed against a wall or be free standing. The difference between them is that counters have an area that Sims can sit at when using a stool. When placed next to each other individual units will snap together as one.
By default, Automatic Counter Placement is turned on. This means that when we place two counters close together at right angles, they will automatically snap together and form one. This feature is great for following the contours of your walls. We can turn Automatic Counter Placement off so that corner units are not made. Turning it off also opens up a whole range of options that we didn't have before.
Turning Automatic Counter Placement off (or back on) is easy. When we search for buy objects by room and select either kitchen or bathroom in the bottom right corner of the menu image, there is a little button next to the words Auto Counters. The button will say On or Off and it's simply a matter of pressing the button to change it. Another way to turn auto counters on or off is to select the color palate for a counter. To the left of the palate there will be an image of some gear wheels (or a gear wheel and a spanner) If you hover over this image, it will tell you if auto counters are on or off.

Click to Enlarge. Turning Automatic Counter Placement off
So what does having auto counters off give us? For this example, we will be using the Harbinger Counter.
With auto counters on, when we select this counter, we have a choice of colors to choose from but nothing else. Once we turn auto counters off and click on the palate for the Harbinger counter, as well as a color palate, we now have a selection of counter pieces. These include the standard unit we always had, plus corner pieces for inside and outside corners and my favorite, triangular end pieces. Different counter types have different units available through this option, so it's worth exploring all the counter varieties to see what they offer. At the time of writing, the Harbinger is the only one that has a triangular end piece.

Click to Enlarge. With Auto Counters off, we get more choices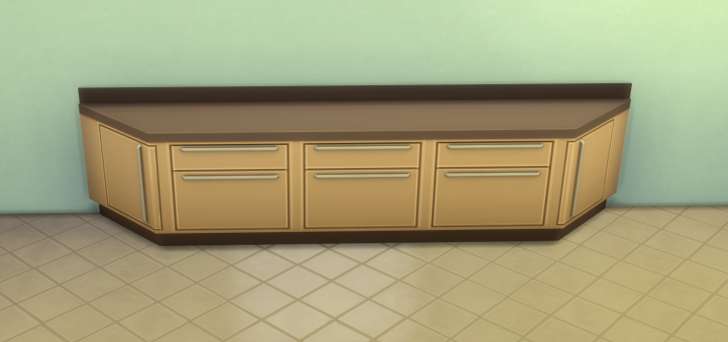 Click to Enlarge. A counter made with corner end pieces
Islands
We also get more choices when we select an island.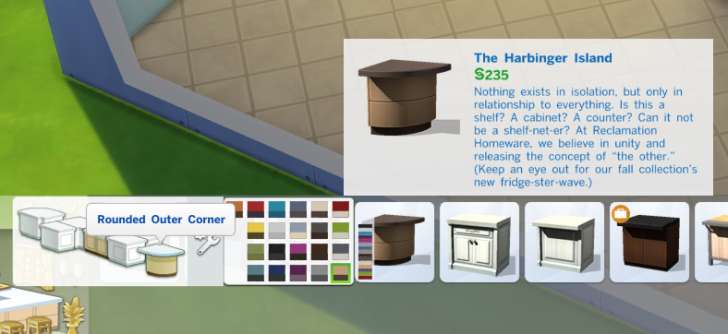 One of the new choices in the island pieces is the rounded island. With this piece, it's possible to make circular islands.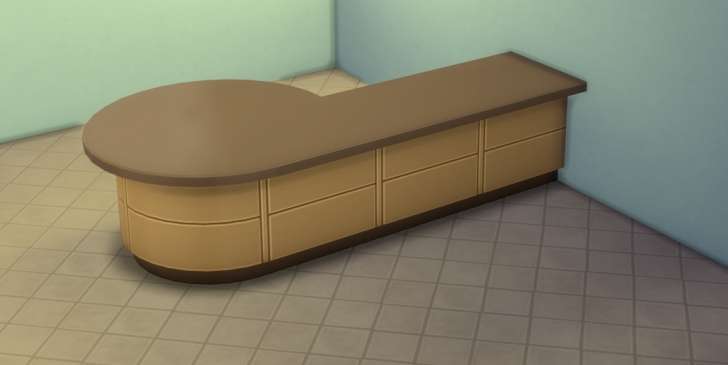 Click to Enlarge. A circular island
Cabinets
The high kitchen cabinets offer us the greatest selection with Auto Counters turned off and with these, we can truly customize our kitchen.

Like the counters, different styles of cabinets offer us different choices, so be sure to explore all the different styles.
As well as the regular cabinets, there are inner and outer corner pieces, smaller pieces that fit well over something like a fridge and then there are te double tile cabinets. The double tile cabinets stretch all the way to the floor.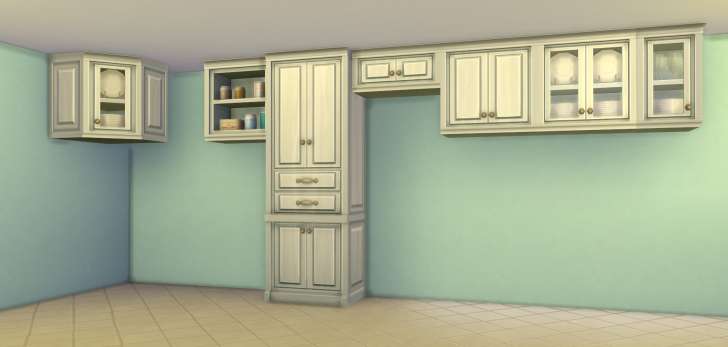 Click to Enlarge. The different pieces we can select in the S. Cargeaux collection
Some of the cabinets are restricted to where they are placed on the wall, however, many can be placed in many places, giving us even broader decorating possibilities.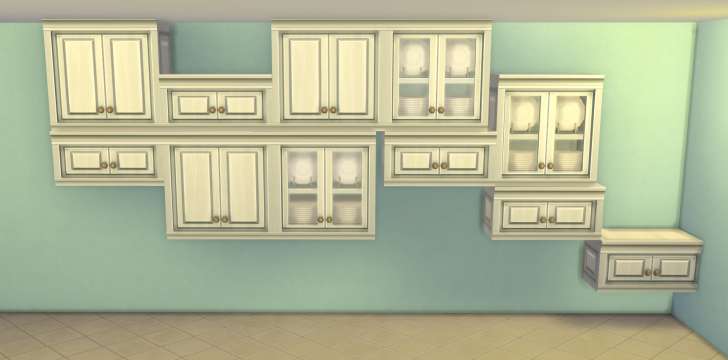 Click to Enlarge. We can even tile a number of the cabinet pieces
Not Just Kitchens
The range of counters and cabinets available to us makes them perfect for other rooms besides the kitchen. Try them as bathroom vanities or the full length units as bedroom furniture. The possibilities are limited only by your imagination.
Other Building Guides
Sims 4 House Building
Building Cheats
Counters and Islands
Decorating Inside Homes
Decorating Outside/Landscaping
Island Living (Stilt Foundation, Glass Floors)
Roofs
Split Levels and Lofts
Stairs and Basements
Terrain Tools

How You Can Support The Site and Channel

If you like my sites and
Youtube Channel
, consider supporting me on
Patreon
to help me to continue. If you'd like to support my guides in another way you can use our
Amazon link
for your next purchase (if in the US). We also offer a
paypal donate link
so you can contribute directly.
Back to The Top
Check Out My Youtube Channel!
We now have a Youtube Channel with over 50 guides in video format to go along with the huge site I've already created. Check it out and consider subscribing if you like my style.
Comments (11)
Topic:
http://carls-sims-4-guide.com/tutorials/building/counters-islands.php
New
fg

i love this, i didn't know the difference between counters and islands before!
Regular
Norma
New
DHJKRS01
That is to say, thank you very kindly for putting this great tutorial so I can keep my sims happy

Admin:
I'll make sure that she sees this, I'm sure she'll appreciate hearing it's helped you :)
Regular
Norma
Glad it helped DHJKRS01. I loved building in Sims (have done since the original game) and I have learned a lot over the years... just sharing the knowledge so others might find it as enjoyable as me. :-)
New
rianna

me too!

New
Henriette
I have a major problem! Cant seem to find an answer anywhere. When I want to place my cabinets they refuse to connect to each other. So I'm left with gaps between them that looks awful. I've done the whole on/off counter thing and replaced my wall and turned moveobjects on. Can someone please help me?
Regular
Norma
Henriette, that sounds like an unusual problem. Does it happen with all houses in all saved games or is it restricted to one lot or one game (Im thinking a glitch with the save if it is just one game) Could you perhaps start a topic in the build section of the forum and maybe take a screenshot. That way I can try to recreate the pproblem with the same cabinets.
Regular
Nicole
This is surely too late to help Henriette, but I hope it is helpful for others finding this post. I had this problem, too, until I noticed that that cabinets have specific designations, such as left end piece, right end piece, etc., that determine how they link to other cabinets. A left end piece will not link up with a cabinet on its left leaving a noticeable gap.
New
Duckycraft11
This is incredibly useful, you are amazing

New
jjtheballoongurl
Thanks so much! This really helped me out with my kitchen it looks so awesome! Thank you!

New
hi
Thank GOD
My trying to place a refrigerator and my cabinets wouldn't adjust to the refrigerator height thank God someone who knew how to do this
Admin
Playalot
I've never encountered this problem.

Try quitting out of your game and then deleting the localthumbcache.package file from your TheSims4 folder and trying again.
New
Phil
Turning off auto-counters seems to disable snapping so getting things to line up is very difficult :(
Admin
Playalot
You will have them, you just need to access them by turning "auto counters" off as explained in the guide above.
New
Agathe
So I turned it off and I still don't have the tall or short cupboards or the round islands
Admin
Playalot
You will have them, they are in every Base Game of the Sims 4, you'll just need to go through the guide above carefully, looking at the screenshots looking at how to access them. Go into build mode. Mouse over a kitchen counter and click on the color swatch choices and then mouse over the black and white choices of counter shapes that pops up to the left of the color swatches. When you mouse over those black and white options watch the shape of the counter change ..this is how you access those different shaped counters. Not all counter island choices have a rounded option but many do. To find the shorter wall hanging cabinets go into the menu for those, mouse over one and then click for the color swatch options. Again mouse over the black and white options that will appear to the left of the color swatch. Some do not have the tall option, most do.
This will only be accessible if you have Automatic Counter Placement off.
If you have Automatic Counter Placement on the only options you will see will be the different color swatches.
New
kirra
Are you sure you want to report it?
Share a link to this comment
Star Wars in Sims 4

We now have a page on The Sims 4 Journey to Batuu.
It's not what I would have hoped for in a Star Wars Game Pack so far.
Secrets and Other New Stuff
The Sims 4 Build Tutorials
Support Us

Readers who use adblock or those who'd like to thank me for my efforts can now pledge $1/$5 monthly via Patreon. This helps a lot with server costs and provides some stability for my business.
Super Sim Checklist + Other News
Let's Play Playlist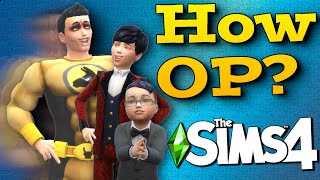 New I now have a guide to Making Super Sims in The Sims 4. Look for a text version within the next 72h. It won't have THAT much more info but it will help out as a checklist.
This was inspired by a series, "Let's Play a Super Sim" in which I start at toddler and gradually take on the major bonuses. Here's a link to each part for people who are interested. You can also see the Let's Play as a Playlist on Youtube.
Discover University Expansion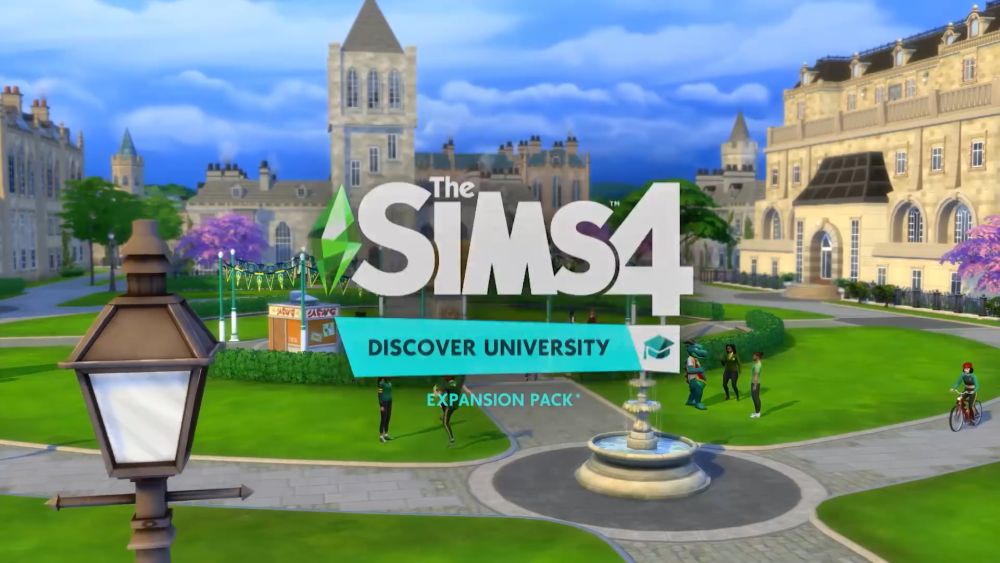 The Sims 4 Discover University has been announced for November 15 for PC/Mac and December 17 for Xbox and Playstation 4 consoles. Click to learn more about the pack, see my summary of the livestream or read our FAQs below.
Other Guides to Discover University:
New Lot Traits: Study Spot and University Student Hang Out
New: Discover University FAQ: Gameplay Features
New Video The Sims 4 Discover University Gameplay Tips Video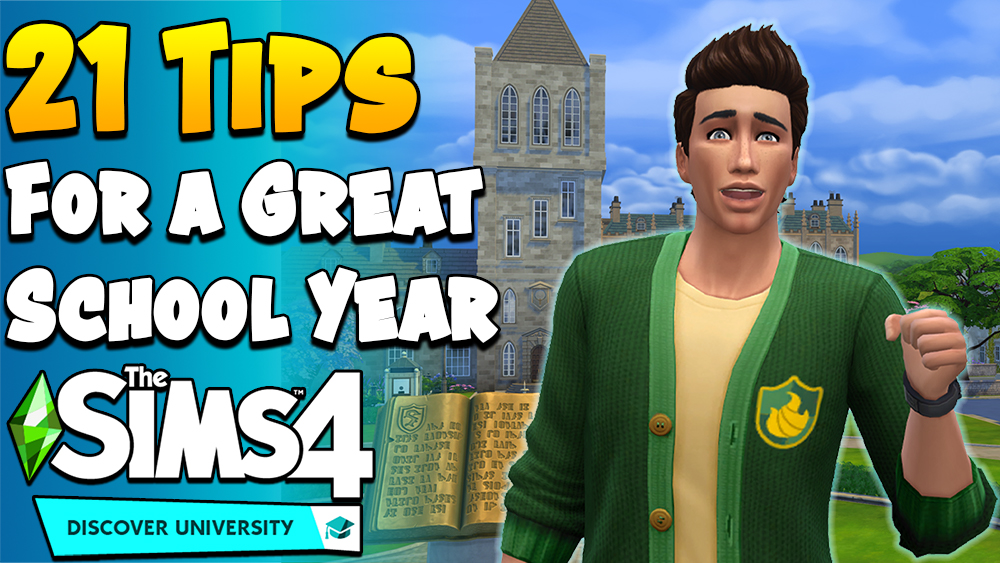 More videos coming soon!
Realm of Magic