The Sims 4 Island Living
New Build/Buy Mode Options Like Stilts and Clear Floors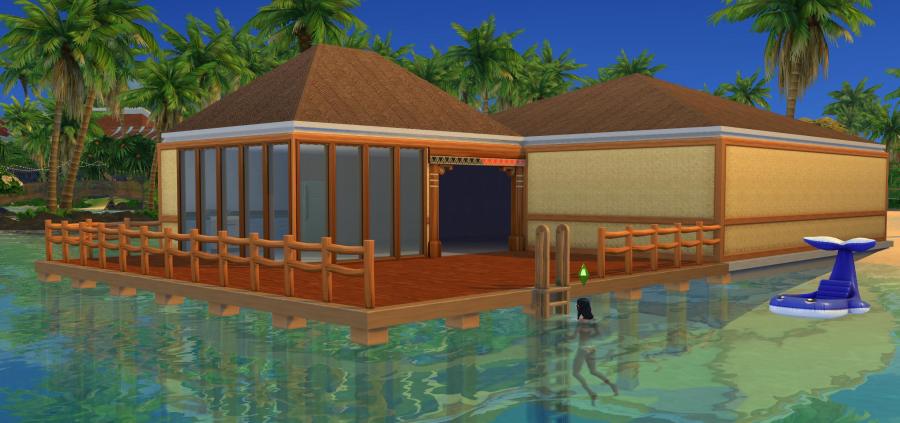 A house with stilt foundation is now possible for all players, but looks best out over the ocean.
Given the Island setting of Sulani, The Sims 4 Island Living naturally comes with a ton of new build mode items to complete that whole, "Tropical Paradise" look you might want. New stilt foundations are available to all players, and there's a new type of "floor" that can be used which is see-through. Here's a quick guide to using the new build mode features and dealing with problems that might come up.
Using Stilt Foundations (Free for All Players)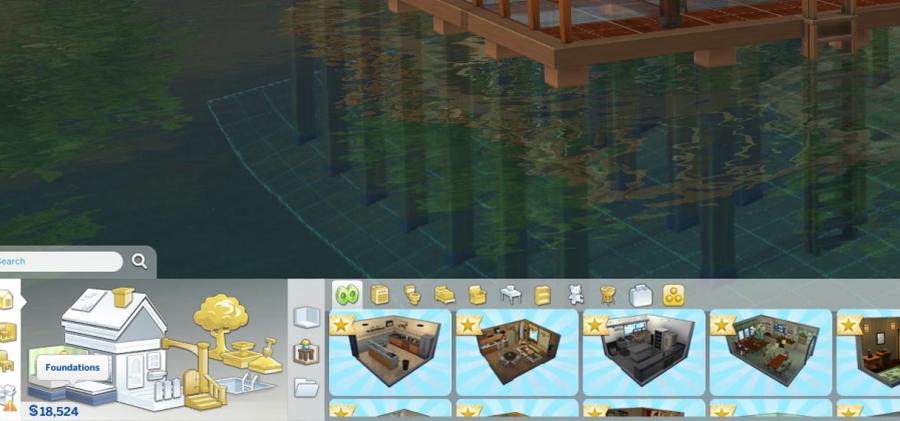 You can find the foundation button down at the bottom of the house diagram used to navigate build mode.
Rather than leave Stilt Foundations for beach houses locked behind a purchase of Island Living, the developers have given it to base game owners as a free treat. Taking advantage of this is not very difficult if you know where to look. Head to Build Mode (F3). There you'll find that the base of the house in the example picture bottom left of the interface has a click-able "Foundation" spot.

Separate rooms, separate foundations. It's that easy.
Simply click the wooden stilt foundations and hover over your own foundation. A problem that might come up is if you are building the shape of your house but not rooms. Separate rooms can have different foundation types. It looks bad with all stilts, but..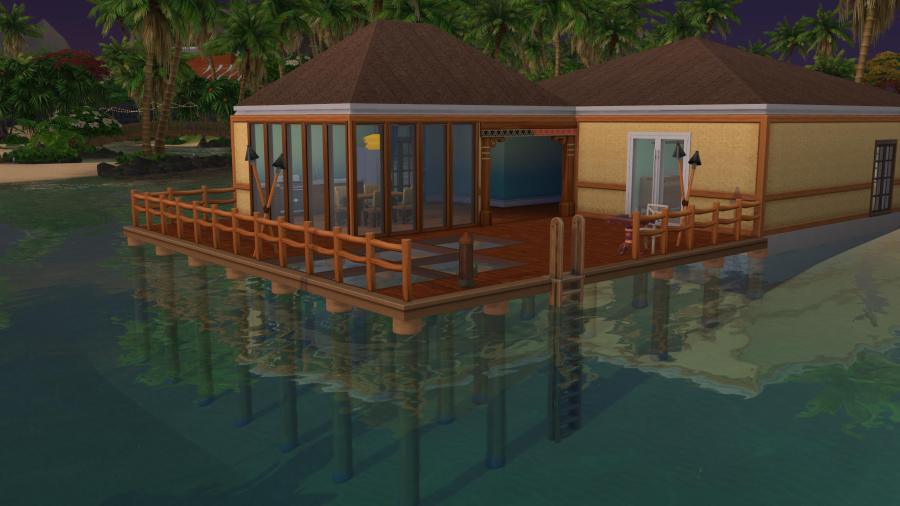 A home with the new stilt foundations over the ocean and a separate solid foundation near land.
...If I separating the rooms, I now have an area with a regular foundation and a stilt foundation.

10 Million Views! My YouTube channel has grown a lot the last 6 months. I now have over 125 videos on Youtube and am nearing 100k subscribers. I'd like to invite people to check out my content and, if you like what I'm doing, subscribe!
Using Ocean Ladders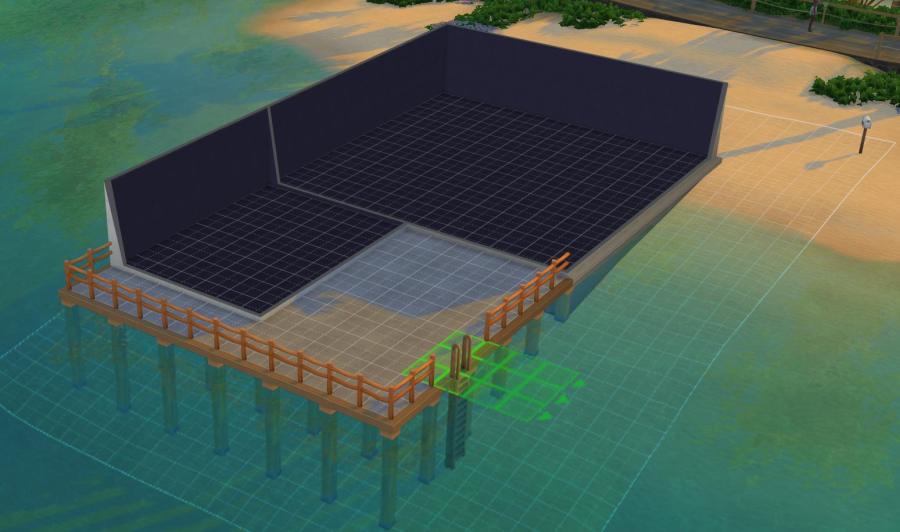 If you think placing ladders is annoying, wait until you've tried the boat. Ladders require a space of 3 blocks for the small one. I don't know what the big one does yet, if it does anything. It looks a bit more "professional" though.
A new, longer type of ladder is available if you own Island Living. These are much bigger, and because you're likely to use a fence on the deck, they can be somewhat hard to place. They're great as they give you the ability to do cannonballs or climb up them to get back up on your deck.
In the case of the smaller one, you can simply use the Sledgehammer Tool (K hotkey) to destroy enough fence once you've already placed them. An annoying thing about this is the fence tool will overwrite the ladder if you attempt to use it again, so it's better to figure out exactly how many fences need cleared for small (3) and large (5).
Glass or Clear Floors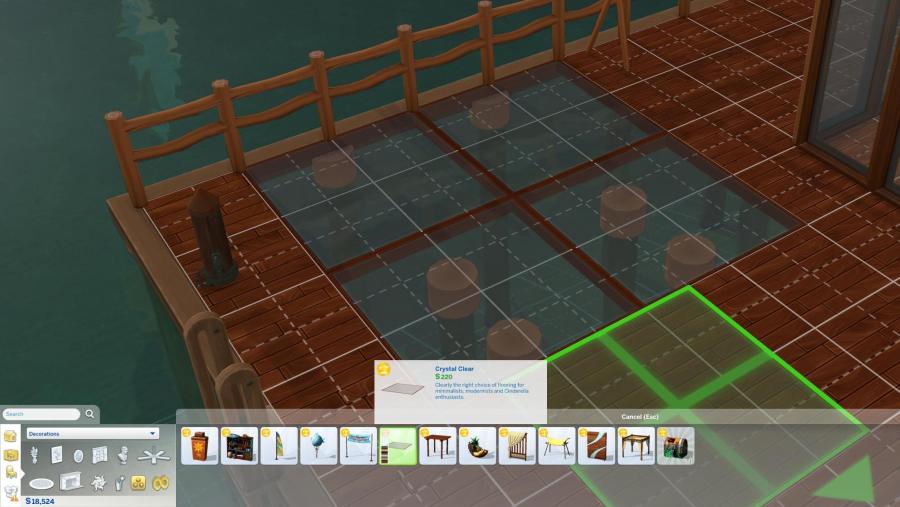 Well, you can see through them... not sure why they are in misc decorations, but there they are.
We saw evidence of clear floors before the launch and couldn't find it initially in the build mode area with floor coverings. This is the wrong place to look. See-through floors are available in a 2x2 called Crystal Clear that is found in Decorations > Misc. It's better to just search the name as that clutter category is very cluttered.
Outrigger Boats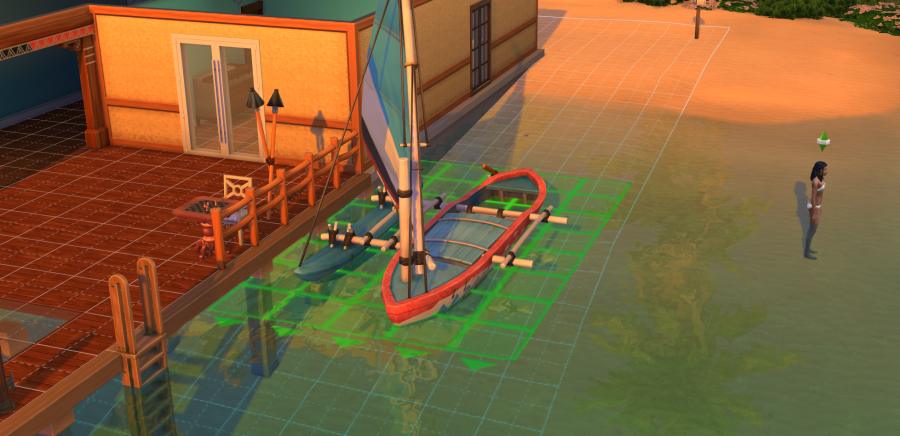 Outriggers/canoes/boats.. whatever you want to call them. They can go in your Sim's quite large pockets, yet they have to be placed in the perfect spot. Meanwhile, floating devices can sit on water just fine. I'm still salty.
About boats... well, docking them isn't really a thing. On many lots they can be an absolute bitch to place. One of the best things you can do is leave at least a 4x6 full blocks of space if you'll want one of these. It must also be in shallow water that doesn't have too steep a hill. Finicky, I tell ya... it's really annoying that way. Something that helped me was to rotate my camera. The game can't quite figure out what elevation it wants to place them at, so moving about a bit while you're struggling to buy the damned boat is highly recommended.
Other Island Living Guides
The Sims 4 Island Living Expansion Pack
Mermaids in Island Living New
Island Living Cheats
Features to Know About in The Sims 4 Island Living
Features in Island Living (Video Format) NEW
Conservationist Career Guide
Conservationist Video Guide
Cleaning Up The Island - How it Works and What's Best
Child of the Islands Trait New
Child of the Ocean Trait New
Using New Foundations, Clear Floors, and Other Build Mode Items

Other Building Guides
Sims 4 House Building
Building Cheats
Counters and Islands
Decorating Inside Homes
Decorating Outside/Landscaping
Island Living (Stilt Foundation, Glass Floors)
Roofs
Split Levels and Lofts
Stairs and Basements
Terrain Tools

How You Can Support The Site and Channel

If you like my sites and
Youtube Channel
, consider supporting me on
Patreon
to help me to continue. If you'd like to support my guides in another way you can use our
Amazon link
for your next purchase (if in the US). We also offer a
paypal donate link
so you can contribute directly.
Back to The Top
Check Out My Youtube Channel!
We now have a Youtube Channel with over 50 guides in video format to go along with the huge site I've already created. Check it out and consider subscribing if you like my style.
Comments (1)
Topic:
http://carls-sims-4-guide.com/expansionpacks/islandliving/build-objects.php
New
Ola
Hey, those bigger ladders can be used to dock your boat. Get on the boat and then click on the ladder, you'll see "dock" or sth like that. I use Polish version of the game so I have different names for options.
Essentially your Sim will get the boat to your lot if it drifted somewhere else.
Are you sure you want to report it?
Share a link to this comment
Star Wars in Sims 4

We now have a page on The Sims 4 Journey to Batuu.
It's not what I would have hoped for in a Star Wars Game Pack so far.
Secrets and Other New Stuff
Support Us

Readers who use adblock or those who'd like to thank me for my efforts can now pledge $1/$5 monthly via Patreon. This helps a lot with server costs and provides some stability for my business.
Super Sim Checklist + Other News
Let's Play Playlist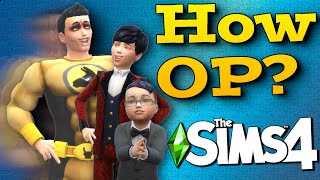 New I now have a guide to Making Super Sims in The Sims 4. Look for a text version within the next 72h. It won't have THAT much more info but it will help out as a checklist.
This was inspired by a series, "Let's Play a Super Sim" in which I start at toddler and gradually take on the major bonuses. Here's a link to each part for people who are interested. You can also see the Let's Play as a Playlist on Youtube.
Discover University Expansion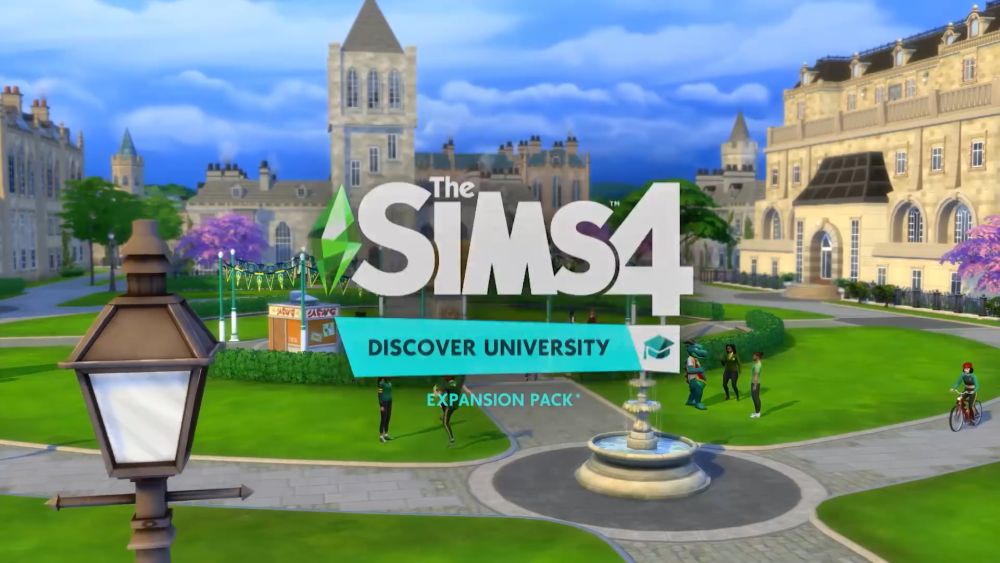 The Sims 4 Discover University has been announced for November 15 for PC/Mac and December 17 for Xbox and Playstation 4 consoles. Click to learn more about the pack, see my summary of the livestream or read our FAQs below.
Other Guides to Discover University:
New Lot Traits: Study Spot and University Student Hang Out
New: Discover University FAQ: Gameplay Features
New Video The Sims 4 Discover University Gameplay Tips Video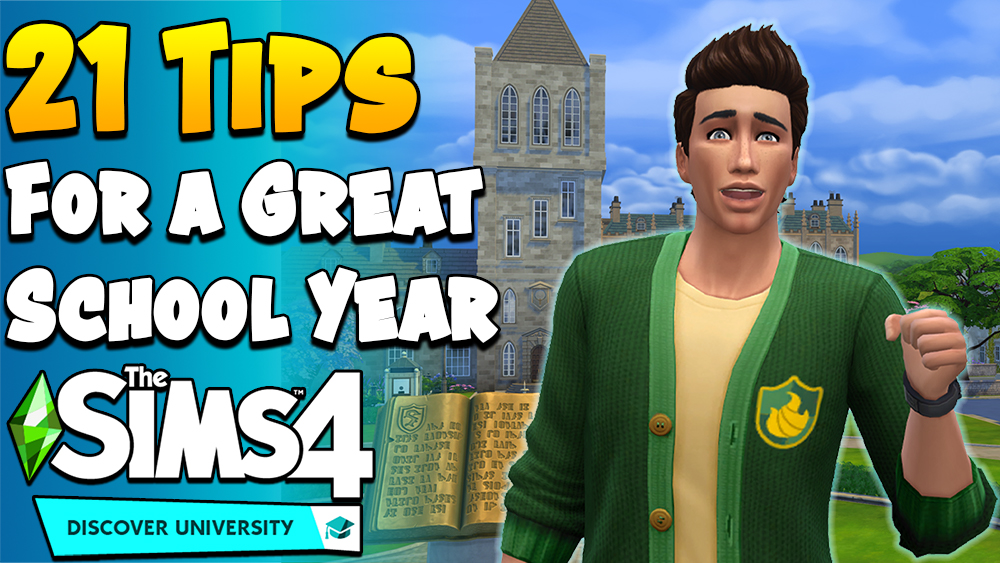 More videos coming soon!
Realm of Magic