The Sims 4 Get Together Expansion
List of Existing Clubs, Join Requirements, and Activities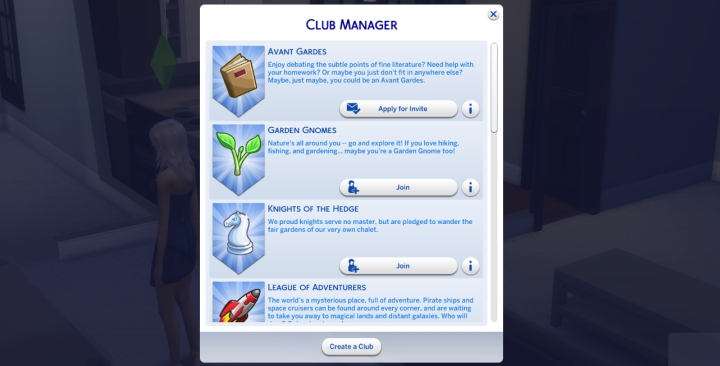 There are 11 clubs to join in the Expansion, but you can make your own. Still, it may be desirable to attempt to take over the prestigious invite-only clubs, the Avant Gardes, Renegades, and Paragons.
Joining Clubs and Taking Over as Leader
This is repeated elsewhere, but if you found this page wanting to take over as the leader of the Paragons, Renegades, or any other club, you can get the info here:
Getting In
If a club is open invitation, you're in - that's it - just go to the club list and click Join. For invite-only clubs, make note of a club's rules first and foremost. Though many of these are simple, you wouldn't want to be mean to a Renegade if you're trying to be accepted to that group. The group will have you over on a gathering when you click to apply. This can be a bit difficult if they have their own secret hideout, and in fact may make it impossible to make the social impression and chat up the members in order to apply. Any of the members can accept your application into the group, so you only really need to get one to vouch for you.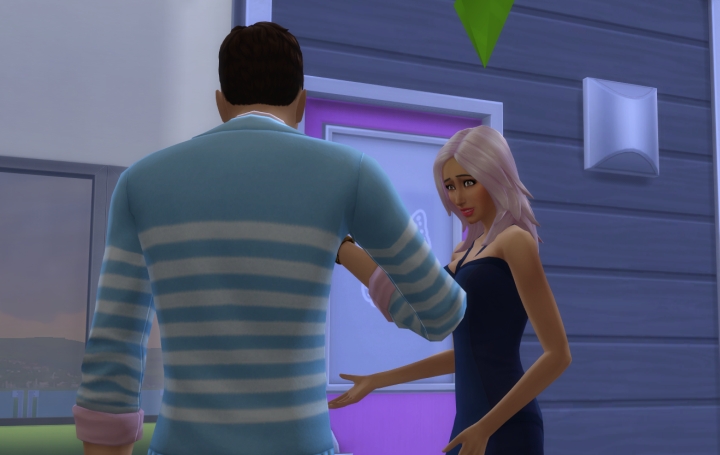 Joining an Invite-only club means befriending a member, who you can ask to invite your Sim. Taking over as leader means convincing the leader to step down.
If you, for example, try to get into the Paragons and cannot get into their hideout nor get Sims to come outside to talk to you, you may be out of luck for the moment. It's best to catch members at nightclubs or other venues where you'd expect that type of Sim to hang out. Having decent Charisma will make it very easy to get the bar to around 20% friendship, where it seems it's quite simple to be accepted when you ask to join. If it fails, schmooze them up a bit more and give it another try. I think it's rather easy, as I haven't had a Sim fail just yet. Granted, I haven't had time to try applying dozens of times, but the higher the bar the more likely it seems to be to succeed. If a group is full (max 6-8 depending on Perks), no luck. You'd have to convince someone to quit, which again likely requires you to be at least acquaintances with that Sim.
Taking Over
In order to take over as leader of another club, you've got to convince the leader to step down. The better your friendship with them, the more likely it is to succeed. I did not see a relationship hit from doing this - though the dethroned leader gets a +2 Sad moodlet for a time, while the new leader is confident. Once you've taken over, you can alter things however you'd like - make the Paragons into a group that studies hard and is nice to everyone, especially Renegades, and who collect the slimiest frogs while making it against the rules to shower or arbitrarily try on clothes to impress others.
Clubs List
I'm not super-impressed with this list, but it is something that the Expansion needed - having no clubs around town would be boring. Some clubs needed to exist and this list accomplishes that while being sensible and leaving room for more. The fact that a couple of them are against one another may lead to some good drama and storytelling potential, and of course if a member of another club makes you mad you just might make a 'club war' by directing your members to be mean to that group. All this said, the true strength of Get Together's Clubs system is making and leading your own, but it's still fun to take over the prestigious ones and make them more productive, change them to be more accepting (or more strict) and make them how you want them to be.
Avant Gardes
| | | | |
| --- | --- | --- | --- |
| South Square Coffee, Windenburg | Invitation Only | Drink Coffee, Do Homework, Play Games, Read, and Write | None |

Our Latest: Let's Play a Beach Bum New CAS Story Mode and New Build Cheats Guide New New Patch: Cas Story Mode, New Cheat for Build Objects, and Rebranding New The Sims 3's Skill Challenges Added Tons of Depth News: New CAS Mode Coming One of the Rarest Abilities: Snaggle Fluster Fishing Guide Updated Fishing Update Guide (Video) Island Living Review (Video) Island Living Gameplay Review Mermaids Island Living Cheats Features to Know About in The Sims 4 Island Living Features in Island Living (Video Format) Conservationist Guide Cleaning up Sulani Patch Notes: June 2019 (New Features)

Club Description and Other Info
"Enjoy debating the subtle points of fine literature? Need help with your homework? Or maybe you just don't fit in anywhere else? Maybe, just maybe, you could be an Avant Garde"
Garden Gnomes
| | | | |
| --- | --- | --- | --- |
| Hare Square, Windenburg | Open to All | Tend Garden, Look for Frogs, and Fish | None |

Club Description and Other Info
"Nature's all around you -- go and explore it! If you love hiking, fishing, and gardening.... maybe you're a Garden Gnome too!"
Knights of the Hedge
| | | | |
| --- | --- | --- | --- |
| Von Haunt Estate, Windenburg | Open to All | Wander Hedge Maze and Play Chess | None |

Club Description and Other Info
"We proud knights serve no master, but are pledged to wander the fair gardens of our very own chalet"
League of Adventurers
| | | | |
| --- | --- | --- | --- |
| Hare Square, Windenburg | Kids Only! | Play on Playground Equipment and Play in the Closet | None |

Club Description and Other Info
"The world's a mysterious place, full of adventure. Pirate ships and space cruisers can be found around every corner, and are waiting to take you away to magical lands and distant galaxies. Who will dare? Only adventurers!"
Paragons
| | | | |
| --- | --- | --- | --- |
| Bathe de Rill, Windenburg | Invitation Only | Be Mean to Renegades, Drink Coffee, and Try on Outfits | None |

Club Description and Other Info
"It takes work to look this good. Perfection isn't easy. But everyone needs someone to look up to. That's why we have Paragons." "I hate them already" -- Carl
Partihaus
| | | | |
| --- | --- | --- | --- |
| The Narwhal Arms, Windenburg | Invitation Only | Drink Bar Drinks, Be Romantic with Everyone, Dance | None |

Club Description and Other Info
"Partihaus is about one thing: partying. And being a house. So, two things."
Powerhouse
| | | | |
| --- | --- | --- | --- |
| Harbor Quarter Gym, Windenburg | Open to All | Work Out and Swim | None |

Club Description and Other Info
"We can all be better, faster, stronger, fitter. Whether you need words of encouragement or someone to kick your butt, we're here to help you get it done."
Renegades
| | | | |
| --- | --- | --- | --- |
| Bathe de Rill, Windenburg | Invitation Only | Be Mean to Paragons, Be Mischievous to Everyone, Sabotage Objects | Don't be Mischievous to Renegades |

Club Description and Other Info
"Wanna make friends? Wanna be popular? TOO BAD! The first rule of the Renegades is that you don't talk about the Renegades!"
Spin Masters
| | | | |
| --- | --- | --- | --- |
| Discotheque Pan Europa, Windenburg | Must be Level 2+ in either DJ Mixing or Dancing | Use DJ Booth and Dance | None |

Club Description and Other Info
"Think you've got the moves and grooves it takes to join the Spin Masters? Find us and prove it!"
The Good Timers
| | | | |
| --- | --- | --- | --- |
| The Shrieking Llama, Windenburg | Must be Aged Teen to Elder | Play Pub Games and Drink Bar Drinks | None |

Club Description and Other Info
"Everyone can be a Good Timer! You just need to appreciate a good drink and a game of Foosball among friends."
Upper Crusts
| | | | |
| --- | --- | --- | --- |
| The Lighthouse, Windenburg | Open to All | Mix Bar Drinks, Drink Bar Drinks, Eat, Cook | None |

Club Description and Other Info
"We're not really stuck up; we just enjoy sharing the better things in life - as long as it's food-related."
How You Can Support The Site and Channel

If you like my sites and
Youtube Channel
, consider supporting me on
Patreon
to help me to continue. If you'd like to support my guides in another way you can use our
Amazon link
for your next purchase (if in the US). We also offer a
paypal donate link
so you can contribute directly.
Back to The Top
Quick Links
Check Out My Youtube Channel!
We now have a Youtube Channel with over 50 guides in video format to go along with the huge site I've already created. Check it out and consider subscribing if you like my style.
Share Tips and FAQs
(19)
Our Sims 4 Community is the place to go for faster answers to questions and discussions about the game. Use the form below to share your own experiences and provide helpful tips to other readers. We are not affiliated with EA and cannot make changes to the game, nor fix bugs.
Support The Site via Amazon
Bells
I wonder if there's another way to make the leader step down or leave the group?
One of my leaders turned out to be an alien who never appears on gatherings and can't be invited to hangout at current lot so I can't really convince him to step down :/
Haven't found a cheat to become the current leader either and I'm kinda frustrated about it Orz
12th December 2015 5:50am
Playalot
Maybe you could try finding this alien through using Manage Worlds and then delete him from there? Or have you tried using your phone and 'traveling' then including the alien when the sims menu comes up for who you want to travel with?
If your sim is very confident then convincing a current leader to step down is a very easy social interaction, of course, you will need to find this alien first!
2nd January 2016 3:11pm
Bells
That alien seems to be nowhere actually. Not in Manage Worlds, not available to travel with. I can't do anything with it. It's named somewhat "Politician #3".
I wish there was a cheat with testingenabled or anything that would make it possible to just click on the portrait of the sim in the club menu and make them the leader.
If there won't, I guess I have to live with that stupid group that's not mine Orz
10th January 2016 12:48pm
Playalot
Might be best to disband that particular club. There are several other Maxis made clubs that will appear in your world as you disband the existing clubs. Also you can make your own club and then your sim will instantly be the leader. Or join another and become it's leader and then change all the club activities to what you want. How frustrating for you that you can not find this alien.
10th January 2016 3:55pm
yvonne
I wanted to make a coven of witches and practice herbalism but that skill isn't included in get together that I can see! i'm very disapointed!!
13th December 2015 6:41am
Azzy
I think that was included in Outdoor Retreat. Get that and you could make your coven.
19th December 2015 5:37am
Jameson
My sim was in the upper crust but that guy who is the leaders husband kicked me out
7th March 2016 6:36pm
Aram83
That's happened to me too, you have to get an aspiration perk or whatever they're called. I think it's Always Welcomed or something like that.
8th March 2016 1:04pm
HopeRose
In my legacy household I noticed that more clubs were available later in the game / several generations in, including one for wealthy sims only. Is this a normal phenomena? I did not create any of them.
1st June 2016 10:33pm
playalot
Yes there are actually a large number of Maxis made clubs that are not available until the initial clubs have been disbanded. There is a description of these 'extra' clubs on the forum
here
as one of our forum members discovered.
1st June 2016 11:17pm
GirlyGamer66
There are actually more clubs. I'm doing the legacy challenge so half the sims in my world died. (I do have the story progression mod, though, so that might be the reason.) But for what I know when all the club members die, don't meet the requirements, or leave, new groups get created. So some of the other groups are Club Cosplay, Complementary Colors, Just for the Halibut, and Mixing Club.
16th August 2016 11:21am
GirlyGamer66
Also, does anyone know a mod that stops ghosts from being leaders/in a group.
16th August 2016 11:27am
Sola
There are more clubs than that. When all the club members die the game generates new clubs
26th April 2017 6:47pm
Playalot
You are right. We have a list about that
here on our Forum.
There are surprisingly quite a few of them!
6th May 2017 6:36pm
Ri
i just got the get together mod and I was wondering, how do you make a club be mean to another club? I've tried but I couldn't find any thing of the like

17th May 2017 8:37am
Playalot
What do you mean by 'mod'? Do you mean you have bought the DLC Get Together? If so under actions in the clubs menu you can choose for your club to be mean and then choose who they are to be mean to.
18th May 2017 7:59pm
Ri
Yes, thank you but i ironically found how to do it right after i posted it.
19th May 2017 5:56am
Join in: