The Sims 4 Dine Out Game Pack
Getting Started with Restaurants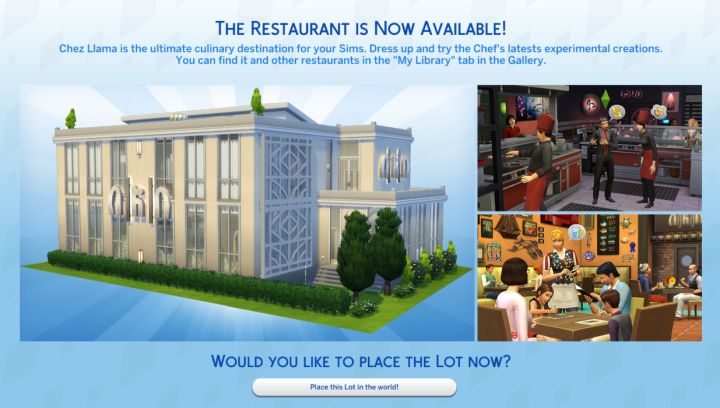 You can place pre-built restaurants from The Sims Studio or the Gallery or make your own from scratch.
Dine Out lets you own and operate restaurants, but when you start the game there aren't any restaurants in the neighborhoods. Thankfully, the game ships with several of various types and you will eventually find plenty of luxurious (or down home) restaurant lots on the Gallery. For now, to begin using the pack, you should either Start a Restaurant from Scratch or place one of the pre-existing types into one of the five currently available neighborhoods. You will want to do this anyway, so that your Sims have a place to visit and dine for dates and group outings.
Placing Restaurants
Hit ESC to open the menu once you've loaded up your game. You can now select 'Manage Worlds'.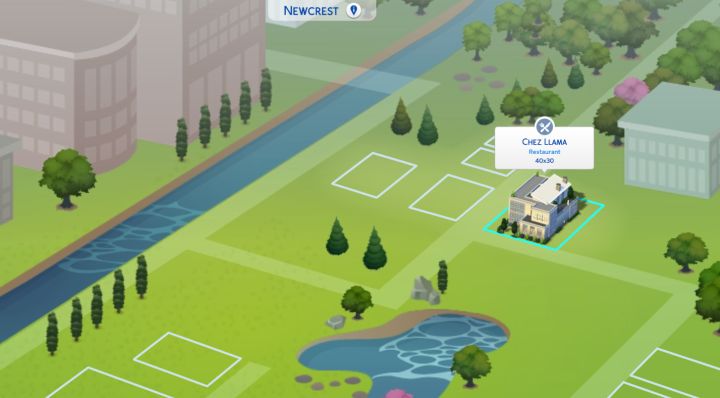 The game should notify you that a restaurant is available - Chez Llama. You can select almost any open lot and it'll fit, but those highlighted green are the correct dimensions.
You get to choose whether you want this restaurant to be furnished or unfurnished. If you want to skip building one of your own, go with furnished.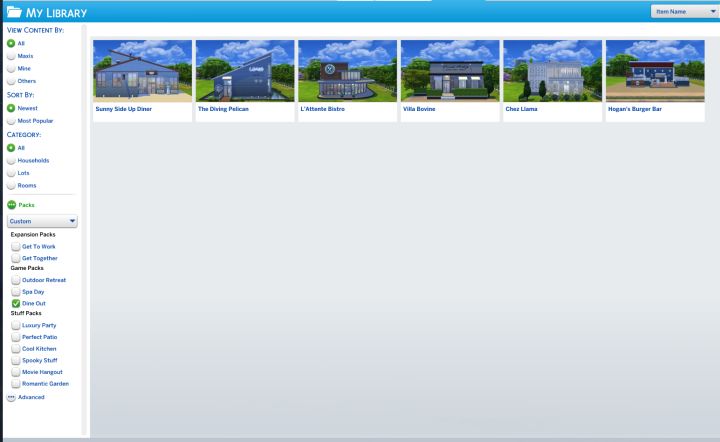 Shortly after release, even more restaurants will be available in the Gallery.
Now you may want to place more restaurants. After all, there are six to choose from! Head to 'My Library' in the Gallery where EA organizes the pre-created lots, as well as your own creations. If you filter by pack on the bottom left, you can see only restaurants. Additionally, if you type 'restaurant' in the top right, you can see these.
Naturally Sims can visit restaurants for family night, dates, and club gatherings with the Get Together Expansion. However you can also build your own and purchase the existing restaurants you placed. Restaurants can operate without your Sim being there, so are a source of passive income. See the next guide in this series, "Making a Restaurant to learn more.
Other Dine Out Guides
How You Can Support The Site and Channel

If you like my sites and
Youtube Channel
, consider supporting me on
Patreon
to help me to continue. If you'd like to support my guides in another way you can use our
Amazon link
for your next purchase (if in the US). We also offer a
paypal donate link
so you can contribute directly.
Back to The Top
Quick Links
Check Out My Youtube Channel!
We now have a Youtube Channel with over 50 guides in video format to go along with the huge site I've already created. Check it out and consider subscribing if you like my style.
Share Tips and FAQs
(26)
Our Sims 4 Community is the place to go for faster answers to questions and discussions about the game. Use the form below to share your own experiences and provide helpful tips to other readers. We are not affiliated with EA and cannot make changes to the game, nor fix bugs.
Support The Site via Amazon
Nick
So, I've made a restaurant in this DLC, but I've been wondering: can I have the restaurant owned by another household so my main household can visit the venue? I've been wondering.
Thanks!
8th June 2016 5:50pm
playalot
Any restaurant lots that are placed into your game will be run by NPC's and act just like any other venue. I have four in my game that I literally just placed down from my library and they run beautifully. If you play rotationally then when you are not playing the household who owns the lot, it will be just like any other venue and your sim will be able to visit it easily.
8th June 2016 6:05pm
Rori
Is it possible to work at a restaurant as an employee? I have restaurants placed in my worlds but it'd be pretty awesome if I could.
Thanks in advance.

12th June 2016 10:53am
playalot
Unfortunately not.

Dine Out did not come with that game play feature. It would have been fun for sure.
12th June 2016 7:00pm
Jon
Do you need get to Work to run this pack?
16th June 2016 12:46pm
playalot
No, just need the base game and Dine Out.
16th June 2016 5:11pm
Kche
would it be possible to build a restaurant on non restaurant lots? I'm trying to build a realistic hospital and I would like there to be a cafe or restaurant in it.
16th June 2016 3:29pm
playalot
No as the restaurant would not function.

It isn't really possible to have multi-use lots in the game although with a bit of 'creative workarounds' it can be possible sort-of! You possibly could have a cafe area (although I haven't tried this) as you can click on the counter and hire a barista so this might work on a 'generic' lot.
16th June 2016 5:13pm
Ashuntis Harrington
Quick question: if I have a restaurant on a lot could I bulldoze the lot and put a new restaurant down and still keep my employees and perks?
8th July 2016 12:07am
playalot
You will keep your perks but not the staff. The same staff may appear in the hire menu with their skills but this is not always the case.
10th July 2016 8:08pm
Acelack13
Is it possible to own a restaurant, but also to live in it like in a house.
12th October 2016 5:07am
playalot
It is possible although you will still need a residential lot for the bills to be delivered to and any babies would have to live on the residential lot until aged up into a child. The residential lot can be totally empty apart from a letterbox though so you could just buy the cheapest empty lot and use that.
12th October 2016 4:49pm
Acelack13
It sucks because everytime my children go to school and return they have to be invited to hang out to my restaraunt because they always come back to the empty lot,

14th October 2016 6:02am
playalot
Yep, it's definitely not ideal but that's all we've got with TS4 at the moment.
14th October 2016 8:00pm
Anonymous










my restraints aren't in the library and I can't be bothered to make my own.
17th May 2017 8:14am
Anonymous
Meant to put restraunts x

17th May 2017 8:15am
musebaby
Does your sim have to be at the restaurant for it to operate?I have tried to open the restaurant and then let it run without being there for a few hours and then close it without visiting and I get no customers and no profit.
Im just thinking if I want to own a few restaurants...

Thanks!!

3rd July 2017 8:52am
SkullMinePro
So, I clicked on the arrow, in the main menu, the restaurant thing popped up, I placed it in Newcrest, I clicked save and exit to the main menu, I start a new game, I do everything I did and everything you said and it won't pop up again, it's not in Newcrest where I placed it.
18th August 2017 1:01pm
Playalot
Well, if you have started a new game you would need to place the lot again in this new game. Every new save/game you start is a brand new game! Everything you have done in previous saves will not be in any new game.
18th August 2017 7:39pm
bailey
hey so I made an apartment building into a restaurant and I was wondering if there was any way I could change it back so my sims could live in it. or if there's any way I can reset the game to start fresh.

14th December 2018 2:34am
Playlot
I'm guessing you used a mod to change the apartment in the first place? Or did you change one of the Penthouses? If you changed a penthouse or the Maxis made Stargazer Lounge it should be as easy as hopping into build mode and choosing 'Residential' again.
You can reset your game but it won't actually reset any 'problem areas' like weirdly tagged lots and so on if they have been changed by mods.
This link (click)
takes you to a post where there are a host of How-Tos on our Forum. Scroll down and under the heading 'How-To's' you'll see a link to Factory Reset as well as delete game cache etc. Maybe one of those will help...
15th December 2018 1:50am
DrowzyGoat
Okay .. SO! I built a vampire-themed restaurant. I did add a barista station, piano, and bar. However, no staff populates these areas. I notice in other restaurants [pre-made by EA/Maxis] that the bartender is automatically there and I think the piano payer [might] be! I have to click on these items and do the temporary "Hire Staff" option. But after a few hours, they go away and I have to hire more of them even though I never left the lot. [I own the restaurant] - My question is.. if it's possible to get permanent employees at these spots? I have another lot [lounge] and the bar tender automatically populates soo I'm confused. Thanks!
2nd April 2019 1:38pm
DrowzyGoat
I am considering just selling it and visiting as a customer :[
2nd April 2019 1:39pm
Playlot
You do have to hire a mixologist for restaurants but if you choose not to the chef will auto make the drinks that go with the customers food orders. So in other words having a mixologist on site is not actually needed for a fully functional restaurant. There is no way to get a permanent mixologist on staff in restaurants.
2nd April 2019 4:46pm
emma
so i just got the dining out pack and instead of it saying "owned" it says "download to use" i don't understand because i already downloaded and payed for it. please help! i am on xbox one as well
20th August 2019 2:48pm
Join in: