The Sims 4 Dine Out
Managing a Restaurant as Owner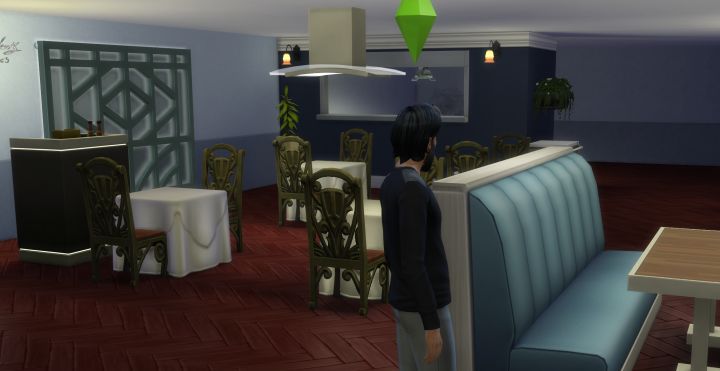 The restaurant is open for business - now what?!
The Sims 4 Dine out lets you take the role as manager. You can perform this actively or passively, but star ratings will only improve well if you are there to oversee your restaurant until your staff are prepared to handle things themselves. This guide is a part of a larger piece about managing restaurants so other parts (like staff) should probably be read first. I am repeating some things here as there is quite a lot to this system (a good thing) but will also try to throw in some unique tips.
Managing Staff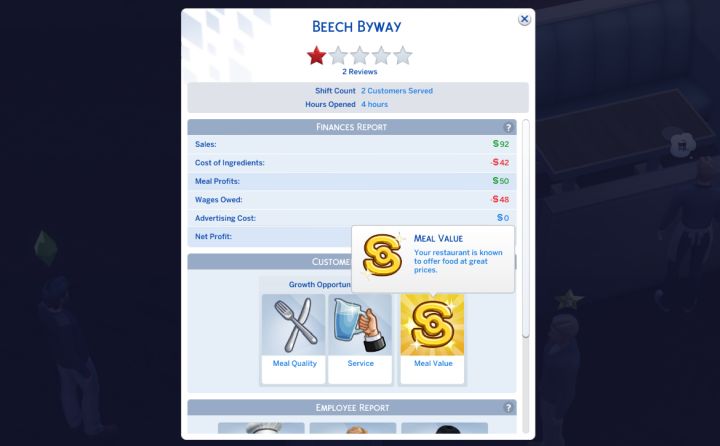 Growing your star rating means managing your staff, and helping them to grow with you! Look to the customer experience section to see what you could improve upon. My guide to Star Rating should help you with what these mean.
Encouraging Staff
Praise your staff at the beginning of service, starting with the host and working back to the waiters and chefs. That is the order customers will encounter them, and you have a bit of time before the foodies walk through the door. By doing this, you will help to keep the workers satisfied (it's not good to criticize unless you're sure they're doing something wrong).
Check Their Satisfaction
Staff opinions range from very unsatisfied to neutral and very satisfied. This is primarily around pay. Bad enough boss, you won't mind if they're a jerk as you're getting paid but everyone has a breaking point! Ensuring your staff are satisfied will help their stress levels and keep them in a good mood. As employee skill levels rise, they deserve (and demand) greater wages. It's just natural. Your waiter dropping plates doesn't deserve as much as the guy who nails it every time. This has a huge impact, especially with the host whose mood can immediately put a black eye on your reputation.
Skills Rise Slowly
Training exists for a reason, and that is how slowly skills will rise. If you want them to max out in your Sim's lifetime, you should probably cough up some cash for training. If you want a five-star restaurant, this is important. It depends where that lies on your own list of priorities. Restaurants can be profitable without being 5-star, and it's not that big a deal - it just gives you more customers, who could be gained via advertising. But 5 star means free advertising over the long run.
Conduct your Chefs
You can tell chefs to cook carefully, which raises quality but reduces the speed. If you don't have many customers at first, that's not a big deal. Wait time is a huge factor in performance, though, so do not do this if you have a surge of customers. You can always switch it up. Also, some players might like to run diners with highly-skilled chefs that do not cook skill-level 5 food. Gordon Ramsay probably puts out some mean scrambled eggs, and he can do them fast and perfectly every time. This is a good time for 'quickly' to shine.
Work the Menu

10 Million Views! My YouTube channel has grown a lot the last 6 months. I now have over 125 videos on Youtube and am nearing 100k subscribers. I'd like to invite people to check out my content and, if you like what I'm doing, subscribe!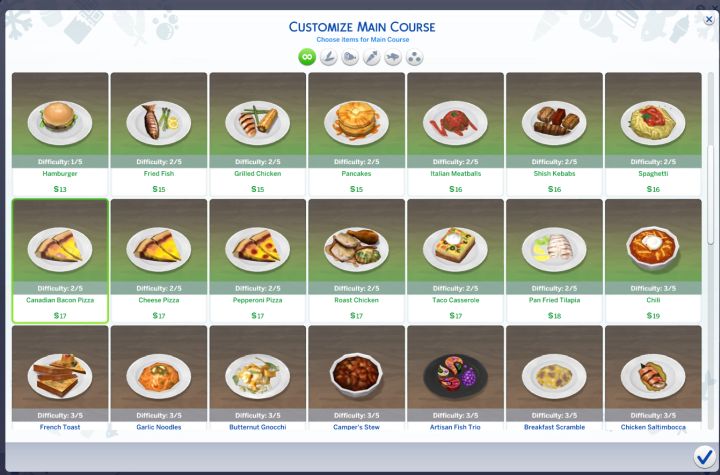 Start with easier menu items and gradually work your way up as the chef improves.
Start Low
Every bad review hits your star rating, and that affects your reputation with potential customers. When your chef cannot cook a dish at all, it's guaranteed to be poor quality. Try to keep skill levels equal with the dishes you offer. You can tweak the menu every day, in fact, as your chef rises in talent. Do not mark up too high until the chef can put out consistent food, or else customers will consider your value to be low. You'll get less guests, and make less money. A popular diner is better than a restaurant that tries to be 5-star but isn't anywhere near that quality.
You Do NOT Have to Fill out the Menu, and Yes, can Make a Bar
You can pick up to 30 of each type of item (appetizer, main course, dessert, drink) and serve 120 things if you want, or you can go the opposite direction. Appetizers, dessert, I don't think anything is required. In fact you could possibly make a bar as far as I can tell. I'm not sure if guests will be upset or happy to grab a glass of 'nectar'. Your chef would only gain experience in mixology, but that may not be a problem for you! Just don't expect Sims to imbibe multiple drinks. They're in and out.
Dealing with Guests and Critics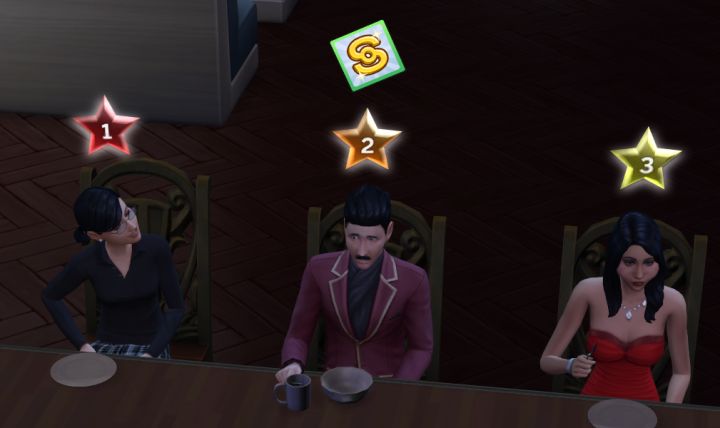 Customers can have wildly different opinions about the experience at your restaurant. This evens out when you've got the basics down - a good host, decor, music, and some personal touch.
Sul Sul!
Say hi to every guest you see. It not only gets you restaurant points which purchase powerful perks, it also gives you points in the personal touch metric for your star rating. This one is not required, but adds with the rest to produce a better ranking for the restaurant. You can use check on table here and there to get even more points.
Star Ratings
Star Ratings are comprised of many factors, I've identified 90+% of them and written about them here. Two of the simplest things you can do are put items in your restaurant that add music and environment score (decoration). Remember that fancy statue won't work across a huge room, decorations have a range. If they can't see it in detail, it won't contribute. That's why the table in the corner might always have 4-stars while the rest are at a 5!
Cater to Critics
Their input is worth 10 regular reviews, no exaggeration. Comp their drinks, give them a hello and check on them at the very least. Prioritize their food to make sure they have a great wait time. They can easily be bribed and won't disclose that in their review, they're just foodies with a blog.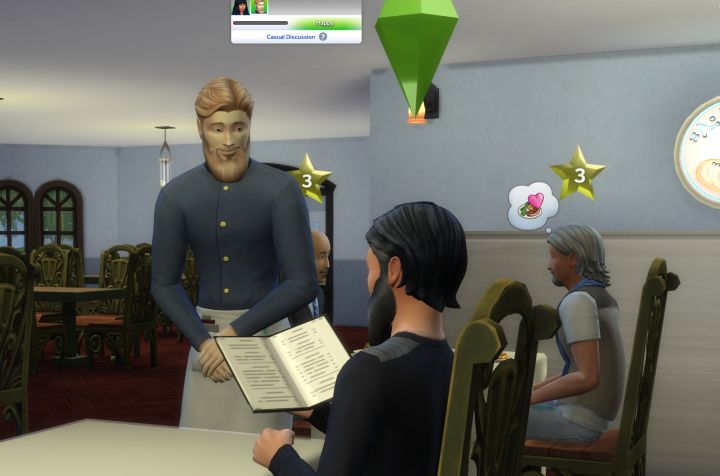 Eat at your own restaurant during peak hours to understand your customers' experience and why they get up set it takes 4 hours to get food!
More Tips to come!
I've not said all I can about Dine Out. It's got enough depth for me to create 8 guides about it, so there's more to this than meets the eye. I'll continue coverage and expand this page with more tips for managing your restaurant as I continue to play. This is just release day! Share your own tips below if you learn something valuable for other players.
Other Dine Out Guides
How You Can Support The Site and Channel

If you like my sites and
Youtube Channel
, consider supporting me on
Patreon
to help me to continue. If you'd like to support my guides in another way you can use our
Amazon link
for your next purchase (if in the US). We also offer a
paypal donate link
so you can contribute directly.
Back to The Top
Check Out My Youtube Channel!
We now have a Youtube Channel with over 50 guides in video format to go along with the huge site I've already created. Check it out and consider subscribing if you like my style.
Comments (44)
Topic:
http://carls-sims-4-guide.com/gamepacks/dineout/managing-your-restaurant.php
Senior
Carl
I think it's a 24 hour cooldown, sorry I forgot to mention it! There was a lot to take in, and a short time to do it. I will get it edited into the employee page.
New
plumzy1
This new pack is fun and what i've missed about the sims 2 open for business. Too bad there's no robots though...my restaurant would run 24/7!. My only gripe about this pack and it seems like a glitch...i cannot close my restaurant. I have to exit/save the game and come back and the button works. I stopped excepting new customers and waited for the ones that were dining to leave and i click the "close" button and it doesn't work! meanwhile my staff are unhappy and i have to dish out raises! i hope this gets fixed
New
Helena
it would be cool if the kids and teens could help out.
New
Quinn
New
Quinn
Scratch that, it's an issue with a mod I have. I've taken out the mods folder and the chef works just fine. Sigh.
New
bmcbain36
New
Kellie
I'm having the same problem. Which mod did you have to take out?
Admin
Playalot
Is this on a vanilla (mod and cc free) game ? Are you using an existing game or did you start over ? Is the host standing at his station at all ? If you have mods/cc, take them all out and delete the localthumbcache.package file. And try your game again. Take a look at the placement of your hosts station, is it too close to the entrance? it's difficult to know what exactly is going wrong but it is certainly worth reporting this as a bug if it is happening in a vanilla game. There is a bug report already started on this problem.
EA Bug Report
Admin
Playalot
Sorry to hear you are having problems. Have a quick read of my reply to Haley and see if that helps.
New
sara
I have the same problem. Just as the staff are getting good, they disappear! Dont know if they quit or what. Last I checked they were "Neutral", never "Unsatisfied". What happened? My game is almost vanilla, think I have one or two mods installed. One to remove some intro screens to get the game starting up faster. But no cc.
Admin
Playalot
Try placing your staff into houses through the household management menu. This way they will not be culled. Don't play them though as this will cause them to lose their jobs too.
Admin
Playalot
Absolutely. You can place the Maxis made restaurant lots down into your current game immediately and take your whole family out to breakfast, lunch or dinner. I love this element of game play!
New
Val
Admin
Playalot
Next time this happens get your controlled sim to give them a comp meal or free drink. This way they might get up and leave once they have finished eating/drinking.
Admin
Playalot
Are you able to sell any of the restaurants that you've bought? If you can I'd sell them through the map (not in build mode, directly from the map). You will be credited with the money and also keep your perk points. Then save and quit your game. Delete the localthumbcache.package file and restart your game. Purchase the restaurant lots again and see if it all works as it should. If you can't sell them, it might be best to bulldoze the lots, change the lot type to residential after bulldozing and save, quit and delete the localthumbcache.package file before going back into your game to try again. Once back in your game replace the restaurant lots from your library and try buying them again. If all else fails you can do a factory reset which should clear out and weird bugs that don't require a developers fix.
Factory Reset
Regular
Cathleen
I'll try it. Thanks so much.
Admin
Playalot
Unfortunately there is a "Host Bug" being reported on the EA Bug Report thread.
Host Bug
Adding a post there will help the gurus come up with a fix.
I think the easiest way to solve it in the meantime is to either fire the sim or perhaps delete them using the Manage Households menu. I haven't tried either of these ideas so save your game first and if it doesn't work, or makes things worse, quit without saving.
I haven't been able to recreate this bug so I really can't be sure of the best work around just yet.
You could also try deleting your Hosts Station and replacing it with a new one.
New
C
That's great advice. I will see what works. I just posted on the EA Bug Report.
Admin
Playalot
You should be able to edit the name of any restaurant, even ones you don't own, in build mode by clicking on the name.
Admin
Playalot
Only unplayed NPC's can be hired for jobs in restaurants.

You can seed your townies/NPC's by placing sims you have made and skilled up into the Not In the World category. They will appear on the 'hire menu'. If they don't appear immediately you will need to delete other non-housed townies until they do appear.
New
Helena
Thank you for answering! It's a pity, I was planning to use the pack to play with my cooking sims, this way it is quite different! It is quite nice, anyway!
New
panda
I miss the fact that you can make it a family busniess..
Like have the whole family fill in the spots. of waiter, cooks etc.
Admin
Playalot
I've seen this reported elsewhere but I don't know how to fix it so all I can do is offer some suggestions:
1. Delete your localthumbcache.package file from your TheSims 4 folder.
2. Repair your game.
Repair Game
3. If it is still happening try a Factory Set.
Factory Reset
I will post back if I can come up with a definitive fix.
Senior
MrsFlynn
Something else that might help is:Try switching back to 32 bit mode.How-To: Switch Back to 32-bit:Right click on The Sims 4 tile in Origin.
Select "Game Properties"
Change the "When launching this Game" setting to "The Sims 4 32-bit"
For more Information, see this link
Regular
Cathleen
That's great advice

. I will see what works. I just posted on the EA Bug Report.
Admin
Playalot
This is an ongoing issue that links back to the original 'musical chairs' bug. There really isn't anything you can do apart from removing any couches or garden benches you might have in your restaurant. Also cut down on the amount of bar stools at any bars you might have. If the sims end up not eating their meals or for some reason the waiter doesn't clear the table, drag the plates etc into the waiters station as cluttered tables will cause a flow-on-effect and stop chefs and waiters from being able to serve other sims. Not ideal but with a bit of juggling you can minimize the effect this bug has on your restaurant.
New
cadence
I got my restaurant and hired a staff, but every time after I close my restaurant, the employees reset and I have to choose all new employees! I keep putting money in for training but then the next day they aren't even my employees anymore! It's impossible to increase my restaurants rating because I can't increase my staffs skills!
Admin
Playalot
Try placing your employees into houses using the manage household menu. Don't play them though as this causes them to lose their job. Maybe your sims are being culled each day. Also try remove any mods and cc you might have in your game as many mods are incompatible with Dine Out.
New
cadence
I don't have any mods in my game, and how do I put them into houses without playing them?
Admin
Playalot
Start your game as normal and click on 'Household Management>Unplayed Households>Not In World. From there scroll until you see a staff-sim. Click their picture and next click the moving van icon 'Move Household onto a Lot'. You may need to change worlds to find a starter home cheap enough but select a house/lot and then again click on the now large van icon (bottom right of screen) to move that staff-sim into the house you have chosen. Another menu will appear, choose the 'Furnished' option if you want this NPC to have furniture in their house! You can choose 'unfurnished' and then in build mode furnish it yourself if you want to, or choose 'bulldoze' and build the house yourself etc.
Now your staff-sim has been placed into a house without ever being played and so they will still have their job in your restaurant and won't be culled. You can place all your sims into the same house if you want, just as long as you don't play them.
New
Nessie
I've owned a restaurant for a while now and I have got i up to four stars. However, one of my waiters keep saying they are "Very Unsatisfied". I have promoted them as much as i can, constantly praising them and never criticizing them but they're still unsatisfied. Also my star rating is 4 but every time i close the restaurant it suddenly goes back to three and half. Also, I was wondering how to make my restaurant a chain
Admin
Playalot
There have been bug reports around this issue and with chefs too.
EA Bug Report
One of the causes may be having your restaurant open for too many hours. There doesn't seem to be a 'fix' just yet but test all/any mods you may use and try having shorter opening hours and see if this fixes the problem.
Admin
Playalot
This is a reported bug on
the EA Sims 4 Bug reports
Moving the hosts podium in build mode so that it is not facing a wall and is clicked to grid often solves the issue. Do not use MOO or hold the alt key down when moving the hosts podium.
Senior
Carl
Sadly we cannot take roles up in the kitchen, I wished for that as well. It is mainly managing the restaurant, and your Sim being able to visit them.
Senior
Carl
Admin
Playalot
Sell your restaurant using the build menu first, this way you will keep all your perks points. Move your sim and then repurchase the restaurant. Save before doing this in-case this isn't the right solution. Hopefully this should work and retain the staff. Or have the bf move in with your sim using the friendly social 'ask to move in'.
Regular
Amanda
Why does my chef keep leaving me I trained them all the way up they get paid the highest they went from very satisfied to neutral and then disappear now I'm back with only cheap food and I have four and a half Stars now what do I do ??? this is the second time. It is making me not to happy with the game just saying
Admin
Playalot
Sounds like culling. Using the Household management menu place all your staff into a household. Do not play them though as this causes them to lose their jobs.
Are you sure you want to report it?
Share a link to this comment
Star Wars in Sims 4

We now have a page on The Sims 4 Journey to Batuu.
It's not what I would have hoped for in a Star Wars Game Pack so far.
Secrets and Other New Stuff
Dine Out Restaurants
Support Us

Readers who use adblock or those who'd like to thank me for my efforts can now pledge $1/$5 monthly via Patreon. This helps a lot with server costs and provides some stability for my business.
Super Sim Checklist + Other News
Let's Play Playlist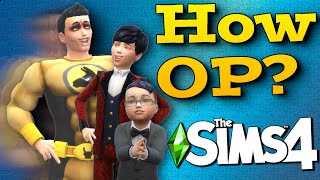 New I now have a guide to Making Super Sims in The Sims 4. Look for a text version within the next 72h. It won't have THAT much more info but it will help out as a checklist.
This was inspired by a series, "Let's Play a Super Sim" in which I start at toddler and gradually take on the major bonuses. Here's a link to each part for people who are interested. You can also see the Let's Play as a Playlist on Youtube.
Discover University Expansion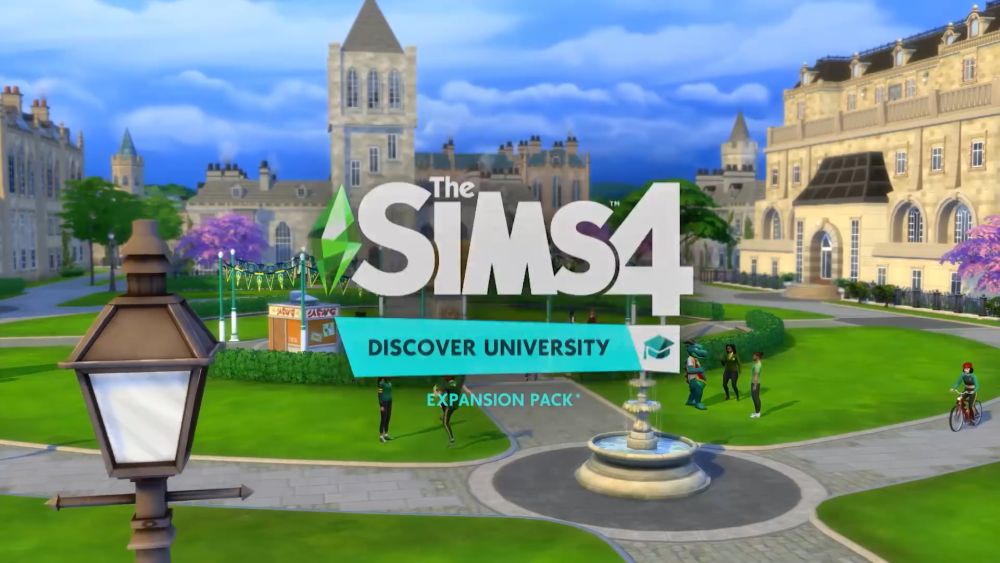 The Sims 4 Discover University has been announced for November 15 for PC/Mac and December 17 for Xbox and Playstation 4 consoles. Click to learn more about the pack, see my summary of the livestream or read our FAQs below.
Other Guides to Discover University:
New Lot Traits: Study Spot and University Student Hang Out
New: Discover University FAQ: Gameplay Features
New Video The Sims 4 Discover University Gameplay Tips Video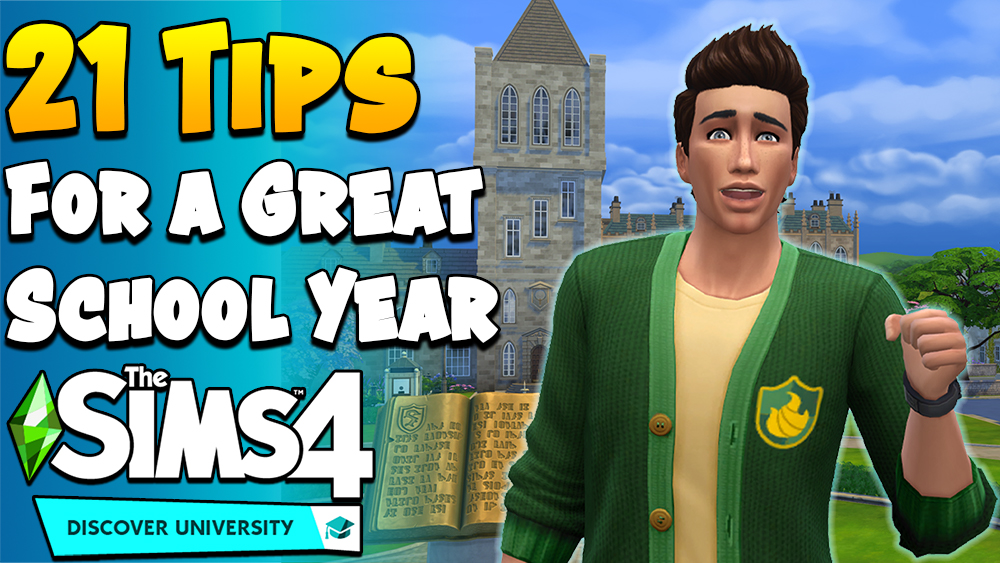 More videos coming soon!
Realm of Magic