The Sims 4 Dine Out: Perk Points
List of Perks for Restaurants and How They Work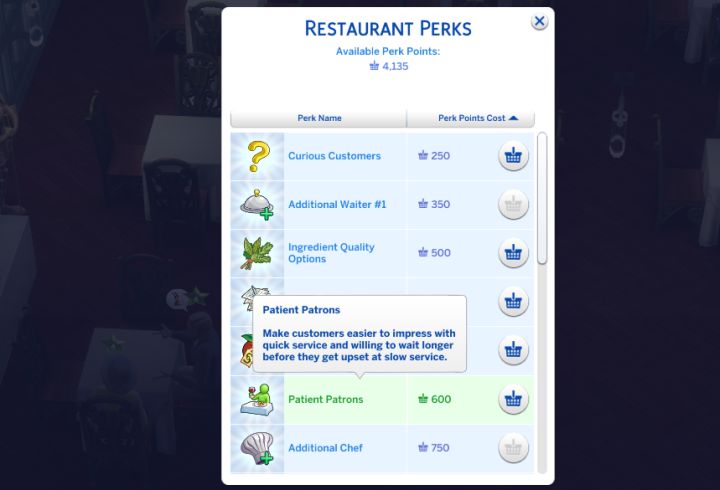 Restaurant Perks improve your restaurant in some way. The Patient Patrons Perk is highly recommended, because wait time is so heavily weighted in star ratings.
The Sims 4 Dine Out gives you the chance to give boosts to your restaurant(s) via perk points. You can use them to buy rewards that boost various aspects of the business. They range from temporary, 24 hour boosts, to permanent increases to a stat or your ability to hire staff. Each perk you own works for every restaurant at once, so players who build up a chain will find they are able to hire additional staff and take advantage of other boosts right away. Here is guide to how the perk point system work, along with a list of all the restaurant rewards
Welcome Guests - Welcoming nets you 25 points. This can be done once per guest
Check on Table - Allowed once they are seated, again - 25 points. This can be done once per hour or so.
Recommend Dish - Comes up if a customer has a '?' over their head and you've taken the Curious Customers Perk. Selecting this will give you 25 points and gives you the power to pick something your chef can actually cook.
Guests finish meal - When guests are done eating, and if they're satisfied (not angry 1-star), you'll get 35 points.
Management of Employees - none that I noticed, except for promotions which I think gave 35. Not worth promoting unless the employee deserves it.
This doesn't seem like many ways, but you should earn several hundred per shift while actively managing. The only real downside is you will not gain points for meal serve while off the lot - it requires active management. I kind of think of it as my owner's experience and how he can make better deals with regards to ingredient costs, inspire employees, and improve customer turnaround by being there and learning.
Cheats to Unlock Restaurant Perks
You can find cheats to unlock these restaurant perks on our Cheats Page under Dine Out.
Perk List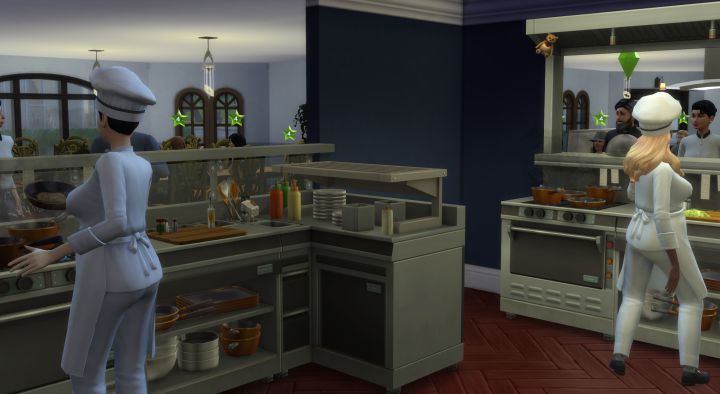 The Additional Chef restaurant perk doubles your business' output.
| | | | |
| --- | --- | --- | --- |
| | Curious Customers | 250 | Customers have a 20% chance to desire your manager recommend a dish to them. Doing so improves personal touch (star rating metric) and lets you pick something the chef can cook. The customer may reject your suggestion, however. It is more likely if you pick something too expensive for them! Just so you aren't afraid to take this Perk, there is NOT a penalty for failing to help a customer choose a dish and you have quite some time to do so. |
| | Additional Waiter #1 | 350 | Allows you to hire one more waiter. Because wait time and food quality both come from chefs, I would save up for the additional chef first when selecting to have more employees but leave that up to you. Just remember, your Sim can help to clean up! |
| | Ingredient Quality Options | 500 | This can have a big impact on your restaurant, for a relatively cheap price. This lets you selectively switch between different quality levels for ingredients, affecting the price to quality ratio. Grade F will make food cost 25% less to produce, but deduct -35 to quality (not bad if you have a great chef). Fresh Organic will add 20 to quality but make the food cost 10% more. Sustainably grown will increase expenses 25% but add 30 to quality. |
| | Meal Rush | 500 | Doubles the amount of customers for 24 hours. Useful at times, though you may want to put your chefs on quick cooking. May be useful to get some extra cash for an upgrade to the restaurant itself. |
| | Surplus Harvest | 500 | Reduces the cost of ingredients to half for 24 hours while giving you the same price on your markup. Only buy this if you can stay open a long time. It is probably the single largest boost to profit available, but the others which reduce these prices permanently are better. I don't know yet that they stack together, but they very well may! Let us know. |
| | Patient Patrons | 600 | Adds about 30% more time before your guests will get upset over waiting for food. Additionally, it's easier to get the huge wait time bonus for your star rating with this Perk because they'll be impressed easier as well. All around an outstanding perk to take. |
| | Additional Chef | 750 | Doubles your potential food output by letting you hire a 2nd (and final) chef. Teaching a new chef early is not a bad idea, just make sure your budget can afford them at level 1-2 while they improve. You should be able to get another waiter soon after and ensure both chefs are putting out quality food. |
| | Curiouser Customers | 750 | Must take the first rank, curious customers, before you can pick this. Increases the chance they'll ask for a dish recommendation. It seems to be 40%. This can help you to generate more restaurant perk points because the customers can only be welcomed once and checked on a couple of times during a visit. |
| | Additional Waiter #2 | 900 | When you need three waiters, you'll probably know as wait times will begin to increase. With a third, you can spread them out more and give them zones to cover. Training your waiters early is not bad at all, though 3 may be overkill for some time. |
| | Inspirational Speech | 900 | I cannot honestly find any information on this, but believe it gives you one more way to boost employee morale and possibly help their satisfaction of working for you. After all, you can only use praise once per hour or two. This is a second choice that does help in some way. Other perks may be better than this early in a restaurant's lifetime. |
| | Fast Eaters | 1250 | A great Perk for when your restaurant has 3.5+ stars, as more customers will come in and you can move them out faster, make the money and perk points, and put another Sim at the table. It can help you to avoid not having enough seats, just to make things a little better. All in all an appropriately-priced reward. |
| | Lower Employee Training Costs | 1500 | Cuts the cost to train employees by half. Very significant savings if you are going to start a chain of restaurants and try to rake in as much money as possible - lowered training will help you get new hires up to speed and serving those customers. |
| | Ingredient Discount (small) | 1800 | Permanently reduces the cost of ingredients by 20%, so you'll gain more profit from meals. Required for the second rank which reduces it by 40%. This is better than Tidy Tippers in terms of generating money. Other perks may indirectly affect cash flow, such as patient patrons, as it'll help your star rating immensely. |
| | Well Funded Foodies | 1850 | Raises the chance of customers ordering expensive items from your menu. You could, of course, only serve expensive food but it'd hurt your star rating due to customers who want cheaper stuff - this will let you meet them in the middle and improve profits. Right now, my theory on this one is that when you're away, you get a bit less money for food orders. With this, it is instead boosted by 10%. This mechanic at least seems to exist in the game code, as you supposedly get 80% of normal when you're not present. |
| | Tidy Tippers | 2000 | Every rank of Tidy Tippers increases markup over base by 5%, and can be taken multiple times. It's on a cooldown, however, so you must wait a few hours to take another rank. With the Tidy Tippers Perk an item that goes for 20 would give 41 instead of 40 at the lowest markup of 100%. This value logically does not change with higher markup values. This is a good choice for later in a restaurant's life span, because it can be purchased repeatedly to increase the restaurant's income. The Ingredient Discount and Well-Funded foodies perks have a greater impact on revenue than this one, so save it for last if your goals revolve around money. |
| | Ingredient Discount (large) | 3600 | Lowers the cost of ingredients by another 20%, to 40%. It is almost as good as having surplus harvest on at all times, and is definitely a strong choice for improving profit. It's just very, very expensive so should be taken later in your career as a restaurant owner. |
| | Well Managed | 4500 | Helps ensure bad events don't happen as often when you've opened the restaurant and aren't on the lot. Very good choice for chain owners, as you can't be everywhere at once. There's a reason this one is expensive. With multiple restaurants, it is going to make a big impact on your star ratings not going down when the owner isn't present, and help to keep profits high. |
| | The Chef's Hat | 5000 | Not yet sure this does much at all! I have to get my perk points back. |
Other Dine Out Guides
How You Can Support The Site and Channel

If you like my sites and
Youtube Channel
, consider supporting me on
Patreon
to help me to continue. If you'd like to support my guides in another way you can use our
Amazon link
for your next purchase (if in the US). We also offer a
paypal donate link
so you can contribute directly.
Back to The Top
Check Out My Youtube Channel!
We now have a Youtube Channel with over 50 guides in video format to go along with the huge site I've already created. Check it out and consider subscribing if you like my style.
Comments (5)
Topic:
http://carls-sims-4-guide.com/gamepacks/dineout/restaurant-perks.php
Admin
Playalot
They aren't very obvious when they unlock. Try cheating the inspirational speech perk
bucks.unlock_perk InspirationalSpeechSocial true as this one is easy to check that it has unlocked because it appears as another social option under 'manage X' when you click on your staff. if this one has unlocked then the cheats will be working for you.
Remember to action 'testingcheats on' before using the perks cheats. Also it could be caused by a mod/cc conflict so remove these if you have any, and try again.
Admin
Playalot
Sorry you are having problems with your game. Many simmers are. Try doing a factory reset and removing all mods and cc you might have.
Factory Reset
Admin
Playalot
Unfortunately this element of game play was not included in the game pack. You can only hire non-played sims. Your sim can only own and manage the restaurants.
New
caz
The Chefs hat ...... Does nothing. or not that I notice. Would have been nice to get this and employ my own Sim.
New
Adrianna June
To those who say the cheats won't work for them. If you did everything right, they probably worked. I Didn't think mine were registering either. Try closing and reopening your restaurant if its open while entering cheats, then check your perks and you'll see it says you've already bought them. Reminder: This is assuming you did everything correctly.
New
Hey
Assuming I have a restaurant now in TS4. How do I get the quality choose thing. I wanna cheat

Admin
Playlot
Are you sure you want to report it?
Share a link to this comment
Star Wars in Sims 4

We now have a page on The Sims 4 Journey to Batuu.
It's not what I would have hoped for in a Star Wars Game Pack so far.
Secrets and Other New Stuff
Dine Out Restaurants
Support Us

Readers who use adblock or those who'd like to thank me for my efforts can now pledge $1/$5 monthly via Patreon. This helps a lot with server costs and provides some stability for my business.
Super Sim Checklist + Other News
Let's Play Playlist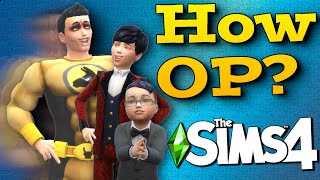 New I now have a guide to Making Super Sims in The Sims 4. Look for a text version within the next 72h. It won't have THAT much more info but it will help out as a checklist.
This was inspired by a series, "Let's Play a Super Sim" in which I start at toddler and gradually take on the major bonuses. Here's a link to each part for people who are interested. You can also see the Let's Play as a Playlist on Youtube.
Discover University Expansion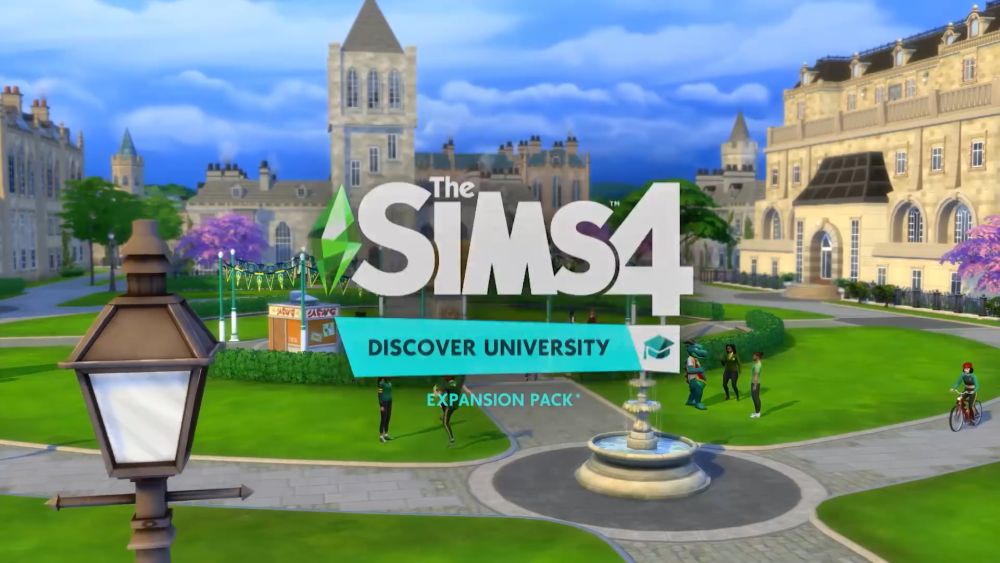 The Sims 4 Discover University has been announced for November 15 for PC/Mac and December 17 for Xbox and Playstation 4 consoles. Click to learn more about the pack, see my summary of the livestream or read our FAQs below.
Other Guides to Discover University:
New Lot Traits: Study Spot and University Student Hang Out
New: Discover University FAQ: Gameplay Features
New Video The Sims 4 Discover University Gameplay Tips Video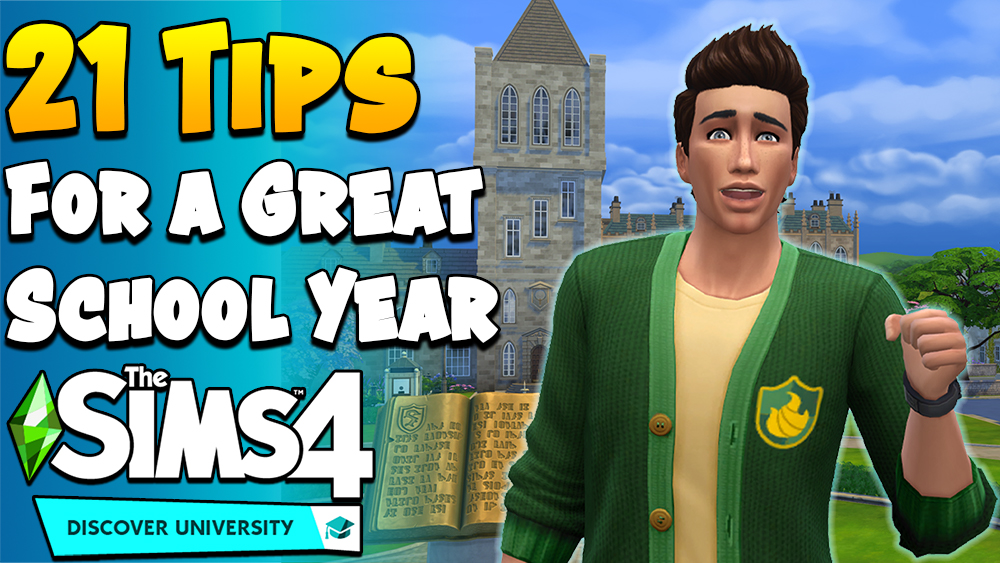 More videos coming soon!
Realm of Magic