The Sims 4 StrangerVille Town
Important Places Around The Neighborhood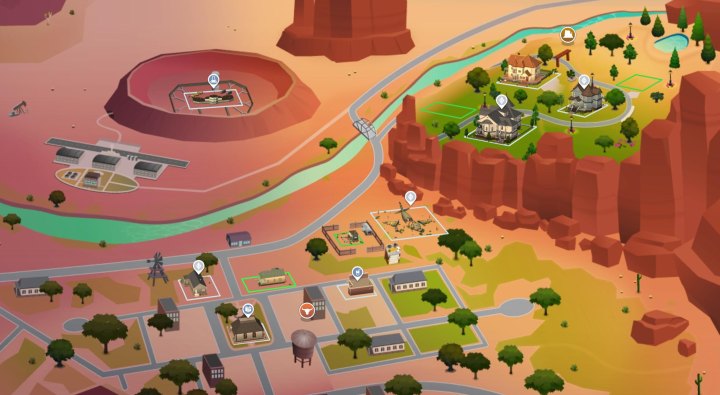 Click to Enlarge. The StrangerVille Town Map.
The Sims 4 Strangerville Game Pack has a unique investigation mechanic at its core. In the course of the investigation you'll need to go to several places in town. For that reason, I thought I'd make a map of StrangerVille for people who own it or want to see the town before they make a buying decision. Here's a quick guide to the places you need to visit in StrangerVille:
The Secret Lab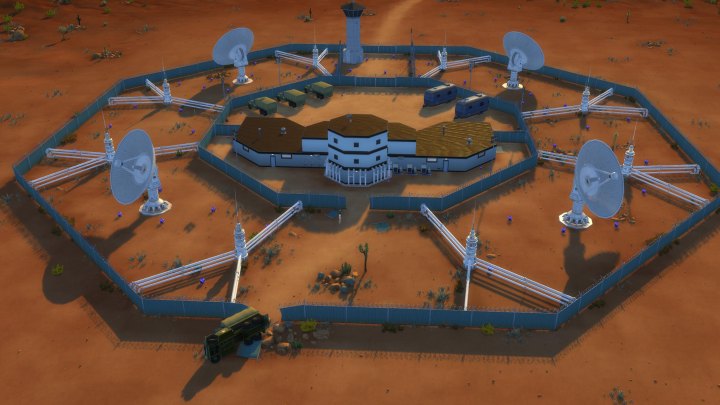 The (Redacted) Lab is located in a crater north of town. It's a good place to find the strange plants and evidence for the investigation. Going there is key to solving the Mystery of StrangerVille.
The secret laboratory sits in a crater to the north of the main town. It's completely abandoned and requires some work before you can explore deeper into it. There are computers in the lab that can be hacked with programming level 3.
Files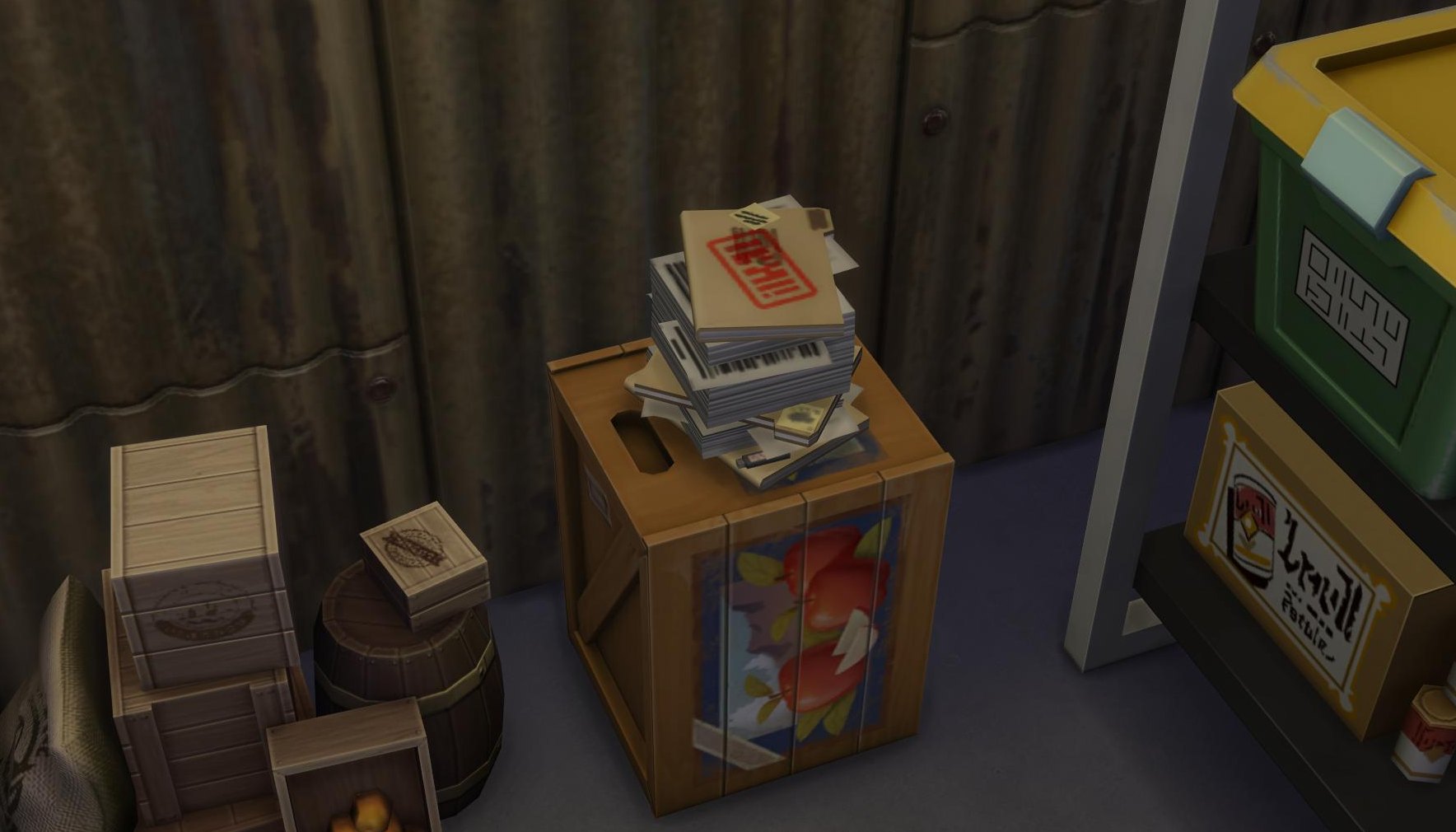 Keep an eye out for files like this one. You need 15 pieces of evidence to assemble a dossier and prove something is going on in this town.
Evidence files are found in several households in town, as well as the secret lab. They don't always contain something useful but it's always worth checking.
Strange Plants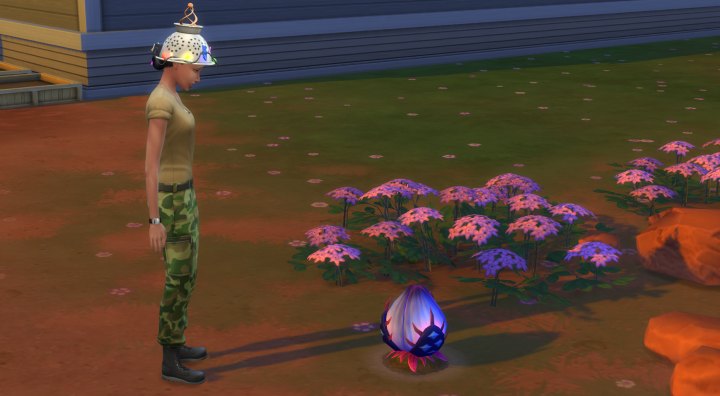 Strange Plants are found around the neighborhoods in StrangerVille
Strange plants are scattered around this world. You can take a picture of them to get your first evidence. Be sure to switch to the StrangerVille Mystery aspiration (found under location aspirations) to get the maximum benefit from participating in the story!
The Curio/Conspiracy Shop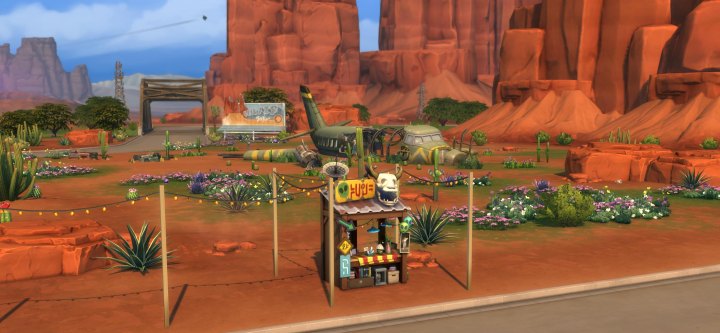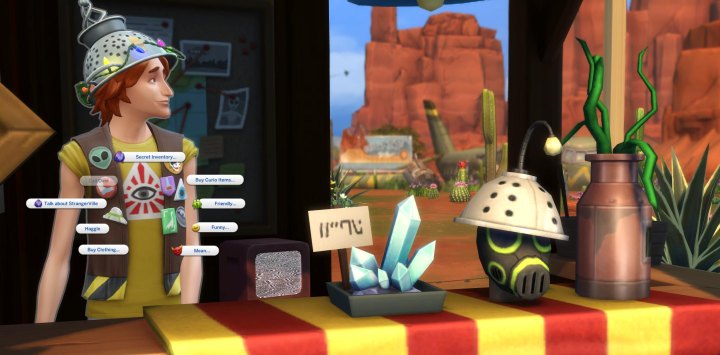 You can buy a tin-foil hat under the clothing menu here. The secret inventory is used during the investigation, and only for those who have proven themselves to have found information of value.
At this little roadside stall, you can talk to a conspiracy theorist who will sell you useful things. You'll find this little place right next to the crashed plane, along the road. If you like, you can purchase a tin-foil hat from them but it is merely cosmetic. I still got zombified even wearing one of these. Talk to them to learn a bit about the mystery of StrangerVille and they'll give you some guidance to help you to gather evidence.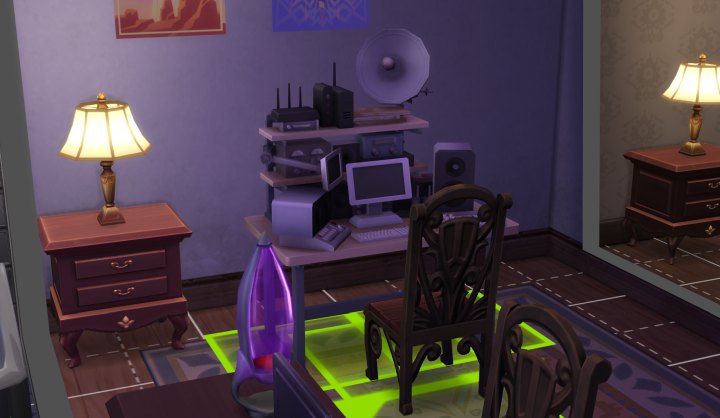 You can also buy books here, but they seem to be regular books. The lava lamps (pictured near the foreground in the picture above) are kinda cool and come in a few colors. This stall is also a place to purchase bugs that can be planted on Sims to listen in on them and very helpful in gathering evidence for the investigation when used on a Scientist. You may also blackmail Sims if you get some juicy info! If you buy the Listening Device in buy mode, you can purchase bugs from it for $25 each without visiting this stall.
The Library

I now have over 70 videos on The Sims 4. Click here to check out my channel!

Our Latest: Realm of Magic Game Pack Guide NEW Realm of Magic Features Video New 10 Mods that Improve the Game New The Sims 4 Moschino Stuff Pack Review New Moschino Stuff Announced - See my Video for Trailer Graphics Options Guide (Video) My Sims Never Die. I Fixed That (How-To) Sulani Mana Let's Play Building Cheats Video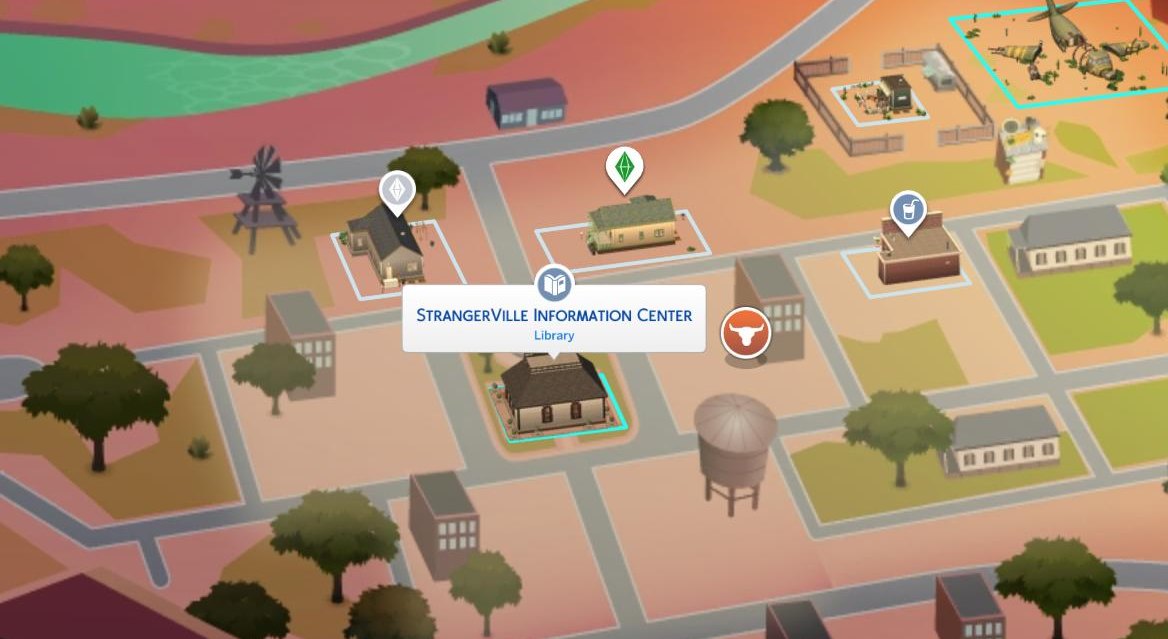 It's easy to meet Scientists at the library, who are investigating the town's mystery and may provide valuable information.
At the Library, a lot of Scientists tend to gather. They can give you important information about Strangerville, particularly if you purchase a listening station (buy mode miscellaneous electronics) and snoop on their conversations.
The Bar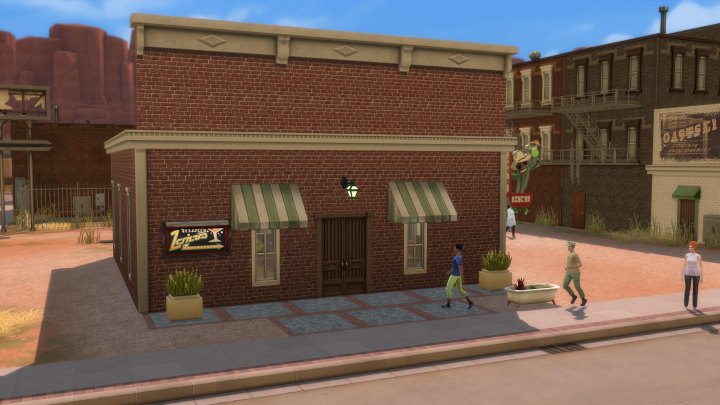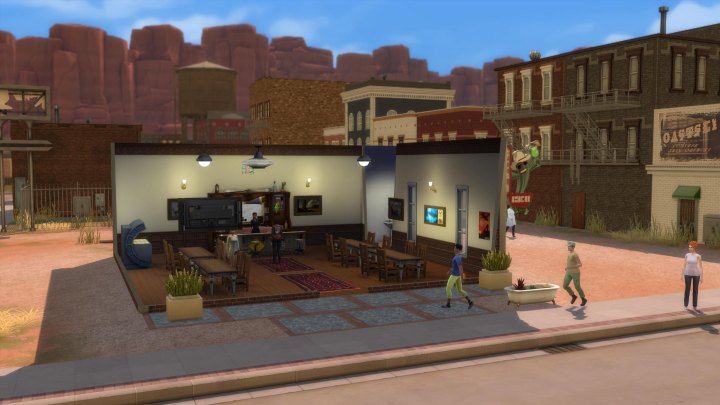 Click to Enlarge. The bar in StrangerVille is a good place to meet military when you need them for your investigation. They're typically in uniform so easy to spot, but also spawn around town in other places.
Later in the investigation, you will be more likely to meet military types at the bar in the center of the town.
Scenery (Mostly)
The Plane Crash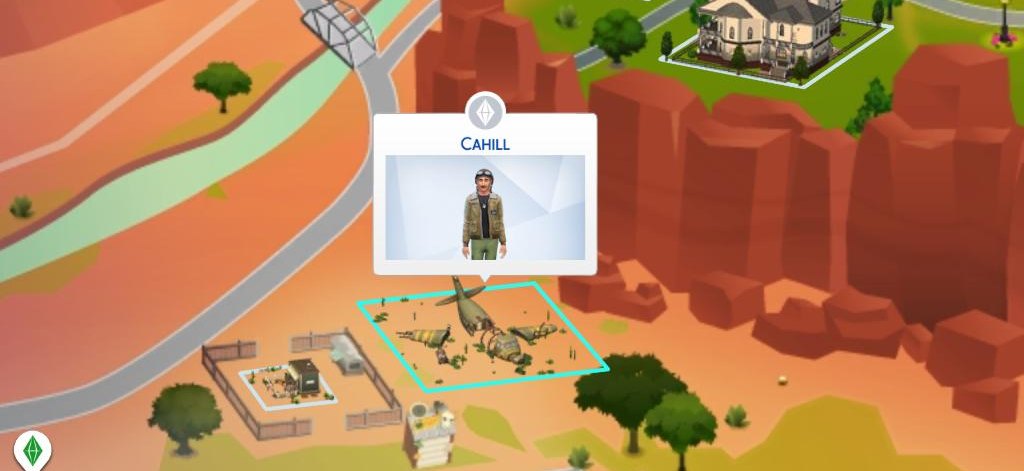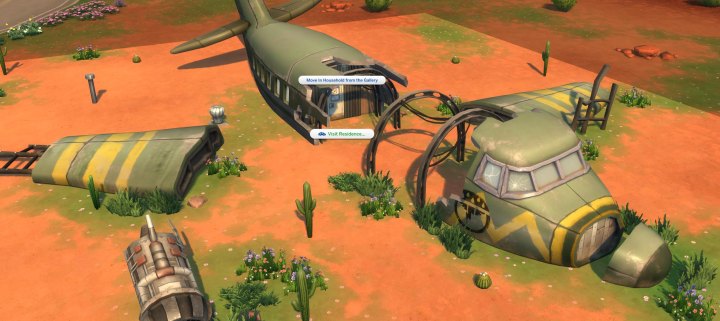 The plane crash is not something you search, rather a residence you can visit. An old man who may have once been a pilot lives there. His home, like several others, may contain clues to the investigation.
Trailer Park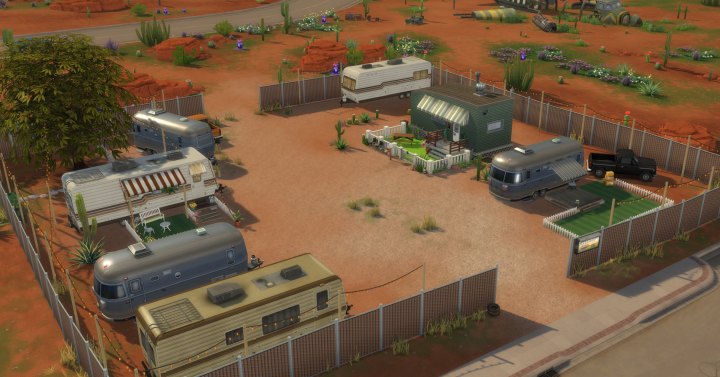 The trailer park is a bit of an illusion - the tiny house is the only liveable structure. The rest are scenery.
The Military Base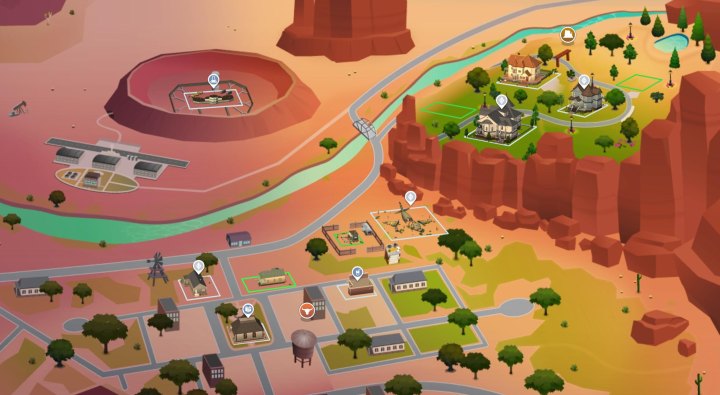 The StrangerVille Military Base (Background Scenery)
Unfortunately, this one is just scenery and not a place you can really visit. I note this here mainly for people who don't own it and to be clear it's kind of scenery to accompany the Military Career track you can join. You can select between the Officer or Covert Operator branches.
StrangerVille Guides
StrangerVille Game Pack Guide
Military Career
StrangerVille Mystery Guide Act 1: Getting Started in a Strange Town
StrangerVille Mystery Guide Act 2: Evidence, The Dossier, and Key Card
StrangerVille Mystery Guide Act 3: Hazmat Suit, Spores and Spore Filter
StrangerVille Mystery Guide Act 4: Source of The Infection (Spoilers)
Story Guide (Spoilers) - Learn Things You May Have Missed - New
Source of the Infection
StrangerVille Mystery Part 1 (Video Guide)
Sims 4 StrangerVille Mystery Part 2 (Video) Ending the Source and Rewards
Cheats for StrangerVille
How You Can Support The Site and Channel

If you like my sites and
Youtube Channel
, consider supporting me on
Patreon
to help me to continue. If you'd like to support my guides in another way you can use our
Amazon link
for your next purchase (if in the US). We also offer a
paypal donate link
so you can contribute directly.
Back to The Top
Quick Links
Check Out My Youtube Channel!
We now have a Youtube Channel with over 50 guides in video format to go along with the huge site I've already created. Check it out and consider subscribing if you like my style.
Share Tips and FAQs
(3)
Our Sims 4 Community is the place to go for faster answers to questions and discussions about the game. Use the form below to share your own experiences and provide helpful tips to other readers. We are not affiliated with EA and cannot make changes to the game, nor fix bugs.
Support The Site via Amazon
Chris
Thanks for always posting such informative, clear content! You're too the best gaming blog ever!
26th February 2019 1:41am
Justine
Hi Carl
I completed the whole plant thing but I sure miss the strange weather, can I get it back?
Love therhythmicbabe
17th March 2019 3:47am
Playlot
The section near the bottom of this guide page will explain the different options you have for that once you have completed the story. Sorry to be a little cryptic but I don't want to post any spoilers!
End of Story Guide
If you're still having issues you can post your question on this page I've linked to as it is 'protected' with spoiler alerts.
17th March 2019 10:57pm
Join in:
Sims 4 Packs & DLC
Support Us

Readers who use adblock or those who'd like to thank us for our efforts can now pledge $1/$5 monthly via Patreon to help us retain the freedom to do what we love to do.
New Videos and Guides
Armageddon Mod (Mod/CC Reviews).

Latest in The New How To Section : Learn How to Write Songs and Make Money with Music in The Sims 4. Also, How to Get Abducted by Aliens. We have a guide for using Pregnancy Cheats, Get a Job, Adopting a Kid and How to Cheat.

Alien Abduction: I made a Video Guide to Alien Abductions, Alien Babies in The Sims 4 Get to Work.
New How To Section : The new How To's section is updated with How to Get Abducted by Aliens. You can also learn how to use Pregnancy Cheats, Get a Job, Adopting a Kid and How to Cheat. It's meant to help newcomers or those with specific problems and will be greatly expanded over coming months.
New Charisma Video
I've created a fairly detailed Charisma Video Guide to accompany the normal Charisma text guide. My goal is to have every skill covered by the end of the year, if possible.
Seasons and Guide Updates