The Sims 4 Energized Emotion
How to Make Your Sims Very Energized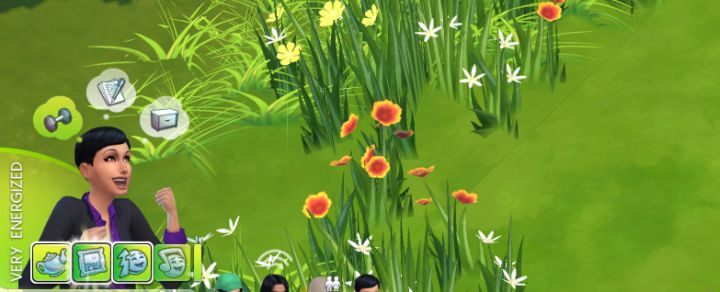 Very Energized
Energized Mood
Being Very Energized while out of the home is another tricky one, as there are fewer options that are commonly found in-game. Sims that have the Active Trait get Energized at times. If you want this Emotion readily, you will need the Fitness Skill to make it easier:
Sims who are energized have a reduced energy decay. This gives them 25-40% more energy for every hour they are energized, depending on whether they are Energized or Very Energized. Ideal mood for Careers was removed in a recent patch, so because of this I believe that Energized is now the best mood for your Sims when they're at work in a typical rabbit hole career like athletic or business. Work from home careers are certainly different but may yet benefit from this mood.
Skill/Career Ideal Moods

How to Get Very Energized
Be Happy and:
Invigorating Cinnamon Incense +1 for duration (Spa Day)
Brisk Shower +1 4hrs
Stealing (Kleptomaniac Trait) +1 2hrs - 8hrs depending on cost of swiped objects
Eating Protein Plate (unlocks when cooking sim is energized) +1 2-4 hrs
Drinking Energy Juice (Sim with Active Trait) +1 4hrs
Drinking Cafe Coffee - Expresso +1 4hrs (Get Together)
Drinking Protein Shake (Mixology Drink unlocked by fitness skill) +1 4hrs
Taking Medicine +1 4hrs
Party Extender Punch (Luxury Party Stuff Pack-unlocks with Mixology Skill) +1 4hrs
Drinking Coffee (Base Game The Schmapple Coffee Pot) +1 4-6 hrs depending on quality
Taking a Nap +1 6hrs
Wearing Owl Hat (Delux Edition Clothing Item) +1 6hrs
Yoga (Energizing Centering at Home) +1 8hrs (Spa Day)
Sports Massage (Spa Day) +1 12 hr
Researching Fitness Tips +2 4hrs
Run Oolong Tea +2 4hrs
Vigorator Mixology Drink +2 4hrs
Exercising while being mentored +2 for duration
Hearing an Adventure Story (Camp Fire) +2 4hrs (Outdoor Retreat)
Bath With Muscle Relax Soaks (Spa Day ) +2 8hrs
Yoga (Energizing Centering at Home) +2 (When Invigorating Cinnamon incense is burning) 8hrs (Spa Day)
Yoga (Energizing Centering Class) +2 12 hrs (Spa Day)
Sports Massage (When Invigorating Cinnamon Incense Burning - Spa Day) +2 12hrs
Energized Essence (Cow Plant) +2 12hrs
Bath With Muscle Relax Soaks When Invigorating Cinnamon Incense Burning (Spa Day) +2 12hrs
Energized Club Vibe +1 through to +3 For as long as Club Meeting is Active (Get Together)
Energized Potion +100 3 hrs
Situations - Game Controlled
Energized moodlet from Energized Trait +1 4hrs
Successful Wishing Well Wish for Youthful Vigor +1 4hrs (Romantic Garden)
Great Trick Slide on Waterslide +1 4hrs (Backyard Stuff Pack)
Watching Water-sliding sims (Bro Trait) +1 4hrs (Backyard Stuff Pack)
Exciting School Day +1 8hrs
Party Time! (Dance Machine Trait) +2 4hrs
Successful Wishing Well Wish for Youthful Vigor +2 4hrs (Romantic Garden)
Hiking +2 6hrs (Outdoor Retreat)
Socials - User Directed
Listening to An Adventure Tale (Camp Fire Interaction) +1 4hrs (Outdoor Retreat)
Being 'Fired Up' by a sim with the Active Trait +1 4hrs
Items - Auras
Collected Crystals +1/+2
Daisy Flowers in bloom +2
Viewing Energized Posters unlocked form athletic career.
Poster from Athletic Career Base Game, the Incredible Sports and Road Rival Alpha Posters from Social Media Career City Living.
These are just some of the things that can make a Sim Energized, though there are surely more to be found in the game. Also read the main Emotions Guide to learn how Emotions work - Emotional Auras, what determines the main Emotion, and how to control your Sim's mood at all times.
How You Can Support The Site and Channel

If you like my sites and
Youtube Channel
, consider supporting me on
Patreon
to help me to continue. If you'd like to support my guides in another way you can use our
Amazon link
for your next purchase (if in the US). We also offer a
paypal donate link
so you can contribute directly.
Back to The Top
Quick Links
Check Out My Youtube Channel!
We now have a Youtube Channel with over 50 guides in video format to go along with the huge site I've already created. Check it out and consider subscribing if you like my style.
Share Tips and FAQs
(4)
Our Sims 4 Community is the place to go for faster answers to questions and discussions about the game. Use the form below to share your own experiences and provide helpful tips to other readers. We are not affiliated with EA and cannot make changes to the game, nor fix bugs.
Support The Site via Amazon
name jeff
My sim has the trait that makes it so you can make any emotion painting whenever you want, but I don't see an energized option. Do I have to get energized or...?
22nd June 2017 6:37pm
Playalot
No, sadly there is no energized option in the painting skill.
23rd June 2017 7:40pm
ChelseaNovac
Is energized better for programming than focused? Just wondering because the fast internet lot trait offers energized moodlet.
14th February 2019 1:10am
Playlot
I know, that always seems weird to me as Very Focused is still best for programming, logic and rocket science.
15th February 2019 9:05pm
Join in: