The Sims 4 Happy Emotion
How to Make Your Sims Very Happy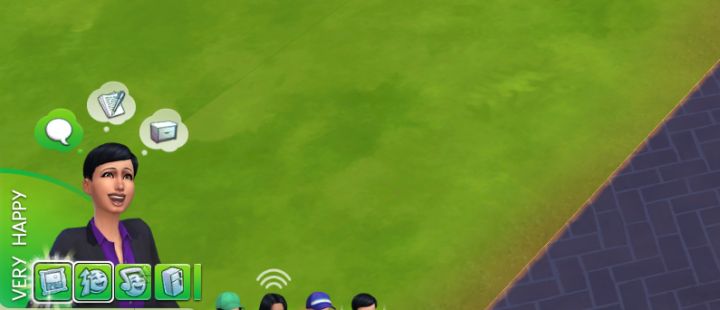 Very Happy
Happy and Very Happy Moods
Most of the Moodlets in The Sims 4 produce Happiness, which can lead your Sim to get Very Happy if they reach +8. Remember that +8 will get you to any 'Very' Emotion, and all of these stack with the Emotion you'll want. Sims who have the Cheerful Trait will get a Happiness boost at times. Here is how you can get your Sim Very Happy. Once Very Happy, you can be Very Focused, Energized, etc. very easily just by getting one Moodlet of that type of Emotion:
Skill/Career Ideal Moods
Happy is helpful with the Charisma Skill, since it boosts certain Social Interactions and leveling rate, but is not necessarily tied to the Skill like Confident, which increases the success of Interactions. Overall, Happy is a better state than Fine for boosting Skill gains and making your Sim successful. Happy/Very Happy boost Skill gains by 20%/40% respectively. It's also 'safe' since negative Emotions have to break through your cumulative Happy moodlets to bring the Sim down.
A guide to the +Happy Decorated Moodlets in The Sims 4. Includes the break points where you get to +2 happy and the wonderful +3 Beautifully Decorated moodlet.
How to Get Very Happy

Decorations in the room +1-3 based on the total score
Having a good meal - +1-3
Having high Needs - +1/2
Listening to Music from a Radio (click the Radio then do other things) - +1
Healthy Green Tea - +2
Fresh Maker Handiness Upgrade on Fridge, Bidet on Toilet, Auto Soap Dispenser on Sink - all +1 when used
These are just some of the things that can make a Sim Happy, though there are surely more to be found in the game. Also read the main Emotions Guide to learn how Emotions work - Emotional Auras, what determines the main Emotion, and how to control your Sim's mood at all times.
How You Can Support The Site and Channel

If you like my sites and
Youtube Channel
, consider supporting me on
Patreon
to help me to continue. If you'd like to support my guides in another way you can use our
Amazon link
for your next purchase (if in the US). We also offer a
paypal donate link
so you can contribute directly.
Back to The Top
Quick Links
Check Out My Youtube Channel!
We now have a Youtube Channel with over 50 guides in video format to go along with the huge site I've already created. Check it out and consider subscribing if you like my style.
Share Tips and FAQs
(4)
Our Sims 4 Community is the place to go for faster answers to questions and discussions about the game. Use the form below to share your own experiences and provide helpful tips to other readers. We are not affiliated with EA and cannot make changes to the game, nor fix bugs.
Support The Site via Amazon
SuperGamer980
this is me when i am in game
25th February 2017 11:45pm
caylin

i am so happy
11th March 2018 2:05pm
Goatlady
Happy is actually a really difficult moodlet to get and keep, for instance for certain jobs that have happy as their best mood. (This might actually be a Mod job, but still applies!) Happy moodlet disappears if any kind of other moodlet pops up. I've found the best way is to go for a swim. The moodlet is called A Relaxing Swim and lasts 4 hours. Then just try to avoid all other inspiring/confident/negative/playful items or activities right before they go to work. You can also gamble with the bubble blower, if you've found out which flavour makes them initially happy and don't let them over-do it

else they go dazed/asleep/playful/flirty and so on.
14th August 2018 10:51pm
Playlot
List of what emotion each bubble blower flavor gives sims
Click
. Happy is one of the easiest emotions in my opinion. Simply take a bath with soak lavender flavor and use incense at the same time or a massage etc and your sim will have a happy moodlet of +2 that lasts for 24hrs. Having a deep conversation with another sim, complimenting their outfit...many socials also give happy moodlets usually of 4 hr duration. Other emotions do over-ride the happy emotion though so in that way perhaps staying happy is the issue, but like you say, simply avoid anything that adds a different emotions buff.
15th August 2018 11:01pm
Join in: