The Sims 4 Joke Star Aspiration
Milestones and The Hilarious Reward Trait
by Tom "Metro" Schlueter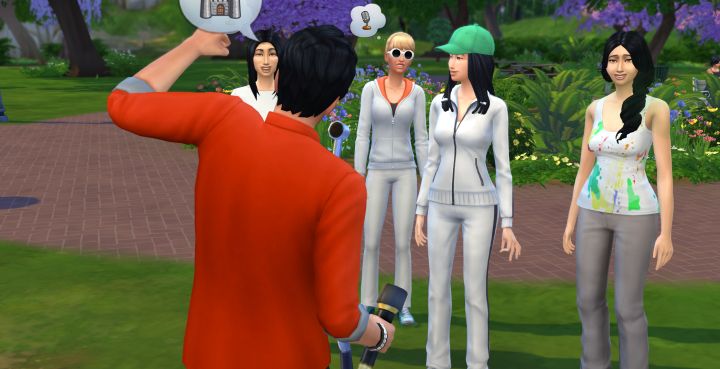 A full-time comedian can make upwards of 2k a day. That's no laughing matter.
Overview and Set Up
The traits I gave my comedian were: Goofball, Loves Outdoors, and Outgoing. Since the Joke Star Aspiration is in the Popularity category my Sim also had the Gregarious bonus trait which will help have more success with various socials. The Goofball trait is nice and often puts your Sim in a Playful mood which maximizes Comedy skilling. My Sim always did his routines outdoors in the park, so Loves Outdoors was a natural. Outgoing was a no brainer, and like Gregarious helps build friendships quickly.
Milestone I - Practical Joker

Be Funny to 5 Sims (75 Satisfaction).
Achieve Level 3 Comedy Skill (75 Satisfaction).
The Joke Star Aspiration is a fun one with your Sim leveling up the Comedy skill as well as performing routines for audiences. You'll need to have your comedian involved in the Entertainment career for at least the 2nd and 3rd Milestones of the Aspiration.
Getting to level 3 of the Comedy skill should be pretty quick - just have your comedian be in a Playful mood and send them to the nightclub to practice jokes on the microphone. Before you even attempt to use funny socials with individual Sims you may consider getting a few levels in Charisma since your chance at success will be higher.

Our Latest: Let's Play a Beach Bum New CAS Story Mode and New Build Cheats Guide New New Patch: Cas Story Mode, New Cheat for Build Objects, and Rebranding New The Sims 3's Skill Challenges Added Tons of Depth News: New CAS Mode Coming One of the Rarest Abilities: Snaggle Fluster Fishing Guide Updated Fishing Update Guide (Video) Island Living Review (Video) Island Living Gameplay Review Mermaids Island Living Cheats Features to Know About in The Sims 4 Island Living Features in Island Living (Video Format) Conservationist Guide Cleaning up Sulani Patch Notes: June 2019 (New Features)
Milestone II - Stand-up Start-up

Become an Adult (0 Satisfaction)
Join the Entertainer Career (250 Satisfaction).
Own a Microphone (150 Satisfaction).
Not much to say about the 2nd Milestone aside from the fact that the "Own a Microphone " component is a little flaky - my comedian did own a microphone, but it was BEFORE the Milestone component fired, so it did not count. I had to sell it, and buy another for that to register. Are you kidding me? What a joke!
Stage III - Funny Businessman

Achieve level 6 Comedy Skill (400 Satisfaction).
Join the Comedian Branch of the Entertainer Career (500 Satisfaction).
As the name implies, for this Milestone you shift gears and focus on the business aspect of being a comedian. By this point I am assuming your comedian is interested in making more money, so you want to perform refined routines as they pay more than standard routines. Medium and Long routines also pay better than short routines. Make sure to write your routines at the computer when you are Playful or ideally Very Playful and you'll see better Comedy skill gains.
Stage IV - Joke Star

Perform 3 Comedy Routines (1000 Satisfaction).
Achieve Level 10 Comedy Skill (1500 Satisfaction).
For the final Milestone it's just a question of capping the Comedy skill, so keep doing routines and make sure your comedian is in a Playful mood while performing. At this point you may have enough Satisfaction earned to purchase a skill boosting reward like Night Owl, Morning Sims, or even better - Savant. Those will make grinding out those last couple skill levels a little quicker.
Hilarious Reward Trait
The bonus trait for completing the Joke Star Aspiration is Hilarious. The jokes told by Hilarious Sims never fail. That is pretty cool when you think about it - no more red minus signs. Although admittedly, a high-level comedian with some Charisma to boot will not have jokes fail too often. But, additionally, Hilarious Sims have some extra jokes in their bag they can pull out and use on a Sim. Hmmmm...so what exactly are these extra jokes? Well, I immediately saw a new Funny social called Weaponized Joke. Lol. What the heck would that mean? Okay, this was funny - the joke put a Dazed moodlet on my comedian's girlfriend. Next up was the Horrifying Joke. This seemed to have no impact - I was hoping to see his girlfriend throw up or something dramatic. But, I am guessing its intent is to toss the target into a Tense or Sad mood. Finally, the Funniest Joke in the world turned her Dazed mood into a Very Playful mood.
So, the three new jokes a Hilarious Sim can tell impacts another Sim's mood - it's just like the Piper Bonus trait of a musician where special songs can trigger a certain Emotion. Emotions are such a big part of the Sims 4 and this reward is very interesting and can have unpredictable and humorous results.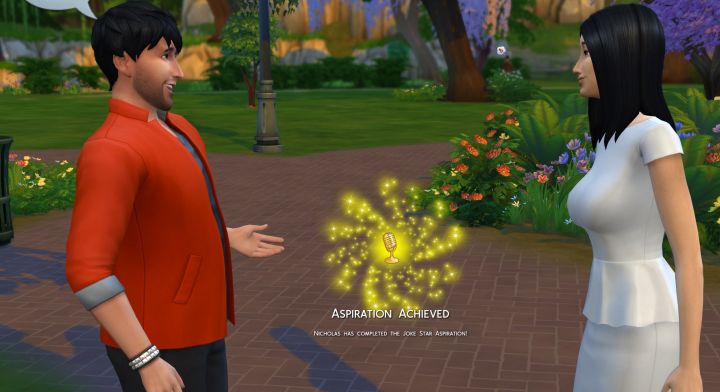 With Joke Star completed it was time to hit my comedian's girlfriend with a special joke to change her mood.
How You Can Support The Site and Channel

If you like my sites and
Youtube Channel
, consider supporting me on
Patreon
to help me to continue. If you'd like to support my guides in another way you can use our
Amazon link
for your next purchase (if in the US). We also offer a
paypal donate link
so you can contribute directly.
Back to The Top
Quick Links
Check Out My Youtube Channel!
We now have a Youtube Channel with over 50 guides in video format to go along with the huge site I've already created. Check it out and consider subscribing if you like my style.
Share Tips and FAQs
(3)
Our Sims 4 Community is the place to go for faster answers to questions and discussions about the game. Use the form below to share your own experiences and provide helpful tips to other readers. We are not affiliated with EA and cannot make changes to the game, nor fix bugs.
Support The Site via Amazon
flo
hi
:)
29th July 2015 9:16pm
flo
:) :( :. :'
29th July 2015 9:16pm
flo





















i love the sims4
29th July 2015 9:18pm
Join in: